It's not every day that I break bread with the likes of Christian Louboutin, Sabyasachi and Bergdorf Goodman royalty Linda Fargo, so allow me to tell you my fairy tale of an afternoon filled with magic, grace and fashion. Last Tuesday, October 17th, I had the distinct honor of dining with the above legends. We were gathered in one room at the fabled Bergdorf Goodman restaurant to celebrate the collaboration between creative geniuses Christian Louboutin and Sabyasachi Mukherji.
The champagne flowed, and the warmth in the room and sincerity of the guests took us to a place beyond formalities and polite dialogue.
Christian and Sabyasachi told stories of their first meeting: the day that Christian swayed into his luxurious boutique in Mumbai and asked for the owner. Little did the baron of red soles suspect that the water-soaked monsoon victim standing before him was the owner. Chuckling as he recounted the story, Sabyasachi says he hesitated before introducing his less-than-put-together self in drenched jogging pants and flip-flops. "Was this the time to introduce myself? Do I tell him who I am today, standing in a puddle of water beneath my muddy rubber soles…"
Linda and I spoke about PurseBop; not so much me personally, but the website and our devoted community. She wanted to know about PurseBop's birth and growth (approaching half a million visitors a month) and how the site has managed to stay bag-centric and evolve without a face. As you know, unlike so many sites, the only selfies here are bag selfies.
As lunch was served, tidbits flowed: Christian Louboutin doesn't like beets; Sabyasachi loves gobi (cauliflower), so much so that he shared my vegetarian gobi steak.  We shared childhood tales and family photos… if you can believe it, this dream was my reality for the day.
This collaboration didn't come as a surprise to us here at Pursebop. I had the distinct privilege of being in New Delhi during India fashion week when their very first joint collection launched on the runway at Taj Palace Hotel. Just over two weeks ago we shared news of this second collaboration (read: From Paris to Kolkata: Louboutin x Sabyasachi Collaboration).
Linking the architectural designs of Christian Louboutin's high-heeled red soled shoes and the age-old embroideries and techniques of Indian zardosi gave rise to the most colorful and luxurious partnership the shoe world has ever seen.
The shoes were all beautiful, colorful and detailed with intricate beading and woven silk threads. PurseBop's attention, however, remained laser focused on the photographed decadent velvet small pouchette (Piloutin, as they call it) revealed in the initial images promoting the collection's launch… Would one of the exclusive 30 bags created for this collaboration be mine? I hesitatingly asked my Bergdorf Goodman purse temptress whether any of these limited exquisite pieces might be available. I was careful not get my hopes up since, as I had reported in my earlier article, only a select few were to be made for each international locale.
Twenty minutes later, precisely one precious pouch was presented to me. At the time, I was hobnobbing  with a few of New York City's most discriminating Louboutin shoe collectors who turned their attention from 'foot to hand' to see what had captured my attention .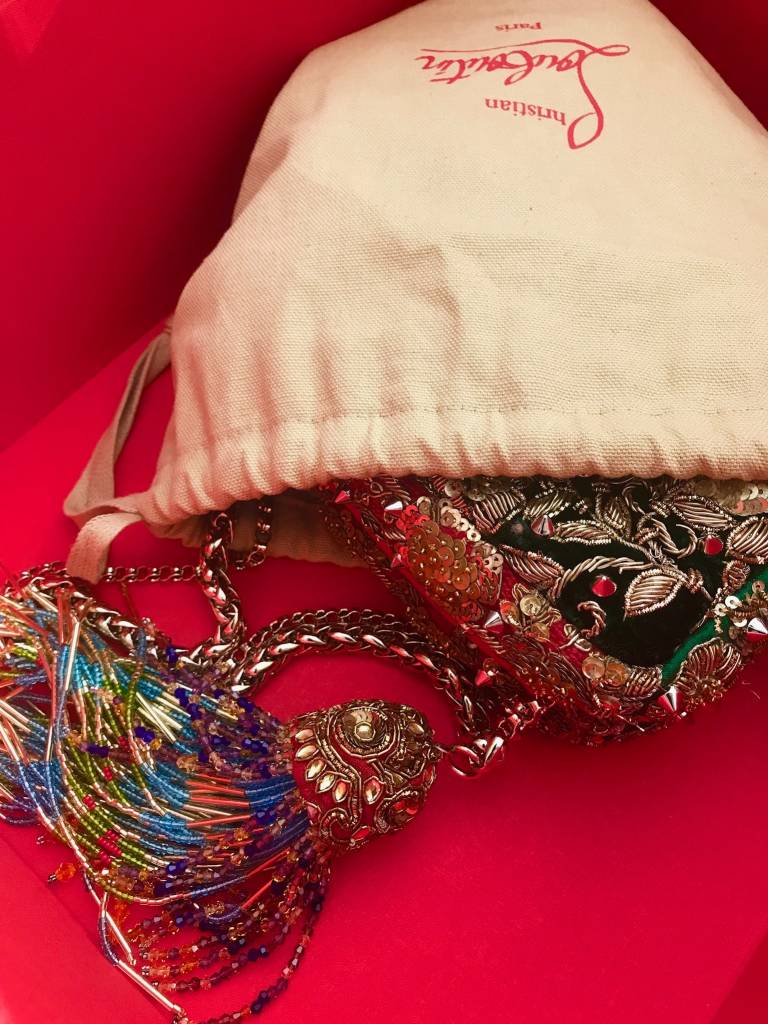 As the embellished velvet began to peep from the ruffled edges of the dust bag, my heart began to flutter. This was something so special, so unique, so breathtakingly beautiful. I don't think the pouchette had fully been debuted before my lips uttered a sweet sound of amazement followed by the words . . ."Yes, but of course I'll take it." What could be a more precious souvenir and tribute to the magical afternoon I spent with its creators and other distinguished guests on that memorable afternoon??
Allow me to share my prized treasure, one of the only 30 handbags made and signed for me by its creators.
Following the luncheon, we spent playful moments in the shoe salon where I had the opportunity to have my piloute  autographed and photographed with the designers. Christian Louboutin posed with my handbag as I attempted to photograph; trust me when I tell you, there were many giggles and attempted shots before I managed just one with a steady hand. Truly moments to cherish.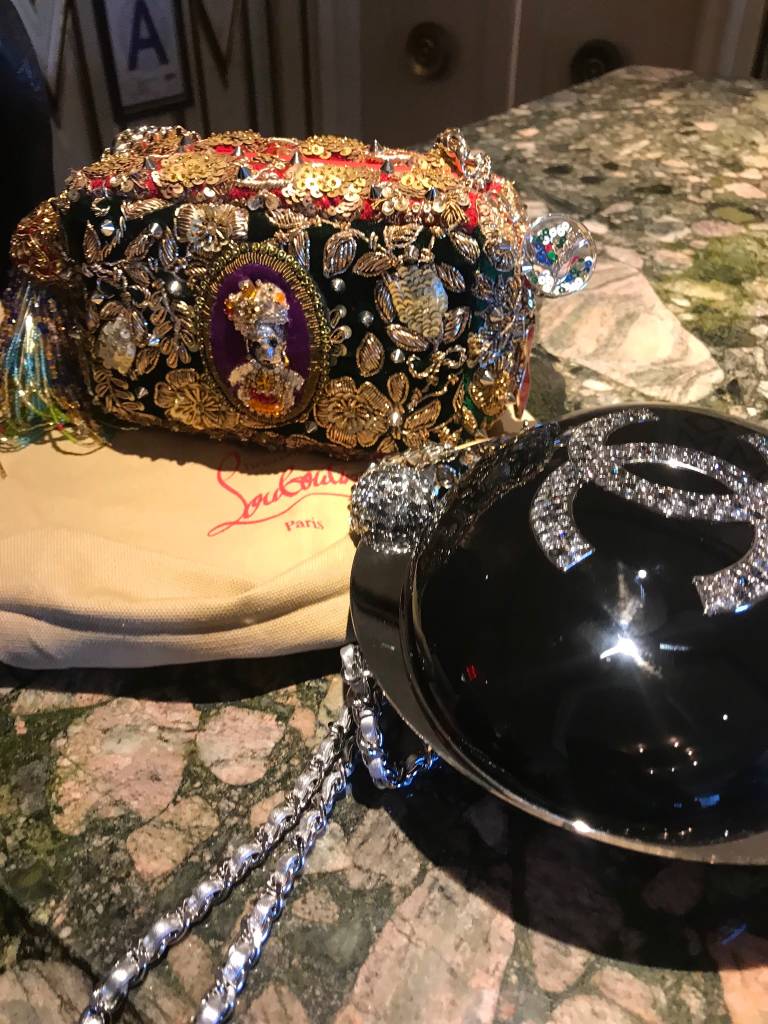 Those of us lucky enough to attend the special luncheon with the artists were given a special animated comic cocktail book that tells the tale in their voices and with the actual photos of the artists. The full story could be seen on both artists Instagram pages when the collaboration launched. Check @louboutinworld and @sabyasachiofficial.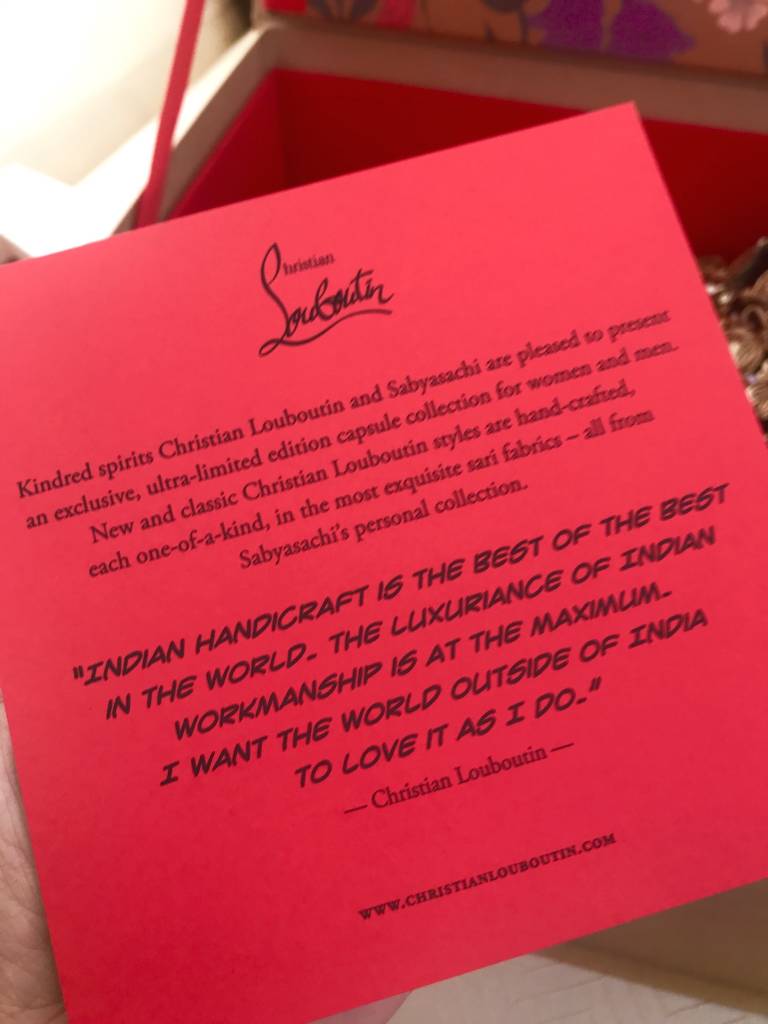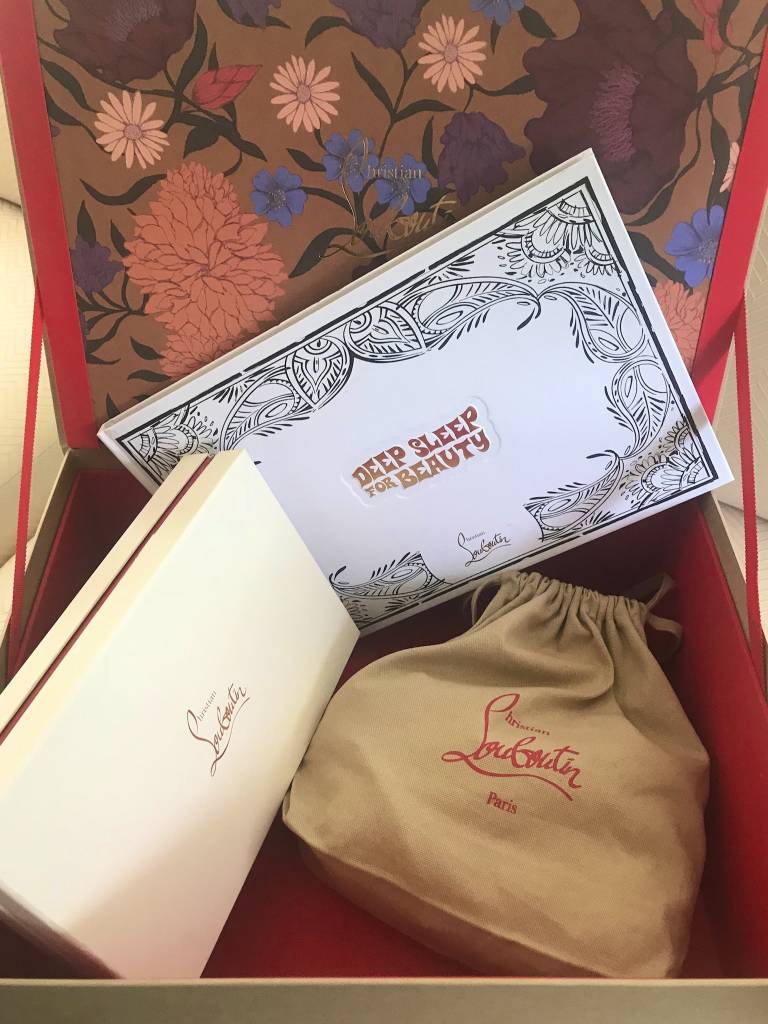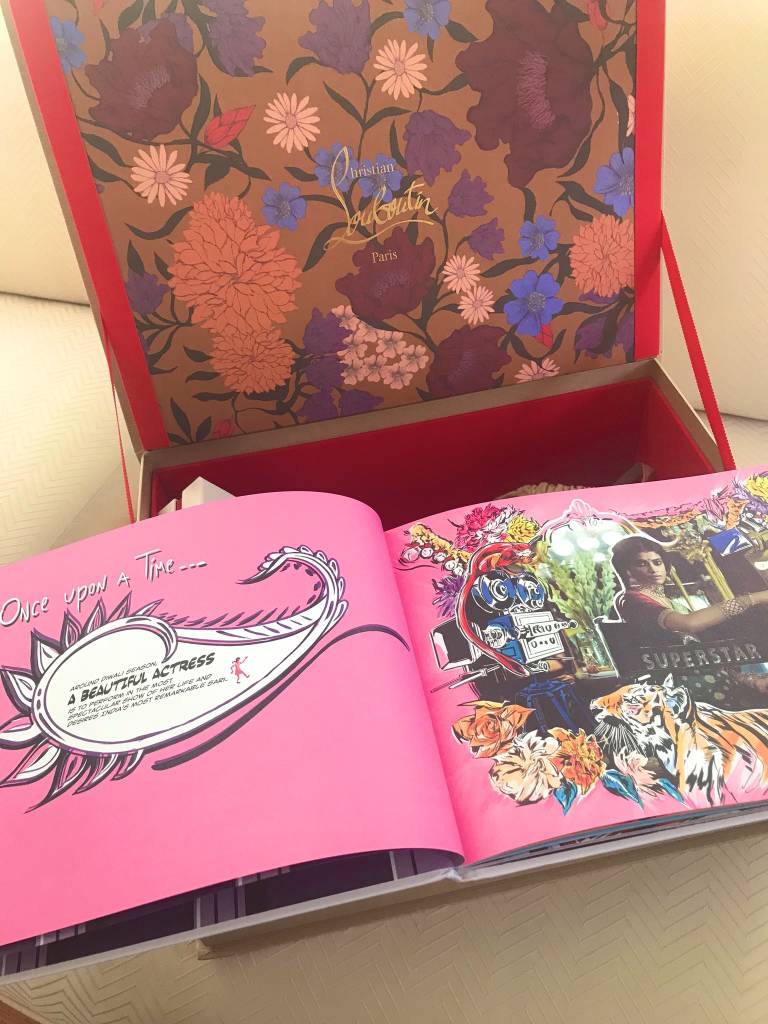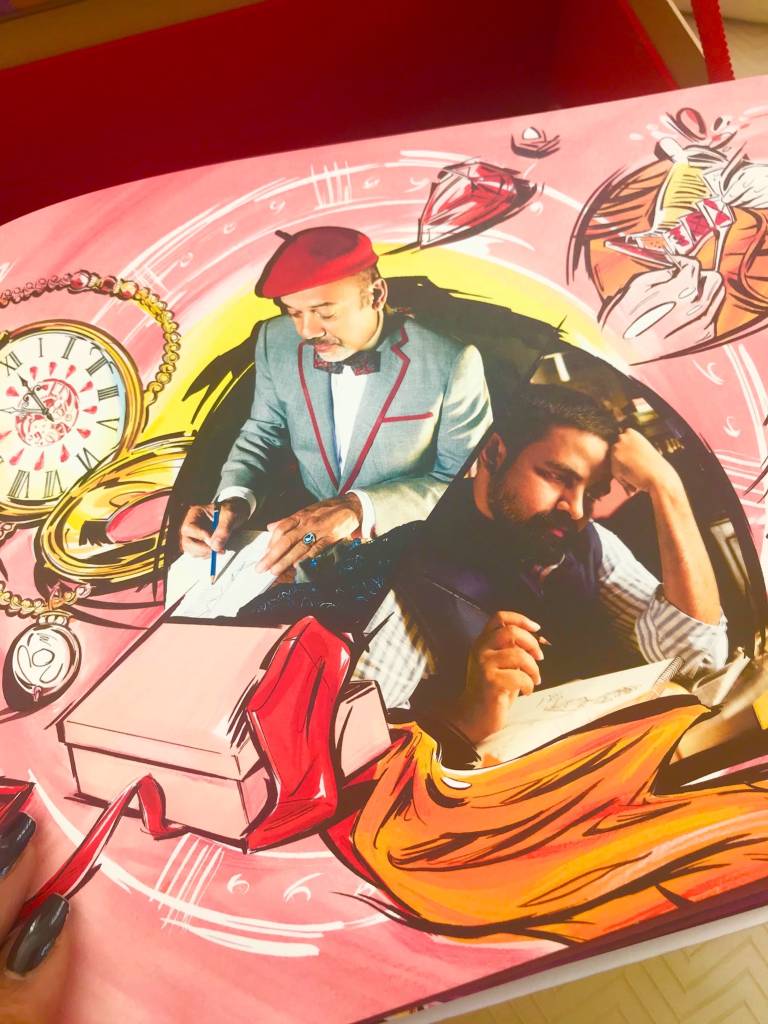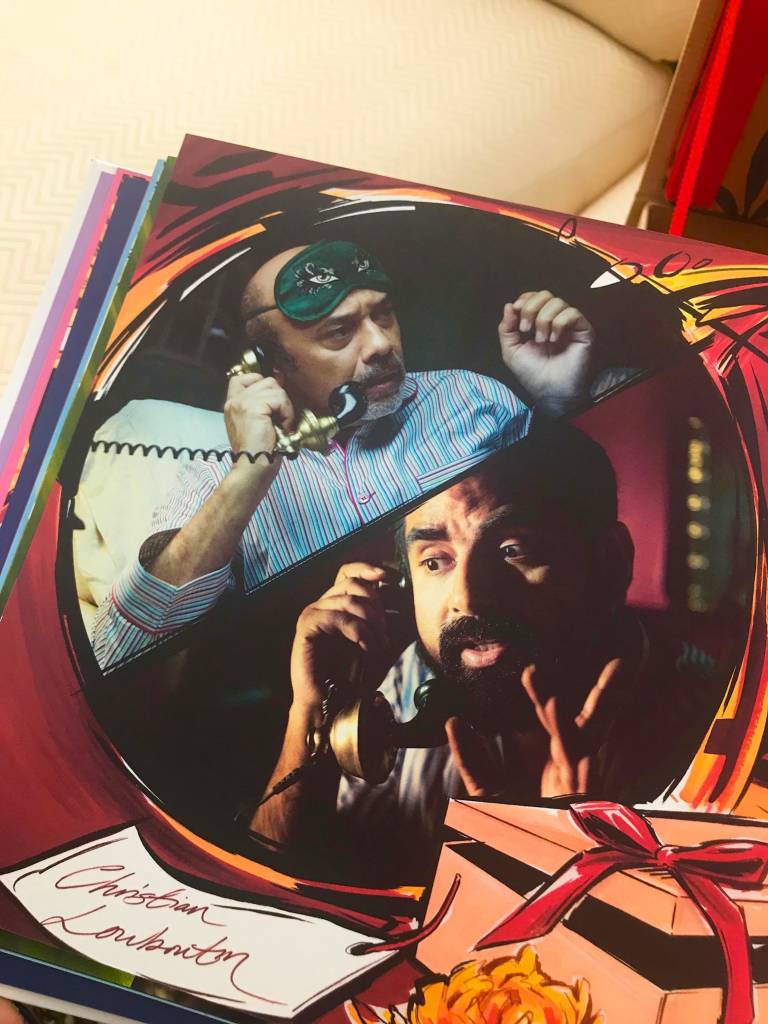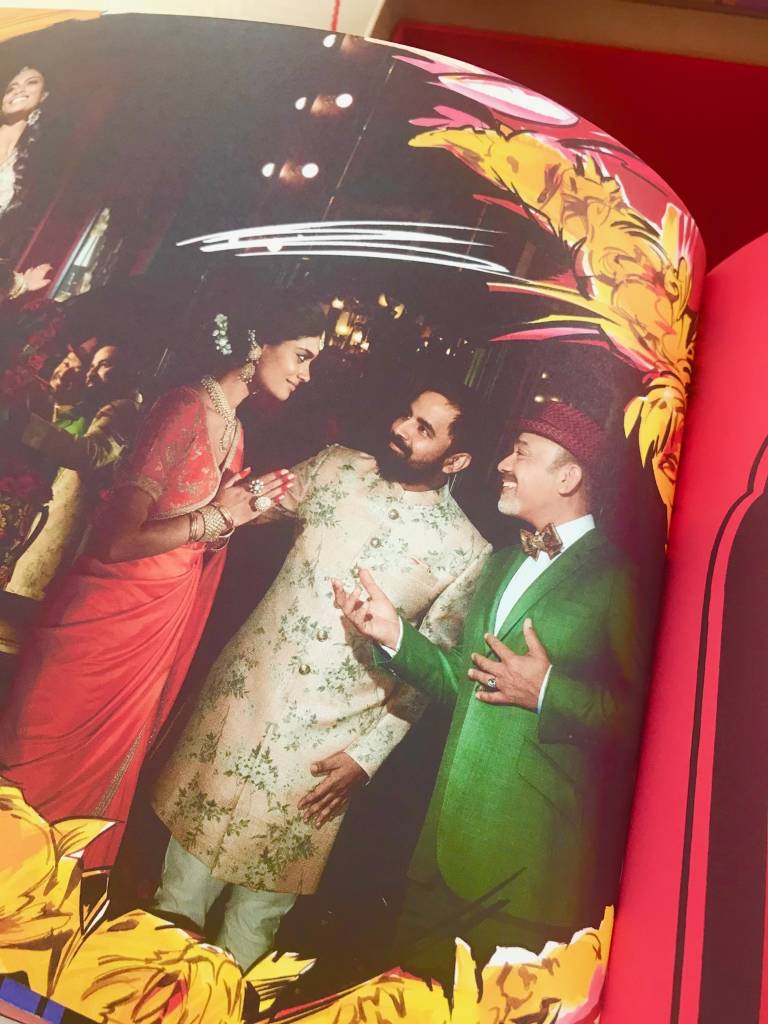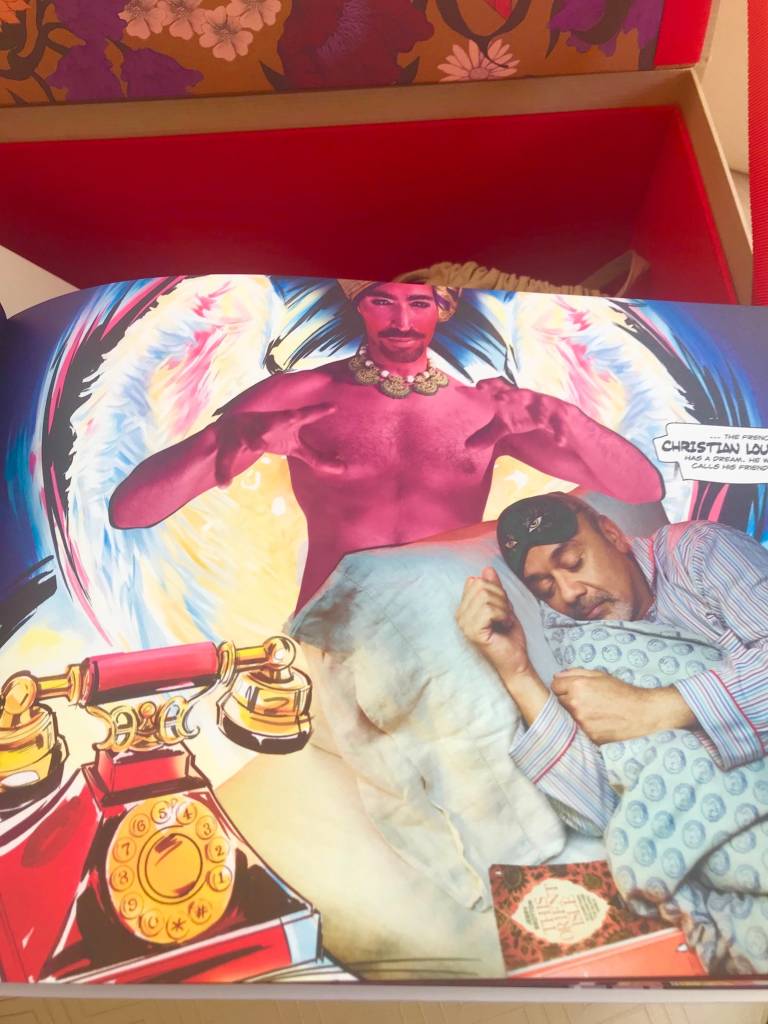 Thank you for joining me on this magical day; I hope you vicariously enjoyed the experience with me.
I would like to especially thank BG Fashion Director Linda Fargo; VP, General Manager Karyn Benvenuto, and the entire BG handbag team for their warmth and hospitality. I would like to also thank my personal sales associate Monica Cabrera for making this dream a reality…