If beauty is in the eye of the beholder, what about the scent? As the Chanel No. 5 perfume reaches its 100th anniversary (!), Chanel celebrates with a new limited edition collection of beauty products.
Called the Factory 5 Collection, it is being launched is by pop-up events worldwide. PurseBop got a look (and smell) in Chicago to share with you. Perhaps pull out your own bottle of the fragrance to smell and inspire as you read.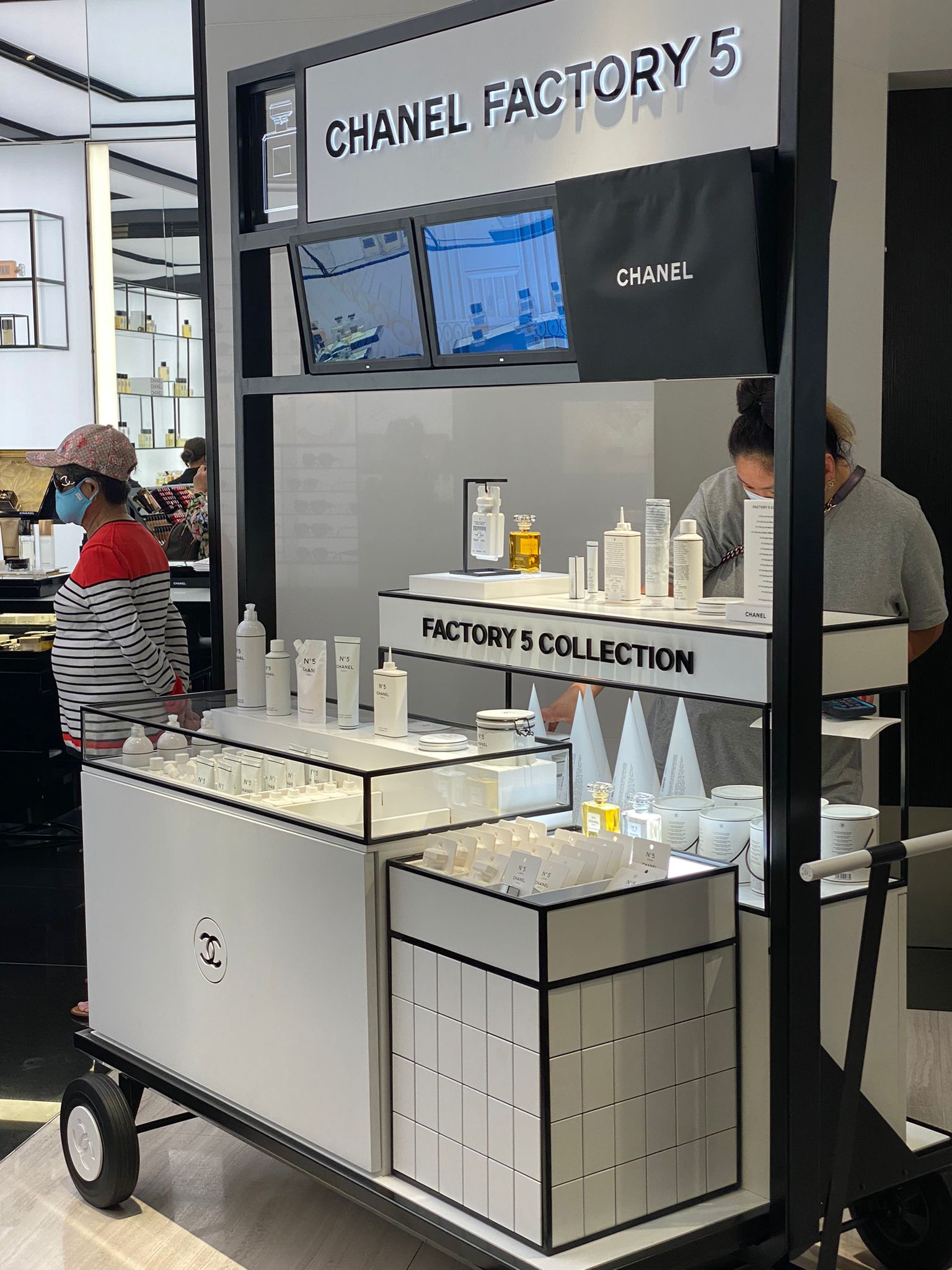 As the Factory 5 Collection commemorates 100 years of the Chanel No. 5 scent, it's no surprise that each of the featured 17 new beauty products incorporates the fragrance. This now iconic perfume was created in 1921 by 'The Nose' Ernest Beaux. Since then, it has become, arguably, the most famous perfume in the world. No wonder Chanel is eager to celebrate its centennial. 
The collection is inspired by everyday objects and the notion that wearing Chanel No.5 transforms the ordinary. With this in mind, creams, oils and other beauty products are packaged in seemingly 'everyday' tins and bottles. For example, shower gel is packaged in a dishwashing liquid bottle and in paint tubes for travel use. In a similar vein, bath lotion comes in a squeeze bottle.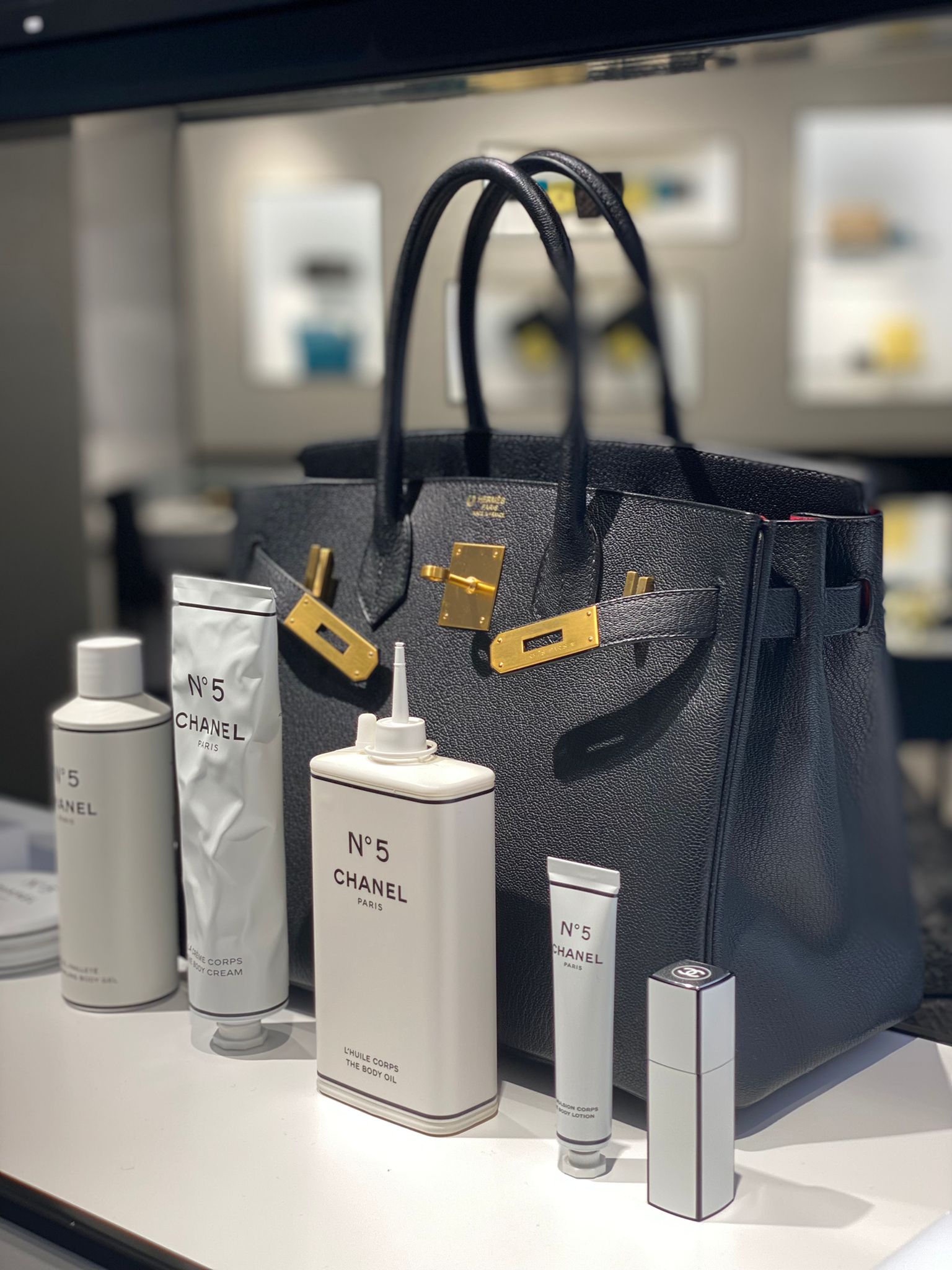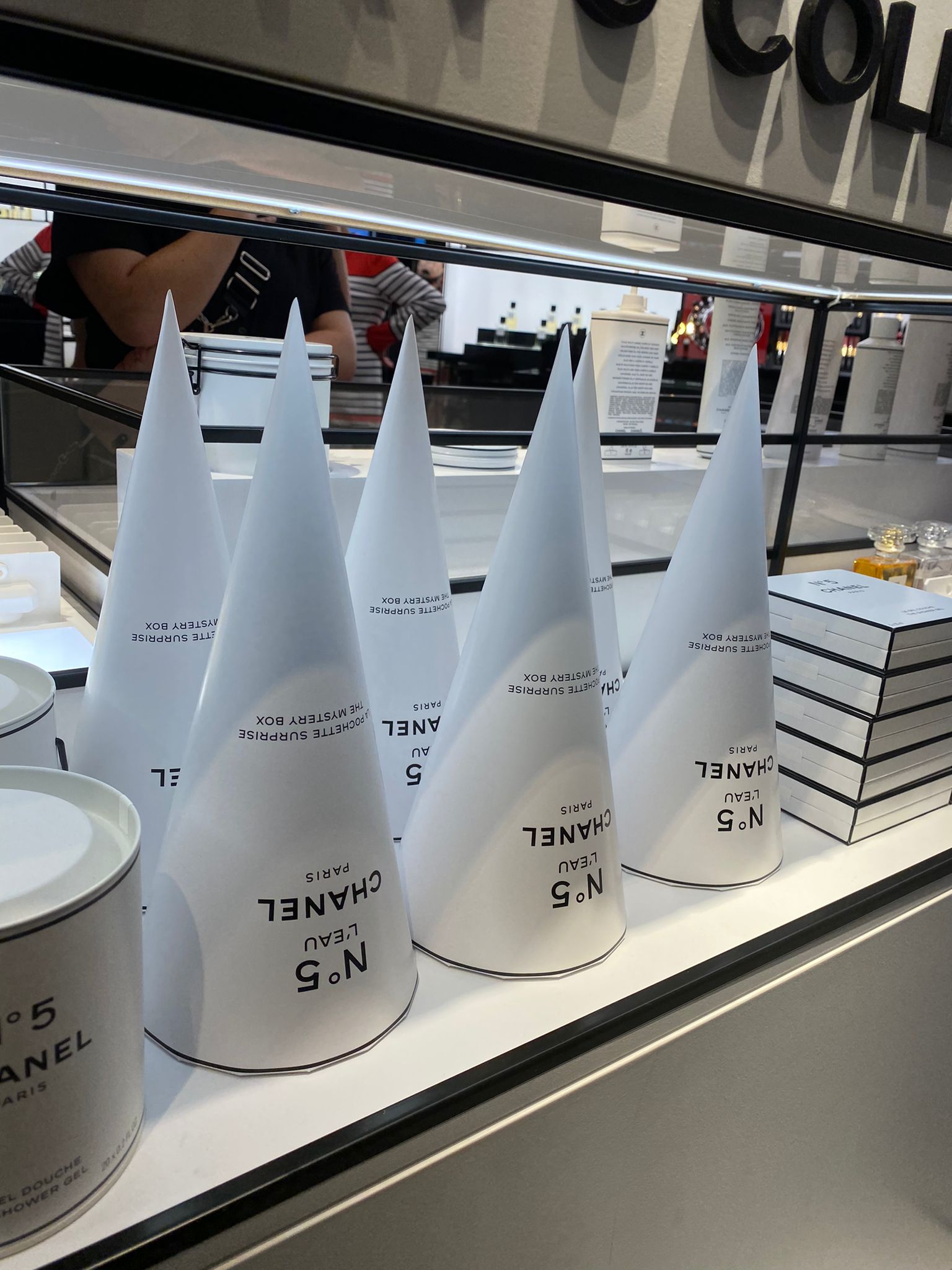 "There can be as much value in products that we use regularly as in products that we use for very special occasions," Chanel's head of global creative resources fragrance and beauty Thomas du Pré de Saint Maur, said in a statement to WWD. He spoke of the house's history of transforming functional objects into desirable luxury items. This idea dates back to Gabrielle Chanel's desire to break the traditional codes of fashion and beauty. This is true for the first No.5 perfume bottle which was in fact a laboratory bottle.
This collection's unique packaging will feature Chanel's signature black and white colorway in addition to splashes of pop art colors.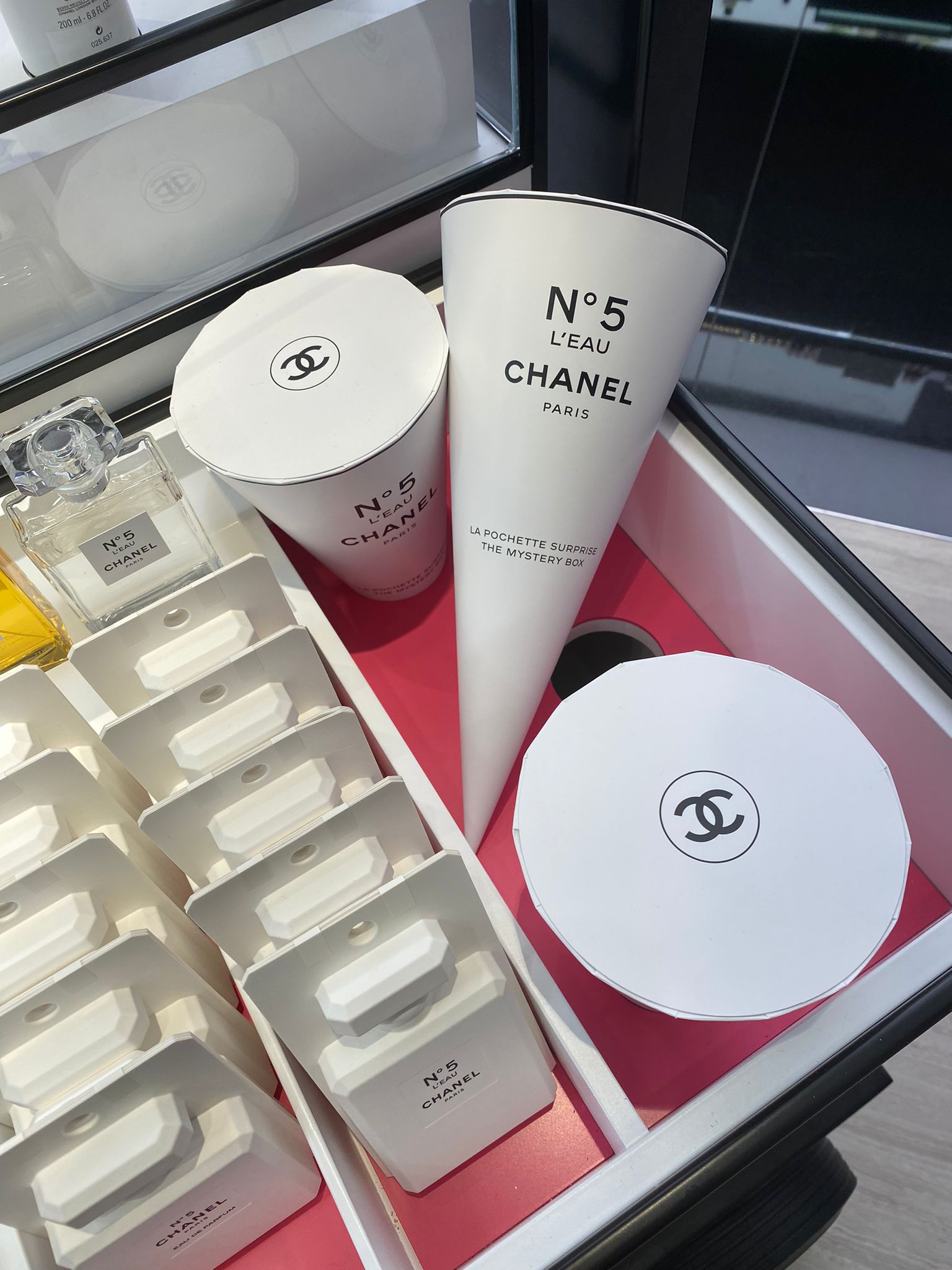 The launch officially began Tuesday when a series of pop-ups opened in big cities across the globe. PurseBop was fortunate enough to attend the pop-up at one of Chanel's boutiques in Chicago.
Staged in a factory-style setting, employees purport to demonstrate the manufacturing process. Additionally, there are or will be various digital versions of the pop-up events, including an immersive and experiential event to be held in early July by Saks Fifth Avenue.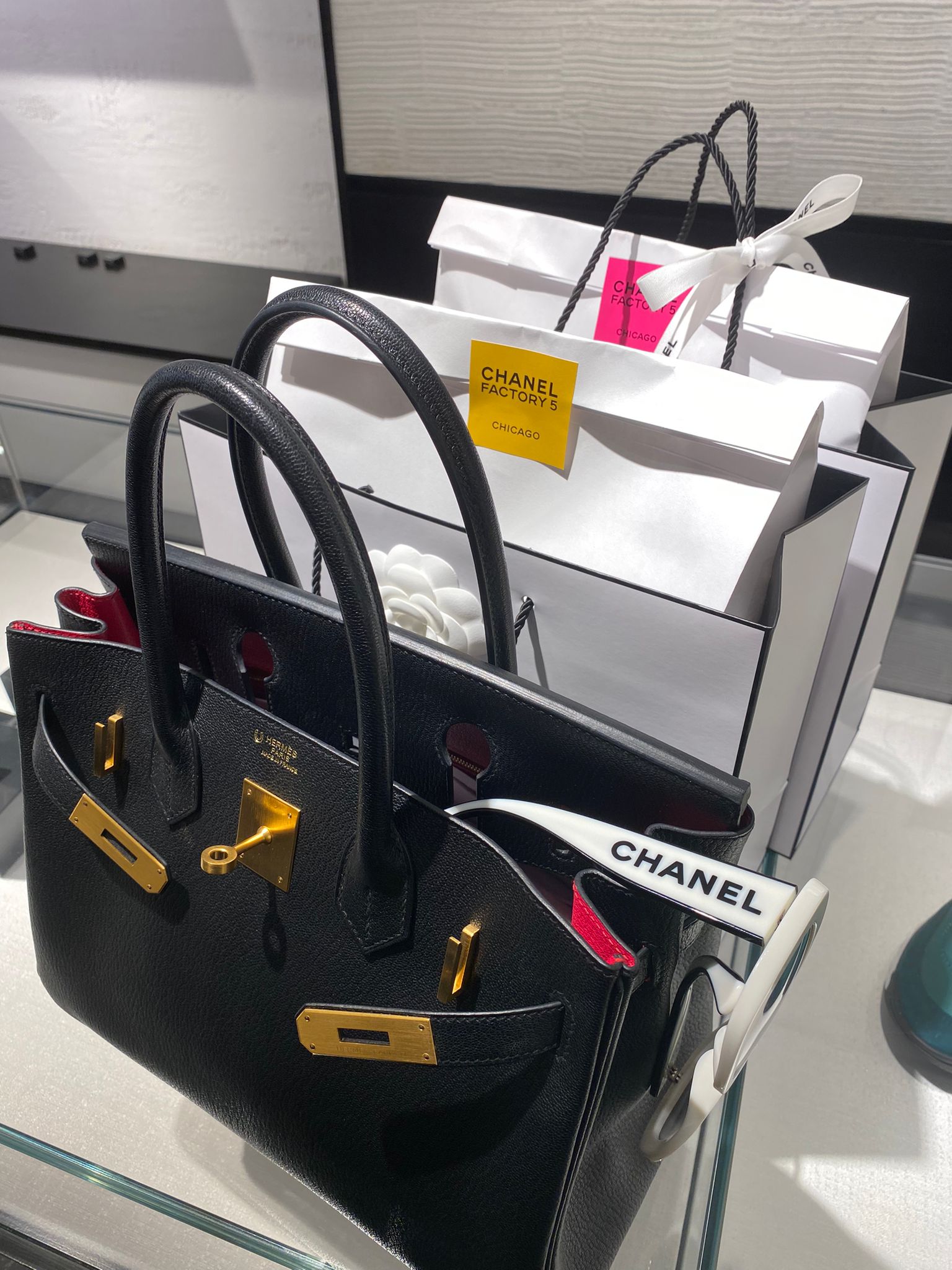 In addition to these pop-ups, you can purchase Chanel's new Factory 5 Collection at Chanel's fragrance beauty boutiques as well as some of its fashion stores and online.
Is Chanel No. 5 your favorite scent? Are you intrigued by this new collection and its packaging?