Post edit July 30th:
Delighted to include LeOrangeBliss's latest addition to her Hermes Clutch collection. Special thanks to our dear Hermes expert and enthusiast! Read below for new content and visit BopTalk for a new post with complete details of the Hermes Tutti Frutti collection.
Extensive Hermes Review from our BopTalk Celebrity LeOrangeBliss:
As I am now truly lucky enough to own the 4 Hermes clutches I most desired, I can now compare them all objectively AND subjectively.
Hermes Medor
My first Hermes clutch was the Medor 23 cm in Argile tadelakt leather with Permabrass hardware.  You would be hard-pressed to find a more elegant but edgy, neutral warm toned clutch.  The permabrass hardware is a subtle gold tone, not as flashy as the regular gold hardware, and lends itself easier to mixing metals.  The Medor used to be made in a larger 29 cm size, but currently is only offered in the smaller 23 cm.  Approximate measurements are 23 cm in length, 13 cm in height, and 4 cm in width.  It is a compact clutch that fits beautifully and comfortably in the hand, and can also be tucked in your armpit if both hands need to be in use.  It can comfortably fit a lipstick, compact, tissues, small tube of lotion, keys, phone and cash/cards in the side pocket.  However, I personally find the Medor to be strictly an evening clutch.  The tadelakt leather, which is similar to box, is smooth and delicate and prone to scratches and may blister if exposed to water/rain.  Aside from exotic skin (croc/gator and lizard), I believe the Medor is only made in tadelakt or box (both smooth delicate leathers).  The closure is also not the easiest to open/close, so quick access can be an issue.  Lastly, lacking a handle, you can only carry it 2 ways: hand held or tucked in your armpit.  However, I still do love the Medor, and have since acquired a Gris Perle with PHW (the perfect cool-tone neutral evening clutch) and a Rose Lipstick with Permabrass HW which has since been re-homed as I hardly ever used it.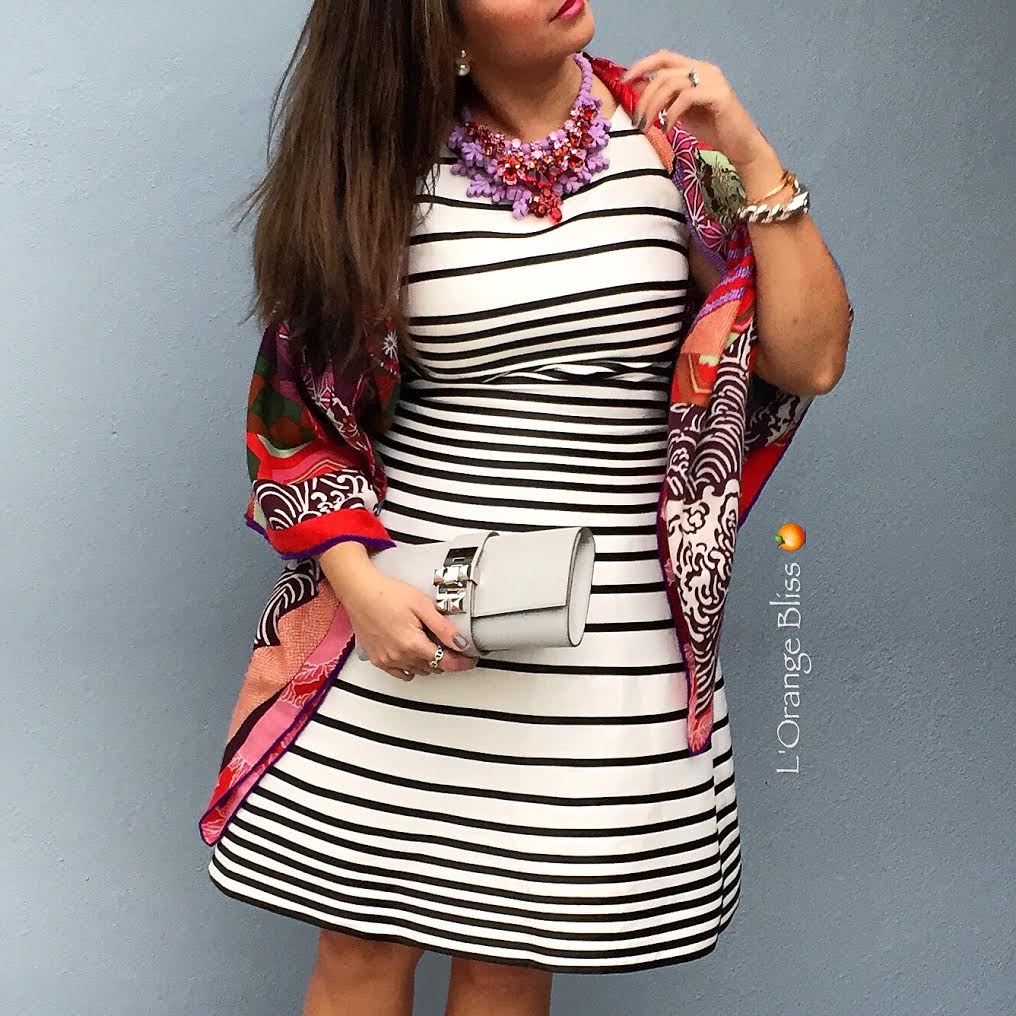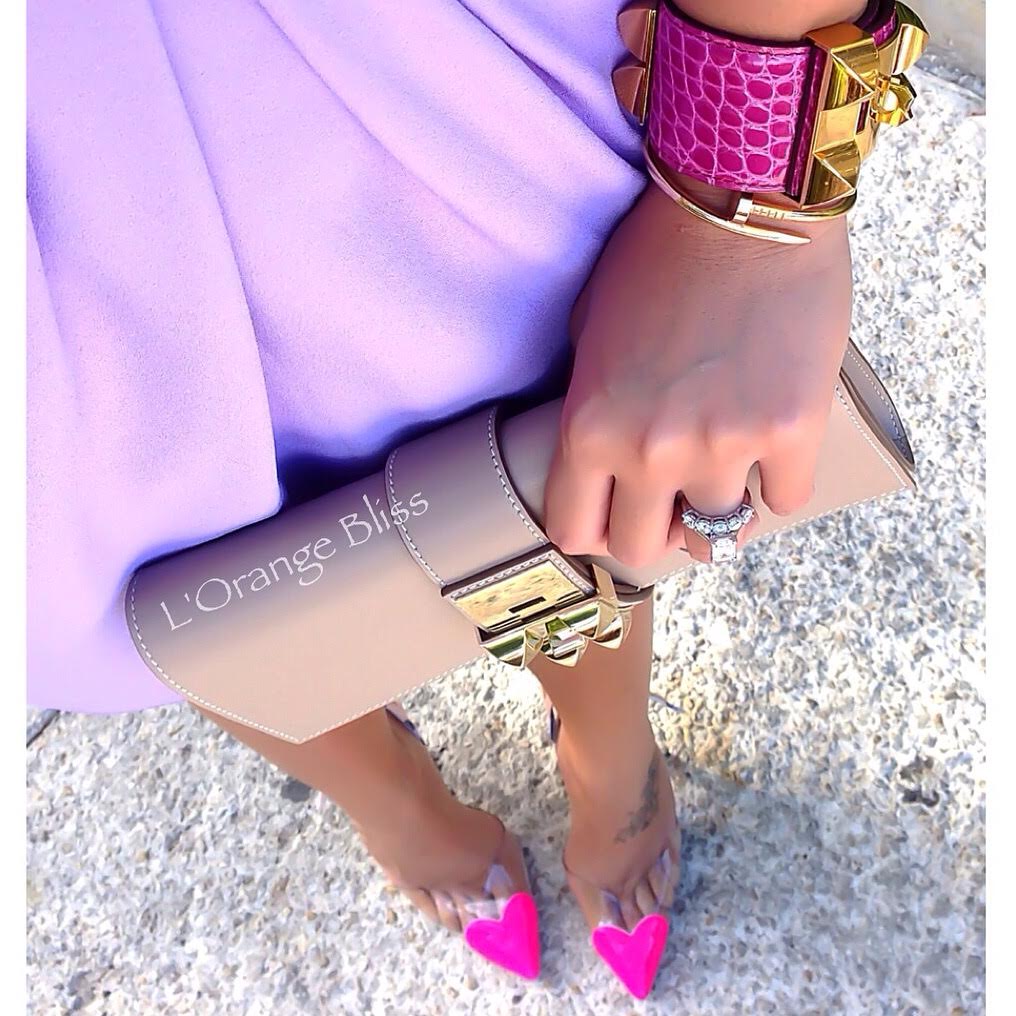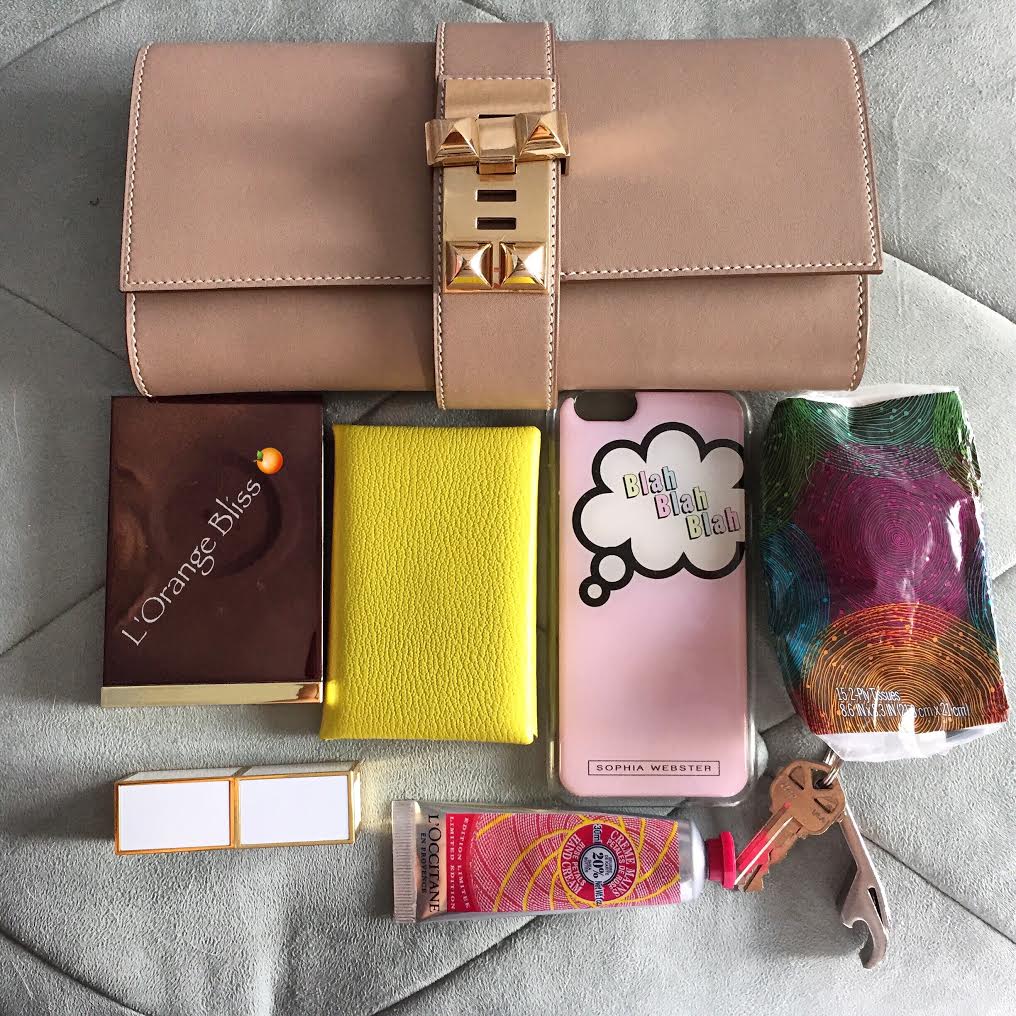 Hermes Jige
Next let's take a look at the Jige.  The Jige comes in 3 different sizes, the GM, the PM and the elan.  I have the Jige PM which is the only size in this style I wanted, in a beautiful Rose Confetti epsom leather.  It measures approximately 29 cm in length, 19 cm in height, and 3 cm in width.  The GM is very large, almost briefcase like, and the elan is the same length but shorter in height than the PM.  Contrary to the Medor, I find the Jige to be a more casual clutch, best suited for daytime use and more casual evenings out, perhaps due to the lack of hardware and the more durable and practically waterproof Epsom leather.  The closure allows for easy access.  This is a larger clutch than the Medor 23 cm, and I can fit all of the above items, plus a small wallet/card case and sunglasses.  Like the Medor, it can also only be carried 2 ways: hand held or tucked in your armpit.  I personally am not sure if I would purchase another Jige, unless it was offered in an amazing fun pop color.  Aside from Epsom leather, it is also offered in swift and exotic skin.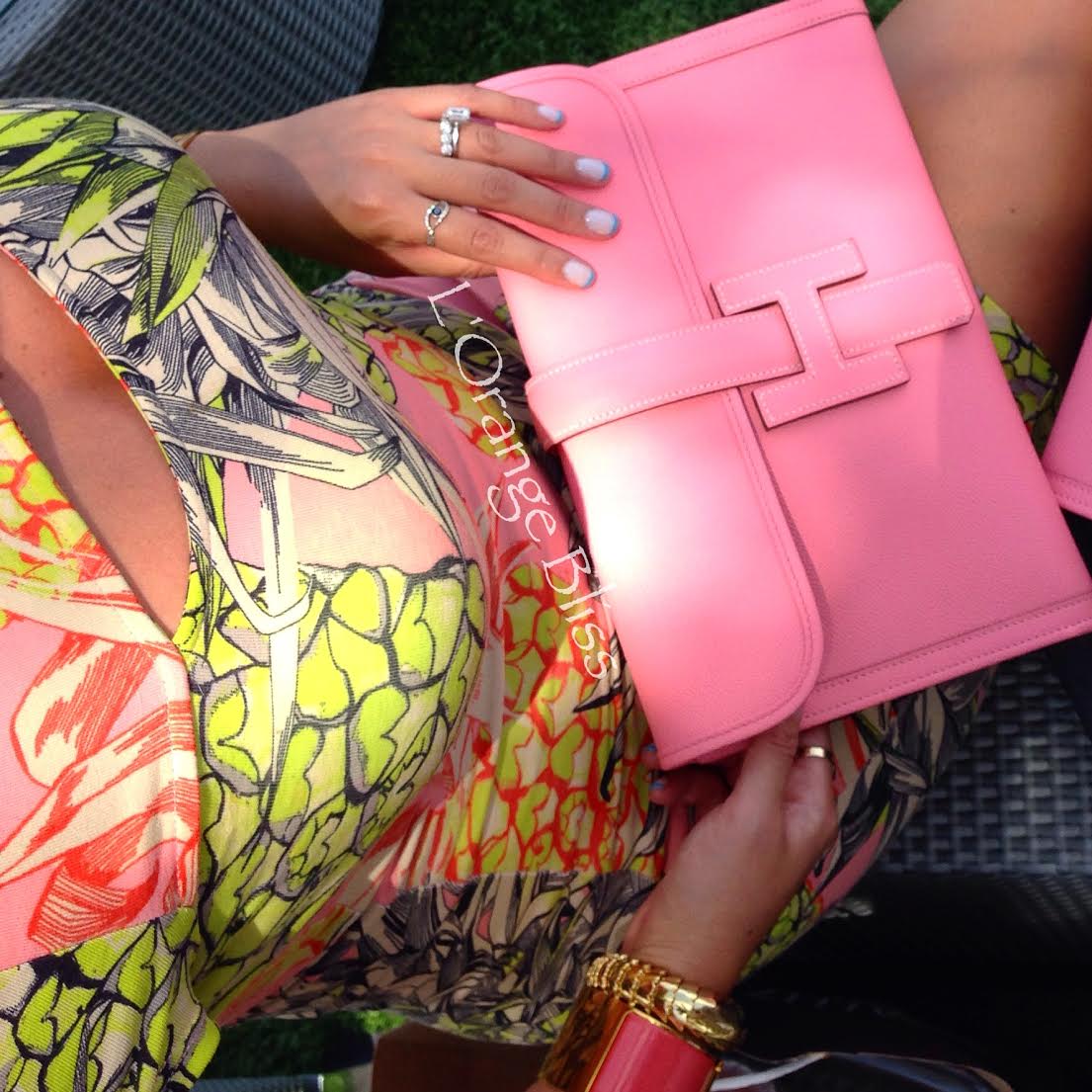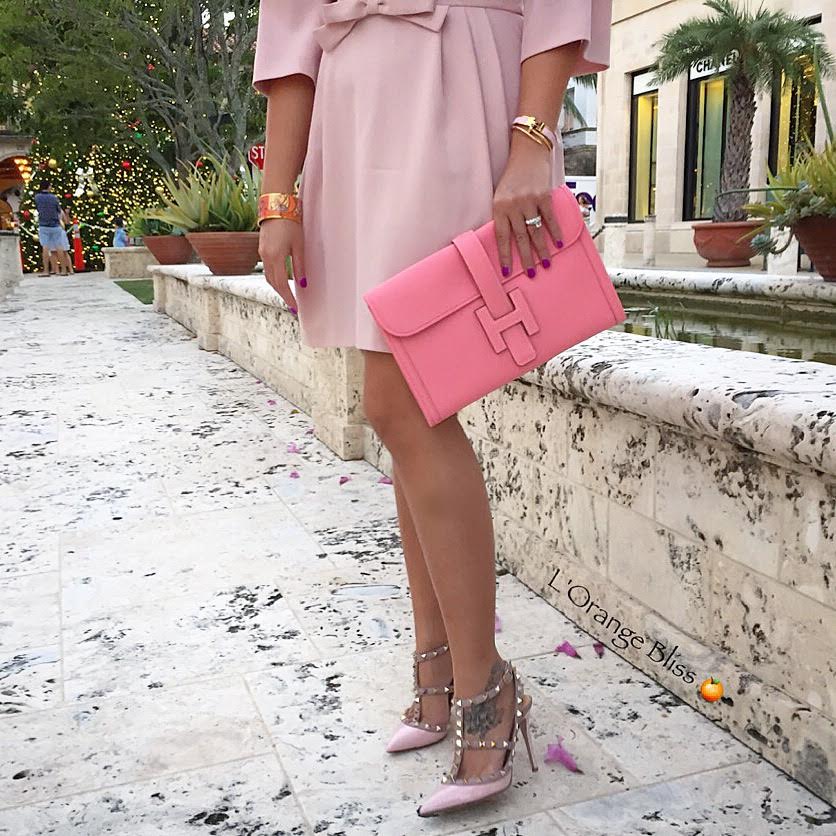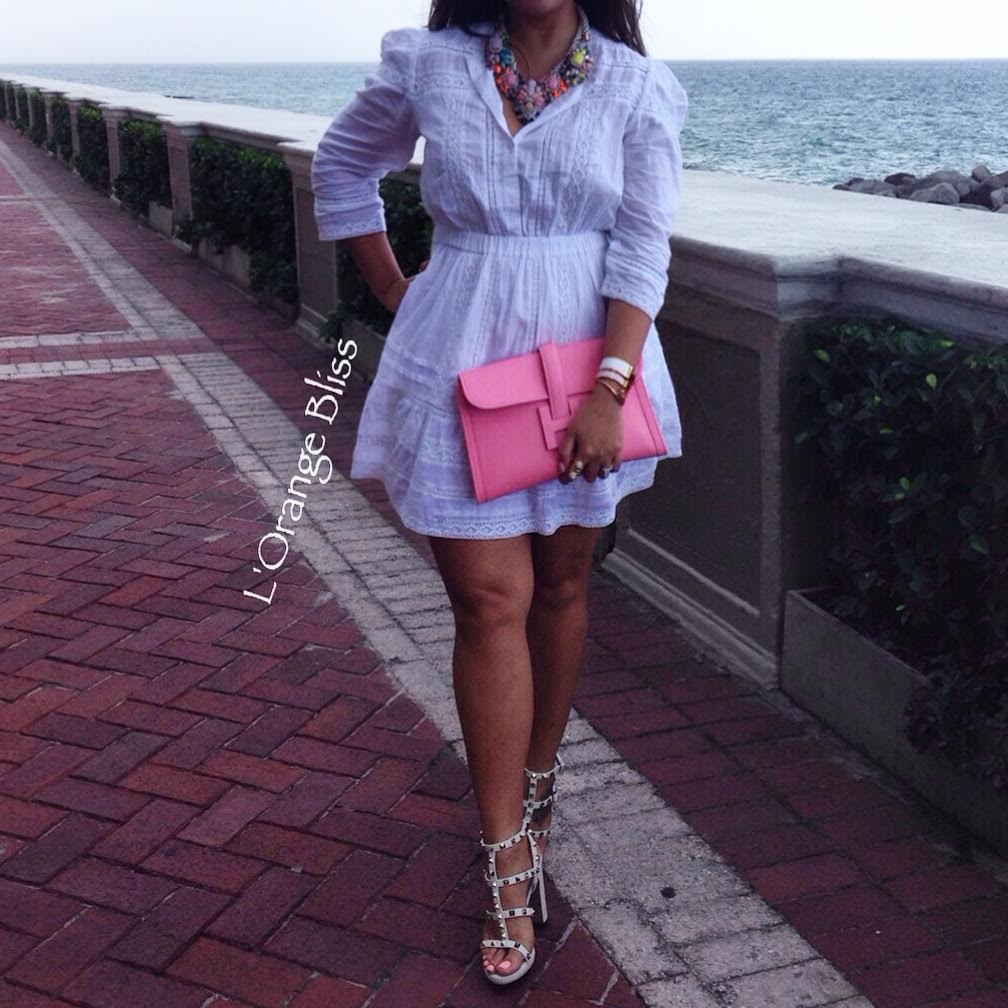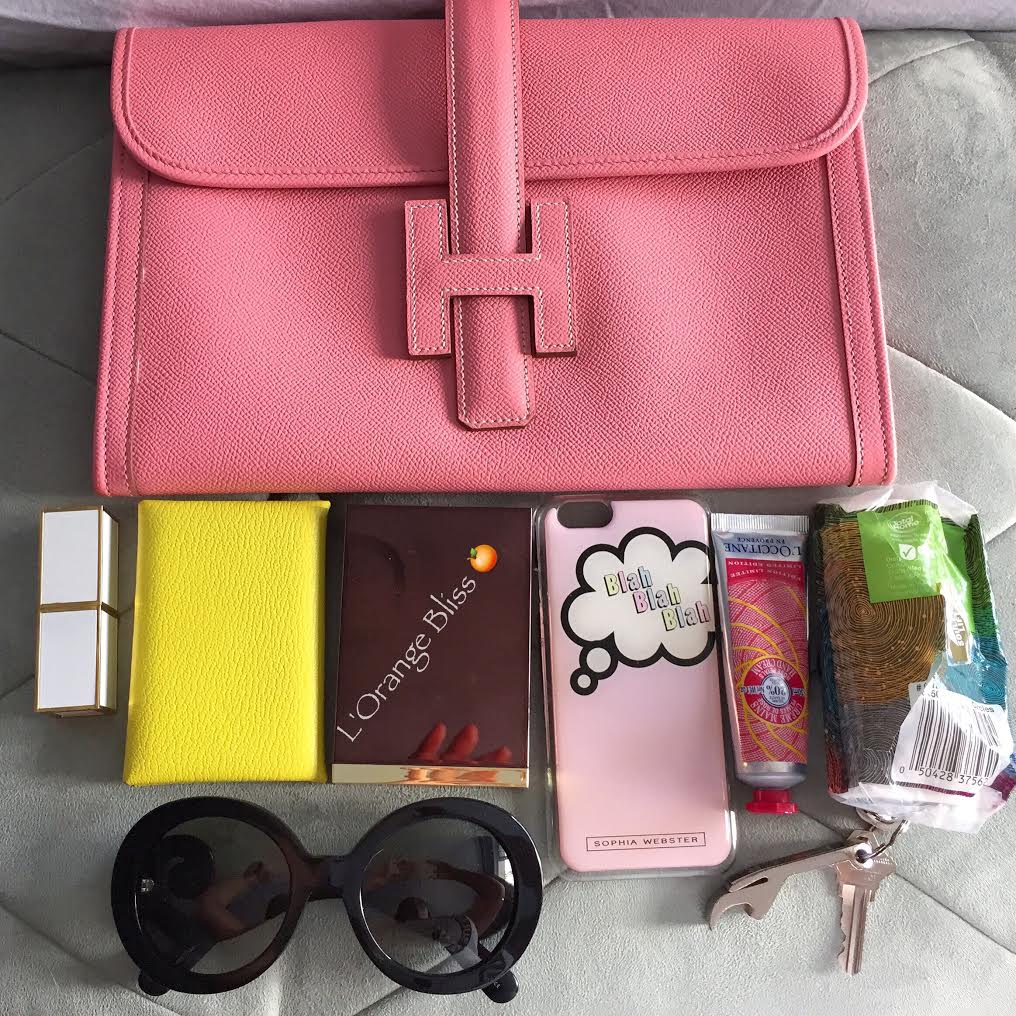 Hermes Kelly Pochette
Now let's turn our focus to the Kelly clutches which both have the same flap, sangles and turnlock closure as the bigger Kelly bags.
The Kelly Pochette is an adorable, small clutch with a short handle, and is deceptively roomy.  I have this in a beautiful vibrant pink Rose Tyrien in epsom leather with PHW.  It measures approximately 22 cm in length, 14 cm in height, and 7 cm in maximum width at the base.  It is the only clutch with a flat wide base that allows it to stand on it's own, like a mini bag.  It fits all the same items that fit in the Jige PM.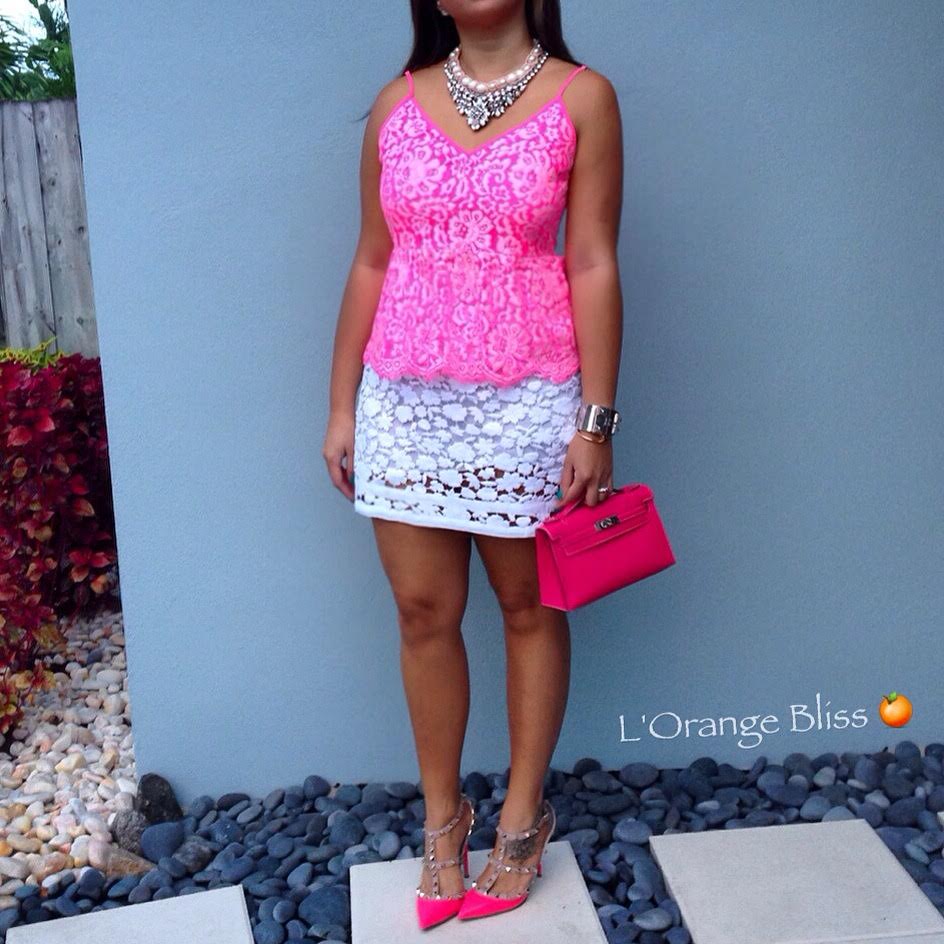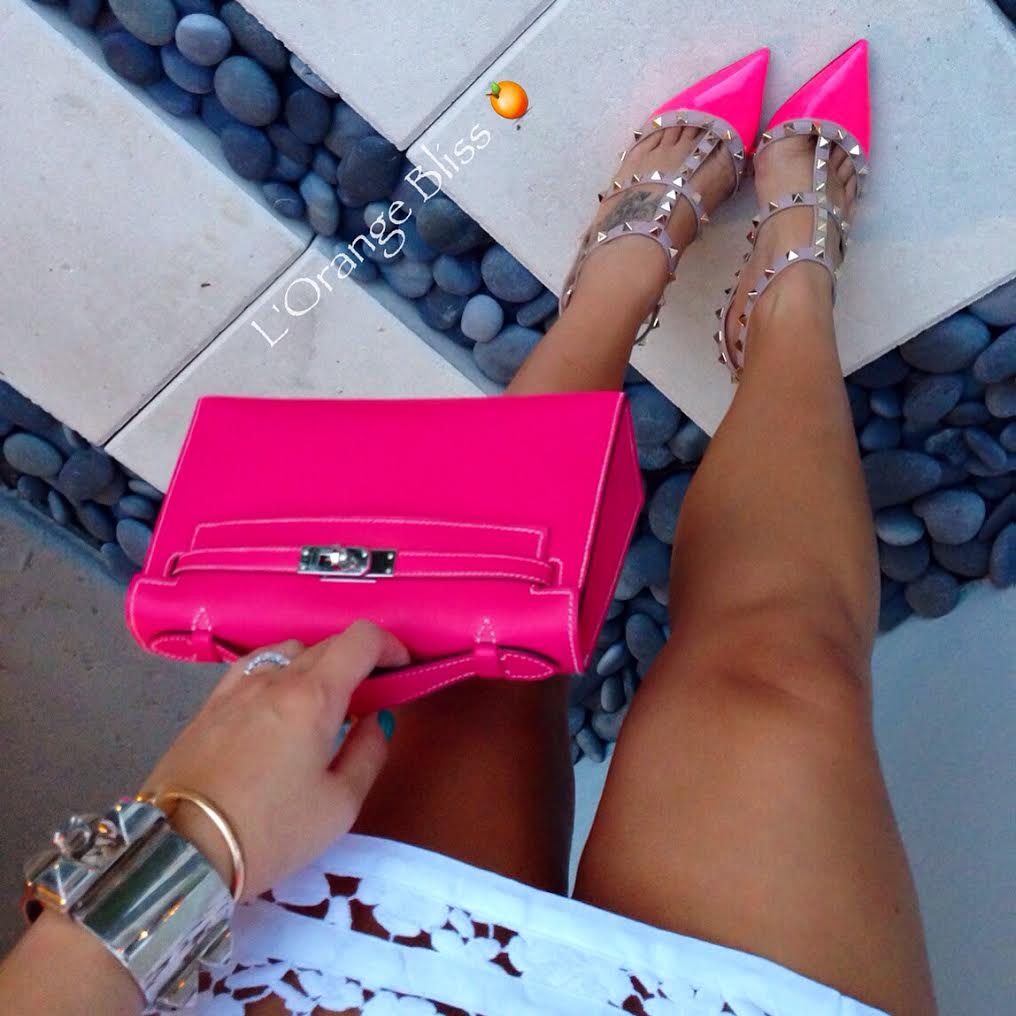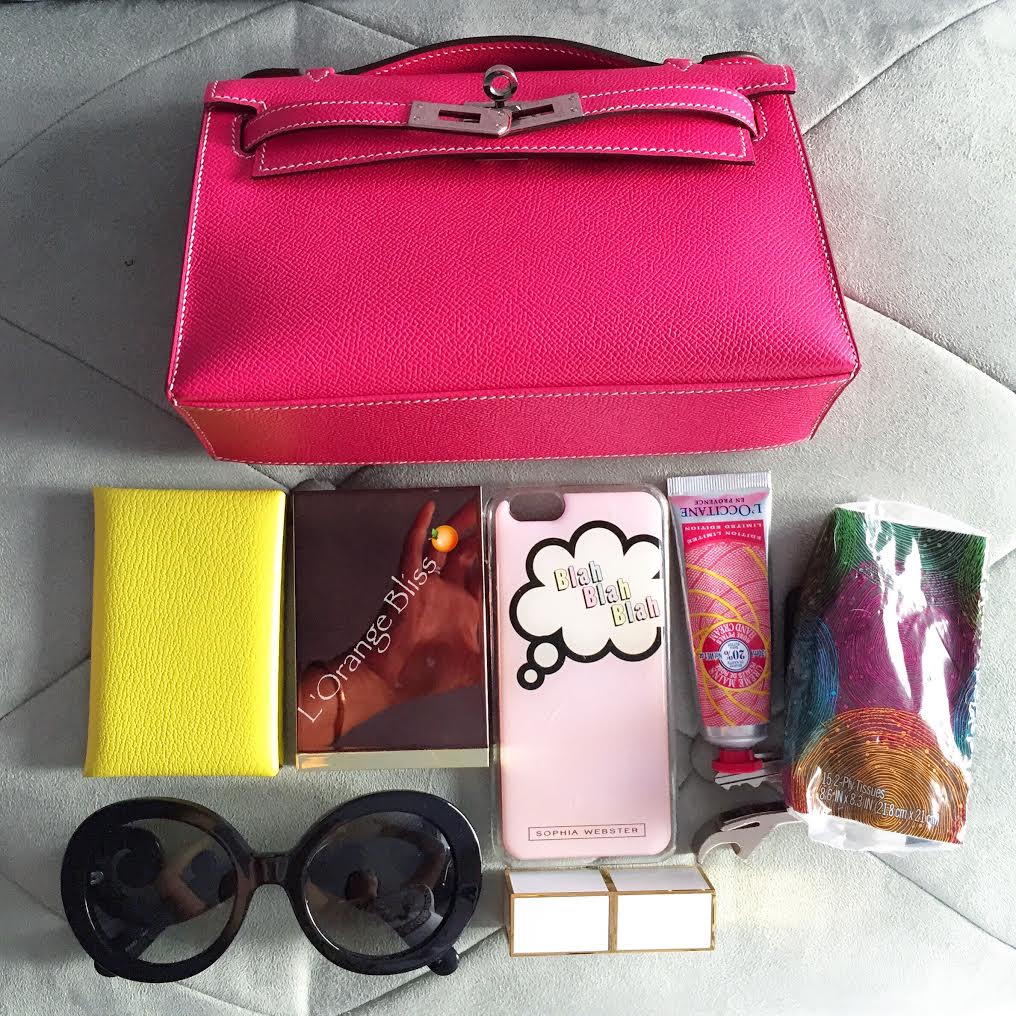 Hermes Kelly Cut
The other Kelly clutch is the Kelly Cut, and in my eyes, this is the more elegant edgier older sister to the Kelly Pochette.  It has the same short handle, but is longer and thinner.  It measures approximately 31 cm in length, 13 cm in height, and 2.5 cm in width.  As some of you may know, my Rose Jaipur epsom GHW Kelly Cut is the newest addition to my clutch/bag collection, and clearly the style which took me the longest to find in my exact specifications (color, leather and hardware).  This clutch fits less than the Pochette, and about the same amount of items as what can fit in the Medor 23 cm.
Read all about the Hermes Kelly Cut Craze in PurseBop's feature.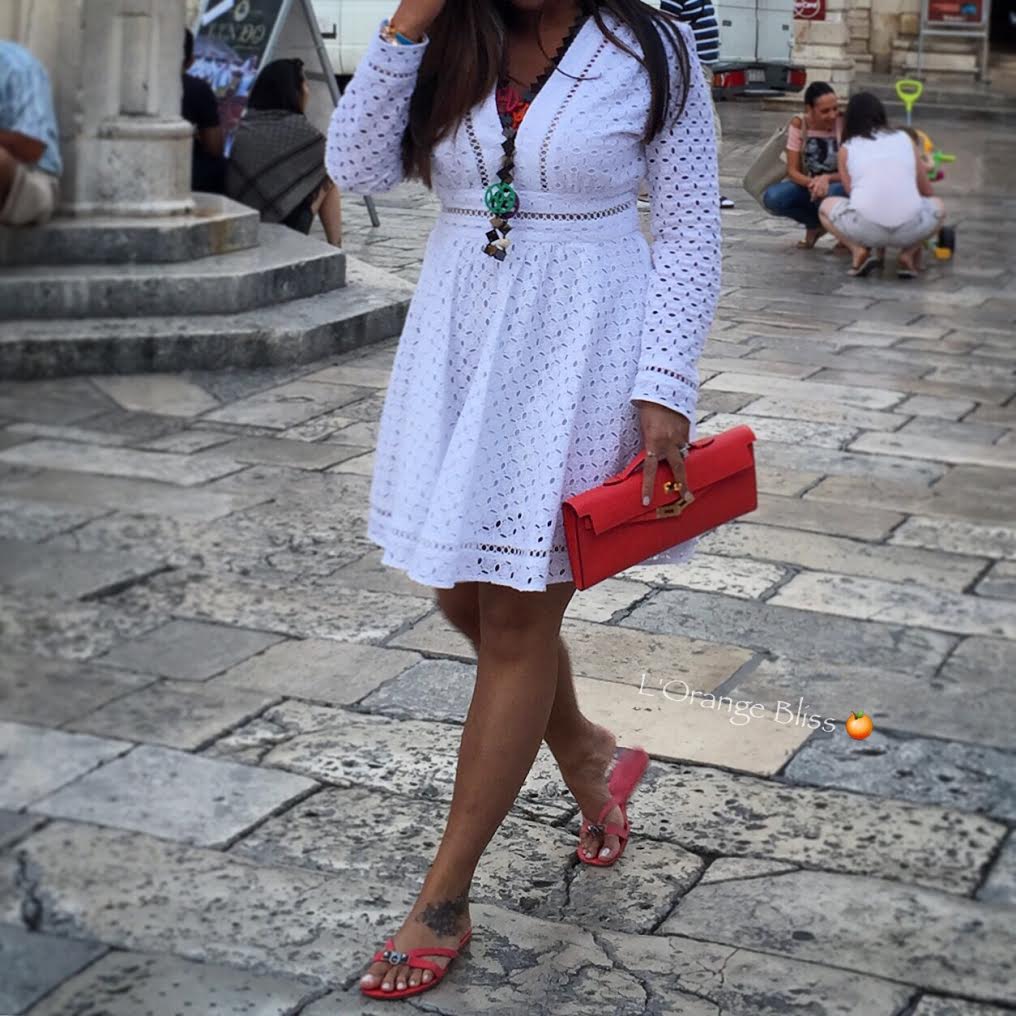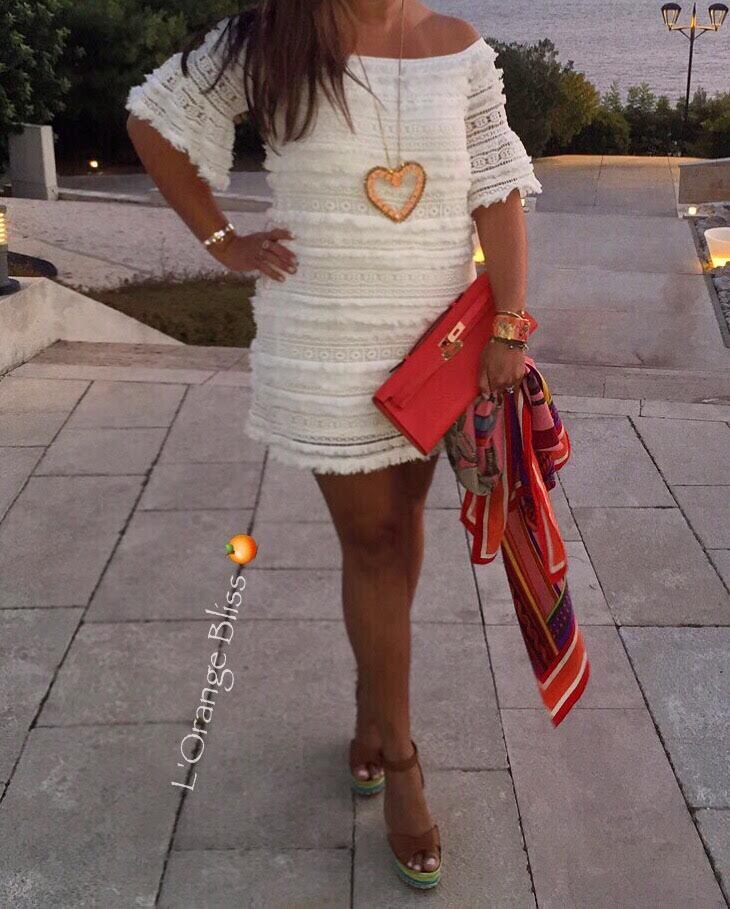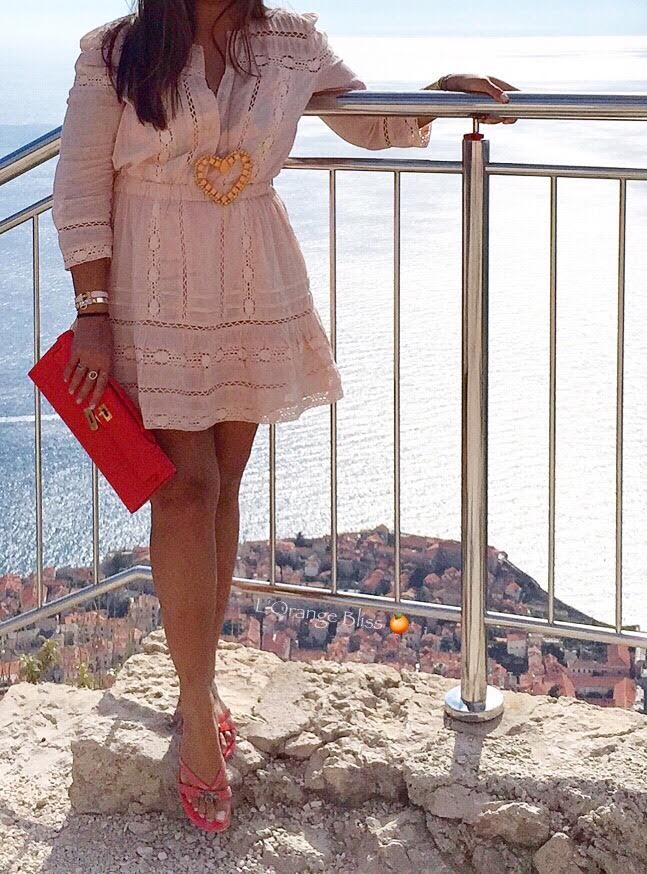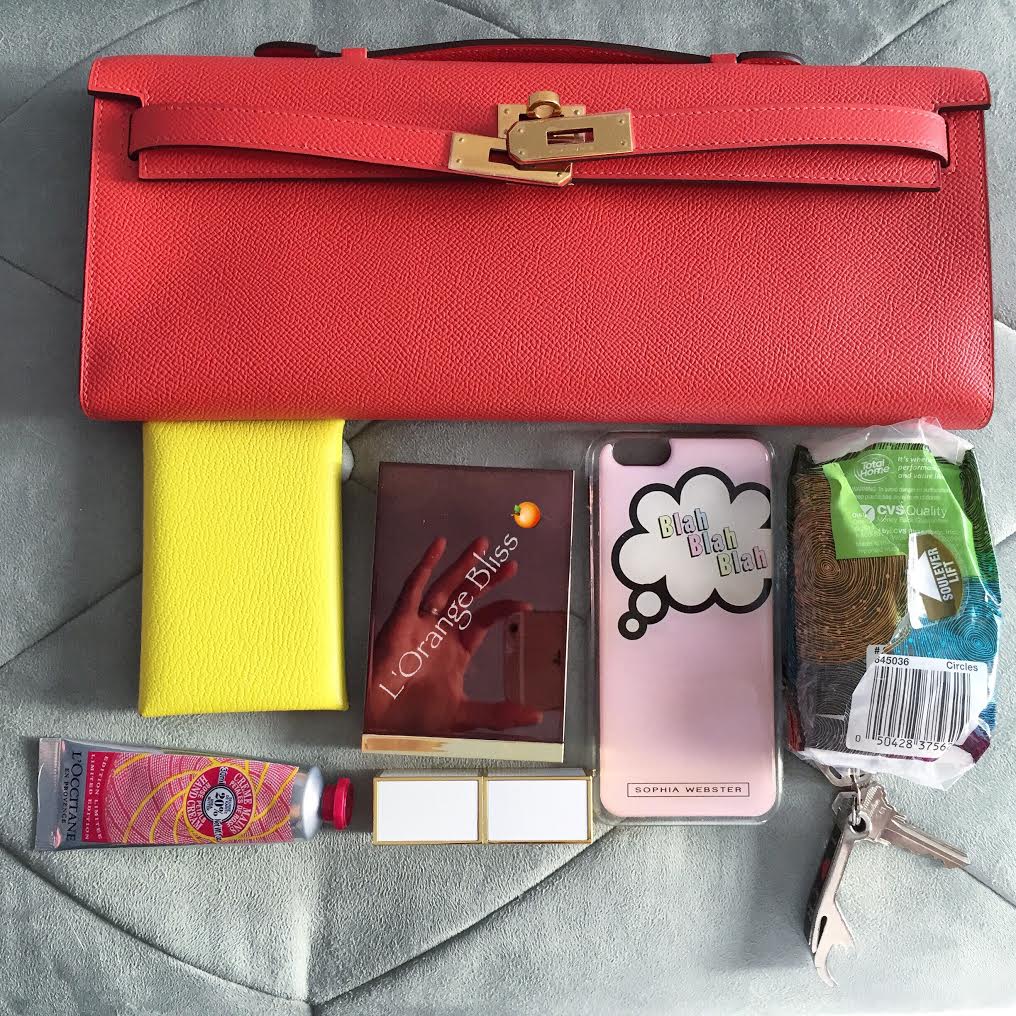 Kelly Cut versus Kelly Pochette
I find both Kelly clutches to be the most versatile, in terms of transitioning from day to night, and also in terms of how they can be carried.  Whereas the Medor and Jige can only be carried 2 ways, the Kelly clutches allow a 3rd way of being carried because of the short handle.  The closure is also very easy for me, as I leave the sangles undone and hanging down, while only closing the flap into the turnlock, making it an easy one step open/close.  If you have these in epsom leather, it is worry and fuss-free for daytime use, but the hardware adds that extra special touch that allows it to be dressy enough for evening.  Of course, they are also available in more delicate and dressy leathers such as swift and exotic skin (lizard, ostrich, gator and croc).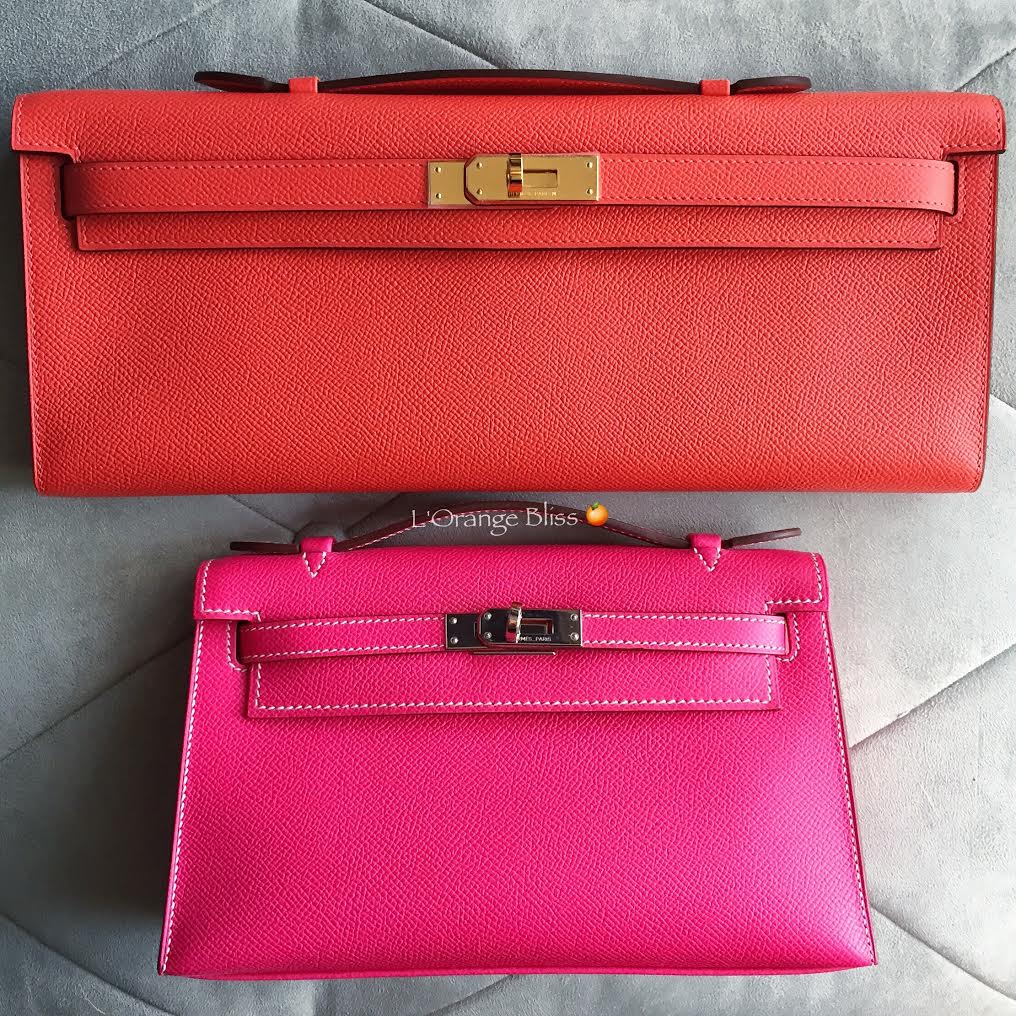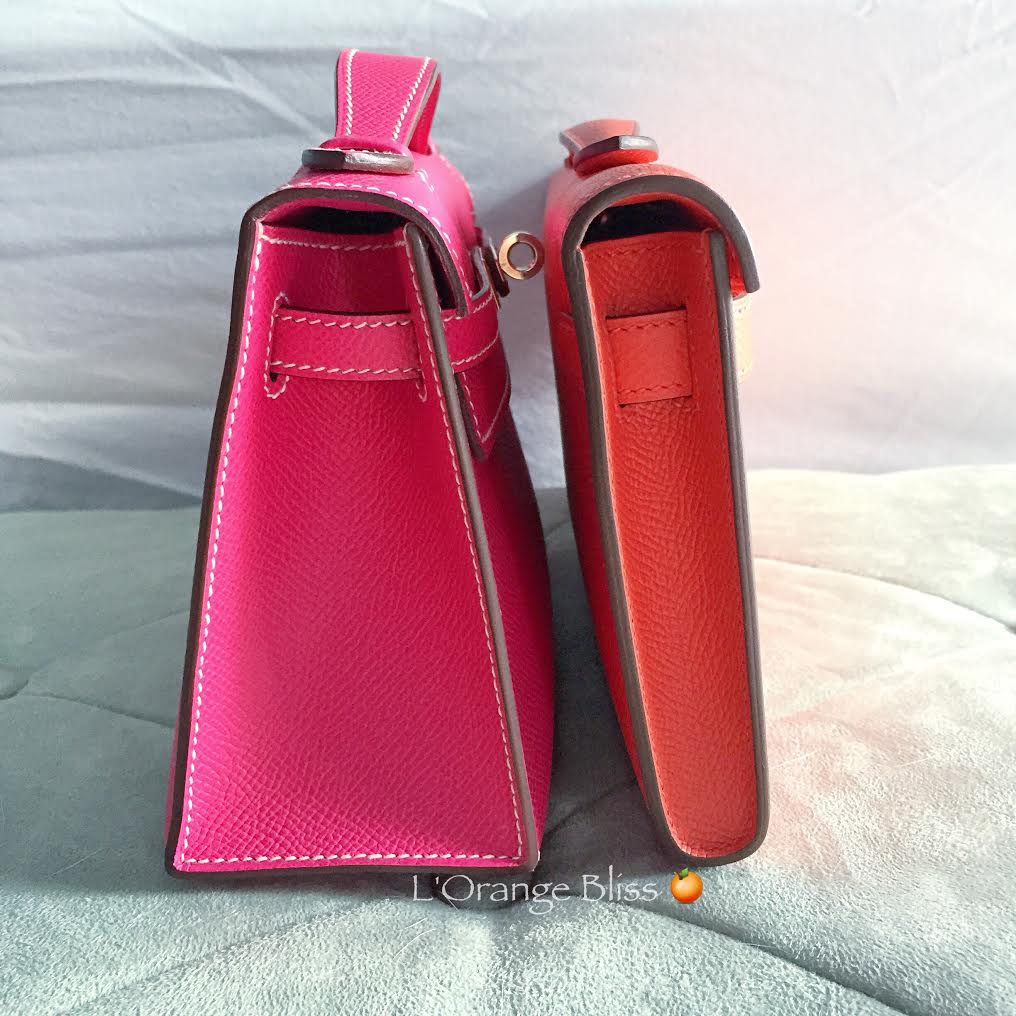 Hermes Tutti Frutti Citron Portefeuille Hermail
My most recent addition to the clutch family is this adorable wallet from the Limited edition Tutti Frutti line for Spring/Summer 2016.  The main part of the wallet is Bleu paon in swift leather and the lemon closure is in lime chèvre.  It is technically labeled a wallet, but it is large and roomy enough that it can be used as a small clutch.  It measures approximately 7.25 inches in maximum length at the bottom part of the wallet, 5.5 inches in height and 1 inch in width.  The sides are gusseted so it is expandable when opened, and there are 2 card slots and a deeper pocket inside.  I think this is such a cute, fun, adorable, collectible piece that I couldn't pass up. Although technically billed as a wallet, I personally will be using it as a clutch because it is  just too cute to be kept hidden inside a bag.  It fits cash, cards, cell phone (iPhone 6), keys, and a lipstick.  I do believe there is a larger version of this wallet, but have not seen it in real life.  I have also seen other color options in orange/lime and craie/lime, aside from this Bleu paon version.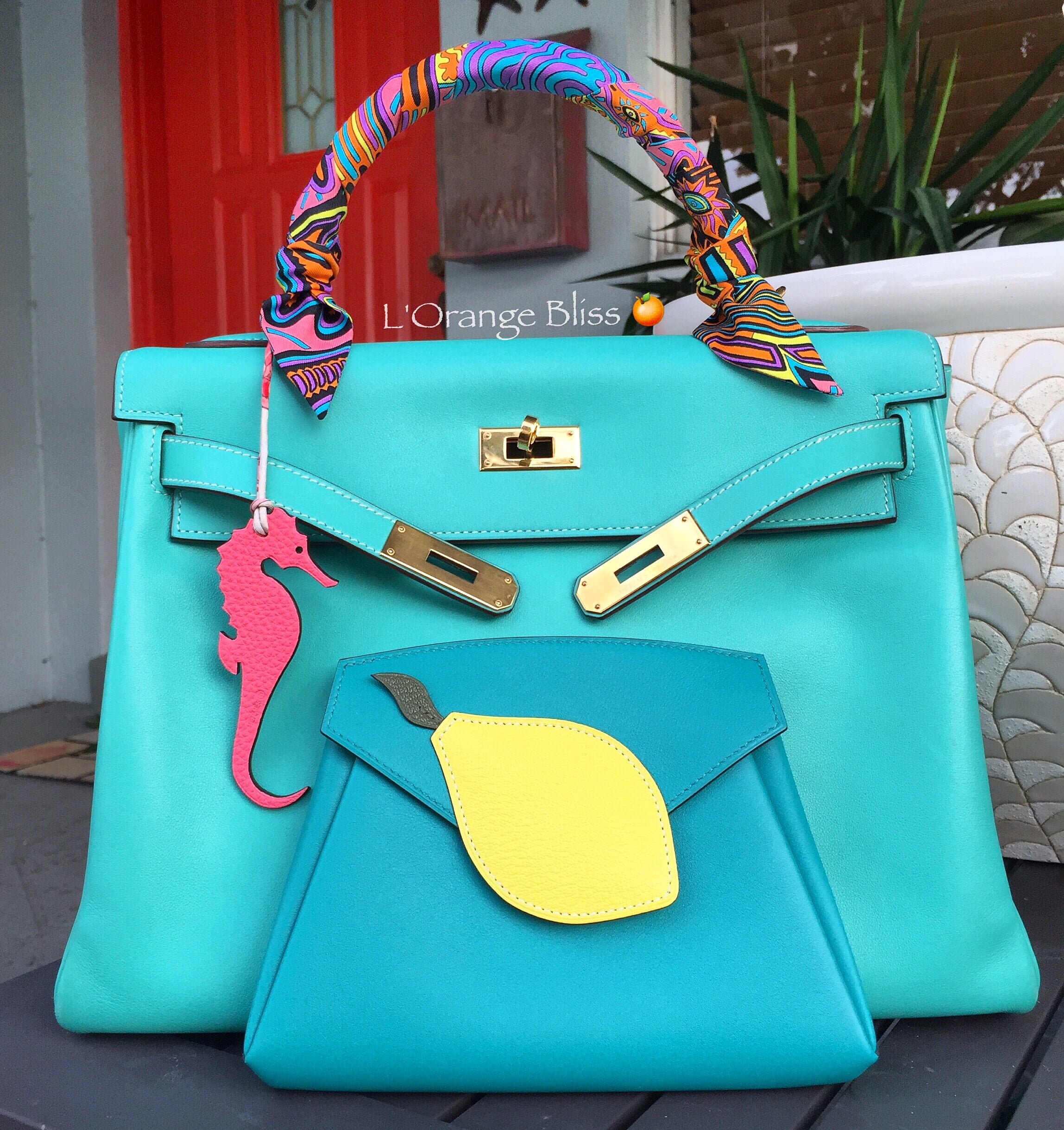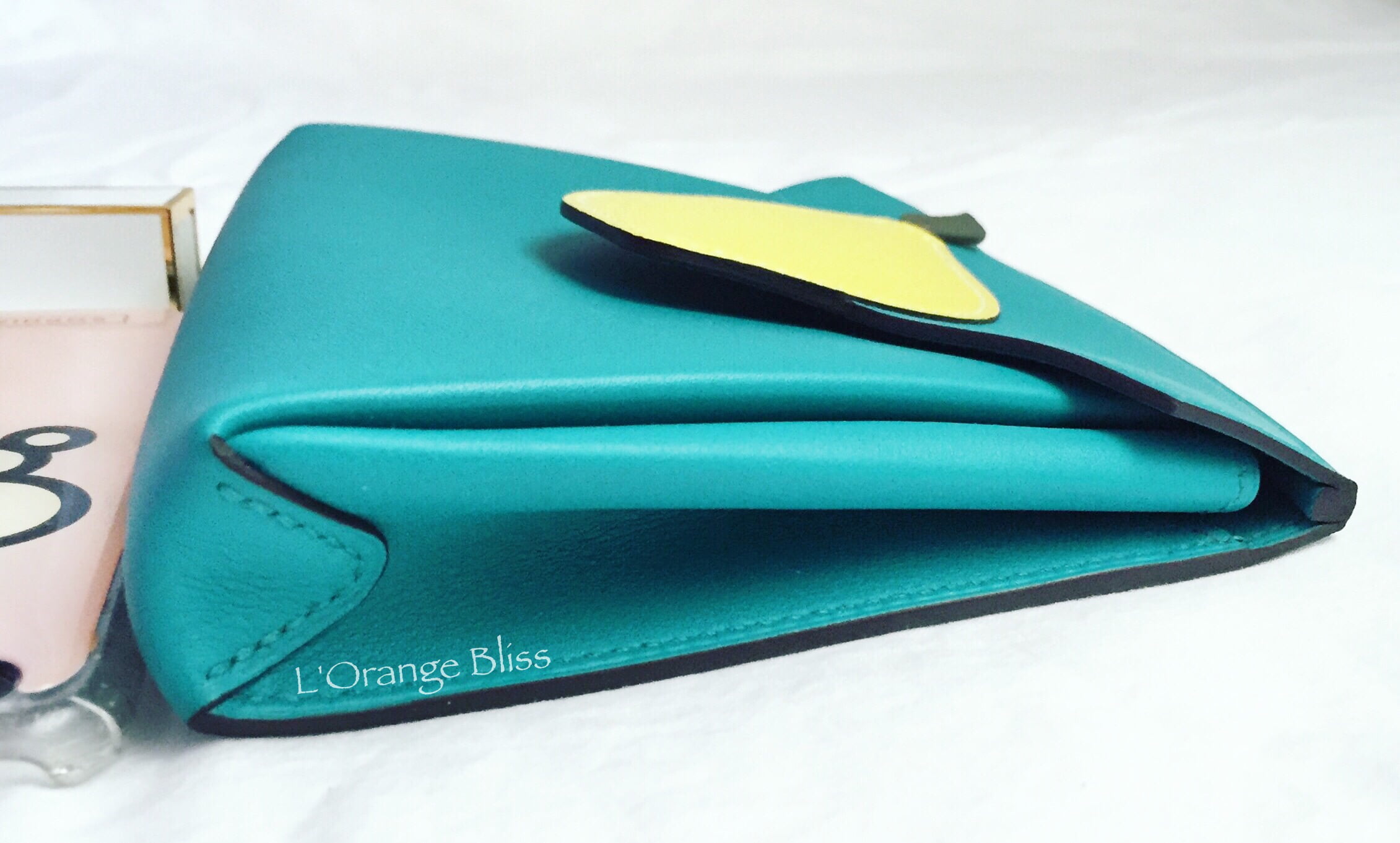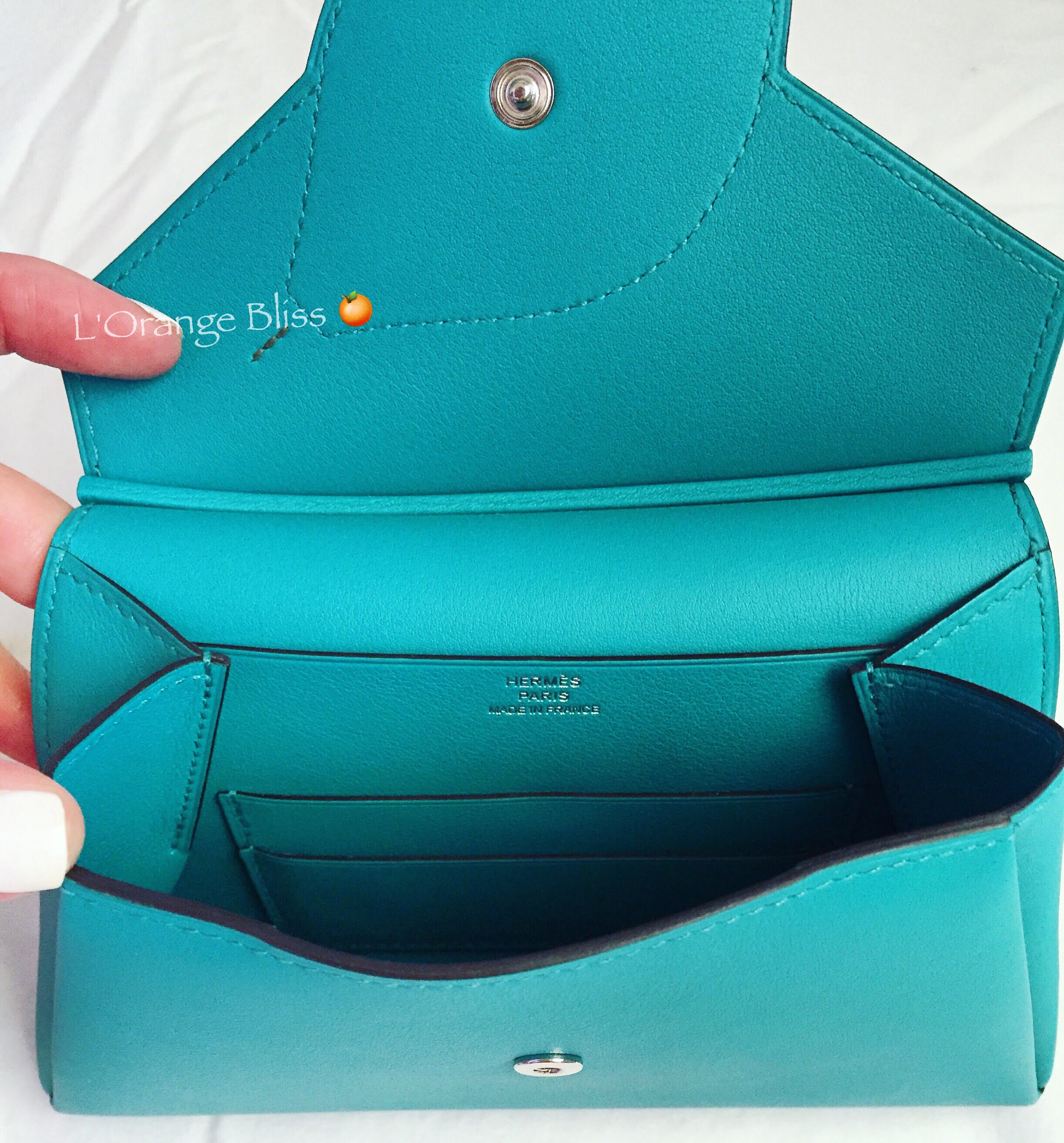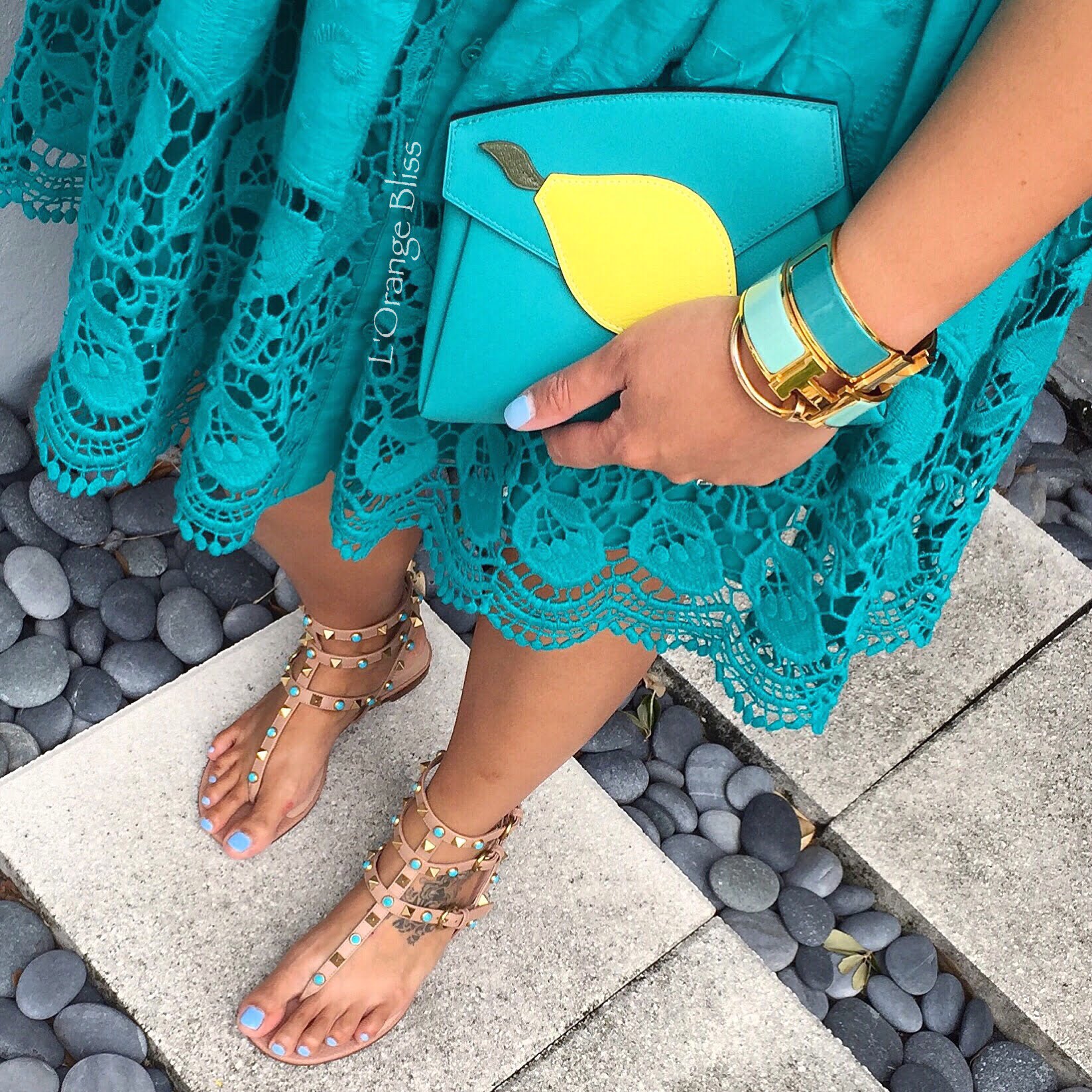 | | |
| --- | --- |
| Hermes Clutch | Price in USD |
| Hermes Jige | $3,525 |
| Hermes Medor | $5,400 |
| Hermes Kelly Pouchette | $5,450 |
| Hermes Kelly Cut | $5,450 |
| Hermes Tutti Frutti Clutch | $3,500 |
*prices are for classic leathers, exotics range much higher
| | |
| --- | --- |
| Hermes Clutch | Dimensions (L x H X W cm) |
| Hermes Jige PM | 29 x 19 x 3 |
| Hermes Medor | 23 x 13 x 4 |
| Hermes Kelly Pouchette | 22 x 14 x 7 |
| Hermes Kelly Cut | 31 x 13 x 2.5 |
| Hermes Tutti Frutti Clutch | 18.4 x 14 x 2.5 |
I hope you've found my personal review of these Hermes clutches useful.  I think everyone should own at least one clutch, because there is nothing more perfect for evening wear, and if chosen properly, can also be used for a sleek streamlined daytime look.  In my experience, all of these clutches are extremely hard to find in stores, even more so than the Birkin or Kelly bags.  I was told once by my lovely SA that they can get 10 bags to 1 clutch.  Personally, the Kelly clutches, particularly the Kelly Cut, were the hardest for me to find, having waited years to be offered the perfect ones for me.
And now that I have all 4 clutch styles I ever wanted from Hermes, you are probably wondering if I have a personal favorite… and yes, well yes I do…. for me, it would have to be the Kelly Cut, for all the reasons I have mentioned above.
I would love to know what your favorite Hermes clutch style is as well, please join me in the conversation on BopTalk.
You can also follow my upcoming Instagram posts with hashtag #hermesclutchesleorangebliss & #hermesleorangebliss
With Love,
LeOrangeBliss