Finally Booked a Date with the Dior Book Tote
Yes, I succumbed and bought the Dior Book Tote. Finally.
When the Dior Book Tote first hit social media (and then the stores), I carefully watched as every influencer on Instagram shared his/her monogrammed tote. Yes, I could picture that Dior print with a pink PurseBop personalization. But, something held me back. It took a bit of thinking to realize why the Book Tote wasn't for me.
Simply, the Book Tote does not fit my needs and therefore isn't useful. How can a tote not be utilitarian? Well, hear me out.
In general, I'm not really a tote gal. I don't pack a big bag to lug around the city, to the gym, the grocery store, or even the beach. All those legitimate uses hyped by IG fashionistas just don't fit my real life.
Instead, for me, a tote usually operates as a carry-all for other bags during travel. Think of it as the vessel for my many bag-nesting travel options, if you will. In order to be a useful PurseBop-approved travel tote, a bag must be solidly constructed, zip top and water resistant with interior pockets and straps long enough for shoulder carry.
The Dior Book Tote doesn't meet any of these requirements. Moreover, the humongous size made it relatively easy to resist. As readers know, I increasingly prefer my smaller size bags. Nothing bigger than a B 35 in my bag wardrobe. Which brings me to the turning point in my love-hate relationship with the Dior Book Tote.
During this past summer, on one of my trips to New York City, I met with our Managing Editor Maura Carlin, who was so smitten by her kaleidoscope-patterned Book Tote that I confess I became mildly tempted. She and I often debate new styles, colors, leathers etc… The Book Tote clearly is a Maura bag, but perhaps not a Monika bag. Casual, unstructured, chic is her vibe. In Hermes terms, it's the difference between Kelly Retourne (Maura) and Kelly Sellier (Monika). That's not to say we don't sometimes shop the other way, but it's the essence of our look and lifestyle. Maura wrote this piece you should read: Ode to the Dior Book Tote. 
I took a long deep look at hers and we even played a little nesting game –  I put my Birkin 30 inside her tote. Wow – It's a really big bag because the B 30 literally disappeared inside. 
However, we knew a smaller size was coming. We had written about it – and even though delayed until January 2020… Note to self: when the smaller one comes out, reconsider. Maybe.
At the same time, with each Dior runway show emerged new limited edition prints. Still, there were none that I really fancied. 
I kept in touch with my local boutique, but always received the same reply…. "We don't know exactly when they will arrive but leave a full deposit to secure one when they do." C'mon people, seriously? This is a fabric bag, not a Hermès SO —and even then — they (H) don't ask for deposits. I won't digress now as this is a topic that raises my blood pressure. It's best we save this discussion for a separate blog post. 
After several such text replies, I decided to reach out to a contact in London. I had been following @aqila_agha on IG and I think it's safe to call her an expert in Dior Book Totes. I asked her about a fabrication that, in my eyes, could be the Dior Book Tote for me.  This particular print was yet to be made available here in the US – at least that was the case about two weeks ago.
Good news, the bag would be shipped to me a few days later from London.
Here it is… do I love it? I don't quite know. Will it replace my Goyard Artois and Saint Louis totes for travel? Likely not, but hopefully it will find its own space in my collection and lifestyle. I will be sure to report back to you in a few months and update you on my experiences. Will I have it personalized? Possibly, but I'd like to take it out a few times to be sure it's a keeper. As I'm sure, trying to sell it in the secondary market and finding another home for it with another Monika, with a K might be very challenging, lol.
What Fits in the Small Book Tote?
The ultimate test, or viability of the small book tote in my collection would come from the bag nesting experiments. At a bare minimum, a Birkin 30 must comfortably sit within the small tote.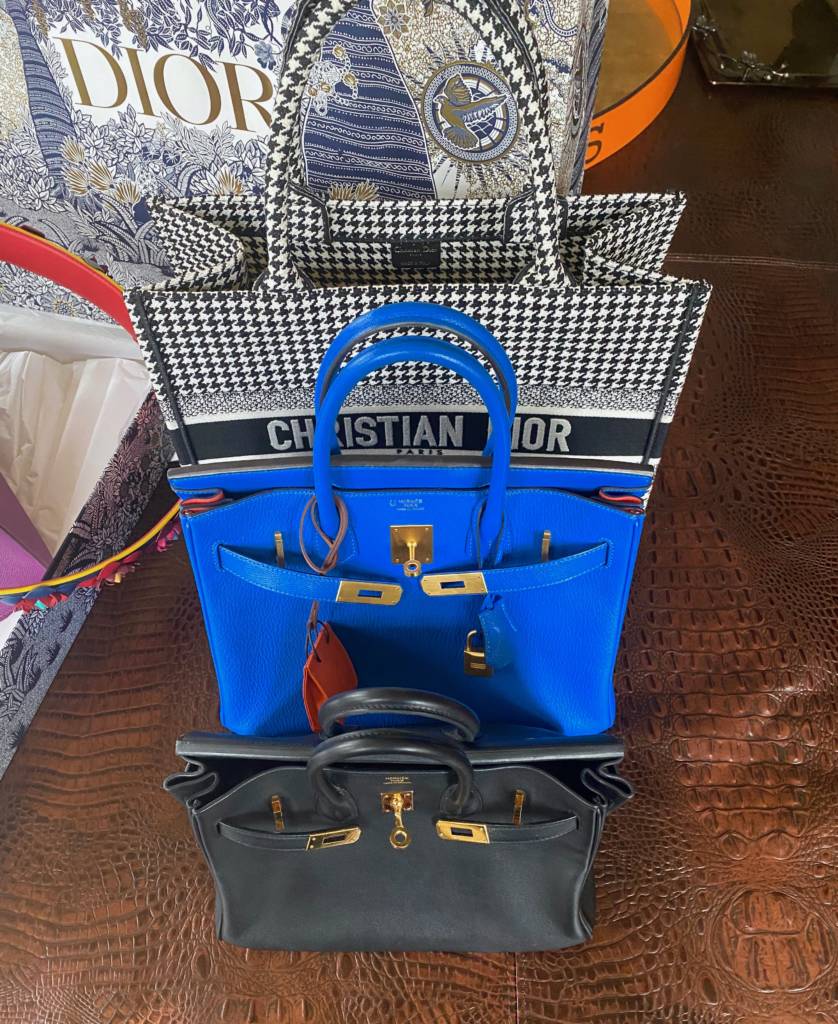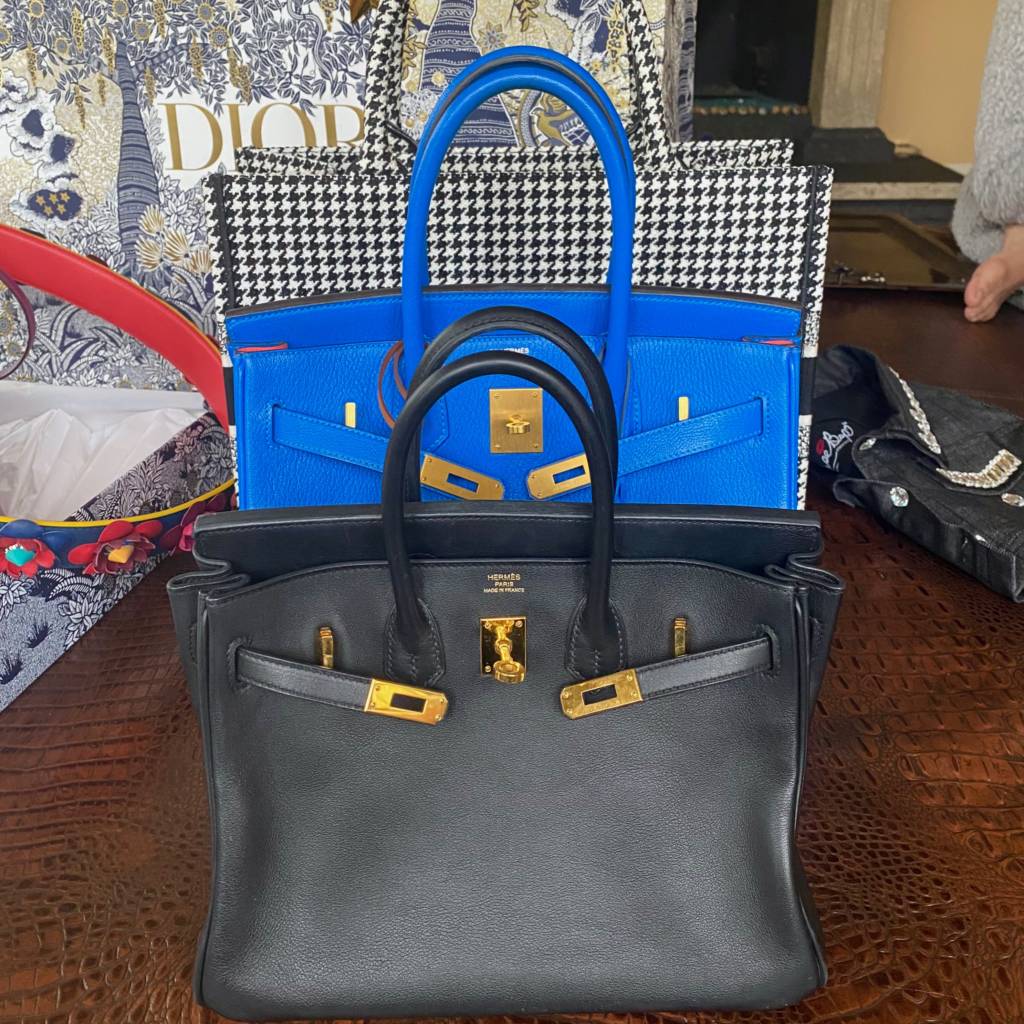 To my delight, the Birkin 30 in its dust bag sits snuggly and securely but very comfortably in the tote. Of course, anything nested within the B30 also fits. On the other hand, as of now, here isn't any room for extra carryalls on the sides. However, keep in mind my tote is brand new and still quite rigid. Based on IG photos, it's evident that the tote material loosens with use. I'll let you know whether that happens here and whether it creates any additional interior space.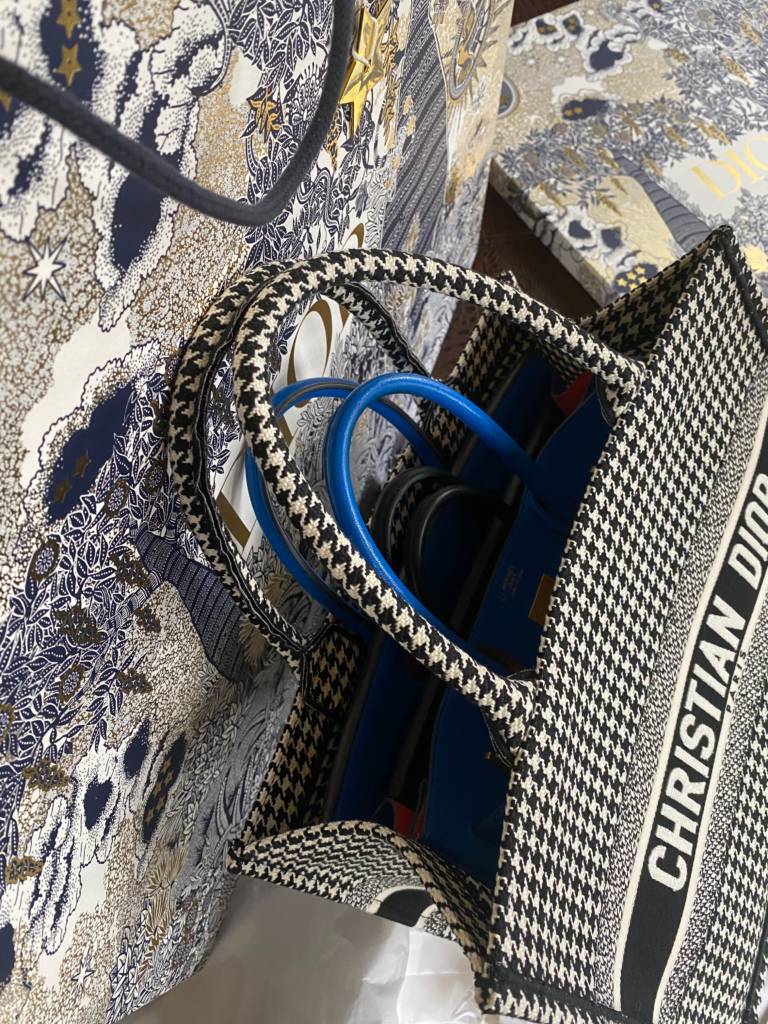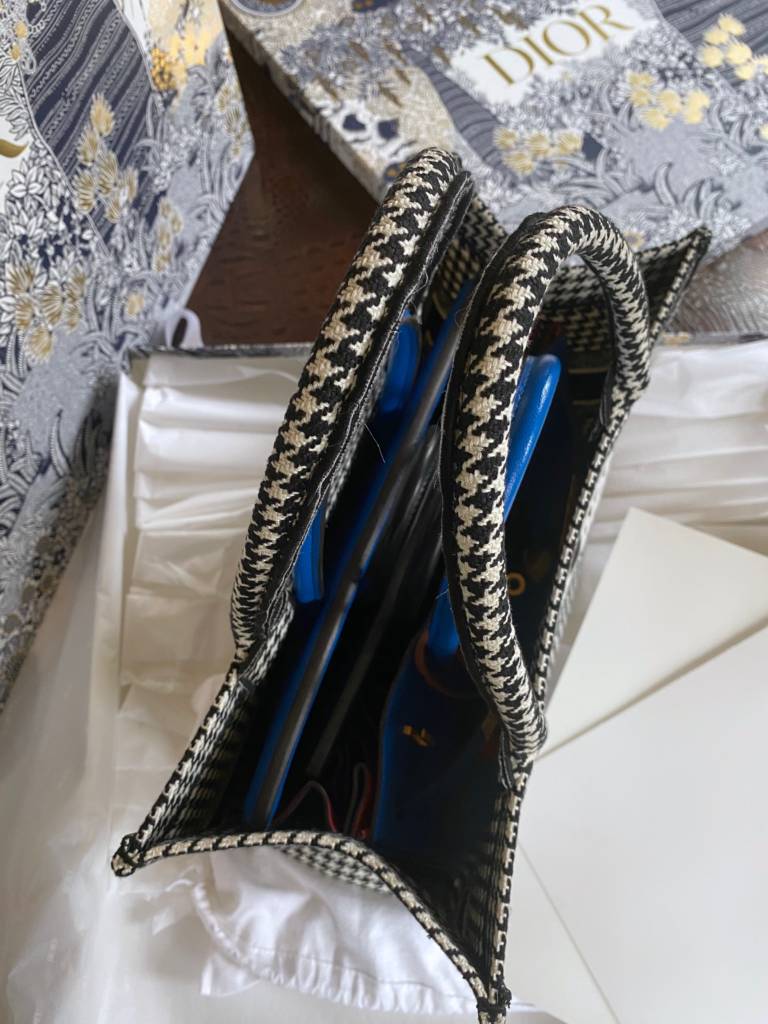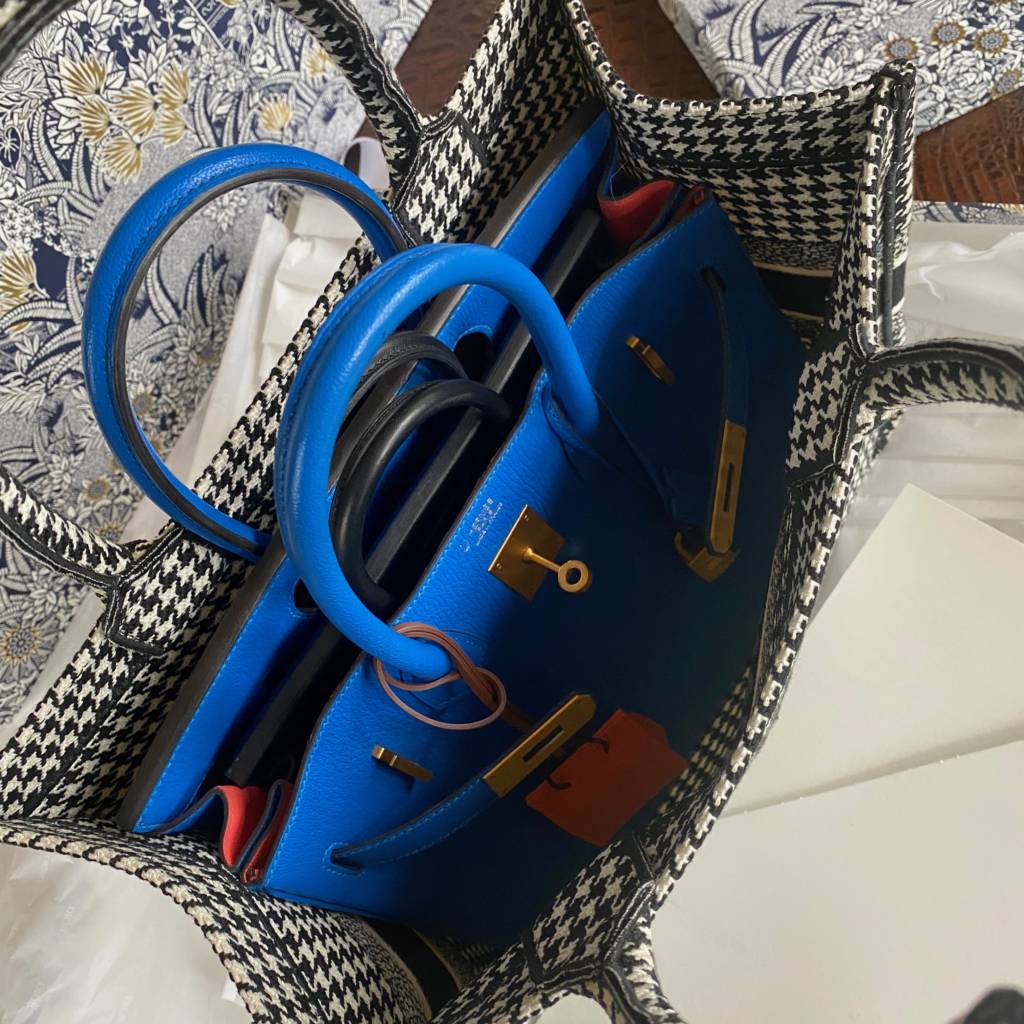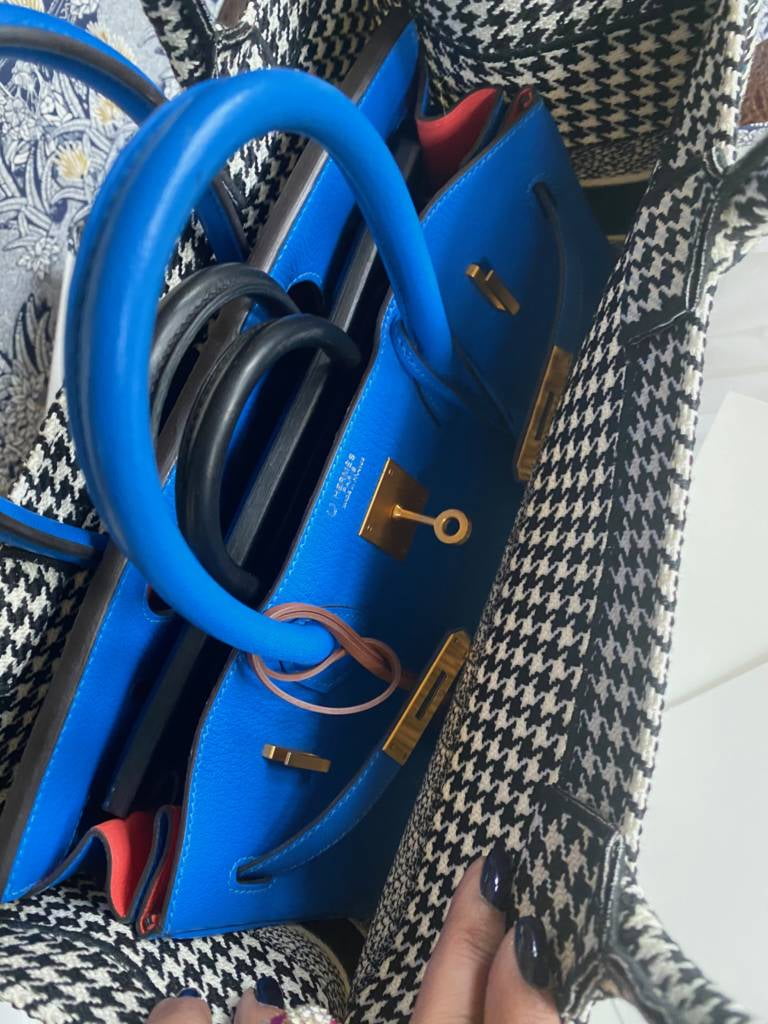 My "bag of the day" when I shot these pictures was my Kelly 32 Sellier in Anemone. And guess what? The Kelly 32  fits inside the small Dior Book Tote! So we can obviously say that the small Book Tote is a perfect carryall for the following: Birkin 30, Birkin 25, Kelly 32, Kelly 28, and Kelly 25 and any other similar size bags.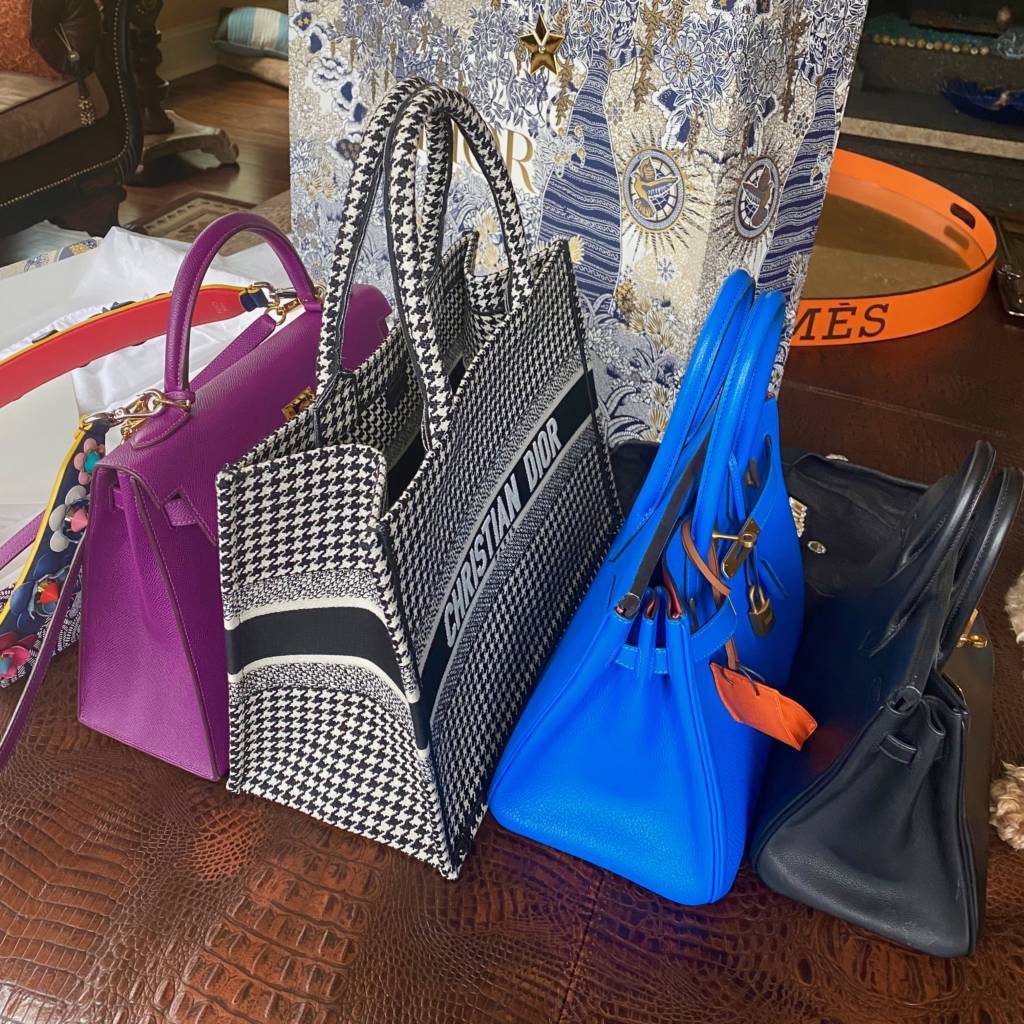 Comparison Photos of Classic, Small and Mini Book Totes
With the new release of the small and mini book totes there certainly is much more eye candy and options. I'm going to let the photos do the talking. You do the judging. A few photos I captured during a quick stop at the Dior boutique in San Fransisco.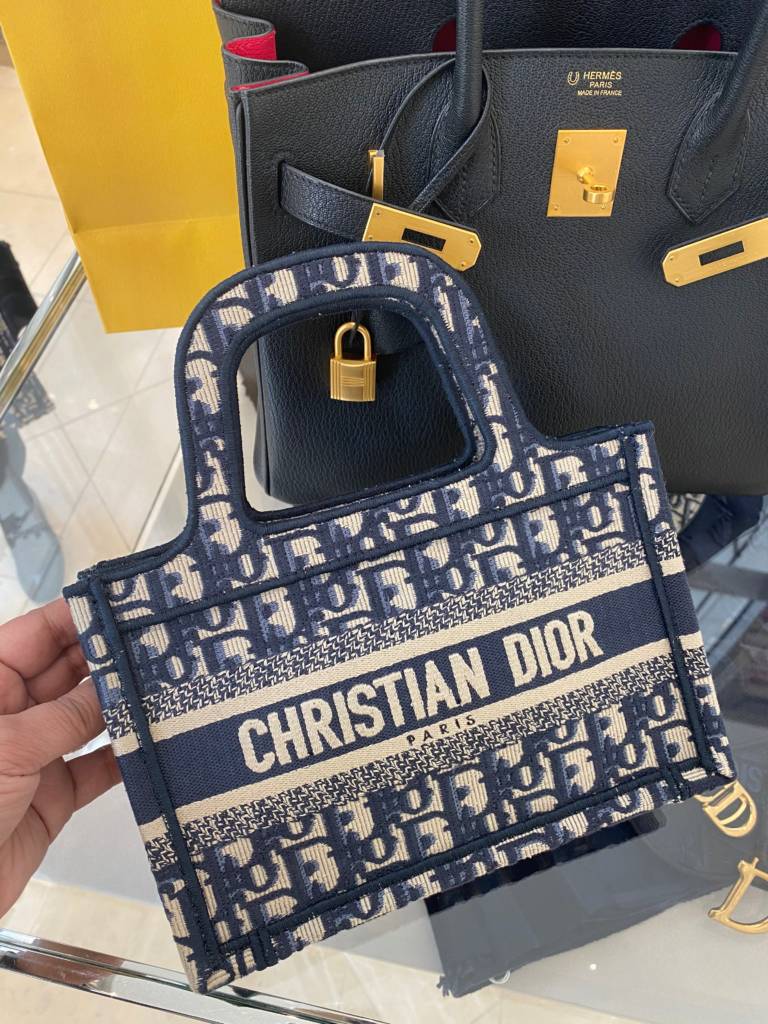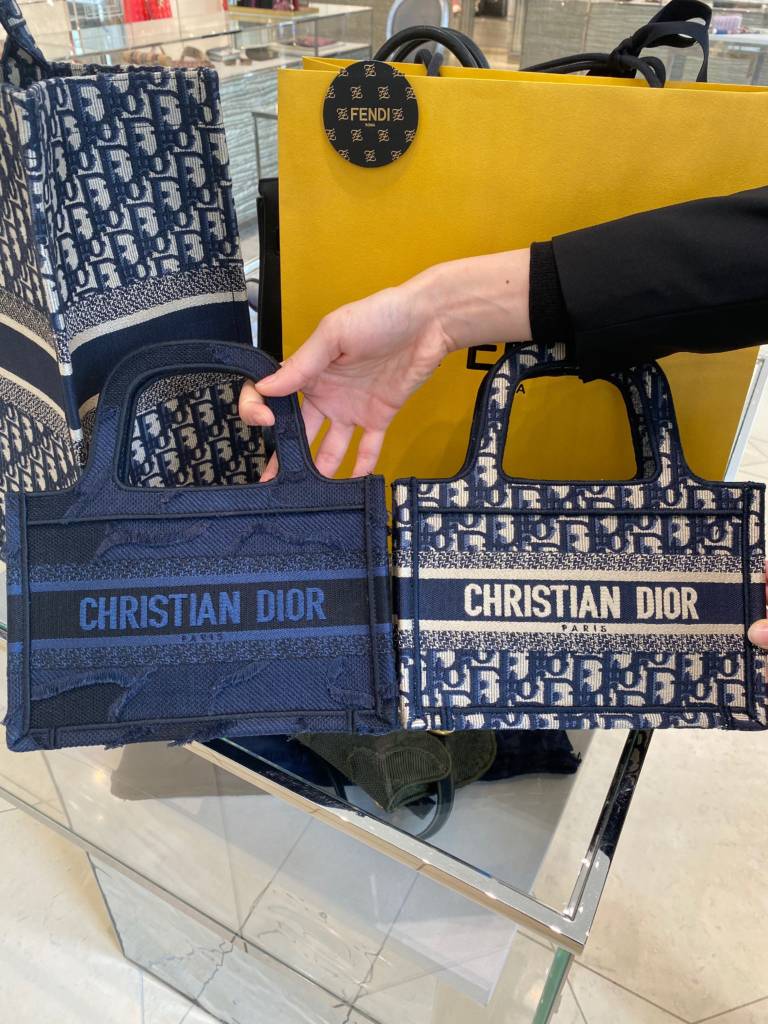 Does the introduction of the new smaller sizes tempt you to try your first, or add another?
I will be sharing a detailed price guide comparing prices worldwide in a separate article.
Love PurseBop
XO