The US embassy in France has demonstration and security alerts up due to the recent protests, and they have been updating with frequency. Checking the site regularly is a good way to stay connected to the details. We've written about the protests, which are largely over fuel prices and taxes. The embassy has put out their guidelines on how to safely navigate the city while these demonstrations continue. Having easy access to your passport at all times, keeping a low profile in areas frequently used by demonstrators such as the Champs-Élysees, and monitoring local media routinely while in the country are all great ways to make your trip as seamless and safe as possible.
Now that that's out of the way, let's pack! We recommend that, before you leave home, take pictures of all the bags you are bringing so that you have proof they aren't new purchases when dealing with customs upon your return. PurseBop swears by nesting, putting your smaller bags inside your bigger ones for the best space conservation. Additionally, it's smart to bring weather covering for your bags, especially during these winter months where snow and rain are prevalent. May we suggest a Frock (read: 5 Things You Need to Know About the Frock). 
We've said it before and we'll say it again: DO NOT bring a fake bag to France. Not only is it illegal to buy and sell fakes, it's illegal to even carry them. It's not worth it. Besides, if you're going to Paris to shop the real deal, why bring less than your best? (read: Travel Alerts If You Are Headed to Europe This Spring).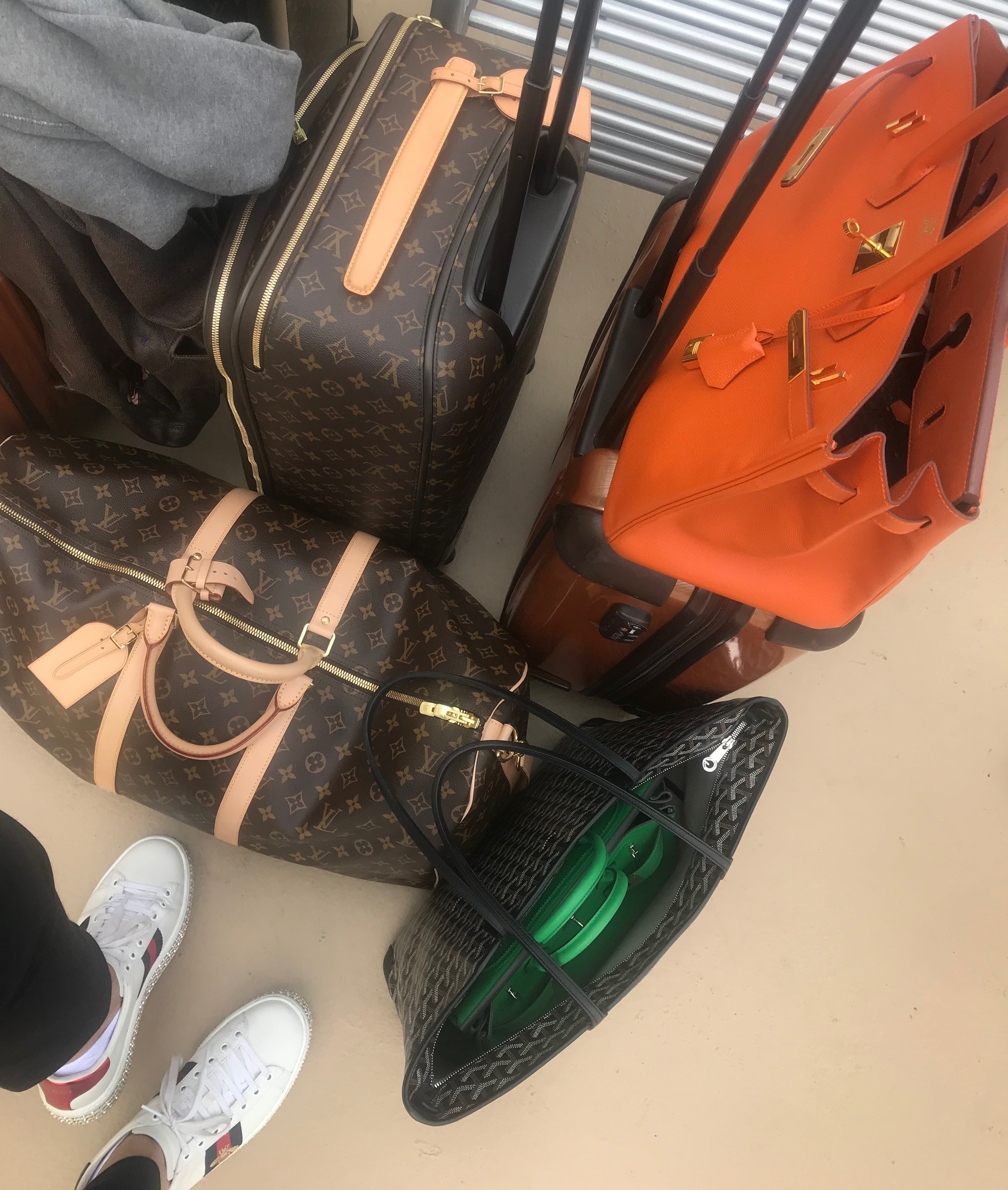 So you've made it to Paris. You've seen the Eiffel Tower, you've visited the patisseries. Now it's time to shop. If you're going to Hermès' winter sale, there are some things to be prepared for. Foremost, of course, is the time and dates. As we've discussed, the sale will be held at the Palais de Congrès on January 9th and 10th. The sale starts at 9am both days, but don't expect to just waltz in when the doors open. Give yourself plenty of time (hours) to wait in line and expect more lines upon entry. It's good to know what you're looking for before you go in, because each section has its own extended queue. This is not for the shopping novice or the faint of heart. If you're able to bring a pal (or two or three) along, so much the better. Friends will make bathroom breaks easier and less stressful, provide extra eyes to spot gems and create a bond you'll likely never forget (even if you want to).
PLEASE NOTE: Do not wear Hermès branded clothing, accessories or bags to the sale (read: Hermès On Sale?). You don't want anything you are wearing to be mistaken as merchandise from the sale. 
If you're looking for a more relaxed shopping experience, have no fear. You're in the land of the flagships, so why not enjoy it? Hermès recently reopened their George V street location and Chanel unveiled its new five-story shop at 19 Rue Cambon. Some storefronts have been barricaded due to protests, but that's why staying in touch with the local news is important. Unless you hear otherwise, you should be good to go.
If you've done your handbag math, then you've probably already considered the ways you may save a bit of cash on your purchases while abroad.  However, if you're looking for the experience of shopping the flagships, then savings may not be on your mind, and that's okay! Regardless of how you've lined up your trip, it's important to keep all of your receipts. This is for VAT, or, 'Value Added Tax' that is built into the price of goods in the EU. If you are a visitor to a country in the EU, you are eligible for a VAT refund upon your exit of the country.
It's important to know that each country has a different VAT rate. For luxury goods in France, the VAT can range anywhere up to 33%. You'll want that refund. The return rate on refunds varies as well. You won't get all of your tax money back due to administrative fees and such. Additionally, different brands also give back different refund percentages. In the past, we've had Hermès give back 10% and Chanel 12%, so keep that in mind. We've detailed the various ways you can get your VATS refund paperwork.
If you buy anything during your travels, you're going to have to declare it on your way back. Pack your goodies in your carry-on instead of your checked bags, as officials will probably want to check your purchases. It's also safer to have your high-ticket items with you during travel rather than checking them. There isn't a point to lie to customs about the price of your claims: they'll figure it out, and it could cost you – higher assessments, fines, etc. Going through customs takes time, particularly if you are reporting VAT refunds, so make sure you get there with plenty of time to spare you won't struggle (or stress about how) to make your flight. If your return destination is the United States, often the customs charges approximate your VAT refund, so it may not be a windfall. However, if you're traveling to Paris for the Hermès winter sale, the deals you find will make it worth it.