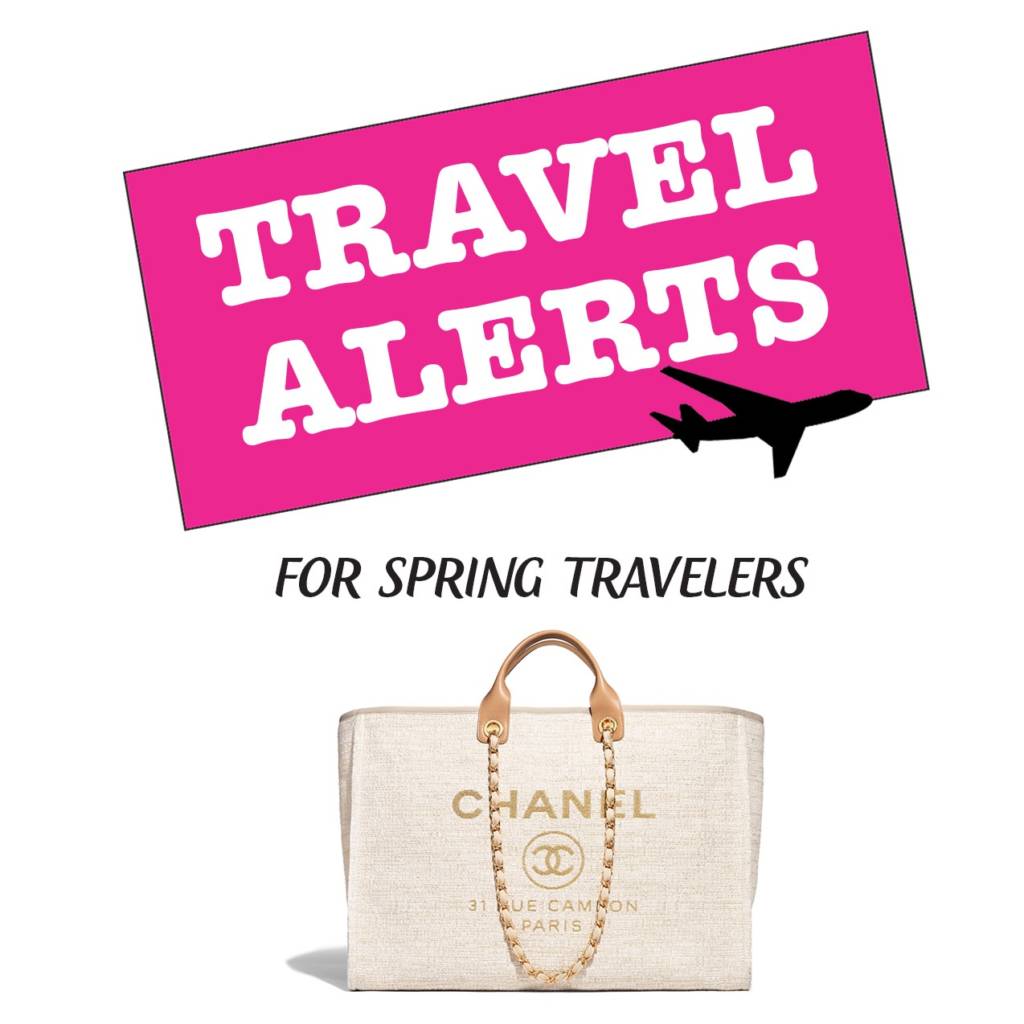 April showers not only bring May flowers but also plans for spring and summer travel. Let's review the most important things to keep in mind while shopping and returning home to the United States.
Before You Go
As with many things in life, it's all about the preparation. We'll leave you to figure out the accommodations, sightseeing and dining.  Our focus is on the shopping and bags.
We've written extensively about the best bags for travel – we love a good tote, nesting is best(ing) and keeping your items secure. 
But here are a few things you may not have considered:
Before you go, take pix at home of your travel bags just in case customs (or any other officials) questions whether your bag is a new overseas purchase.
Don't bring fake or counterfeit bags to France.  As we recently reminded folks, and hundreds of you commented, it is illegal to buy, sell and CARRY fake items there. PurseBop will be looking into this further while in Paris.
Do, however, consider bringing your handbag raincoats. PurseBop certainly is bringing her Chanel trench coat (for her Hermes bags).
If you plan to shop and are hoping for a bargain, research prices in advance. With all the price equalization and a weak dollar against the Euro, buying abroad may not be a steal or deal.  Of course, if you're looking for the experience of buying from the "mothership" (whether Hermès, Chanel, Louis Vuitton, Dior or anyone else) or the bag you desire isn't available at home, money may not matter.  You do, however, need to know the duty-free limits for your US re-entry and factor into pricing what, if any, duty likely will be assessed.
Bon voyage.
Read also:
While in Paris (or Rome...)
First and foremost, have fun. Enjoy everything the city has to offer, beyond shopping.
If you're looking for leather goods at Hermès, you'll need to get in the virtual appointment line.   From what we can tell, unless you're a super VIP, there's no secret sauce; it's a matter of luck. In any event, there's no harm in visiting the store on Rue de Faubourg Saint-Honoré and trying your chances. It's also worth a trip to the Sèvres store in Saint-Germain-des-Prés.
When touring, keep your possessions secure; in your hotel (or B&B or wherever), lock up your valuables.  If bags don't fit in a room safe, at least lock them in your luggage.
Make sure that you get VAT receipts for any purchases.  If the store doesn't offer an immediate refund, you will need the receipts at the airport. Remember VAT is the value-added tax abroad that US visitors (as well as those from non-EU countries) may get rebated.  
Read also:
Heading Home
The trip is over and it's time to return to reality and legality.  If you're seeking VAT refunds at the airport, make sure you have the receipts and leave plenty of extra time at the airport.  VAT refund counters and kiosks often have long lines.
You should pack your purchases in your carry-on not checked luggage.  Often, officials want to see your purchases – both at the VAT counter and at U.S. Customs. The upside of this is that your new possessions are safer in your possession while you travel.
Declare your purchases upon re-entering the United States (or your home country).  There does seem to be some coordination between VAT and U.S. Customs and you don't want to get caught.  The penalties can be severe.
Welcome back.
Read also: