While Chanel is one of the most luxuriously traditional fashion houses, known for quilted leather handbags and classic tweed suits, the brand is no stranger to funkiness and experimentation.
Creative director Karl Lagerfeld has played a large role in Chanel's occasional turn toward the avant-garde, and over the years, Chanel seems to be getting bolder and bolder! We're always on the very edge of our seats awaiting their newest creations. (Recently, we've been coveting the Gabrielle Bag, which blends tradition with novelty.)
In celebration of Chanel's radical spirit, let's take a look at some of the weirdest and most creative bags the brand has produced throughout the seasons, shall we?
1. Funky Film Bag
Formal Name: Chanel Film Projector Buonasera Minaudiere Bag
Season: Pre-Fall 2016
Price: $13,000
PurseBop's Thoughts: We love this resin and brass bag because it's just so fun. It's playful, beautifully designed, and recalls an era of old Hollywood glamor.
2. "Traditional" Quilted Gasoline Bag
Formal Name: Chanel Dubai By Night Gas Can Bag
Season: Cruise 2015
Price: Unknown (plexiglass version: $10,800)
PurseBop's Thoughts: As far as innovation goes, this Gas Can Bag is truly unique. There's also a plexiglass version, but we love the juxtaposition of the traditional quilted lambskin with the outlandish design.
3. Infamous Perfume Bag
Formal Name: Chanel Plexiglass Perfume Bottle Bag
Season: Cruise 2014
Price: $9,500
PurseBop's Thoughts: We've written about this bag extensively in the past! PurseBop even has her own Perfume Bottle Bag. Since it was released, this has become Chanel's most popular novelty bag. So popular, in fact, that Chanel recently released a new striped version—which PurseBop was tempted by but ultimately resisted!
4. Tantalizing Turtle Bag
Formal Name: Chanel Plexiglass Turtle Shell Minaudiere Bag

Season: Cruise 2016
Price: Unknown (recently sold for $12,500 on a resale site)
PurseBop's Thoughts: This bag debuted on the runway in Seoul, South Korea, which is fitting considering that tortoise shells are traditionally used in Korean art. With a unique shape, the shell bag is beautiful, clean, and doesn't take itself too seriously!
5. Playful Lego Bag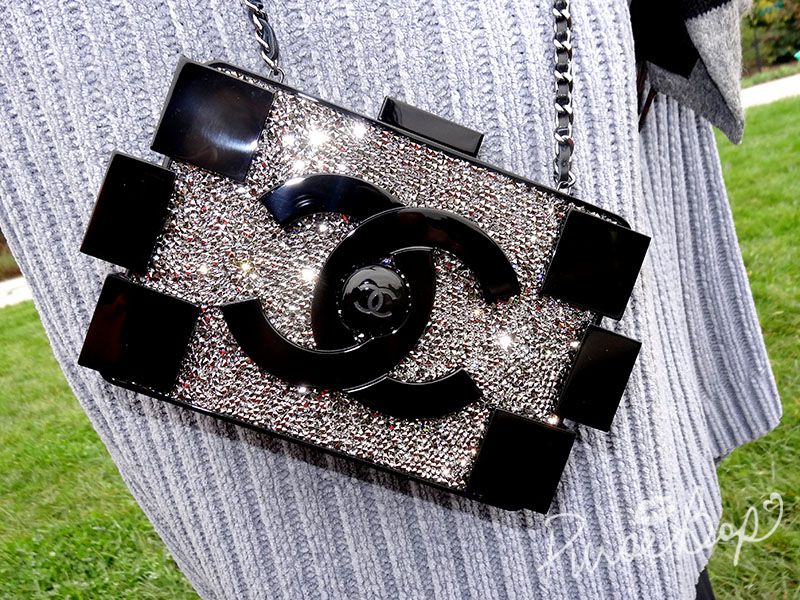 Formal Name: Chanel Lego Clutch Bag
Season: Spring/Summer 2013
Price: $9,450 regular; $14,500 with crystals
PurseBop's Thoughts: After writing about this bag when it was first released, PurseBop went ahead and added a crystal-studded lego clutch to her collection! Inspired, of course, by the classic children's toy, the Lego Clutch is the epitome of playful, while also staying close to a standard box clutch.
6. Dainty Doll Bag
Formal Name: Chanel Matryoshka Doll Bag
Season: Pre-Fall 2009
Price: $6,000 originally; $9,600 in Pre-Fall 2010
PurseBop's Thoughts: This is a true collector's piece! Inspired by traditional Russian nesting dolls and debuted on the Moscow Runway, this intricately-painted and historic clutch is the perfect conversation starter.
7. Lite-Brite Meets Boy Bag
Formal Name: Chanel LED Boy Bag
Season: Spring/Summer 2017
Price: $6,900 small; $9,000 medium
PurseBop's Thoughts: When the lights are off, the LED Boy simply looks like a perforated classic Boy Bag: the perfect bag for when you want to switch from stand-out to classic!
8. Kooky Milk Carton Bag
Formal Name: Chanel Lait de Coco Bag
Season: Fall/Winter 2014
Price: $4,800
PurseBop's Thoughts: The Lait de Coco has become a cult favorite, fetching resale prices far above the original retail price. As far as strange Chanel bags go, the milk carton shape is certainly weird, but the bag itself is simple, and—dare we say?—almost elegant.
9. Quirky Shell Clutch
Formal Name: Chanel Shell Minaudiere
Season: Spring 2012
Price: $33,000; $48,000 for the version covered in pearls
PurseBop's Thoughts: We know: the price of this pearlescent resin clutch gave us sticker shock as well…(we couldn't help but wonder how many Classic Flaps you could buy for the same price!). It's undeniably gorgeous, the perfect blend of subdued and zany, but is it worth it?
10. "Beachy" Hula Hoop Bag
Formal Name: Chanel Wind Power Bag
Season: Spring/Summer 2013
Price: $2,700 small; $3,100 medium
PurseBop's Thoughts: This bag went viral when it debuted on the runway with massive hoops the size of a standard hula-hoop (a size that never went into production). According to Karl Lagerfeld, the bag is meant for the beach because "you need space for the beach towel and then you can put it into the sand and hang things on it." But we're not sure if we'd park a leather Chanel bag in the sand…
Updated: August 6th, 2017