Let's refer to this post as an exercise in packing.
Contents of my carry-on… Miami Bound for #PurseBopSetsSail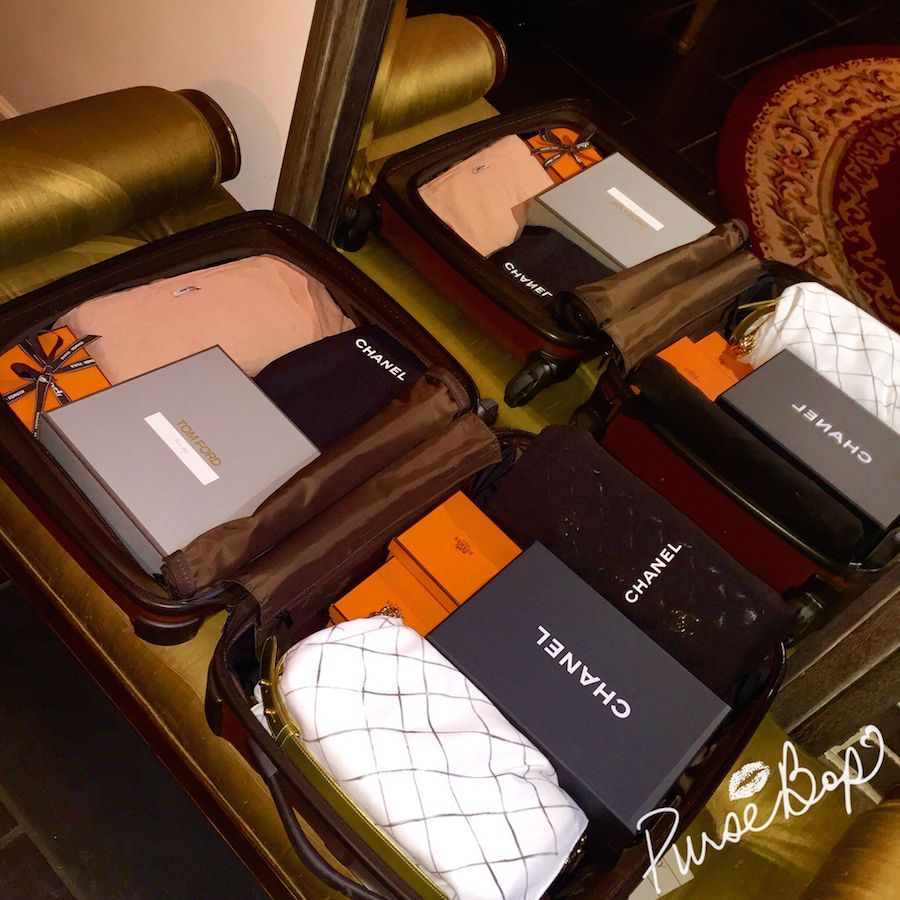 Monday Dec 29th, 2014 @PurseBop Instagram: #PurseBopsWeekendBags
Contents of my carry-on…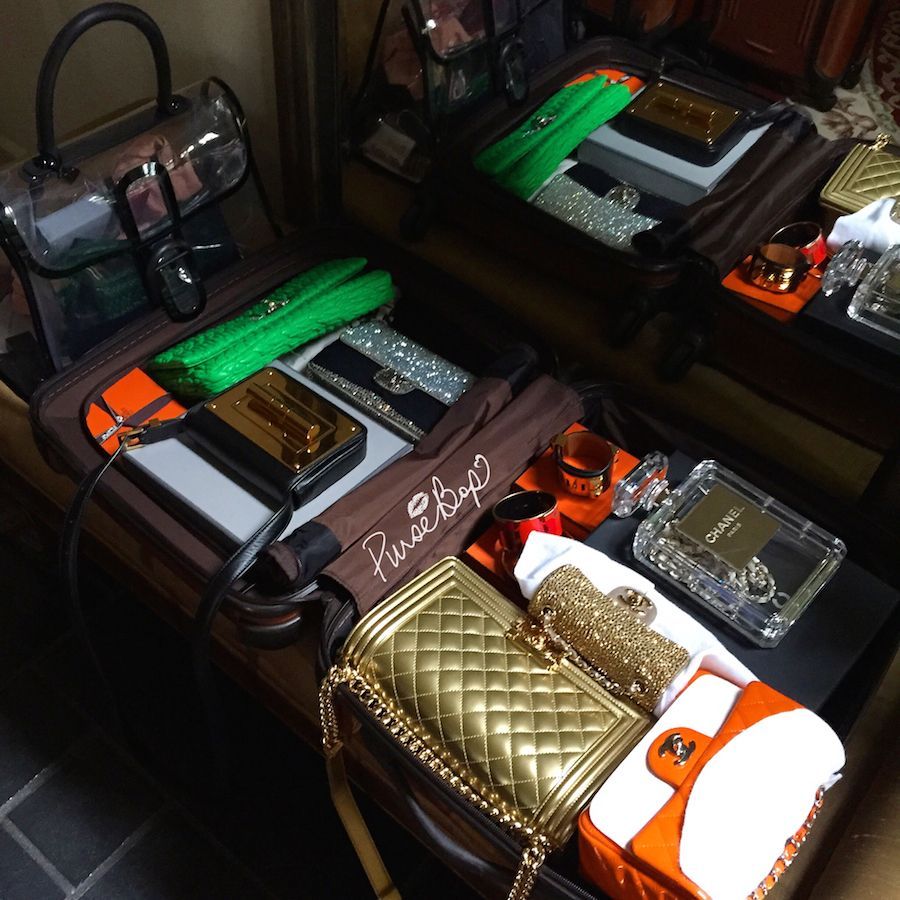 These PurseBop 'packing posts' always seem to generate a great deal of interest. I believe it's primarily because we would all like to take our prized possessions along with us to enjoy our holidays, but the truth is majority do not. Personally I am of the philosophy that we must enjoy the beautiful luxuries we are fortunate to have at work and even more so at PLAY.  The numerous comments and questions to the above posts inspired me to break down my travel 'packing' tips even further.
I always start with a hard cover suitcase, my current favorite: Tumi hard luggage (purchased from Nordstrom Rack, and I know for a fact still available in a variety of colors).
The trick is to create a jigsaw of pieces/boxes in a single layer  that firmly keep in place. My compartments are usually a mix of boxes and well wrapped bags . This post and photography was inspired last minute this morning whilst unpacking and taking my traditional Monday #PurseBopsWeekendBags shot.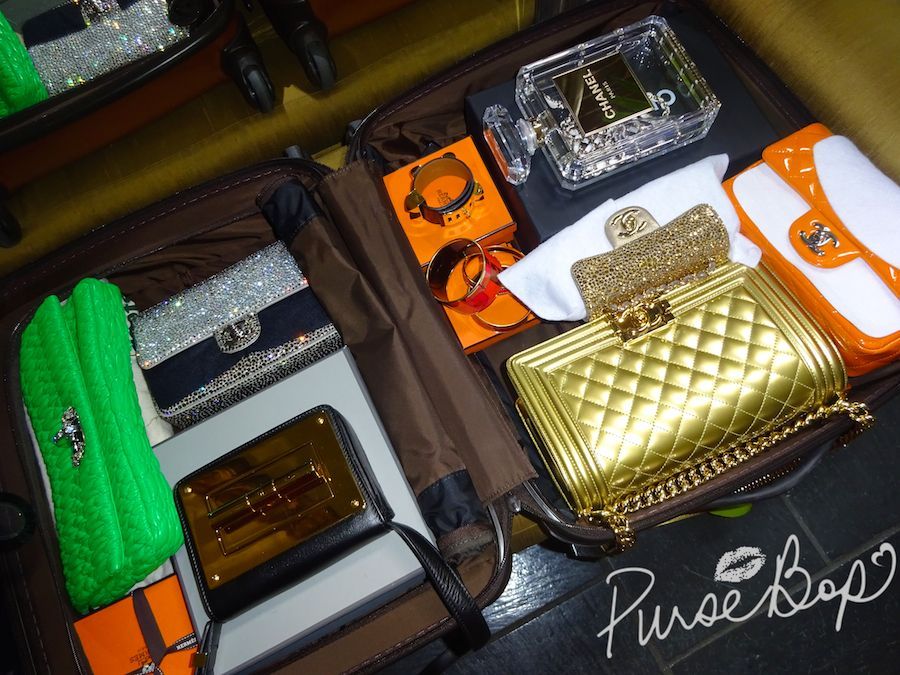 Which bags will travel in boxes versus wrapped is dependent on two factors. The material/delicateness of leather and the place it holds in the carry on. The goal is to create a snug (not tight) fit. The two sides of the suitcase are kept separate by the zippered divider.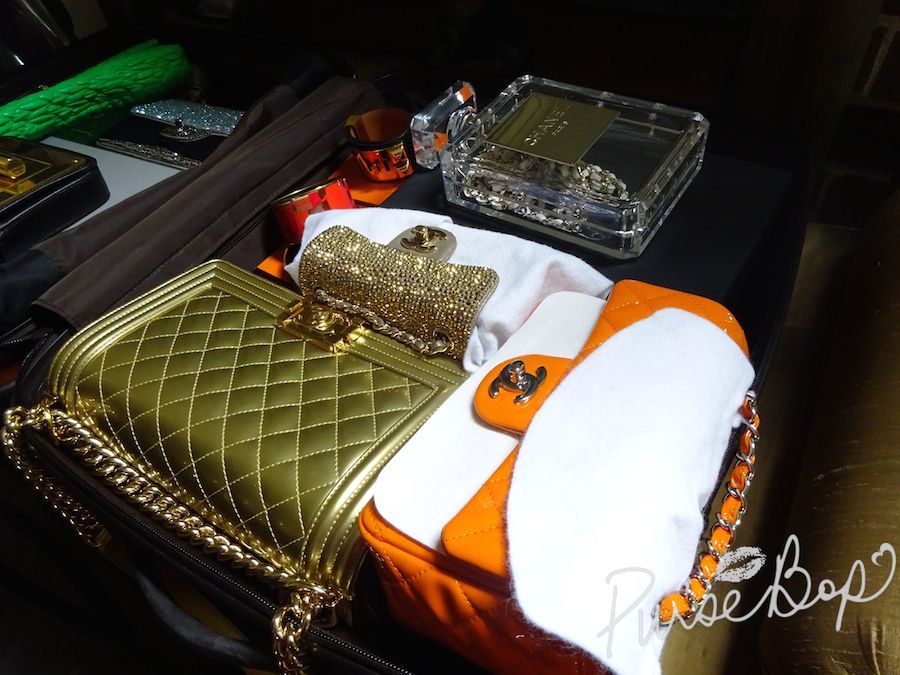 Stacking the bags inside one another is a great idea, but only if they fit comfortably with dust bag covers. The smaller gold Chanel Swarovski bag was placed inside the gold patent boy. The #ChanelSparkleBeautyBag was placed inside fully wrapped in felt as to not dent the interior walls of the BOY.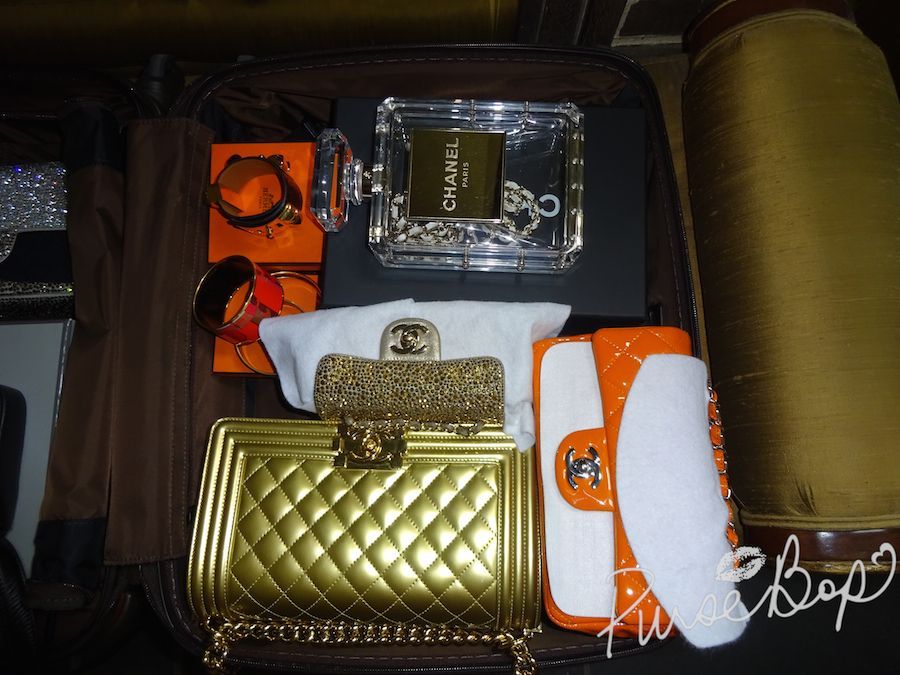 The smaller Hermes boxes are great fillers to keep things from moving. Therefore I  invariably travel with a few of my Hermes arm candy pieces in their respective boxes.
I was asked specifically how I wrapped my BOY bags. Reference the first picture again.
Place the Boy in a classic jumbo dust bag and place the flap of the dust bag through the straps leaving the chains completely exposed.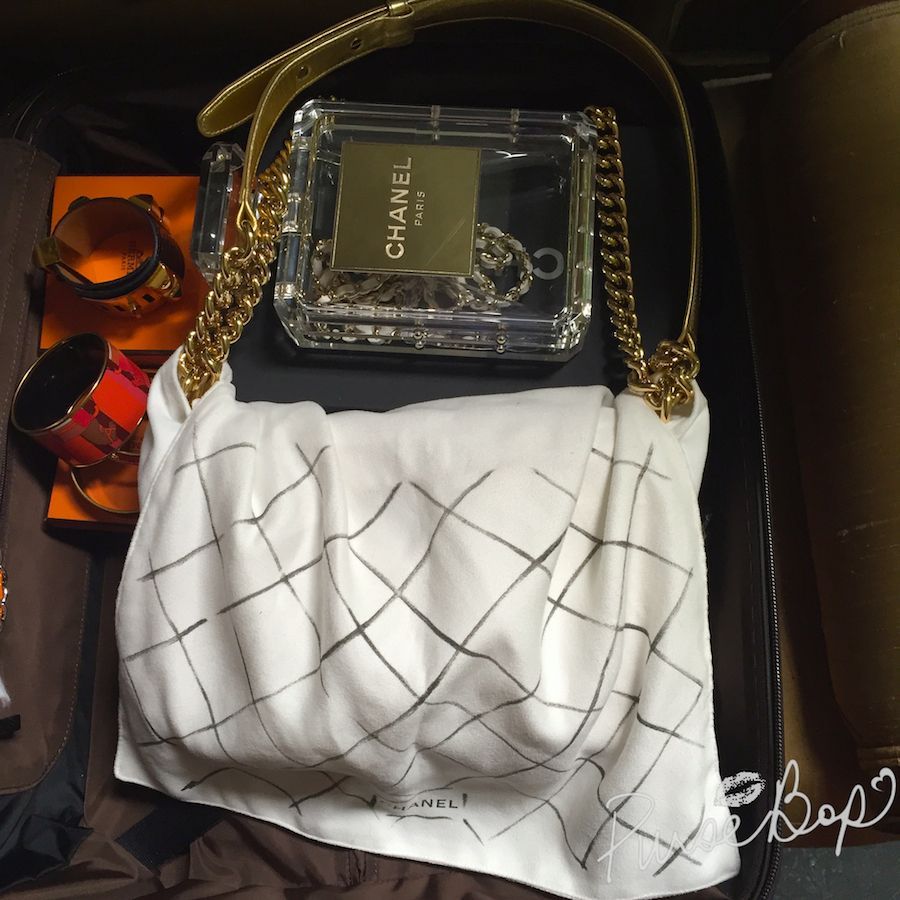 Keeping the chains doubled, bring them forward OVER the front flap of the dust bag.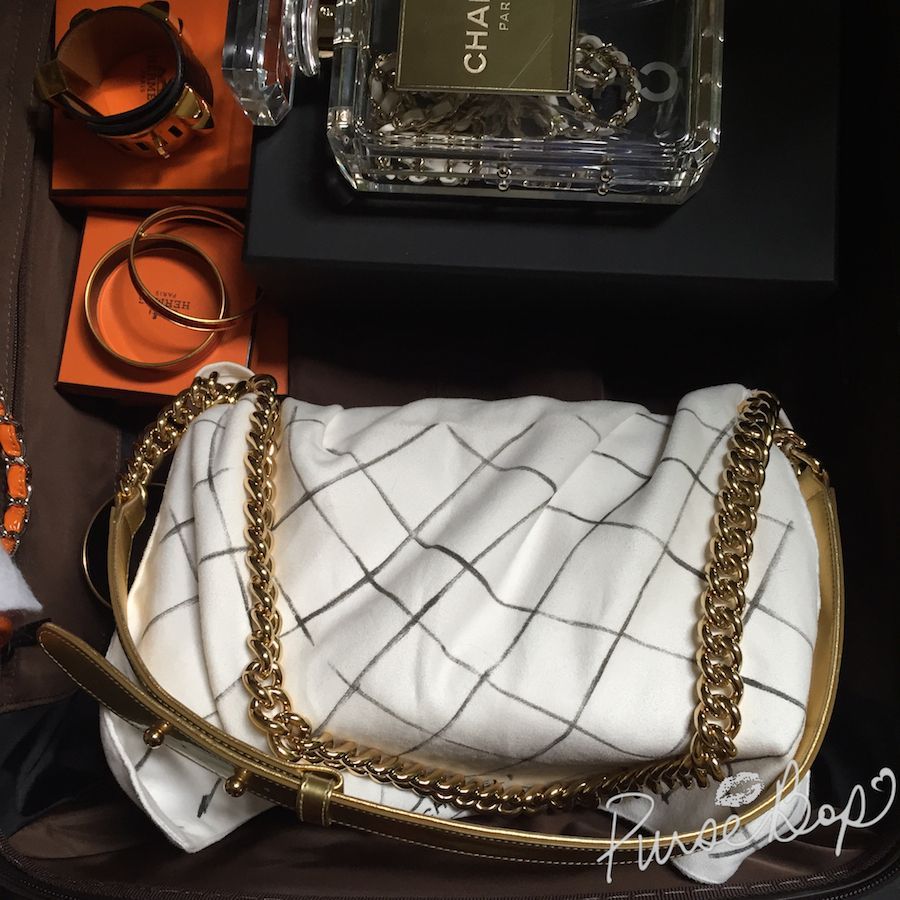 Gently secure the chains over and around the BOY. The body of the BOY is completely protected from the chains and any possible indentations or markings (if lightly packed).
VOILA…
and now for the traditional #PurseBopsWeekendBags pose, LOL! Presenting all the #PurseBopSetsSail bag companions for Holiday Cruise 2014 …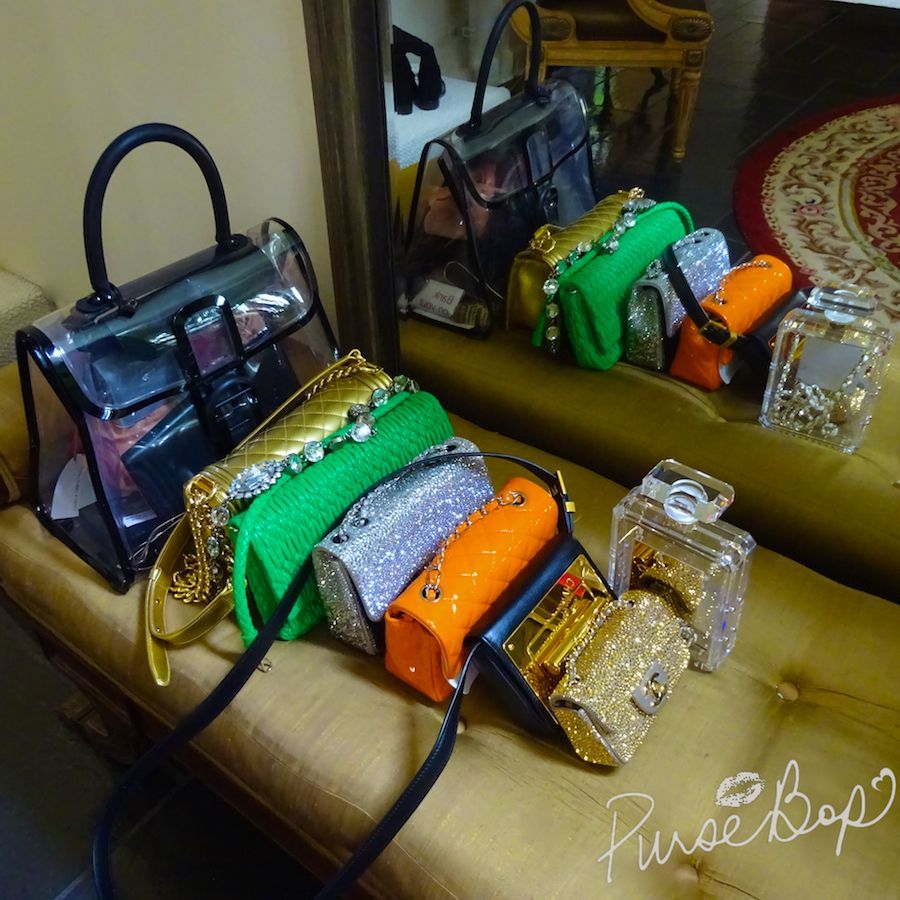 Top view, LOL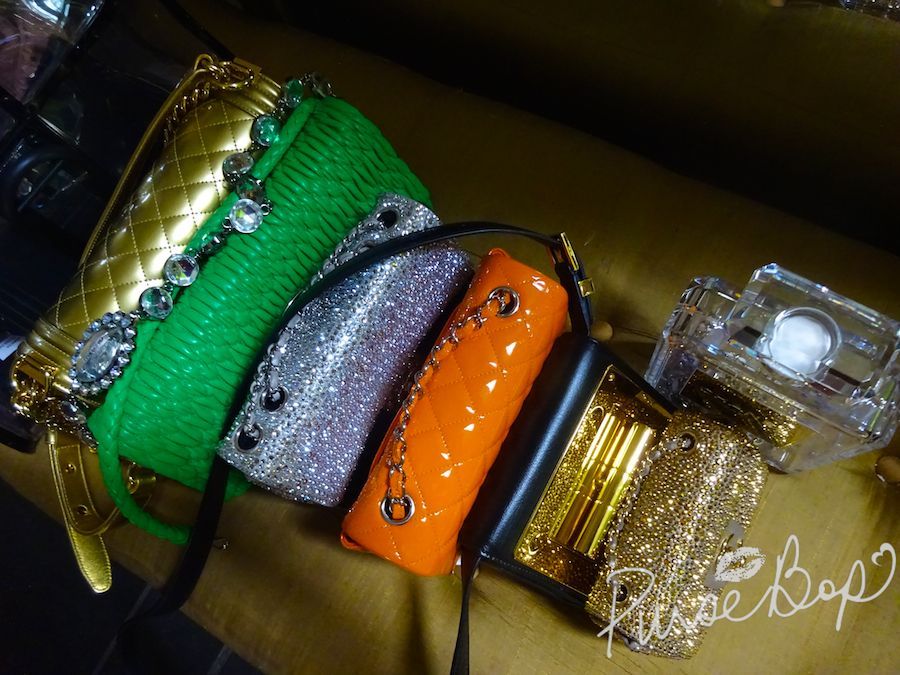 and zzzzzooommmmmmm in's of course…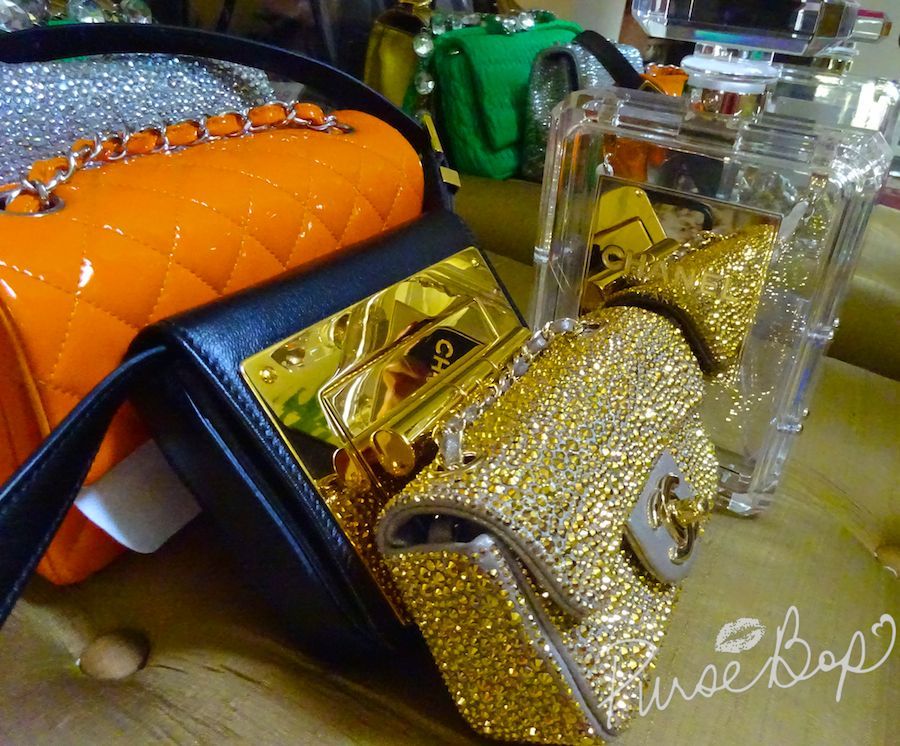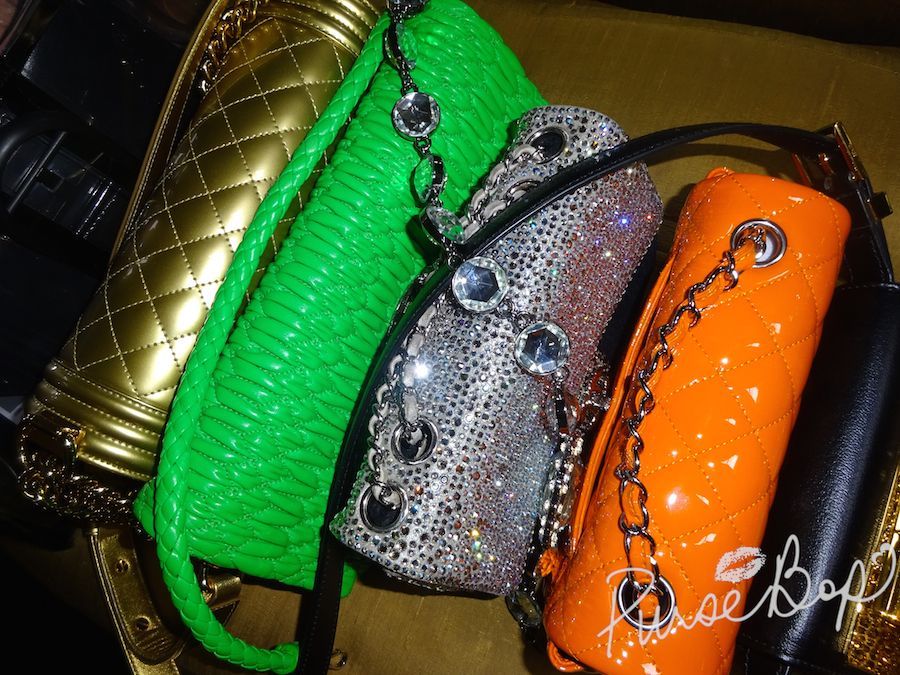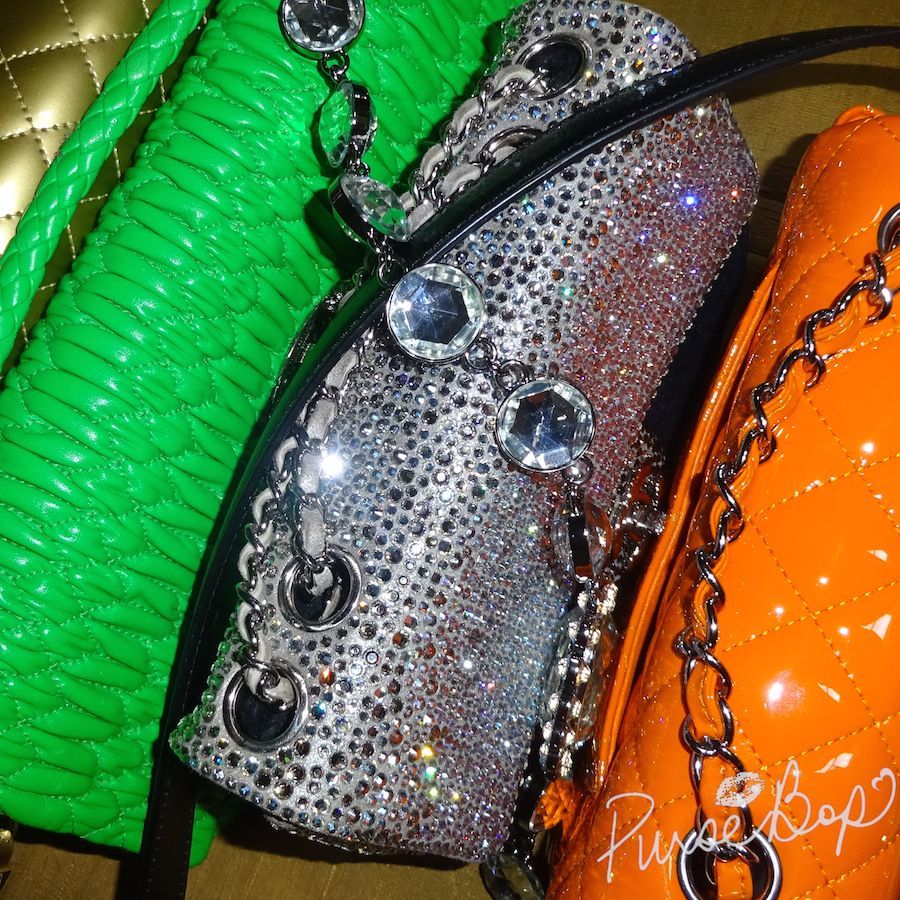 Follow my handbag cruise adventures @PurseBop and hash tagged #PurseBopSetsSail
For carry-on content details:
Chanel Boy Bag
Chanel Golden Sparkle Beauty Bag
Chanel Orange Patent Mini
Chanel Bottle Bag (Miss CocoScent)
Hermes Enamels
MiuMiu Clutch
Chanel Silver SparkleBeauty Bag
Tom Ford Natalie
Hermes CDC (yet to be revealed)
Much more yet to come, stay tuned…
Love PurseBop
XOXO