Gucci, Hermès, Prada, Saint Laurent, Louis Vuitton….Cult Gaia? While Cult Gaia is not normally a name that comes to mind when thinking of the great designer brands of the world, it has nonetheless announced itself as an influential and desirable product. How? By creating an "it" bag that has blown away the fashion world…let's discuss the Cult Gaia Ark Bag.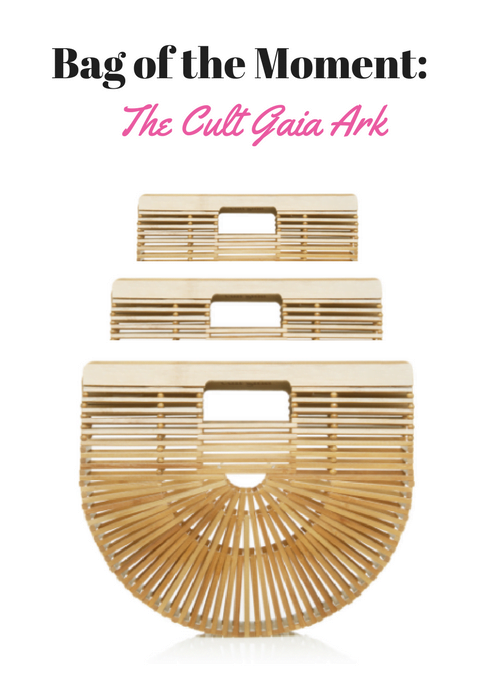 About Cult Gaia
As a brand, Cult Gaia is much different from the big name luxury names. Launched in 2012 by creative director Jasmin Larian, the brand is based in LA. Perhaps the most striking difference of the Cult Gaia brand is its affordability– none of its products exceed $500. All of these facts make it all the more remarkable that the brand was able to create a bag so popular among luxury brand aficionados.
About the Ark Bag
So, what is the Ark Bag? Inspired by a vintage Japanese bag from the 1940s, the bag is made of bamboo. Almost like a small sculpture, the bag has a graphic design that is cage-like and geometrically detailed. Managing to be both bold and minimalistic, intricate and simple, the purse takes on a half-moon shape and a structured shape. A perfect summer bag, on Instagram it is often styled with dreamy white linen dresses and a tropical palette.
However, what a lot of people don't realize is that the Ark Bag's success was far from immediate. The bag debuted in 2013….and no one bought it. In many ways, we could see the success of the bag as a testament of Larian's skill and perseverance. Larian realized that when she debuted the bag, it was outside the comfort zone of many customers. That's when she realized she had to build a lifestyle brand, and train buyers to feel confident enough to wear the bag.
After selling the bag at FIvestory, a stylish and popular boutique among the New York elite, Larian's design finally saw success. At only $118 for the smallest bamboo size, the bag has been in high demand ever since. Currently, the wait list for the beauty is at 2,500 people!
Since its debut, the Ark's designs have expanded. There are now two different materials used for the bag, the original bamboo called "natural," and acrylic, which comes in a variety of exciting colors.
Each style comes in two different sizes, and prices vary depending on size and material.
| | |
| --- | --- |
| Style | Dimensions (L x W x H inches) |
| Natural Small | 11" x 3" x 8" |
| Natural Large | 12.5" x 4" x 10.5" |
| Acrylic Mini | 9" x 2.5" x 9" |
| Acrylic Small | 11" x 3" x 8" |
| | |
| --- | --- |
| Style | Price in USD |
| Natural Small | $128 |
| Natural Large | $138 |
| Acrylic Mini | $278 |
| Acrylic Small | $298 |
Updated: August 31st, 2017