Metallics will always have my heart and pull at its strings. For as long as I can remember, my idea of a "neutral" was a shiny metallic, the color and finish of some ore somewhere. In the metallics department, my handbag collection is never finished, and my recent trip to New York City had me on the hunt for a new one. An unexplainable craving, really.
For those of you following my New York City shopping series on Instagram, you know that I made a stop at Louis Vuitton and was quickly drawn to the cute mini-size metallic python Capucines.
In the Dior boutique, the new pre – fall metallic Saddle Bag also caught my eye. Somehow, despite both of these highly anticipated metallic offerings, I left empty-handed (again). I talk more about this on my recent IG post with reviews and testimonials.
Later, I landed at Hermès and left with a robust credit card swipe, just not gold, silver or bronze. But we'll save this for a separate article and discussion.
I thought I had left the metallic saga behind… But then, when my trusted Chanel Sales Associate texted me a photo of this VaVa Voom beauty, I was at a total loss for words. It was shipped overnight as the suspense was too great to wait out anything but immediate gratification.
The Reveal
Without further ado, here is my stunning Chanel Medium Flap. Rendered in a striking deep gold, it's from the Metiers d'Art Egypt collection in the new embossed leather "Cocodile." (For a refresh of the Metier d'Arts collection, read Chanel 2018/19 Métier d'Art Show Walks Like an Egyptian.)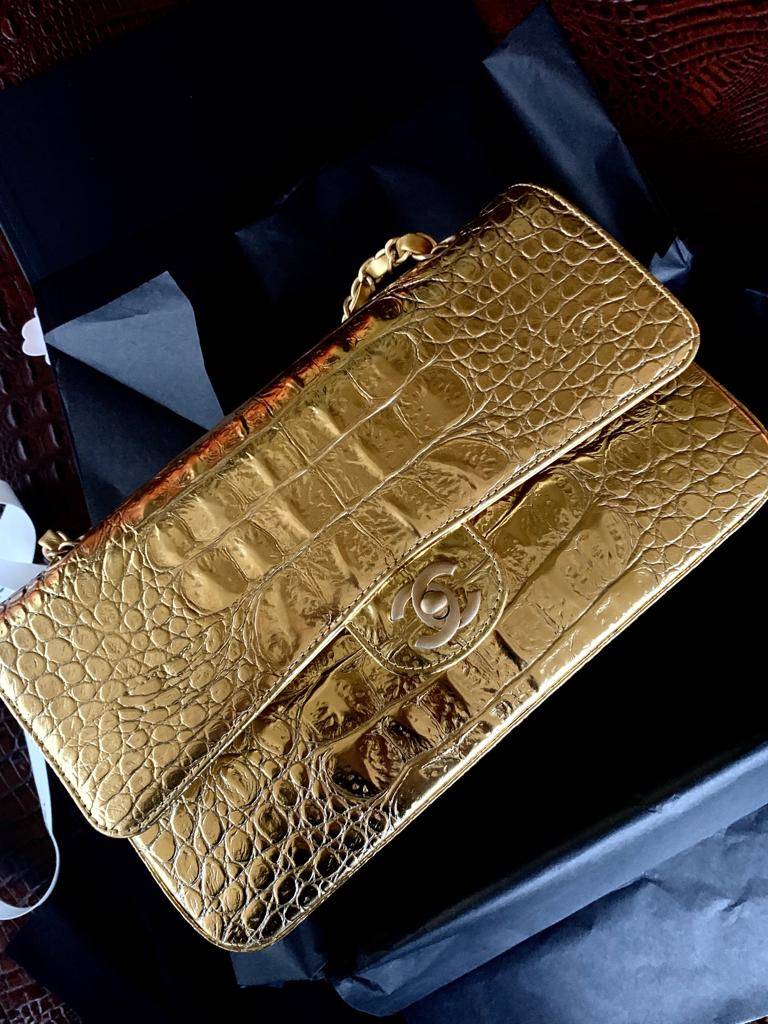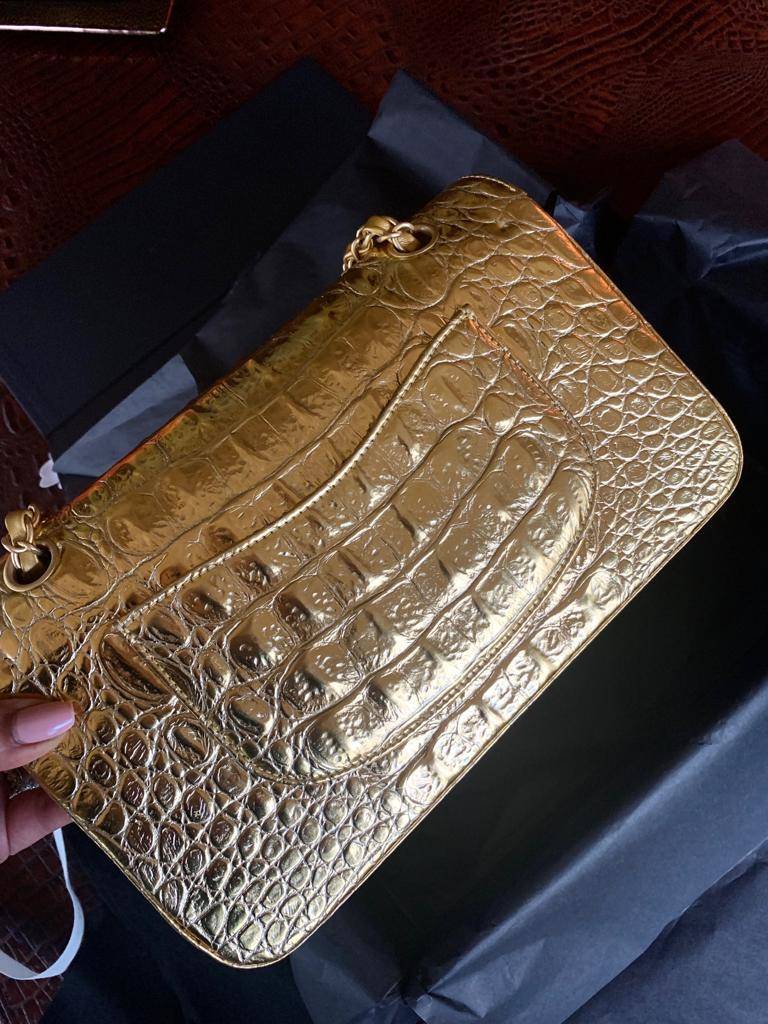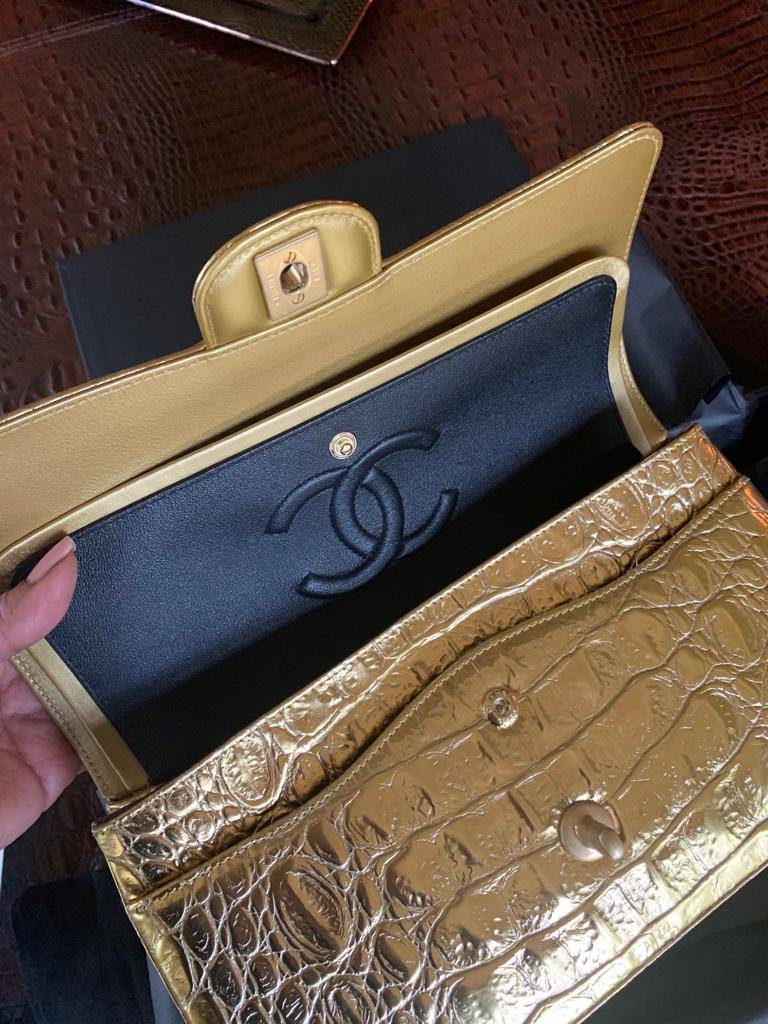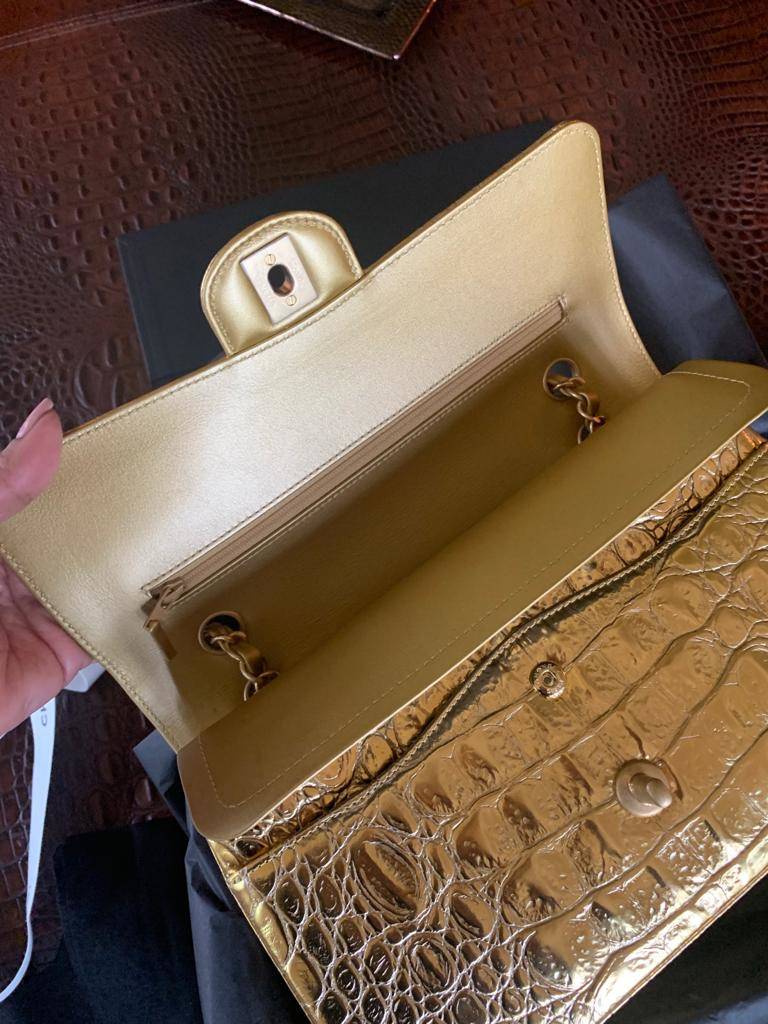 The "Cocodile" Leather after Chanel's Exotics Ban
Now, let's talk about this leather. Remember that Chanel made headlines in major newspapers around the world when it committed to discontinuing use of exotic leathers at the end of last year (read: Chanel Bans Exotics). This move has officially begun with the Métiers d'Art 2018-19 Collection just hitting stores now.
Many have questioned Chanel's motives, challenged the business sense of the plan and so on, but for me, few have been able to explain the beauty of the decision as perfectly as my Chanel Sales Associate (and friend) Christina Abro. Fortunately, Christina has permitted me to share her views with you, our readers. Enjoy!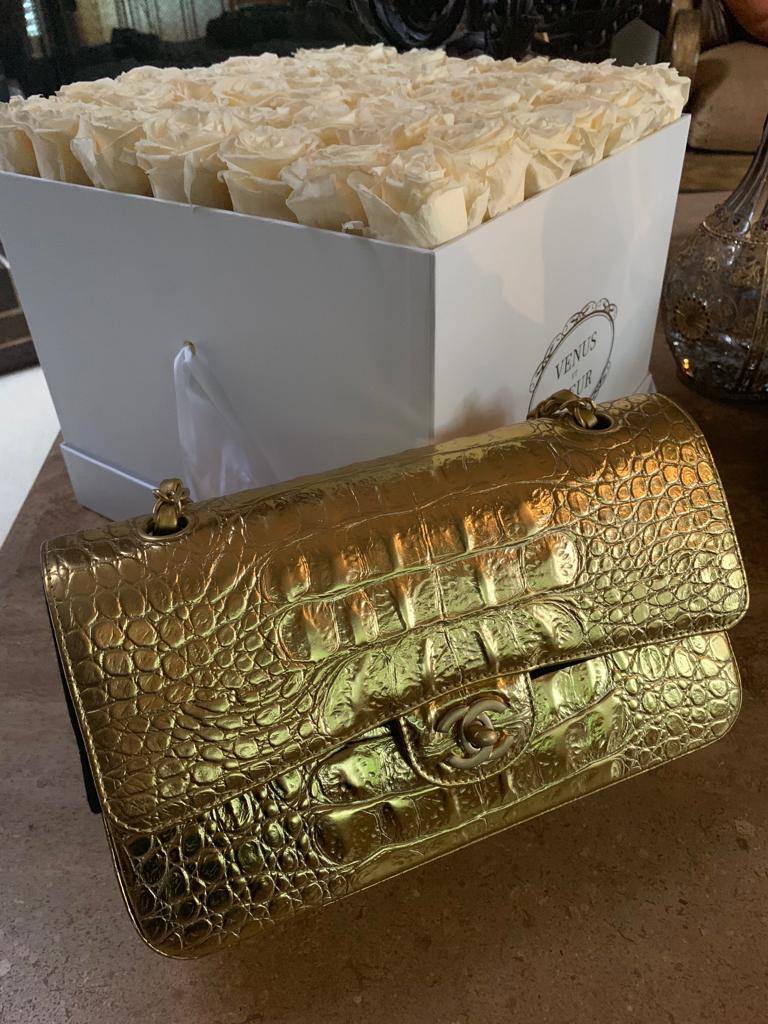 From Christina Abro, Chanel Sales Associate @christina__nm
Chanel has made a bold and controversial decision to eliminate exotic animal skins from their entire brand, pulling every last piece off of their shelves worldwide on June 1st. A pioneer in the fashion industry, it's no surprise that they're the first to make these changes. Chanel believes that the beauty of a jacket or a handbag comes not from rare animal skins, but truly from a creative genius artisan who can create magnificent pieces with their skill and precision.
The announcement from Chanel to discontinue the use of exotic skin and fur materials was not only responsible, but also philanthropic. Chanel is extremely passionate about supporting their artisans. Relationships with many of the ateliers date back to Coco Chanel herself, who promised that Chanel would do what they could to help their ateliers continue to survive in a time of economic recession. Taking such pride in artistic craftsmanship, Chanel today has 26 ateliers who share their vision of creativity into the future with no limits.
The Paris-New York Métiers d'Art collection brings together the unlikely combination of bold New York street style with the audacious metallics and geometric motifs of ancient Egyptian culture. Karl Lagerfeld's vision for this collection was unparalleled in his creative ability to bring to life new embossed textures of leather, what we now know to be "Cocodile," and patterns made up of sequin mimicking python scales, even leathers stamped to look like brick walls with graffiti art on them.
The discontinued use of fur and animal skins takes us back to the essence of Chanel, which is true artistry and craftsmanship. Chanel made a decision to exclude exotics partly because they could not be responsibly sourced, but also because of the relationship with their ateliers. Many of the artisan houses who spend countless hours creating works of art for Chanel are small town family owned workshops and would likely not be around if it weren't for the custom of Chanel. A custom we should all try to acquire in our daily lives…that it's all about the people. The actual men and women who are the essence of the beautiful product that we all love and enjoy. Chanel recognizes the PEOPLE as the foundation of creativity.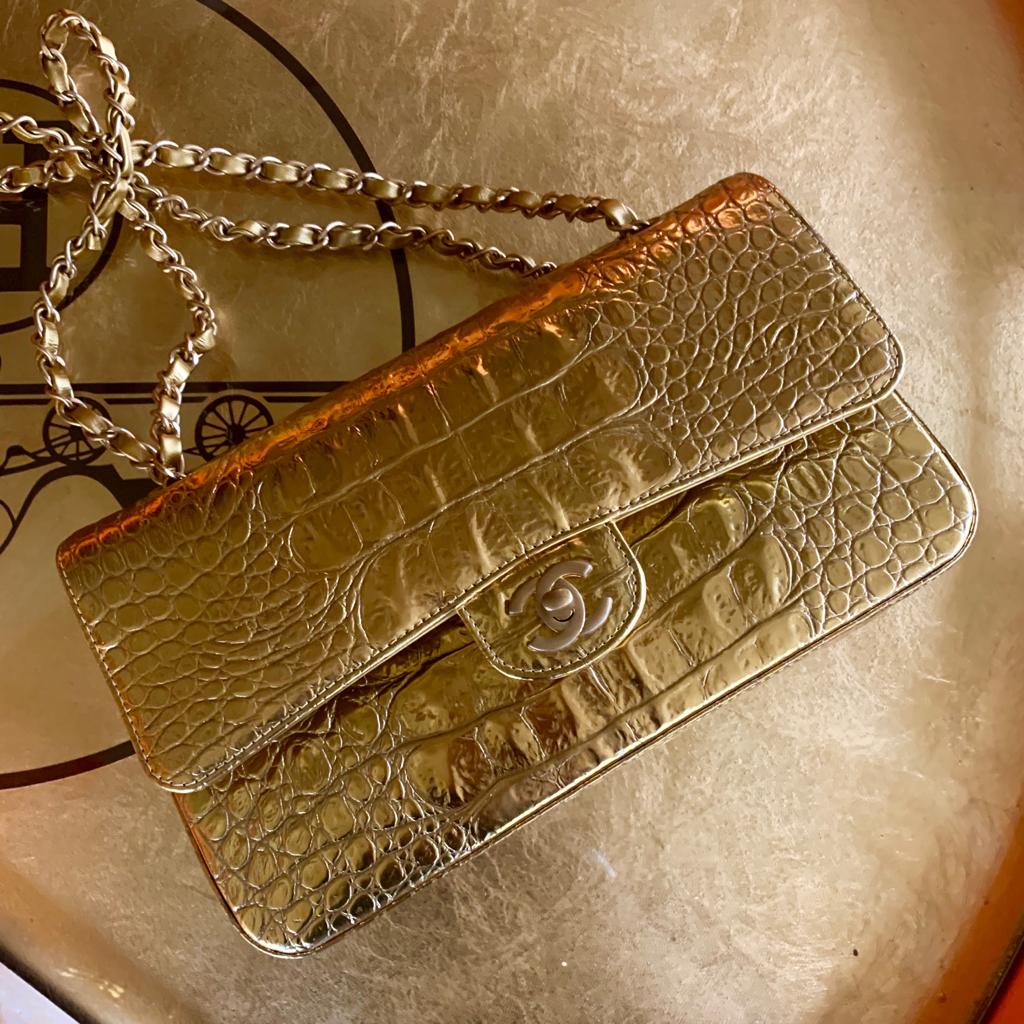 What do you think of Cocodile? Are you eyeing any of Chanel's new embossed leathers? And what are your thoughts on the move away from exotics, now that it's been enacted? Tell us your thoughts below!
Updated: June 18th, 2019