Prologue: Shopping in France Adventures
Chapter 2: Louis Vuitton or Chanel – Which is the Better Deal in France?
Let's jump straight in with our report. We start off the series with our first shopper named Rita. Rita's story has a surprising twist that led me to studying her case first.
I posed a few questions to Rita about her experiences to give you her perspective. You will need to follow through to the end to understand her twist of Hermes fate.
PB: Did you have a plan for what you wanted to purchase while you were in France?
Rita: Not Really! But, I was hoping to acquire my very first Birkin or Kelly there. I thought there would be more availability in France and that I would have a few color/size options to choose from. We went to 4 different Hermes stores in 4 different cities, and no Birkins or Kellys to be found. Except, one for Ms PurseBop. It was quite frustrating.
PB: Were any purchases total impulse buys?  Were you caught in the moment of shopping in France?
Rita: All of my purchases were impulse buys. I wasn't particularly swept up in the moment of shopping in France. Well maybe at Chanel Monte Carlo where I purchased my RTW. The champagne that was flowing on the second floor when I arrived to the scene with Mr. and Mrs PurseBop might have influenced me a bit, LOL.
I always intended on doing some damage, in fact quite honestly, I wish I had found more that I loved.  There wasn't  anything particular I had set out to buy – except a Birkin/Kelly!
PB: Were you pleased with the selection, were you flexible in your choices.
Rita: There was a good selection at Chanel; however, nothing unique. I was expecting to see pieces/choices that the US market would not carry. Unfortunately, I saw the same items that the US stores carry. I was willing to be flexible, just wished there was more to choose from. Hermes was a totally different story. Not a shoe, scarf or clic clac in the size or color way I wanted.
Chanel Tote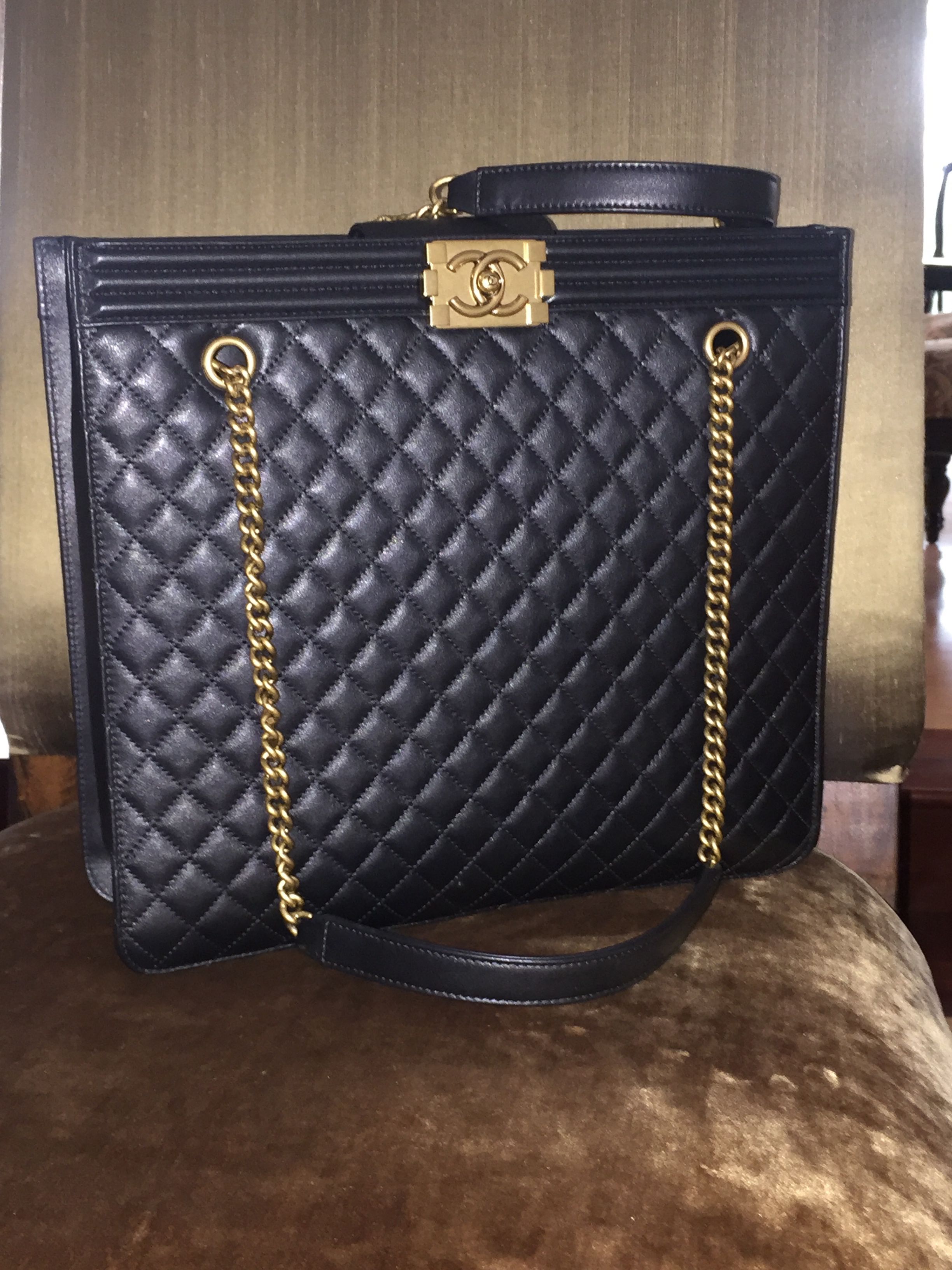 | | |
| --- | --- |
| Region | Chanel Tote |
| USA | $4,300 |
| | |
| Europe | €3,800 |
| VAT Refund (approx. 10%) | - €380 |
| Cost after VAT | €3,420 |
| | |
| US $ Equivalent | $3,834 |
Hermes Birkin 35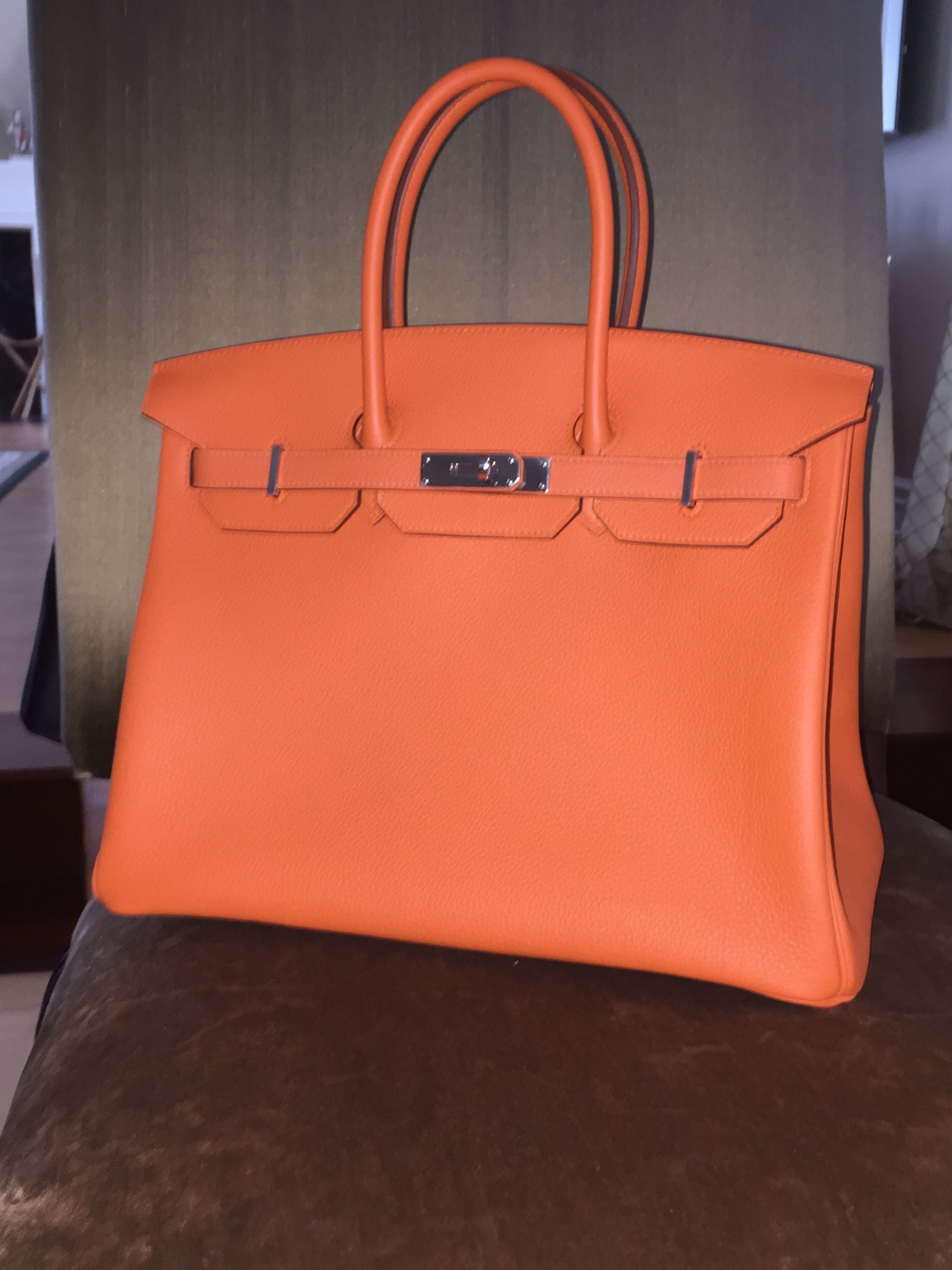 | | |
| --- | --- |
| Region | Hermes Birkin 35 |
| USA | $11,900 |
| | |
| Europe | €7,400 |
| VAT Refund (approx. 10%) | - €740 |
| Cost after VAT | €6,660 |
| | |
| US $ Equivalent | $7,464 |
Chanel Coat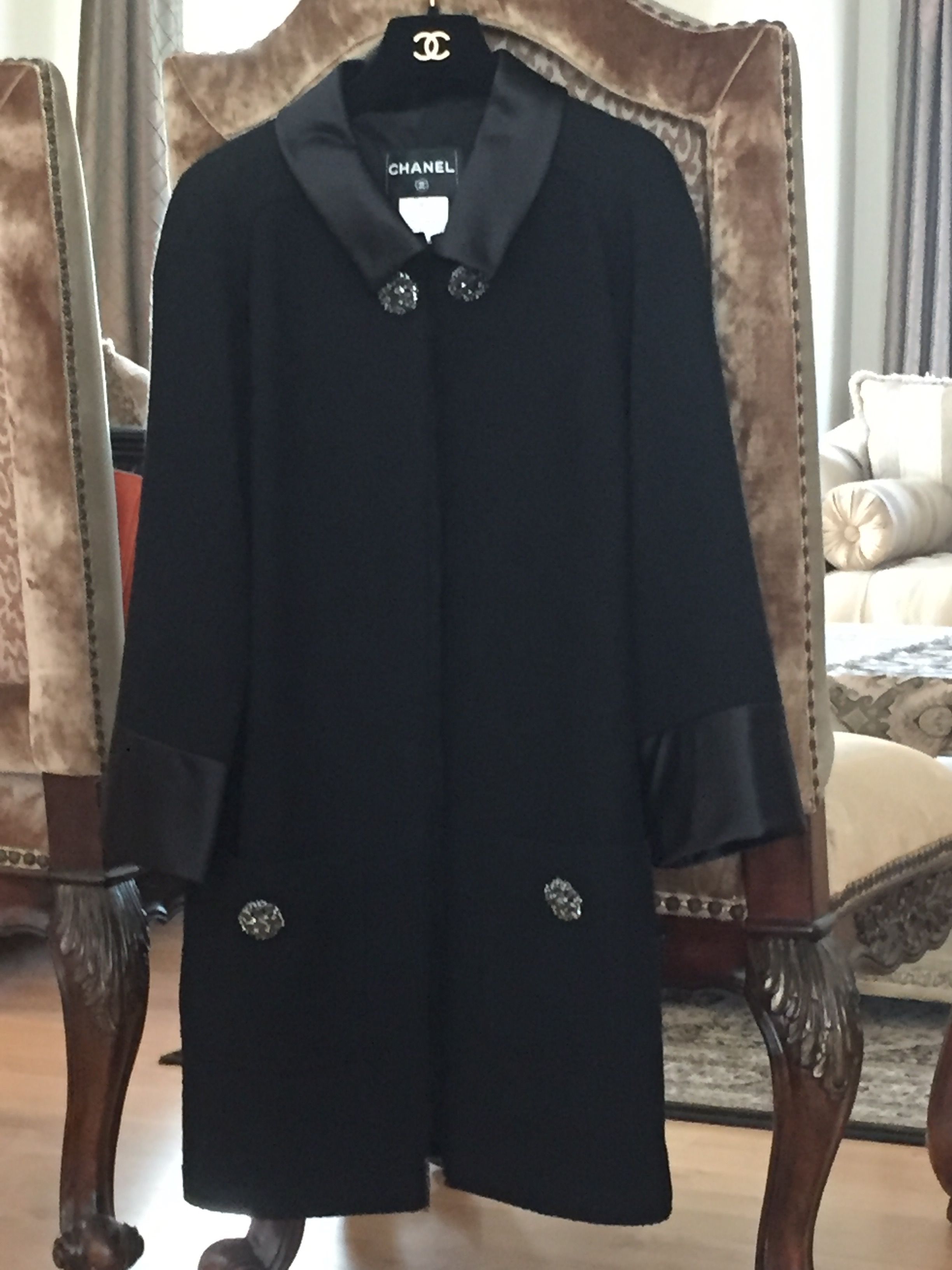 | | |
| --- | --- |
| Region | Chanel Coat |
| USA | $5,400 |
| | |
| Europe | €4,990 |
| VAT Refund (approx. 10%) | - €499 |
| Cost after VAT | €4491 |
| | |
| US $ Equivalent | $5,034 |
Chanel Dress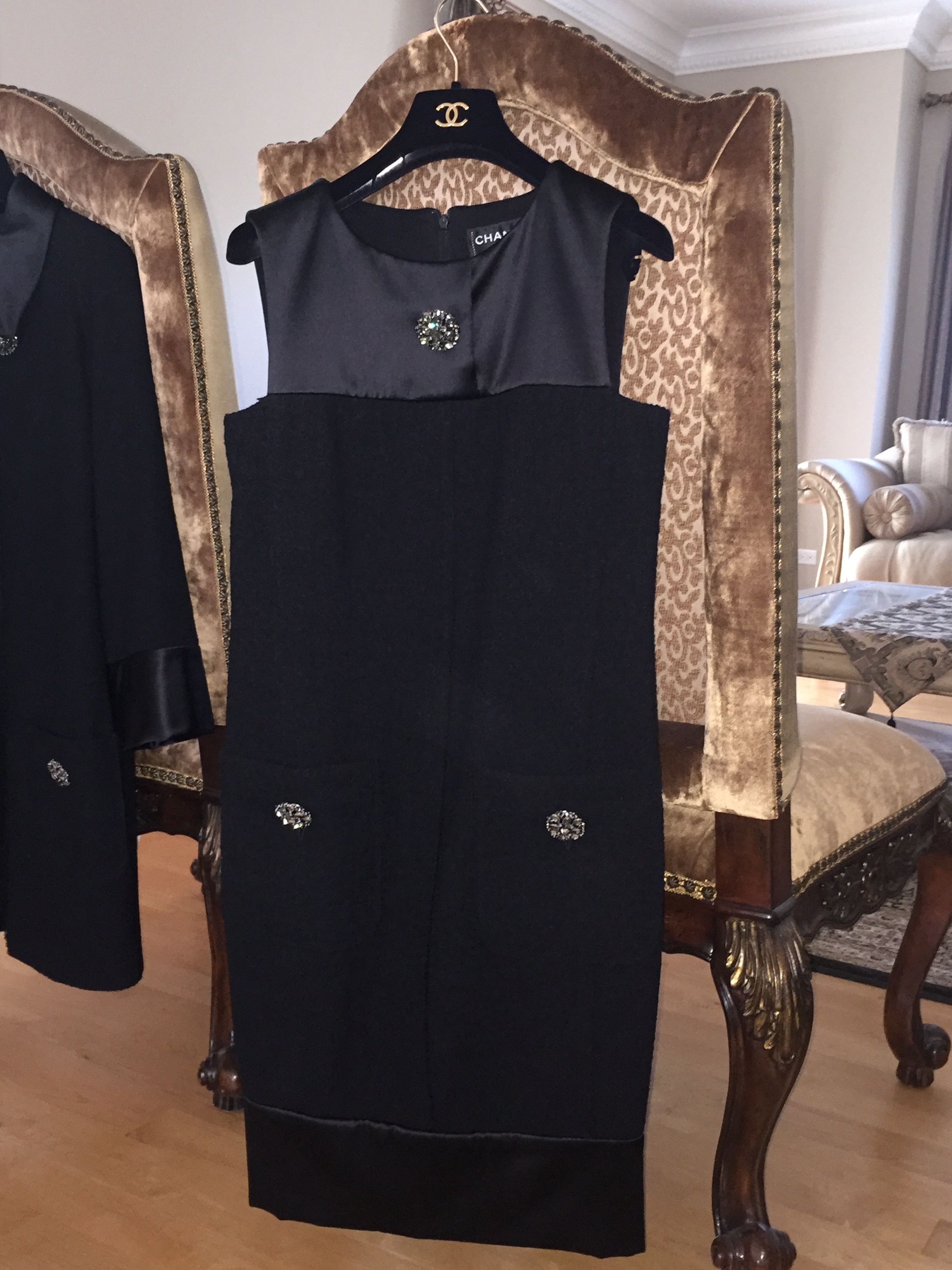 | | |
| --- | --- |
| Region | Chanel Dress |
| USA | $4,990 |
| | |
| Europe | €4,490 |
| VAT Refund (approx. 10%) | - €449 |
| Cost after VAT | €4,041 |
| | |
| US $ Equivalent | $4,530 |
(prices serve as guides only and are subject to currency fluctuations; prices do not take into consideration any duties or taxes; US equivalents were calculated based on today's currency conversion rates)
PB: When it came time to choose, what factors swayed you?
Rita: My girlfriends – of course! I was thinking of purchasing "the gasoline" bag from Chanel's Dubai collection, but my girlfriends gave it a thumbs down so I didn't get it.
PB: How satisfied overall  were you with the experience of shopping abroad? Especially in comparison to shopping in the US?
Rita: It was amazing to be in France with our dear friends! The shopping was a bit disappointing. On my high end purchases, I was expecting better prices than the US since the euro was down. There was very little savings on my purchases and packing was a nightmare. Not to mention getting stopped at US customs. It was not worth the hassle.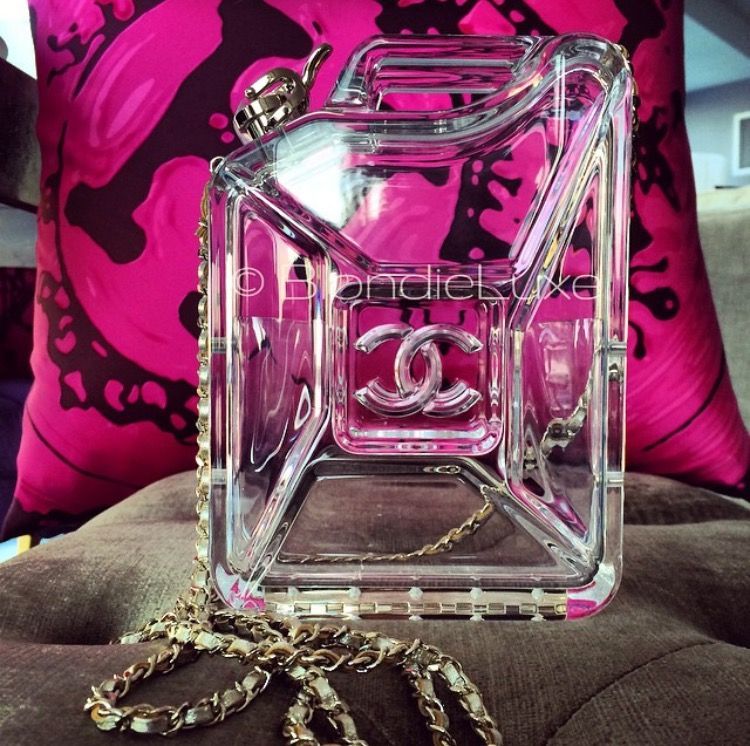 The Chanel Paris-Dubai limited edition gasoline tank. Pic courtesy @blondieluxe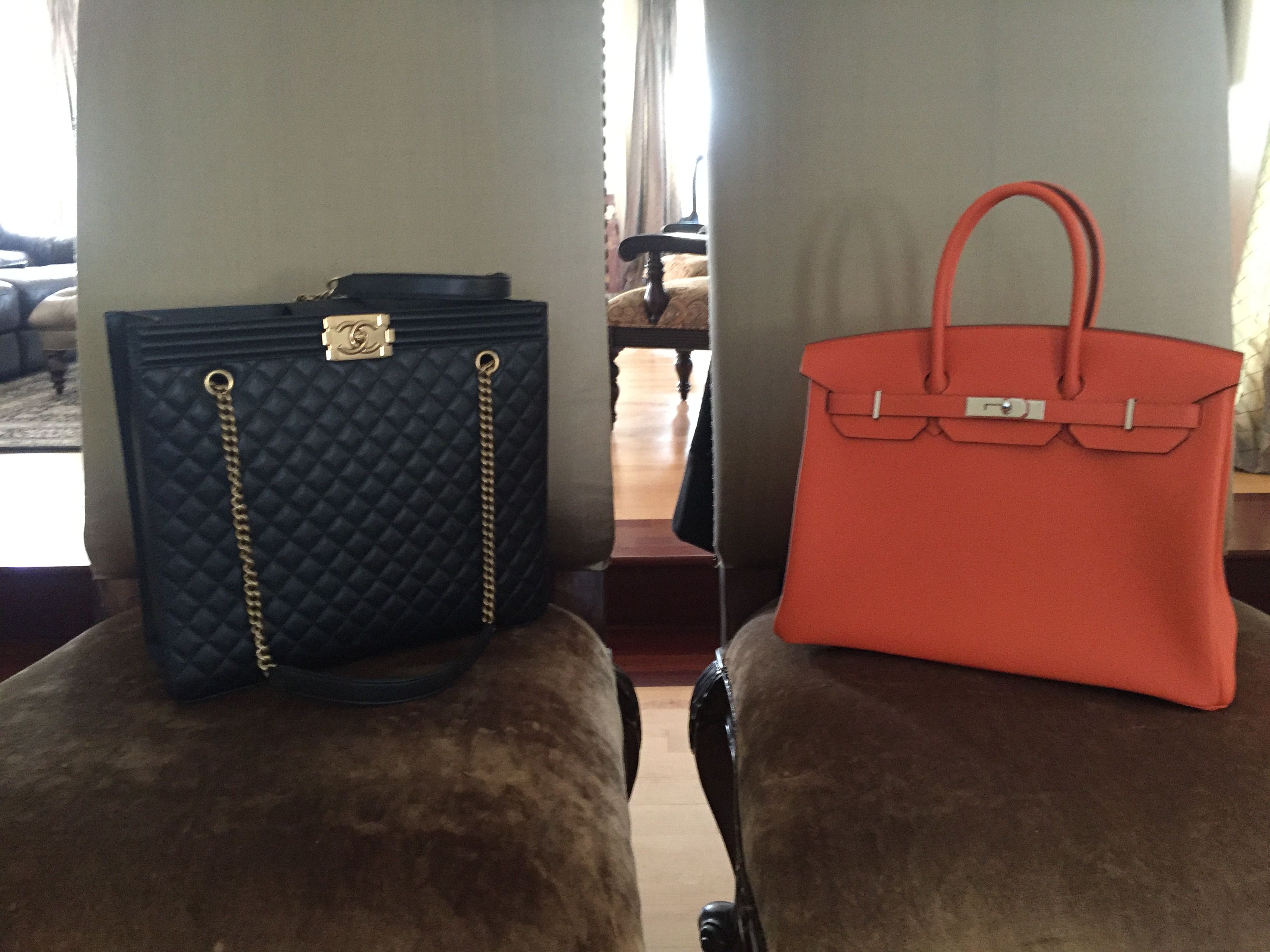 Total Cost Savings
| | |
| --- | --- |
| Item | Money Saved |
| Chanel Tote | $457 |
| Chanel Dress | $370 |
| Chanel Coat | $357 |
| | |
| Total | $1,184 |
So, Rita did not get a Birkin in France. But, you're probably wondering why there's a picture a B35 in togo Feu with PHW in the charts above?
Literally 2 days after arriving back from our trip, Rita headed to the city with her hubby to take care of a few things – one of which was having a small repair made at Chanel. Unfortunately, the pocket of her new dress had a tear (not a fabulous feeling after having just spent 5K)!
After running numerous errands, as a last stop that afternoon, they decided to head into Hermes. This was the day after the Hermes MANifeste launch event I attended.
Rita was unsuccessful at picking up several of the smaller H items she wanted in France. In the heat of the shopping spirit, she thought she'd try her luck again. This time on Oak Street.  I must clarify on her behalf that her purpose was sincerely to fulfill her pending wish lists. After seeking the help of a SA and taking care of the 'less intimidating' affairs, her hubby suggested she ask the ever looming question – I don't need to tell you what that is…
Rita told him "forget it, we certainly aren't not going to get offered one here. If we couldn't get one in France in 4 cities, what are our chances here?" Irritated with the whole Hermes chase, she stepped aside. Finally her husband spoke up:
"Any chance you have a Birkin or Kelly for my wife? We just returned from France and were unsuccessful…"
"No sir, not at this time, but I'd be happy to get you on a list"
"My wife is and has been on the list for quite some time now…"
"What is your full name sir?"
The SA wrote it down and stepped aside and dissapeared into the back (this is usually a good sign) Meanwhile, Rita rejoined her husband – and I can only imagine the hush hush dialogue between the two. "I told you to ask…" " I am so over this whole Birkin thing…" "if you don't ask, how are you going to get one" "I'm doing this for you, can you at least try to look interested and excited…" (I'm guessing many of you can relate).
The SA stepped back in and hurriedly asked Rita, "what would be your first color choice?" She replied "I have always wanted the traditional Hermes orange color. Do you have one", she asked with a slightly elevated tone? The SA stepped away again. Rita thought to herself, really? Could this be happening… might I finally see the dream of my first B or K? Today, on this random Friday, just 48 hours after I searched high & low for one in France?
A little about Rita: She is no newbie to high end luxury shopping, VCA and Cartier are her thing, nor is she really new to Hermes. She has acquired a few H accessories, scarves, and even recently an Evelyn with me on our girls trip to NYC in May. I also remember her shopping for Oran sandals in Vegas from another girls trip last year. Rita has not however bought consistently from one SA. She is a 'traveling shopper' and has picked up Hermes knick knacks from different destinations she visits. She has rarely seriously visited the Chicago store – at least till now!
"Ma'am I have a lovely Birkin 35 in a blood orange color…" the SA said as she approached the couple with a big orange box in hand. "Would you like to take a look, Rita?" "Why, yes please…" she replied.
I think everything was pretty much a blur after that point because Rita didn't have much more detail to share with me!!
Hubby was very pleased with himself as their wedding anniversary is this week, and HE scored BIG for HER. Moral of the Story: persistence pays…
Back to some handbag math…
Birkin in the US: $11,900 + $1,220 (tax 10.25%) = $13,120 total
Birkin in Europe: €7,400 – €740 (VAT refund 10%) = €6,600 = $7,464 total
What she could have saved: $13, 120 – $7,464 = $5,656 (~ 43% savings)
Rita's Conflict:
Not finding the Birkin in France caused Rita to miss out on potential big savings
She did not save much money on Chanel due to the recent European price increases
Given the price parity and the fact that the same items were available in Chicago, perhaps Rita would've been better off purchasing her goods at home and being serviced by our local Chanel sales associates
Rita couldn't be happier with her new B but the truth of the matter  is that scoring the Birkin in France would've saved her big money. Hermes, unlike Chanel,  has not raised European prices despite the devaluing euro. With the $11,900 USD price tag along with a Chicago tax rate of 10.25%, Rita ended up spending a total of $13,120. In Europe, the same Birkin retails for €7,400. Along with a VAT refund of 10%, Rita's B would've amounted to €6,600 or $7,464. When we do the math, if Rita found her Birkin in France she would've saved $5,656. Suffice to say, this is a shocking price difference. When it comes to Hermes and shopping in general, what you want often certainly outweighs the numbers. But the numbers, now that we see them so starkly, do put the pricing situation in perspective, and encourage us to think long and hard about when and WHERE we buy our bags.
Bring your questions & thoughts to BopTalk
Stay tuned to the #pursebopsinFRANCE series as it unfolds, this is only the beginning!
Love PurseBop
XO