It's time for some real mini fun! We are excited to set up a challenge for our fabulous community of bag lovers called – 'Pursebop Whats In My Mini Bag?' or #pursebopwimmb
We may love mini bags for being tiny and adorable, but every once in a while we catch ourselves thinking "what can I really fit into this thing?!".  Well it's time to find out! Let's examine the topic of minis from a 'what's in my bag perspective'.
For the next two weeks, we want you to photograph as many mini bags as you have, from any brand, including your WOC's … and share whats in them! Be as creative as you can and post your pictures to the "PurseBop What's in My Mini Bag?"( #pursebopwimmb) thread on BopTalk. Share your shots on your Instagram pages and tag your friends to join in. The best and most informative pictures will be nominated for a final voting round. You all will vote to select your favorite #pursebopwimmb shots to decide our top 3 winners! And what's even more exciting is we will have very special prizes for each. Niloti Geneve will sponsor this challenge and give each of our winners one of their exquisite crocodile bag charms.
Specific rules for the challenge are listed below. For now, take a look at this Hermes #pursebopwimmb inspiration from PurseBop and BopTalk Celebrity StylishSheba. We have compared capacity pictures for the Birkin 25 and the Kelly 25 with details of whats in each.
PurseBop: What fits in a Mini Birkin 25? 
Bag Details: 
Brand: Hermes Birkin 25
Material: Mysore Chèvre Leather
Color: 5P Pink
Favorite Items:
"there isn't a cuter mini in my closet, still feminine and elegant with the capacity of many of my larger bags ~ even my mini ipad! She  transitions beautifully from day to evening and receives more oohs and aahs than any other, I say "more mini's please!"
-Pursebop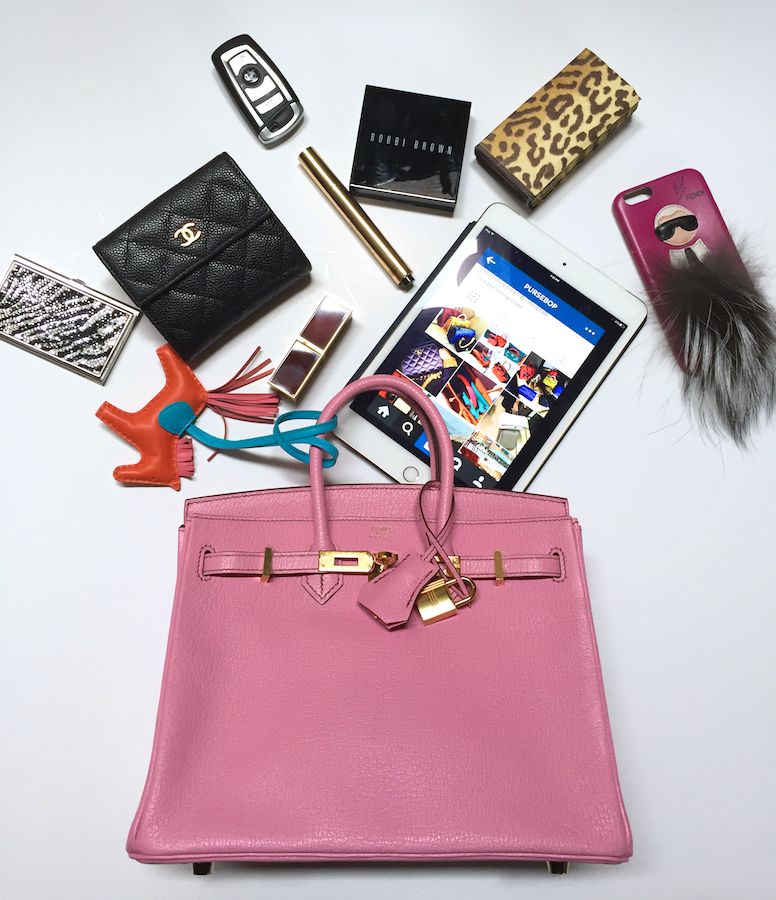 BopTalk Celebrity StylishSheba: What fits in a Mini Kelly 25?
Bag Details: 
Brand: Hermes Kelly 25
Material: Epsom  Leather
Color: Rose Jaipur
Favorite Items:
"I am loving this itsy bitsy Kelly, so light weight and versatile. My favorite part of this cutie is that I can take it out shopping all day with my friends, and then remove the strap and have it as a sophisticated evening bag…"
– stylishsheba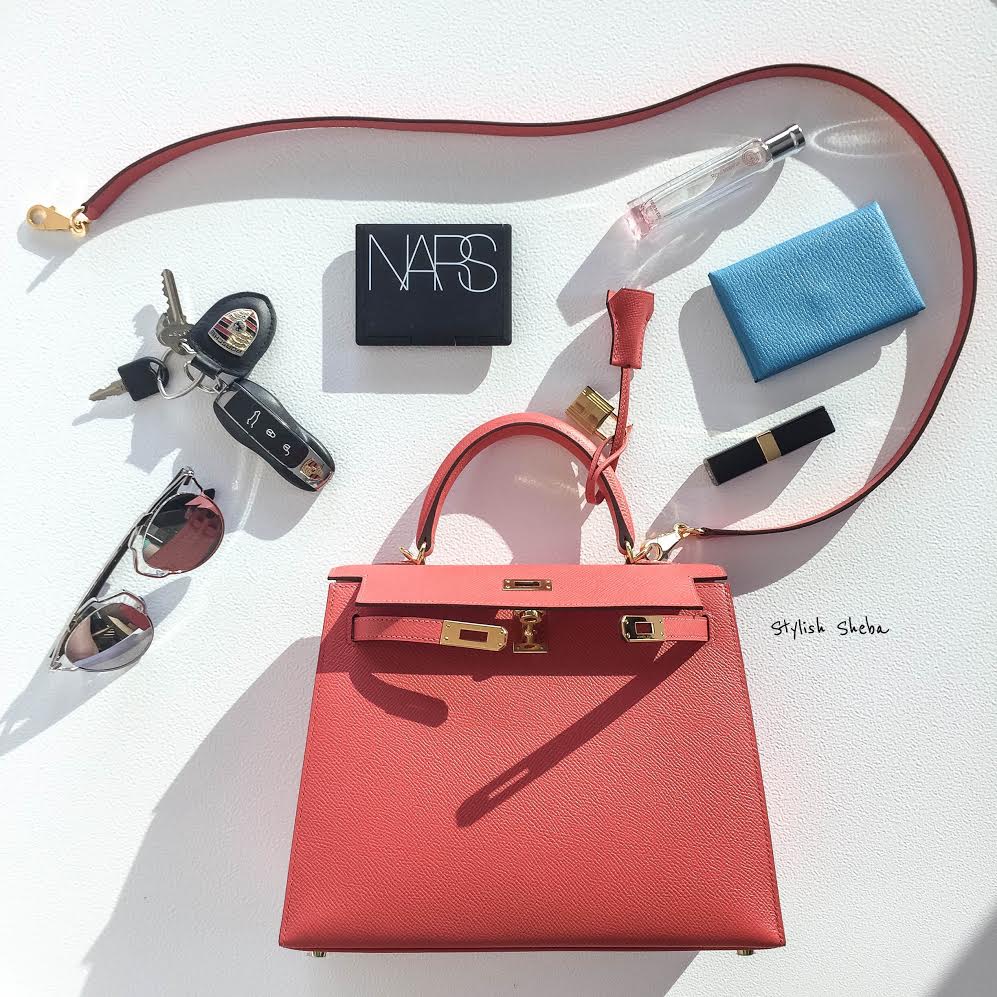 "What's in My Mini Bag?" PurseBop Challenge Rules
Take a picture of your favorite mini handbag with it's contents and the items you use.
Create an account on BopTalk if you haven't already and post your picture to the #pursebopwimmb thread. Remember to include your IG handle.
We will feature pictures tagged to us on all of our Instagram accounts, however only the pictures posted to PurseBop.com/BopTalk will be eligible for the prizes!
You may enter as many times as you wish with as many different mini bags as you have. Finalists will be chosen Friday, April 1st. Winners will be announced on Sunday, April 3rd at 5 pm.
 Prizes will be awarded to our top 3 #pursebopwimmb challenge winners.
Other things to note:
Remember it can be any brand of mini… Hermes, Chanel, Delvaux, Louis Vuitton, Givenchy, YSL, Dior… you name it! We just want to see "what's in YOUR mini bag?
These pictures are meant to be fun and informative! Get even more involved and make a list of the items in your bag for easy reference when you post on BopTalk.
Share your shots on your IG account and be sure to tag them to @pursebop and @boptalk and hashtag them to #pursebopwimmb (pursebop whats in my mini bag) so we can find them!
Prizes:
We are delighted to have prizes sponsored by www.niloti.com (@niloti.geneve). Each winner will receive 1 of the 3 beautiful crocodile charms featured here. In case you can't wait to see if you win, and want to order any of these treasures from  Niloti.com or Etsy, use promo code PURSEBOP.
"What's in my Mini Bag?" (#pursebopwimmb) Challenge Inspiration
It's your turn! Check out the eye candy below if you need ideas for what to post. Use PurseBop's and StylishSheba's comments as reference for extra things you can add to your posting on BopTalk.