Autumnal hues of fiery red and pumpkin orange are great and all, but this fall it's all about returning to classic black. This host of celebrities believes so anyway…
With New York Fashion Week coming to a close, it's been a big week in the handbag world. From Chanel to Hermès, here are PurseBop's favorite black bags that we've spotted recently on the arms of celebs.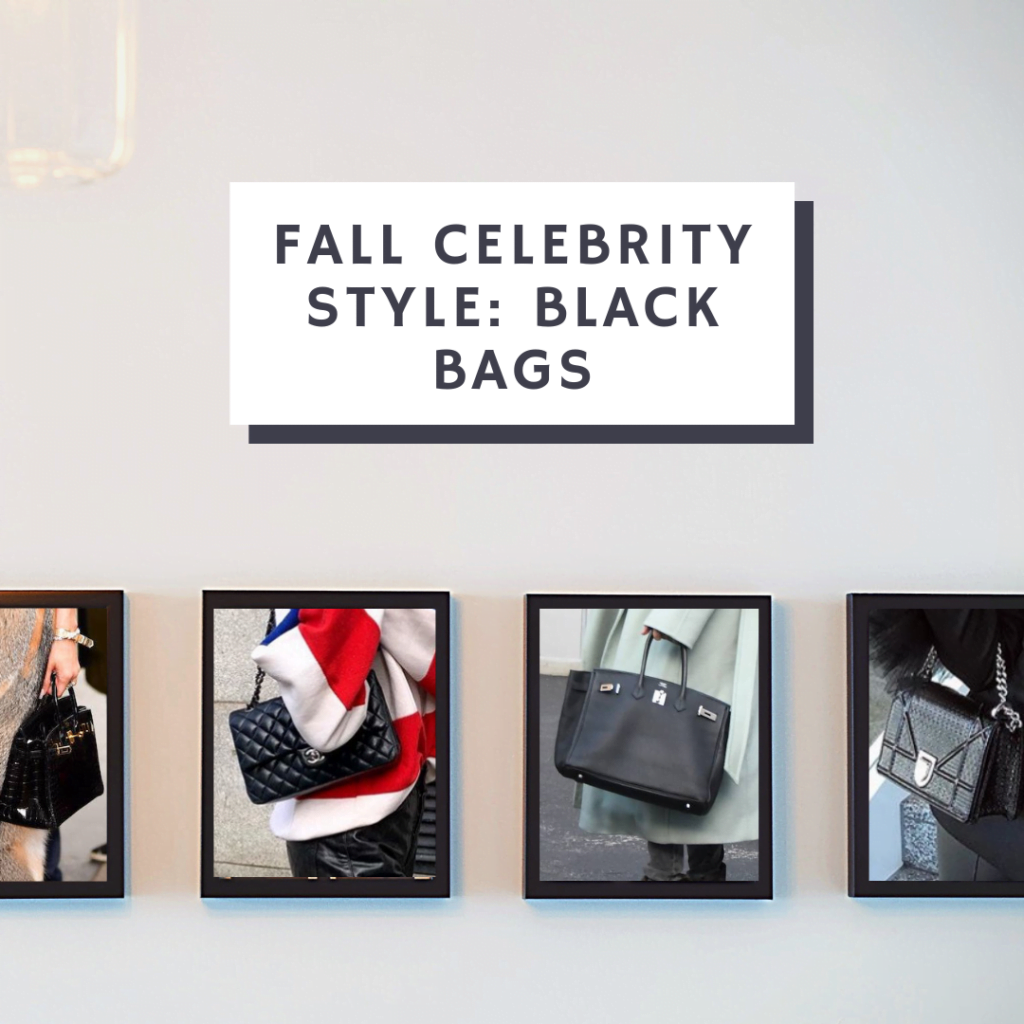 Quilted Black Chanel is A Hit With A-listers
No bag is as classic as the Chanel Classic Flap in black. (Read: The 2019 Chanel Classic Flap Price Guide) As leaves begin to fall from the trees and the weather gets chillier, we can certainly see why it's tempting to revisit the classics we know and love.
It is therefore no surprise that legendary supermodel and fashion icon Kate Moss chose to sport a Chanel Classic Flap in what looks like black croc leather while strolling the streets of New York.
It seems model of the moment Bella Hadid has been drawn to the classics as well, opting for a black quilted Chanel backpack while in New York for Fashion Week. The bag classed up an otherwise casual look.
Swedish model Elsa Hosk appears to have joined in the love affair with black Chanel. The 30 year old has been flaunting her black Classic Flap on her Instagram lately.
Hosk looked ready for cooling temperatures as she paired her Chanel bag with matching black quilted heels and a multicolored sweater.
Noir Hermès Has J.Lo's Love
This Queen of Pop is no stranger to a Birkin bag. In fact just last month she was spotted taking her Himalaya Birkin to the gym. It looks like the singer's love for the iconic "It" bag isn't exclusive to the Himalaya variety as she was recently seen rocking not one but two black Hermès bags.
While countless iterations of the Birkin exist in every color of the rainbow and every leather imaginable, classic black still proves alluring to A-listers…
JLo is also a fan of the smaller sizes. Carrying the B25 in glossy black exotic leather, the star paired her small H gem with (faux)-fur detailing.
Celebs Are Loving Black Dior This Fall
The French fashion house has gone big on simple tones and primary colors for Fall/Winter 2019. In addition to checkered motifs, the brand is honing in on everyone's favorite shade of the moment, and celebs are taking note.
British reality TV star and friend of Paris Hilton, Molly Mae Hague, caught onto the trend clutching her black Dior Saddle Bag at an event during NYFW.
The 20 year old was also seen rocking her Diorama Bag in a glossy black finish on Instagram that she paired with a black tasseled power suit.
A Black Cross-Body Bag is the Only Way to do Fashion Week
Since she's the creative director at large of American Vogue, you'd think Grace Coddington would know a thing or two about fashion. Her Louis Vuitton cross-body bag in black Monogram at the Proenza Schouler show during NYFW declares to all fashion lovers that the only way to do fashion week is hands-free!
That Newly Popular Balenciaga Bag
It looks like the youngest of the Kardashian-Jenner clan is also a fan of classic black for fall. Makeup mogul Kylie Jenner posed on steps with her Balenciaga Hourglass Top Handle Bag in a glossy black finish.
The bag completed an all black ensemble consisting of Adidas Originals sneakers, sunglasses and a fitted dress with sleeves—the perfect mix of smart and sport chic.
What do you think of our list? Will you be going back to black bags this fall? Let us know.