Part I: The Hermes Kelly Retrieval
Part II: The Hermes Learning Process
Part III: Does the Hermes Kelly trump the Birkin
Since the topic of Part III's discussion was all TRAVEL, I reached out to the Birkin Fairy for some advice…
Dear Birkin Fairy,
My lifestyle involves a great deal of travel, and I strongly believe in enjoying my special pieces while doing so. Although my collection is just starting out I would like any travel tips, or advice you can share. I find myself using my Birkin for more relaxing vacation style trips but my Kelly for work related trips. Any advice on how to enjoy these treasures while on the go? Airport, security, rain, snow, safety etc?
I'm so happy to hear that you are using your Hermes bags for travel! Some women are absolutely terrified of doing this for fear that they may damage their bag. Hermes handbags are made to be enjoyed and are very durable. However, a few simple pointers will be helpful to maintain their beauty on the go.

Never over stuff or place heavy items in your bag. 

Always keep your purse's raincoat inside of your bag for an unexpected rain shower or snowstorm.

Insure your handbags. Contact a Chubb agent for additional information and pricing.

Travel with your Hermes canvas duster. Place your bag inside of this while entering the TSA security zone and place on the conveyer belt fully covered inside a plastic bin. Remove the duster when you are cleared. Once you board the plane, place it again inside the duster and gently underneath your seat for takeoff and landing. If you don't want to dirty or damage your pretty Hermes duster, choose one from another brand.

Use a purse organizer like a Fourbi. This will prevent accidental spills of food, makeup and ink from damaging the interior leather.

If you are traveling to a warm climate make sure to avoid direct sunlight and tanning lotion/oils from getting onto the leather.

Lock your bag carefully inside of your suitcase when it is not in use.

If anything should happen unexpectedly, call the nearest Hermes boutique and ask to speak with a craftsperson. If you are traveling within the United States and live in the United States, you may be able to drop it off and have it shipped to your home.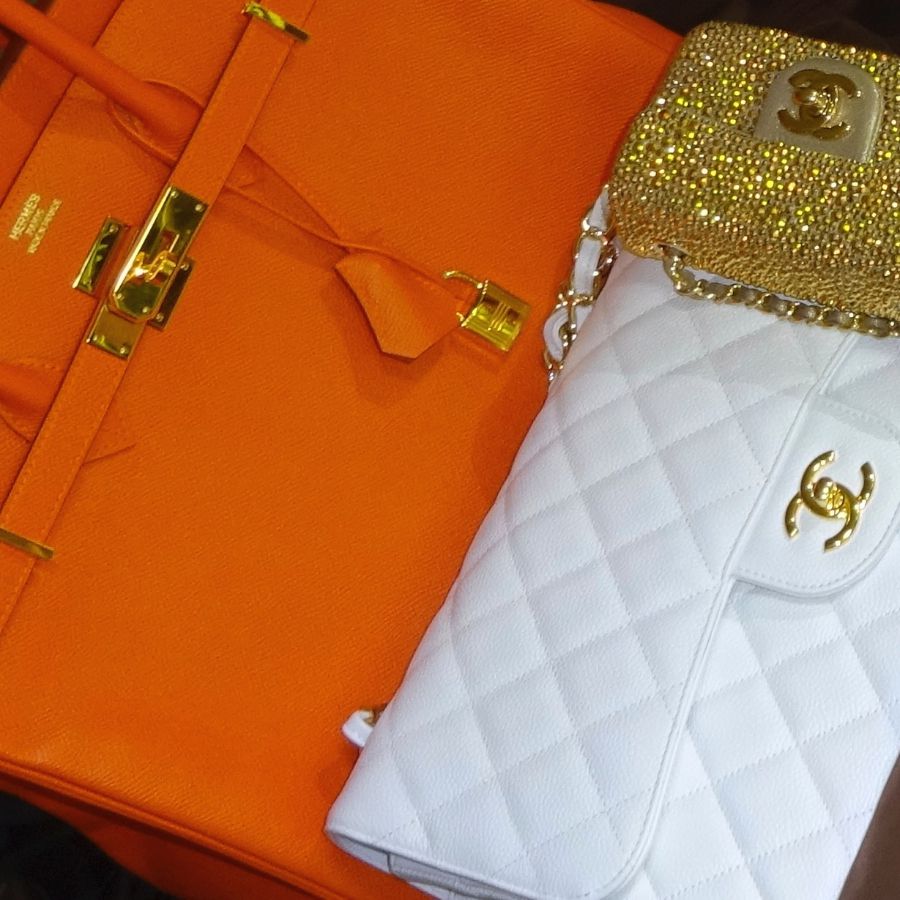 I have recently purchased several exotic Hermes leather jewelry pieces and intend on taking them along during travel. It's definitely safer then taking very expensive designer diamond bangles and other rare pieces. Anything I should be aware of here?
The most important thing to remember when traveling with exotic skins internationally is to carry your CITES certificate. A CITES, Convention on International Trade in Endangered Species, is an international agreement between governments. Its aim is to ensure that international trade in species of wild animals and plants does not threaten their survival. A customs officer may ask for this document. If you are not able to provide it, your item may be taken from you.
I often read comments on IG where people mention that they leave the stickers on their hardware whether it's bag hardware or CDC or KD's. If my intention is not resale, is there any other benefit to not removing these stickers?
When you purchase a handbag at Hermes, the hardware is prepared with a thin plastic sticker and its intention is to protect it from the damage that can occur during shipping. Keeping your stickers attached is a personal choice. I think for some, it's a part of the "admiration stage". Keeping on the stickers may protect your handbag hardware longer but it will eventually peel off on it own.
Love PurseBop
XO