Part I: The Hermes Kelly Retrieval
Part II: The Hermes Learning Process
During our unofficial Hermes week we studied the Kelly in great depth: color & sizes, leather options & stitching styles. We've hosted the ongoing debate of Kelly vs. Birkin...
It's time to put my thoughts together, share my personal experiences and compile the countless testimonials shared here over the course of #PurseBopsHermesWeek
The best way for me to discuss the Birkin vs. Kelly face-off is by relaying two recent travel experiences I had, one with my Birkin and one with my Kelly.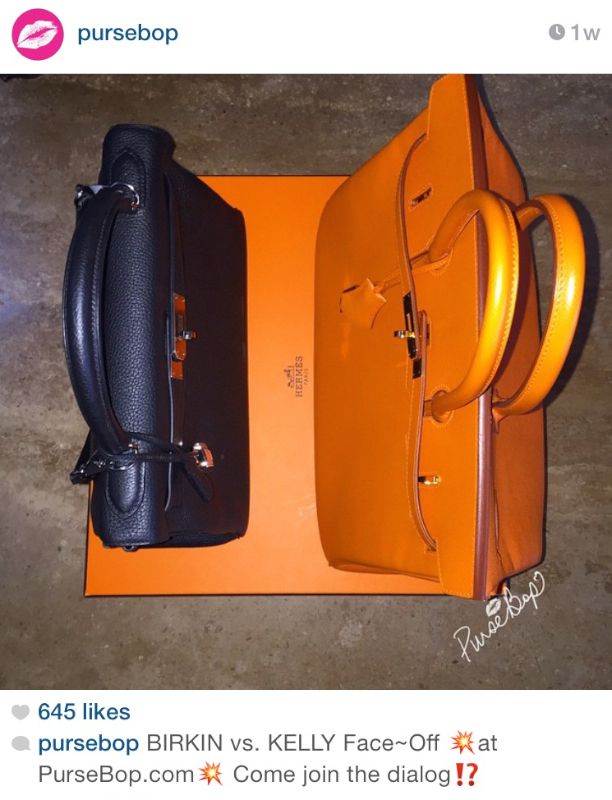 NYC Scene: I'm going to begin with my Kelly (#missNOIR)  and my recent trip to NYC. The purpose of this trip was primarily business. There were several meetings lined up and my days there were going to be hectic. I decided to really give the Kelly a test run so I set off with only Miss Noir and my carry-on.  This was a very unfamiliar feeling for me as I tend to carry many bags with me for variety.
Travel with Miss NOIR was a breeze. She was light, spacious enough for the bare essentials and above all hands free. The strap was long enough to fit comfortably over a medium weight fur coat and I was able to carry my water bottle/coffee and maneuver my carry-on very successfully through the airport. At security, getting in and out of the Kelly was a bit of an exercise but again, the strap was long enough to bring it forward to take out the necessities.
NYC: I was moving around the city considerably, taking ubers between appointments and walking the Madison street stores to get my shopping fix (check out #PurseBopsinNYC hash tag on IG), all with the usual winter gloves, coat & hat paraphernalia. I must say, the Kelly was a delight. I cannot report a single issue I personally had. I tend to be conservative with my bag contents, so I had space for my gloves when needed. I alternated between over my shoulder and on my arm, Grace Kelly style.
Evenings: This is where I worried a bit because I am never one to not have something special for nights out, but it was absolutely manageable. I took the strap off once I reached my destination and tucked it inside, carrying her like a true lady. The size wasn't obtrusive even in a crowded lounge scene. She fit nicely in my personal space and was mostly on my arm where she could be admired. I do admit I prefer her look to be buttoned down with the straps hanging (I like to reveal all the hardware I possibly can).
BagCharm: I took my Fendi #QuTweet birdie along to play dress- up when appropriate (obviously not in my meeting or late night scenes). I think it honestly might be a little over the top for me, or maybe for size of my Kelly, or simply the nature of my trip.
But I'm definitely going to buy the bag charm bracelet for Miss NOIR for that extra touch of bling I crave.
MIAMI Scene: Here we are going to switch gears completely and I will reference a recent trip to Miami with my Birkin. This trip was completely leisure. No meetings, no agenda, just family time with sisters (no hubbies or kids) and my parents. The three of us (sisters) flew out to surprise our daddy for his 70th birthday. It was so wonderful and unique to just be the 'original gang'.
Back to topic:
Tropical climate means no heavy clothing, relaxed dressing, flamboyant style with lots of leisurely shopping, strolling, outdoor champagne lunches and light evening fares at Carpaccio, Bal Harbour. There were no taxis, only valets, and selected strolling. Definitely no 10 block city walks.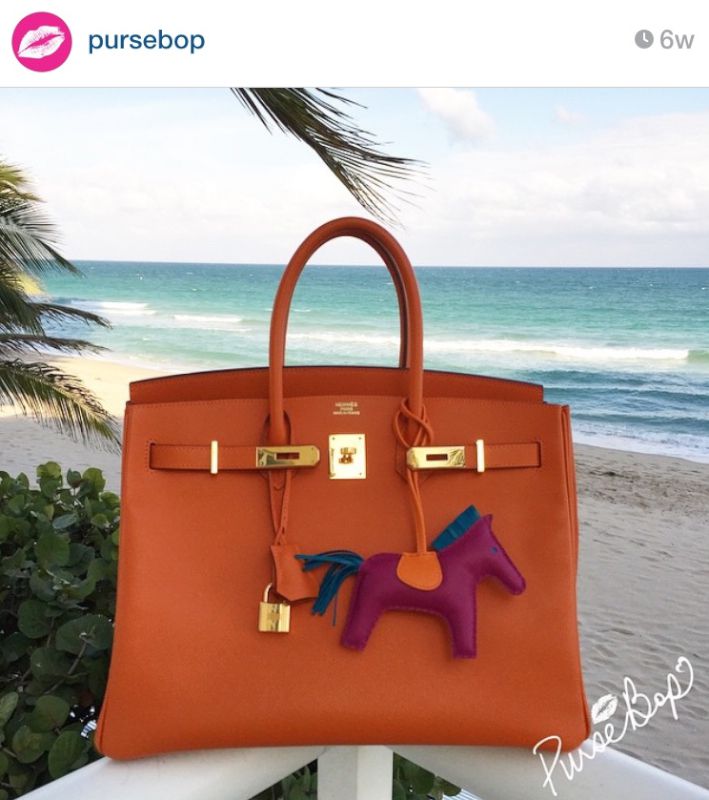 Travel with my Birkin was a nightmare. I again only took a carry on so between my Tumi and Birkin there was no chance for a cappuccino before my 6am flight. One hand & arm was solely dedicated to Miss B. Access in and out was easier but that was completely offset by my hands being constantly occupied. Sitting in the aircraft, she was rather large on my lap and fitting her beneath the seat was no easy feat. (note: I was traveling alone, of course if I were with my family or friends, this likely would be a mute point)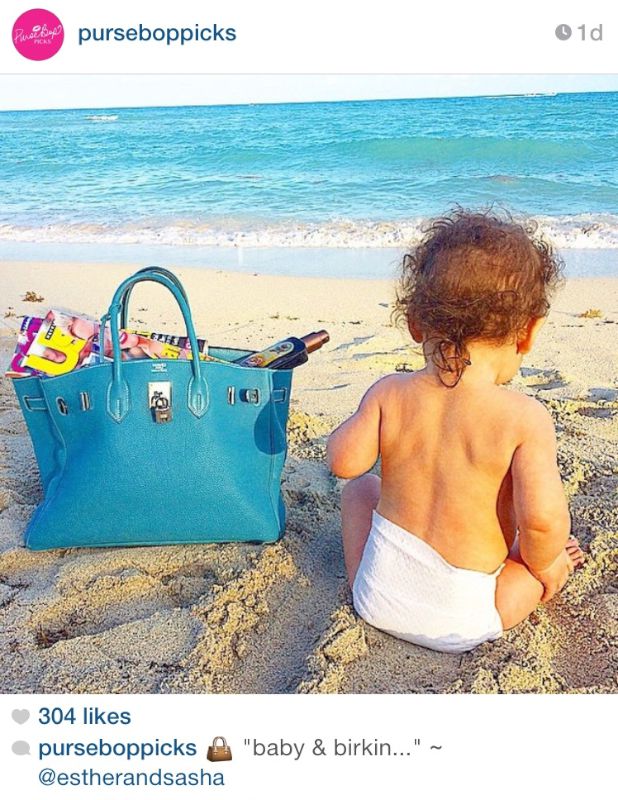 Miami: Now this is where Miss B comes to life for me and I think my love affair begins. I truly enjoyed her in this setting and environment with long maxi's or short midi's, flats and sunglasses either on or as my hairband. Carrying her on my arm was just too perfect. The convenience of easy access to the contents while shopping and strolling was ideal. I didn't mind her size or her boxiness. In fact the more the better here. I confess I loved the attention she brought, we had a connection, a rhythmic style and motion.
Evenings: Somehow the Birkin just seemed to fit into any Miami style scene. Although I felt it was a little big in the evenings, for casual times it was still acceptable. And surprisingly I wasn't the only one lugging a B35 to dinner, LOL, I see the bag is a tropical climate theme. I took along my Hermes enamels for some serious arm stacking and even inaugurated my exotic geranium CDC (no timidness here). The interior was spacious enough that I was able to sneak a mini Chanel Sparkle Beauty bag inside for our formal dinner. Overall I was rather comfortable with Miss B.
BagCharm: I was über delighted with my then recently acquired rodeo charm. In fact, he was on the B from start of the journey to the end. The size was perfect, not in your face, and the colors were complimentary.
In Summary:
So does the Hermes Kelly trump the Birkin? What I've gathered from my personal experiences and your many testimonials is that both the B and K have their respective IDEAL uses based on circumstantial factors. The Kelly is perfect for hands free needs, young moms with kids on the go, travel,  city lifestyles and heavy or bulky winter clothing . The B on the other hand is perfect for more leisure lifestyles, lighter clothing, flair, warmer climates and vacations… no kids policy. The B is truly a statement piece.
As for me, if you ask, will I buy another K or B? Quite honestly both. But I've realized that there's a time and place for each. I will perhaps select a more neutral color palette for K's (to easily co-ordinate with a variety of work looks) and save the POP color B's for fun tropical destinations and Chicago summers. I'm glad I realized these key differences for myself as I begin my Hermes collection, rather than several bags in. Hopefully my thoughts can help guide you as you make your own decision.
Check back tomorrow for Part IV with Birkin + Kelly expert travel tips!
Love Pursebop
XO