Traveling to Paris During Fashion Week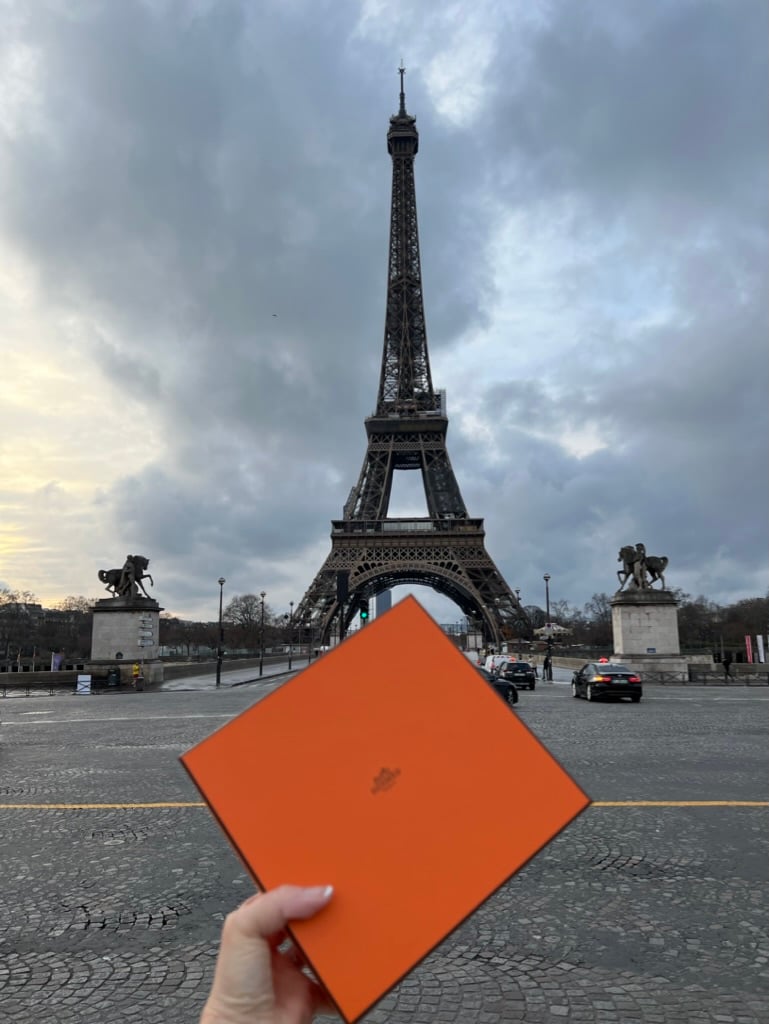 As I embark on my second trip to Paris in less than a year, I am excited, elated, and ready to experience all the magic. It is my first fashion week in Paris where I am invited to attend the Lanvin fashion show on Sunday. I will also be able to experience the Hermès after party and re-sees with PurseBop and Boptalk. This is what dreams are made of. 
I think about my last trip to Paris. A mother-daughter duo who could not be stopped. We have special memories for a lifetime. The trip was pure magic. So how could this trip top that one? It was a lot of pressure. Nevertheless, an opportunity to go to Paris and attend a fashion show was not to be missed.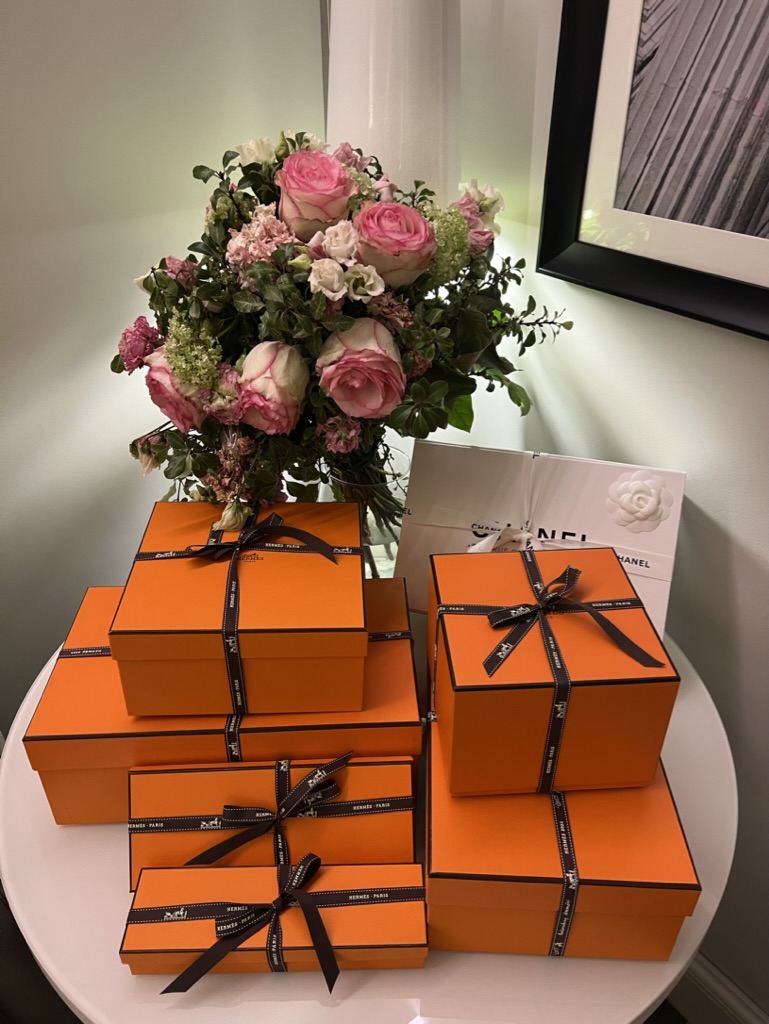 I board my 11-hour flight to Paris while anticipation builds about experiencing fashion week with Hermès and Lanvin, two of the oldest and most iconic Maison's in fashion. Their boutiques on Rue du Faubourg St. Honoré sit right next door to each other. They are very connected, having shared textiles and machinery in the early days. The Hermès Carre 70 Soie Vintage Minuit Au Faubourg silk scarf even shows Alber Elbaz, Creative Director of Lanvin from 2001-2015, peering out the window of Lanvin onto Hermès FSH, the Mothership. 
What do you do during an 11-hour flight to Paris you may wonder. In true PurseBop fashion, I educate the two lovely ladies sitting next to and behind me about purchasing a luxury handbag in Paris. The young woman to my right told me her birthday was in 2 days and she hoped to purchase her first Chanel classic flap in black with gold hardware. I informed her that she just won the handbag lottery by sitting next to me. I had 11 hours to impart all my PurseBop knowledge on this lovely woman before I bid her adieu at the end of the flight.
Unfortunately, I also had to inform her Chanel increased their prices significantly just the day prior. Undeterred, we exchanged phone numbers. I assured her I would help her find her dream bag in Paris on Monday after I attended my two fashion events.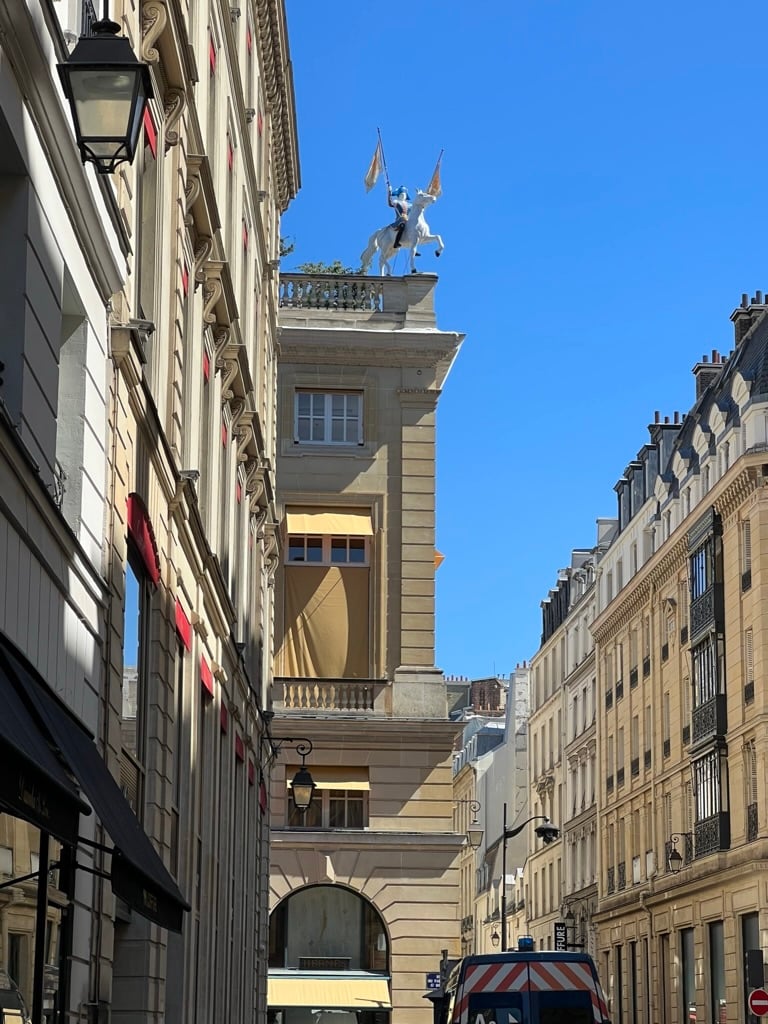 Paris During Fashion Week
While answering your Dear PurseBop questions, my number one rule is never travel to Paris during Fashion Week if you have hopes of returning home with a Hermès bag. Ironically, I did just that, all in the name of handbag journalism of course.
Many celebrities, influencers, and people in the business are in Paris for a full week attending multiple fashion shows, going to re-sees of the runway items, and enjoying Paris. They are also likely getting appointments at Hermès and giving their SA an updated wishlist. As a result, there are fewer bags left for the rest of us during and after Fashion Week. 
Read:
Dear PurseBop: When Is the Best Time of Year To Visit Paris
I arrive in Paris early on Saturday, March 4th, 2023. The Hermès fashion show is mere hours away. I had to check in, unpack, get ready for the Hermès events of the day, stop in at Lanvin to pick up my new bag, and of course pop into Hermès FSH for a once around. All before the Hermès fashion show that afternoon.
With Pursebop and Boptalk by my side, we traveled to the Hermès fashion show. Pursebop was invited to attend the runway show and went inside, while Boptalk and I documented the looks and bags before they entered the venue.
Read:
Part I: Hermès Unveils 6 New HandBags for Fall/Winter 2023
Part II: New Hermès Bag, Ready-To-Wear, SLG's to Expect in Fall/Winter 2023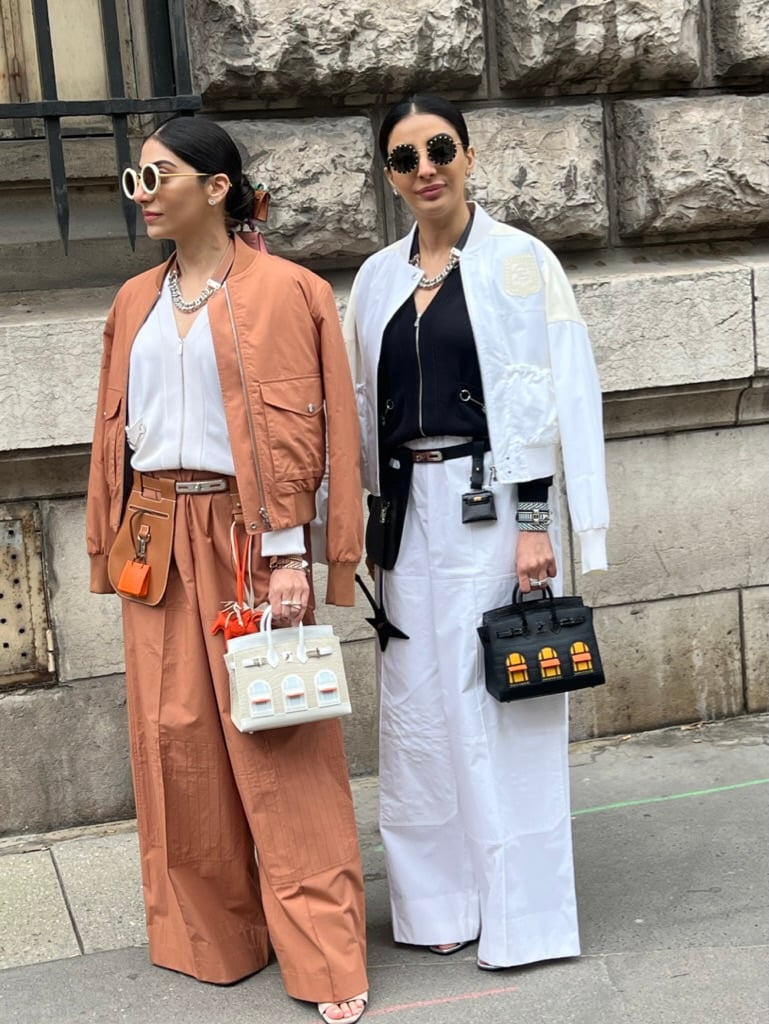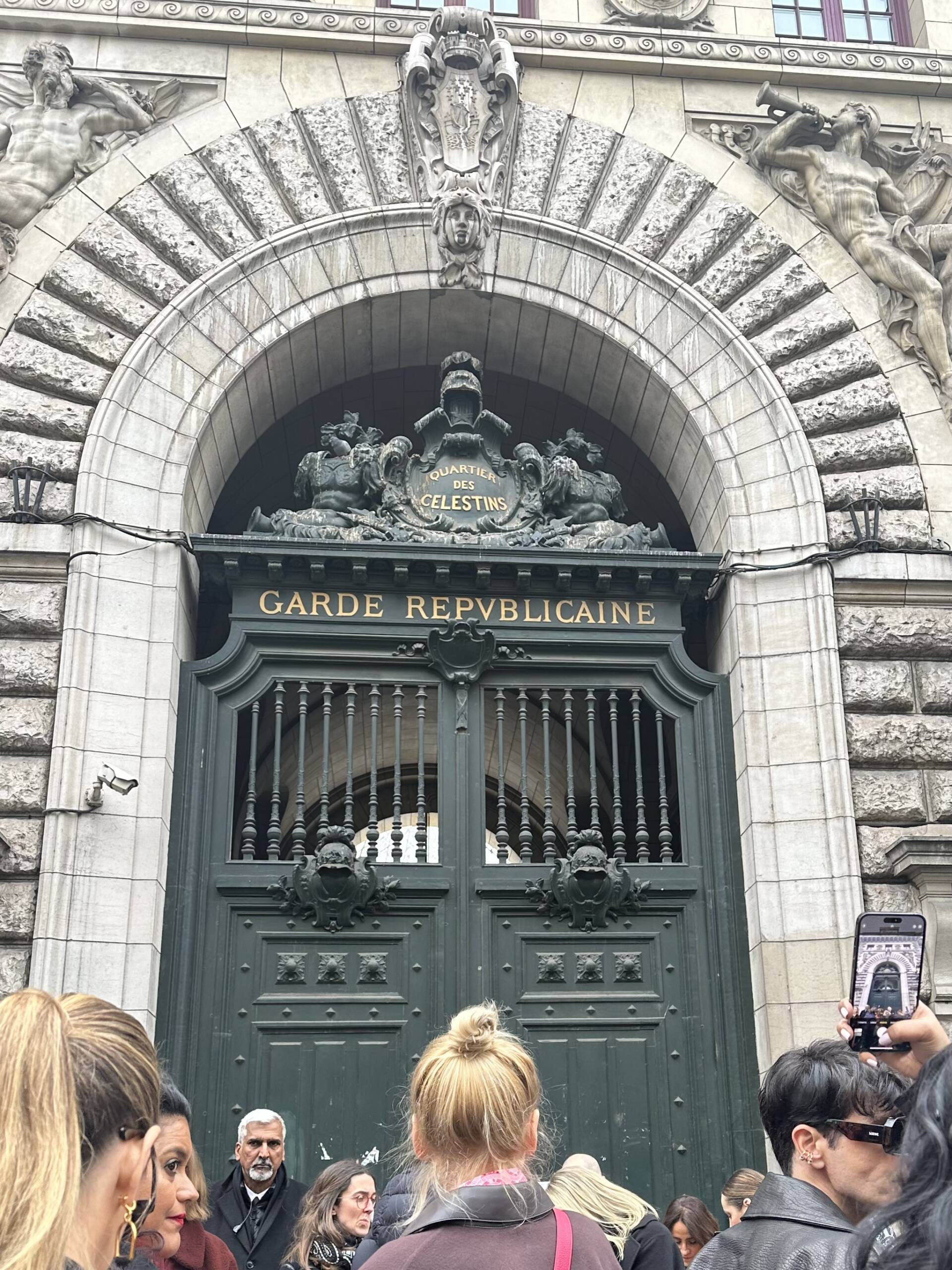 View this post on Instagram
My Hermès FSH Appointment
Although I went to Paris for Fashion Week, I had hopes of coming home with a new pink Kelly from the Mothership location.
Many who know my collection tell me I need to diversify (yes, PurseBop), that I have enough pink. My daughter's words "not another pink bag Mom!" ring in my ear often. But I do not listen. The (pink) heart wants what the heart wants. 
My wishlist for this trip was a mini Kelly or Kelly 25 in Mauve Pale, Mushroom, or Vert Fizz with palladium hardware only.  And possibly a Constance in a dark color like gray or black. So not all pink. As usual though, Hermes had other ideas for me.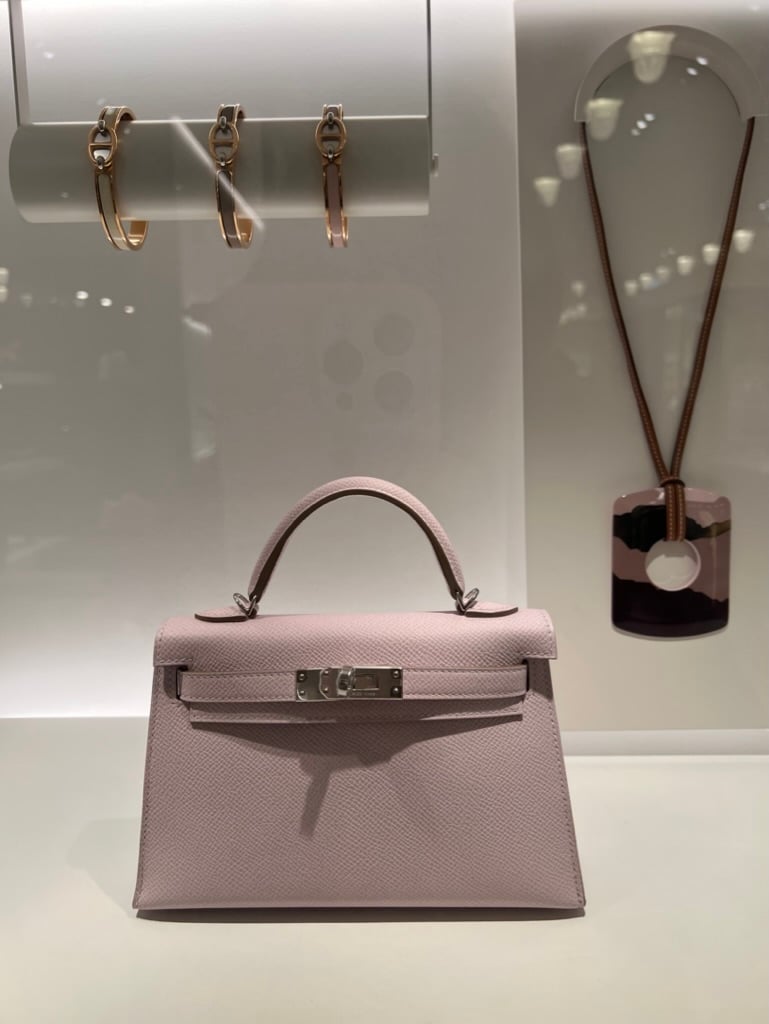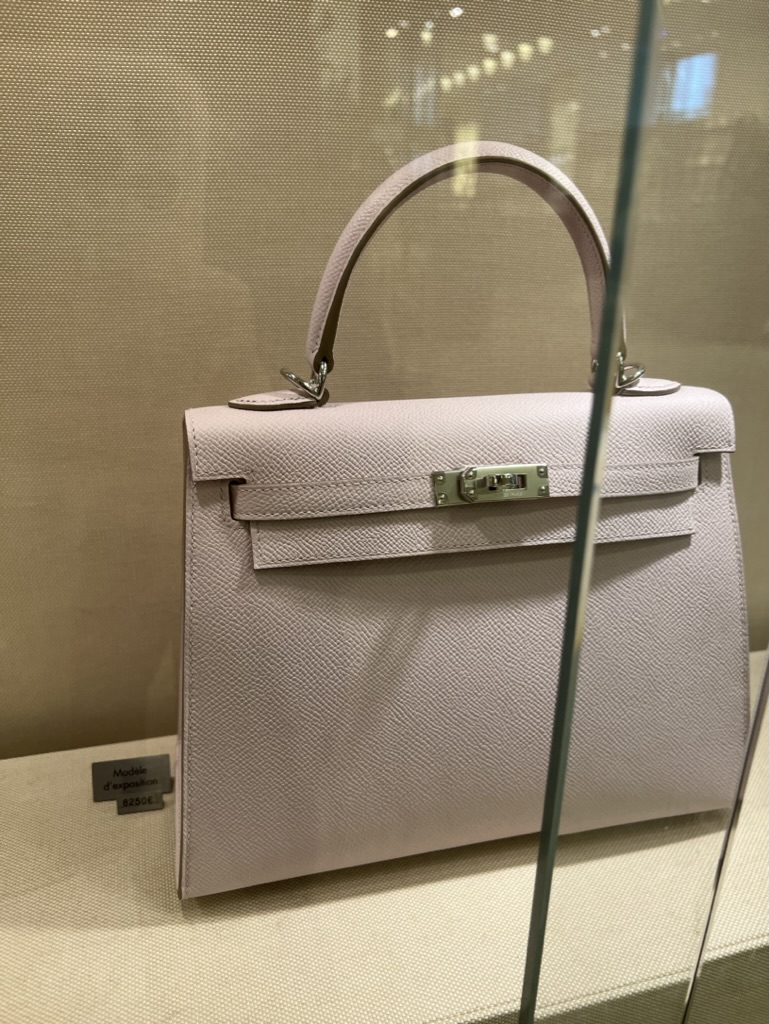 During my appointment, my lovely SA excitedly returned with two orange boxes. I was happy and hopeful. Was I finally getting a pink Kelly from Paris? My trip last summer focused on that acquisition, which failed. However, a black pochette with gold hardware was in the cards back then.
My SA opened the smaller box first. The box was not small enough to be a mini Kelly and was not big enough to be a Constance. Hmm . . . I was correct on that assessment.
Bag offer number 1 was a Mauve Pale Chèvre Geta bag. The color and leather were stunning. It had a Rouge H clasp in the shape of a H and the interior was Nata in swift leather. 
I tried it on and immediately loved it. It was extremely lightweight. The thick strap sat comfortably on my shoulder. I loved the color and the leather, but was unsure whether the style matched my aesthetic.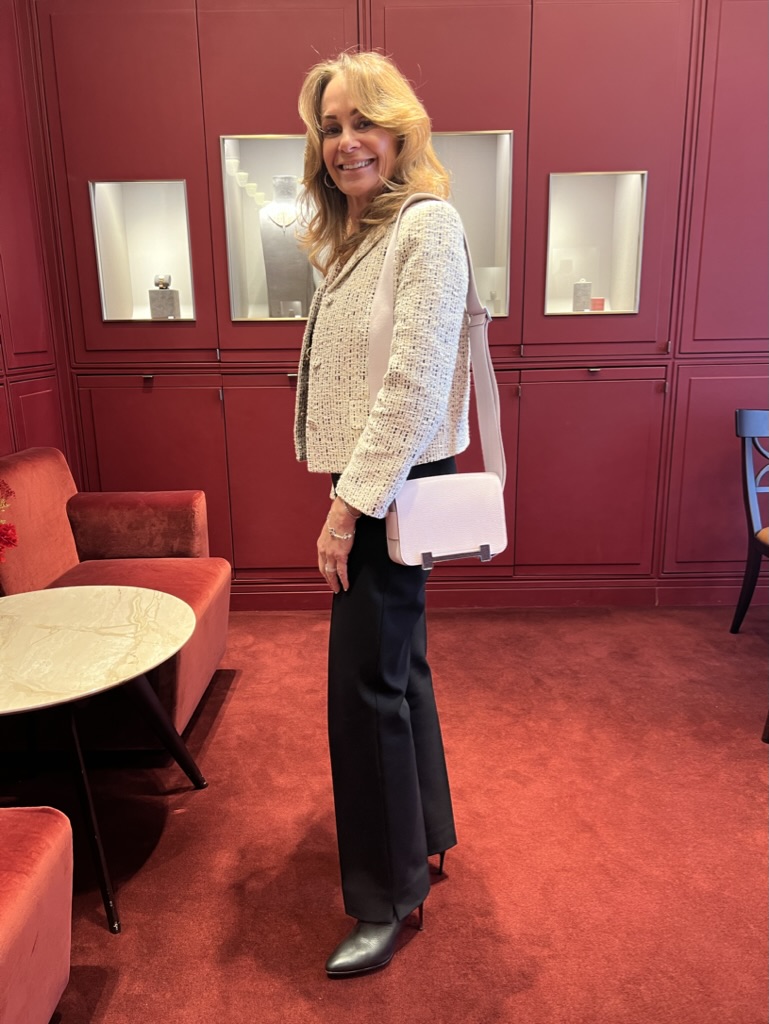 Box number 2 was bigger. I guessed it was a Kelly 25 Sellier. Wrong again.
It was a stunning Vert Fizz Birkin 25 Sellier in Epsom leather. It was gorgeous. But it was a Birkin. I am a "Kelly girl." I love my two Birkin 25 Selliers (in Deep Bleu and Mauve Sylvester), and my Rose Sakura Birkin, but I was really hoping for a Kelly.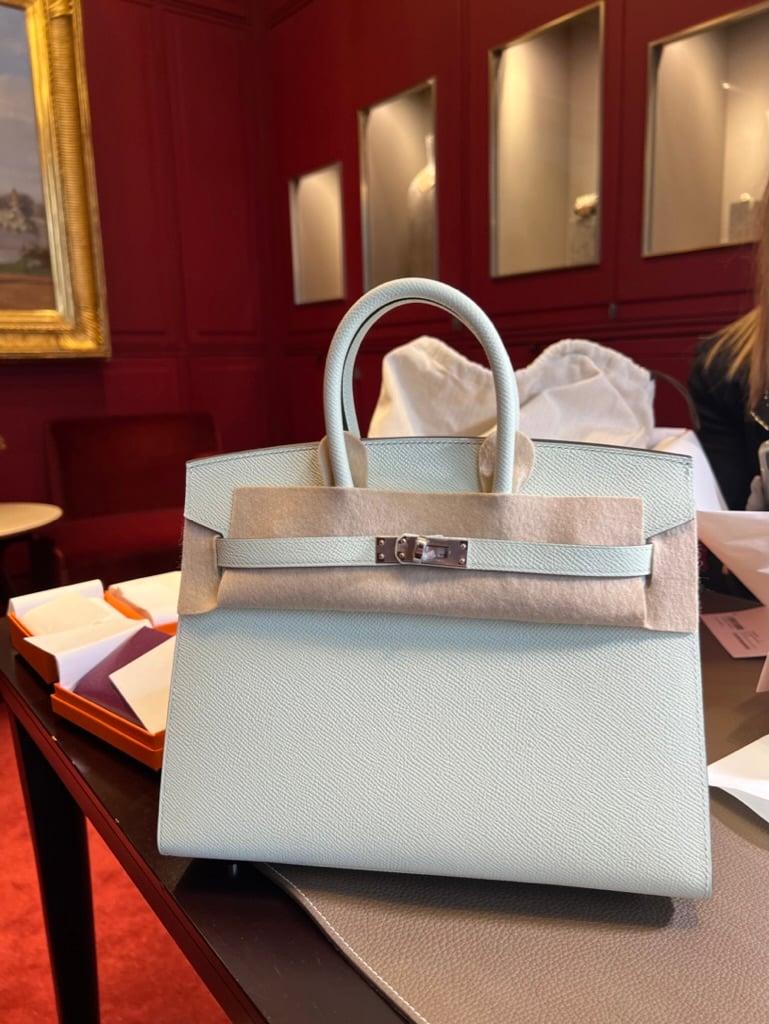 A little apprehensive, I asked my SA if there were any pink Kellys? There were none. Like my last visit, my SA really wanted to give me a pink Kelly but my timing and luck were not in sync. I asked about a mini Kelly. She told me they all had gold hardware and I specifically asked for palladium. At that moment I surprised myself and asked to see the mini Kelly with gold hardware.
All Pink All The Time - Not Anymore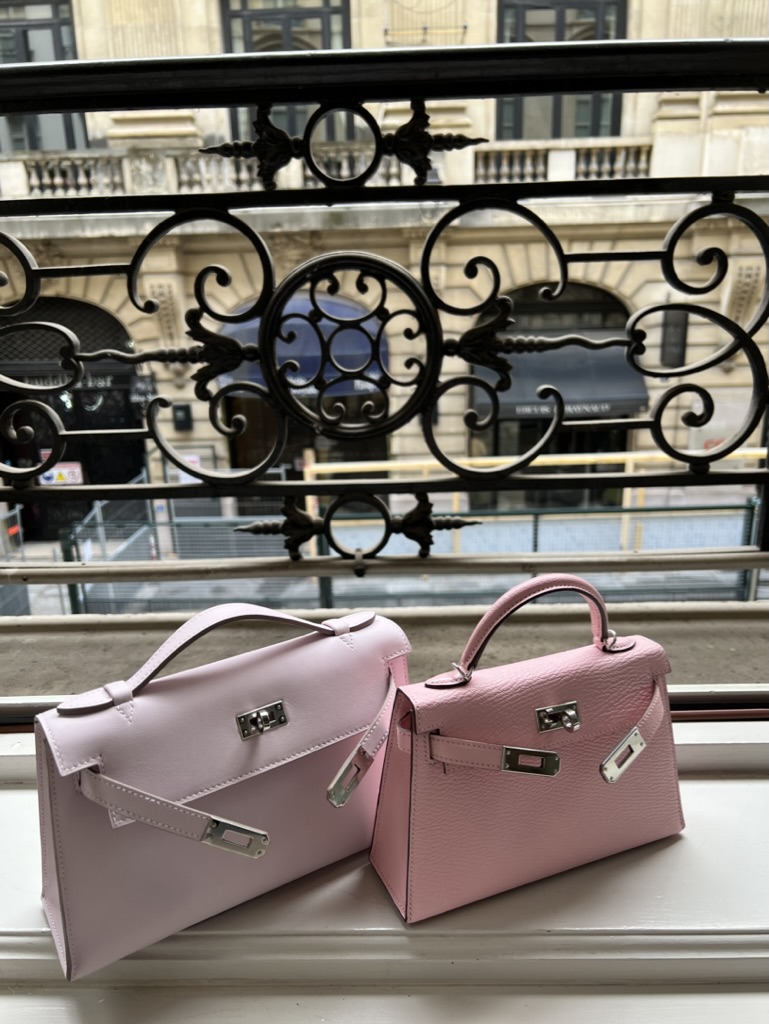 So my lovely and patient SA left me alone again and returned with the size box many dream about. The smallest box that contains the smallest bag which brings many Hermès lovers the most joy. As she did the unboxing I sat frozen, forgetting to video the moment. I was not sure what I would see and how I would feel.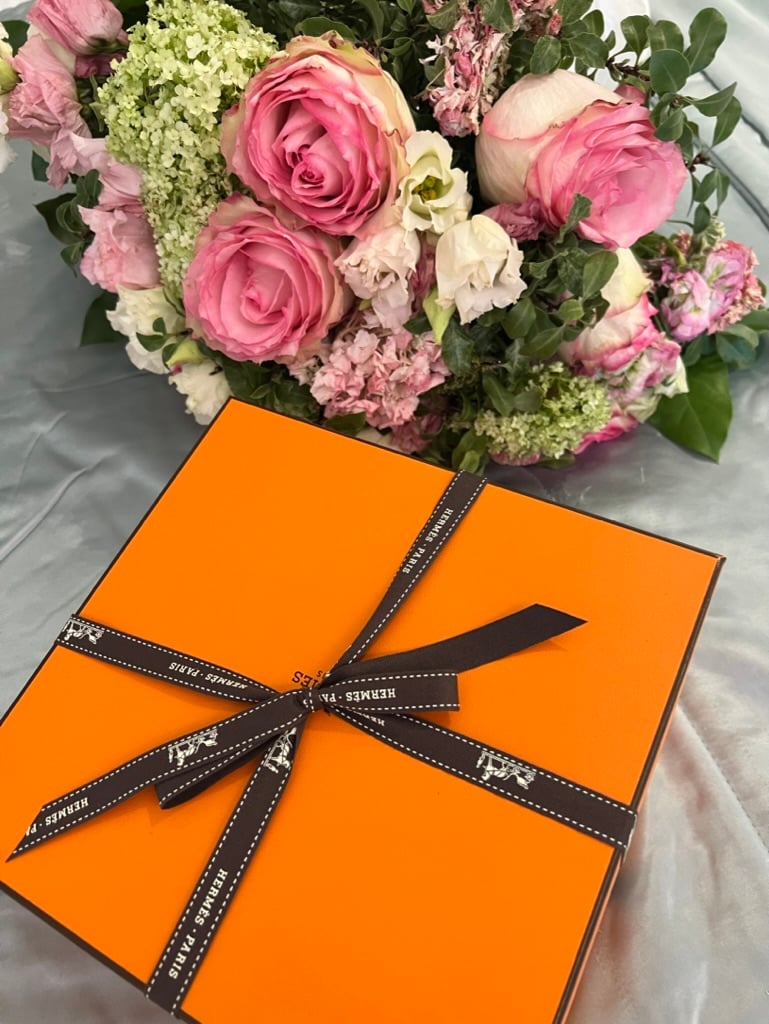 Out came an amazing Special Order Mini Kelly made specially for the FSH store to offer to clients. The two colors were Trench and Craie with gold hardware. Although I knew the color trench, and had seen it in person once or twice, because it was not pink . . . I did not give it much thought. This time, however, seeing Trench paired with Craie brought this mini Kelly to life. I immediately loved it. Suddenly gold hardware did not bother me at all. In fact, it enhanced the bag.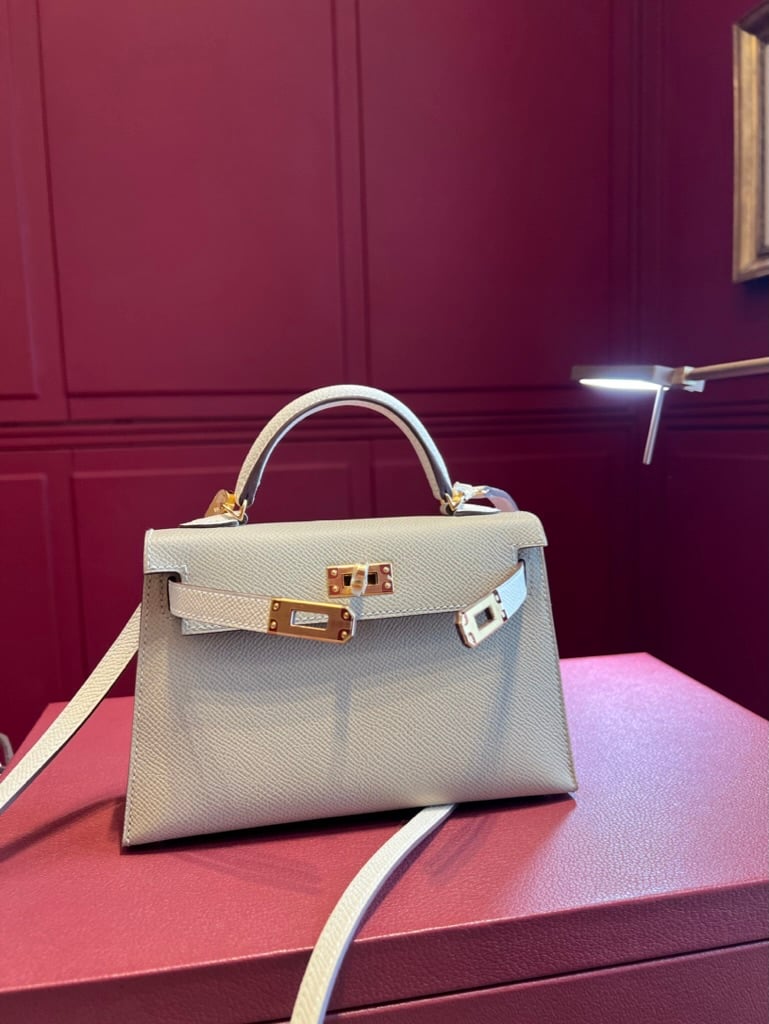 I hardly recognized myself.
My SA explained that it was a Special Order with the horseshoe stamp made specially for FSH. All those details made the bag even more special to me. My mind was made up. I had to have this tiny neutral bag with gold hardware to add to my collection of pink beauties. I was elated! I felt as though I had specifically requested this exact bag. In reality, it was the last color I ever thought I would bring home.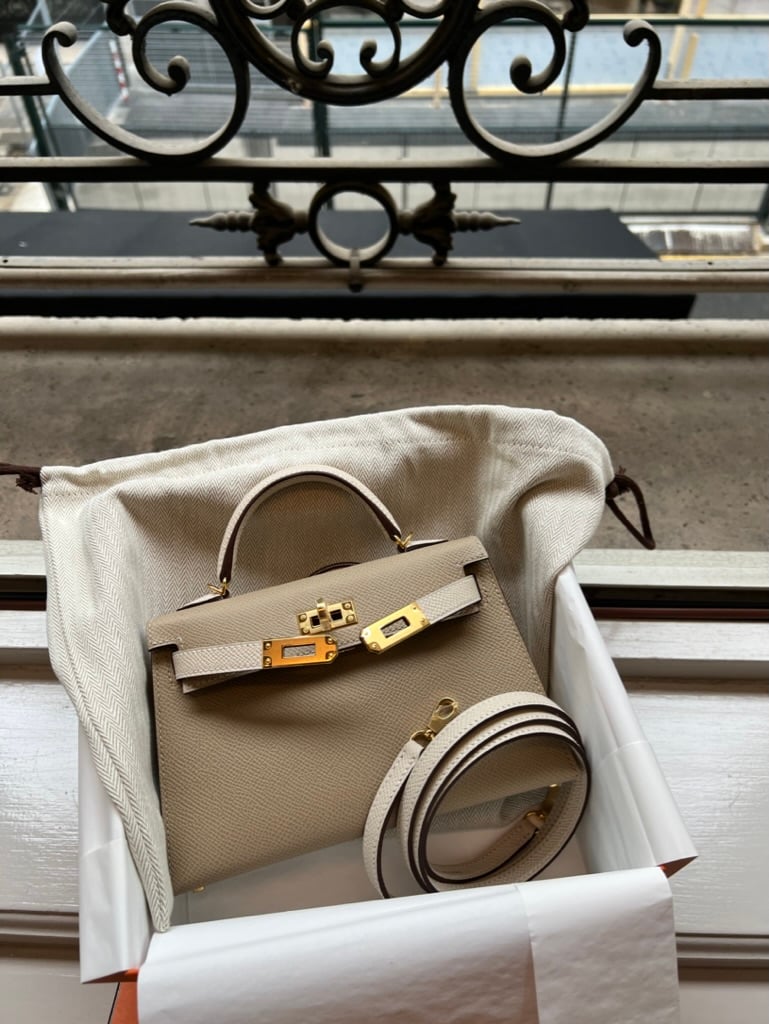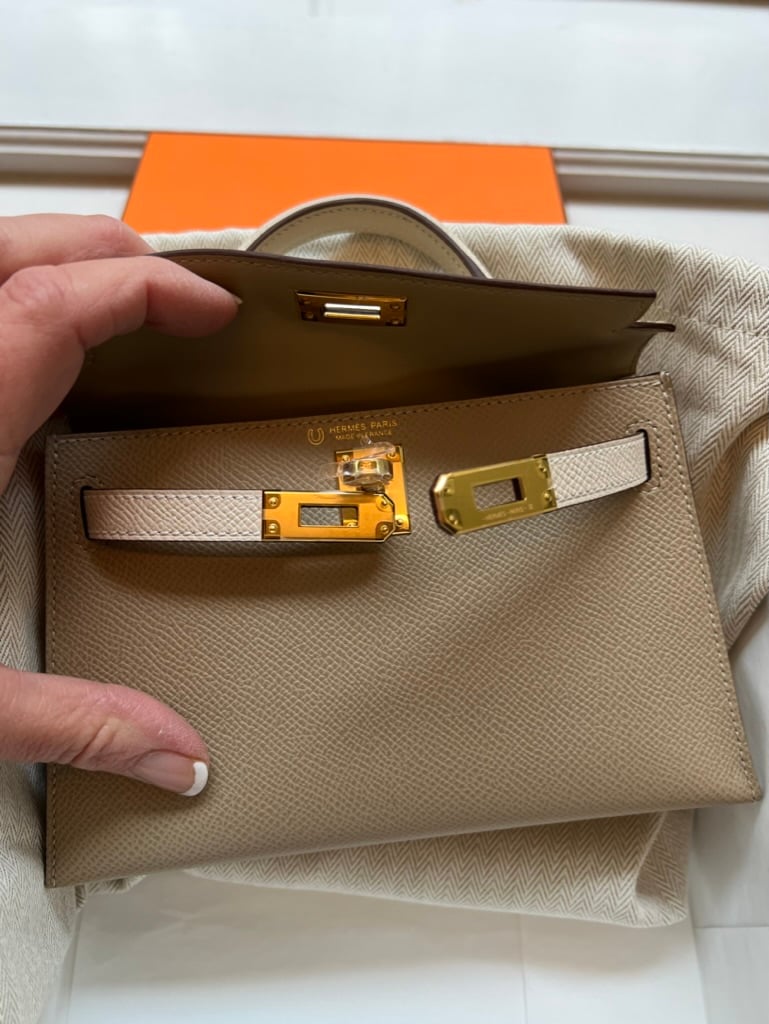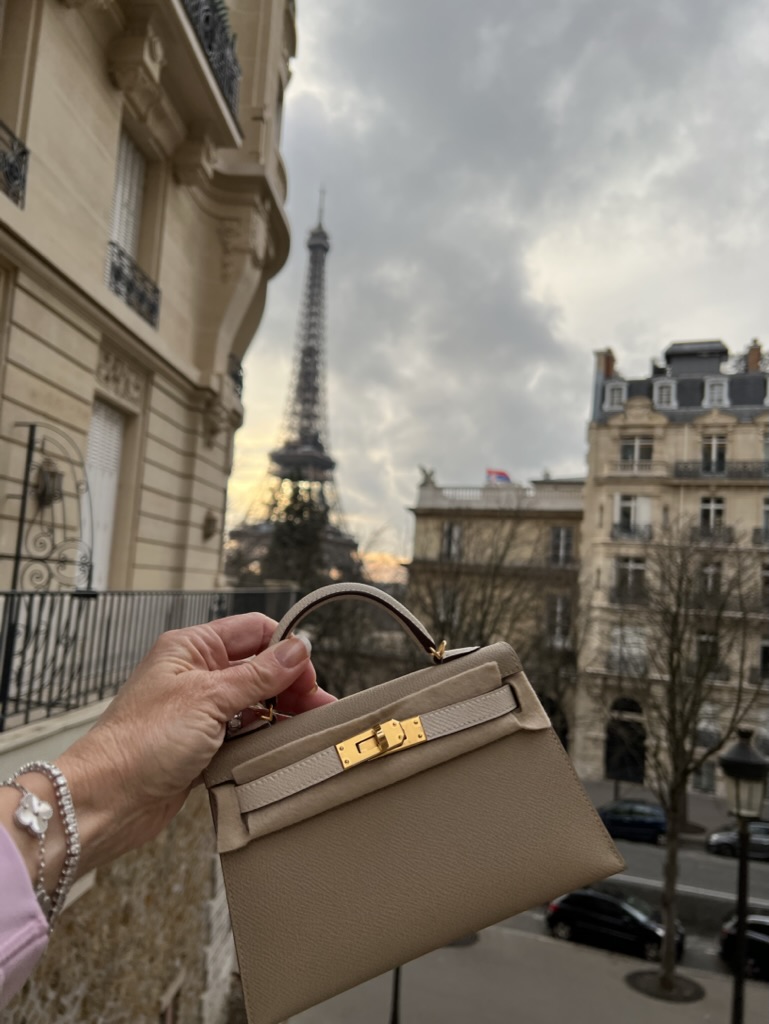 The Unpredictable World of Hermès
We write about the mystery and allure of Hermès often. You create a wishlist, spend months hoping for the size, leather, color, and hardware combination you believe will make you happy. Then your SA presents you with something completely outside your comfort zone. Something never in your wildest dreams could you imagine accepting, and you become obsessed. That is exactly what happened to me in Paris at FSH on Rue du Faubourg St. Honoré on that day in Paris during Fashion Week 2023. Just don't tell my husband I need a new wardrobe of neutral colors to complement my new bag. 
Do I still want another pink Kelly 25 to add to my collection? Absolutely. But there is a definite place in my collection for this unexpected, surprisingly beautiful, neutral mini Kelly that is already filled with so much meaning, memories, and special moments.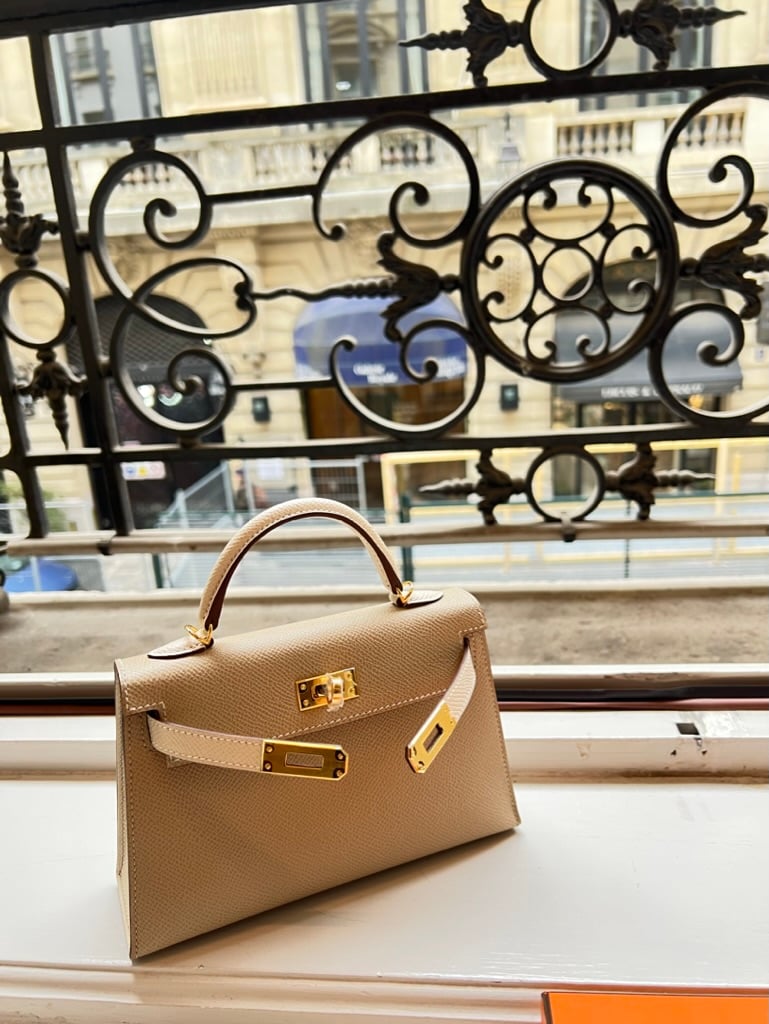 xo,
@pursespotter_karenzkloset
for
PurseBop