Written by a PurseBop team member that prefers to remain anonymous. For the sake of reference and sharing of content on Instagram we will use @boptalk.
Every night I heard the ping pong pattering of tennis coming from the TV. That would be my husband faithfully tuning into the Tennis Channel. The French Open was starting. He leaned over casually and asked, "Do you want to take the kids to the French Open?"
I hesitated for about two seconds, thinking about the misery of jet lag with my 7 and 9-year-old boys. Replying with a grin, "Who can say no to Paris?"
I quickly researched some flight options and hotels and we were off in a few days. My pre-Paris homework was to thoroughly re-read all PurseBop articles on the Hermès leather appointment system.
Here's what I learned:
Time the appointment system opens (10:30am Paris time)
How to pack and leave space for purchases
Maintain a positive attitude
Make notes of desired bags and colors
Don't give up!
The last time I went to FSH there was no appointment system. This time, I definitely felt like I had the upper hand from all the PurseBop information. I envisioned myself getting an appointment and convinced myself to stay positive like Priscilla and Kalani. (Read: Hermès Paris Dreams Become Reality for These Friends)
The night before we left, I bookmarked the leather appointment website on my iPhone. Since the application is submitted the day before the appointment, I set my alarm for 10:30am France time (4:30am EST). I groggily entered my passport number, selected FSH as my desired boutique with bleary eyes, and went back to sleep.
In the morning, I checked my email and texts for any confirmation. Nothing. Did I somehow enter the wrong information? Or accidentally check a box that had a bicycle instead of a truck? Was I flagged as a bot? Sure enough at 4:00pm EST, I received this email: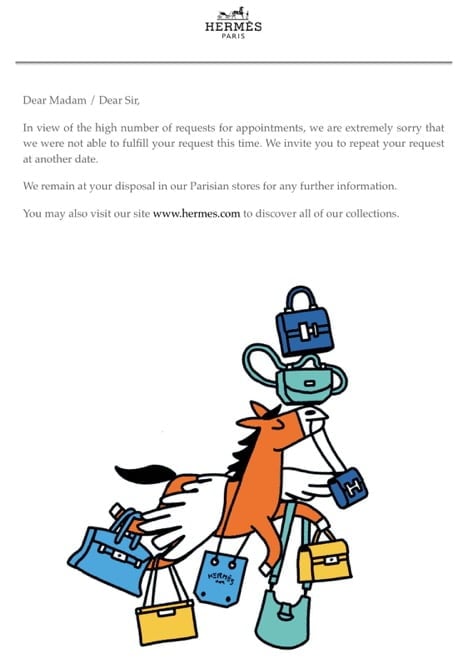 I was determined to keep trying. However, as a huge H lover, I would shop at Hermès with or without an appointment. When we landed in Paris at 10:30am, I applied again for a leather appointment. This time I did not select a preference for store location.
After the 30 minute wait in Customs, the boys were a delirious mix of jet lagged and hangry. Soon after arriving, we had lunch at the Four Seasons George V. As my son picked at his $52 euro burger, I daydreamed about hopping over to the Hermès George V store. It was just steps away from the hotel.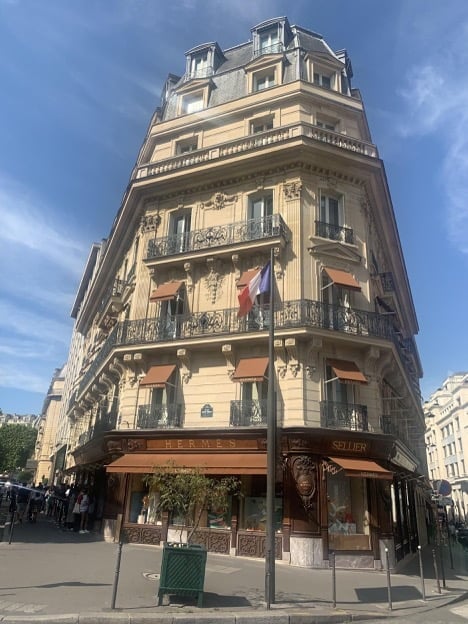 In the hotel lobby, I saw a bellman carrying a Chanel shopping bag and then an Hermès bag. Wait – I just remembered that some hotels will book a leather appointment for you! I walked over to the concierge and asked about arranging an Hermès appointment.
With a bewildered look the concierge replied, "Hermès is strictly booking appointments online only." Clacking away at her computer she scribbled down the same website address that I visited earlier that day.
I sighed and looked at the time. Oh my gosh, I realized that our entry tickets to the Louvre were in 10 minutes. No time to shop at George V anyways!
My kids and I zipped through the sweaty crowd at the museum. I checked the time again. It was 5:30pm. "Ok", I thought to myself, "there's still time to shop and I have a serious itch that needs to be scratched"…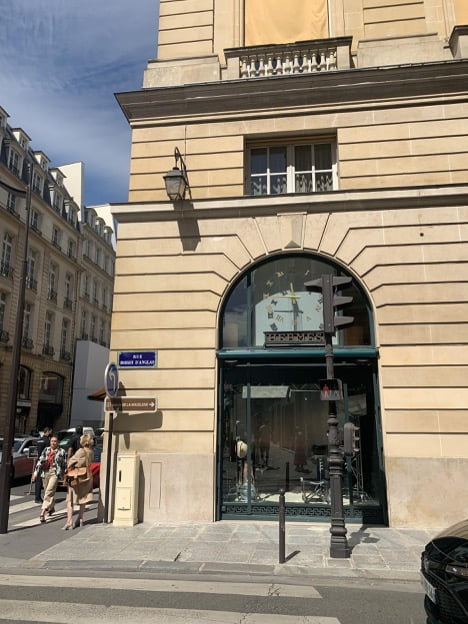 Readers … I was made for speed shopping. I've basically been training at Target since my kids were in Baby Bjorns. Zipping in and out, efficiently buying everything needed.
On this evening, I arrived at FSH with my kids in tow at 5:50pm, which was 40 minutes before closing. It was lively and packed with customers. My eyes widened with delight. I didn't know where to begin. The main floor was packed with people waiting for appointments – or begging for one. So I decided to make my way upstairs to the shoe department.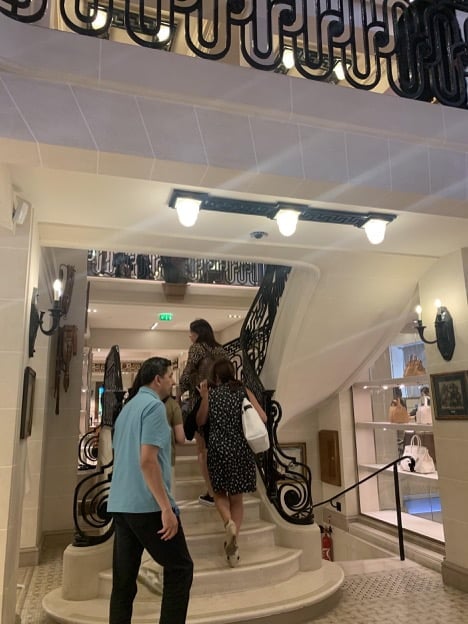 Cue the madness. So many SAs weaving through the crowd, shoe boxes stacked in piles, and customers flipping shoes over searching for their size. Surprisingly, it was even crazier upstairs than downstairs.
I waited patiently for a SA only to discover that there's a waitlist for shoes too! I checked in with one of the associates wearing a red and blue patterned scarf over his suit. He typed my information into his iPad and asked me to wait for an available SA.
We found an empty couch where I whipped out my iPad to keep the kids occupied. "Thank you for the free Wi-Fi, Hermès!" I thought to myself. About 15 minutes later, I was greeted by a young SA who asked me what I was looking for. I asked about Chypres sandals and a pair of Dream Sneakers.
When she returned with my size, she instructed, "Can you please follow me to the dressing room?" She wanted me try them on privately, fearing that opening a box of Chypres would cause a frenzy on the shoe department floor. With her assistance, I ended up buying two pairs of shoes, two scarves, two bracelets and a twilly.
Before I left for Paris, my sister jokingly said, "What if you run into Michael Coste? You should take a photo with him."
Then, lo and behold, there he was! Surely, this was a sign of good luck from the Orange Gods of Hermès.
The next day, my alarm blared at 10:30am. I carefully entered my information again, making sure to triple check my passport number and email. Again, I did not receive any email confirmation or text. After lunch at the "fancy" McDonald's, my husband and eldest son went off to the French Open.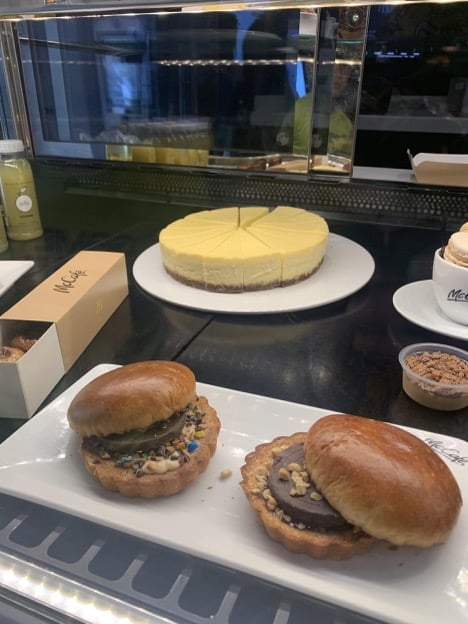 I asked my youngest, "What would you like to do today? We can try another museum? There's one in an old train station.  Or we could go to the Eiffel Tower?" Thinking carefully, he said "I want to go to shopping at Hermès or Louis Vuitton."
"Oh dear, what have I done?" I put my hands to my face, which was hot from embarrassment. This was either a major mom fail or a mom win. I couldn't decide which so I just laughed.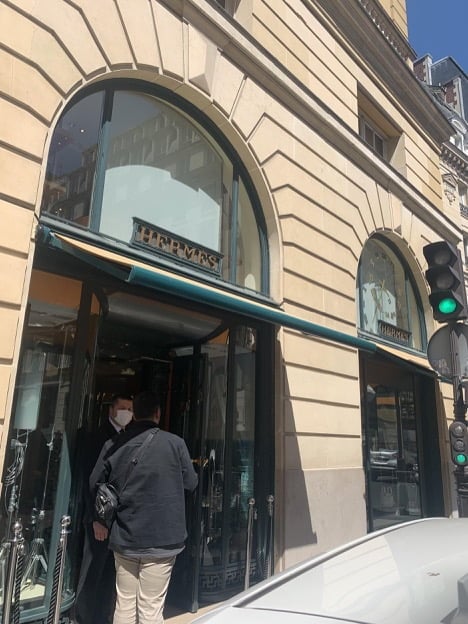 We headed back to FSH. I gathered up my courage and went to the leather appointment desk to ask for a walk-in appointment. The manager at the podium politely handed me a card to apply online. She said, "I'm sorry madame, each store is allotted 20 appointments and 6,000 people apply each day."
As a last resort, I desperately blurted out, "Is Laurent* available?" He was an SA I met on my last trip. (*name has been changed.) The lady shook her head. "He is not working today." Before I could say anything else, she motioned the next hopeful customer in line to step forward.
I decided to move on to Small Leather Goods. This area was filled with bag charms, Bearn wallets, and Calvi card holders in all colors and leathers. I couldn't believe the variety and stock. My home store is always sold out of these hot styles.
I had a long wish list of items. A To-Go Wallet or Slim Wallet is one of them. Walking a few steps over to the SLGs, I found myself in line once again. A polite SA took drink orders while we waited. There was a line of customers in front of me, asking for the same thing: a Kelly or Constance To Go or a Constance Slim Wallet.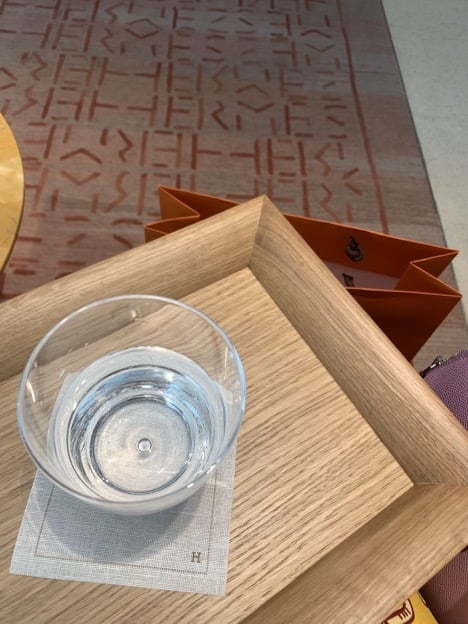 Each time, the SA would shake her head and say "Sorry, there are none available." Frustrated customers would point to the display case which held many exotic and beautiful wallets, but she would give the same response.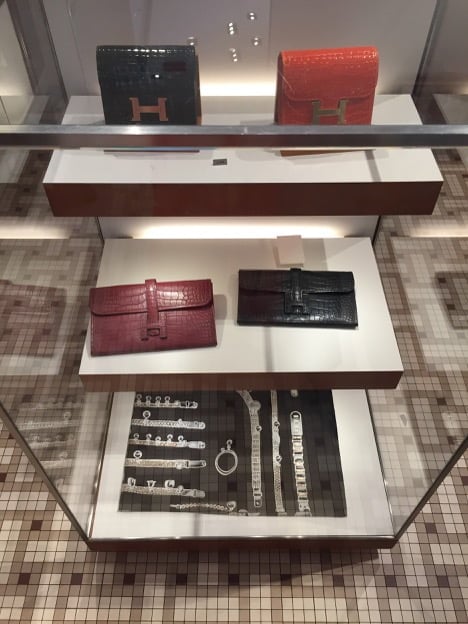 Finally, it was my turn. "Do you have a Kelly or Constance To Go in a neutral color?" I asked. She shook her head, "Sorry, there are none available," repeating her catchphrase. "Hmm, do you have a Rodeo or Pegase charm?" I asked. Although there were none on the rotating display stand, she unlocked a cabinet underneath the display and unveiled one from a small box.
When she asked for my name to hold the charm, she scrolled through my profile. She saw my previous purchases from the day before. Suddenly she said "I think I have something you might like." She brought me over to a private corner and pulled out a gold Constance Slim. Elated, it was exactly what I was looking for.
As I went to check out, the SA who brought me a drink said, "Hello, I remember you from yesterday. You came in with your kids, right? Can I help you find anything?" I half jokingly replied, "I'm looking for my dream bag."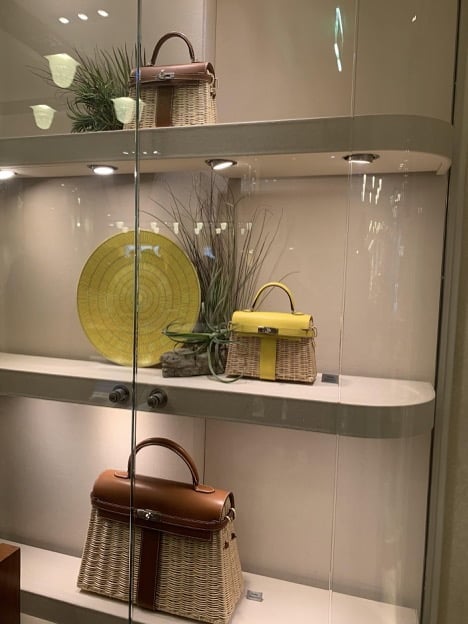 He smiled and said, "Let me see what I can do for you." Pulling out his iPhone, he added my name to the leather appointment list. Stunned, I could NOT believe my luck. It felt like a dream.
I floated away back to where my son was sitting in the shoe department. The manager of the department had given my son colored pencils in a Hermès canvas pouch. My son looked at me with excitement and said, "My first leather Hermès bag!"
"Um, yup sure is," I replied.
The wait was long enough that my son drew a Van Gogh. Literally.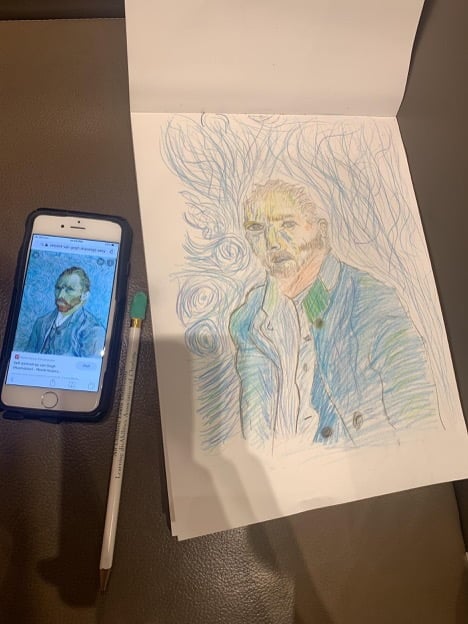 After about an hour, I checked whether my name truly was on the list. The SA assured me that it wouldn't be much longer. Within 15 minutes I got a call and was assigned to an SA.
A young man led me upstairs and took our drink order. He asked me what I was looking for. My top choice was a Mini Kelly in Chai with gold hardware. I rattled off a list of non quota bags that I knew my sister was looking for: a Lime Mini Halzan, a Rose Poupre Mini Lindy or a Magnolia Garden Party.
"Which colors do you not like?" he asked. "I would rather not have palladium hardware and no black or dark colors. I'm open to all types of leathers," I replied, thinking about the myriad of black bags in my closet at home.
"I will definitely have something for you. You gave me a lot of options," he said smiling.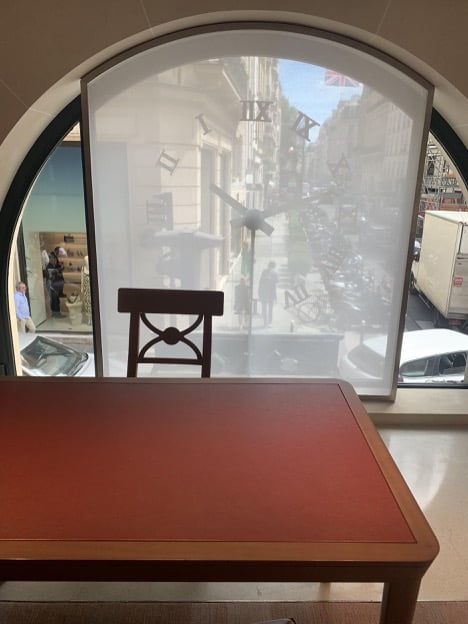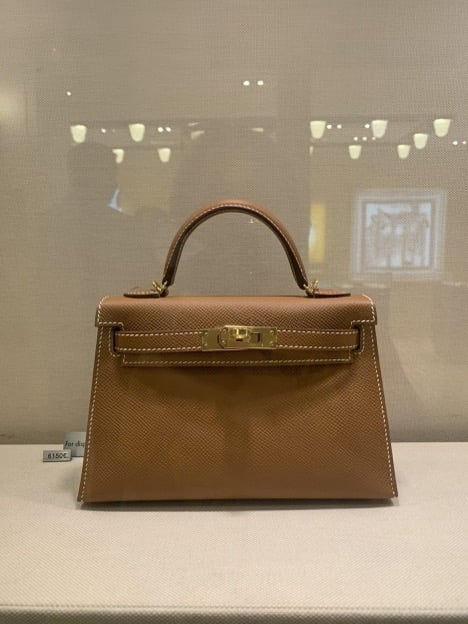 And then the real waiting began. About 30 minutes later, he returned with THREE boxes. He was smiling, trying to hide the outside labels from me so I could be surprised.
There weren't any private rooms available except for a ladies dressing room. This room was larger than the one I was in the day before. My son and I sat in the dressing room as the SA stood in the doorway. Judging from the box size, I knew it was not going to be a mini Kelly.
He slowly pulled out the dustbag from the fresh orange box. He revealed the top handle of a Kelly. The gold hardware was glinting off the dressing room mirror and soft lights. The creamy Chai colored bag was ready to make her debut. Swoon!!! It was a Chai Kelly 25 Sellier with gold hardware!  Even though it wasn't the size I wanted, I quickly accepted the offer.
Next, yes next(!), he pulled out a gold mini Halzan. Accept! Finally, he brought out a Rose Poupre Cinhetic clutch. I knew my sister would not like this clutch since she already turned one down at her home store. I politely declined.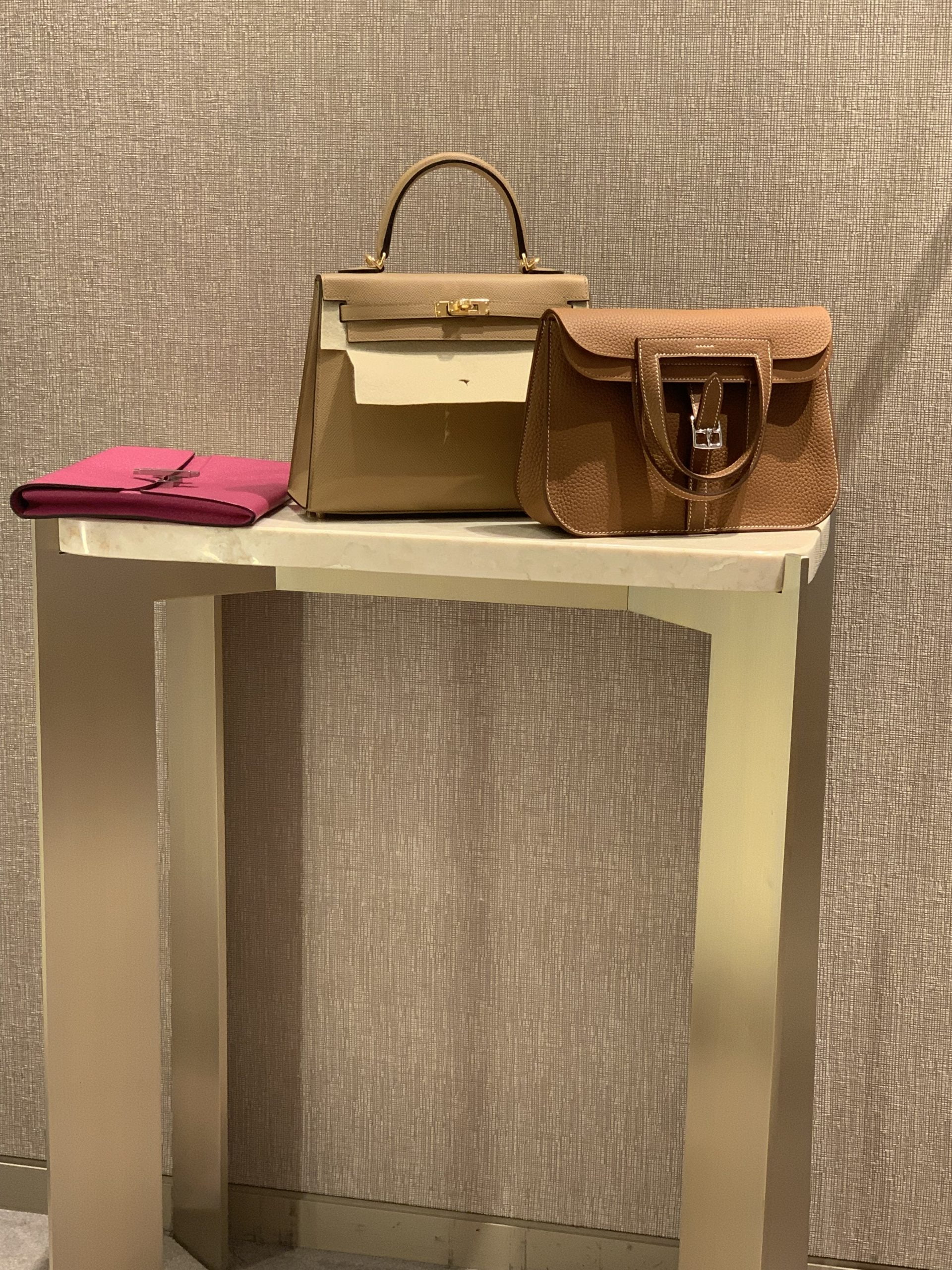 "Ask me any questions. I will be candid with you," he encouraged. I asked for his card but he did not have any since he recently started working. He said "You can ask for me next time you have an appointment. You can get one Birkin or Kelly per leather appointment."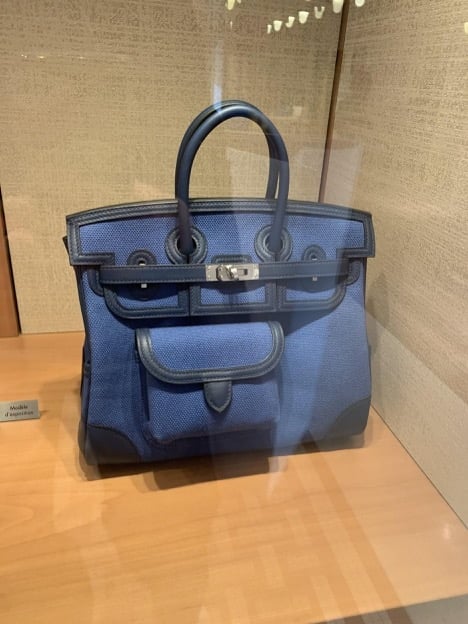 We moved on to other departments and I picked out some other gifts for my family. So elated with all my purchases, I met my husband and son back at the hotel. He looked at the giant Hermes bag and gave me that omg-what-did-you-buy-look. "Don't worry about it," I replied in a sing-song voice.
After dinner that night, I received this text: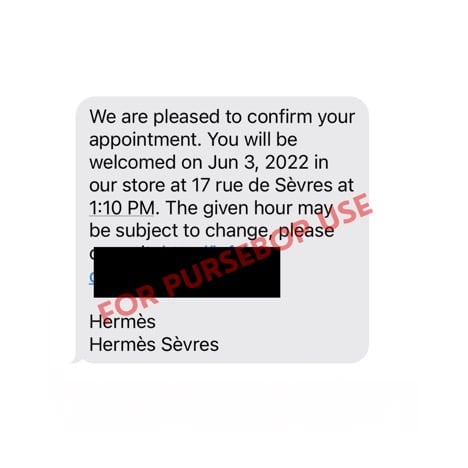 My jaw dropped wide open. "No, fricking way! I got a leather appointment," I shouted. I also received an email with the same confirmation info. I immediately texted my sister and sister-in-law and asked them if they wanted anything.
In the morning, I checked my phone and kept refreshing the link that was sent with the text. The time of my appointment had moved back an hour, so I was taking my time playing with the boys. I checked the time again and it switched back to the original time.
Oh no! I only had 10 minutes to get to the Hermès Sèvres location! Even with an Uber, the traffic was horrible. My hands were gripping the seat belt strap nervously. I peered over at the Waze ETA. Four minutes late… that would equal an hour late in Hermès time I thought!
I rushed out of the car and thanked the driver before walking in the door at Sèvres. Wow, how majestic! The store is truly magical with the wooden detailing. The aroma of lattes from the cafe mixed with the scent of Twilly perfume. I found the leather appointment check-in desk just at the end of the bottom staircase.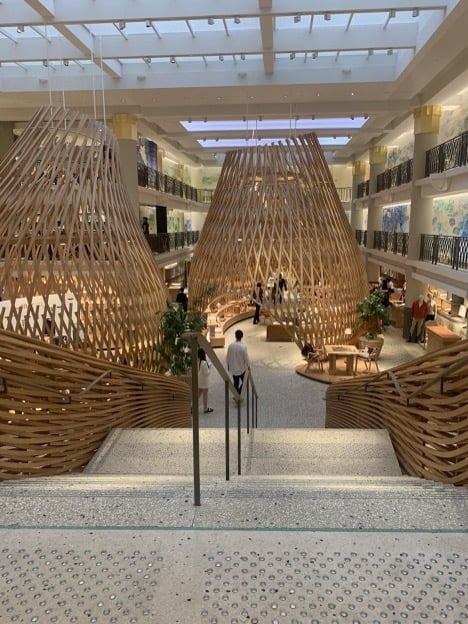 There were a few people waiting in front of me. The appointments manager checked my name on her clipboard and asked me to wait nearby. Two couples were trying to convince the lady at the podium for a walk-in appointment. I overheard them name dropping but they were unsuccessful.
After a 20 minute wait, the leather appointment manager assigned me an available SA. The SA marched over with a stern look on her face. She asked me, "What are you looking for today?" I told her, "Well, my dream bag is a Mini Kelly. I've tried at my home store for my anniversary and birthday, but they don't have any stock."
She pursed her lips, shook her head and chuckled. "No, no Mini Kellys here. Have you shopped in Paris before? Can you give me your full name?" As she looked up my profile, she saw all my purchases from the previous days.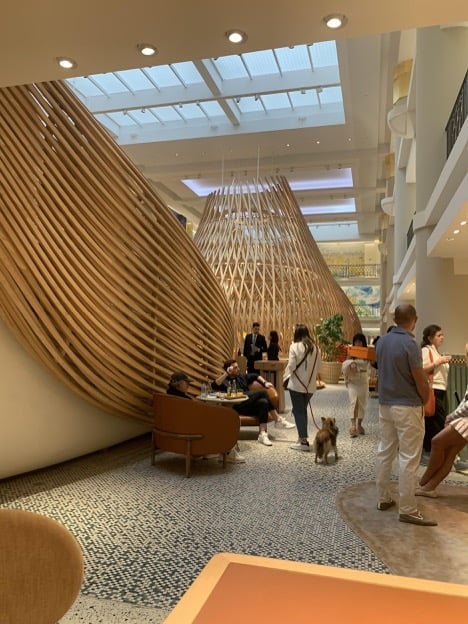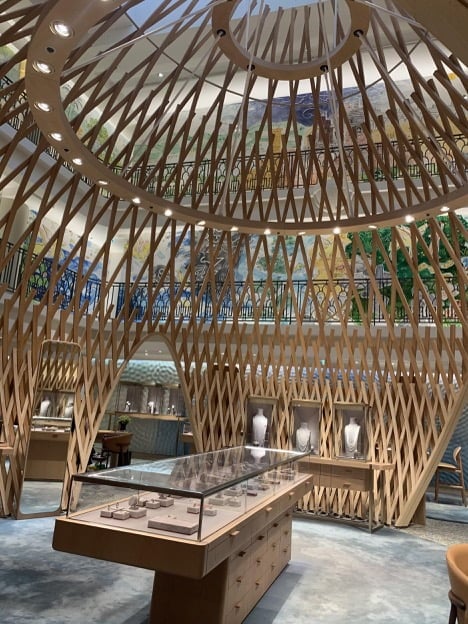 Her brow furrowed and she scolded, "You can't buy another bag. I  cannot sell you a bag because you bought one yesterday."
"But the SA said that I could buy one Birkin or Kelly per leather appointment," I said.
"No," she replied. "If I sell you a bag, I will have none left at 4pm." She sighed as she looked over her shoulder, ready to walk away.
Since both of my sisters were looking for work bags, I timidly asked "Do you have any Herbags or Garden Parties?"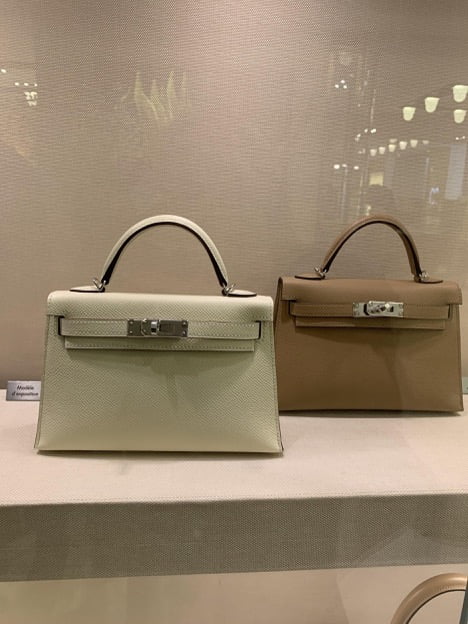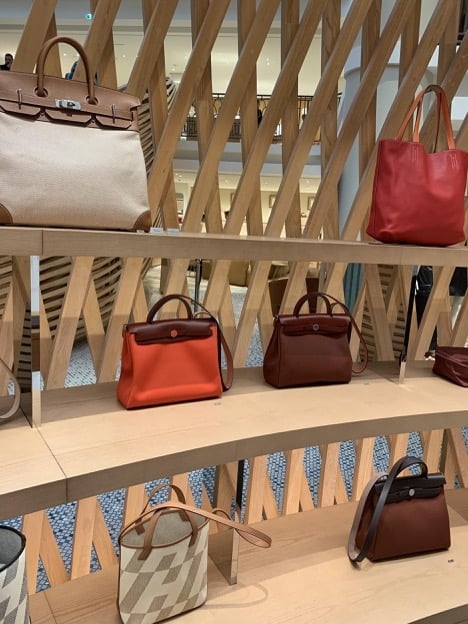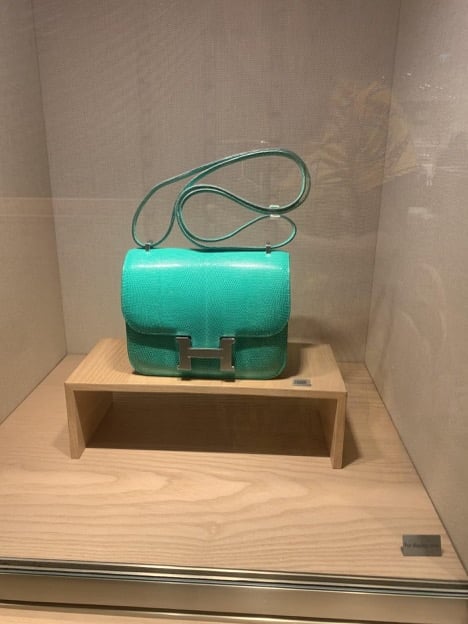 She huffed at my request and asked me to wait. She came back after about 15 minutes and led me to a room in the back. She had two large boxes. The first bag she pulled out was this.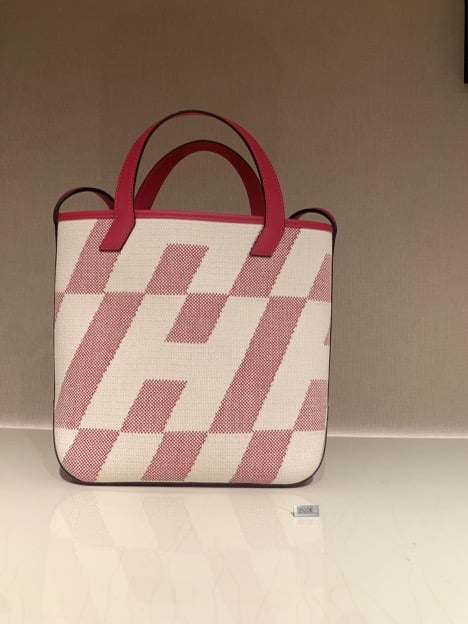 Ummm… It was definitely not what I was looking for nor was it anything I described. The second box was a pink Herbag. I pulled out my phone to take a picture. She waved her hand at me, "No photos allowed."
Gulp. I accepted the bag for my sister-in-law. "Are you looking for anything else?" she asked. "What about a Constance To Go or Kelly To Go?" I replied. "No," she said with a slight eye roll, looking down at her phone while shaking her head.
I convinced myself that I just caught her on an off day and I proceeded to move with her throughout the store. She kept complaining about how tired she was and I just laughed politely. She seemed to warm up later as I bought a few other items in homeware and silks.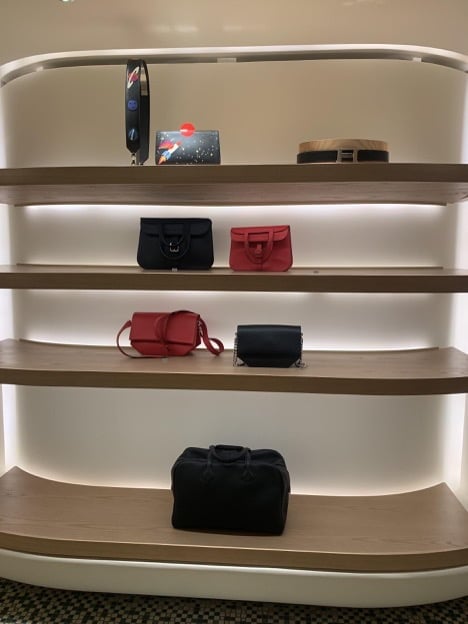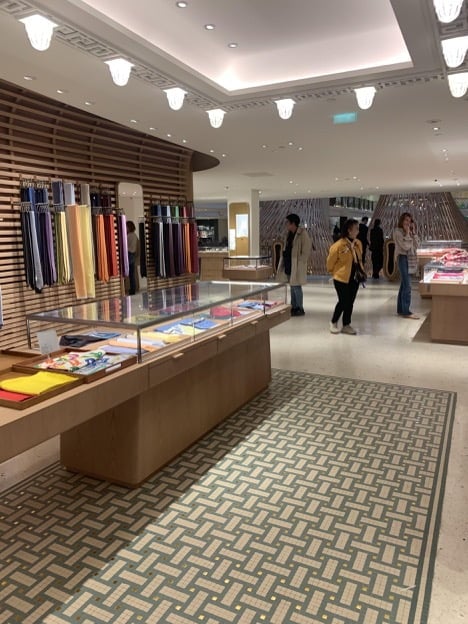 When I was ready to check out, the cashier said "Take a photo of your receipt. Because this is a bag purchase, you will get a red light and have to show your items at Customs. You can track your tax refund with this number at the top," he pointed. "Really?" I asked. "For a Herbag?" "Yes," he replied. He pointed to the graphic of the Pabolo kiosk on the Tax Refund envelope.
Ugh, I thought. Now I'll have to get to the airport even earlier. I purchased a stack of colored post-its from the market and labeled each item with the store name and date. My husband gave me a crazy look. I explained, "It's in case I get stopped by Customs. I won't have to go searching for everything."
A few days later, I decided to brave the line at Hermès George V. I started to snap a photo of a stunning orange croc wallet to send to my sister. The security guard wagged his finger at me. "No photos," he said. Yikes, sorry, I gestured.
As I browsed, I saw one customer offered a large black Lindy and another customer offered a large black Bolide. The man with the Bolide offer told me "It's not what I wanted. It's not a Birkin," as he pointed to his own black Birkin 30 resting on the counter. "The Bolide looks good on you," I assured him. He looked very sad.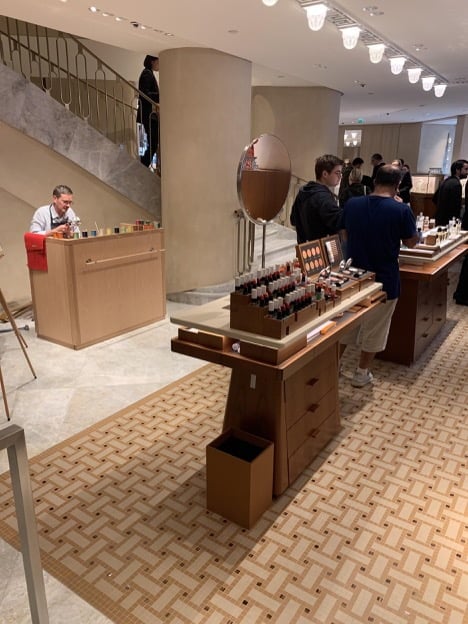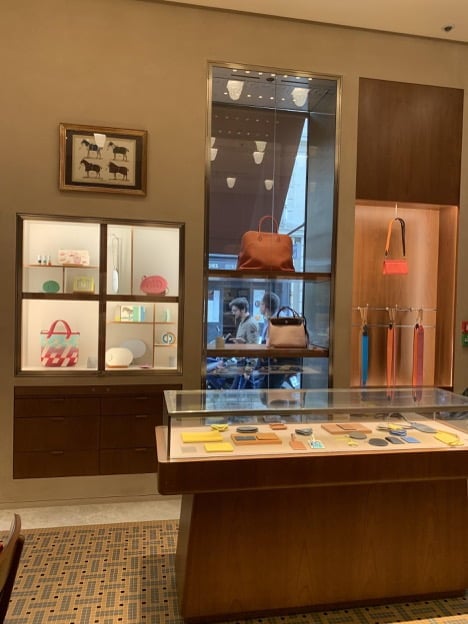 After a whirlwind 10 days, it was time to go home. The VAT Office is located in Section C of the Air France departure terminal. There I located several blue kiosks with no line. The screen prompts you to choose your language. I scanned my receipts at the machine. I scanned two receipts before I got to the Hermès FSH receipt. Red Light! Oh no, this is what I feared. I tried another receipt. Red Light.
Begrudgingly I took my receipts to the Detax line by the kiosk machine. I motioned my husband over to bring our luggage. The Detax officer took my stack of receipts. She asked me to show her all the items from the first Hermès receipt. The bags from FSH! I bit my lip as I wanted to do a proper unboxing at home. For the remaining receipts, she chose the highest ticketed items and asked me to pull those items out.
"Oh, this is a nice color!" The officer said as I unboxed the pink Herbag under the fluorescent lights. "Ok, you are good," she said. "Since you bought these items in France and you are leaving from France, you do not have to mail out the forms. You can keep all the paperwork and receipts."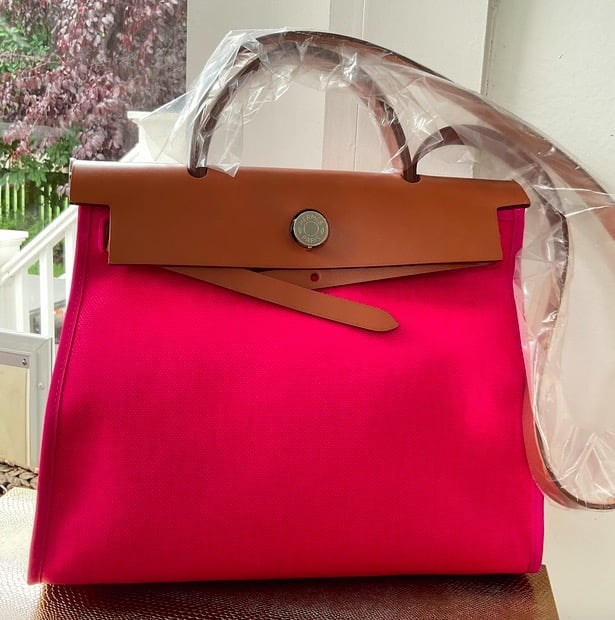 Flustered from all the packing and unpacking, I was a hot mess. However, I was so glad that I had labeled and organized all my items. There were COVID forms to fill out and a long line to check in our bags. We ended up at the gate just as they made the final boarding announcement.
PS I did manage a quick runthrough of the Hermès Duty Free on the walk to the gate. They did not have any bags in stock… or even on display!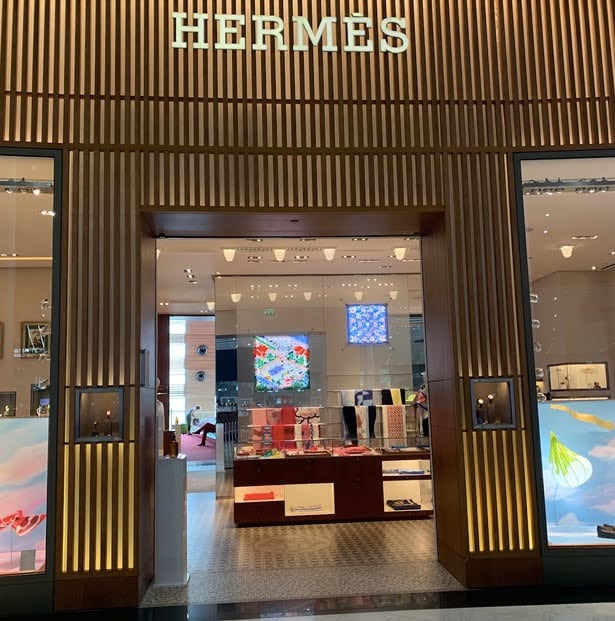 When we arrived back in the US, the customs line was even longer than the one in France. Luckily I had the Mobile Passport App. This line only had three people. I also noticed that the Global Entry line was empty.
Now I'm back at home, staring at my delicious Chai Kelly.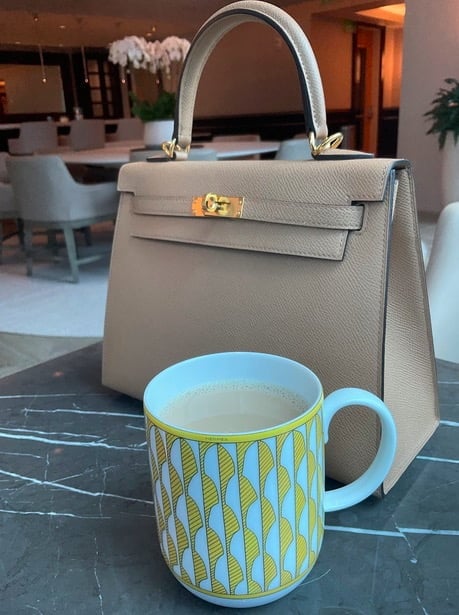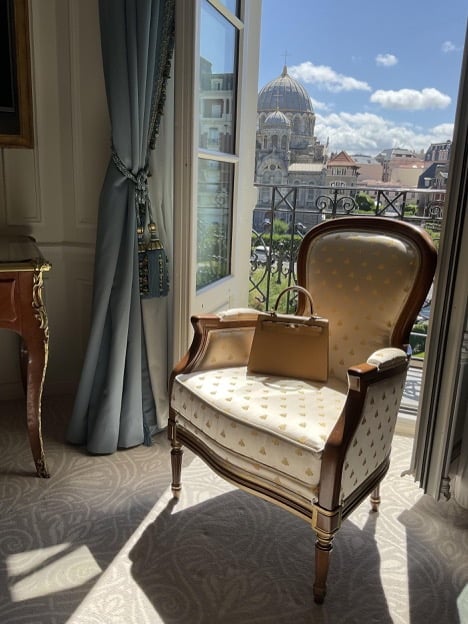 Lessons Learned:
Does pre-spend help? It definitely helped me score a Slim Wallet. As an aside, interestingly, my husband, who does not have a Paris purchase history, applied everyday for 10 days and did not receive an appointment.
Does bringing your children help? Depends on your children. I saw a screaming toddler throwing toys in the shoe department and no one wanted to be near that.
Does your assigned SA matter? 1000% yes. My Sèvres SA dismissed me before I even said hello. She clearly did not want to help me even before knowing my purchase history.
Does it matter what you wear? Maybe. I made sure to wear head-to-toe Hermès at every visit. (Read: What Do You Wear While Luxury Shopping)
Should you ever give up? Never.