Are you considering shopping for a Birkin or Kelly, or any leather bag at the Hermès mothership in Paris? Stay tuned for some important advice…
Last year, we reported that Hermès implemented a new system for managing the line of requests for leather goods. (Read: New System in Paris to Buy a Birkin) Now, it seems like there have been slight modifications added to this new process, and we have some helpful updates for travelers heading to Paris and hoping to score a leather bag at Hermès FSH. Today, Hermès announced a new online system for making appointments. Online appointments will officially start tomorrow, August 31st, 2017.
Leather Goods System as of August 2016
The process we reported last year began by queuing outside the store before opening. Once the doors opened you made your way to an appointment desk in hopes of being scheduled in for the day. You then received a text message with your approximate appointment time, and then more confirmation text messages up until your SA was available.
Even with this system, in recent months customers have had to line up as early as 5 am, but were still denied. Resellers have flogged the new system with their schemes and made it an absolute nightmare for a sincere seeking customer. It appears as if Hermès has caught on to the schemes and loopholes that overload its system and is trying a new approach that bypasses the entire idea of queuing.
New Leather Goods System as of August 2017
Now, on the business day prior to the day you desire to visit to Hermès FSH, one must log into www.hermesfaubourg.com and submit an official request. Yes, that's correct…that means no standing in lines at 5 am and still being denied an appointment!
Fortunately, a fellow Hermès lover and PurseBop community member @lurve.hermes is in Paris and has offered to share her experience with the new appointment system in a step-by-step guide.
Step #1: Being Informed of the New Changes
While @luvre.hermes was shopping at the FSH store, her sales associate alerted her to the new online appointment system with this card.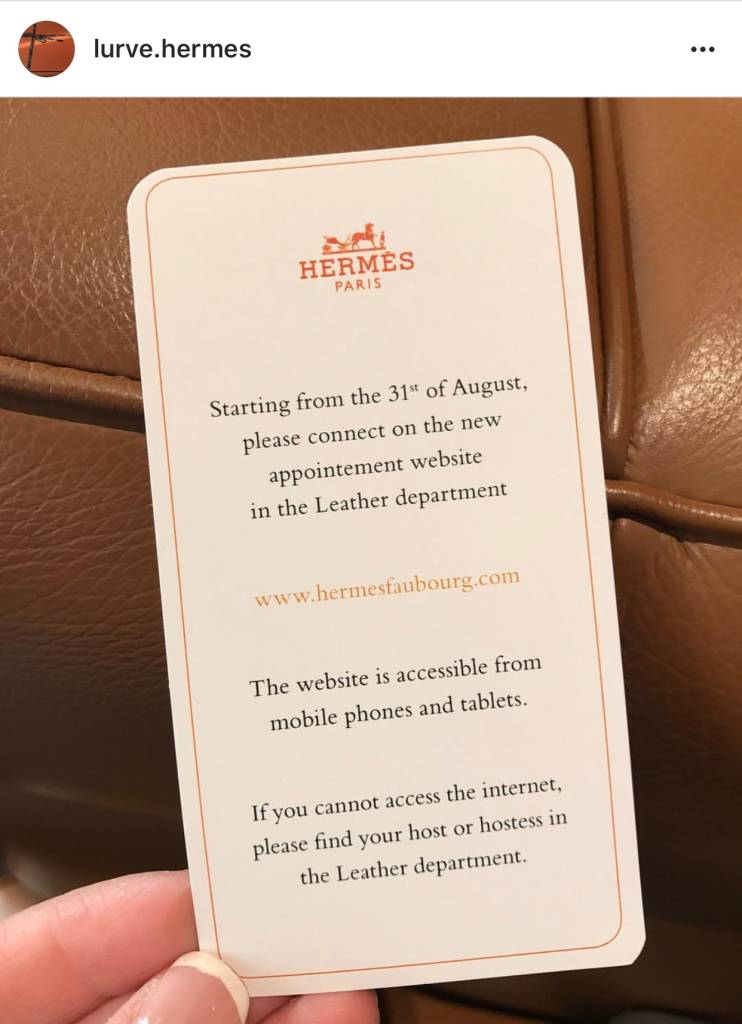 Step #2: Logging in online for appointment request and filling in your pertinent information
After receiving the website information, she entered the address on her phone and was led to a form for an appointment request. This page asks you to fill in your name, phone number, email address, and passport number. You must accept the terms of usage and validate your information before continuing.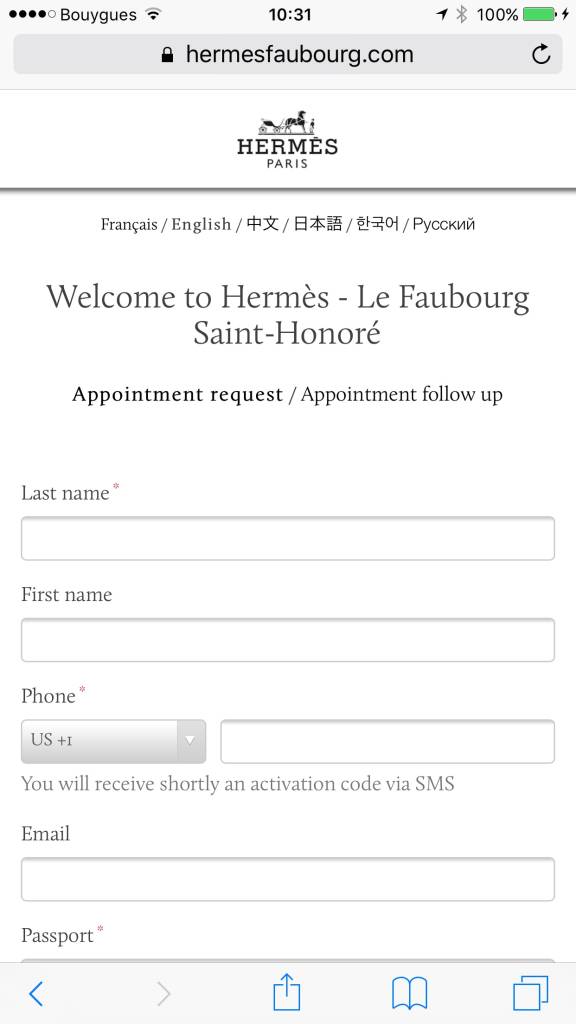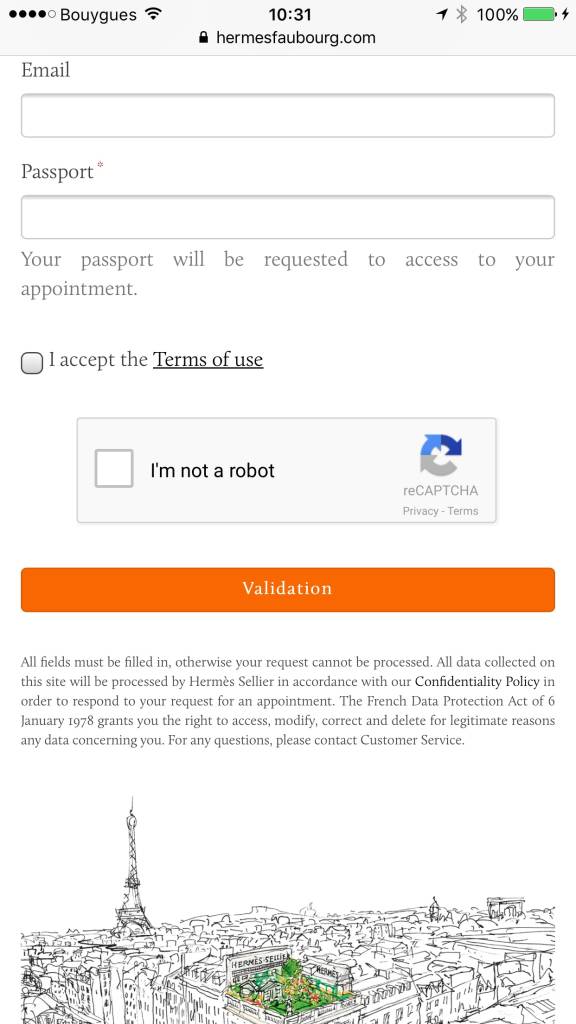 Let's hope that the requirement of passport details deters resellers from the process.  After a little further investigating, I also learned that the process of selection is random. Since the number of requests is greater than the number of appointments usually, the system does not work on a first come first serve basis. Additionally, an appointment to see your specific sales associate should you have one is also not permitted through the online process. You are randomly assigned a sales associate that is available.
Step #3: Verifying your request via SMS
As an added step of security, you will be sent a text message to further validate your request. Once you enter the activation code, you will continue onto the next page.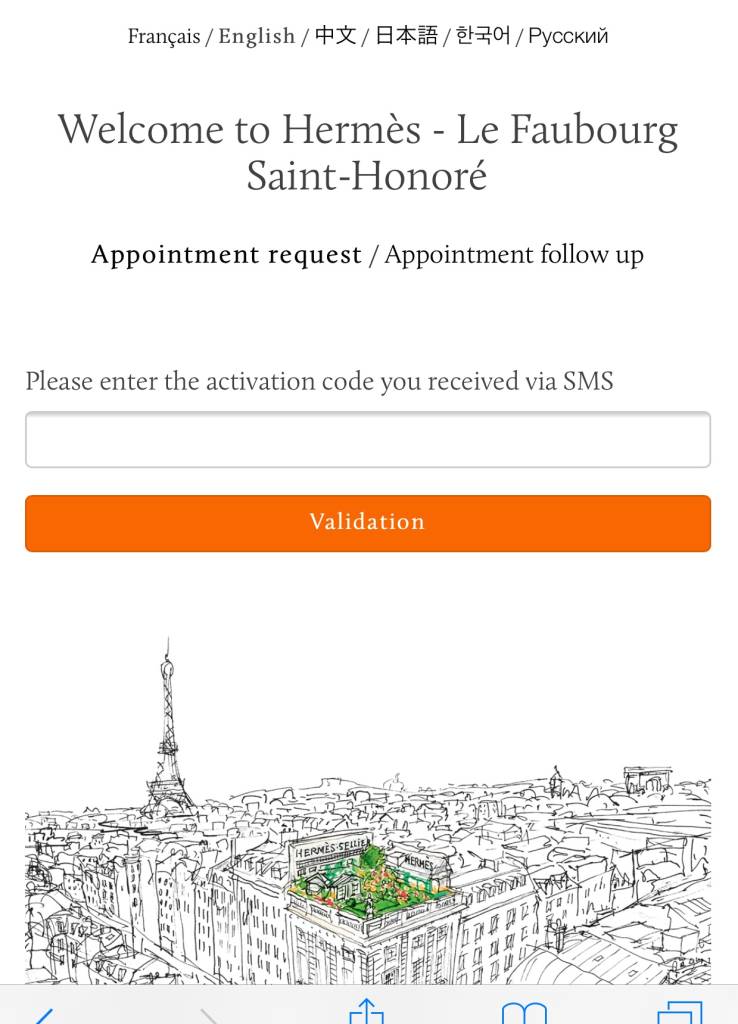 Step #4: Confirmation of Follow-Up
After validating your request via SMS, another confirmation page will pop-up. This notification simply tells you that your request has been made. It does not tell you that you have secured an appointment. Instead, you will receive a text message after a specified time if or if not a sale assistant will be available for you the next day.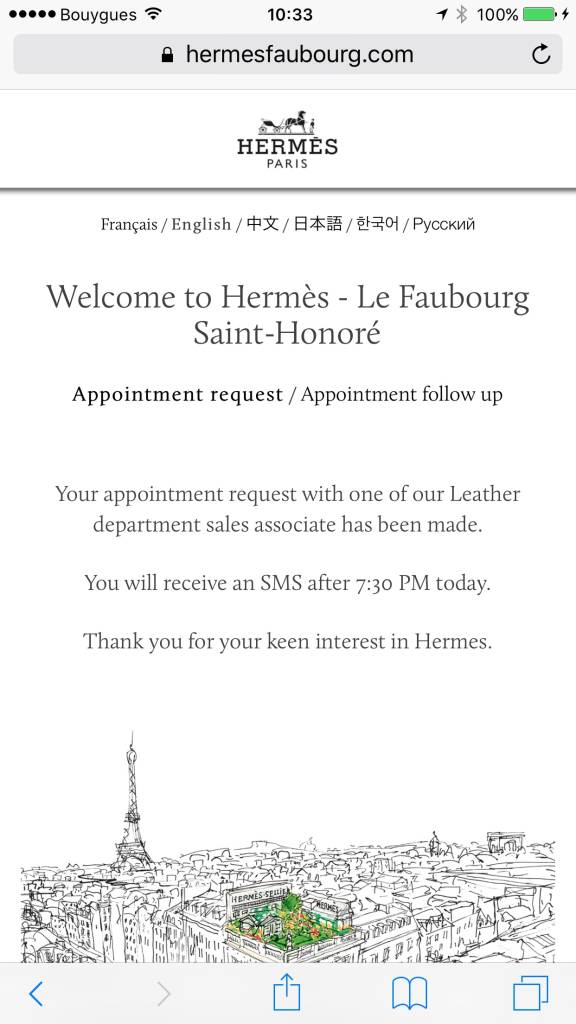 Step #5: The Follow-Up Update
At 7:31 pm, @lourve.hermes received an SMS update from Hermès. She was not able to secure an appointment for the day that she wanted.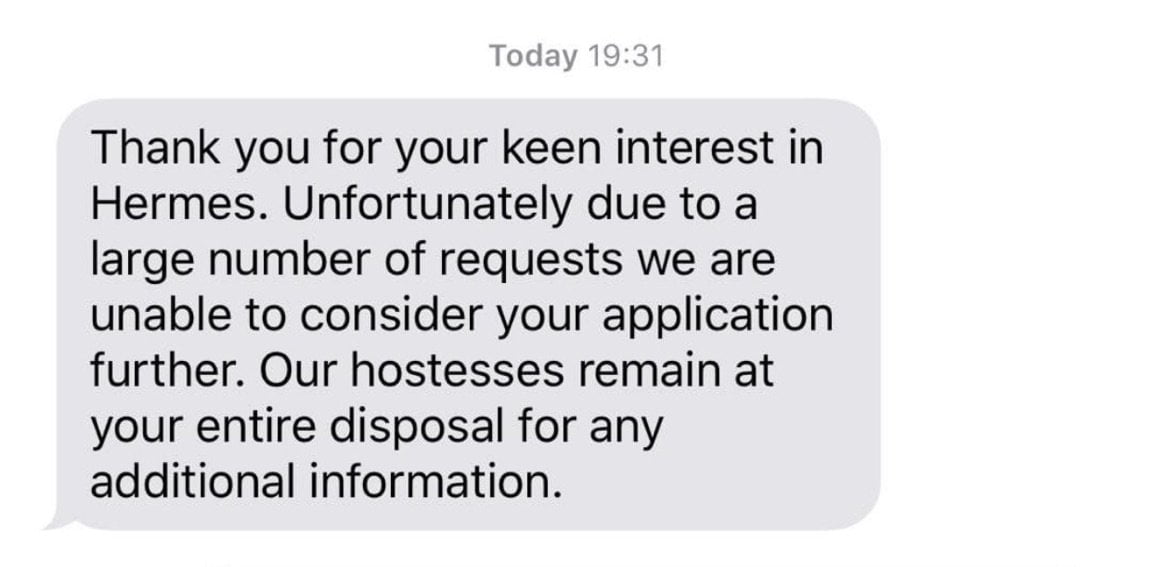 Will this system work?
While securing an appointment for leather goods at FSH still isn't as easy as snapping your fingers, the ability to go online to request a chance at appointment removes the extra hassle of physically waiting in line. We are interested to see how efficiently this system works in the future, but so far we can see some of the benefits already. Hermès will be able to easily identify resellers as you must confirm your phone number, email, and passport details as extra step of security before even entering the store for your appointment. Furthermore, even though the allocation of appointments is random, sincere customers can go about enjoying their day and check their status virtually, and will no longer have to carve out exorbitant amounts of time to wait in line. While you are not guaranteed an appointment, online requests remove some of the mystery and dread from the process.
Updated: April 28th, 2018