The reveal is coming… I promise. But, let me first take you back to my appointment. We were in a private room and I had requested a bag in a special leather. My Sales Associate left for about 15-20 minutes.
The second floor was completely vacant and quiet. I sat facing the long room from which she would return, staring and willing her to reappear with orange boxes. She finally arrived carrying what looked like one bag box and a few smaller ones stacked on top. She had a soft smile on her face as she approached the high top desk and asked us to follow her into a room catty cornered from where we were seated. @by_md and I shared one quick and relieved glance and followed her into this unusually shaped room with a door and a mirrored wall on one side. I had never been here before. We both sat facing her as she stood on the opposite side of the small table and proceeded to put white gloves on. There was an awkward silence that I finally broke by asking how long she had been with Hermès? To my surprise she offered a somewhat detailed response all the while preparing to open the one larger box. We never lost eye contact. Trust me, when I tell you I know most box sizes by heart, and this was either a Kelly 28, Kelly 25 or possibly a Birkin 25… although from my estimations there was not enough depth for it to be the last. My eagle eyes were searching for hints – divining through the dust bag for some glimpse of color. It's surprising how long all this can take. Seconds were like minutes and then finally there she was —it appeared to be a….ahh, yes a Kelly in the most vibrant shade of shiny turquoise blue I had ever seen. There was a single handle and as she pulled it from the dust bag the gold hardware shone and I breathed a big sigh of relief…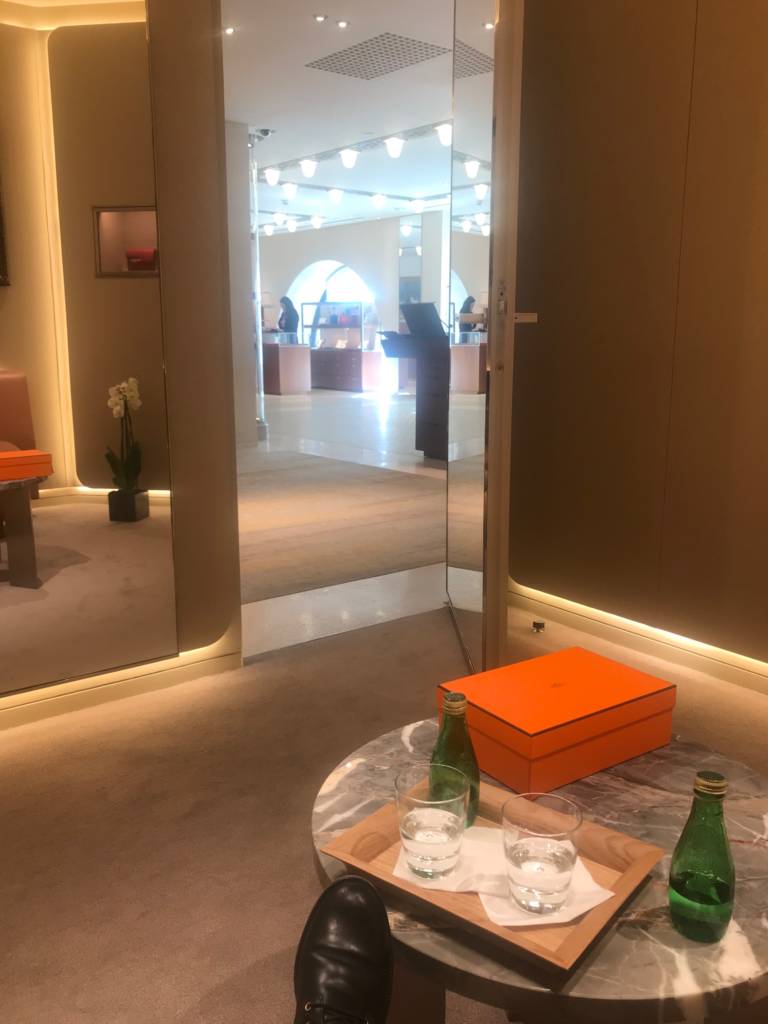 The Blue Izmir Tadelakt Kelly was bright and beautiful, with a saturated and mysteriously blue hue resembling ocean depths. Stunning.
And yet, I hesitated. I nervously and brazenly allowed myself to politely inquire whether any other colors were available in this luxurious leather. Her reply to me was…
"there may be a Kelly available in… Rose Lipstick Tadelakt, a color I have yet to see produced in a full size bag such as a Birkin or Kelly. But I hesitated to offer as you mentioned that you had several shades of pinks already such as bubblegum, rose pourpre, anemone."
I was astonished that she really did remember each of my statements… I mumbled and said something like "but I love pink and I love rose lipstick and I don't have any rosy pink.." Before I could finish my thoughts she said "I must rush to see if it still available… do let me run." Clearly she had given this rose'y beauty some thought. And yes, I had said no to pinks, but I what I had meant was "no" to the hot current pinks: the beautiful au courant Magnolia and the Rose Pourpre which was already a part of my family… Not to digress from this reveal but it does at times feel that Hermès is producing a plethora of pieces in seasonal colors. The April 2018 walls of FSH surely reflected a pink theme.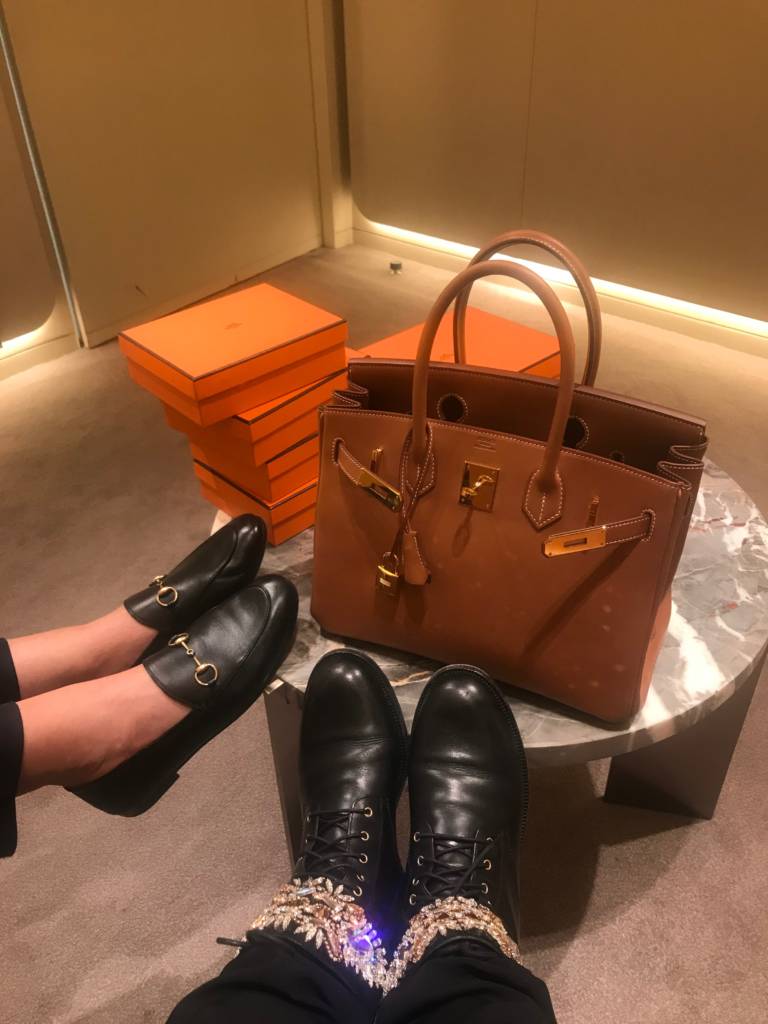 When my Sales Associate returned to our private enclave with a new box… my heart virtually stopped —perhaps even literally. Time to lift the lid, remove her cover and reveal the cause of all the oohs, aahs and gasps of delight — this perfect Rose Lipstick Kelly 28 in shiny Tadelakt leather. She seriously glowed: mesmerizing, bright in a tender way, deeply saturated rose in a feminine way. None of us in the room knew the color of hardware and just as the bright gold twinkled, my heart resumed a normal rhythm. The bright gold against this rosy pink appeared majestic, royal, a sort of dressed-up pretty. Quite honestly, it's near impossible to describe and no photograph I have taken does her proper justice.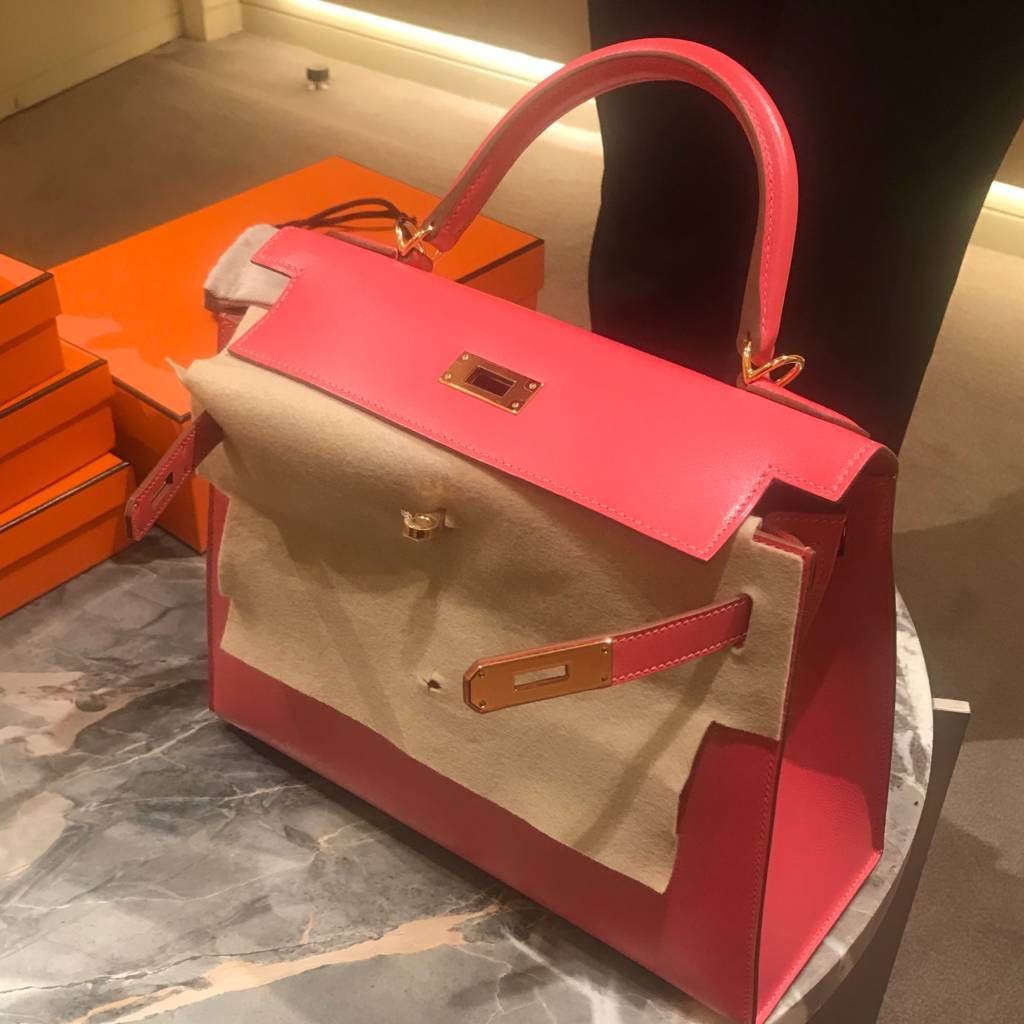 The Parisian Reveal: When a Planned Photo Opp Gets Rained Out
@by_md and I strategized about the best way to capture the beauty of our new treasures. Paris, itself, always provides the perfect backdrop to feature a gem from the Hermès mothership. I envisioned twirling Ms. Rose Lipstick by the Arc de Triomphe, Le Tour Eiffel and up and down the river Seine, snapping photos to fill my PurseBop journal. I did this once before with my Delvaux Brillant and have always wanted to create a similar ode to Hermès. Best of all, I had the perfect companion who at most times is more determined than I to capture the perfect photo no matter the effort. This sort of photographic story-telling just cannot be done with Mr. PurseBop in tow (sorry dear).
One would imagine it is easy and glamorous to tote these big orange boxes to scenic spots and click away, but it is not. Realistically, any scenic locale is flooded with tourists and our bags would draw unwanted attention.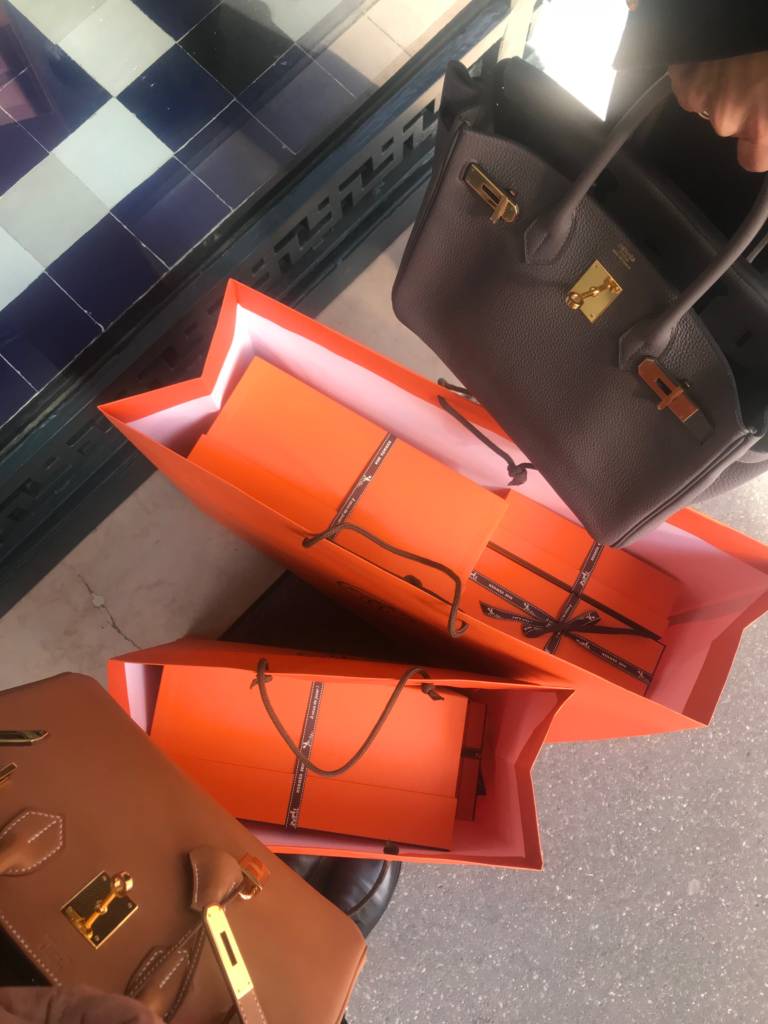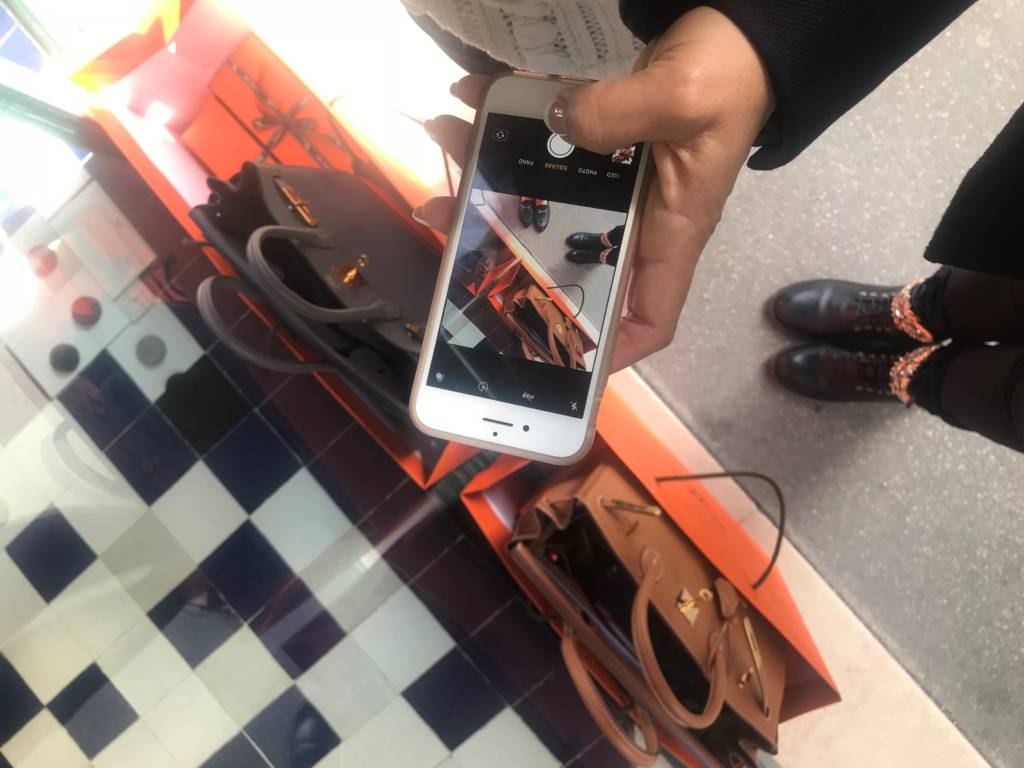 Despite this, I remained determined that this beauty would be revealed somehow at the Eiffel Tower. Not just mine, but @by_md's also. To complete the story, after the reveals, our bags would frolic and stroll through Paris and create a magical Parisian photo journal.
After much deliberation, we decided to hire a driver and car for our safety and that of our orange boxes. We would have our driver take us to our first reveal spot with the boxes and after that we would hop on and off with just our Kelly's wherever a photo opp presented. It was a merry plan. We spoke to the hotel concierge and made arrangements for Sunday at 5pm. The magic hour, as real photographers call it.
As late afternoon approached, the sky darkened. For three days we had basked in the Parisian sunshine and expected it to continue. Alas, someone must have done a really good rain dance. We had little choice but to keep our fingers crossed.  Our driver arrived promptly, suited and booted at 5 PM, and escorted us to his Mercedes Benz. We had booked him for two hours intending to make this quick and easy. Our concierge had plotted out the best spots in Paris for photography and shared them with the driver in advance of our appointment. Theoretically, everything was set. But the one complication that none of us contemplated was the possibility of rain.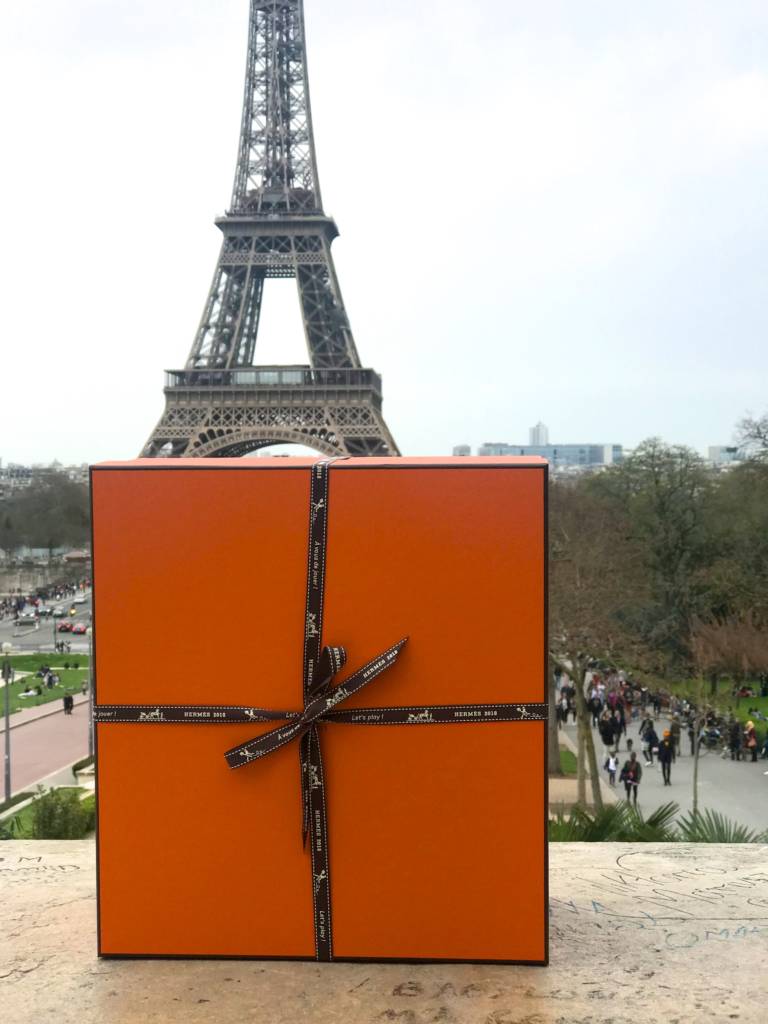 Our driver was wonderful, optimistic that our mission would be a success. If only he was right. We set out to my ideal locale to snap a photo with the Eiffel Tower in the background. I have a reveal video you must follow here. As cheerful as I tried to be, I knew we were on borrowed time. The clouds were getting darker and darker. I think in her heart @by_md knew there was a slim chance we were going to get any footage and rushed me to take just one box and bag from the trunk of the car and she quickly set up the frame for video and unboxing. We tested the spot and before I could really plan anything out she clicked record. "Just hurry and start", she said. Which is exactly what I did. Just as we got through the video and I was setting up the bag and the dust bag for some still photos, I felt the first raindrop on my nose and on the sangle of my Kelly, and on the protective felt.. and another and another. I had only these two photos when I used my sleeve to dry the leather and quickly tuck away.
We quickly boxed up my rose beauty, returned the box to its now crumpled bag and literally darted through the courtyard and masses of people scattering helter skelter. About halfway to the car we suddenly felt an umbrella over our head; our dear driver had rushed out towards us with umbrellas for each. I had the presence of mind to capture a photo of the both of us, the bag, the driver and the raindrops.
We rushed back to the hotel in the pouring rain. Our driver graciously offered to meet us the next afternoon for the balance of our time but I had meetings scheduled and knew it just was not to be. The hastily filmed video would have to suffice. I was disappointed  but tried not to let it affect me as we relaxed and  freshened up for dinner. Our evening plans were exciting:  drinks at Plaza Athénée followed by dinner at L'Avenue. We anticipated a rainy night but it seems the rain was only there long enough to wash out our photographic field trip.
The Day After: Tale of Two Magnificent Kellys
Admittedly my spirits were slightly dampened, but leave it to my travel mate and the unofficial artistic director for the Paris in PurseBop series @by_md to plan out the most creative photography anyone could imagine… and all in the balconies of our hotel suite, LOL. The shenanigans began in our pajamas and extended several hours with lots of earl grey tea and croissants. We laughed and giggled our way through the unveiling of little Miss Red Riding Hood as regrettably she never managed to debut at the Eiffel Tower. We shot photos and videos of many other treats, some that you have seen on our IG pages and some yet to come in a future article.  Here, the stage belongs to our Tale of Two Magnificent Kellys.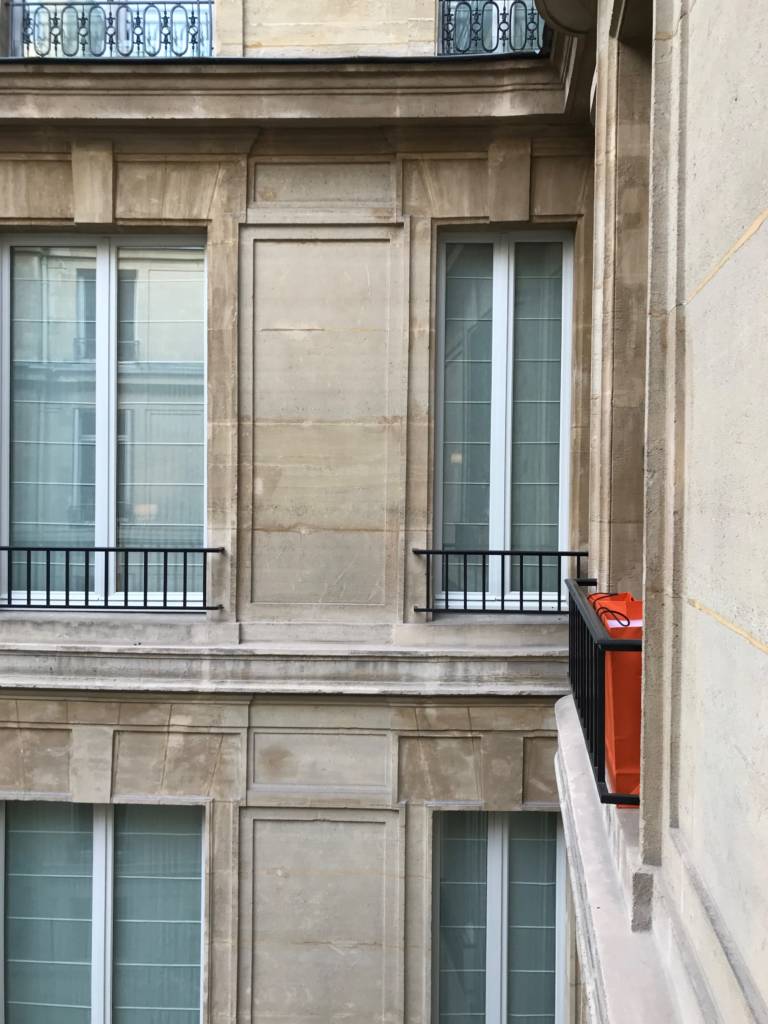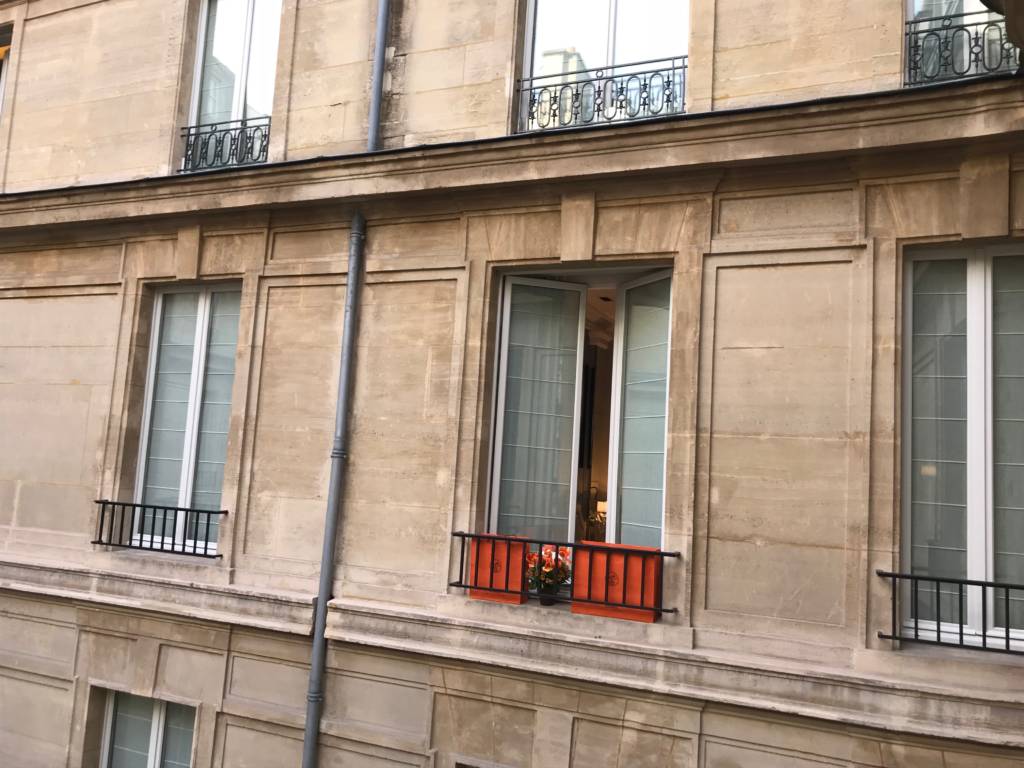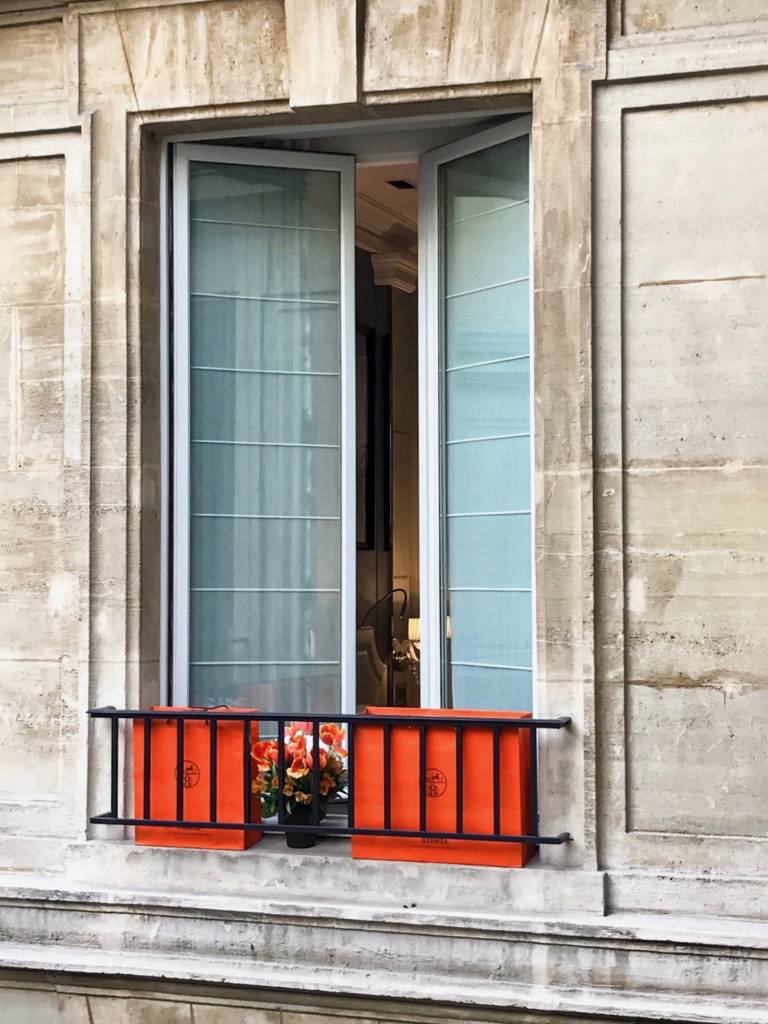 @by_md revealed her beautiful Tadelakt Kelly 28 in Rouge Vif with gold hardware window side the following morning. We made the most of our beautiful corner suite and the balconies were our playing stage.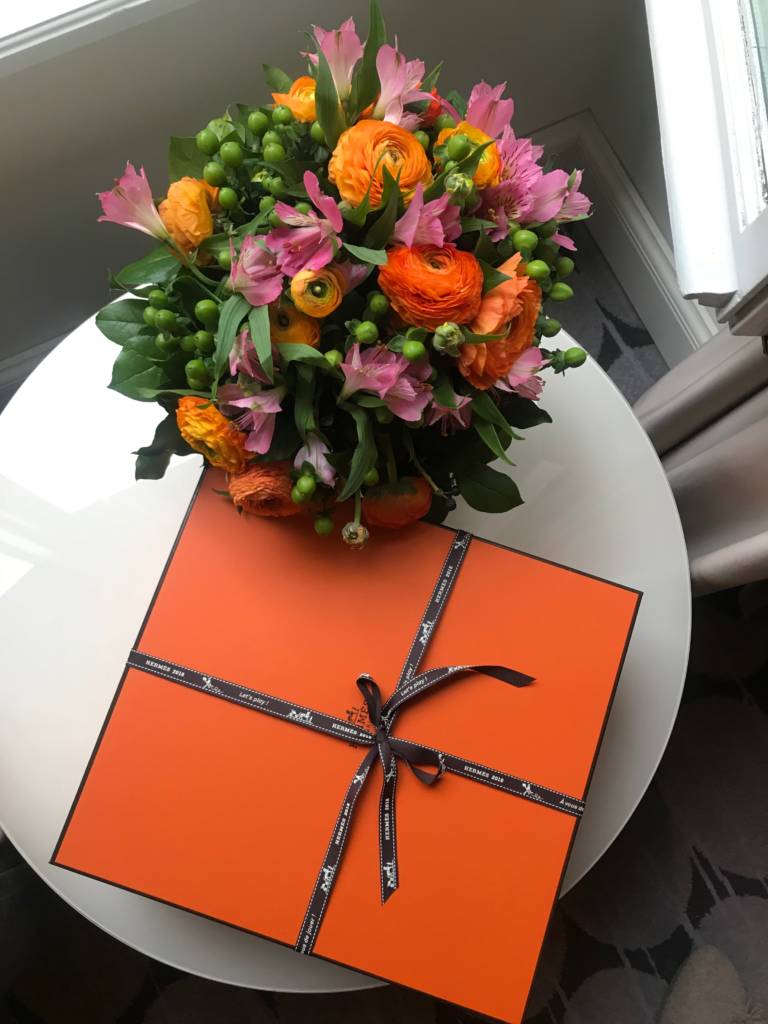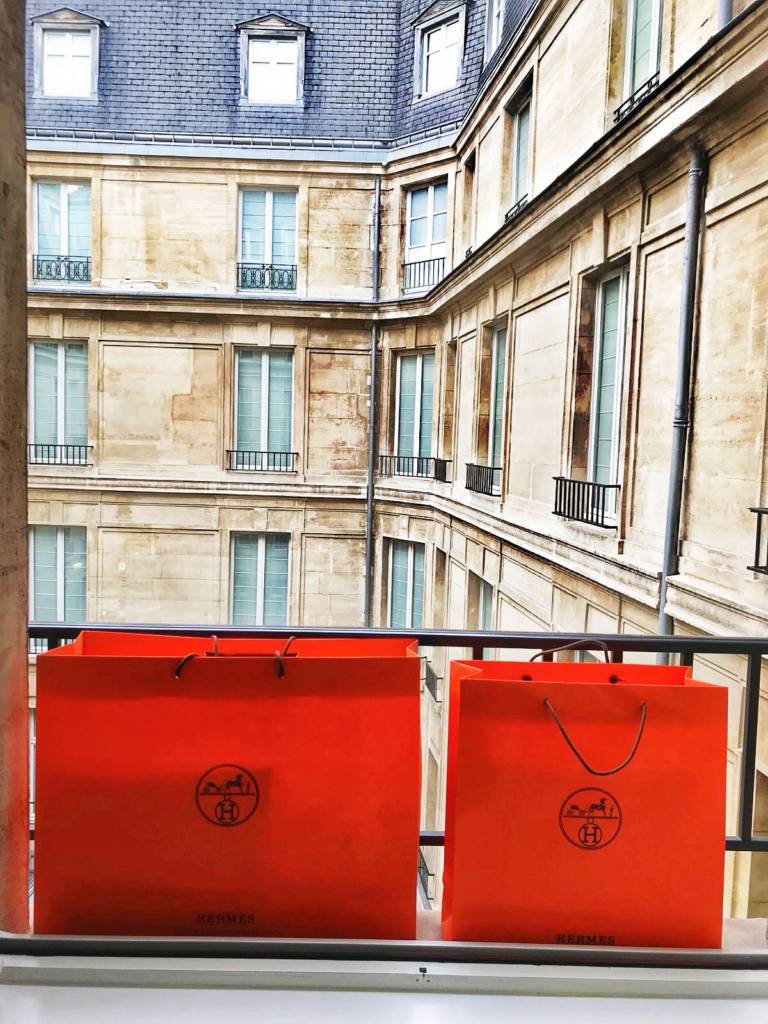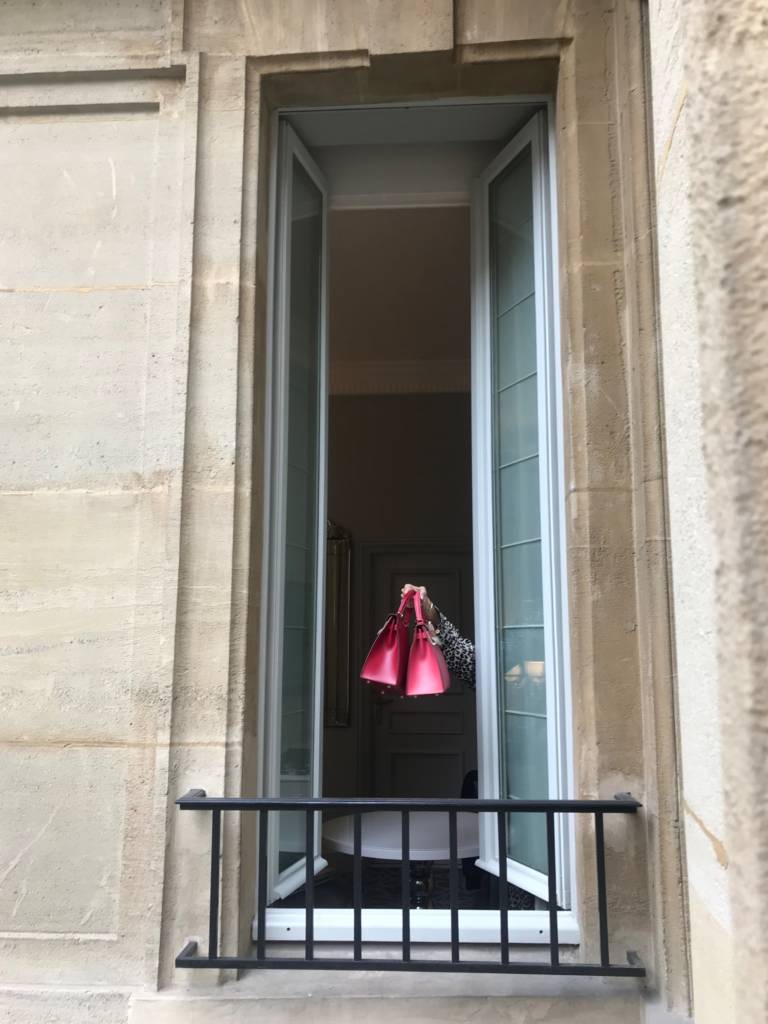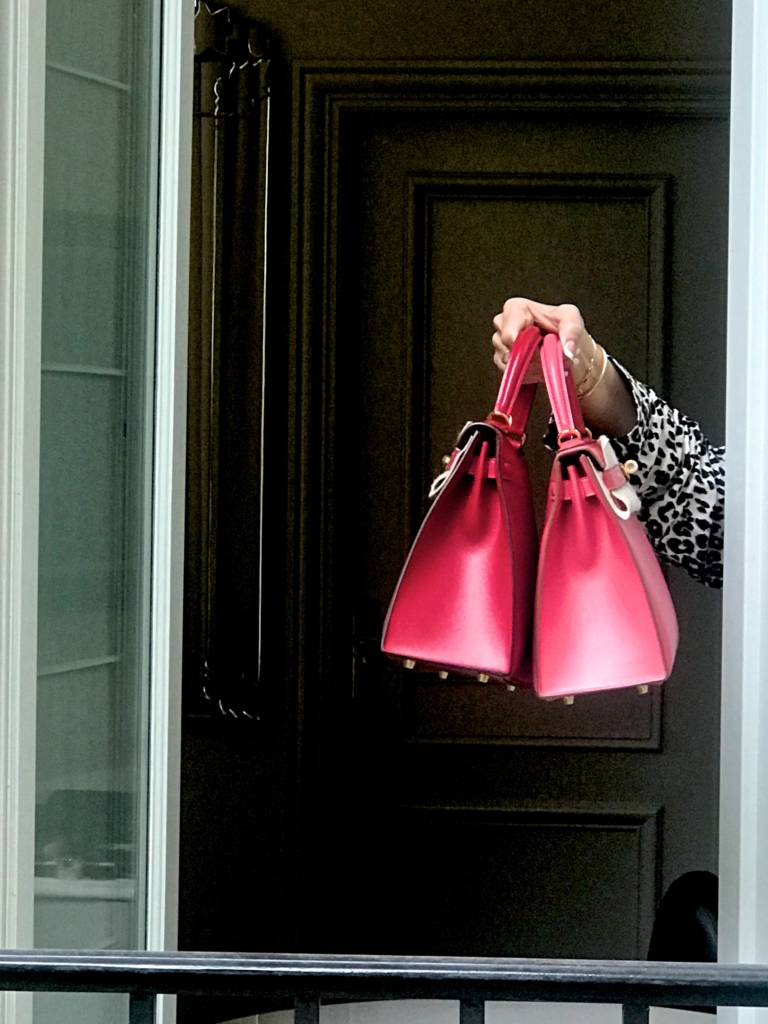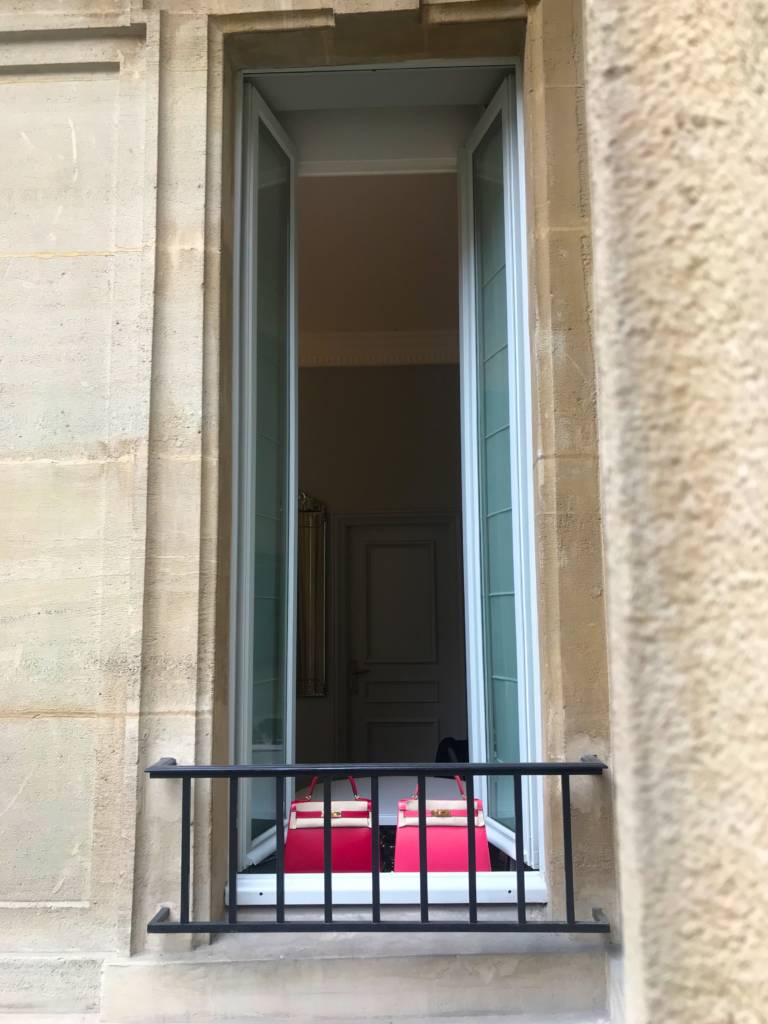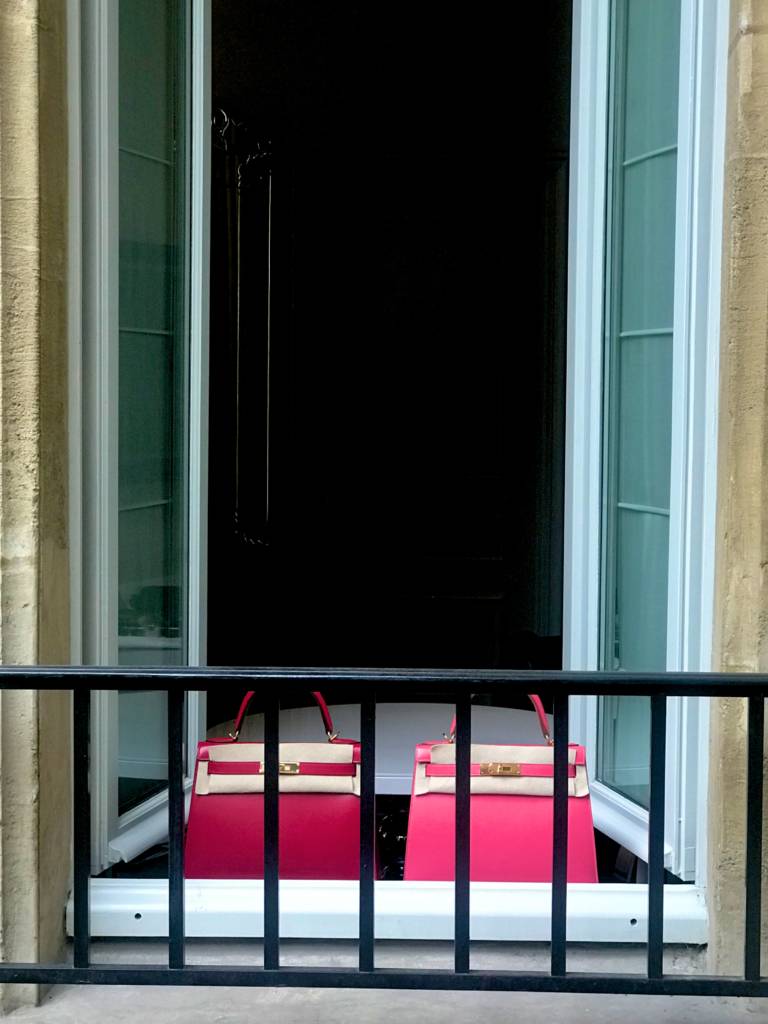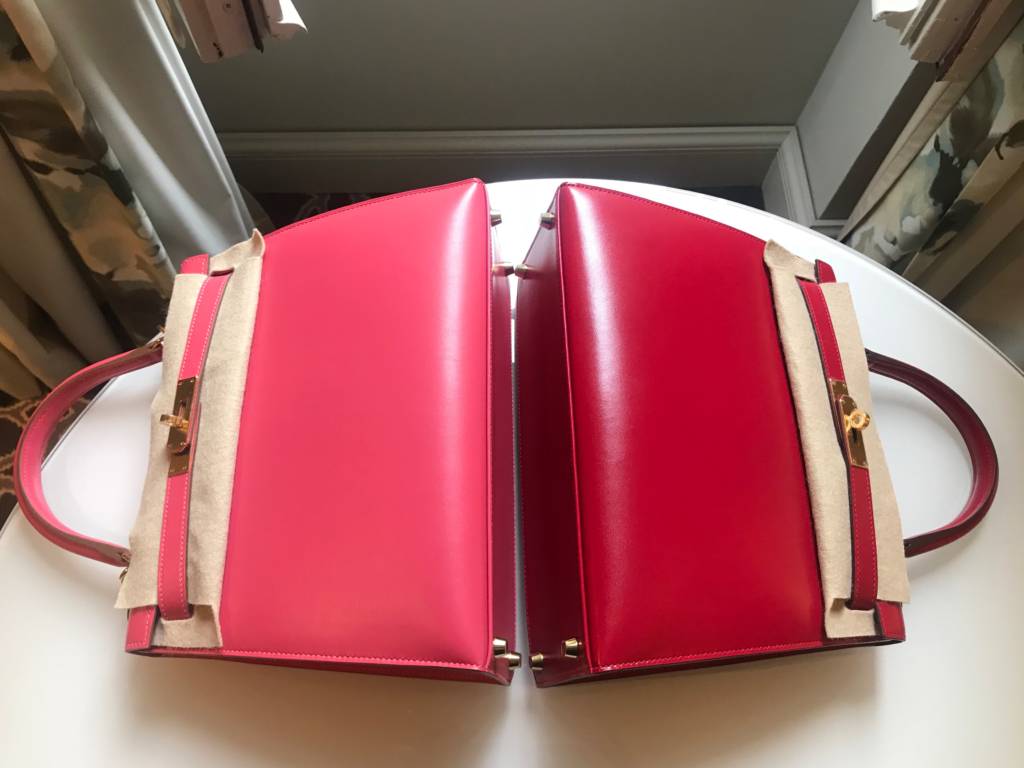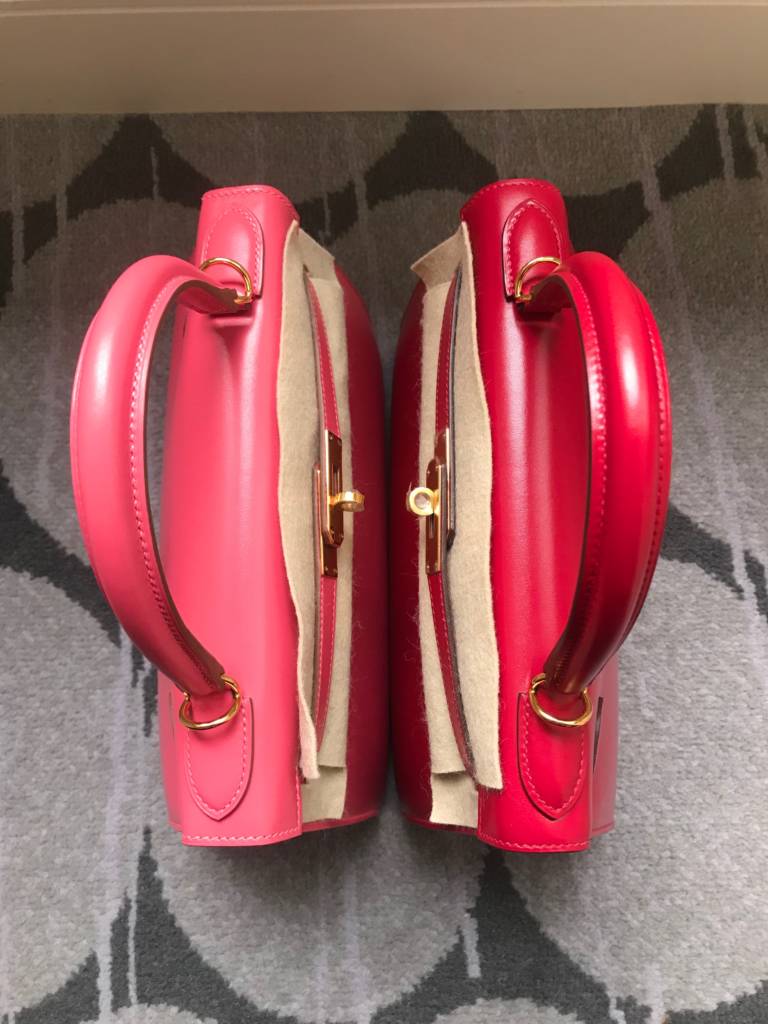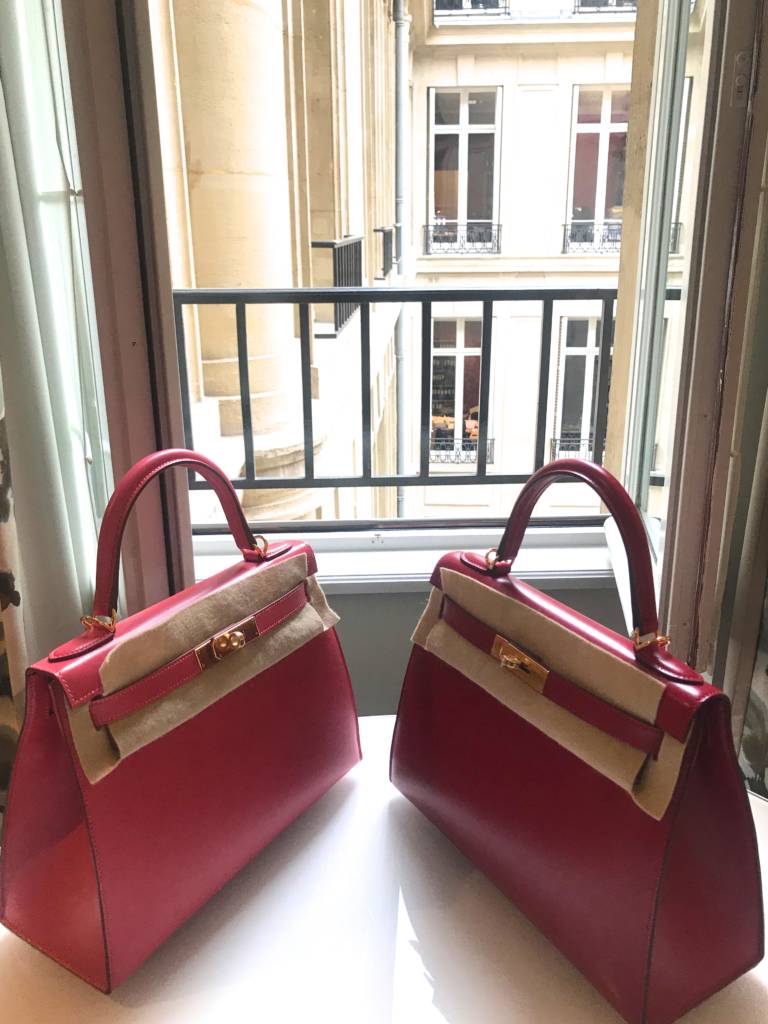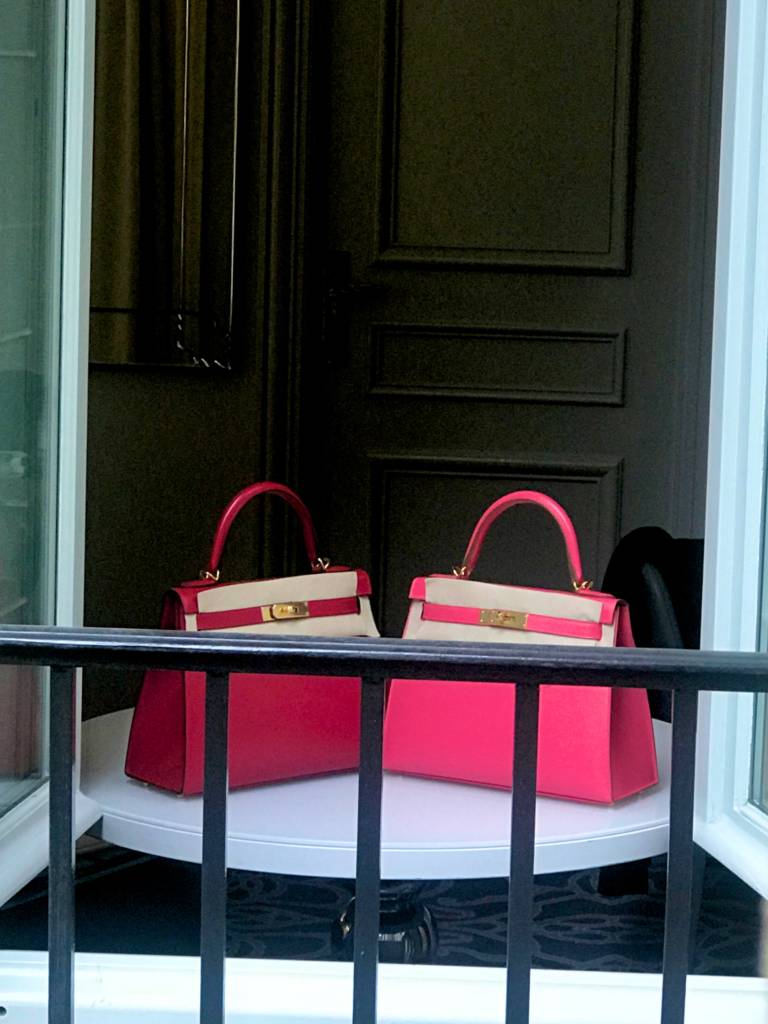 We hope you've enjoyed this trip through Paris. Stay tuned for our handbag math, information on VAT refunds and custom duties and how to pack your purchases for the trip home, as well as the other smaller treats that came home with us.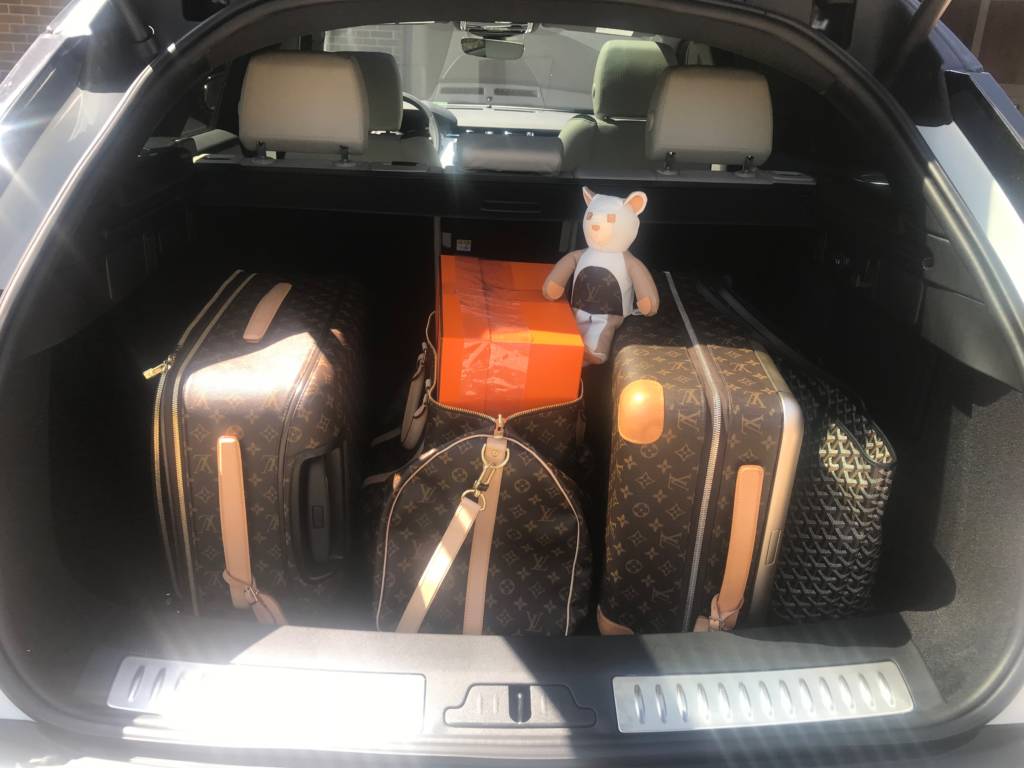 P.S. My parents did meet my sales associate in Paris and came to DC with this box. The mystery box made it's way home with me this last weekend from our family reunion, but I am forbidden  to open it till my birthday in July. Please note the layers of sealing tape, LOL. To story to be continued…
XX
Updated: July 8th, 2018