PreFlight Preparation: Securing an Appointment at Hermès FSH

Part of the excitement and anticipation of a trip to Paris is undoubtedly the thrill of visiting the Hermès mothership with hopes of scoring the big (or not so big) orange box. This would mark my third visit – at least during… shall we say my Hermès obsessed phase. In the last few years, I have had the opportunity to experience the hospitality of the flagship store on rue du Faubourg Saint-Honoré (we all call it FSH in short) in three very distinct ways and certainly not all three were shall we say pleasant. It was time to reread and study my own published articles on when and how to seek an appointment… time to review all the testimonials of Boptalk contributors, guest writers and the experience of our very own editor who shared hers with us in such detail back in December. Considering all the discussions our site has had, you would think the process would be ingrained in my memory. Regardless, that fear of rejection looms.
On Wednesday the fourth of April just before going to bed… I retrieved my passport and set it on my nightstand next to my laptop so that I'd have everything I needed to apply without fumbling so early. I wrote my passport # on piece of paper in large print rather than needing my glasses for easy access in the wee hours. I then set my alarm for 6 am to wake up at the specified Paris time…
For those of you lost here in my story, Hermès Rue du Faubourg Saint Honoré (the flagship FSH) has implemented an online appointment system for purchasing leather handbags. Not all handbags, but most, especially the ones we lust over… yes of course the Birkin, Kelly and Constance (read: New Development In the System To Buy A Birkin). What does this mean to a Hermès newbie? Well it means that you can't just romantically stroll into the Hermès shop and expect that orange magic to mark your trip. It means that in order to purchase or be granted the opportunity to purchase an H treasure you must register one business day in advance on their website (an online process only) in hopes of securing an appointment to then be granted your wish. This is how you buy a Birkin by the book… it's not to say there are not myriads of exceptions and individual cases and then some pure sheer shamrock luck. We recently read @styledbyshishi's tale and even if you secure an appointment it doesn't mean your getting a bag (read: Buying a Birkin in Paris is Still Not Easy). Ok back to my story…
I tossed and turned, it felt like just as I finally fell asleep the alarm rang. I fumbled a bit but managed to go to the website…, signed in and entered all the required information… And proceeded to click submit. I immediately received the confirmation text that my request was submitted and knew now it was going to be a waiting game till 7:30pm in Paris (12:30pm my time) when Hermès would email an appointment time or an appointment denial. I tried to fall back asleep, but it was game over.
I decided it was just easier to get up and begin the day. I had planned to publish the big Travel Alerts article that clearly you all loved which recapped all the essentials for planning a trip to Europe. If you haven't read it, I highly suggest you grab a cup of coffee after reading this and commit its parts to memory. It's going to be a cornerstone piece to much of what we have in store throughout the #PariswithPurseBop series (read: Travel Alerts If You Are Headed to Europe This Spring).
I headed to my computer, put on the finishing touches, hit 'publish' and made the public announcement that I was headed to the city of lights… I spent the rest of the first half of the day planning my wardrobe with the weather forecast. Although I think I have my travel look down to a science, there were some exciting new shopping indulgences that required a re-look at the last minute. I had just bought a somewhat funky Valentino spring raincoat and a pair of swarovski studded Rene Caovilla kicks for the trip. Comfort is my motto but it has to embellished with lots chic style. And no you won't ever catch PurseBop at O'Hare airport in five inch stiletto heels, actually you won't find me anywhere in five inch heels anymore.
12:33pm I received the dreaded email followed by a text – a rejection. No appointment for me.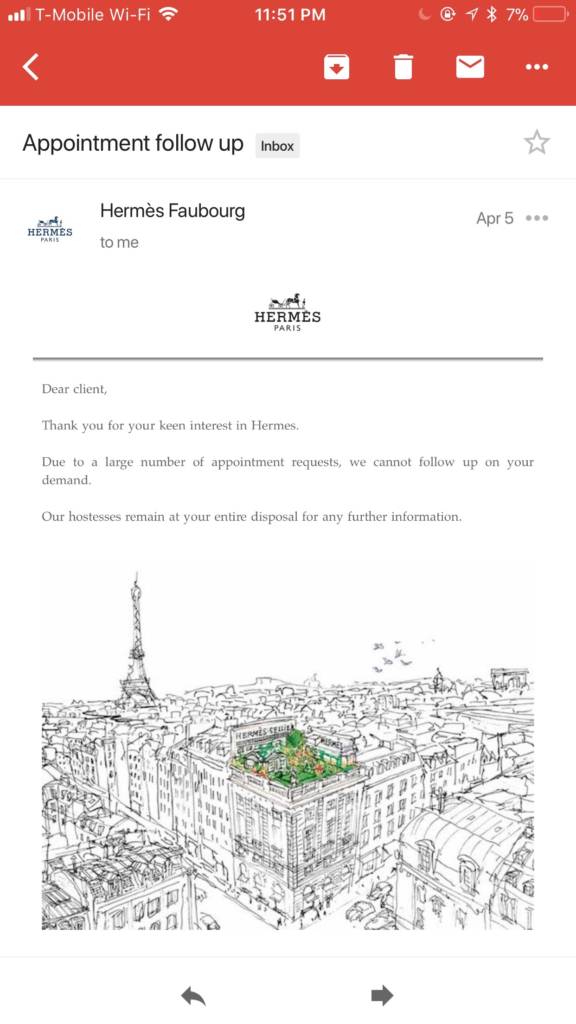 Somewhat disappointed (only where H was concerned), I headed to and reached the airport quite early. I had plenty of research and work to do in preparation for meetings in Paris… I worked & waited for my evening flight to Aéroport Paris-Charles-de-Gaulle. After boarding and settling in with a glass or two of French red wine and warm nuts, the H situation was forefront in my mind. What was I going to do if I didn't get any appointment? As many happy stories I have published, there were more sad ones. Is it really possible that I, PurseBop, will not bring home a bag from Paris? As much as I didn't want to accept that as a possibility, the fear was real. I still had two more opportunities to try the online system – and knew that even getting an appointment was no guarantee of a bag. One very dear Chicago friend mentioned greater success of getting an appointment once in Paris. I had no idea whether this theory held water but I sure wished there were some technical explanation for her success. I hoped she was right.
After eight hours of strategizing (well really only four hours because I did sleep about half the flight) I contemplated thoughts like… if I should I go to store on Friday without an appointment and try? If I did get an appointment for the following day, what would I request? I was making notes upon notes on my phone, researching colors and leathers. I wanted to be as informed as possible. Trust me, it's easy to draw a complete blank in the moment; this happened to me before on my very first visit. There's too much stimulation at the store: anticipation, adrenaline etc. As silly as it sounds, it is a real possibility.
First Steps in Paris

Despite landing a little early, just after 9am Paris time, getting into the city was not easy. The taxi union was on some sort of a strike and I was told  Uber wasn't  doing  airport pickups. Somehow, I managed to find a fixed rate cab with my rusty French. I grew up in Canada so speaking French was a mandatory second language but with the years away my ability has seriously eroded. I have this fantasy that some day I will spend an entire summer in Paris as a writer – eat baguettes, sip espresso, type at cafe's and roam Paris free spirited…, should this happen, I am quite confident all my Français will come back.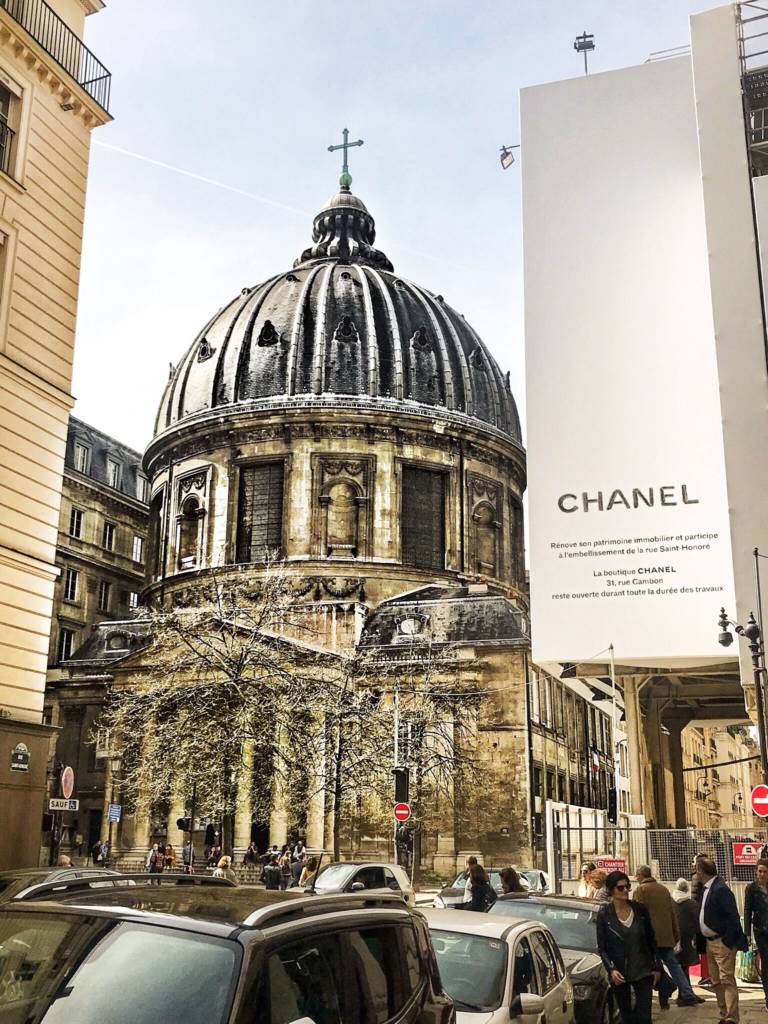 After a very groggy one hour taxi ride to the hotel (after all it was 3am at home in Chicago), I excitedly met my Paris mate @by_md… who was joining me from NYC… we quickly checked into our beautiful 3 room suite and freshened up. I was here, finally in Paris. Something happens to me here… it's the air, there's a special Paris fragrance, the architecture, the restaurants, the laid back attitude, the people and yes even the boutiques.
We decided despite that fact that neither of us had secured an appointment in the leather department, we would head over to Hermes, just down the street… and assess the situation. It's always magical just to see the cases lined with "have me not" bags placed in the long four sided glass cases. Even the most satisfied and experienced Hermes afficianado may gasp at the site of something beautiful but yet unattainable. I walked in with my heart beating a little faster, quickly snapped a photo of the Hermes clock as a timestamp and proceeded through the magic front doors to Hermes heaven.
OMG, the colors, the variety, it was like an amusement park full of vivid shapes, sizes, and textures. The store was very busy upfront but as I crossed over the bridge of stairs over to the other side there was a very pleasant calmness. I glanced over to the hostess desk and my eyes caught familiar eyes, my blood began to rush, I gasped hello as my feet hit the floor from the last stair. It was the hostess I recognized and had spoken to on my last trip with Mr. PurseBop back in September… and the best part is she immediately recognized me. This was too good to be true. We exchanged bright pleasantries and then it hit me, I didn't have an appointment today. I calmly explained that I just arrived and what my situation was, and just as I was speaking my previous  and very sweet sales associate approached the podium to greet her next appointment. Again instantaneous recognition and more pleasantries. Was fate aligning coincidences in my favor? I was delighted and felt so at home despite the very big elephant in the room – I did not have an appointment. I turned back to my hostess to continue my predicament. She listened all while smiling and intermittently looking up at me and then at her ipad somewhat softly nodding in a sympathetic way.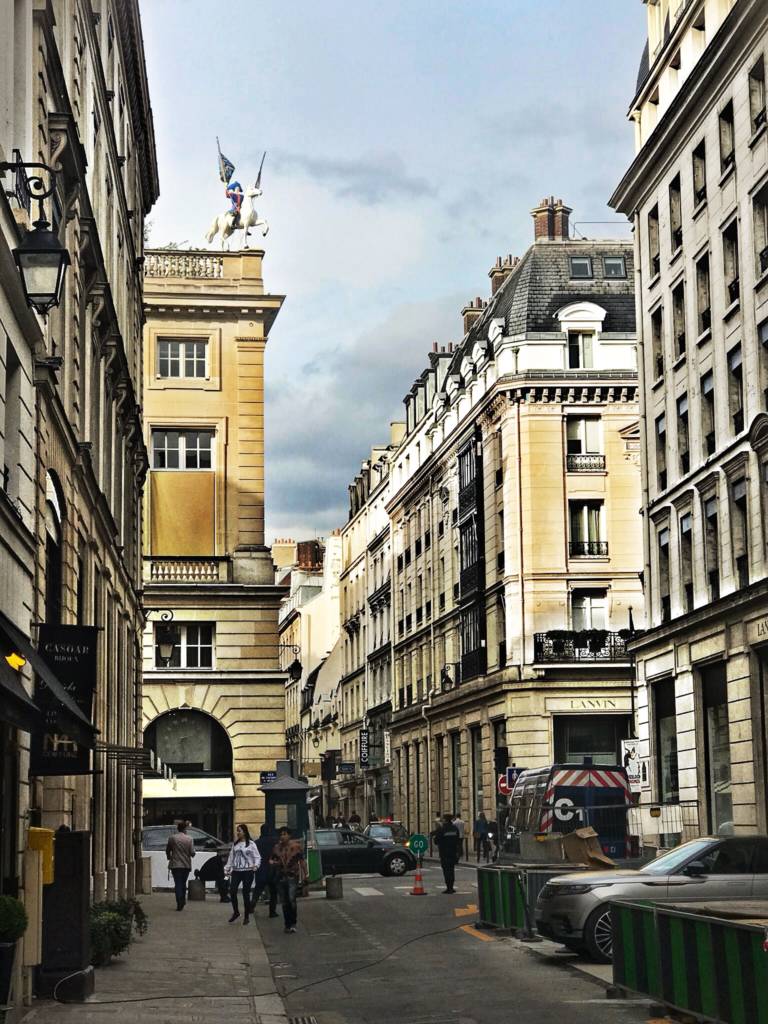 When I finally took a breath, she first reassured me not to worry. She advised me to try the appointment system again… in fact to do so as soon as possible. She had such a peaceful pleasant look about her, my woes drifted away although I still had nothing to really smile about, but yet everything… I was in Paris. She went on to say, that if for some reason I didn't secure an appointment for Saturday to come see her again. I have no idea what that meant, or why either she or I should feel such optimism and confidence. I did ask if there was any way to see my sales associate that I had just met… she once again replied to check in with her tomorrow and she would try to see what could be done but no promises were made. I reconfirmed all that she explained to make sure I wasn't hallucinating from jet lag. She welcomed us to stay a bit and look around and to enjoy our lovely day in Paris. We spoke about our dinner reservations, the beautiful sunshine in Paris after several days of gloomy rain. We bid our goodbyes and perused the store a bit, admiring all the beautiful bags in the cases. I just knew that all would somehow be okay. Interestingly, the vibe in the store was much quieter and organized than during my prior visits. Sales associates were moving helter skelter but with a purpose. I saw a few Hermès clients waiting here and there but all in all, it was calm. Perhaps that explains my calm.
One theme was overwhelmingly evident…birds: tons of birdies in so many vivid colors and shapes. I saw Vert Vertigo ostrich, Rouge Vif ostrich, a deep but bright blue ostrich… I saw Kelly 25's, 28's, so many pochettes all lining the glass cases in ostrich… there was one very pretty one in Parchment too. There were wallets, both Constance and Bearn in ostrich… it was like there was an Hermès ostrich convention…my eyes were scanning the display shelves all while making mental notes to review later- until my heart stopped, and my feet were glued completely still… what was in front of me in the case was an ostrich Birkin 30 in Rose Pourpre. My eyes were fixated, I was completely mesmerized. I need to tell you I have been stalking this color and skin on IG since December when I first saw a photo. Here she was in real life, in person… I know my US Hermès sales associates are breaking smiles right now as they read this because they know this is the bag that makes me swoon. I know, I know… you are thinking I already have a Birkin 25 in Rose Pourpre, but may I explain the color in ostrich translates completely differently. Regardless, there's really no point rationalizing or justifying it… I confess I am stuck on pink, every shade of pink… I'm not really sure what has gotten into me, and to think of it I don't really wear much pink either except on nails and lips. Maybe it was my pink birthday Birkin cake last year that set the tone for a complete era, I can't explain it.
One thing was for sure… I knew what I was going to ask for tomorrow? …yes, ostrich.
But let's be realistic, land my feet back on the ground and out of that aerie nest… that may or may not happen.