After some fine French Bordeaux and white creme truffle pasta, a good night's sleep was inevitable. As I slightly squinted to see the time, I was delighted that I had actually slept through till 6 AM. At first I was concerned as not a ray of light peered around the sides of the tightly hung blinds. I tend to be a terrible sleeper, especially the first night in any hotel, so this was major success. It took a moment before I was fully awake to realize where I was and what a splendid day it was going to be. I lifted my head from the pillow keen for any sound coming from the living room outside. It was quiet enough to hear a mouse so I guessed @by_md was still in deep sleep.
I sat up tall in bed leaning my head back on the headboard and replayed the beautiful day that we had shared yesterday. The magic of Paris will never grow old for me.
I reviewed the events of the day that lie ahead.
The Hermès Gods must have smiled upon us because we were both headed for H appointments. At worst, we would share in each other's experience, for company and support.
Preparing for the Big Day

I reviewed my leather list and colors once again, ensuring I had solid examples of what I wanted to add to my collection.
You would think this process of imagining your next bag is easy. However, the struggle is real. If any bag would do, then there would be little to worry about. But at this stage of my collection I have become very particular and selective about purchases. I wrote about this extensively last summer… this evolution of a handbag collector (read: Bringing Home a Slice of Hermès History: PurseBop's Special Birthday Birkin). @luxecoffer did a lovely article on our site about the same topic (read: Journey to Hermès Nirvana).
My focus right now is (ever so slightly) less about color and more about the types of leather I would like to add. I have had the opportunity to experiment with Barenia, with which I have fallen head over heels in love, and Box leather, whose shine is unparalleled and oh-so luxurious. Swift in Hermès is like lambskin and Chanel; soft, rich, oozing elegance. The beautiful ostrich bags in the glass display cases at the Mothership lured me into thinking birds were my first choice. But what was next? I thought I might be daring enough to ask for an exotic porous crocodile or alligator… I might even suggest lizard. Of course the receptiveness of my sales associate would dictate how far I could delve into the topic of exotics. My heart yearned for something special, an unusual color in a sumptuous skin even if not exotic. I have my fair share of Togo, Clemence and Epsom. My dream would be to walk away from FSH with a treasure so special it would be cherished for the rest of my days. In terms of size I would be open to the 25's in either Kelly or Birkin, 28 in Kelly and 30 in Birkin. Having said this, if there was an exceptionally beautiful opportunity in a larger size I would consider that as well. Call me flexible. I paused and chuckled at myself and all these hypothetical predicaments that I was playing out… if only this could be the case.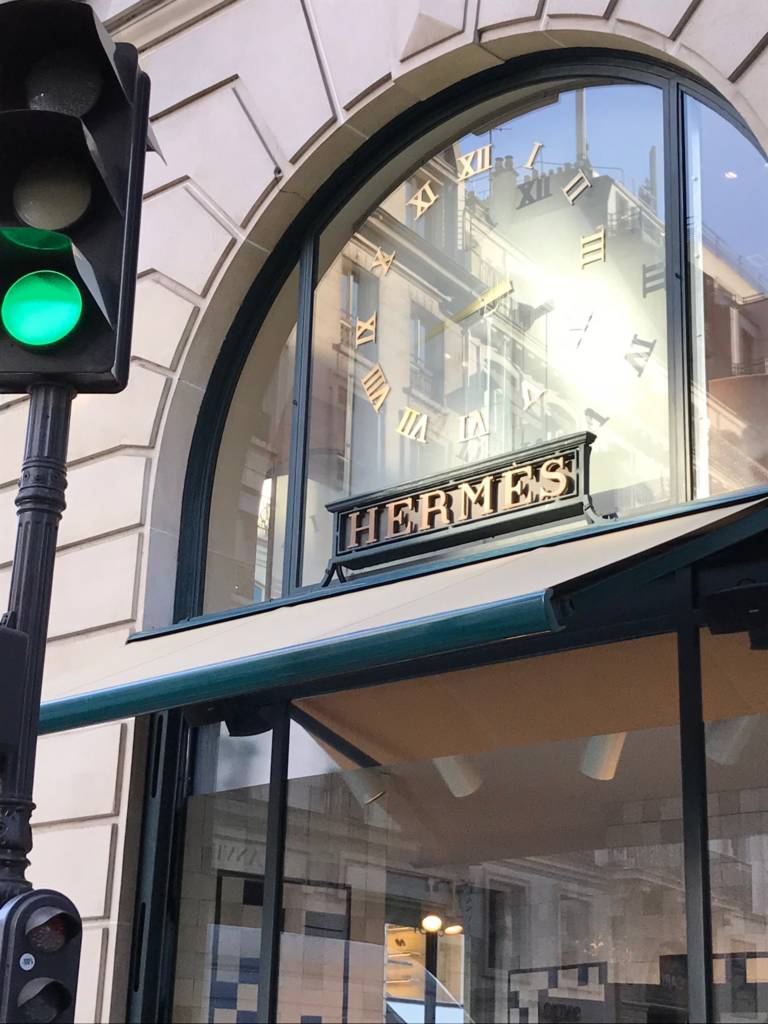 We ordered a scrumptious breakfast to our suite. Ahhh, my first bite into the crisp yet fluffy layers of a decadently filled chocolate croissant. I washed that down with a sip of piping hot French pressed coffee… the pleasures of Paris. We chatted, we giggled, had deep conversations and such superfluous thoughts all at the same time. The day was filled with possibilities and we were ready to accept them with grace and excitement.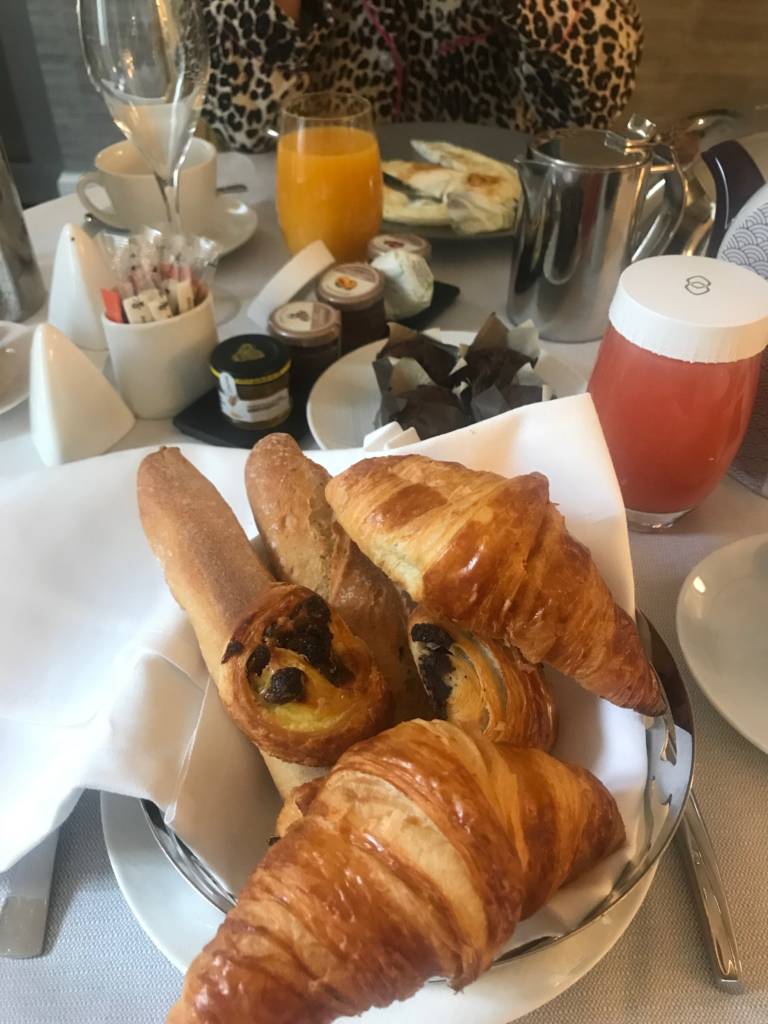 We reached Hermès well in advance of my appointment, excitedly met the hostesses and exchanged pleasantries. I don't think there was any way to contain my excitement; this is the one place and time I revert to my 16-year-old self, giddy and elated, yet mature enough to try to hide my feelings. I asked our hostess if it was possible to combine our appointments or at least move them back to back. I also asked if it was possible to see my sales associate that we had met yesterday and who had taken care of me in September? To this she immediately but politely said no, not possible …but I assure you I will have another delightful colleague of mine assist you. As for the appointment timing, she advised to leave them as is and we would make a gametime decision after the conclusion of mine. The store was quiet despite it being a Saturday; perhaps it was still early. We waited at the hostess desk and made polite conversation with staff including our mutual admiration of lipstick colors. Not just lip service, we were determined to enjoy this experience. All the while my eyes were scanning for the associate that would be assigned to me. I confess my heart was racing as if I were interviewing for a job. Funny how this happens.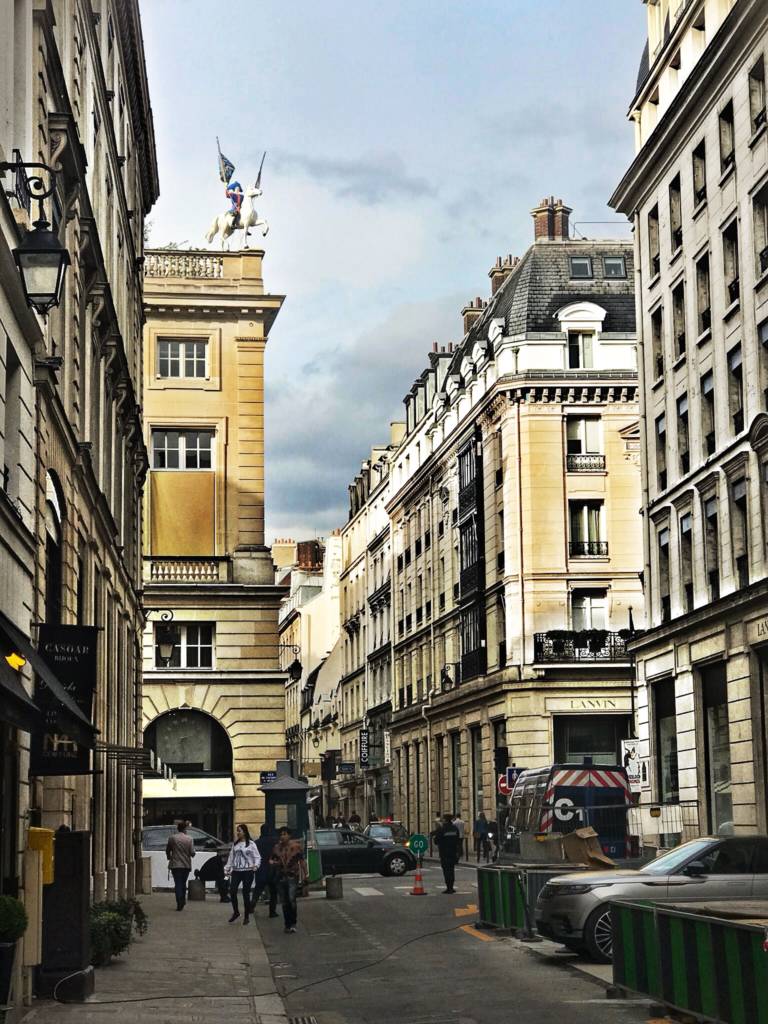 Evolution of a Collector

A beautiful dark-haired woman approached the desk and introduced herself very briefly and proceeded to walk up the windy staircase glancing back a little at both of us. As we reached the top I explained that @by_md was my friend and was going to stay with me during my appointment and that hers would follow in a few hours. She honestly did not seem very interested. We followed her to a high top desk where once seated she immediately asked how she could be of help.
This is that moment I previously described where one's mind turns to rubber. I expected some soft pleasantries, general greetings, questions… where I was from, nothingness about the weather, how long was I staying in Paris … etc etc. But there was nothing of the sort. She looked directly at me and said what can I do for you? My heart sank as my initial instincts were worrisome; this was not the vibe I expected. She was extremely direct, almost to the point of uncomfortableness. I jumped into my prepared spiel about exotics and how I wanted a bag that would be very special for me. I went on to explain that I had seen many ostrich bags in the cases downstairs and one of those would be my first choice. I was open to color and size if ostrich were a possibility. She cut me off and asked "what else I would like if I am not able to get you that." I proceeded to explain that I would be willing to consider a crocodile or lizard… before I could finish my sentence her head was moving side to side as if no, it's not happening. I tried to go back to the subject of ostrich but she interrupted and said let's talk about the colors that you like. I knew this question was coming and it's very hard for me to answer because for me the color depends upon the type of leather. I told her that I would prefer not to have a blue shade… not blue sapphire… not indigo…no blue brighton, and not even black. I also eliminated the oranges, reds and grays. Seriously Monika, what's left?, I thought to myself. I really wanted to go back and talk about the leathers so I sort of interrupted and mentioned that I had seen a leather called Novillo recently and thought it was very pretty. I also mentioned that I had seen an IG reveal from someone that had purchased a Tadelakt leather Kelly and that I really liked the smooth finish. This reminded me to mention that I would very much like box leather for a Birkin or Kelly too.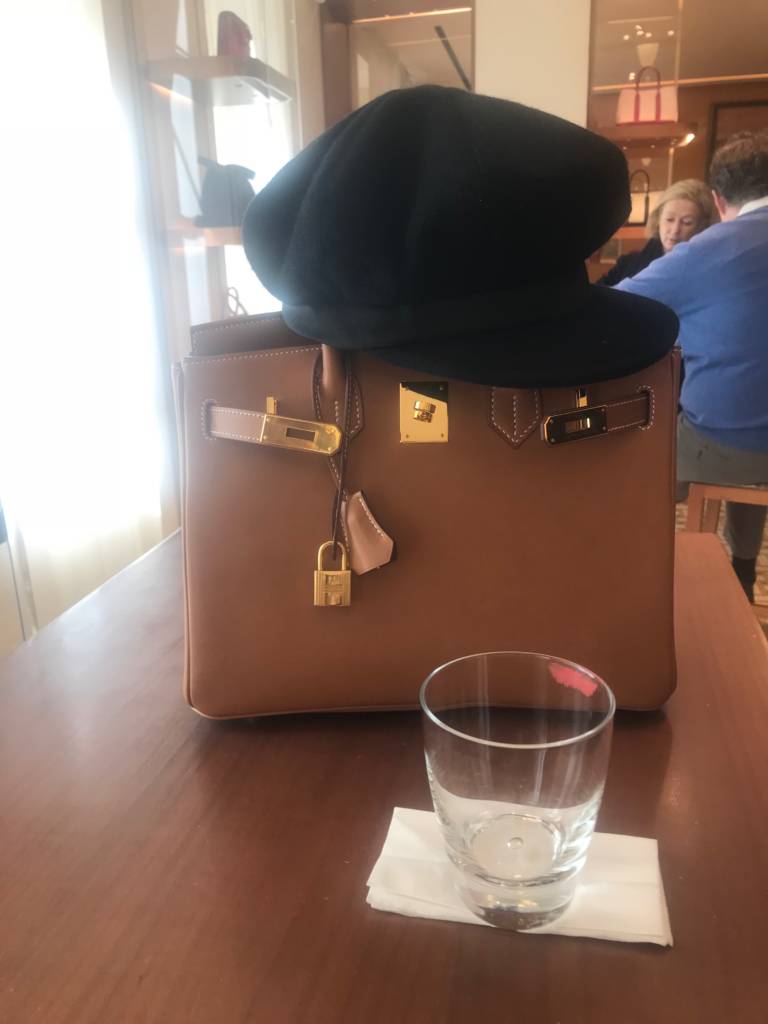 My Sales Associate was taking detailed notes that filled a full half 9 x 11 page. I went on to explain that I loved bright colors (but sincerely there were very few that I could ask for that I did not already have). I told her that I did like neutrals but I was not interested in a neutral color in the more common leathers. When she asked me what I already had in my collection, I admit I was a little nervous. I didn't want to rattle off a list and seem pretentious. I looked over at @by_md several times, looking for acknowledgment as I went through some of the treasures that came to my mind. I need to tell you this interview process took no more than 8 to 10 minutes, despite how extensive it seems now. I kept looking for softness in her expression, but I could not read any. I volunteered that I also would like to purchase a compact constance wallet to possibly match a new bag and that a wallet of sorts had been on my wish list for sometime, but again something special and unique. This "special and unique" suggestion of mine was becoming rather old really quickly.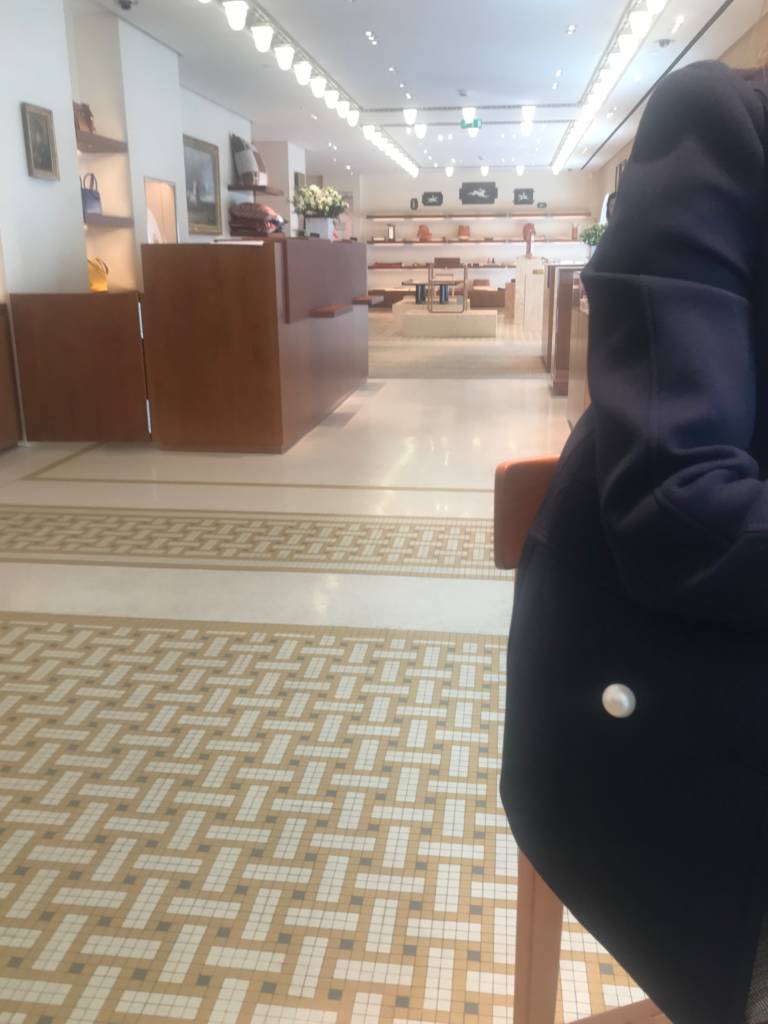 She studied her paper for what seemed like an eternity, excused herself, left us and as she was about to step away… asked if we would like water or coffee? We both replied water with a smile. My eyes followed her as far and as long as I could see her until she vanished from my sight. I suddenly felt exhausted, quite possibly from the sort of interrogation I had just experienced. I don't want you to misinterpret … she was not unfriendly, she was just very direct and to the point as if no time to waste. @by_md had been very quiet through it all but we together reviewed the situation and resolved ourselves to the fact that this may not happen, at least not now… and we reminded ourselves that I was not going to take a bag that I did not absolutely love. I had decided this before coming to Paris. With the narrowing of the price differential, the strong euro against the dollar and with the availability of such beautiful bags at home, it was not necessary to compromise if what was offered was not at the top of my wish list.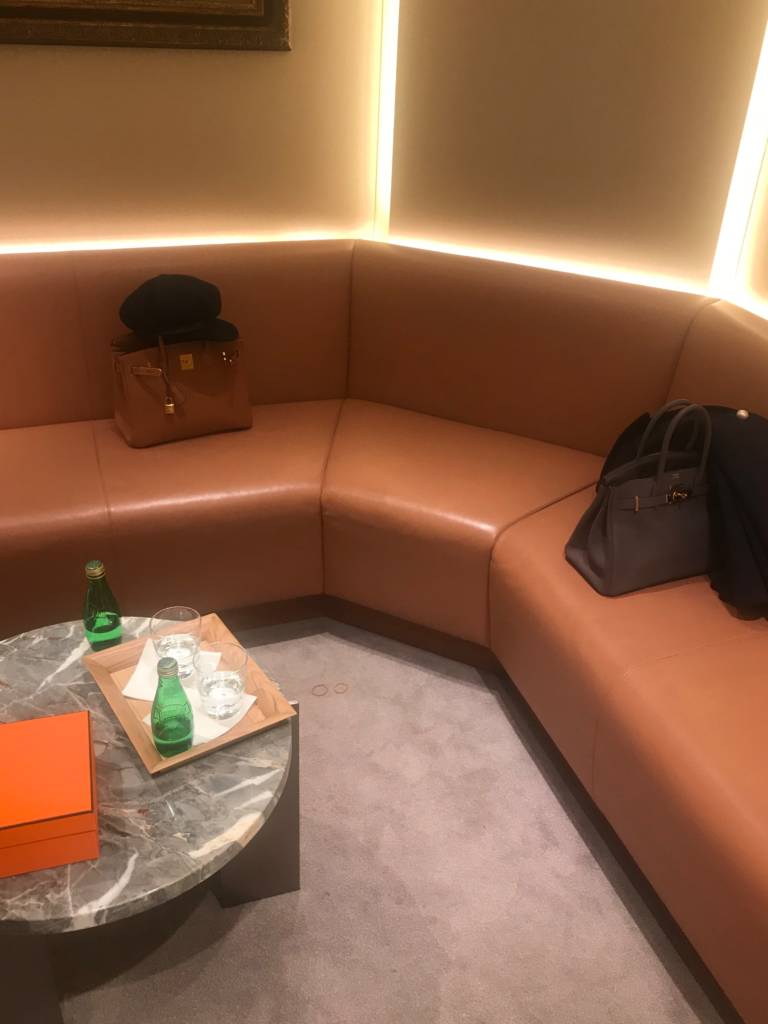 She was gone roughly 15- 20 minutes. The second floor was completely vacant and quiet. I sat facing the long room from which she would return, staring and willing her to reappear with orange boxes. She finally arrived carrying what looked like one bag box and a few smaller ones stacked on top. She had a soft smile on her face as she approached the high top desk and asked us to follow her into a room catty cornered from where we were seated. @by_md and I shared one quick and relieved glance and followed her into this unusually shaped room with a door and a mirrored wall on one side. I had never been here before. We both sat facing her as she stood on the opposite side of the small table and proceeded to put white gloves on. There was an awkward silence that I finally broke by asking how long she had been with Hermès? To my surprise she offered a somewhat detailed response all the while preparing to open the one larger box. We never lost eye contact. Trust me, when I tell you I know most box sizes by heart, and this was either a Kelly 28, Kelly 25 or possibly a Birkin 25… although from my estimations there was not enough depth for it to be the last. My eagle eyes were searching for hints – divining through the dust bag for some glimpse of color. It's surprising how long all this can take. Seconds were like minutes and then finally there she was —it appeared to be a….,ahh, yes a Kelly in the most vibrant shade of shiny turquoise blue I had ever seen. There was a single handle and as she pulled it from the dust bag the gold hardware shone and I breathed a big sigh of relief.
I gasped as she handed it over to me; the bag was beautiful and shiny and the color oh-so-saturated. She was indeed stunning. It was a Blue Izmir Tadelakt leather K28 with GHW. The shine was intoxicating. I was excited and complimented her selection for me. I can't exactly remember the few exchanges we had because I was in deep admiration of this masterpiece in my palms, inspecting the leather, the striations of color, the corners and the finish. All while she explained to me that ostrich was not available in a Birkin or Kelly but she might be able to find me a pochette… But then she also quickly reminded me that I had clearly said that an ostrich Kelly pochette would not be my first choice over a Kelly or Birkin in a special leather. She really was paying close attention, having in fact committed my phrases to memory it seemed.
My mind was like working like a machine, calculating the placement of this piece in my collection based on color, style and size. I was pensive and I decided to take a chance, somewhat of a calculated risk… I looked up at her one more time, expressing appreciation of her selection and reiterating that I would take this… but could I ask you if this particular leather was available in any other color at this moment?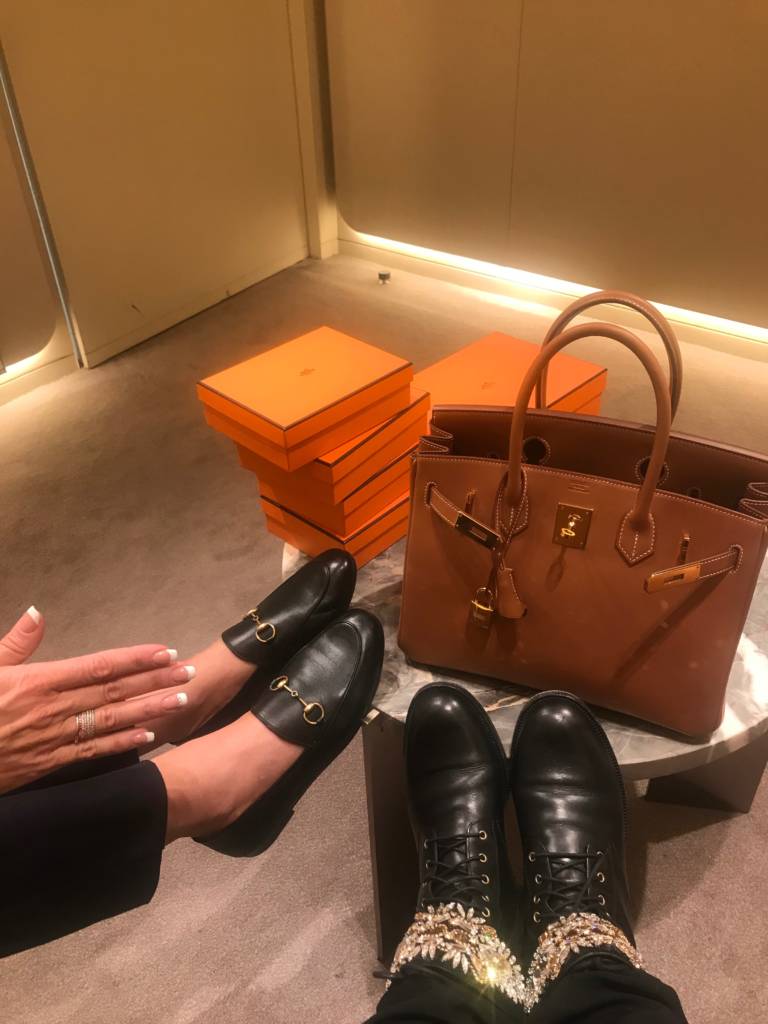 Again she caught me off guard, because she hurriedly replied and said there was one more that she had considered bringing, but you mentioned you had so many shades of ____ so I just wasn't sure. I don't think the name of the color completely left her tongue before I gasped… and said, really???… you might have that in this???? OMG —yes, yes & yes! She said "let me hurry then, I hope it is still there… because I have never seen a bag made in that leather in that color". But I had to clarify that if that were not available I would certainly want to take this. She efficiently slipped the dust bag back on my Blue Izmir baby and rushed out the door and we waited once again. She was gone no more than 10 minutes this time and returned with a big bright smile. By this point the mood was very light but I was pensive in anticipation. As she re-gloved her hands I asked if this was the one that she mentioned.. and she nodded yes with her big brown eyes becoming wider with excitement. I blurted and asked if it was with palladium or gold hardware, she replied, "we're about to find out— even I have never seen this bag and was surprised to find one." What can I say… as she gently peeled away the dust bag… what lay beneath was literally glowing. It was game over, no-brainer, deal done. I was so happy that I am not sure I could find the words to convey my joy.
Nothing else needed to be considered for me, I was completely content. A totally happy Hermès camper. We addressed the other boxes in the room, and everything moved very quickly and smoothly. The conversations were much more free-flowing at this point and the vibe very pleasant. I guess I have come to assume that in their job they must stay very focused and get the necessary job done. My SA was a true pro at her job, and I couldn't have asked for anyone more efficient.
We moved about the store gathering the few other things I had on my list; we looked for exotic CDC's in vibrant colors but sadly there were none that I did not already have. A pair of sandals for Mr. PurseBop, a TPM Evelyne for my baby sister, 1 pair of Oran sandals for me and it was a wrap (albeit without actually buying a wrap).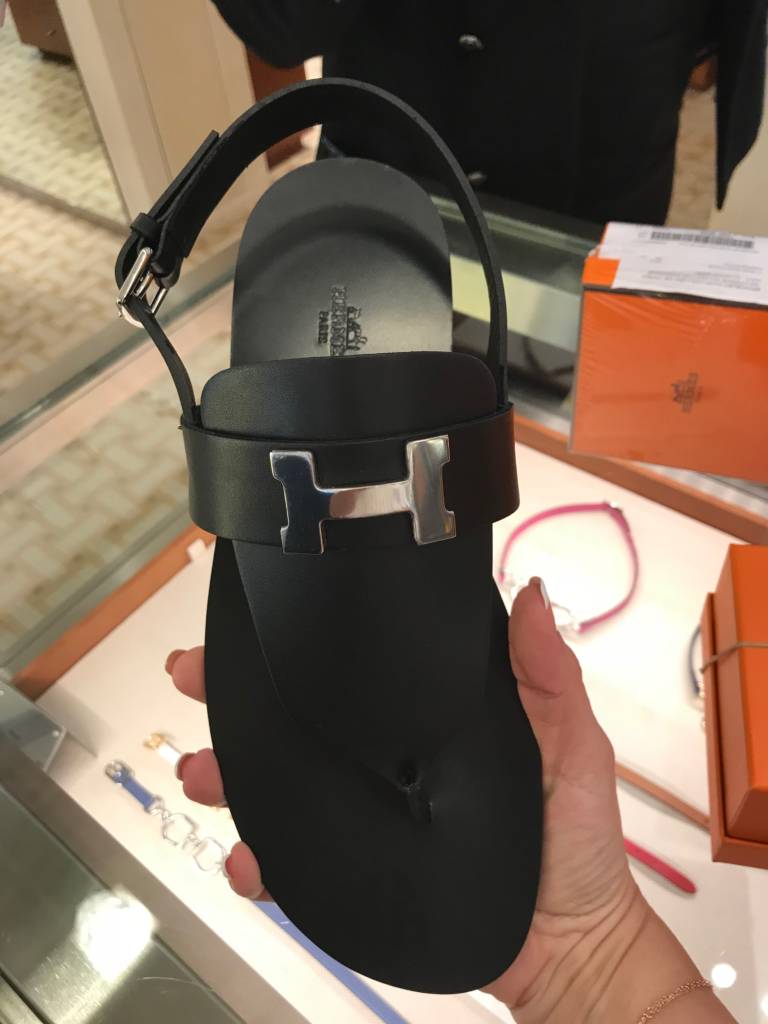 The After-Party

Our sales associate politely advised that she would take her lunch and perhaps we could meet back up but ultimately the hostess would make the final decision. We stood to the side and our sales associate approached the hostess desk and spoke in beautiful rhythmic francais. I couldn't hear what she was saying but reading their faces it seemed like affirmations all around. She smilingly joined us in a matter of moments and suggested we enjoy a lovely lunch and we could all meet back up here in 75 minutes. This sounded just perfect.
We stepped outside the store and into the warm sun. But we weren't really hungry quite yet. Instead we hopped across the street to one of my favorite stores – René Caovilla. Each time I come to Paris it has become a tradition to select one blingy boot or sandal as a souvenir from my travels. I fondly remember staying at Hôtel de Crillon nearly 10 years ago and walking hand in hand with Mr. PurseBop down rue du Faubourg Saint Honoré and buying a pair of Caovilla tall pointed black pull-on sock boots with a sharp Swarovski heel. I still have these boots and wear them from time to time even now… a testament to the quality and design.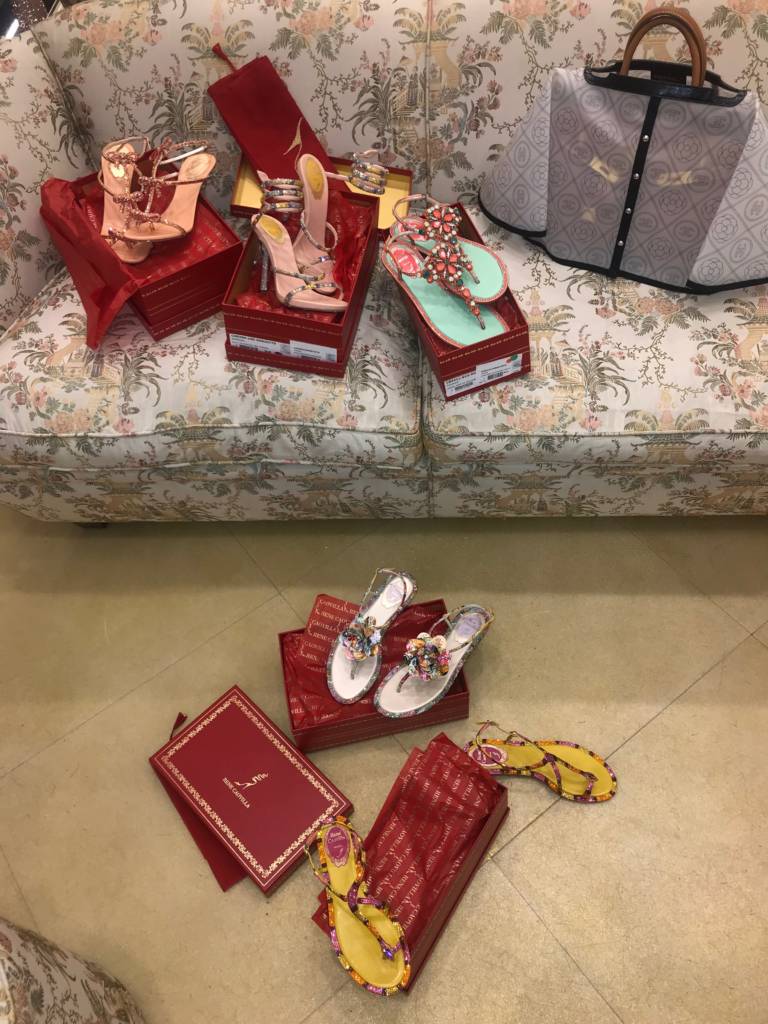 How lovely would it be to buy a pair of pretty sandals to match my new Hermès treasure? The staff was lovely and remembered me from my previous trips and made us comfortable with a cup of espresso and a large selection of jolies chaussures to try. @by_md was busy taking video to document the day for the journal that would come to be what you're reading today. Time flew, we popped into Chanel next-door to see if anything might have made its way to the store. Before we knew it, like Cinderella and the clock striking, our glass slippers vanished and we hurried back to Hermès, like some upscale perverted version of the fairy tale.
I'll skip ahead a bit or else this story will become an encyclopedia-length novel. Our Hermès sales associate guided us back to the room we had sat in just hours before. We knew this was going to be quick and easy as so much had already been discussed of our collections in passing and during our time together.
@by_md replied "red, I want some shade of red please" — I looked at her a wide eyed and a little perplexed and honestly what I wanted to do I was take over. It's not that @by_md didn't know her stuff, she sure did and has an epic collection already, but I thought this was my area of expertise and proceeded to take charge. My girlfriend gave the 'go ahead' look and I dove straight in. We had similar prerequisites for selections and, as you know, I was all about the special leathers at this point. @by_md had made it crystal clear in all our discussions that she wanted to add rouge casaque to her collection. I tried to tempt her with greens like Vert Vertigo but she insisted it was red or maybe nothing at all. I wanted her to have a shade of red but in a very special leather, if possible.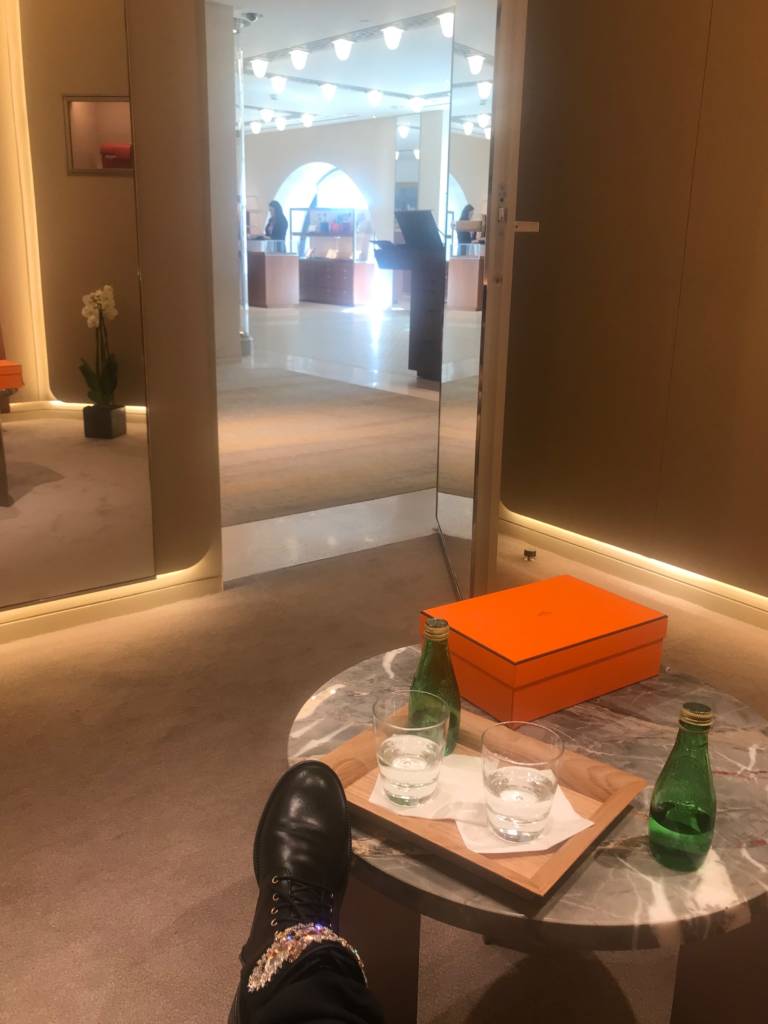 In a matter of 15 mins our SA was back with one bag box, that looked to be the same size and shape as mine and several smaller boxes all stacked neatly above as she entered the room. The first words she uttered from her mouth were, "mon cherie, you are a very very lucky lady. We just received a shipment and you will not believe what I have found…" The unveiling, the oohs and aah's, the smiles and the giggles, the relief and the excitement all took no more than 30 minutes. Our sales associate stayed with us for the duration of our selections and took us both to the register to finally check out. We chatted quite a bit more, while all the ringing and charging progressed. I also wanted to ensure she would take care of my parents on their visit to Paris in just a few weeks to attend the engagement of their dear friends' daughter. After all, I need an ostrich Rose Pourpre for my collection, LOL.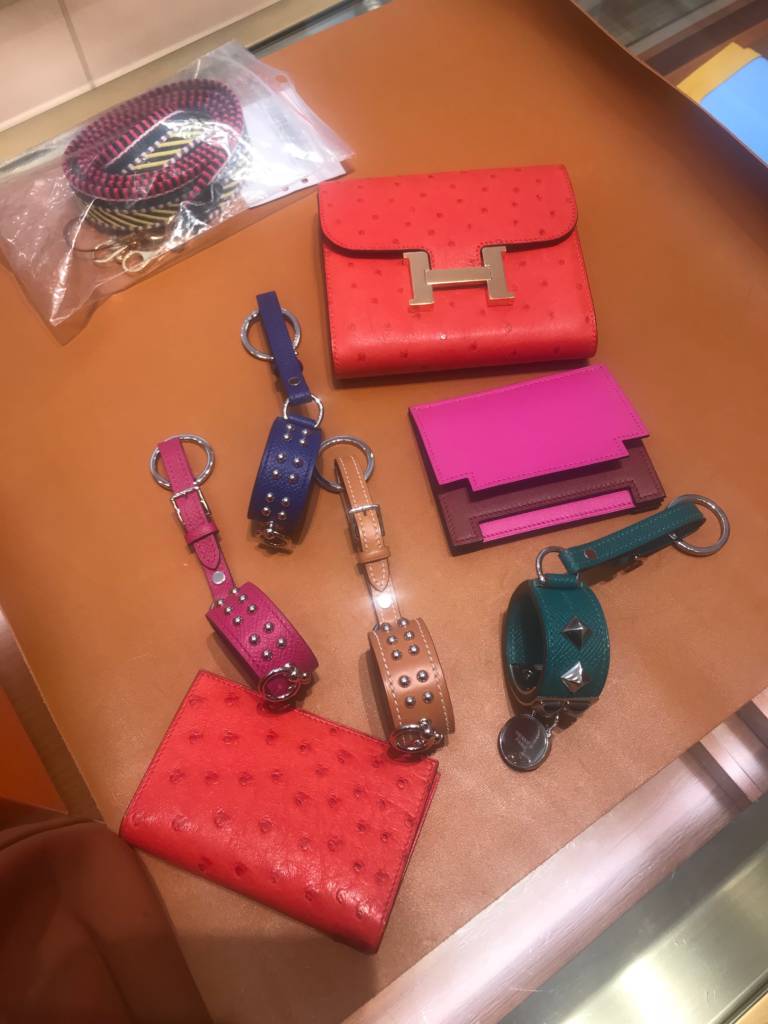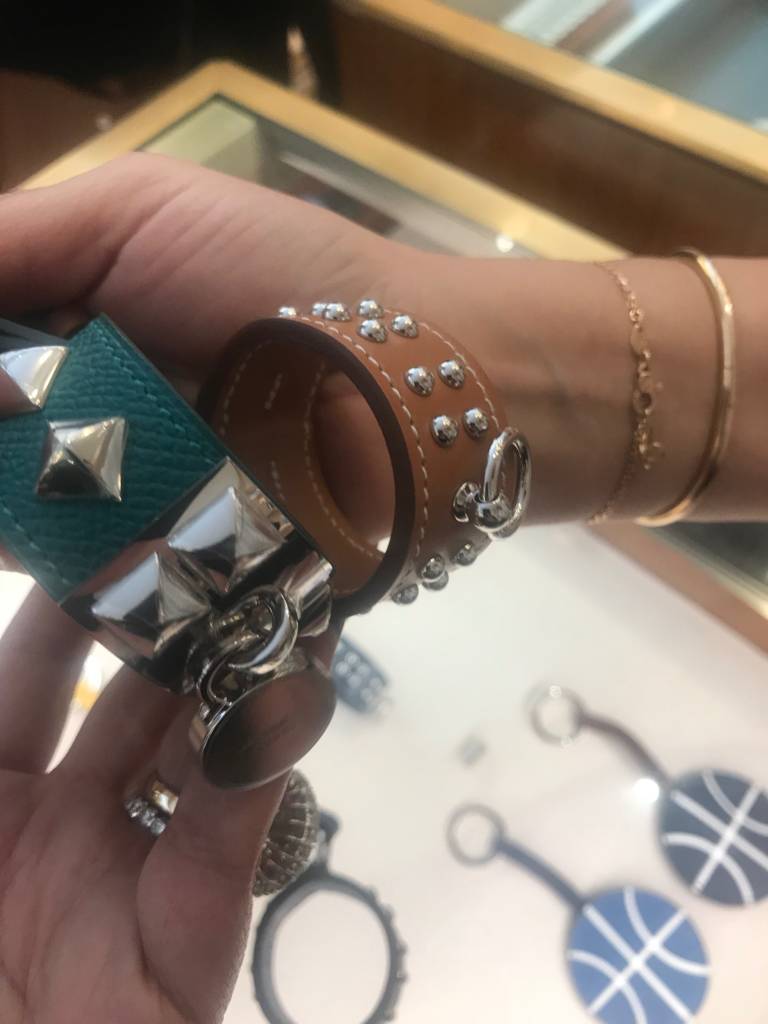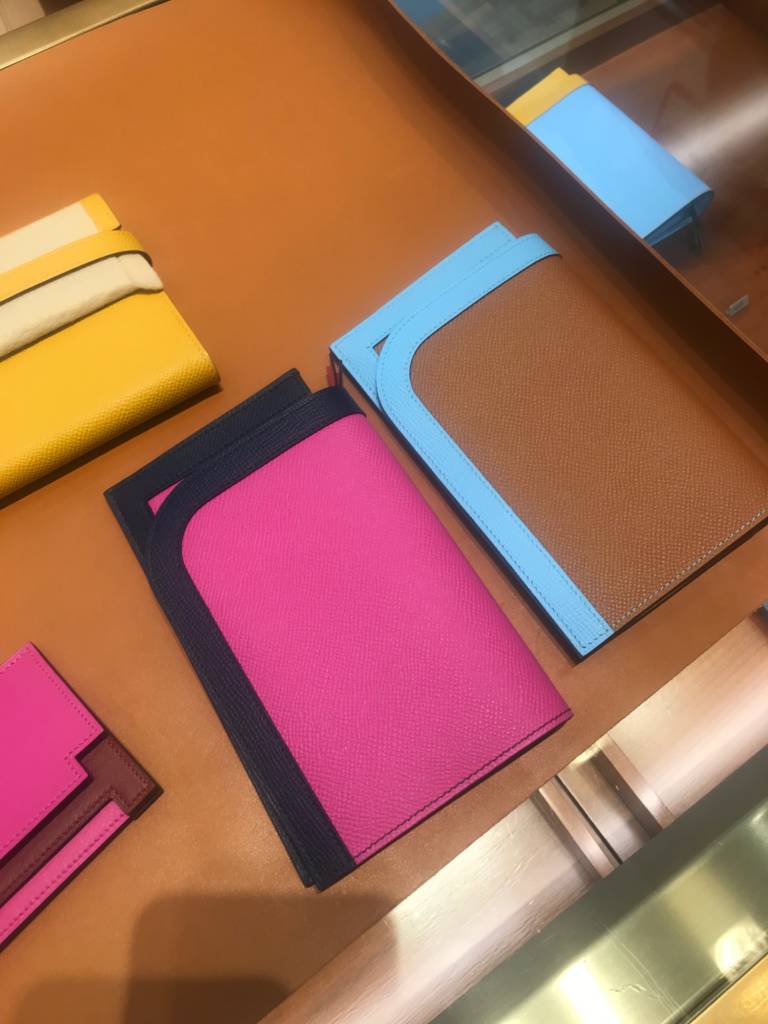 I made no bones about it and it became a light-hearted theme throughout the day. I must say the whole process at FSH from start to finish was so exciting and pleasant and, as it turns out, our sales associate might be one of the most proficient ones I have ever had. She promised she would take care of mommy, but not to share her name with everyone as she would not be able to help others requesting her.
Bags in tow we stopped at the hostess desk and bid our farewells until next time and thanked them both for their warm hospitality.
We both had scored —our current holy grail dream bags and were smiling bright as we headed back to our hotel to rest and be ready for our celebratory dinner at Hotel Costes.