If you followed PurseBop's Instagram stories from Paris, you know there was a visit to Rue Cambon, home of the Chanel flagship, her personal favorite the Faubourg Saint-Honore location, and Avenue Montaigne. You saw photos from the storied Galeries Lafayette which also houses Chanel. Did you put two and two together, and figure out that PurseBop did not leave France without a Coco treasure?
Rarely does a PurseBop handbag purchase spontaneously occur without research and planning (even if it may appear that way). This Chanel is no different. I first laid eyes on this petit garçon just a few short weeks ago. In fact, it was the same day I fell in love with my Chanel bag raincoat. Consider it a justification, but I haven't purchased a classic flap or boy in quite some time. Neither Gabrielle nor the Trendy have made it to my bag armoire (yet). My last Chanel indulgence was September 2017 when I fell head over heels in love with the moon minaudiere in Paris. Remember this quest?
Chanel's Spring 2018 PVC-themed collection boasts a contemporary and cool concept, but not one that really resonates with my current mood, not to mention that I have dabbled in the plastic Delvaux brillants on more than one occasion. I thought my transparent urge was satisfied with my sweet raincoat purchase. Until this Paris in Spring trip arose…
When it was clear I was traveling à Paris, I began making a shopping wish list of items to explore abroad. Somehow, this iridescent boy rose to the very top. So much so that pre-trip I reached out to the Galeries Lafayette Chanel sales associate with whom I had connected on my last visit. I always keep handy contact information for any very helpful and enthusiastic associates and this time it paid off.
On day one in Paris, after after my Hermès expeditions, I popped in to the Chanel boutique directly across the street from the Hermès mothership. I asked to see the whimsical unicorn-hued boy. Sadly my sales associate explained it was not available at this location but offered options in Paris where 'he' could be found. Dear friend @by_md and I perused through several Spring 2018 pieces but ultimately we recognized the day belonged to Hermès. Even the most dashing boy would have had a difficult time whisking us away or withstanding extreme jet lag.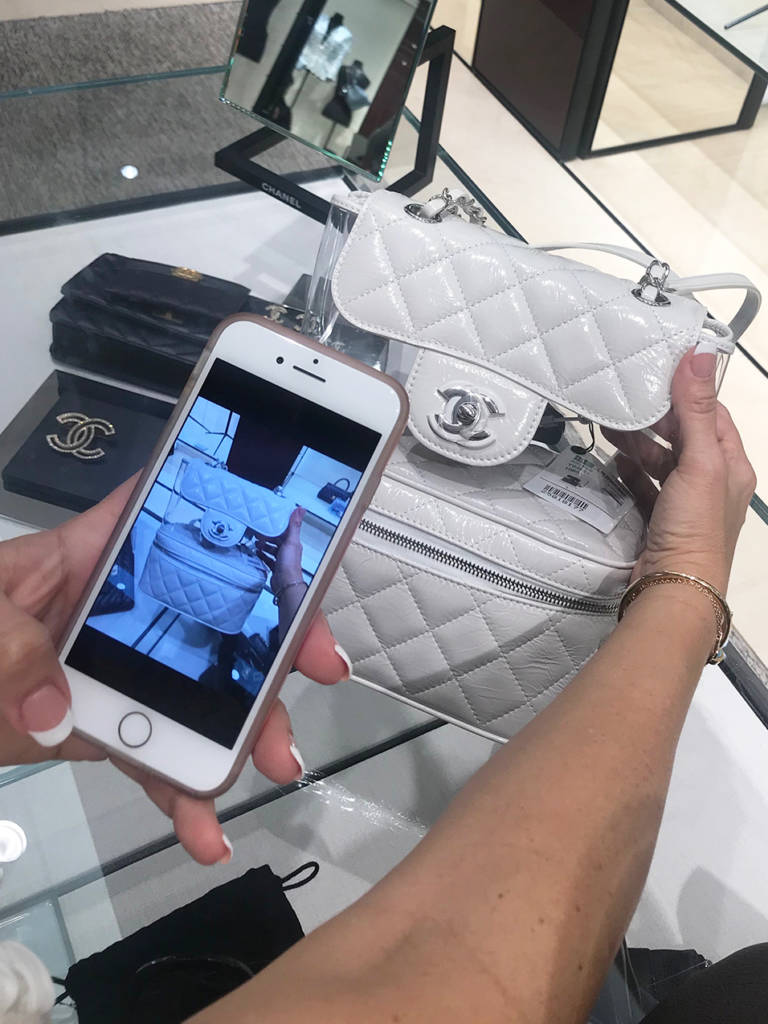 Day two landed us at the Avenue Montaigne Chanel boutique. Here, after waiting 15 to 20 minutes for a sales associate, I was able to see this boy in person for the very first time. The bubbled plastic iridescent-like scales shimmered in the light like a pink unicorn rainbow. He was delightful but somehow I couldn't pull the trigger. This bag was just too similar to another beloved boy in my collection. I also wasn't completely sold on the PVC which covered the front and sides. My expectation and excitement were dampened. Hesitantly, I left him at the store. Metaphorically speaking, the bag should have been shut.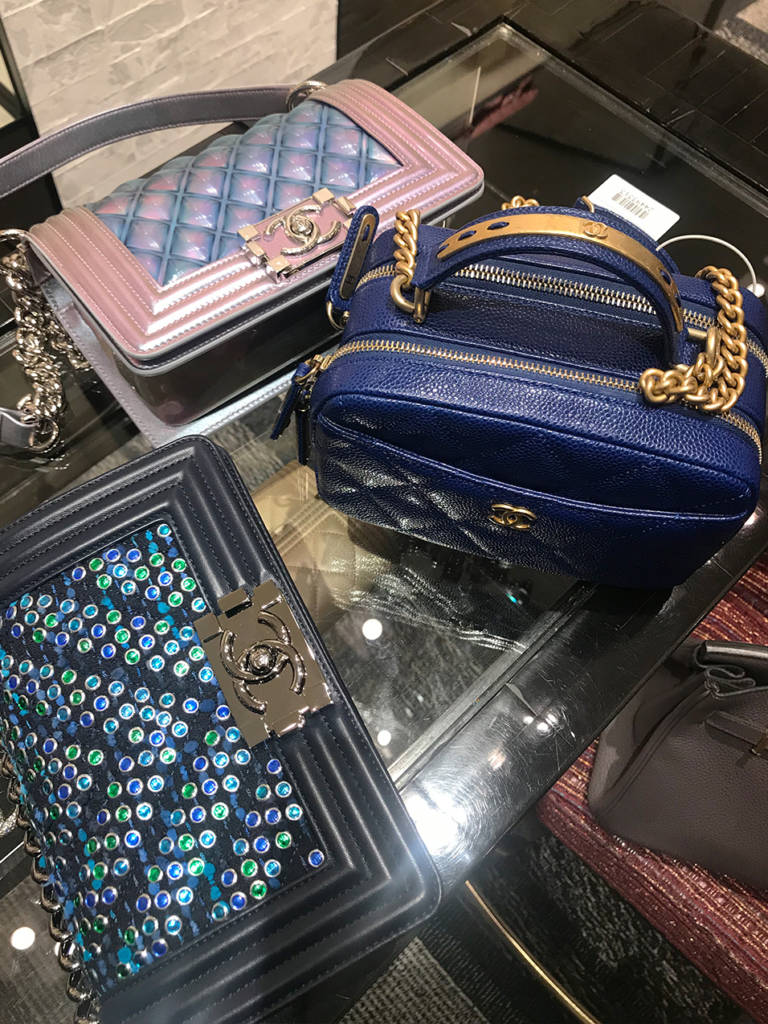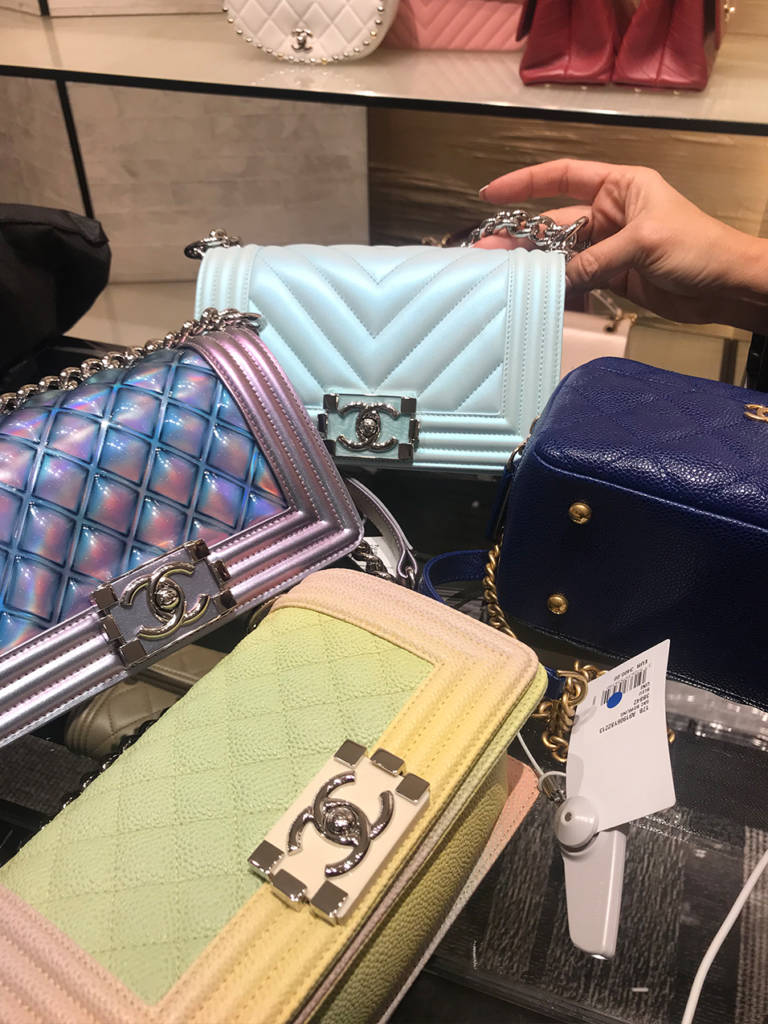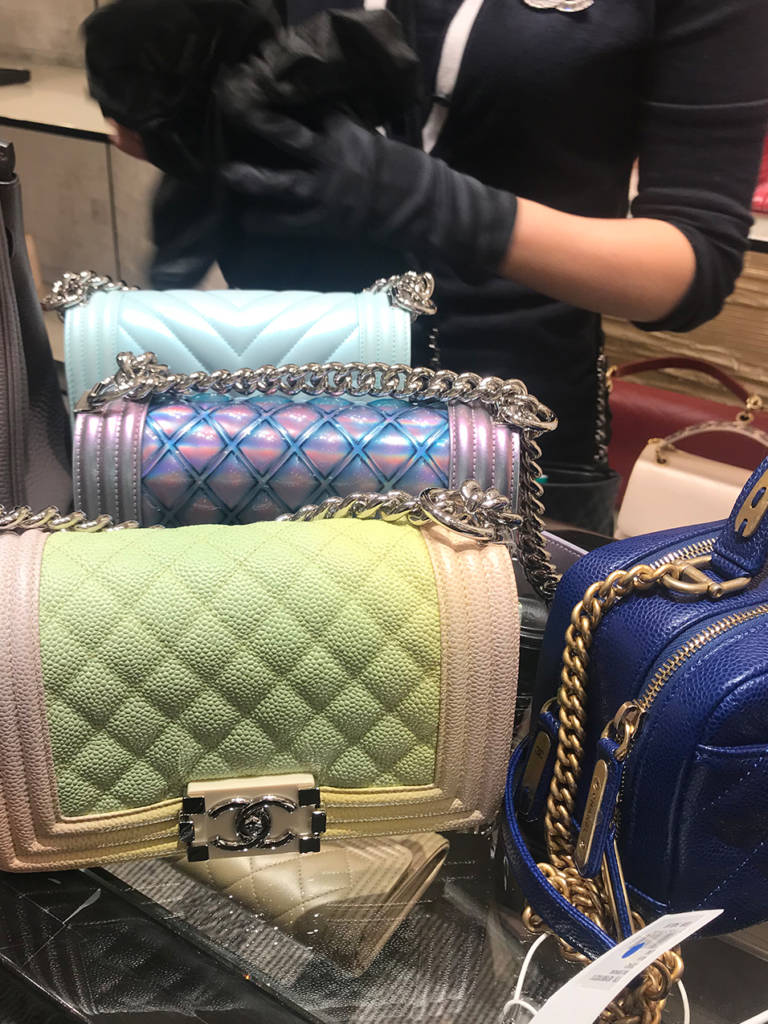 That evening's dinner was at Hôtel Costes and, as I sipped my cocktail, a thought bubbled up. Hmmm…
I reached for my phone and messaged my Galeries Lafayette Chanel specialist and asked her if she had the bag in the other color way. This other iridescent waterfall blue version seemed to be the rarer of the two, as the boutiques did not have it at all.
As the cocktail made way to my bloodstream, my over-vivid imagination was conjuring images of summer travels with the new boy, the story I would tell you… the dresses, the sandals, even lipstick colors in coral pink and matching nails. I can't help it, I am a girly girl in every sense of the word.
I decided it was worth a look and left it at that. Day three I would take another trip to Galeries Lafayette and meet garçon number two.
Well it was a different kind of love at first sight. 'HE'  made my heart flutter. This ocean water hued boy balanced the whimsical iridescence of the bubbly patent with the silver metallic lambskin trim and sides. I can't quite explain it but he provided a more sophisticated version of this playful take, one I could see capturing my heart maybe for the long haul. @by_md and I exchanged glances of smiling and nodding affirmation and without any words it was decided – 'HE' was coming home with me.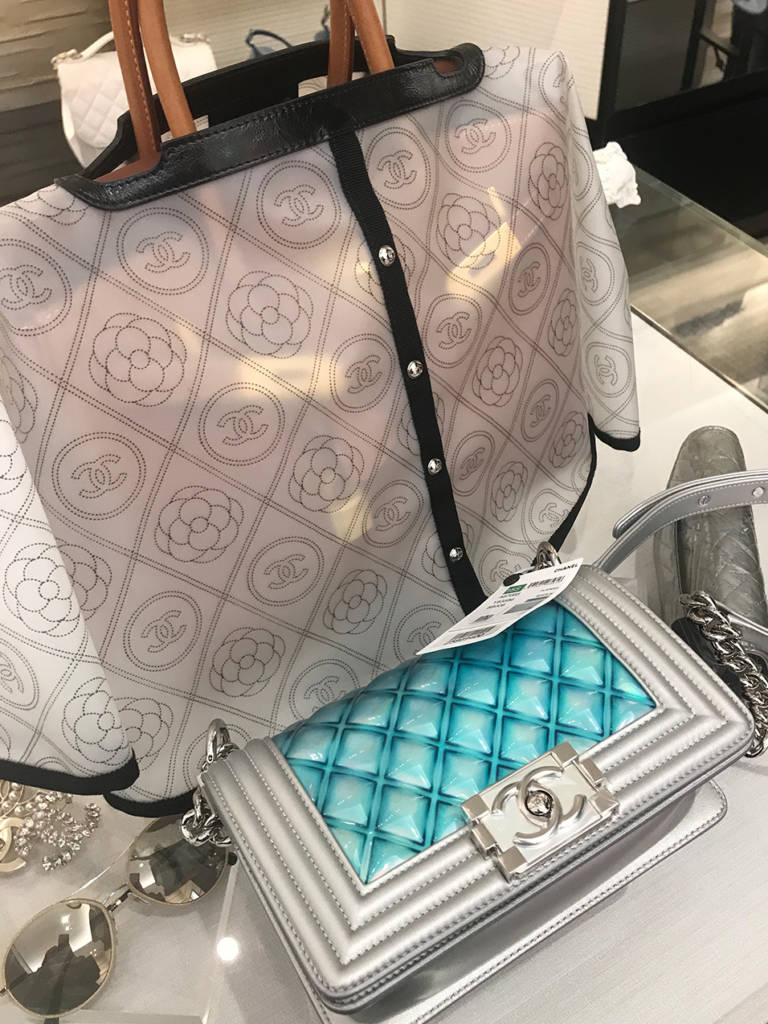 It didn't end there, we played with all kinds of PVC. The team was friendly and many recognized me from my escapades last September. Champagne followed the coffee, and more samples of dreamy yet plastic bags came out to play.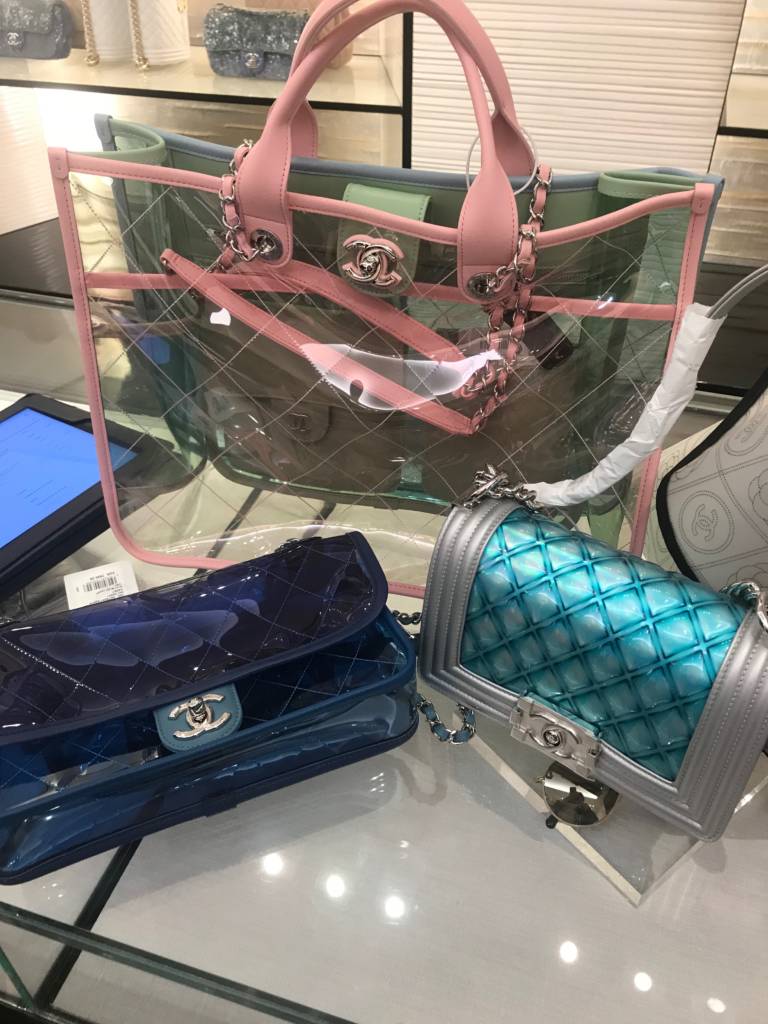 There was an unexpected twist to our story… but first… a sweet snack. Delicately packed eclairs that we had purchased across the street made it center stage in our Chanel PVC extravaganza. We devoured the delicious treats…yes, right in the middle of the boutique and our Chanel selections.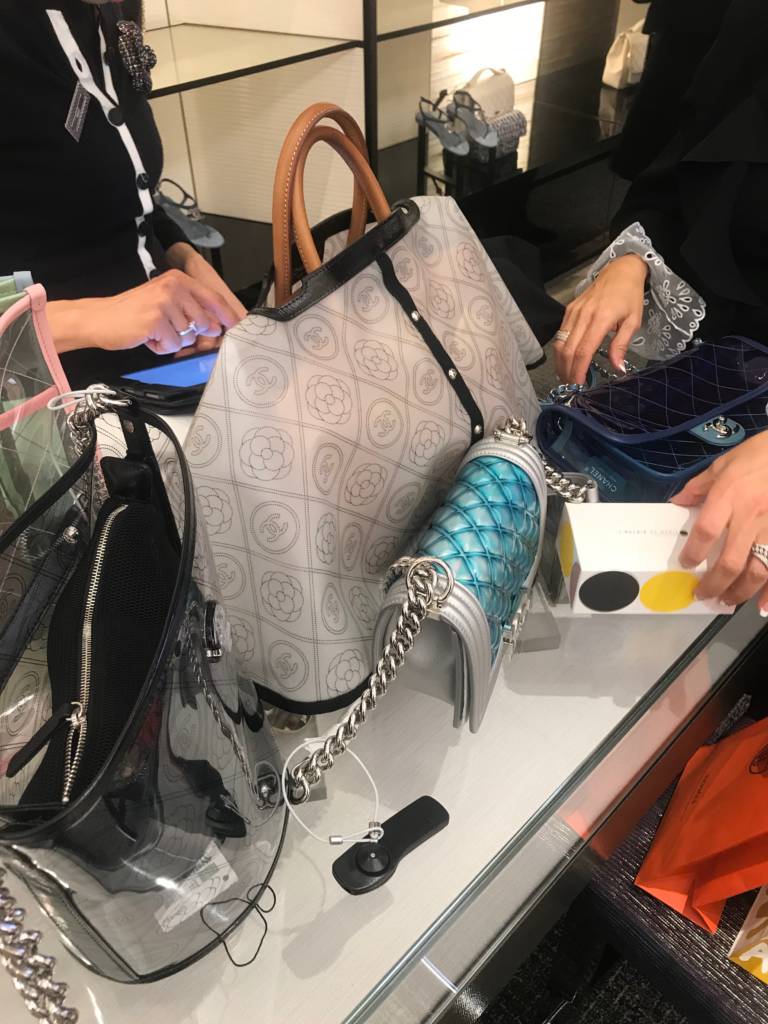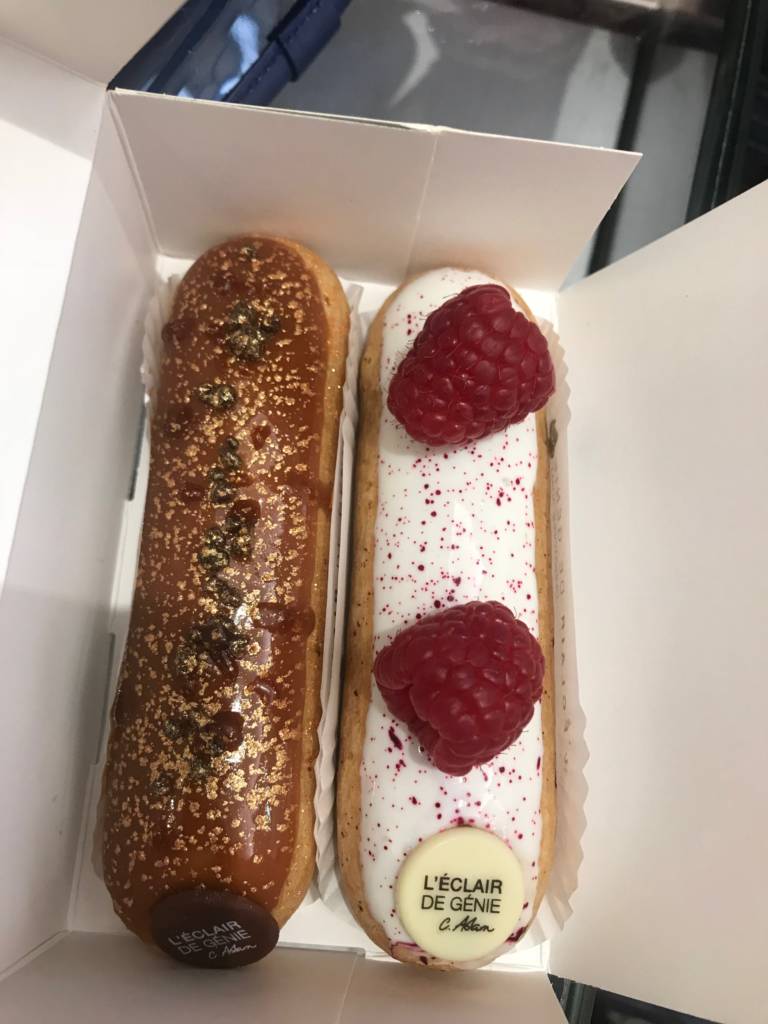 Another water resistant bag was on the fast track to our hearts and contemplations. It seemed one more transparent Chanel would cross the Atlantic with us.  This clear blue baby – the very last piece in France and sold out in New York – was @by_md's choice.  Maybe it was the sugar rush, maybe it was more… but there's one blue beauty  awaiting his maiden voyage in Chicago and another in NYC.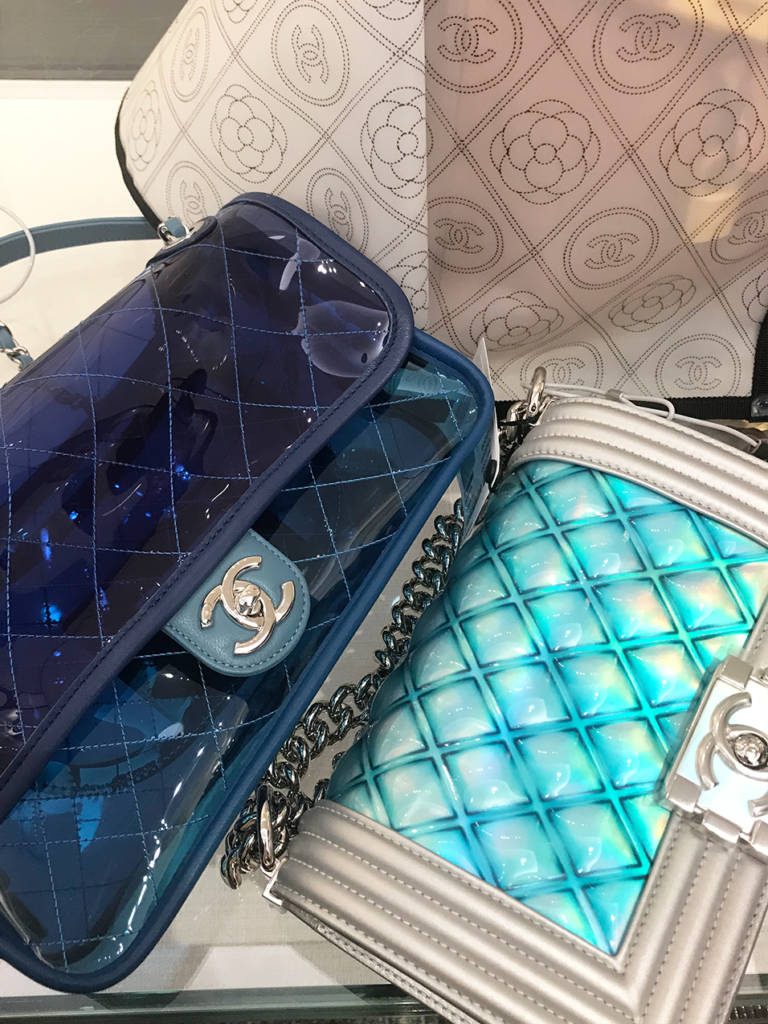 The Handbag Math
| | |
| --- | --- |
| Region | Small PVC Boy |
| U.S. | $4500 |
| Europe Euros | €3660 |
| Vat Refund | 12% (€439) |
| Cost After Vat | € 3221 |
| U.S. Equivalent | $3972 |
| Duty Tax (approx 8%) | $357 |
| Total Cost | $4329 |
| U.S. Price ($4500) + Sales Tax (10%) | $4950 |
| Savings From Buying in Paris | $621 |
| | |
| --- | --- |
| Region | Small PVC Boy |
| U.S. | $4500 |
| Europe Euros | €3660 |
| Vat Refund | 12% (€439) |
| Cost After Vat | € 3221 |
| U.S. Equivalent | $3972 |
| Duty Tax (approx 8%) | $357 |
| Total Cost | $4329 |
| U.S. Price ($4500) + Sales Tax (10%) | $4950 |
| Savings From Buying in Paris | $621 |
The numbers say it all, really. The Chanel boy costs only 10% less in Europe than the US. This shows us that Chanel has been really diligent about harmonizing prices worldwide. Shoppers probably shouldn't expect to find significant savings on Chanel while abroad. In fact, it may even be cheaper to buy Chanel in your homeland if you account for traveling expenses. I was charged 9% duty at customs and VAT is 12%. With the Euro being so strong against the dollar, the savings is nearly wiped out. It's important you read: Travel Alerts If You Are Headed to Europe.
The moral of the Chanel story: buy what you like where you like it… don't let price affect your CC purchases regardless of where you are in the world. Price equalization is real. On top of that, not everything is available everywhere. I have learned that the hard way!
Stay tuned for more from my adventure. This article is just a taste of what's to come. Did you enjoy the scenic trip of Chanel in Paris?