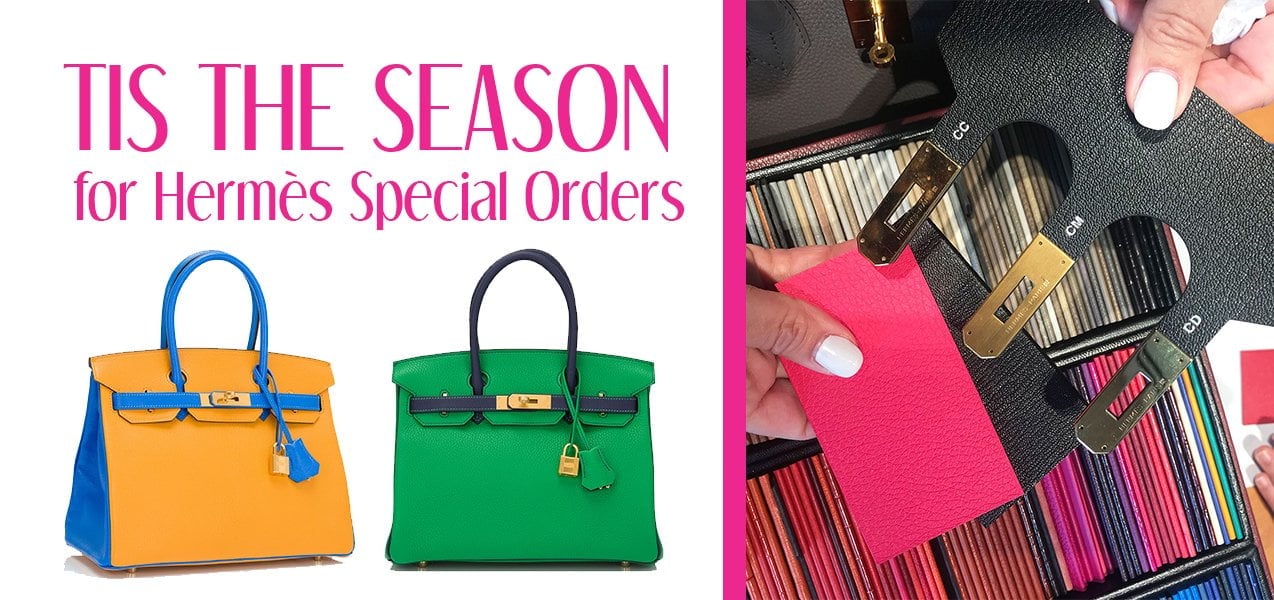 Ask any Hermès superstar and they'll tell you that this is the time of the year when they place their special orders for Birkins, Kellys and Constances (or for that matter almost any Hermès bag). That's right – not only are some customers offered Bs and Ks but they are offered the opportunity to design one and customize the details. It's called a Special Order…
Here Are The Facts:
What is a Special Order?
It's the opportunity to choose the specifications of your bag and have it made for you, within a realm of choices offered by Hermès. There is a list of options for leathers, colors (you can do mono- or bi-color and select areas to use each color) and hardware… sort of like designing your made-to-order car.
Part of the allure of a Special Order for those unfamiliar is a little imprinted horseshoe near the Hermès Paris logo. That tiny detail is not an accident or error and most definitely not to be overlooked. The horseshoe is the hallmark of an Hermès Special Order creation. It is a highly coveted mark.
Who can place a Special Order?
Simply, not everyone. Traditionally, Hermès reserved Special Orders for it's most devoted and special customers; in other words, those with strong purchase histories. Others find that a close and loyal relationship with the Sales Associate or Sales Manager opens the door for the chance. Most customers wait to be "offered" the opportunity; bolder clients may ask or just make their interest known.
When are Special Orders made?
Timing is everything and it depends where you are. Generally speaking, there are two Special Order seasons – early spring (like now) and early fall. But, it does depend on your region and even your store. Canada, for example, doesn't offer special orders at all.
How long does a Special Order take?
We wish we could give you a clear answer to this, but there isn't one. Special Orders can take as little as a few months to as much as a few years, typically between 6 months and 3 years. This process is not for anyone seeking immediate gratification or a bag for an upcoming event.
What if you could procure that lucky horseshoe treasure without the wait? Perhaps you haven't been granted the privilege of a special order. Maybe your purchase history with the brand will never make you eligible for the rare opportunity. Or maybe your desired "wish" color for that magical handbag is not on the current palette and has been retired. Whatever the reason may be, we are very excited to present another exciting option for you.
We welcome you to Madison Avenue Couture, a trusted source for exclusive, impeccable Hermès bags. We here at PurseBop do our due diligence before we recommend an independent seller to our prestigious community. This alternative reputable avenue for coveted Hermès treasures comes to you after considerable research and thought. Madison Avenue Couture has been servicing astute collectors worldwide for over eight years. Judy Taylor, the founder, has become a leading specialist in procurement and sourcing of rare pristine handbags.
You may be wondering what sets Madison Avenue Couture apart from other independent sellers. There are two factors that play a very strong role in our consideration.
Firstly, we admire and respect the stringent grading scale that Madison Avenue Couture uses in defining their bags as pristine new. Something extremely important to our handbag aficionados here.

Secondly, it's important to note the bags you see on Madison Avenue Couture's website are the exact bags they actually have in-house. What does this mean to you as a customer? It guarantees that what you see is exactly what you receive. The bags are not being shipped from a third-party source somewhere else on the globe to you; everything ships from their impressive inventory in NYC. Madison Avenue Couture's modus operandi is online, but if you are in the NYC area, you can make an appointment to visit the team and see their incredible selections.
We know that the spectrum of available Hermès colors for special order bags used to be wider. In the past, a Special Order could garner a retired or unusual shade not otherwise available. Presently, to place a Special Order you choose from a specific slate of available Hermès colors, which resemble the seasonal colors available in stores. Some long-time Hermès aficionados find this not as "special." Additionally, Hermès has  discontinued the tri-color series and now only offers bi -color options for order. Don't fret if this is new to you, lots of examples to come. 
Hermès horseshoe bags remain rare. On occasion, a Special Order may find its way to another customer at the store, but it is not often. If you've been granted the divine opportunity and exerted the energy and creative juices to design a bag and then waited patiently for its arrival, you're likely to consider that purse a part of your permanent collection. Madison Avenue Couture's selection is helpful for people who have a hard time visualizing what a color or color combo may look like.  It's not always as easy as it seems. Browsing these bags may help decide on a dream bag formulation, or let you obtain it right away. Pre-picked hand-picked, as it were.
Build Your Birkin
Let's play our own little game: Build Your Birkin.
To be clear, this is just a game. A special order Birkin will not (we repeat not) magically appear (don't we wish though)…nor will you be given the chance to place an Hermès Special Order. However, you will get a sense of what it's like to design your dream bag. The sample choices below are just that – samples… random and not a representation of what is actually available from Hermes right now. In case that's not enough disclaimers, the below is only a simulation.
Now, the fun part… as you progress through the sequence to build your Birkin below, click on the images to see alternate views of the various options for your dream bags. You'll find detailed examples of each option and style. Most important… be creative and enjoy imagining as you go! We'll compile the data of your results to see what our community favors the most and report back to you.
Step 2: Pick Your Color Placement
Version 1: Bi Color - Different Interior and Exterior Colors. Click photos.
Version 2: Bi Color with Piping or Contrast Stitching in Second Color. Click photos.
Version 3: Bi Color with Sangles, Handles and Piping in Second Color. Click photos.
Version 4: Bi Color with Sangles, Handles and Side Panels in Second Color. Click photos.
Step 3: Pick Your Hardware
Step 4: Pick Your Leather
Step 5: Pick Your Colors
First Color
Second Color
Now whether you enjoyed the eye candy here to inspire your own Special Order creation, or you've set your eyes on your next dream bag or maybe you're inspired to use those special treasures in your closet… remember we want to see and share your beauties. Hashtag your favorite Special Order photos to #pursebopshermesSOseries and be sure to tag @pursebop @boptalk on Instagram so we can find them.
Additional Eye Candy from Madison Avenue Couture