The Call: Invitation to Create a Special Order Hermes Handbag 
Really, me? Me, as in PurseBop? I can custom create my very own Hermes bag? I will soon have a Birkin or a Kelly with that small marking of a horseshoe but larger than life in every way? The sounds coming over the airwaves from my sales associate registered only like the adults in Charlie Brown comics – waah, waah waah.. waah waah wah waah. .  I was so ecstatic I don't think I asked any questions except WHEN? When can I do this?
My sales associate suggested I make an appointment to walk me through the process. We scheduled and hung up the phone. I was flooded by childhood memories. Allow me to digress…
Handbags are not a new passion to me… for as long as I can remember I have carried a pouch of some kind in my palm. My 3rd birthday pictures have a hand sewn pink and white ruffle sac hanging from my fingers at a time when I presume my toddler peers held blankies. I distinctly remember an entire childhood spent holding my mama's hand, walking into the fabric store next to the school where she taught to select  fabric for my next dress and, more important to me, the little sac she would make to match. Mom, if you're reading, these memories are the most precious to me. We may not have had money to buy the equivalent of today's American Doll, but I felt like the luckiest and richest girl in the world. I watched you at the sewing machine focusing on the rhythm of the needle speeding up and slowing down… watching the pieces of my pretty dress come together. I sat beside you and played with the leftover scraps anticipating my own little matching purse.
My first call, after speaking to my sales associate was, not surprisingly, to my mom. I teared up as I picked up the phone to dial her. She might be the only person in the whole wide world to truly understand what this Hermes Special Order was going to mean to me… the sheer joy it would bring. I had no idea of the colors or the process but she and I reminisced about my long-standing purse obsession. She reminded me that even my Canadian winter snowmen were fashionably outfitted with some sort of sac dangling from branch arms. I guess life truly has come full circle now that my name is PurseBop.
The Hermes Special Order Study Session 
Ok back to topic…
I visited with my sales associate a couple of days later. I did not want to rush the process. I planned to luxuriate in the process and experience, committing every detail to memory. My sales associate and I sat at a desk near the watches and fine jewelry, next to the window with bright sunny light. This was mid-April, a true fresh spring day. He brought binders, big black leather cased binders, reams of leather swatches on rings, some loose papers, pencils. My eyes shimmered deep brown and I know I was smiling ear to ear, I had to have been. Just typing has brought back that smile all over again. In Hermes, I behaved like the perfect eager student, ready to learn.
I needed to understand every detail of the process, every option available to me. And a process it is.
Hermes pre-determines the available handbag styles, leather types and the colors available for that particular round of Special Orders. We talk about this extensively in Part I: The SO Reference Guide.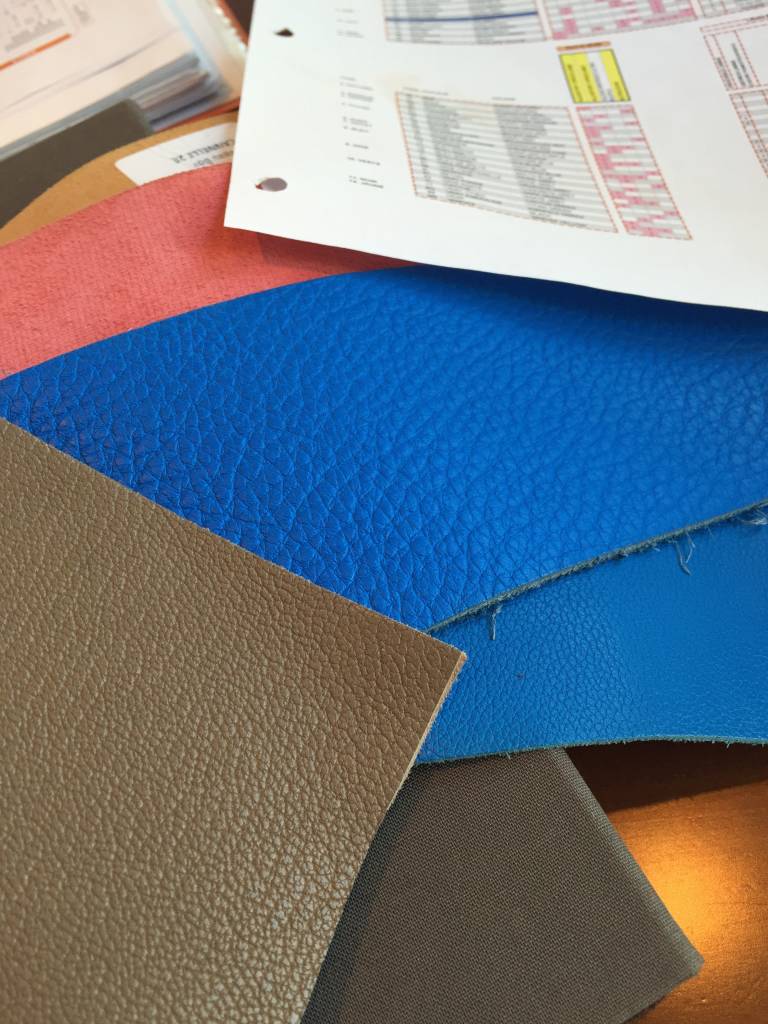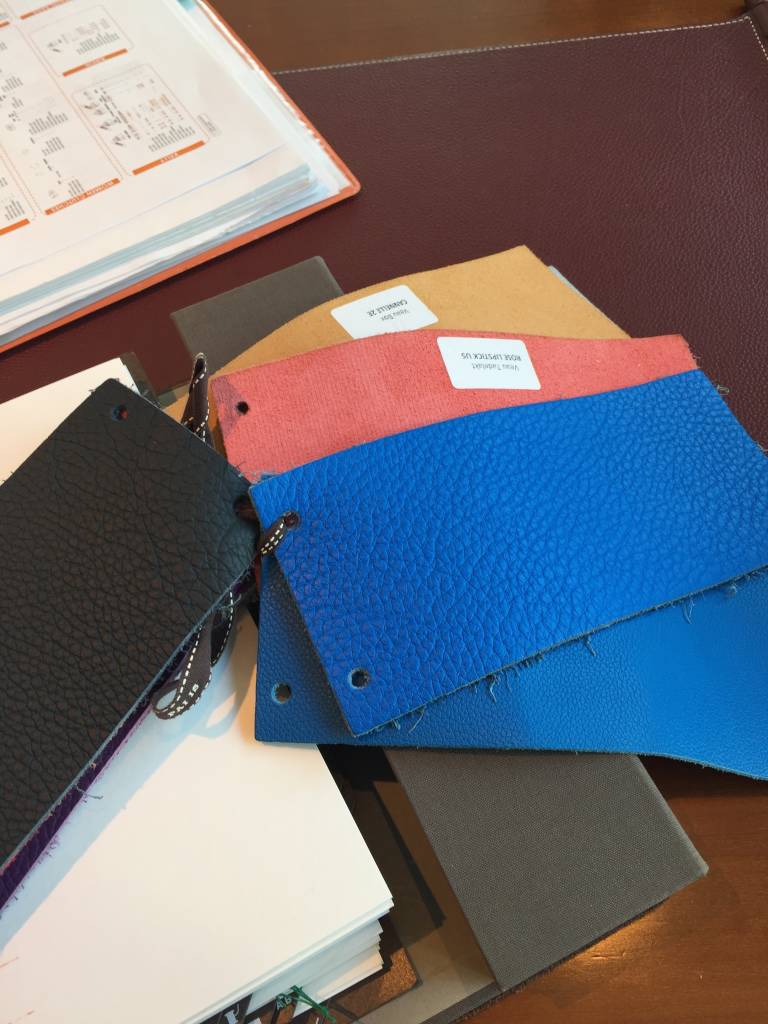 We began to review each detail. I carefully analyzed each illustration of the Birkin and Kelly on each page of the binder. At this time, the Constance also was an obtainable option, but it was not on my list, so I focused on B/K choices. The illustrations showed the variations of how one could create a bi-colored handbag. Sadly at least for now, the tri- colored options are discontinued from Hermes. Hermes's detailed illustrations explain how you can create a mix of colors. Variable parts include full panels or, as you have often seen, just interior , piping and handles, etc.
During this 'study session' as I like to call it, my SA periodically left to attend to other business which gave me time to absorb everything. Fortunately I also understand enough French to decipher descriptions and directions (my Canadian schooling).
My SA and I then examined the leather types. Certain leathers are specified for the exterior of the handbag and some for the interior. There are so many permutations and combinations between leather and color. I was fairly clear about my leather selection –  chèvre. Chèvre is goat leather, very lightweight compared to togo and clemence, and it holds color beautifully with a royal sheen. It also is rarely available except as a special order nowadays. Ironically though, I proved to have the exception: my chèvre bubble gum pink Birkin 25 purchased in New Delhi two years ago. At the time Miss Kohinoor joined the family, I had no inkling about the rarity of the color and leather (let's call this the evolution of a collector). Knowing that I was going to stick to chèvre narrowed down my choices considerably – but maybe too much.
One desire I have is to build a collection with a variety of all Hermes leathers over time. Staying true to this objective meant I should consider swift as an option, as til this point –  I did not have any bags in swift (but that was 10 months ago – things have changed since –hint)!
I took lots of notes, jotted down all my thoughts as I played with the samples, matching leathers and colors. The task was much more complicated than I had anticipated; especially because, at this point, I was still considering both Birkin and Kelly and I vascillated between everyday sizes (Birkin 30 or Kelly 32/28) and the adorable mini novelty size 25's. With all of this to ponder, there also was the epic battle of neutral versus pop color superimposed with my preference for chèvre.
The Contemplation Phase
Ultimately, my choices were as follows:
Birkin or Kelly
Size:
Daily Use: Birkin 30, Kelly 32/28 (I already have two 32's so 28 offers variety)
Novelty/ Evenings: Birkin 25, Kelly 25 (I have one Birkin 25 so Kelly 25 is a better option to diversify)
Leather: Chèvre for the daily use sizes, possibly swift for 25's
Color: Chèvre options limited to the following:
rouge tomato
feu
raisin
blue sapphire
blue paon
blue hydra
etoupe
moutarde
noir – love
All this had to be carefully contemplated. Long term strategy vs. short term gratification, forever classic vs. statement piece…
I studied my options as though a SO was a final exam. I researched pictures on Instagram, google, anywhere and everywhere. I checked ebay, auction houses, and reseller companies. I re-read every Boptalk Celebrity interview and testimonial. I carefully made out a list of the pieces currently in my Hermes collection. I made another list of styles, colors and leathers I knew I would want to add over time. I tried to eliminate what was inevitable and what was unlikely.
I consulted my favorite Hermes mentors and advisors (my comrades in this handbag journey – you know who you are, thank you… luv u!)
My mom who knows nor cares about anything Hermes except that it is her eldest daughter's obsession, listened to endless hours of my banter on colors. My sister, the middle one that thinks I am so over the top, diligently offered her advice – I'm sure all the while rolling her eyes with my excessiveness. My youngest brainy sister who between high powered legal depositions and diaper changes never fails to read my PurseBop articles and my loving supportive and so patient husband (#mrpursebop), both of whom likely pretended to listen through it all.
Oh the patience of those around me, now it's your turn to be patient until the reveal…
Updated: May 19th, 2017