As promised, there are the 10 designer bags we would pick if asked to limit ourselves to just one per designer. If you're just tuning in, our previous article presented the five factors we considered before making our selection. Here are our final recommendations (in no particular order).
Louis Vuitton - Neverfull Bag
Our selection from Louis Vuitton probably isn't much of a surprise. The Neverfull tote embodies all of the pre-defined criteria. It is also a great starter bag for anyone beginning the journey as a luxury handbag collector. Multiple fabrication and color options abound, from Monogram coated canvas to epi leather, and everything in between.
Read: The Tote Showdown:  LV Neverfull vs Dior Book Tote vs Goyard Artois
Synonymous with royalty and Lady Diana, the Lady Dior is all things elegant and sophisticated. It was first launched in 1994 as the 'Chouchou' bag. The then first lady of France presented it to Princess Diana in 1995. Diana loved it so much that she ordered the bag in every color and was seen with it at multiple events and state visits. She was also famously spotted carrying a miniature version of the bag to The Met Gala in 1996. The bag was renamed 'Lady Dior' in 1996 and is to this day, one of the most celebrated and iconic bags from the House of Dior.
Selecting just one style from Chanel makes this a more difficult decision. However, for its sheer beauty, popularity, iconic status and resale value, we pick the Classic Flap for Chanel. With multiple options for size, material and colors, we could own many Classic Flap Bags and still feel like we're carrying a different bag each time.
Hermès made the selection particularly difficult. Faced with the Birkin and the Kelly, we just couldn't decide between the two. So both the Birkin and the Kelly jointly occupy the top slot as the iconic must-have bag from Hermès. Both bags have achieved cult status and are considered to be at the epitome of luxury. We believe choosing between the two is a very personal decision and thus, we leave it up to you. You can't go wrong with either!
If we had to pick just one YSL bag, it would be one from their wallet on chain collection – either the smaller Monogram Bag or the slightly larger Envelope Bag. The choice would depend on how much we plan to carry on an evening out. Style wise, both are fantastic choices.
Bottega Veneta – Knot Clutch
'The Knot is one of Bottega Veneta's signature pieces, offered each season in limited editions and quantities that make it a collector's item, while always maintaining its iconic shape. Recognised and collected for its unique design, unrivalled quality and individual style, the Knot is a symbol of the company's past as well as its future. For me personally, it is a continuous opportunity for a special kind of creative exploration' ~ Tomas Maier (Ex-Creative Director, Bottega Veneta)
Enough Said!
Released in 2009, Fendi's Peekaboo Bag quickly achieved and maintained cult status as a prized and coveted designer bag. Instantly recognisable, we reckon it occupies top position from a 'Style Quotient' point of view.
We've often attempted to find a clear tote bag winner without much success. The toss-up has been predominantly between Louis Vuitton and Goyard. With more history, celebrity sightings, and the scarcity factor, the Goyard St Louis Bag is another tote that finds its way into our top 10.
An eye catching option to add to your evening bag collection. Released in Gucci's fall/winter 2015 collection, the bag comes in various sizes. We recommend any of the smaller sizes in solid colors.  They beautifully accessorise evening dresses.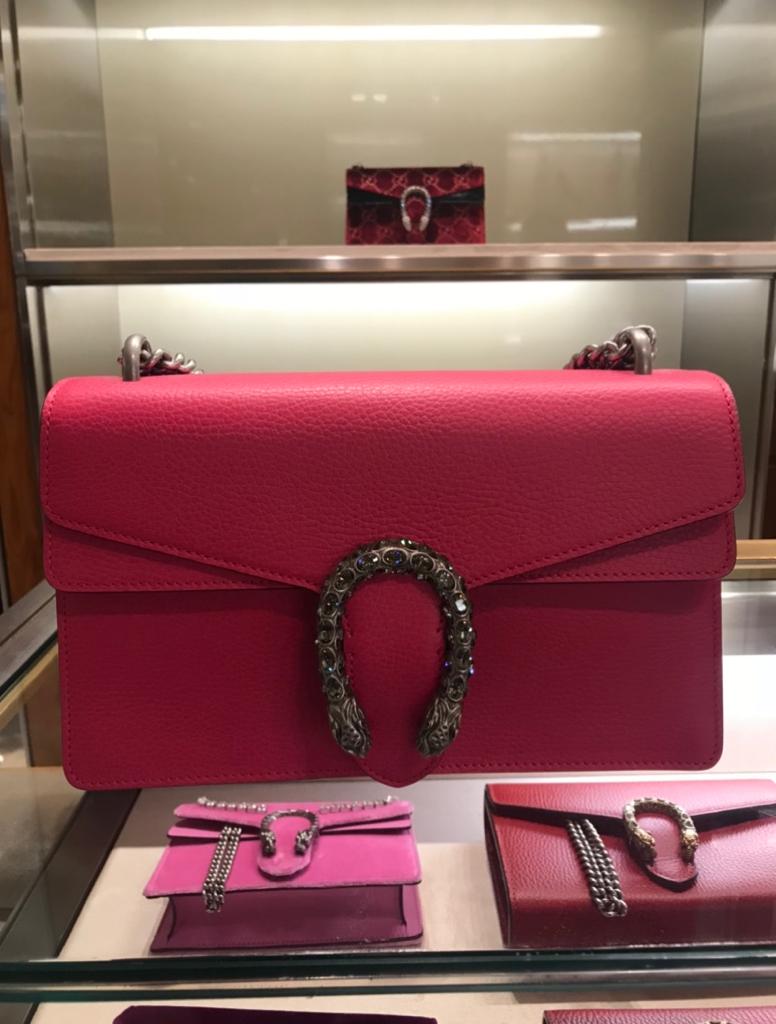 Prada – Saffiano Leather Galleria bag
Which of these brands and bags do you have? Which is your favorite and are any of these currently on your wishlist?
Updated: October 18th, 2020