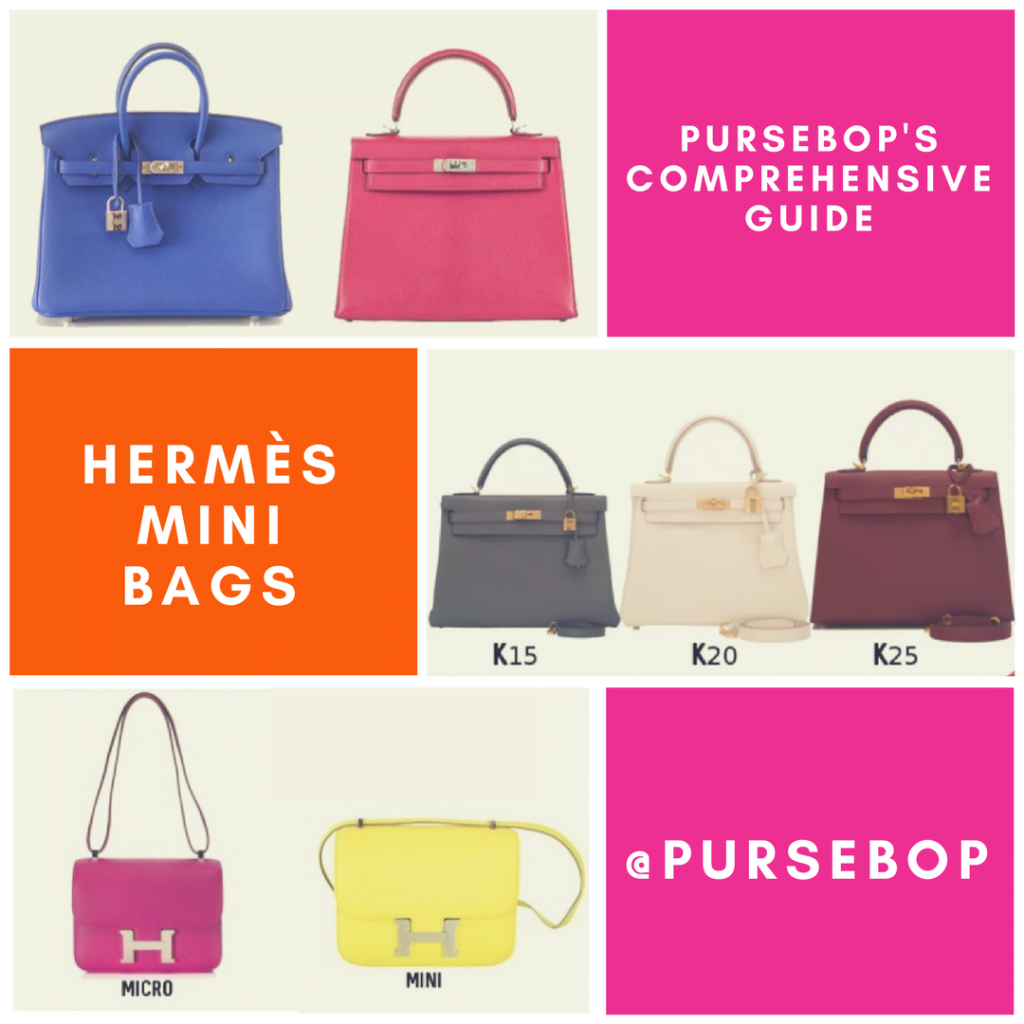 Here on PurseBop, the "mini" is a well-worn subject. We've been closely documenting the rise—and rise and rise—of the trendy tiny bags since 2015 (even hinting at the trend in 2013!). While their popularity has ebbed and flowed just slightly over the past couple years, mini bags have cemented their place as bona fide fashionista staples. In the world of haute bags, minis have transitioned from novelty pieces to everyday "it" bags. And, to no one's surprise, mini Hermès bags sit at the top of the pyramid of desirability.
By mini Hermès bags we mean Birkins, Kellys, and Constances: the trio of the maison's Holy Grail Bags. These petite Bs, Ks, and Cs dot our Instagram feeds, frequently showing up on the arms of our favorite fashionistas and celebs. PurseBop acquired her first  sweet bubble gum pink in 2015 (read: PurseBop Joins the Birkin 25 Club & PurseBop Reveals a Mini Birkin).
While we've written about Hermès mini bags before (read: The Hermes Mini Bag Craze and Irresistible, yet Unattainable: Hermes Mini Bags), we have yet to compile a full reference guide on the highly-requested topic. Until now, that is. What follows is the most up-to-date guide on H minis you'll encounter—you're welcome.
What to expect from this reference guide:  
I. Why are Mini H Bags So Popular?
II. Models
III. Dimensions
IV. Pricing
V. Availability
VI. Practicality and Use
VII. Testimonials from Our Community
I. Why are Mini H Bags So Popular?
We said it before, and we'll say it again: Hermès is no exception to the "mini madness" rule. Since 2015, mini handbags have become the hottest trend in the world of bags. (That said, don't give up your "big bags" in haste!) The beginning of the Hermès wave of the explosion could be witnessed on Instagram—first on the arms of fashion icons and celebs (think Kardashian), and soon after in the handbag aficionado community. Hermès has definitely taken note, introducing the Kelly Mini II and upping production of its smaller bags.
And what's not to love? Hermès minis are adorable, chic, and entirely on trend. Plus: they're rare. And there's nothing like scarcity to drive up demand. Hermès is still the paradigm of exclusivity. Minis, again, are no exception. The mini mindset, paired with the Hermès mindset, equals frenzy.
II. Models
The mini Hermès models are, for the most part, exact replicas of their "mother" bags. The one exception to this is the Kelly Mini II, which has more of a pochette silhouette. Also, until the Kelly Mini II was released in 2016, the brand never used the word "mini" to describe these bags.
While we've considered mini Bs and Ks in the past, it's important not to forget the third member of the Hermès Holy Grail Trifecta: the beloved Constance, with its very own cult following. These are the bags commonly considered minis in the world of Hermès:
Kelly:
K15 (out of production)
K20 (out of production)
Kelly Mini II
K25
Constance:
C14, the "Micro" (out of production)
C18, the "Mini"
*Note: we have not included the Kelly Pochette since it's a clutch rather than a traditional handbag.
III. Dimensions
The measurements are provided in cm, since that is Hermès' custom.
| | |
| --- | --- |
| Model | Dimensions (W x H x D) |
| Birkin 25 | 25 x 20 x 13 cm |
| Kelly 15 | 15 x 11 x 5 cm |
| Kelly 20 | 20 x 16 x 10 cm |
| Kelly Mini II | 20 x 12 x 6 cm |
| Kelly 25 | 25 x 19 x 9 cm |
| Constance 14 | 14 x 11 x 3 cm |
| Constance 18 | 18 x 15 x 4 cm |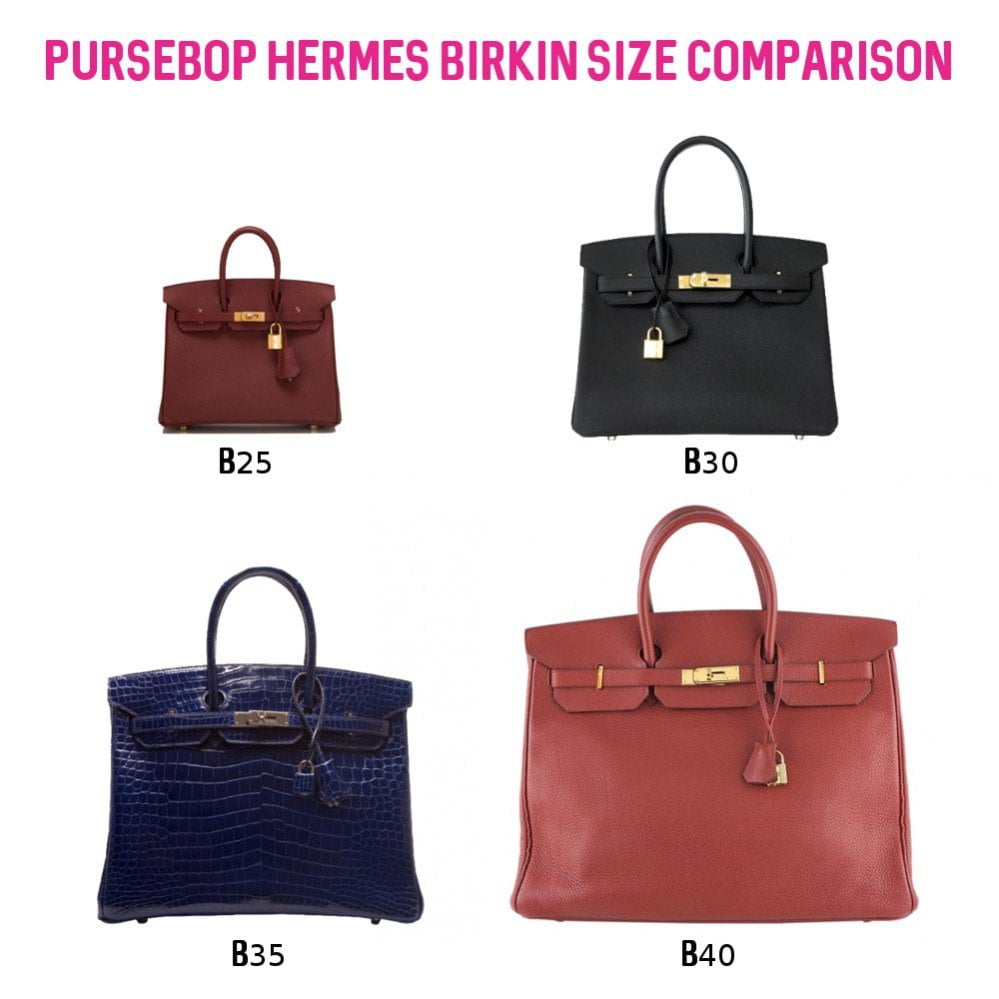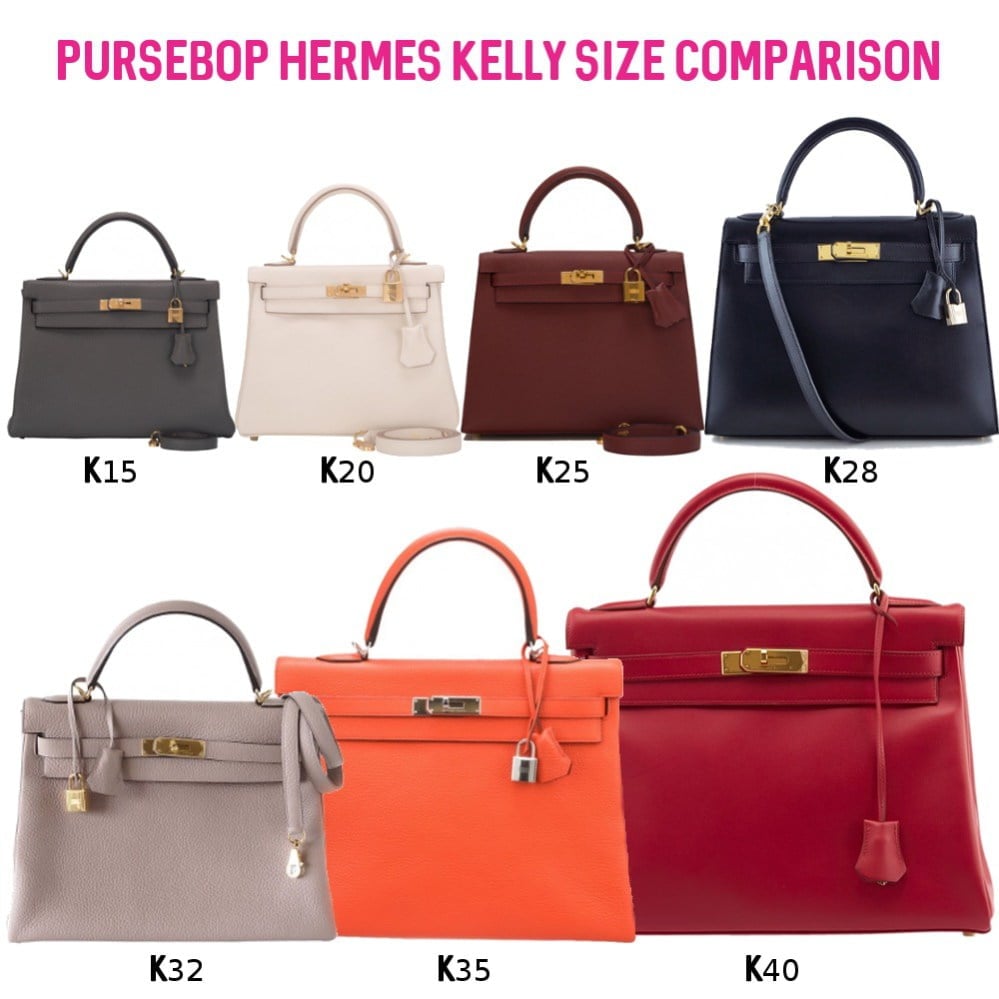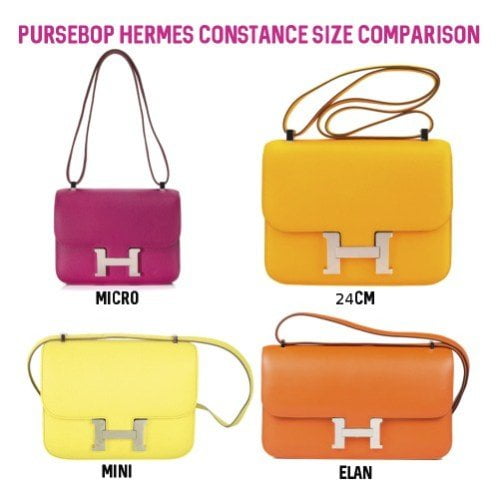 IV. Pricing
As you'll find here, mini Hermès bags are more affordable than their larger counterparts. That said, the ones that are not currently in production and therefore don't have standardized prices fetch much more on the secondary market.
*Prices listed in standard leathers, such as Togo and Epsom
| | |
| --- | --- |
| Model | Price in USD |
| Birkin 25 | $9,400 |
| Kelly 15 | N/A |
| Kelly 20 | N/A |
| Kelly Mini II | $7,700 |
| Kelly 25 | $9,500 |
| Constance 14 | N/A |
| Constance 18 | $7,550 |
V. Availability
As we all know, availability can be a little hard to assess when it comes to the big H. Although we've delved into the ins and outs of "playing the Hermès game," the whole process remains somewhat shrouded in mystery. However, we can be certain of one thing: if bagging a Birkin (or Kelly or Constance) is hard, getting your hands on a mini is even harder. Generally, they tend to be available to established Hermès clients.
That said, the introduction of the Kelly Mini II has shaken things up a bit. It seems, additionally, that Hermès is taking advantage of the mini trend trend and has upped production of B25s, K25s, and C18s. As for the minis that are not currently in production—the K15, original K20, and C14—you'll have to look to the secondary market. While you're sure to find one, they certainly come with a steeper price.
The upshot? While it's not impossible, scoring a mini K, B, or C can still be quite the challenge. Regardless, don't give up! Read some of our contributors' stories of obtaining the perfect mini H bag for inspiration:
VI. Practicality and Use
Now for the perennial question: Minis are perfectly cute, but yet so tiny…are they ultimately practical?
Well, PurseBop's take is yes and no. As always, it really depends on your style and lifestyle. In many ways, mini bags embrace a younger, minimalist aesthetic. They force their wearer to really pare down the essentials. Depending on the particular bag, this could be just phone, keys, and card holder. A larger mini might be able to hold a small notebook, some makeup, and other odds and ends.
Another important thing to consider is how these bags can be worn. Mini Kellys and Constances, for instance, take the cake when it comes to easy, on-the-go looks. Because they have straps, they're no-fuss bags for when you want to look chic while carrying little. (The Kelly is especially versatile since the strap can be removed.) The mini Birkin, on the other hand, doesn't have a strap. In fact, most people can't even fit its handles in the crook of their arm. You'll most likely have to carry that B25 in your hand!
The K15 and Mini Kelly II are ideal evening bags, as their particular style is well-suited for formality. The C18 and K25 are perfect day bags, and they can easily transition from day-to-night. It all depends on how formal your evening occasions are.
So, are mini Hermès bags practical? Well, you have to take a good look at your bag needs—and your current collection—and then decide. (Though we might add that we have a soft spot for minis ourselves.)
VII. Testimonials from Our Community
Scored my Holy Grail mini Kelly 20 in black crocodile with GHW recently and was on the verge of tears just holding her in my hands! It was such an emotional moment, I swear. On my wish list now as a future Holy Grail Bag: a Kelly 25 Himalayan. I swear I will burst out in tears if I get to add this bag to my collection. It is so elegant and fits just the right amount enough of stuff for me! She's just perfect and would look so good as flat lay (yes, I'm thinking of all my Instagram photo-ops already…)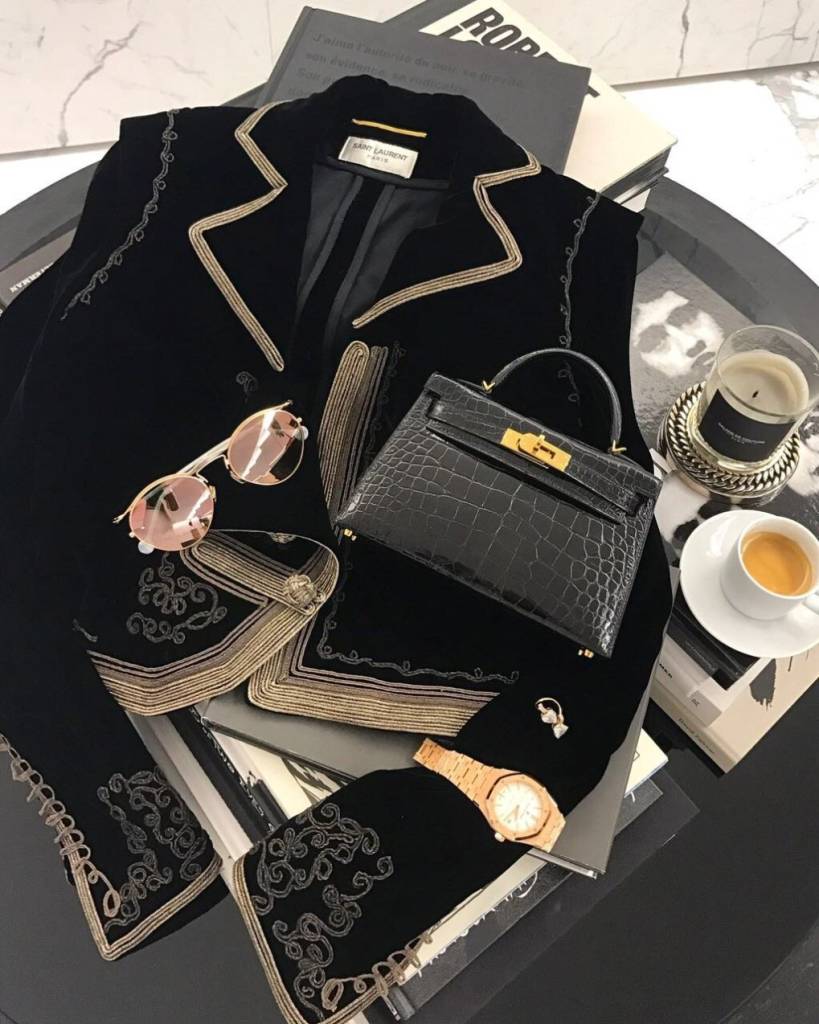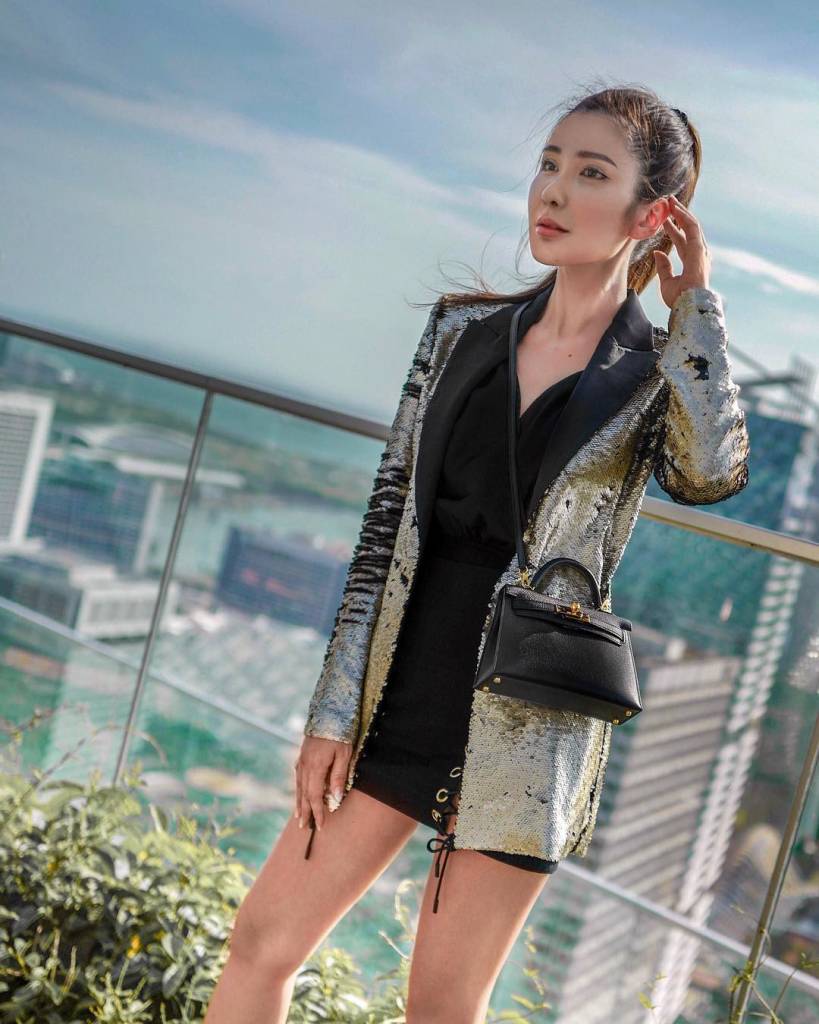 Can a Holy Grail Bag be a Holy Grail Bag if you never knew you were craving it in the first place? That is the case with the jewel in my collection, my tri-colour Alligator Constance 18. I had never shown any interest in owning a Constance, but as soon as I saw the sheen of the scales, the subtle mixture of colours, and the large glinting H buckle, I knew this piece was special. It would take a lot to top in my estimations, so I just had to have it. The only piece that will supplant this as my favourite will be a Himalayan Birkin WHEN I receive it (see what I did there – you have to think positive!)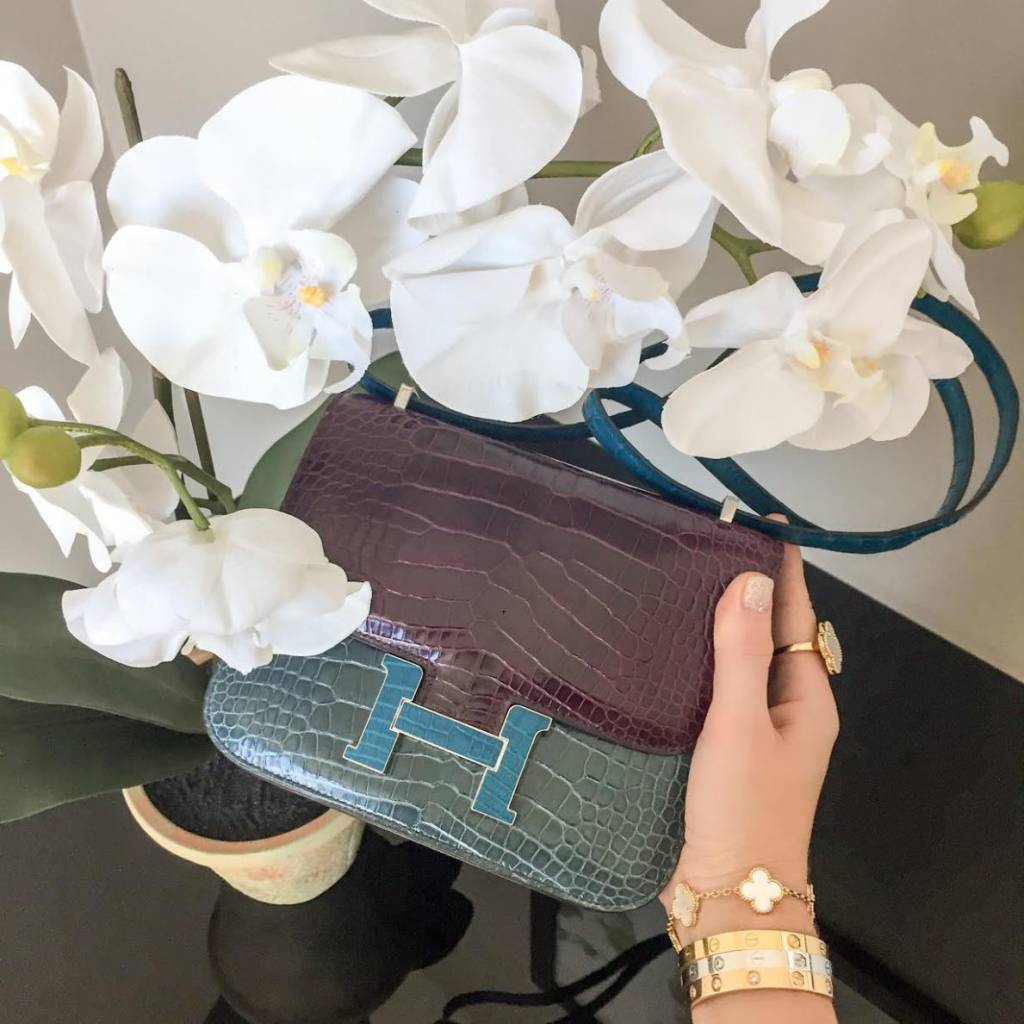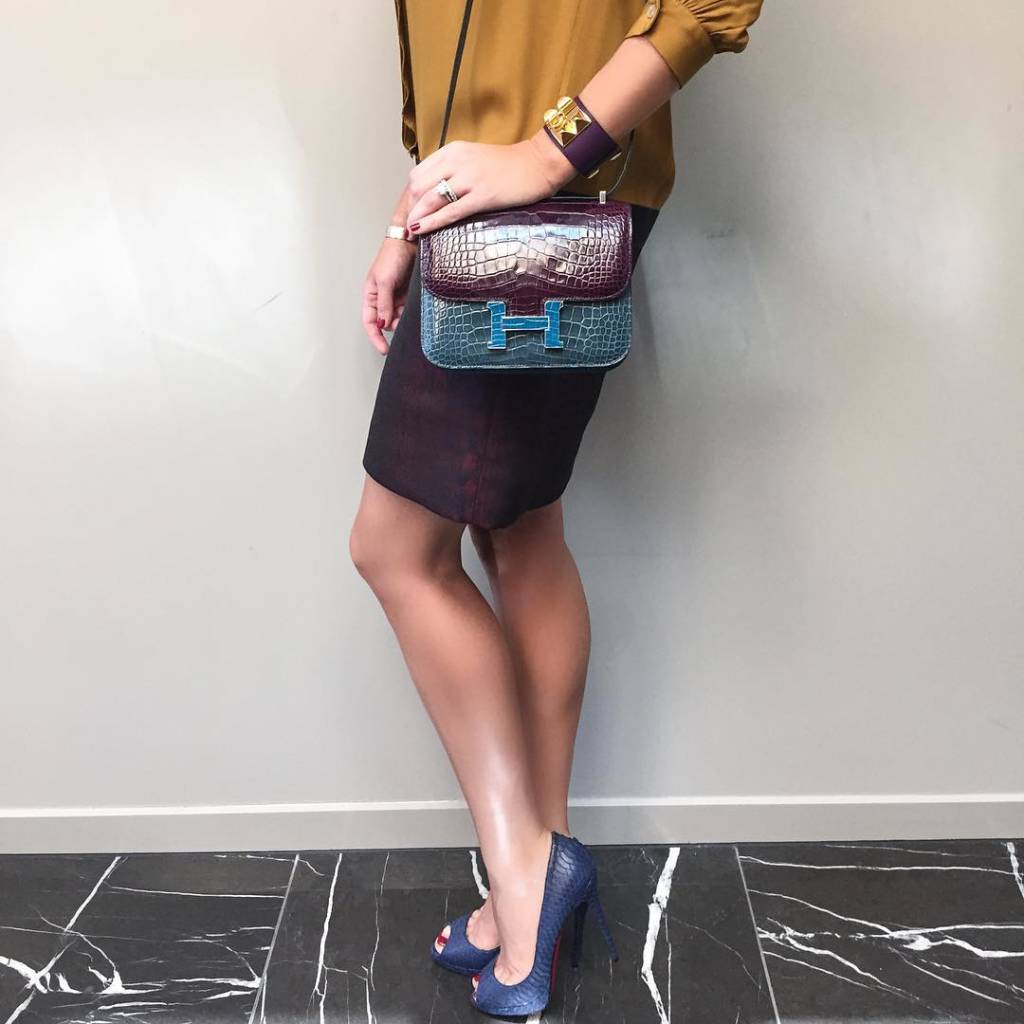 My Red Doblis Birkin is my night HGB because it's just so cute! The color just pops, yet its neutral enough to pair with many outfits. The Birkin 25 is the perfect evening size and very elegant, yet it fits so much. I tend to need more space as I carry big phones.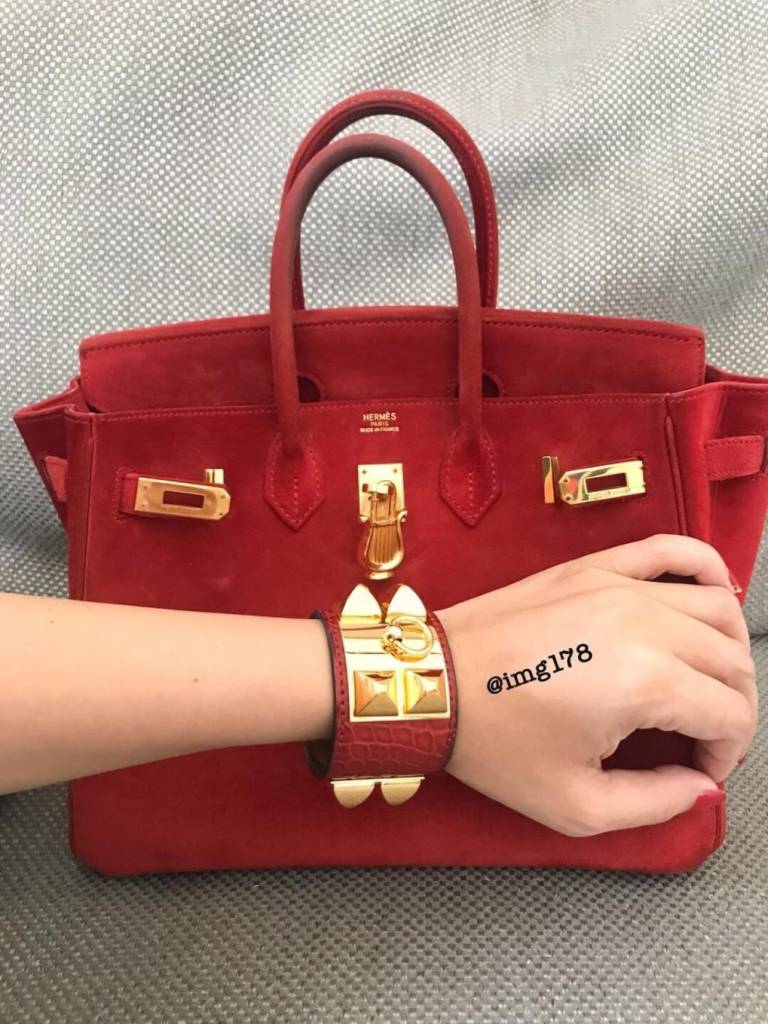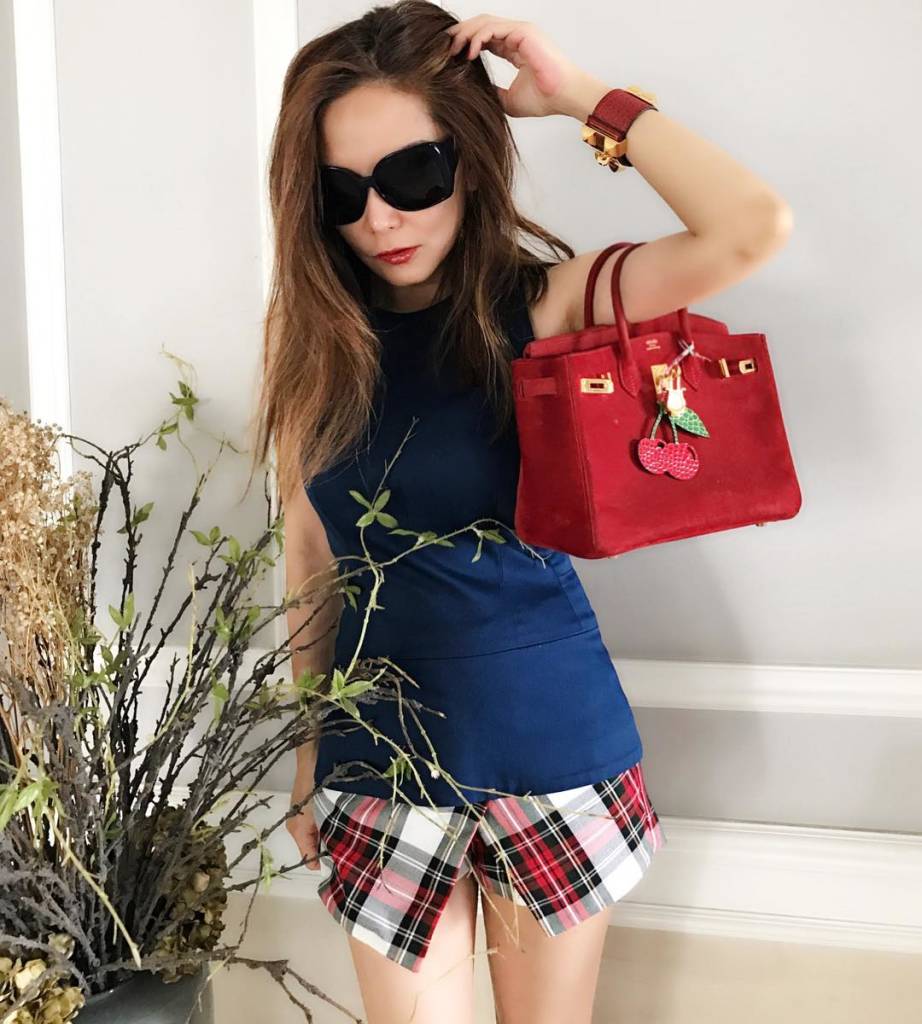 My Night HGB is my Marine Blue Birkin. The Birkin 25 is the perfect size for evening and it wears very elegantly. The leather on this beauty is remarkably shiny. The color is so decadent as it is a deep blue, although it almost looks black and can definitely pass as a neutral. This is one of my favorite Hermès colors due to its chameleon-like quality.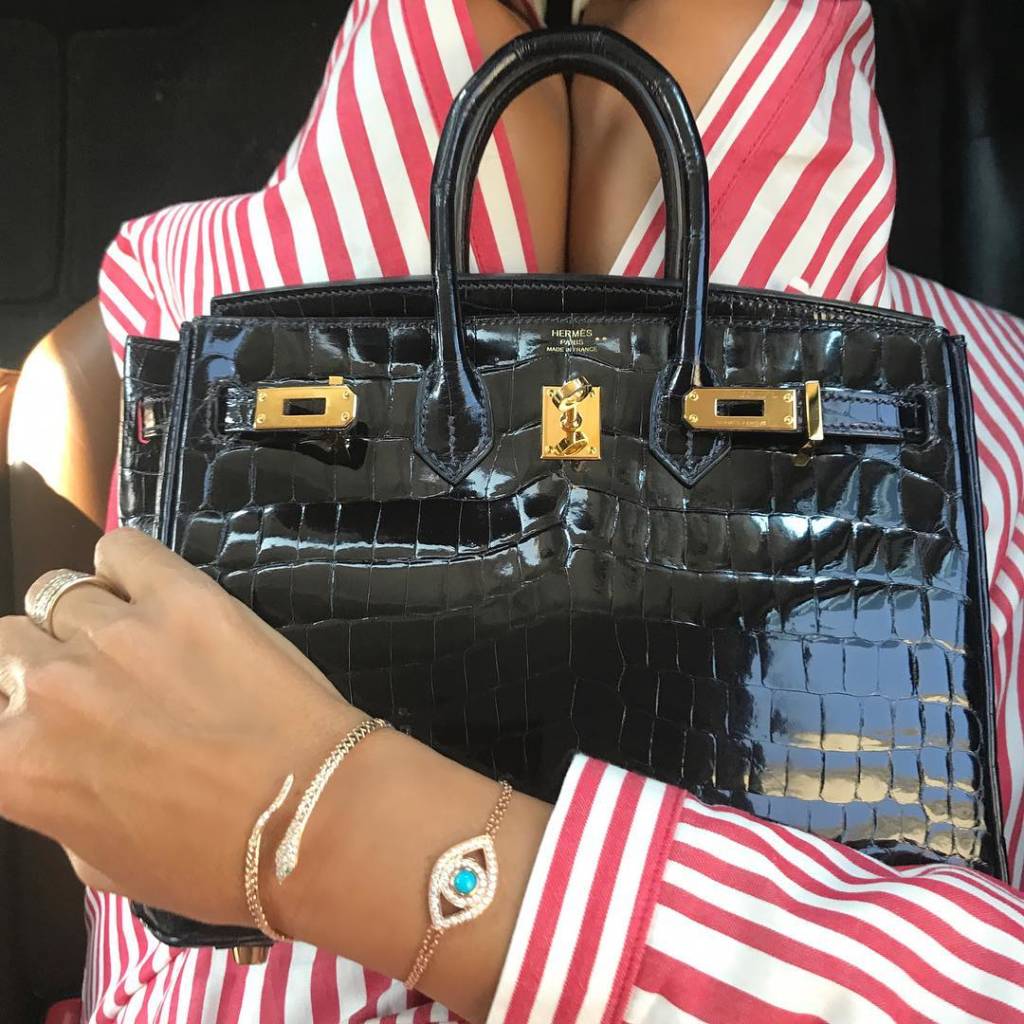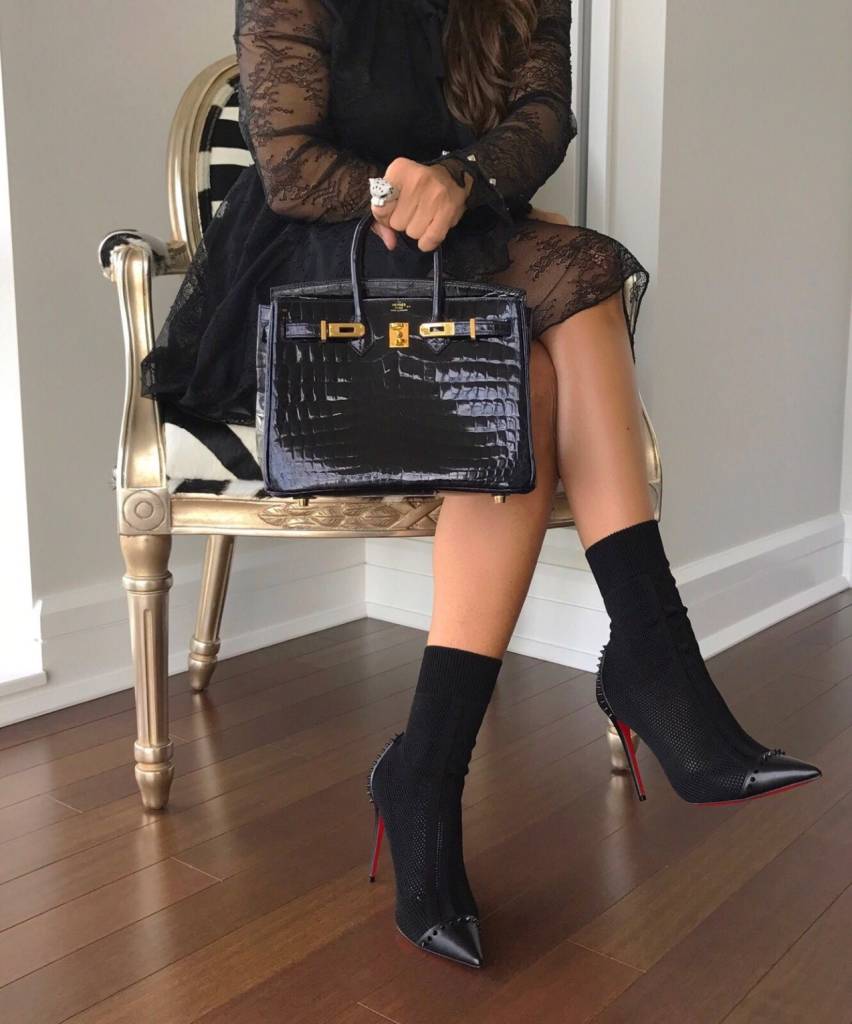 Long story, short: I've been fascinated with the Hermes Constance for the longest time, trust me, the struggle was real. C18 size was exceptionally rare to come by at my local boutique, yet I yearned for it everyday. Finally I got the courage to ask my SA about it. I even had the courage to ask about special leathers and colors, and lo and behold, I have my dream combo now.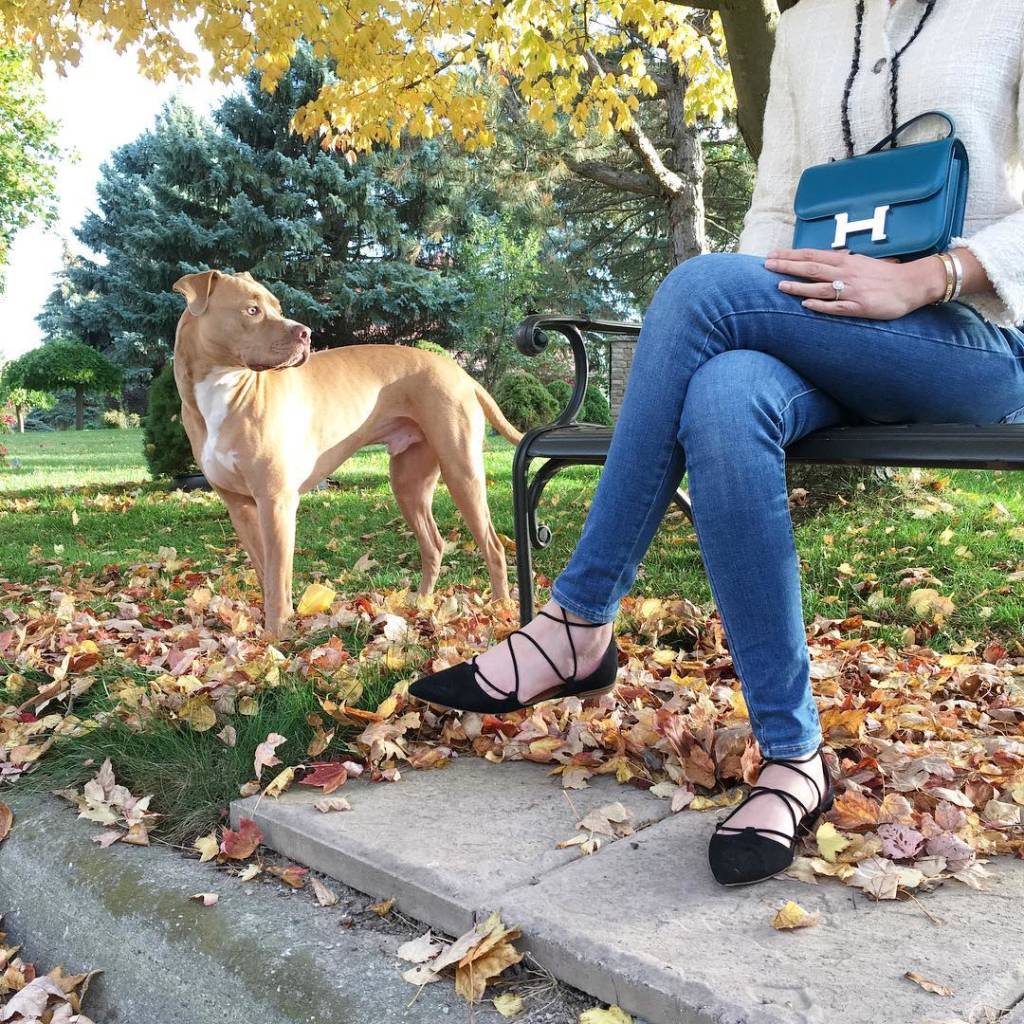 Updated: January 8th, 2018