Written by a PurseBop team member that prefers to remain anonymous. For the sake of reference and sharing of content on Instagram we will use @boptalk.
I'm not a neutral lover. Neutral colors make my Casper-level pasty skin two shades more pale. If I'm spending thousands on a new handbag, I want it to be noticed and, most importantly, bring me joy.
As a mom of three boys, I need to balance all that testosterone in my house by dressing as girly as possible. That means pinks, pastels, sequins, glitter – anything sparkly. The same goes for my handbags. I usually go for pinks, purples, pastels and other vibrant colors. 5P? So delicious. Lime? Take me to Capri! Bleu Brume? Oh baby, baby!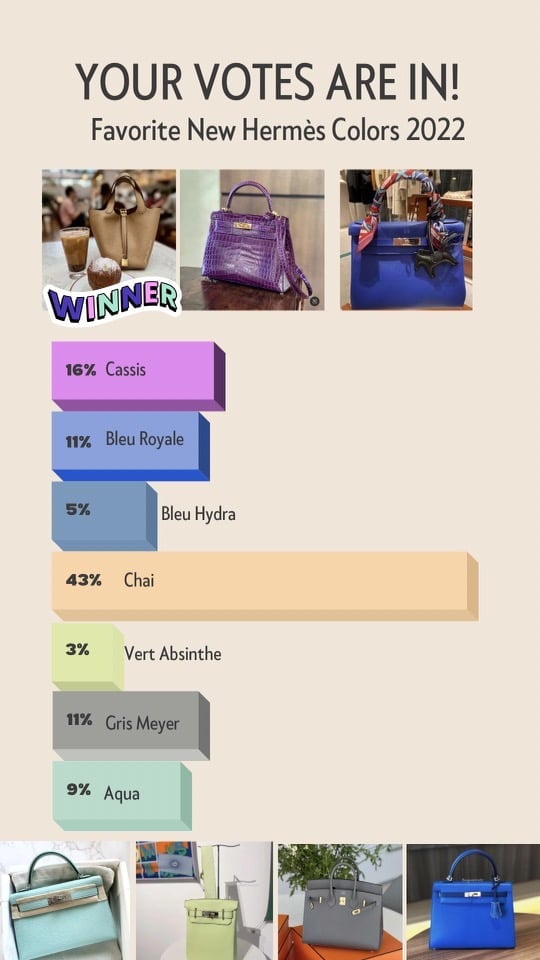 However, Chai has changed my mind. Color lovers out there, has it changed yours? In a poll conducted on @boptalk, 43% of you chose Chai as your favorite new Hermès 2022 color, beating out Cassis. (Read: New Hermès Colors 2022)
Why Chai Over Other Neutrals?
Gold is one of the most beloved Hermès classic colors. Made famous by Princess Grace Kelly of Monaco, Hermès Gold has given birth to the vast palate of neutrals.
It's offered every season. But for me, Hermès gold and tans are too casual for my wardrobe and remind me of the sun kissed skin that I will sadly never have.

Updated: August 6th, 2022