Marriage. 
Anniversary gift 2022.
How does one surprise anyone in this day and era? Everything is online. Transactions are confirmed through text messages, credit card security requires verification, and there's online access to statements and spend history.
It's not easy, actually not easy at all. Add to that there's the household division of labor. I assume, in most marriages, the responsibilities are shared. In my home, credit cards are managed by moi. That includes the American Express, and any others that may be dedicated to specific expenses.
I'm explaining all of this so you understand the gravity of this surprise. How do you buy a Birkin for your wife if she's the one that manages and monitors the family credit card spend. I suppose there are some men that may have their own personal (and private) credit cards, where neither information nor access is shared. Or the roles may be reversed where one spouse may have nothing to do with management /payment of credit card expenditures. In that case, perhaps the premise of my story doesn't resonate.
Although it was not a monumental numbered anniversary, at this stage of our lives every special day – be it anniversary or other – is one to be cherished ❤️. However, for this one, I truly was not expecting anything, and certainly not a gift. In fact, when we were in Paris together last December, I made a few (extra!) Van Cleef and Arpels purchases. One in particular was to be saved for our anniversary (which I did) and I have yet to share with you. Upon return, this goodie was promptly tucked away only to be released in mid-July at the intersection of my birthday and anniversary.
The morning of our anniversary started off as a pretty typical day. Falling this year on a Wednesday, which happens to be Mr. PurseBop's early work day, there wasn't much chit chat in the morning. However, the evening before we enjoyed a lovely dinner to ring in the new wedding year.
On the big day, I tended to my errands and had a meeting from 10 to noon. When I emerged from my appointments, I discovered this text 💃🏻: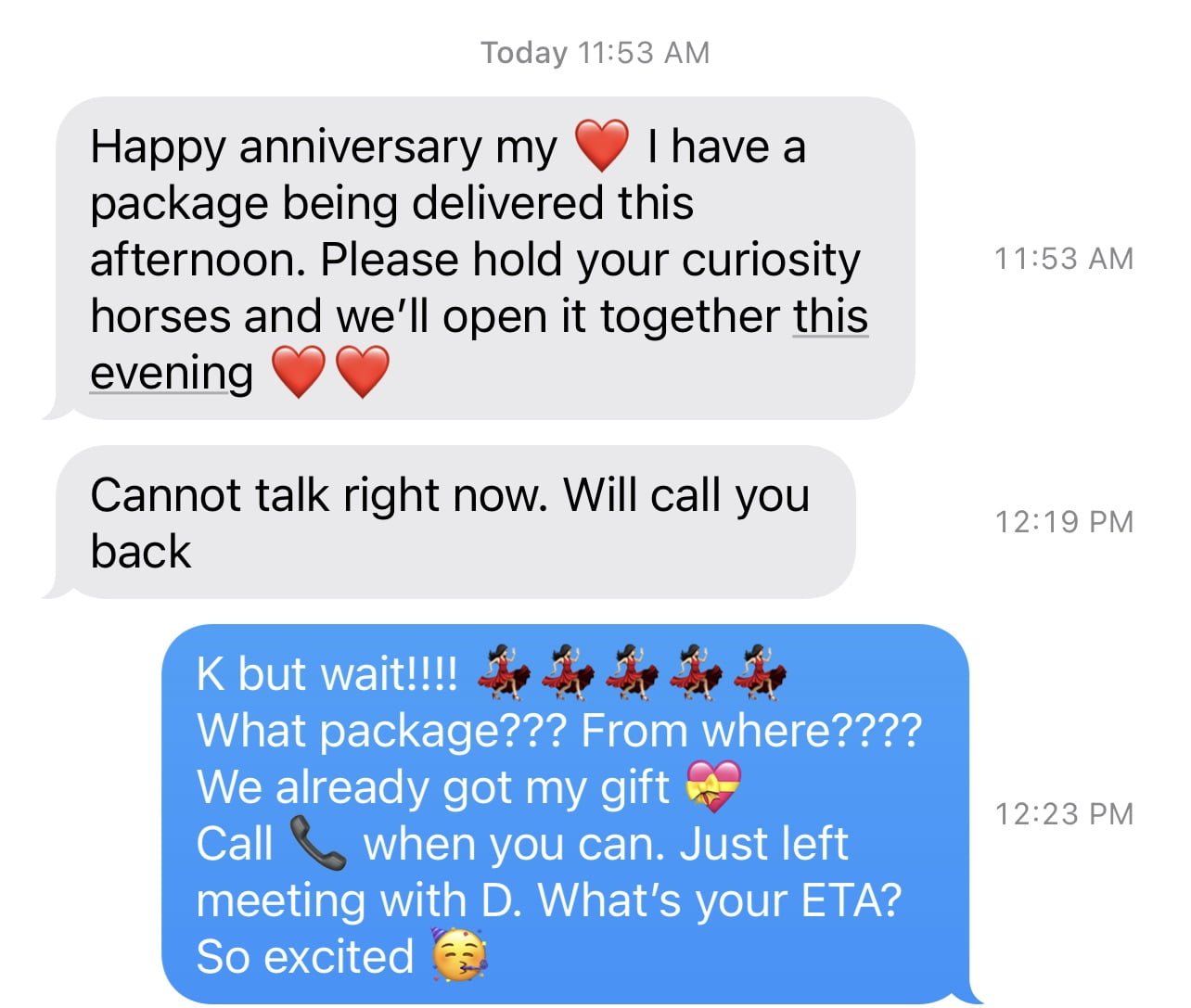 I tried calling Mr PB immediately, but no answer. About 15 minutes later he texted he would call me later (but that never happened?!). Ugh. I had a million questions about the package. Where did it come from? Had I missed the delivery? Could it be flowers? But wait…  they don't require opening? I desperately needed to speak to him.
Shortly after arriving home, the doorbell rang. It was my favorite Fed Ex delivery lady with a really big box! I promptly signed for it and put the box on the bench in our foyer to read the label. OMG, OMG!!!!! It was from Hermès!!!! I texted Mr PB again: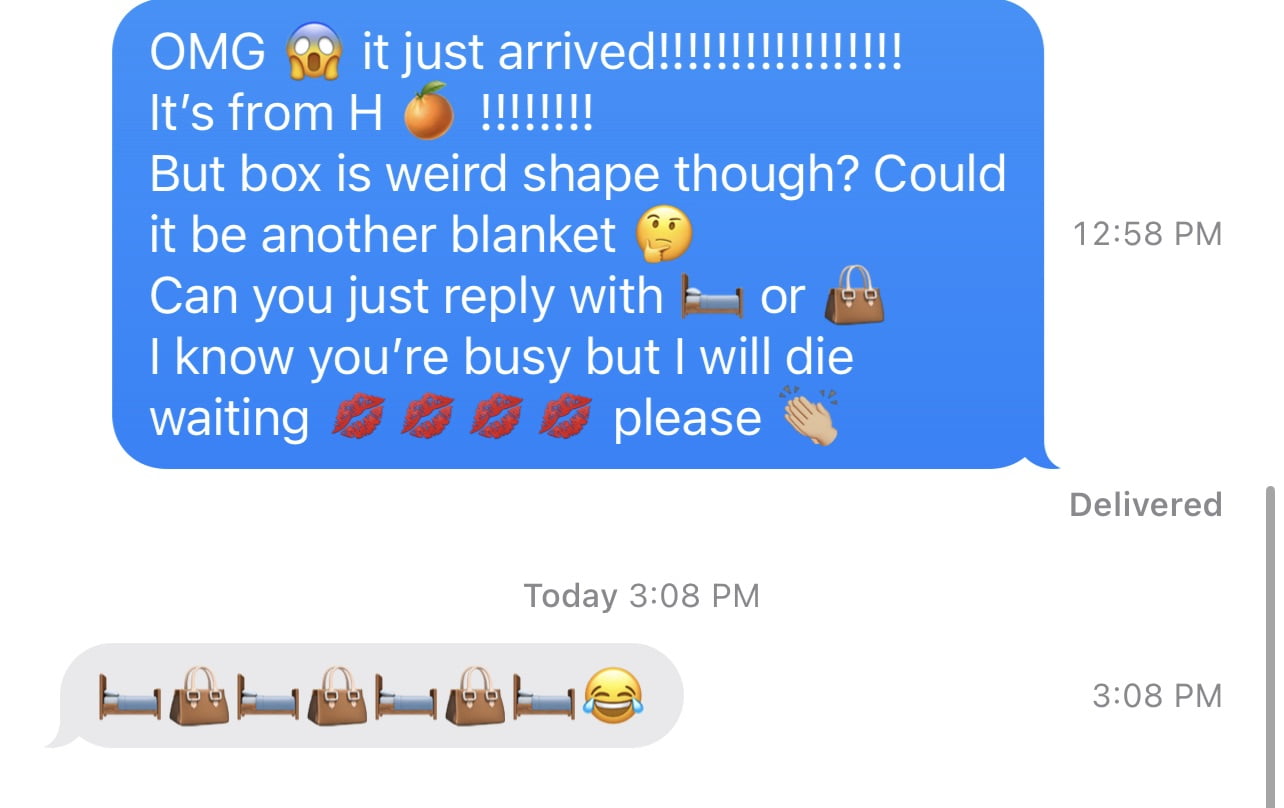 Now the blood was rushing through my veins. What on earth could it be? The box was a very peculiar size. One that reminded me distinctly of the Hermès blankets. Would he really get me a blanket for our anniversary? No, of course not. Regardless, he did not need to get me anything because I already had a very special gift. And truthfully, we really aren't particular about gift giving because – as you might have discerned – we pretty much buy what we like when we feel the time is right, or when the perfect opportunity finds us. We don't really give each other things formally, we buy together ❤️. I texted Mr. Pursebop immediately as you can see above but no reply. Not for several hours anyway 🙄.
My private investigator instinct kicked in and I thought it might be prudent to check in with my Hermès sales associate. I immediately texted her and as you can see I didn't make much headway, except that we established it wasn't a blanket… phew!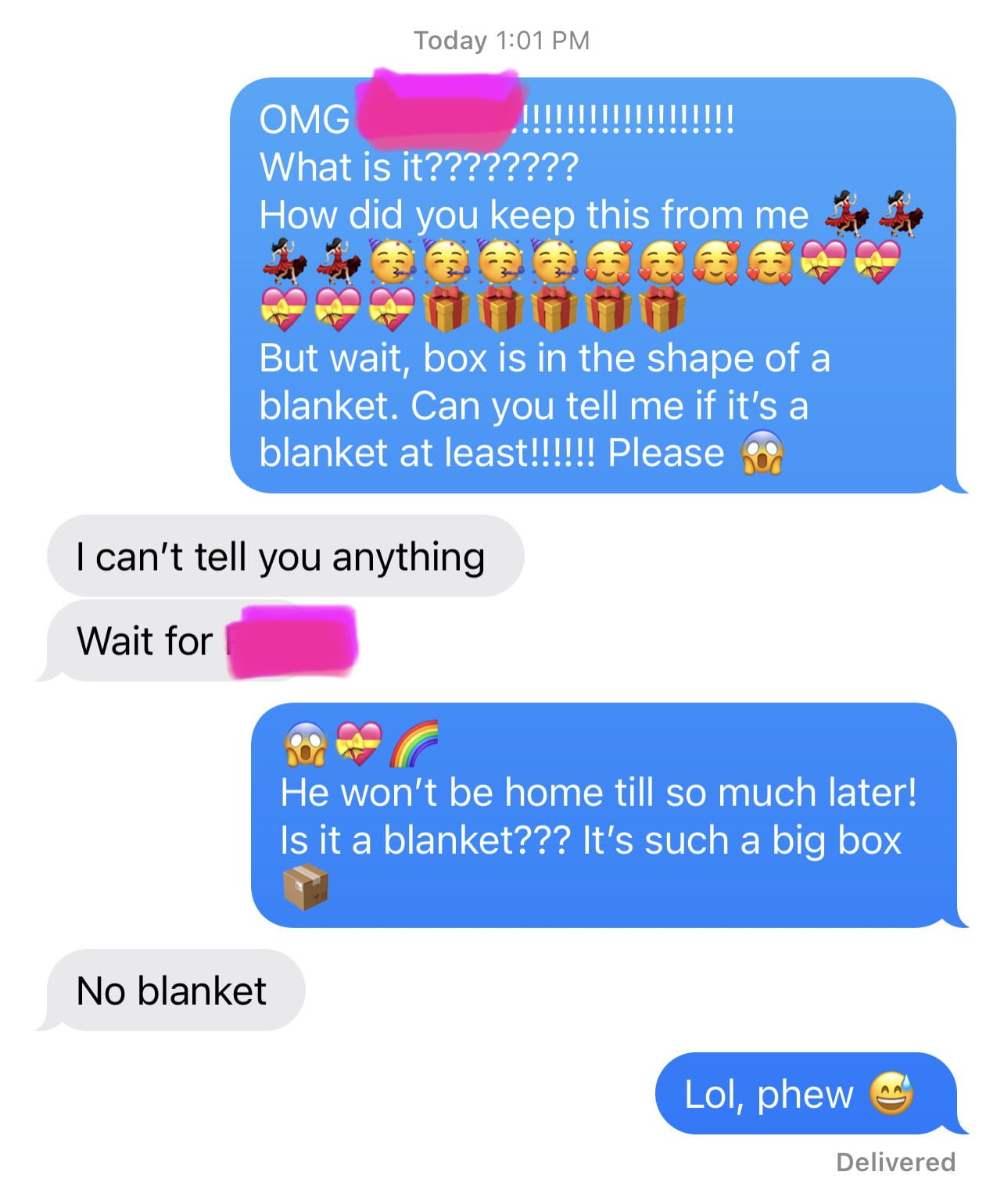 My excitement grew to levels that I am unable to string together in any combination of words. This was going to be big. My gut told me this was something really special. But what? — I had no idea. The box size was particularly baffling. Come on, by now I know every box size and shape of any Birkin and Kelly and the size of the shipping cardboard carton too.
I began to think back to conversations that I had had with my sales associate in recent weeks. I had not mentioned any specific item. She knew I was hoping for a Kelly Pochette soon. Mini Kellys are always on my wishlist, but we hadn't discussed any specific colors or styles. From time to time I share with her pictures of Instagram discoveries, wanting either to inquire about or note my interest. This time there was nothing that stood out other than a few casual mentions.
Trust me, it was a long day of waiting and dreaming. Friends had reached out and insisted that we meet for a drink. Doing so meant a further delay in opening my surprise box. For a reason that isn't relevant here, we had to stop at home – or rather Mr. PurseBop had to come home  – for a few minutes before heading to the restaurant to meet our eager friends. This was my moment. There was no time for a fancy set up. Taking the box (the very big box) to the backyard along with an opening knife, I asked him to meet me.
I decided it would be easier to have him slice open the carton and do the unboxing while I operated the camera. That way would ensure capturing the footage I desired. Several times in the past, when the roles were reversed, the recordings were not of me or any box at all for that matter…  but rather Mr. PB's feet or the grass, lol. OK, maybe that's an exaggeration but you get the idea. I was going to play it safe with this one, so he proceeded to open the box.
So here we go, adrenaline was palpable. Mr. PurseBop sliced open the cardboard box with the green knife I reserve for packages. And LO and behold – our first mystery was immediately solved.
There were actually two boxes lying side-by-side in this larger cardboard box. That explains the unusual box size and my suspicion of a blanket type gift, lol. Utterly delighted with the prospect of not one but two goodies, I selected to open first the box that appeared to be the size of a bag.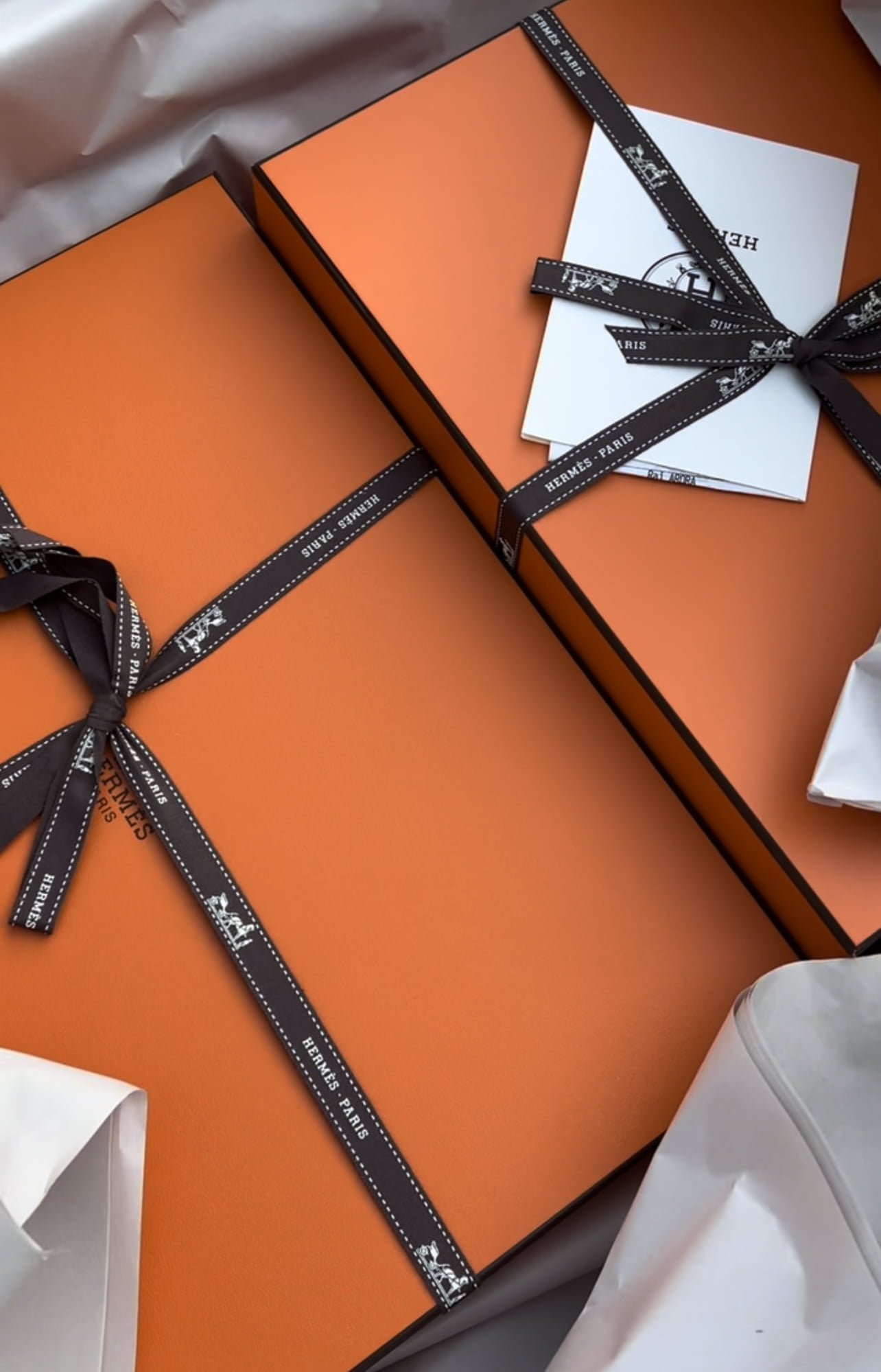 Actually maybe I just picked one randomly … it was all happening so fast. You can hear my jubilant laugh in the video when I discovered that it was not a bag at all. Box number one was the teddy bear fluffy Chypre sandals. Now IYKYK. These Chypres are all the rage of Hermès lovers everywhere. They may have single-handedly contributed to the brands surging first half of the year profits. I had been not-so-patiently waiting my turn for these ridiculously cute (subjective opinion, don't ask what my family thinks of them, haha) sandals. So, I was pretty elated with box number one. However, I suspected box number two would be even better.
Also read: "Exceptional" Hermès Financial Results for First Half of 2022
View this post on Instagram
Well, with rocket speed I reached for the remaining box. It was definitely deeper and heavier than the first. With my mind running calculations of height, width and depth at bullet speed I quickly concluded that it appeared to be the box of a Birkin 25.
Let me remind you, there haven't been too many surprises in my life. So this was really, really exciting. And I must say, I could get used to this. But, there's always that looming fear: what if he selects something that is not to my liking? What then? I generally would prefer to be involved in the process than be surprised in order to avoid such a situation. But, in my case, at least where Hermès is concerned, my sales associate has, over the many years, grown to know my likes and preferences. She also has complete knowledge of what I already own, no matter what exotic destination of the world it is purchased at.
As you can imagine, my mind was working overtime as Mr. PurseBop proceeded to untie the ribbon. Then the cover… and voila… and oh the pristine paper… I reminded him several times to be gentle with the paper… then that herringbone dust bag that dreams are made of was staring straight at me. How do I describe that feeling to you? Anyone having experienced the joy of an Hermès bag being unveiled for the first time in front of their eyes will know precisely what I'm trying to articulate. Sometimes words are not sufficient.
We paused the camera, or I should say, I paused the camera. I was too excited and at loose ends to continue. I took a few deep breaths, and I think I told Mr. Pursebop something gushy like how much I loved him and how exciting this really was… and just how special I felt…  and how I couldn't believe he pulled this off and how I loved it (the bag) whatever it is —regardless— without knowing what it is. I asked him to tell me how it all happened with my sales associate to which he replied, can we get this done please? There are friends waiting for us… oh yes, oh yes… of course — that detail had totally slipped my mind. We'll talk about this in the car. His response, maybe not the most romantic but I get it. He's a guy, and even though he's Mr. PurseBop and understands the significance of a reveal, at this point he'd much rather be sipping on an old-fashioned or Macallan 21 than opening orange boxes.
Ok back to the dust bag… He reached for it and I think I was instructing him all along on how to angle it but things were moving quickly… Now the pinnacle moment was about to arrive. As he pulled the drawstring of the dust bag from side to side, the moment where the handles would peek out arrived when I caught a glimpse of a pink, a soft pink. Could it be, could it be Rosa Sakura, but no  — it was Epsom leather. In that case, it had to be Mauve Sylvestre. Yes, yes, OH MY GOD, OMG… I love MS….. soooooo much!
See reel #2 here @pursebop – I kept the original audio, so excuse the extraneous sound effects, lol.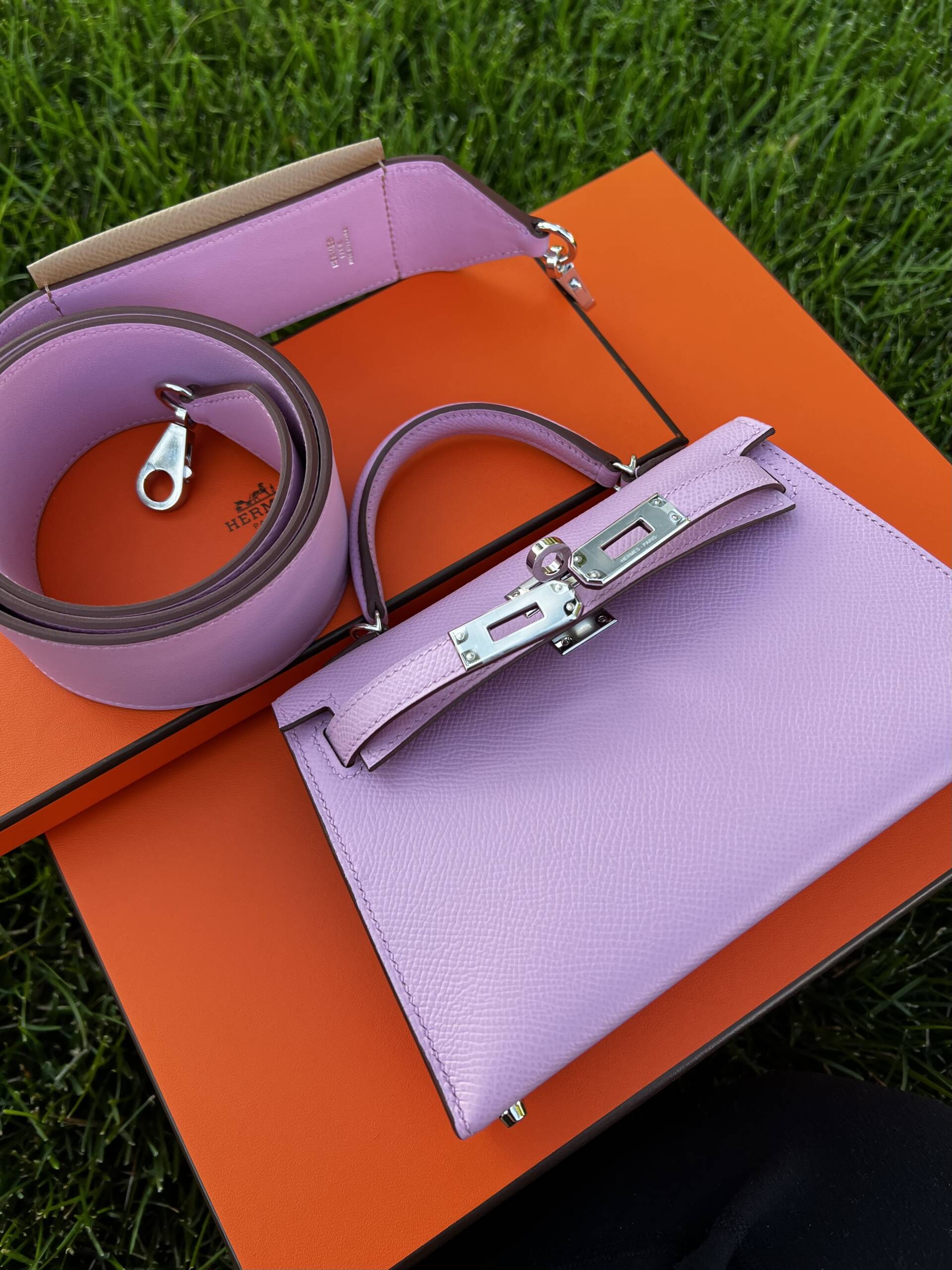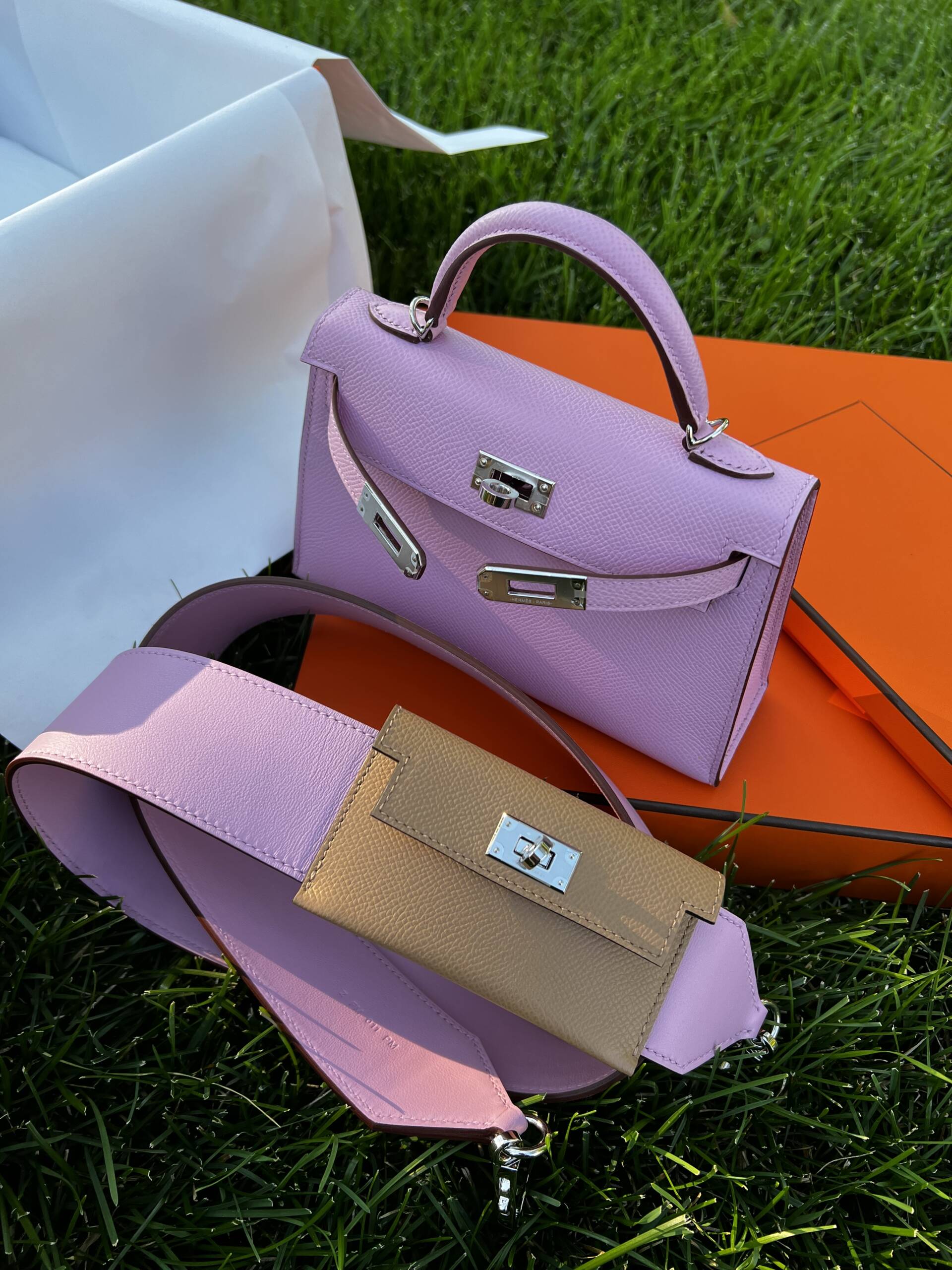 Ok sorry, so sorry for the deviation… back to the unveiling:

I was very content with the prospect of a Kelly 25 in Mauve Sylvestre …. but wait, something very strange was happening… as the dust bag slipped just beyond the handle to the top of the bag, something was… OMG, there's another color, oh my heavens, is it Chai? Then the dust bag slipped a little more to reveal the sangles — AND THEY WERE LIME!!!!!
OMG, OMG.. It was a tricolor Kelly 25 Sellier in Chai, Mauve Sylvestre, and Lime. I was literally doing the happy dance!!!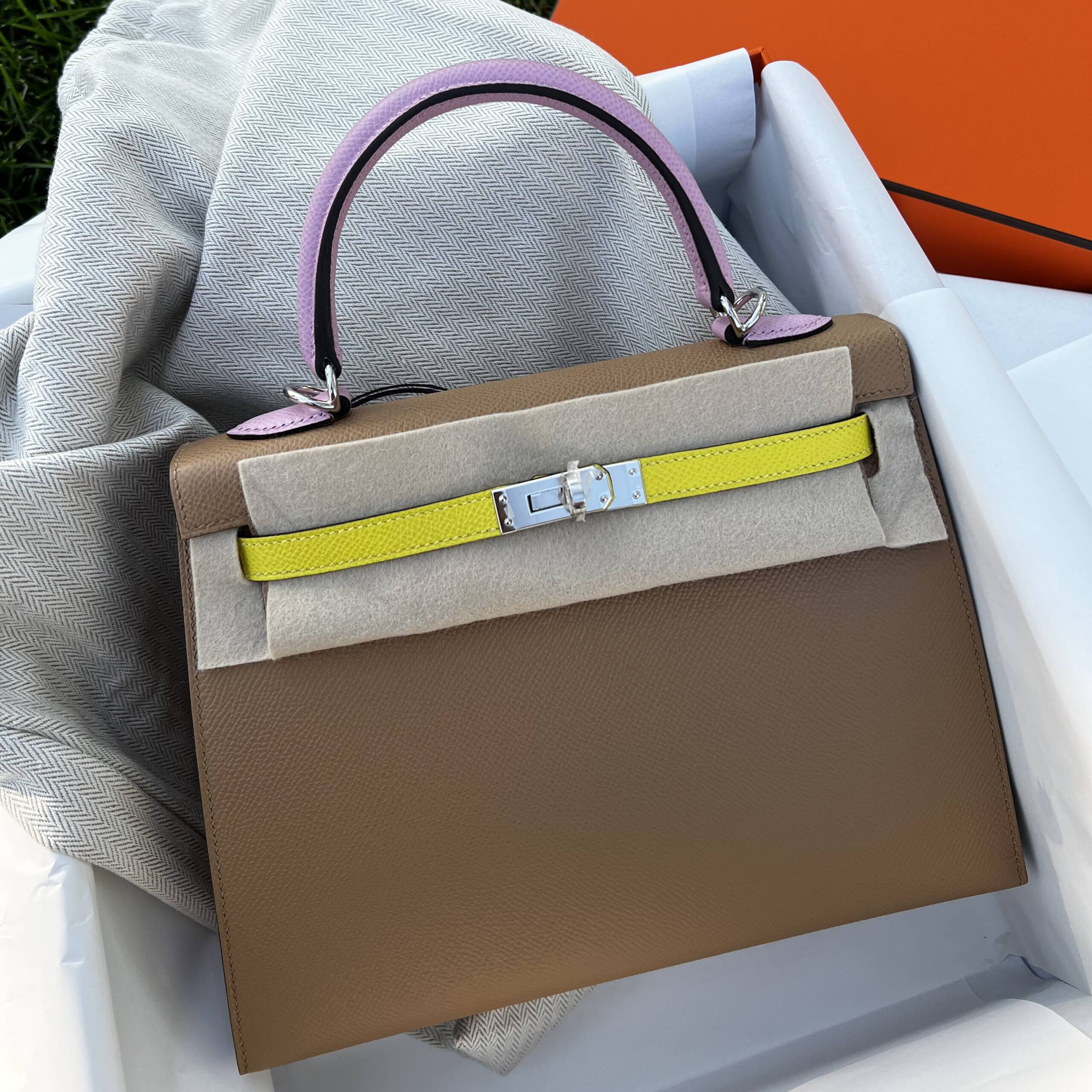 This beauty was absolutely sublime. I had never seen anything so beautiful. With these subtle colors, there was contrast but with a flair of softness. It was not harsh or obtrusive. Rather, it was like a melodious music of color.
Gosh, I know I can be so dramatic, but I really am trying to express my initial reaction. Thrilled is an understatement; I was beyond that. So in love, so ecstatic, and above all so surprised.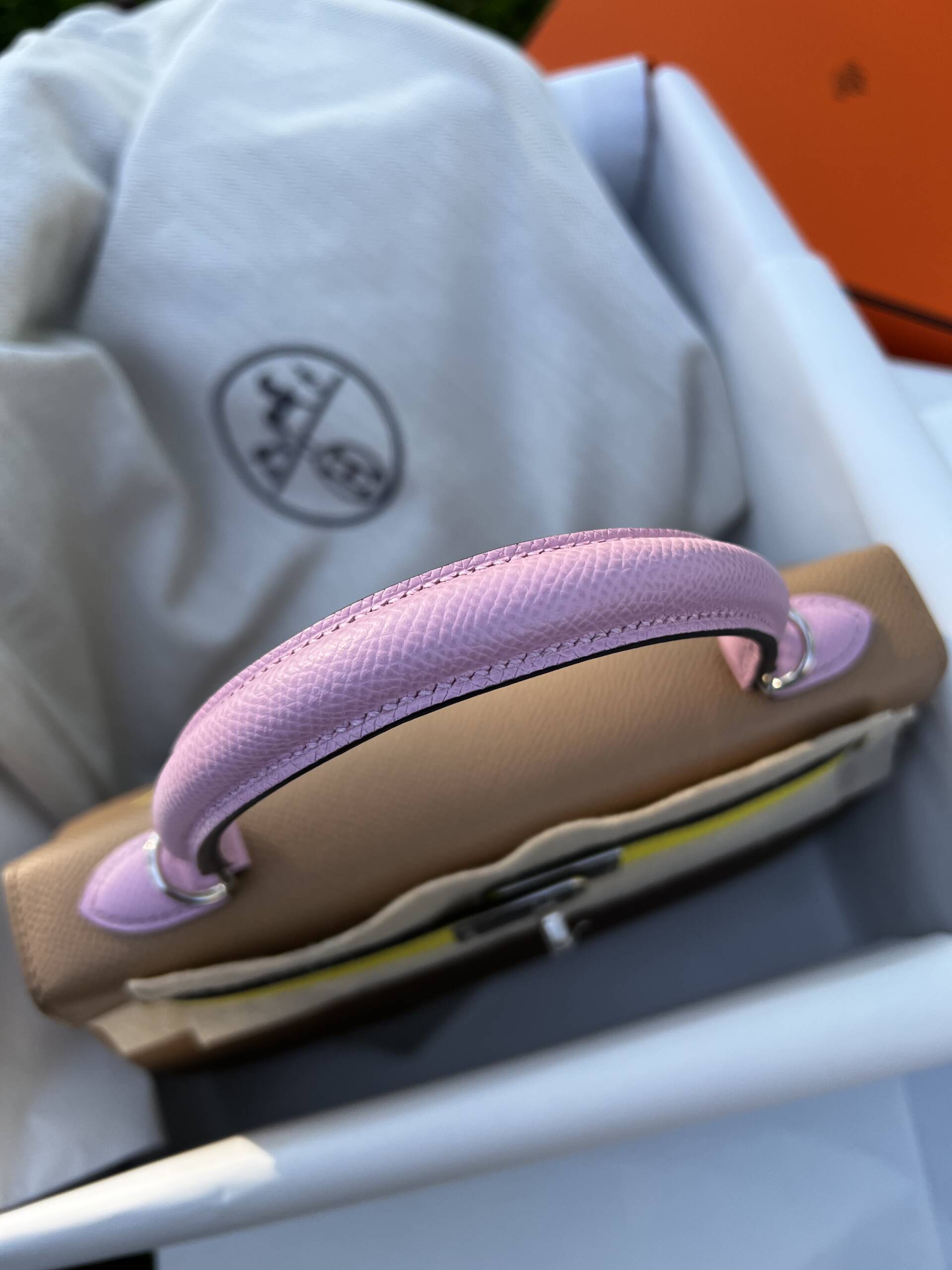 For someone who has been unable to create any bi-colored special order, this treasure has even more significance. As hard as I've tried to be ultra creative, when it comes down to it — I submit a single color. Definitely a contrast interior and lately even contrast stitching. But I have never been able to create a bag with two exterior colors. If you're keen to learn more about the special order process I highly urge you to read this: Insider's Guide to Hermès Special Orders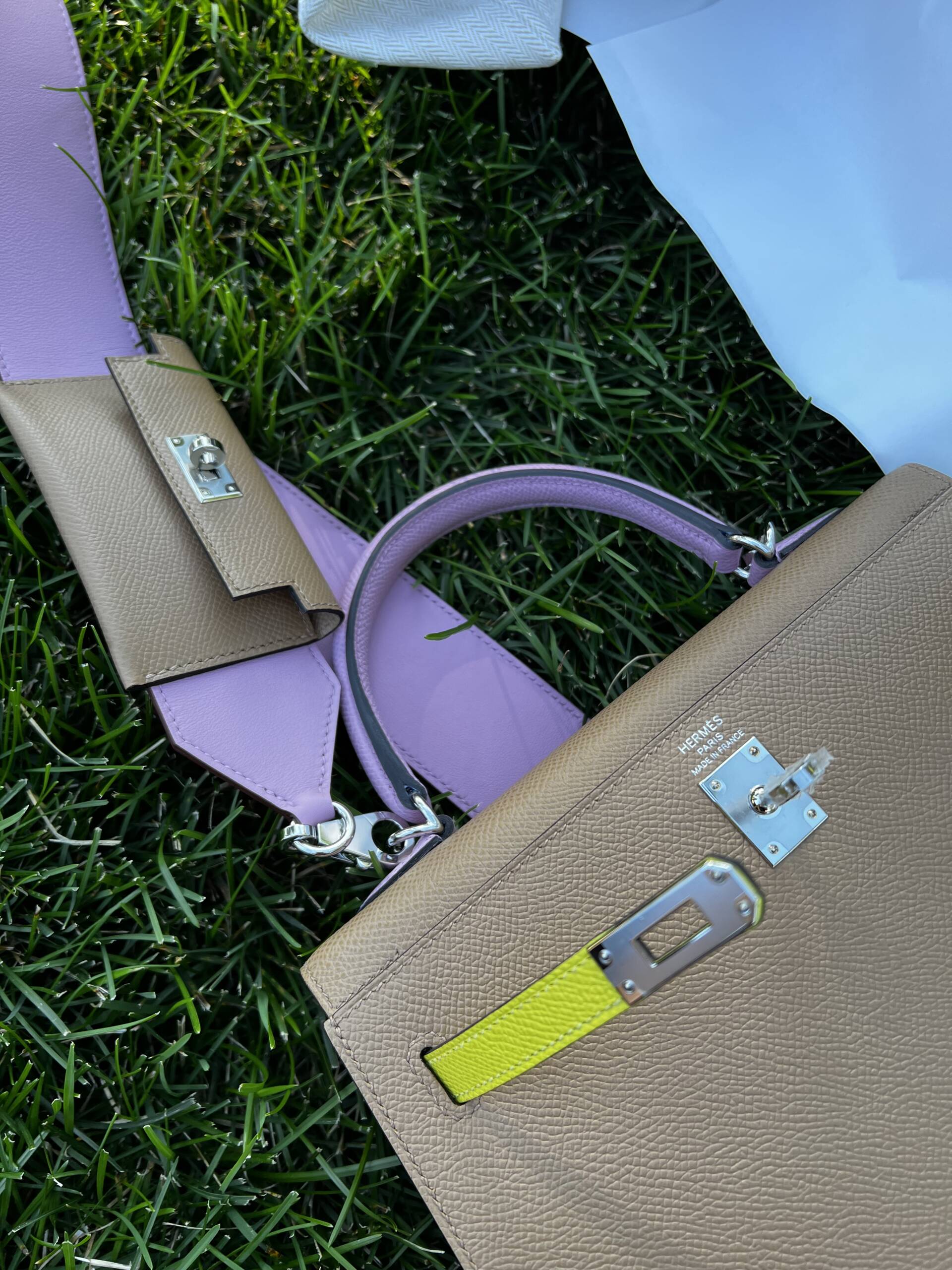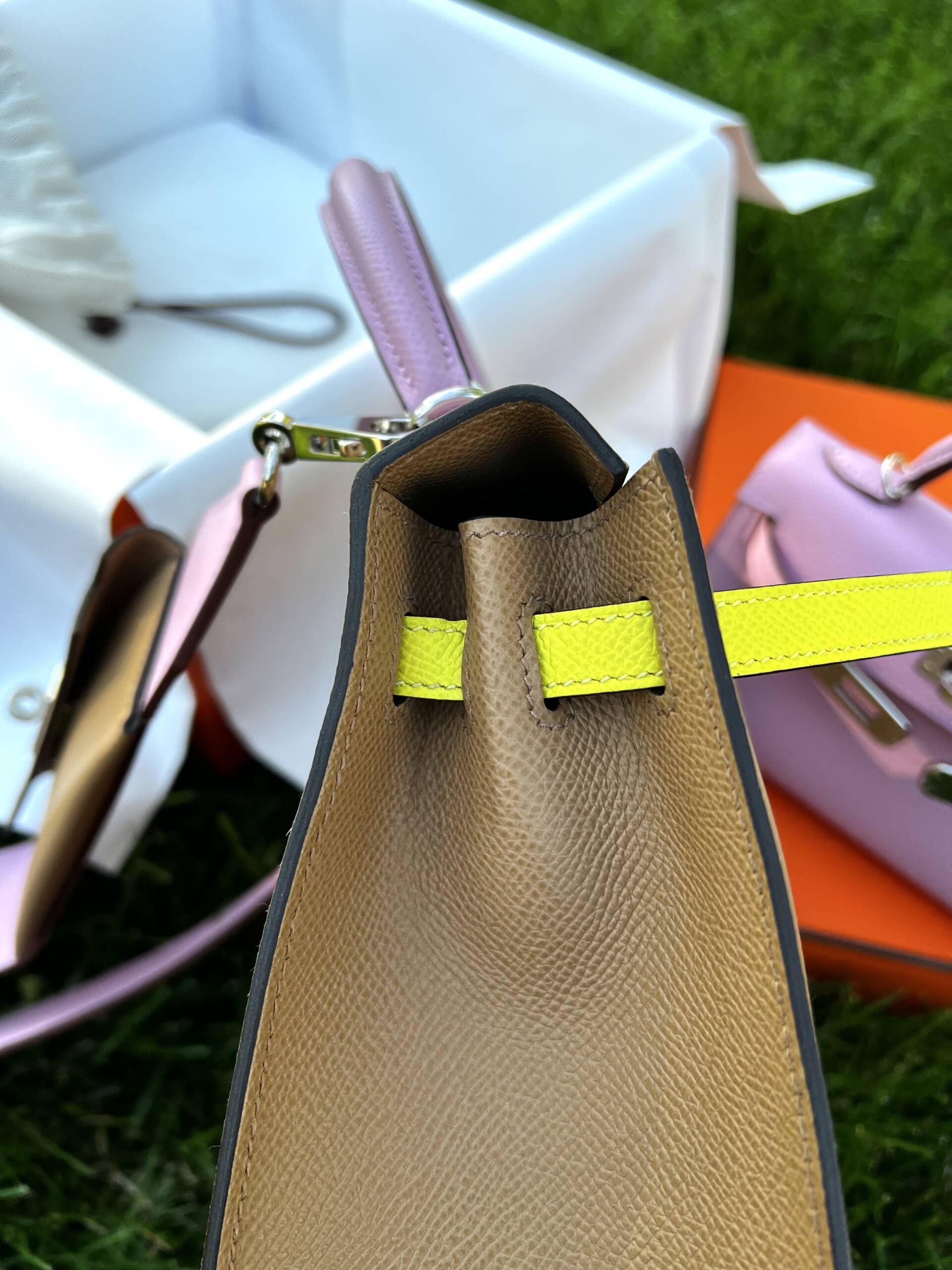 Truth be told, my bag choices run classic. When I first fell in love with Hermès 10 years ago, I dreamed of the tricolor Birkins —the ones with crazy contrasting panels that nearly resembled national flags. I clearly have evolved out of that phase.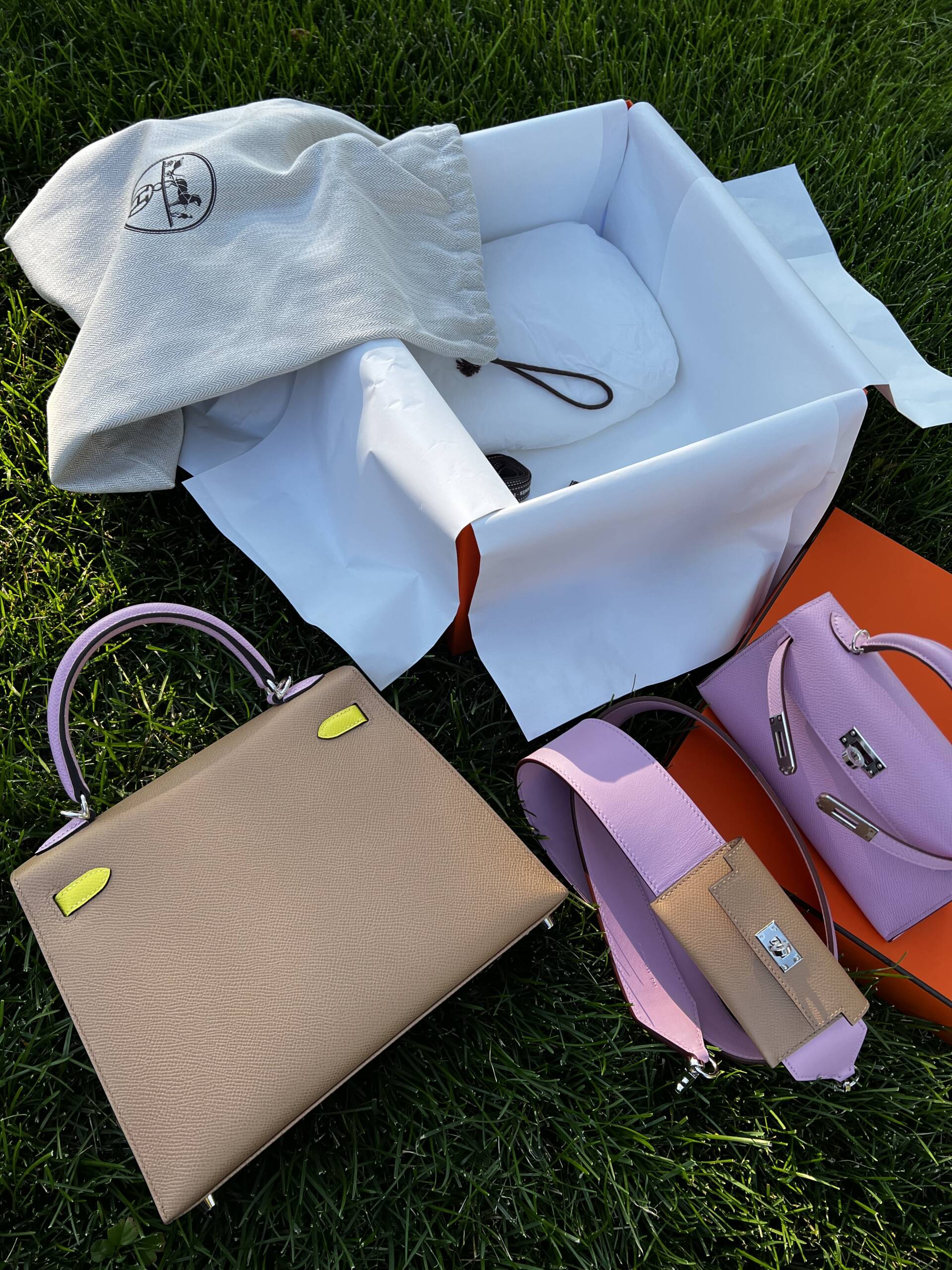 This, however, was something completely different. There's something so special about this combination, it's just out of this world. In the past couple of years, Hermès has released other tri-color combinations like the Blue Brume with Vert Jade sangles. Other recent issues were Nata with Gris Meyer and Chai and, I think a creamy one with Sesame and Jaune Poussin. All so pretty, but none came close to this one (at least to me). The combination of Chai with two girly summer pops of pink and yellow against the milky latte-drenched hue was pure perfection.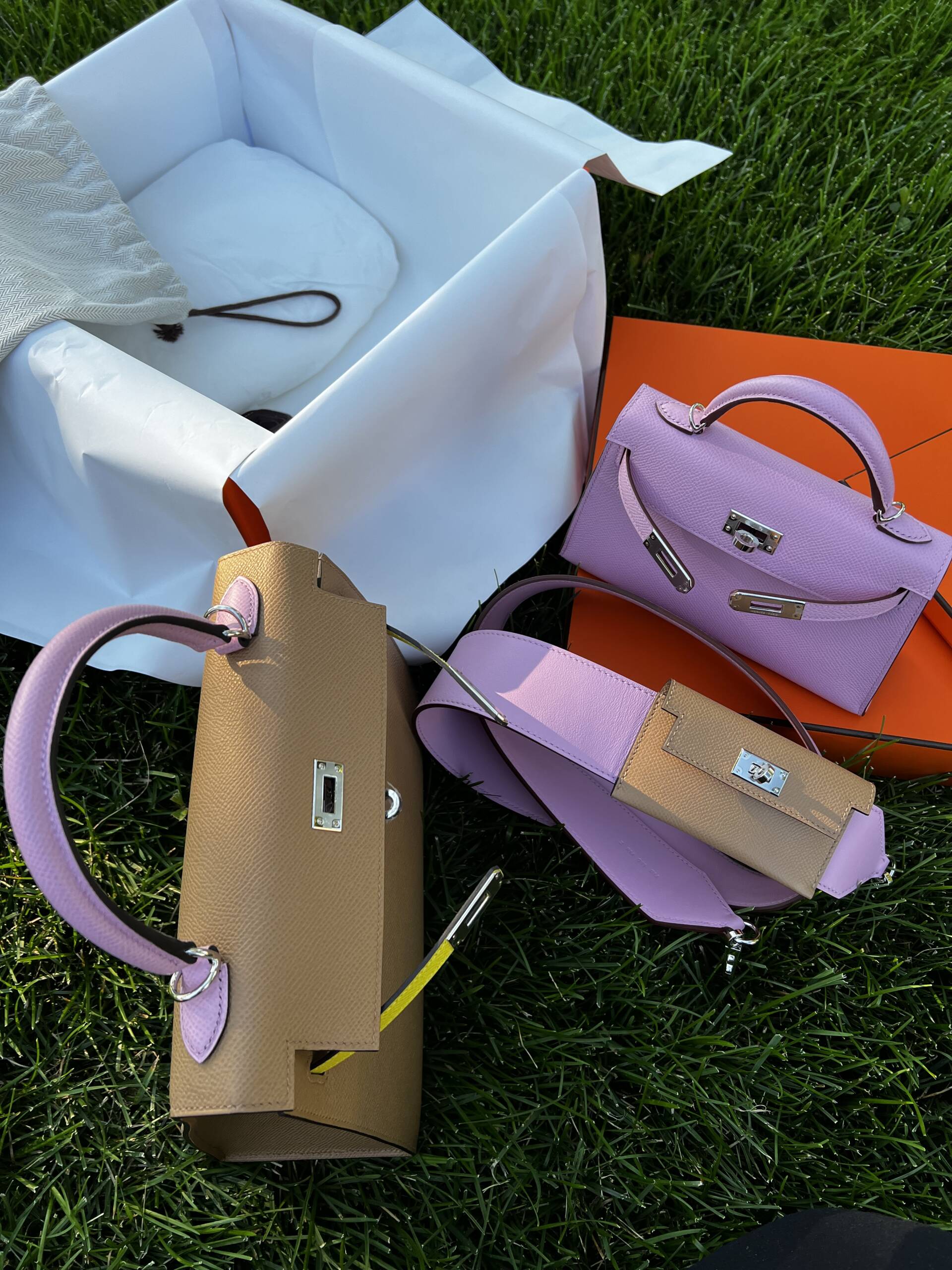 I had seen this tri-color combination previously – just once as a very dear friend had shared hers with me not long ago. Yes, I had sent a photo of it to my SA, commenting how beautiful an offering it was. But never in my wildest dreams did I think one would be mine.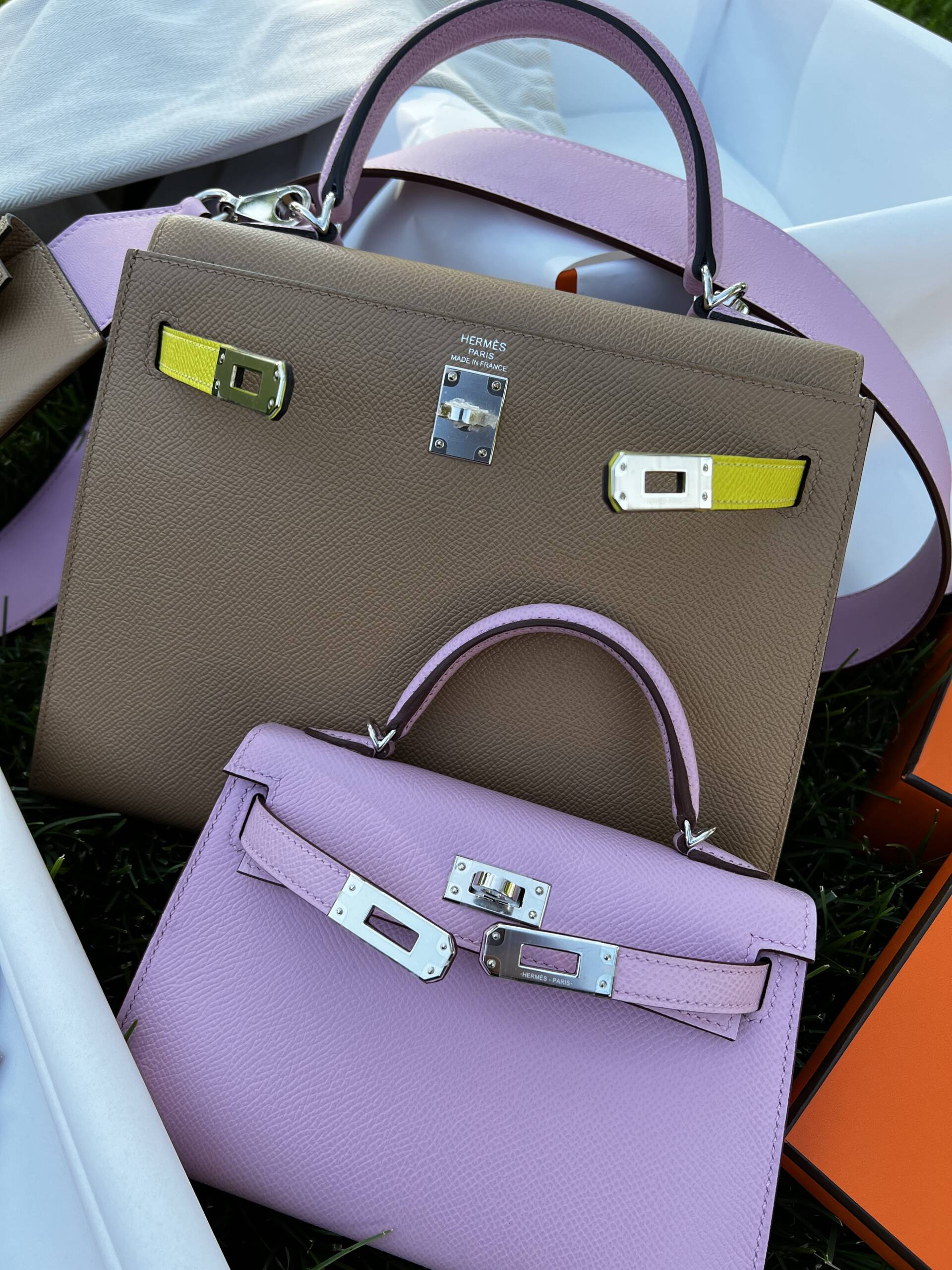 Those of you who have followed my Hermès journey, know that I have bags in Barenia, Butler, and Gris Tourterelle… All neutrals… Most recently I revealed Nata, a creamy vanilla Sellier Birkin 25 with palladium hardware that I'm totally nuts about. Read: Manifesting a Creamy Hermès Birkin for My Birthday
See how perfectly Chai fits in the family?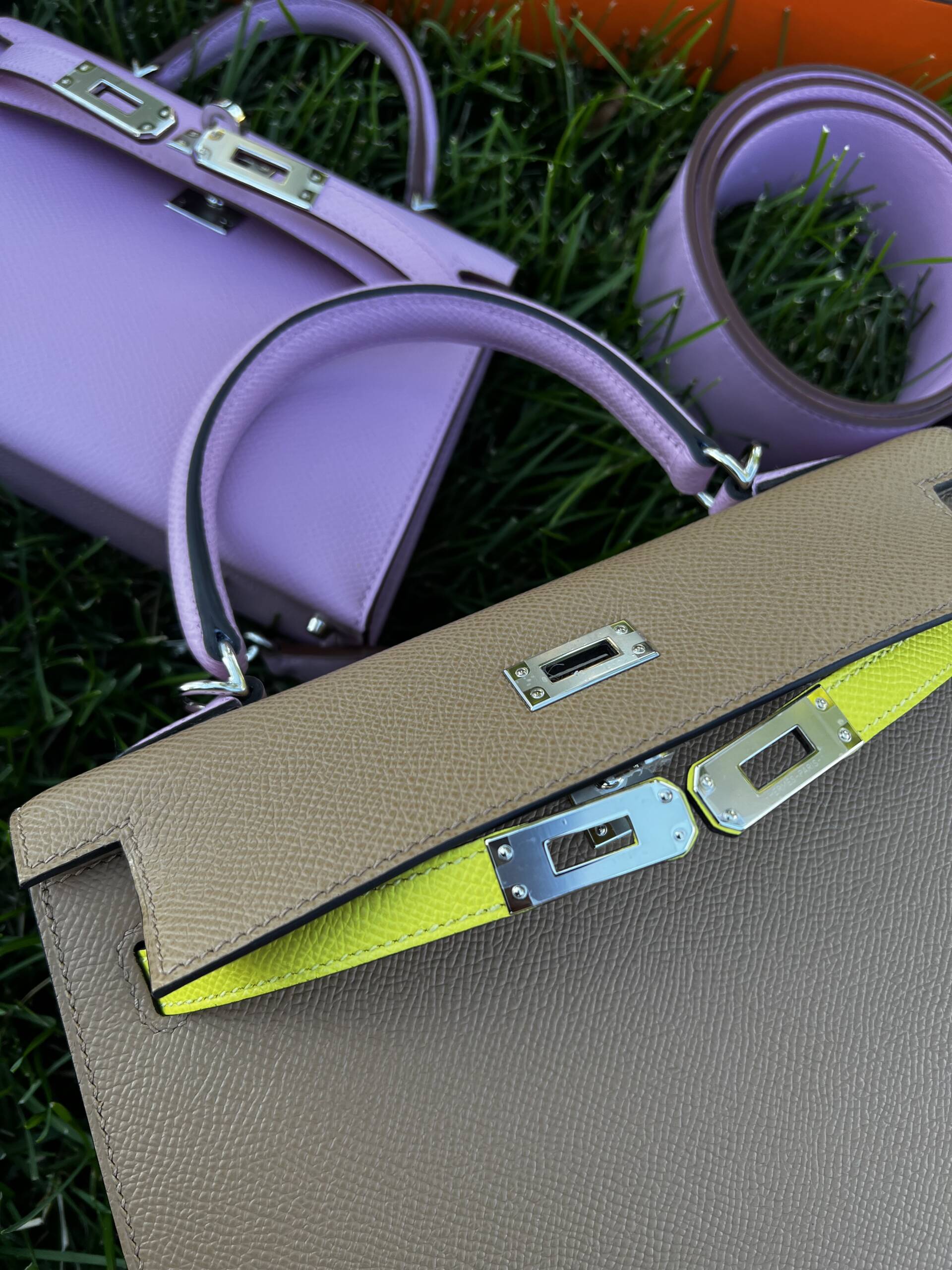 Kudos to Mr. PurseBop — I mean you're a genius to get this past me. And a very heartfelt thanks to my Hermès fairy who continues to make this girl's heart beat to the Hermès pulse (and for colluding with my hubby to create a life long memory). I am beyond touched and full of gratitude. Thank you for sharing in my joy. This is just not any Kelly, this one's weighted in love ❤️