Hermes 2022 Color Update for Fall/Winter 2022
Hermès is going soft for fall/winter 2022… regarding its color palette. Coming to stores near you are three new pastel colors. And we can now share photos of them.
First up is Mauve Pale. Consider it the muted and lighter sister to Mauve Sylvestre. Then, Vert Fizz is a stunning pastel mint green which stands firmly on its own. The third color for fall/winter is a subdued gray called Mushroom. Reminds of us a gray'er Craie, maybe?
Keep a look out for these gorgeous new pastel colors. And maybe even have your wishlists updated if you've fallen head over heels.
MAUVE PALE
Hot on the heels of Mauve Sylvestre taking over the Hermès coveted pink list, now we can dream of Mauve Pale. It's a soft pink with less sparkle than its sister, but sure to complete any rosy ensemble. Though clearly different than Rose Sakura, the color is reminiscent of a color one might see on a cherry blossom tree.
VERT FIZZ
Pistachio ice cream anyone? Or maybe you prefer mint chocolate chip? Either way, Vert Fizz resembles a sweet treat. Soft and subdued, this barely there green should coordinate with nearly any color, as greens typically do.
MUSHROOM
Hermès is bringing us mushroom again, but this time it's not a fungus leather. Rather, this one's a color; washed out gray bordering on silvery pale green. Interestingly, based on photos, it matches with both gold and palladium hardware.
Original article published February 9th 2022.
Once again Hermès has us guessing about its 2022 colors. We're not talking about just keeping Rose Sakura in the lineup LOL. Rather, what are the shades not before seen?
Well, it's pretty clear that Hermès is sticking with tried and true this season. Said differently, what's old is new again.
Of the seven colors we share, a number are repeats or reissues of identically named earlier hues. Others could be the offspring of existing colors, or a close relative of a color you already own.
You be the judge.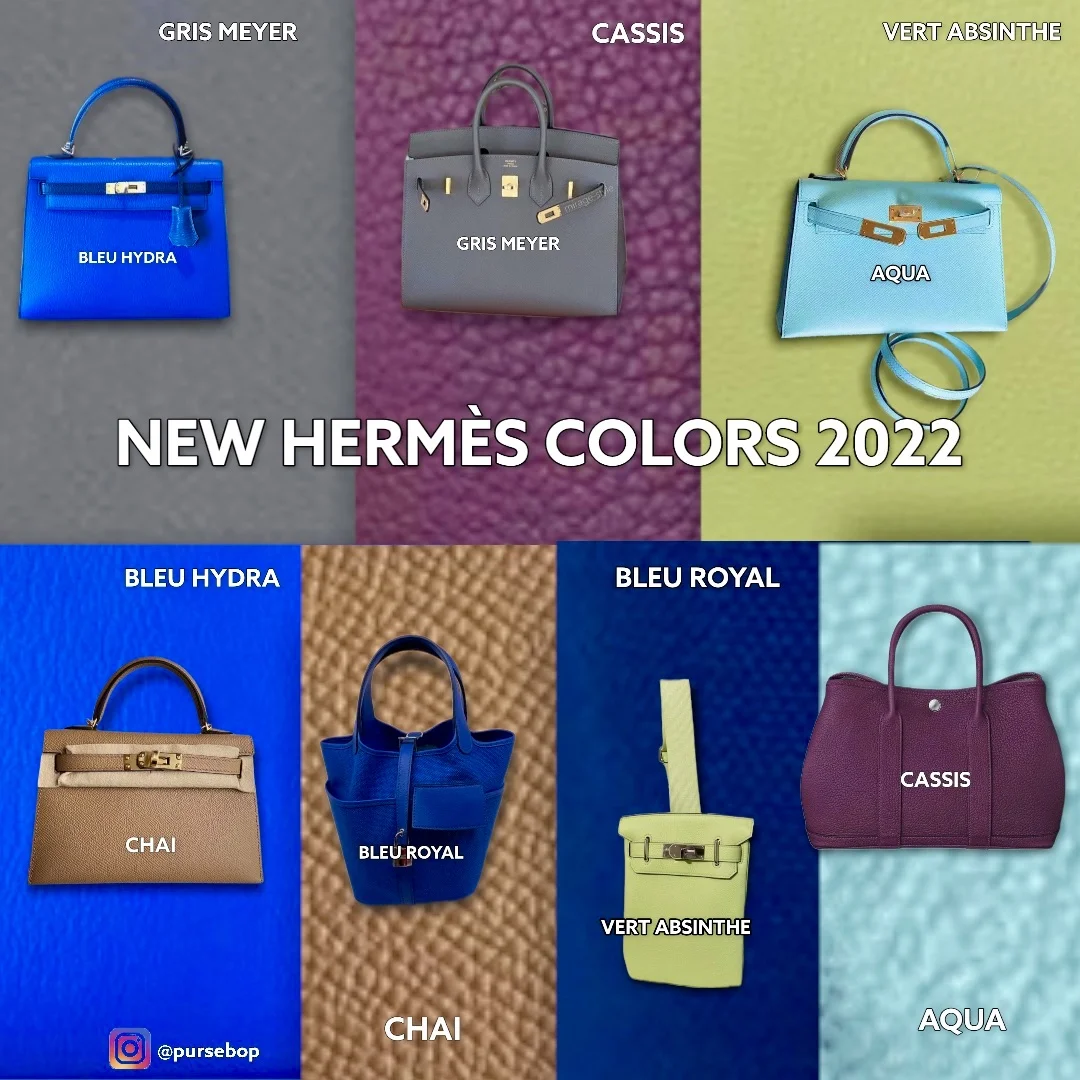 CHAI
At first glance, Chai feels like a cup of rich Indian masala tea. It resembles its sisters Quebracho and Biscuit which makes us hungry for Biscoff cookies while sipping our tea. The color is softer than gold with a creamy undertone. In our opinion, there is always room for another neutral in the Hermès family.
Also read: It's Chai Time at Hermès
Gris Meyer is possibly the gray lover's dream come true. Upon reflection, we have not seen a gray this pure since Gris Mouette. It does not appear to have any brown, green, or blue undertones. A true baby elephant gray. Could this be the new "it" color of 2022?
Cassis is stunning, particularly in exotic skins. It evokes thoughts of French bordeaux vineyards and après ski resort fires. It is the perfect blend of our favorite Anemone and its cousin Raisin. A beautiful winter neutral to add to any collection.
Vert Absinthe is a slightly lighter version of last year's Jaune Bourgeon, of which we saw very little. Think summer cocktails reminiscent of Van Gogh's Still Life image of a Glass of Absinthe and a Carafe. Although once illegal, absinthe has experienced a revival and was featured in the movie Moulin Rouge. Please drink responsibly or better yet, enjoy your Hermès slice of heaven instead.
BLEU ROYALE
Hermès do we really need yet another blue? We just started seeing beautiful Bleu France bags, which we suspect were released in 2021. Not to mention it brings back roaring memories of Bleu Electric. Yes Royale is a tad deeper, might even be more royal, but we still could easily confuse them. 
To add to the blue line-up is the reemergence of Bleu Hydra. A fan favorite, it is by far the most saturated of the blues. A showstopper color that jumps out of the crayola box. 
It pairs well with almost any color to create a timeless special order bag.
AQUA
Aqua just might be our favorite. Actually, we nearly did cartwheels upon news of it resurfacing. Although the shade does ring Blue Atoll bells, our preliminary information is that it is only coming in chèvre. In other words, keep a lookout for this shade in mini Kelly 20s, and possibly Bolides and SLGs. However, as much as we may wish for a Kelly 25 or 28, it may not be in the cards.