I. The Special Significance of This Hermès
I wanted to treat myself for all the time I spend standing on my aching feet rocking the Dictator Baby to sleep. For all the stolen naps. For the clumps of hair he plucks of my head. For the cavernous dark circles or, in our context, "black bags' taking a permanent residence on my face. For surviving the first 9 months of Baby Boot Camp without losing my head.
I wanted to treat myself for all the times I hear the word 'mom!'. For all the times I run with lightning speed right before J, my 3 year old, heads towards a busy street. For all the Matchbox cars and trucks that multiply on their own in our home. For all the times I cover J's coughs and bath his stinky feet. For the matter of the pee, which seems to land everywhere except where it needs to be .
I wanted to treat myself for the entourage that follows me everywhere, my private greetings with the porcelain-throne included. For willingly choosing to give up alone time, adult time and even wine time all to gain more time with my kiddos. For how difficult it is to split my attention, energy and love between the two of them.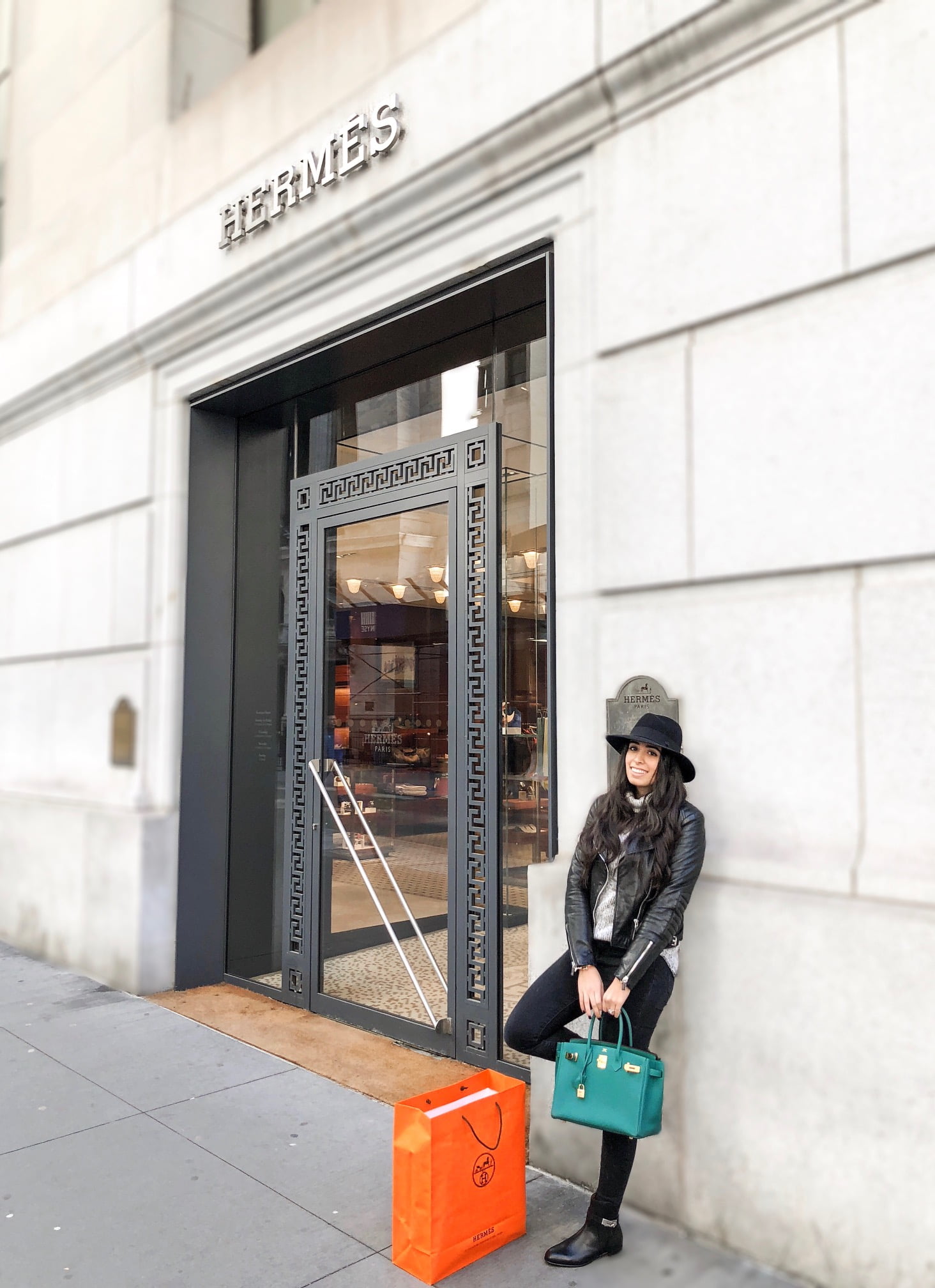 You see, my heart is full and so are my hands which is precisely why I have been wanting to treat myself to a certain shoulder bag with an iconic design and unparalleled craftsmanship. You guessed it. I have been lusting over the Hermès Kelly Bag. Why? Because it was designed with a woman's needs and feminine aesthetic in mind. While I won't be using a handbag to shield a protruding belly bump from the paparazzi anytime soon, a Kelly will certainly come in handy with my two little ones at home. Let it hang from my shoulder and hold my children's hands as they conquer the sandbox. Heck, I'll even channel my inner Grace Kelly and walk a little straighter pretending this mom has got it all together.
You see, over last couple of years I have developed a very singular taste for Hermès bags. With many rewarding experiences and even more 'oops purchases' under my Collier de Chien belt, I have become a rather selective buyer who knows exactly what she is after.
II. My Complicated History with the Hermès Kelly
Now obtaining an elusive Kelly bag is no easy task. Plus, finding the right one in my preferred 28cm size posed a serious challenge due to a rather limited production and stock. If you recall my previous article "Does Size Really Matter", you already know that L x W x H is my most important factor in determining if a potential Hermès handbag purchase "measures up". And trust me, this mom won't budge. The right bag must be to my exact specifications from the veining in the leather to hardware and down to the size.
For me, turning down some of the most coveted bags was a fairly daunting experience. So much so that even my sale associate developed a dash of anxiety and a hint of upper lip sweat each time I stopped by the boutique to show my face. H Fairy is not to be blamed. To be honest, I have become quite versed in turning down Kelly bags.
Let the record show that there once was a timeless Gold Kelly I turned down due to the 32cm size and a Blue Nuit 28cm beauty adorned with gold hardware that just didn't feel quite 'right'. There was a Rouge Grenat 28cm Kelly that initially made the cut but I decided to re-home shortly thereafter because I disliked the Ever-Color leather and it was left hidden in the box.
My once-upon-a-time Craie 32cm Kelly found a happier home, as it turns out (for me) a large Sellier was just all sorts of 'wrong'. With my Rouge Casaque 32cm gone on a prolonged 'leave of absence' trip to the Hermès Spa, I had an empty Kelly nest and consequently on a major quest!
Let it be known that the last quota bag I got dates back to PDB – Pre Dictator Baby Era (catch up on my last "The Best Things Come in Small Packages" article ) and this mom of two wanted to treat herself to something new. But I had to remind myself that "she who waits wins" and as it turns out my new (and currently *only* ) Kelly bag doesn't have many 'twins'.
III. The Big Reveal
Without further ado, allow me to present my Limited Edition Kelly Au Galop in Bleu Indigo. This shade of dark blue combined with a multicolor striking handle comes straight off the Fall 2017 Hermès runway and into my humble collection. Standing upright at 28cm wide, this Togo Kelly has the same classic design but the twist on the handle – truly makes it a home run.
The ingenuity of aesthetics and painstaking work put into the making of this handle makes it pop with character. Cuivre copper toned goatskin is geometrically contrasted with a deep blue hue and sewn on a black box-calf leather base. You must admit, it's quite unique and unexpected – I certainly was flabbergasted.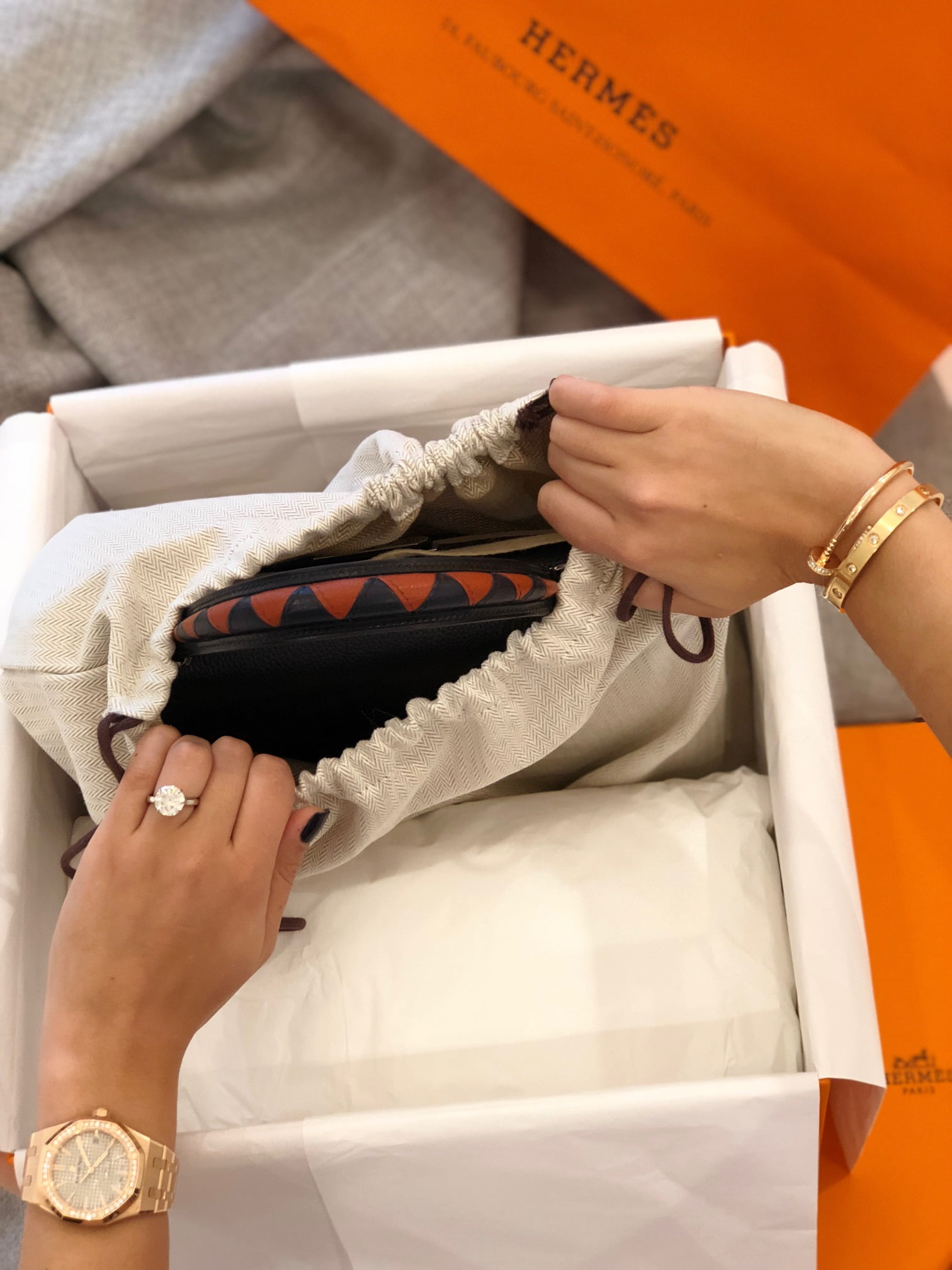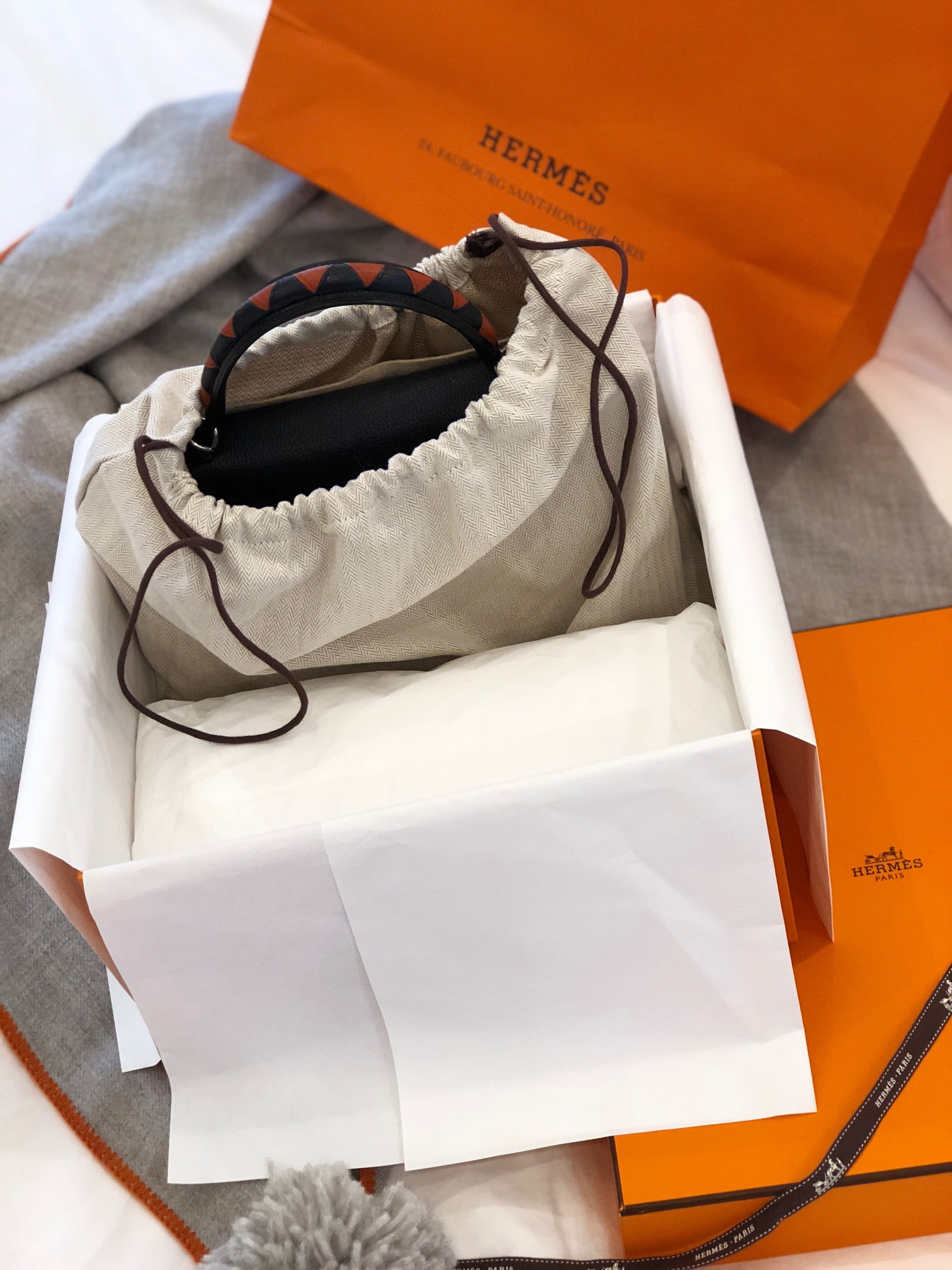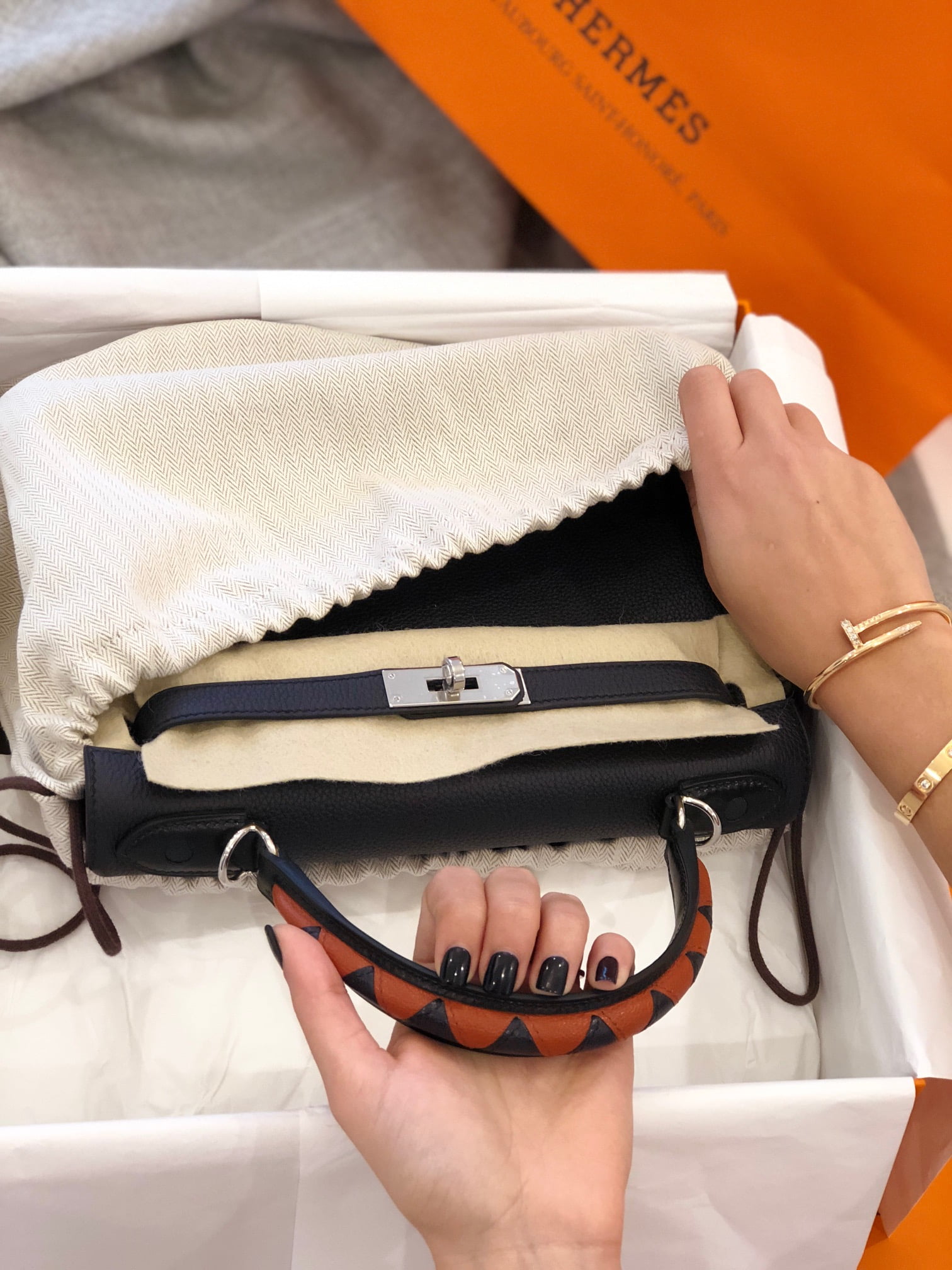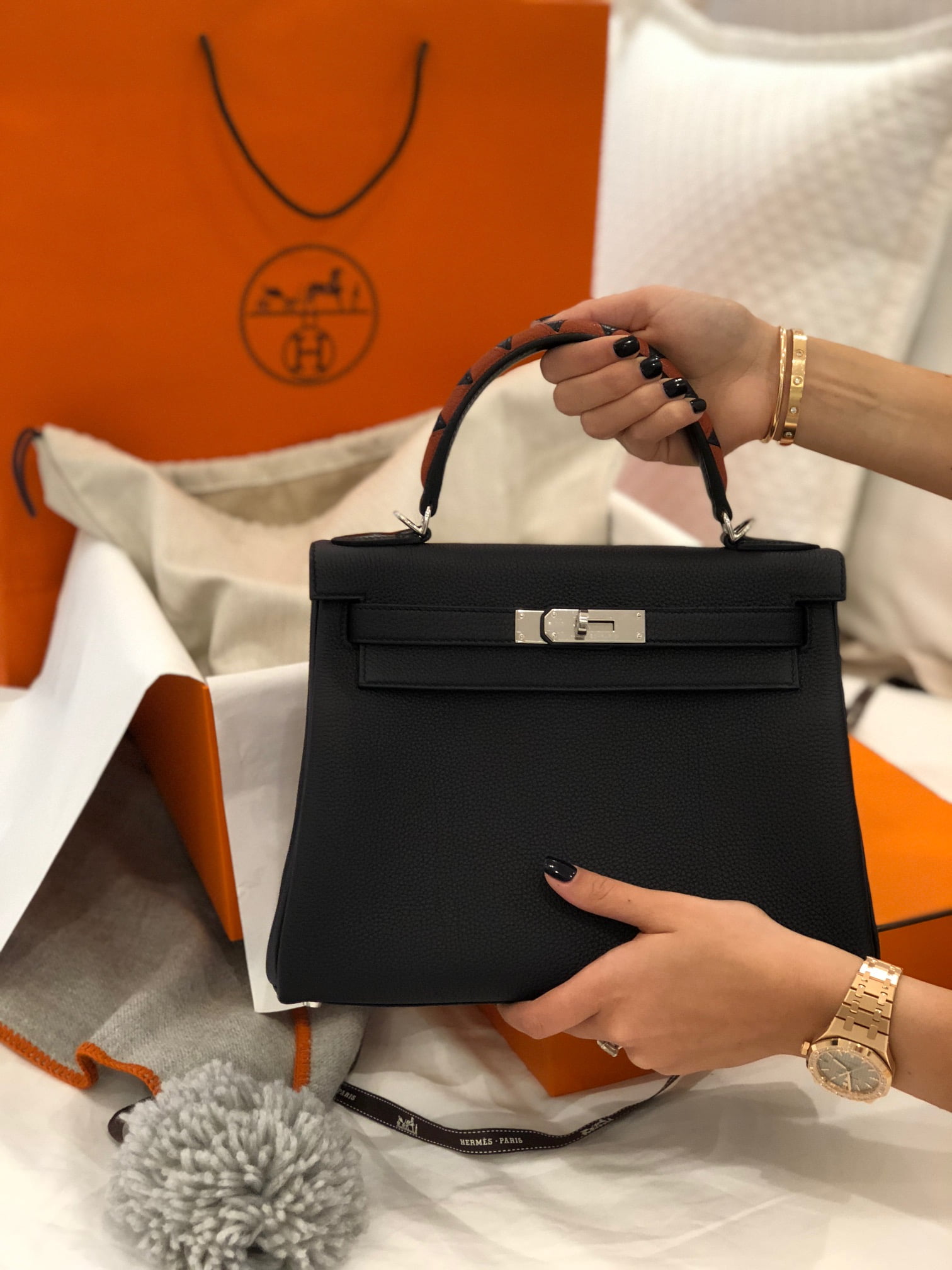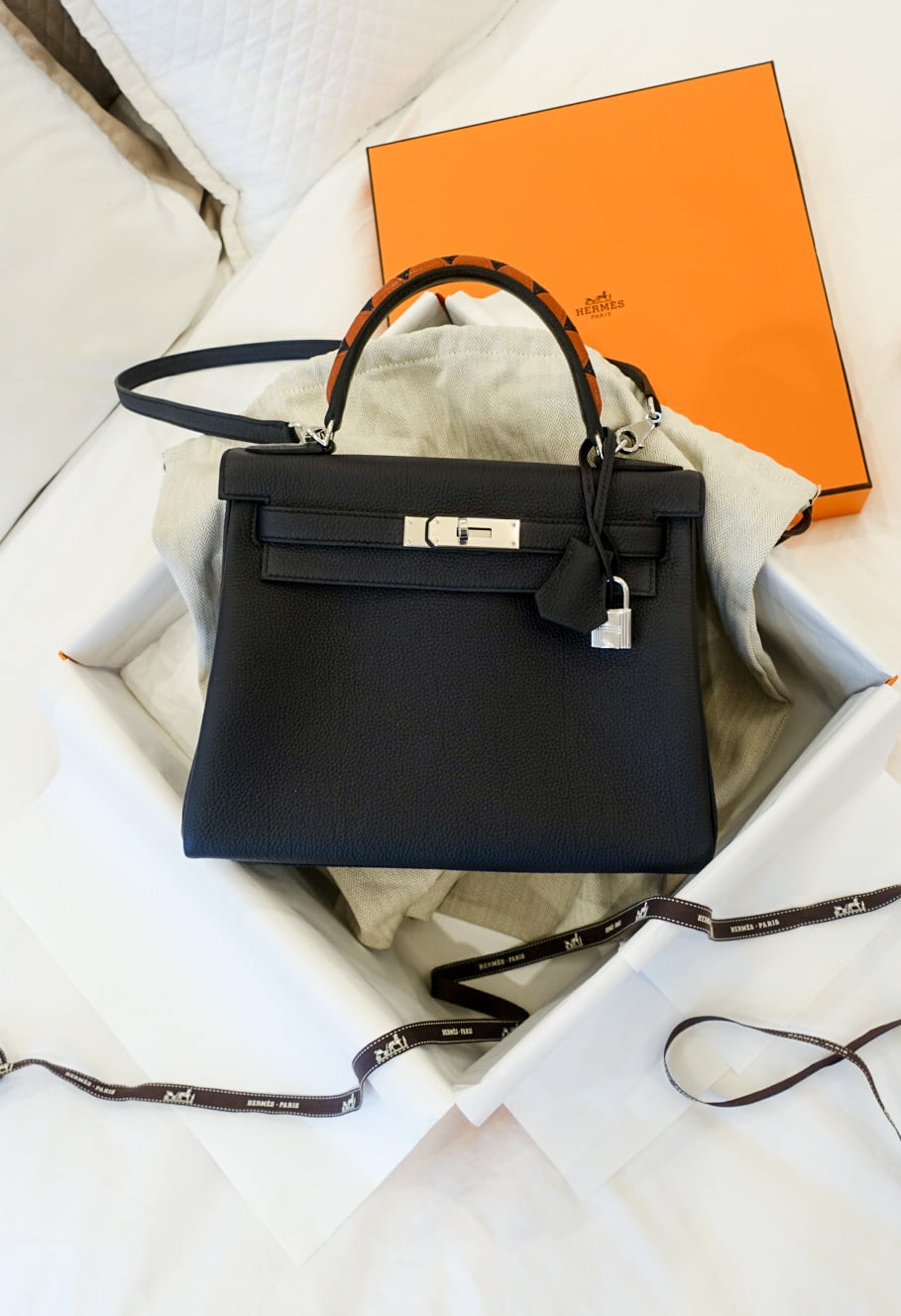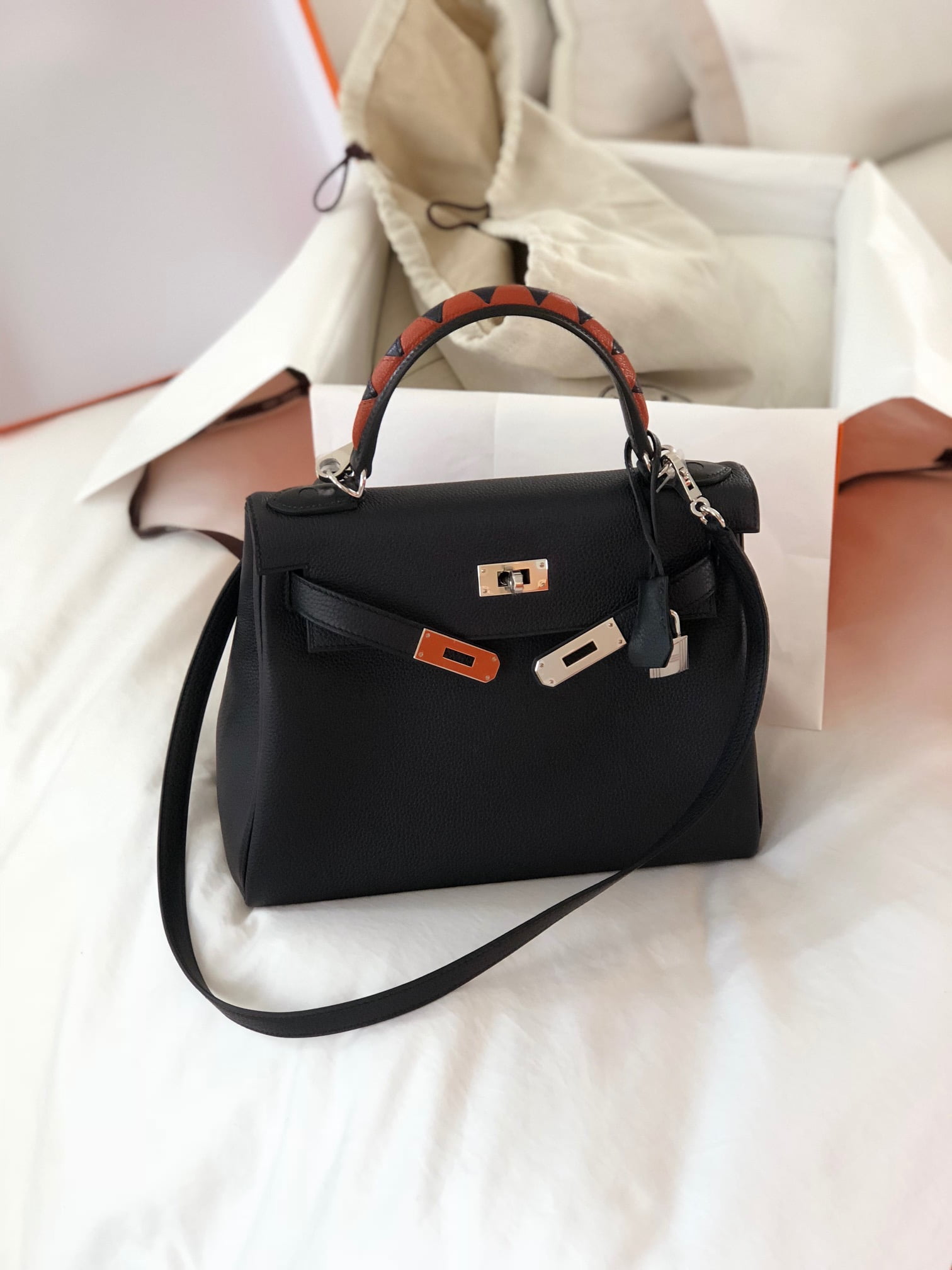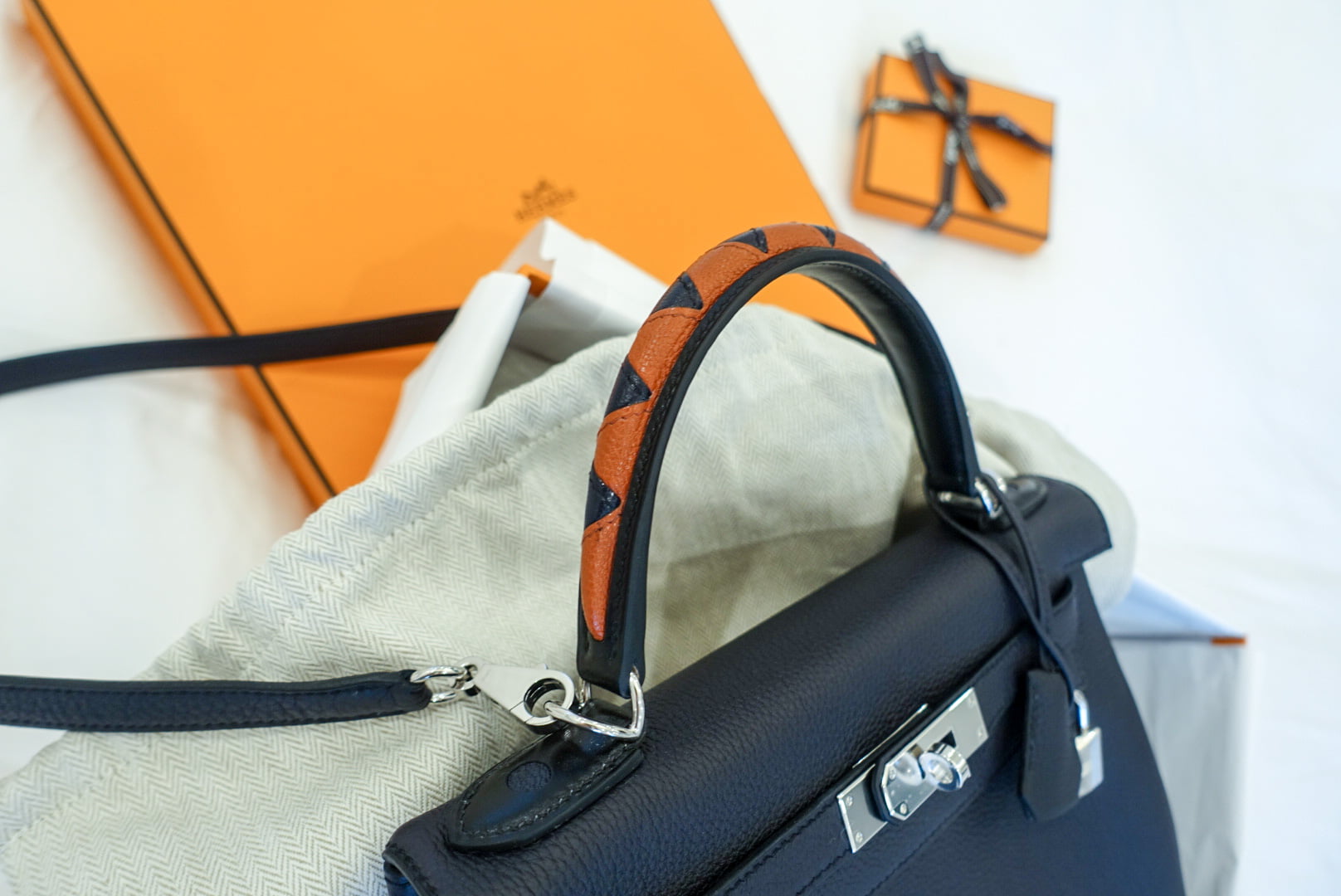 You may wonder, what exactly are these distinct marks on the Kelly Au Galop handle? Secret society symbolism ? Ancient tribal markings? I for once would like to think that these geometric shapes symbolize a new generation of Hermès lovers that crave something different and innovative from the traditional house of Hermès