Delivery day has come and gone, the number of baby visitors has slowed down, and I am finally beginning to grasp the concept that our petite family of three has become a quartet overnight. Salvaging my energy to keep up with a fervent toddler while managing the round-the-clock demands of newborn feeding, is not an easy task. My pint-sized tyrant likes his milk served at room temperature, straight from the source and always on the house. Are you catching my drift? I am on Amazon ordering nipple cream as we speak.
It's been a long five week reign of terror during which my 10 pound dictator arises no less than five times a night with a loud howl that could wake the dead. His plaintiff cries can curl your toes or rise you half asleep on feet.
I know there are cavernous dark circles or, in our context, "black bags" ready to stake claim as full time residents beneath my eyes. Speaking of bags, certain highly-coveted leather goods come to mind. Those with an unparalleled craftsmanship, a universal appeal and a demand far outstripping supply. Yes that's right, I am talking about the allure of Hermès and the desire it creates.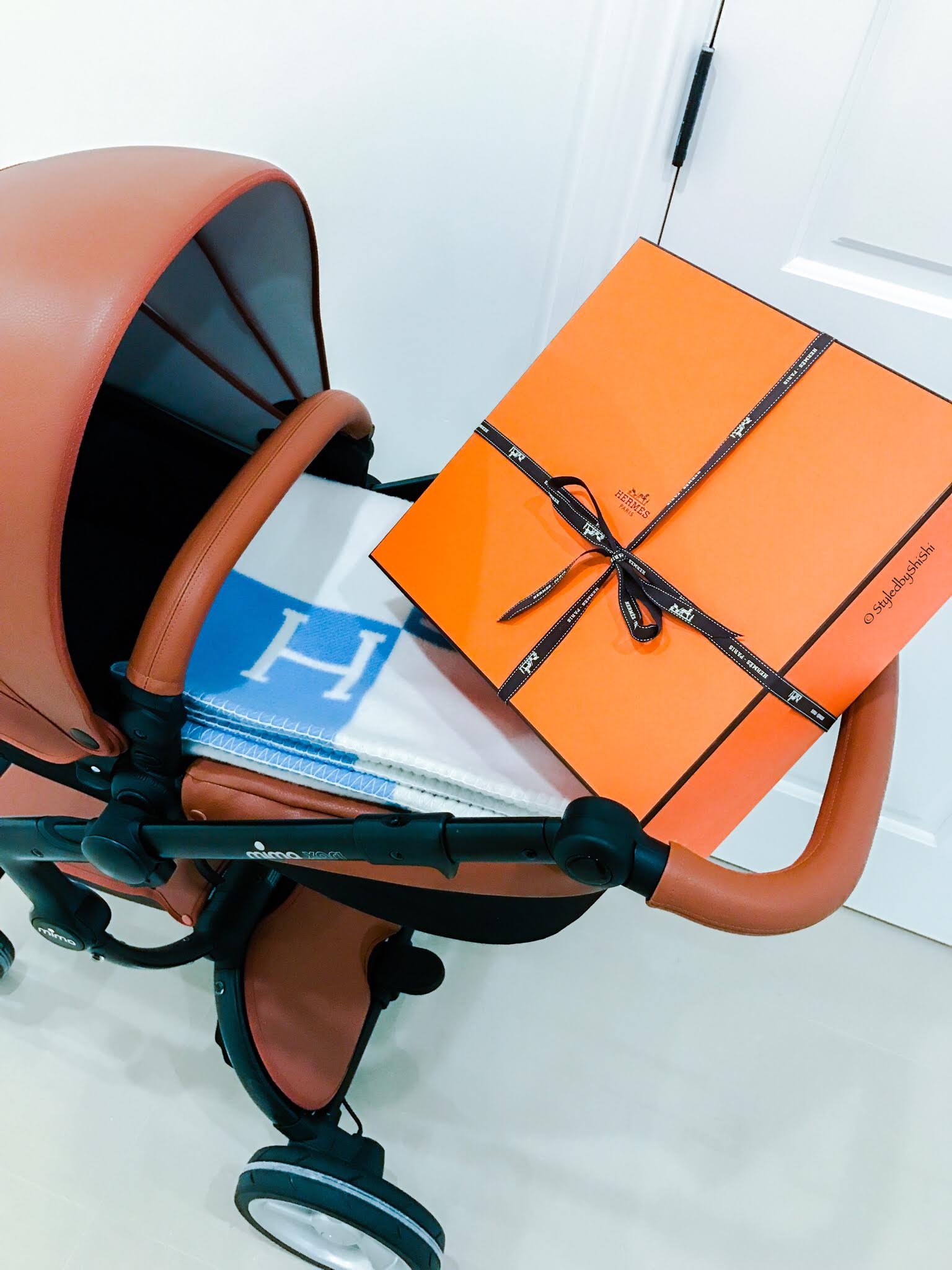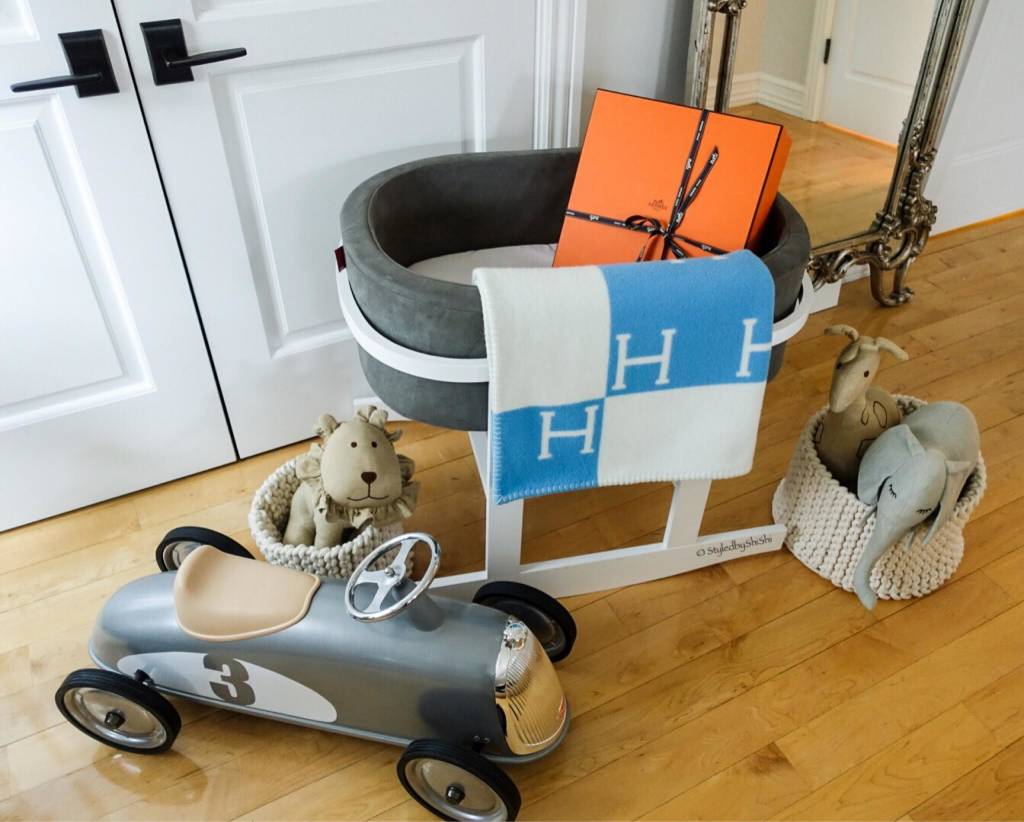 Now can you think of a better way to romance a 40-week pregnant lady turned sleep-deprived mom of two than with a certain "token of appreciation" inside a beautifully packaged Hermès box? I certainly cannot.
They say the real power of a man is in the smile of the woman sitting next to him. Truth be told, nearly a month has passed and that brimming grin is still planted on my face. Silliness aside, I was perfectly content indulging in the celebratory Lady M Green Tea Mille Crêpe cake I received post-birth but hey, I was not going to say "hubby take that present back!" I am all for practicing proper etiquette.
What did hubby deliver as a "push present" inside that utterly unexpected Hermès box? Stay tuned, the answer is coming up.
This installment of #MyHermesChronicles brings us to the growing trend of "Push Presents" and all it entails. Whether this term makes your ears bleed or your eyes roll in disapproval, the sentiment behind the term makes my heart burst with joy. What exactly is a "push present"?  Simply put, it is a special gift given to a mother by the father to commemorate the birth of their baby. Its purpose is to make a new mom feel appreciated after experiencing one of the most challenging and yet rewarding tasks in life.
Unclear on the concept? Well, the real life application of such "push presents" can be interpreted in two different ways. First, "push"" as in – I the mother of your child, dedicated my body and soul to grow a tiny human being, "pushed out" this miraculous blessing- hereby present myself to claim my reward.
Or, second, my personal favorite, "push" as in – "I' have sacrificed a great deal to bear the burden for the better part of the year – in compensation, I am "pushing you", my devoted husband, to follow suit.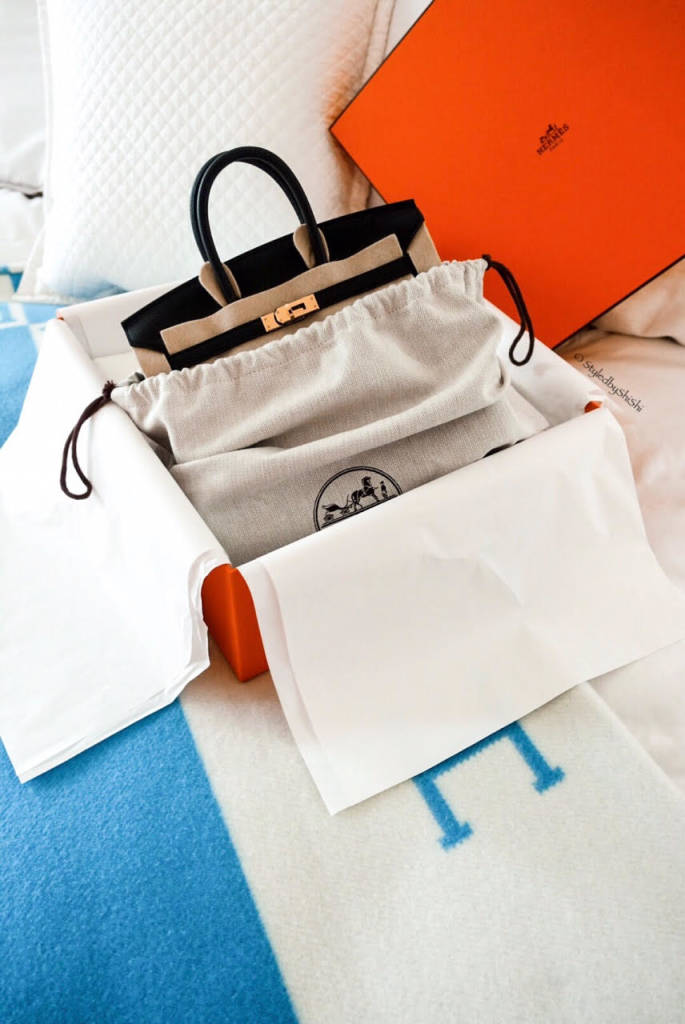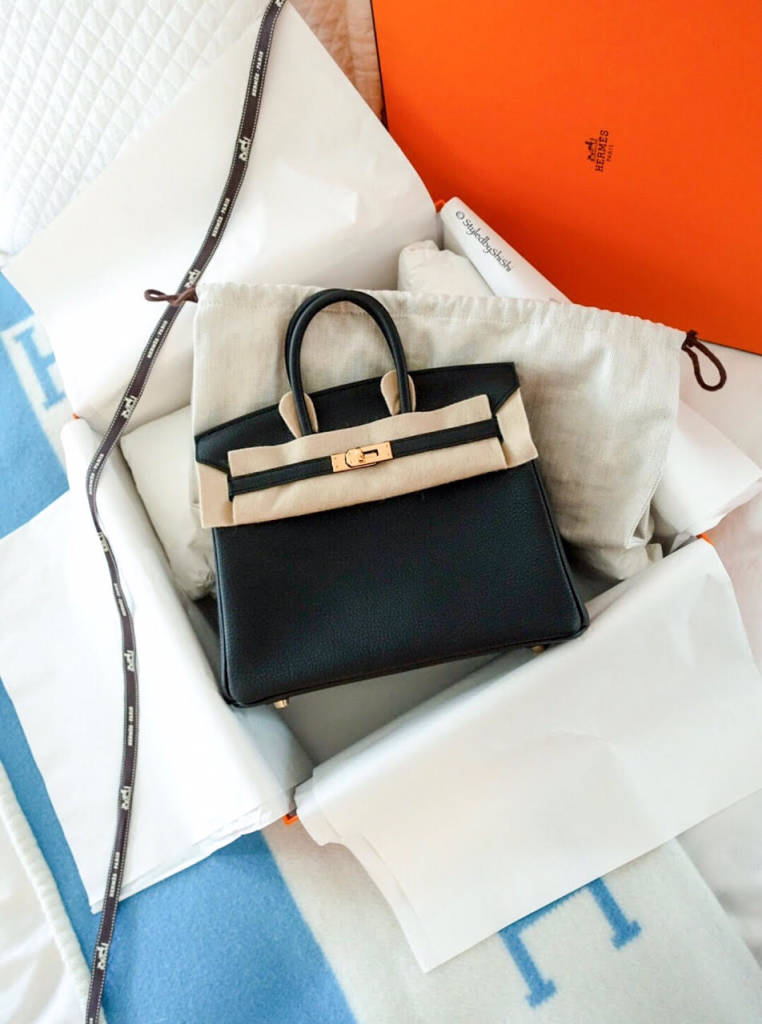 My repeat cesarean section may have hindered any literal "pushing" but I did get a little "celebratory gift" from my husband to memorialize the birth of our second son. Trust me, the vivid memory of being sliced across the abdomen in a cold operating room will not vanish nor will the incision given as a souvenir but I sure do appreciate the kind gesture. Because I like surprise gifts. And thoughtfulness. And certain lustful leather goods, with a handle or two, neatly nestled inside an orange box.
Teasing aside, allow me to share what was concealed inside the Hermès box!
I vividly recall my hospital room quickly filling with well-wishers bearing gifts shortly after the arrival of our bundle of joy. In the sea of blooming flowers, balloon arrangements and stuffed animals I spotted one orange box. Confined to a hospital bed with limited mobility, I enlisted the help of my three-year-old toddler to unveil the contents of this fairly small box. His eager little hands ripped the Bolduc ribbon off. He then strategically placed his thumbs on each side and lifted the lid, full of self-pride.
At the time, I had no idea what was inside the box. Judging by the size, I assumed it must be an Avalon baby bath robe or perhaps a Hermy plush horse.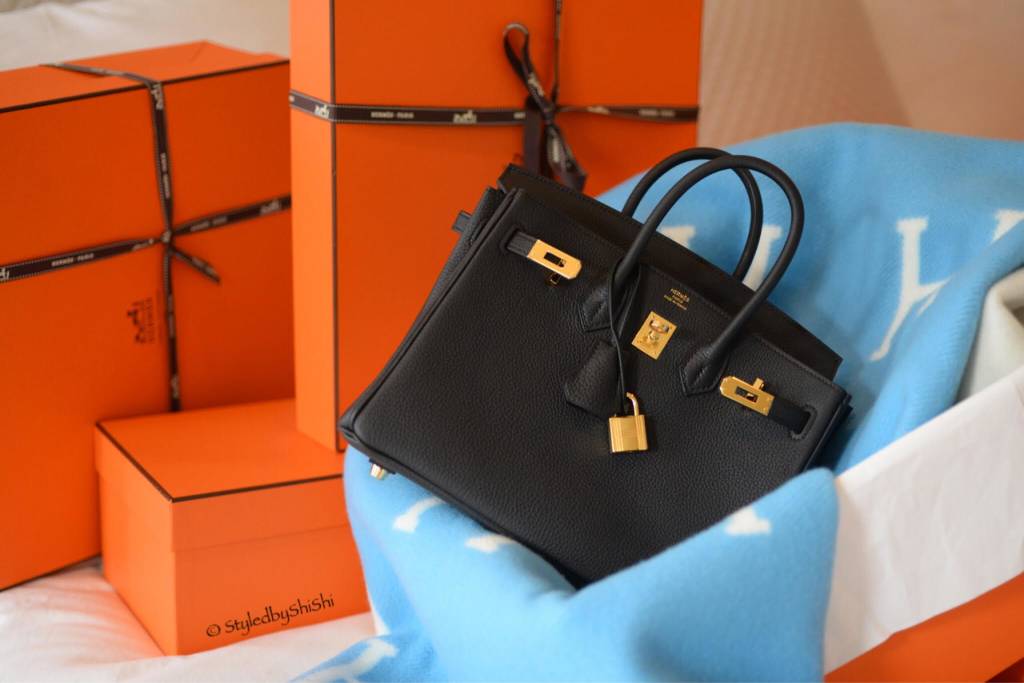 As it turns out, I could not be more wrong.
To my complete and utter surprise, there was a purse inside!
Adrenaline, with a lick of morphine, pumped furiously through my veins that I nearly forgot about any lingering post-delivery pain. Butterflies flood my sore, tender belly as two dark handles peeked from within the herringbone dust-bag.
A Birkin, I gasped!
What color is that?!  Is it Noir?! 
Sadly the lighting in this hospital is not very bright.
Hermès' Mutations of black flooded my mind: Macassar, Blue Nuit, Blue Indigo and Khaki to name a few. Oh, please just let it be plain good old-fashioned black.
If you recall my recently published episode of #MyHermesChronicles The Pursuit For The Perfect Grey, you are well familiar with my daunting journey navigating through 50 Shades of (Hermès) Grey.  Once the search for my ideal Mr. Grey came to an end, I was ready to go 50 Shades Darker and hunt for my very first black bag. Whether it was luck or bagfaith, hubby "bagged" my very first Noir Hermès bag.
My fingers tingled in anticipation as my tot peeled the drawstring dust-bag off to the sides. I nearly jumped for joy once I discovered the gleaming gold hardware adorning this Noir Birkin's Touret and Plaque. I have a love-hate relationship, well mostly fear, of super soft Swift and thankfully this masterpiece was crafted in grainy Togo cowhide, to my immense relief.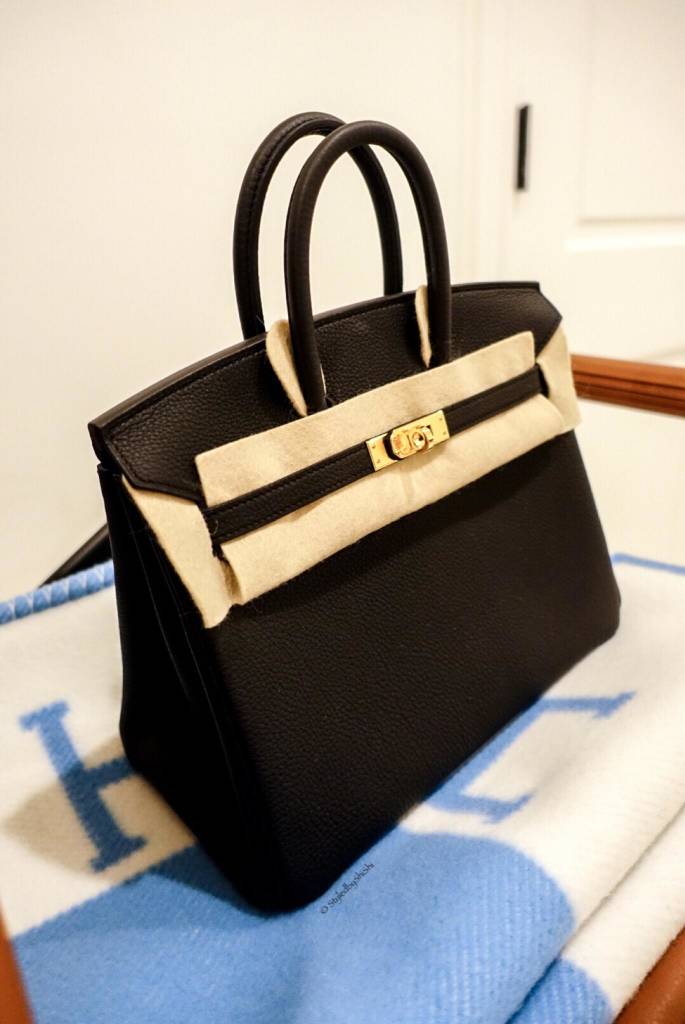 I will admit, I purposely left the best part for last. If you are familiar with the first episode of #MyHermesChronicles titled "Does size really matter?", you know I have been downsizing my B's and K's based on Length x Width x Height. Evidently, size is my most important factor when determining if a potential Hermès handbag purchase "measures up".
Naturally, I have been trying to get my hands on a certain miniature itty-bitty Birkin since the micro-trend first stole my heart. Well, let's just say my pregnancy craving for something pint-size was satisfied, courtesy of the man behind the bump. At only 25 centimeters long, this baby Birkin may be a scaled-down version but it's guaranteed to garner just as many ooh's and aah's as our mini-human addition.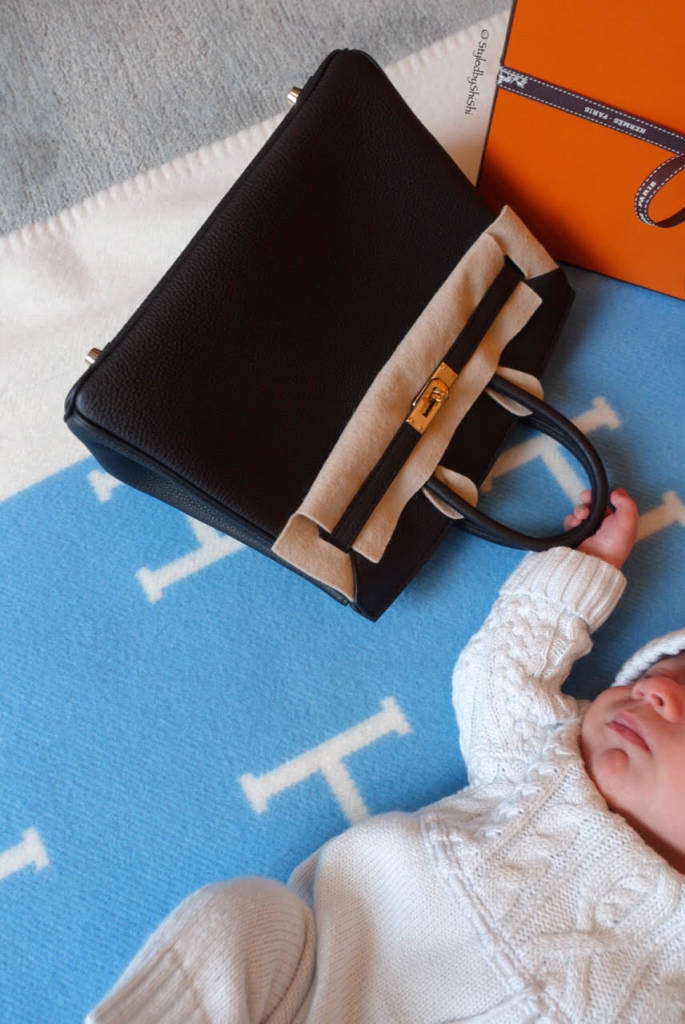 While majority of my Hermès purchases are "to me, from me", this little "push present" is welcomed with open arms – especially when it is meant to be carried in the crook of one. This doll-size elusive Birkin is timelessly chic and serves as a sophisticated addition to my rather casual look.
Although it is no secret that this is my favorite bag by leaps and bounds, even I was dazzled by Hubby and H-Fairy's covert operation to get this glorified purse just in time. This micro-mini "appreciation gift" from Mr. M had a huge impact that I will cherish forever as it marks a very special time in our lives: the blind date with a 8lbs 7oz baby boy who will always hold a piece of my heart.
Looking back this whole experience seems like a blur. I was in seventh heaven floating on cloud nine, deep under the influence of oxycodone- just kidding- the Hermès spell. Jokes aside, let's wrap  things up – the best gift for any new mom is a healthy baby. But unlike labor, delivery or baby-exist-wounds recovery (ouch!) a congratulatory "push present" never hurt a mom.