It began with an ad. A Barenia Kelly sitting on a Parisian café table with a coffee cup and a book open to pages that were softly moving to the rhythm of a cool summer breeze. That was February 2014 and one of my first blog posts. 
I'm not sure what it was exactly that captured my heart. Was it the mood? The natural-hued smooth leather with white stitching? I don't know, but something made my heart skip a beat.
The Barenia seed was planted.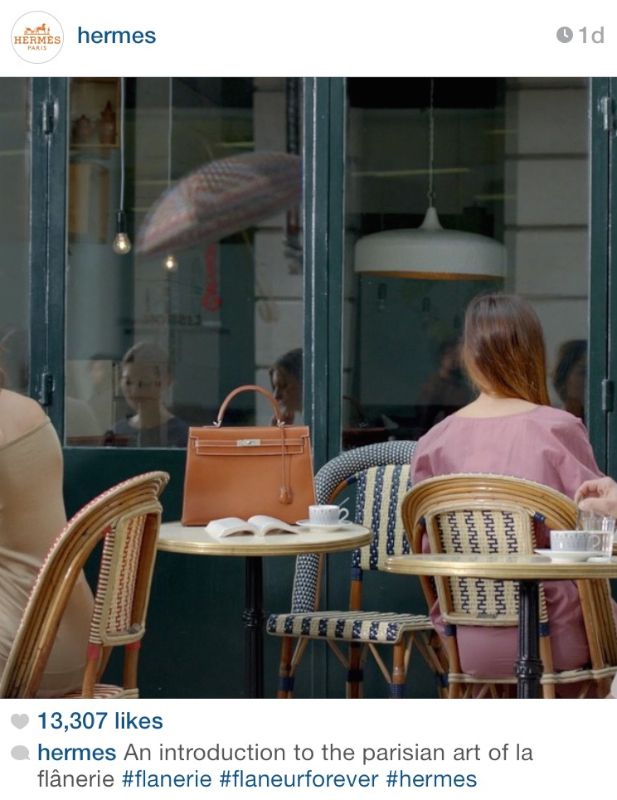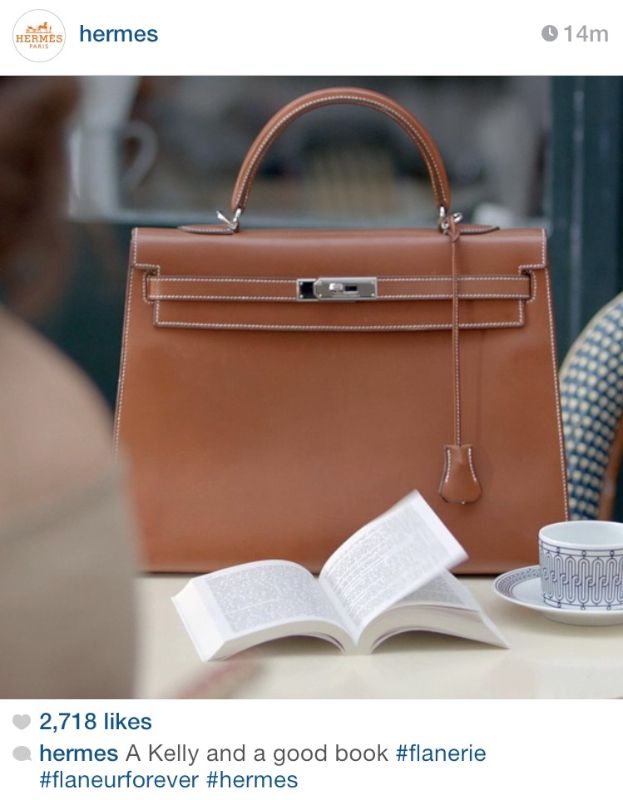 When I am intrigued by a handbag, I become somewhat obsessed, making it my mission to learn everything I possibly can on the subject. When I began research, I confess I had no idea what Barenia leather was, although the name seemed so familiar. Of course, once I learned that Barenia was the leather used for Hermès saddles with the legendary patina-ing process, it all came together for me like meant-to-be puzzle pieces from my past.
Barenia is a high-quality calf leather that's been used by Hermès' equestrian division for a long time, but that first appeared in the Hermès handbag collections in the 1970s. It has an incredibly smooth exterior, with just a hint of gloss, and is water-resistant. Barenia is one of Hermès' rarest leathers.
As @luxecoffer puts it in her Barenia testimonial, "one of the most special traits of Barenia is the beautiful patina that it will develop as the leather takes in the elements around her and then ages gracefully. This will be most prominent in Fauve Barenia. I once had a Fauve HAC that was approximately 12 years older than my young Birkin. Put the two bags side by side and you will recognise that the more mellow glow belongs to the 'senior' who has seen the world, and the lighter tone is the 'junior' waiting to explore the horizon. Both are equally beautiful in my eyes." (Read: Aging Gracefully with Hermès Barenia Leather)
More importantly than the specifics of the leather, Barenia, to me, conjured up images of worldly women unbothered with the trivialities of pristine bags traveling the world with abandon. They laughed boldly and spoke up, proud of their fine lines, with their own unique let-loose style, confidently wearing denim better than a Levis ad—all while toting this saddle brown Birkin. The bag was an expression and extension of their life story.
Wow, you can tell how my imagination ran wild about Barenia.
Is this my life story? Could it be? Well, not really, except for the well-traveled part. And saddle brown? You all read about my struggles with beige and gray. Saddle brown is a whole new level of neutral and earthy. But still, this "Barenia look" mesmerized me and captured a part of my handbag heart.
The way @alexstrickland describes Barenia embraces these sentiments perfectly. "The supple, natural leather has truly taken a shape and character of its own, serving as a vehicle down memory lane of the many journeys and trips it has accompanied me. The golden brown color shows every mark and the patina that comes slowly over time is to die for. … If you buy a barenia bag, you can't be afraid of it getting a knick or a scratch here or there. Its perfection derives from its imperfections."
The Evolution of a Collector
Building a handbag collection is a funny business. It probably merits a separate article so here I'll be brief. The purses we buy are a snapshot of who we are or want to be at a given moment, but, by definition, that means a collection evolves. I first learned of Barenia at a very early stage in the evolution of my love for Hermès. In retrospect, I probably wasn't ready for Barenia.
Phase 1:
Typically you start with your first—of whatever brand (Hermès, Chanel, LV, etc.).  Getting that first is exhilarating—it only happens once and you can't go back. But you then learn what you like and what you don't. Maybe the brand isn't for you. Or maybe one style is and others aren't. It's a learning experience.
Conventional wisdom suggests most buyers dip their first toe into luxury with a neutral classic—like a black or gold Hermès or black Chanel classic flap. I was never that way… I always gravitated toward "special" not classic bags, so I typically enter a brand with novelty or color. For me, my first Hermes was orange, with many other brights to follow. But I digress…
Phase 2:
Once one has collected a few basics (or classics as we call them), there comes a deeper appreciation for and commitment to the brand, its heritage and core values. A collector begins to identify with the specialties of his/her favorite brand, investing time and energy in learning more, reading, and above all seeking out fellow established collectors for their knowledge and expertise. PurseBop readers—you understand; this is what we do. We study others' collections and learn why they take pride in their investments.
I think this is where I am in my collection journey. I am beyond just wanting another color in any size. My choices are more calculated and researched. I have invested considerable energy, resources, and let's not forget the money. I have refined the theory of Hermès as an investment: not every color and size is going to fetch you the same money in the secondary market. It depends on the market trends at the time you sell. For example, currently a B25 will bring you a higher return than a B35. Five years ago it was probably the reverse.
This Brings Me Back to Barenia...
My desire resurfaced alongside rumors of a new type of Barenia called Barenia Faubourg—textured to appear very much like Togo leather in classic gold. But I have seriously struggled to find neutrals that work for me. Remember the entire series last fall on neutrals? At the time, my definition of neutral equaled metallic…
Read:
My wavering ultimately led to the addition of my first neutral late last fall in Gris Mouette! (Read: Miss Mouette Joins PurseBop's Hermes Family) And my success going neutral with Miss Mouette inspired me to think beige/gold/light brown. That may be very natural (and neutral) for most of you, but a huge pivot into no man's land for me. I confess, I do not own any brown bags or shoes with the exception of my limited LV briefcase, college backpack, and new luggage. Your understanding is correct: I do not own any beige or brown handbags, not even classic Chanel.
I toyed with idea of adding gold or etoupe to my collection many times and came ever so close, but somehow never pulled the credit card trigger. (Read: The Quest for a Neutral Handbag)
So I pondered: if I was going to take the plunge into golden territory, why not with something truly special? Remember my descriptions of the intrepid Barenia women…? Enter an email to my SM and an investigative trip to Hermès.
I again began conjuring up images of broken-in horse saddles on majestic beauties. I remembered waiting at FSH in the leather line and being surrounded by royal horse paraphernalia. It doesn't take much for my mind to wander away to fairy tale places with near-impossible Birkins.
Hermès's journey from modest equestrian beginnings to the pinnacle of Parisian class and style, 180 years in the making, is a story of fine craftsmanship, familial dedication, and heritage. (Read: Hermès 101: Origins, Equestrians, and Aristocrats) Barenia, in my mind, embodies the story of Hermès. Finally, I knew I wanted the heritage bag.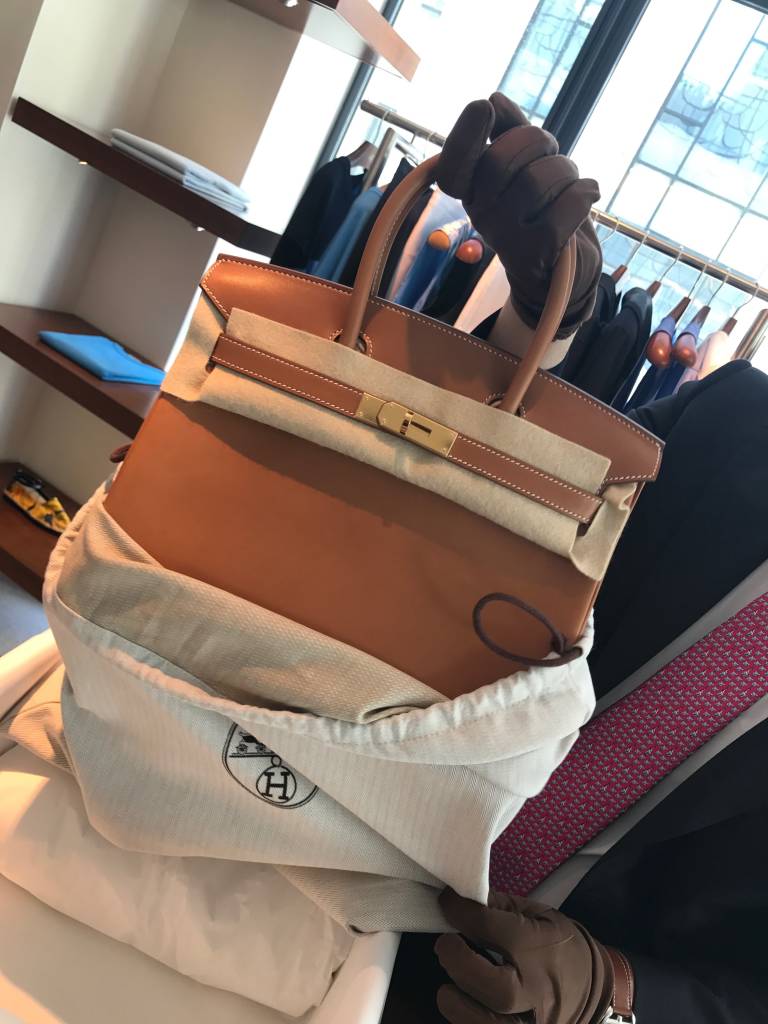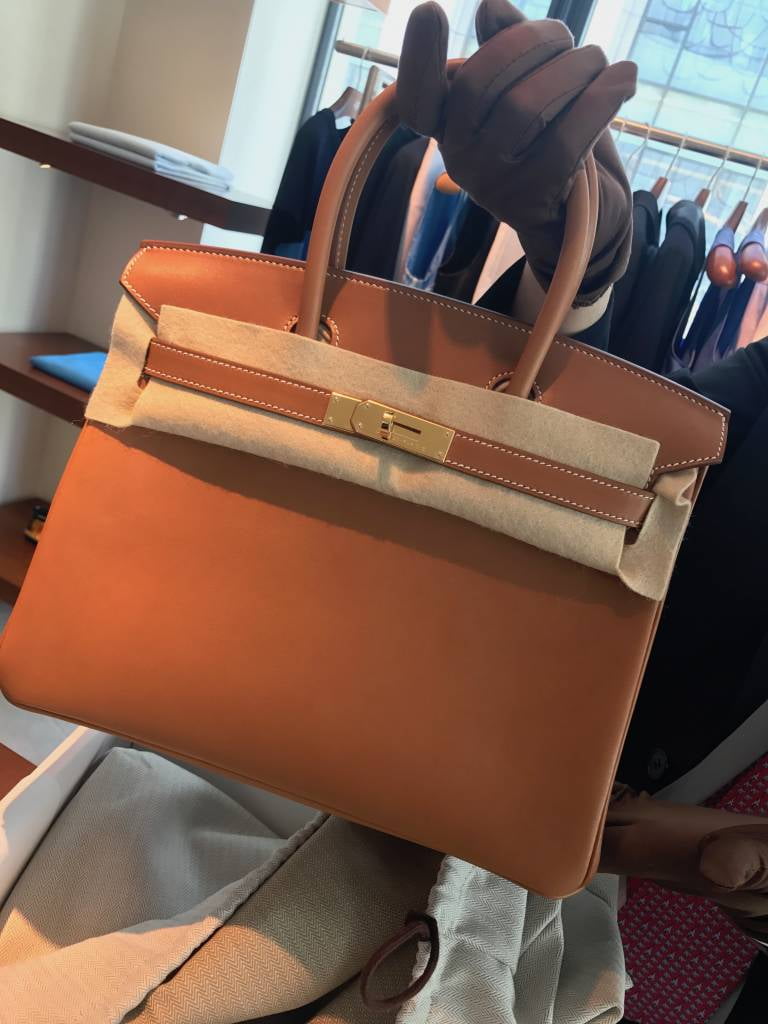 The Dream Becomes a Reality
Within a matter of weeks, I received a call with area code 312 that looked familiar but not exact enough to appear as Hermès Chicago on my home screen. It was my trusted sales associate with that "Hi Monika" that brightens my face with an anticipation only a fellow Hermès lover can relate to.
SA: "I have a special surprise for you, can you come in soon? I know your birthday isn't till July, but it's going to be July in April."
PB: "Do I get any hints?" I asked with bated breath, the blood rushing to my face and my cheeks turning bright.
SA: "Nope, I'm terribly sorry," he answered coyly.
PB: "Should I bring Mr PurseBop in with me? Will this be one of those magical moments I need to document?" (I knew there would soon be a day I'd want to sit down and write all about this…)
SA: "Absolutely, in fact you must! It's going to be a double-decker surprise that he won't want to miss out on," he said with a light chuckle and nearly hung up the phone.
PB: "I will die if you don't give me a hint, at least one please…" I begged, shifting from foot to foot as I tried to calm myself down.
SA: "It's something you recently requested my dear, but that's not all. There's a certain push-offer that I may present to you—one so special I dare not even whisper it."
And so receive the Barenia Birkin 30 with GHW I did. As well as something else that's extra special…but more on that another time
Am I satisfied with my Barenia Birkin? The words of @sparkledolll in her Barenia testimonial say all that could possibly be said: "The delicious scent, the blind stamp, the contrast stitching, the richness and grain of the leather…Pure Perfection."
Explore Below to Visit Other PurseBop Hermès Reveals:
Stay tuned for more coverage (and plenty of pics) with my new Barenia B30 with GHW!
Love, as always,
PurseBop
XO