Pleasure to introduce @mrslulu3 to our readers. @mrslulu3 is a long time Hermes collector and handbag enthusiast. She excitedly shares her journey to her holy grail treasure with us. Always vibrant and enthusiastic to share with our community of bag lovers.
Warm welcome to you @mrslulu3 and thank you from all of us, your PurseBop family!

Shared by @mrslulu3
I have been an avid Hermes lover and collector for quite some time now and have enjoyed learning more about the brand and the bags as the years have gone by. I actually started out wanting a black Birkin 35 with GHW as my very first bag, but I got sidetracked with other colors and different sizes. Somehow, that initial dream and my end goal has shifted dramatically over the years.
As you might have seen on my latest IG posts, I recently started gravitating towards black once again. Actually, it seems more like the black bags were gravitating towards me!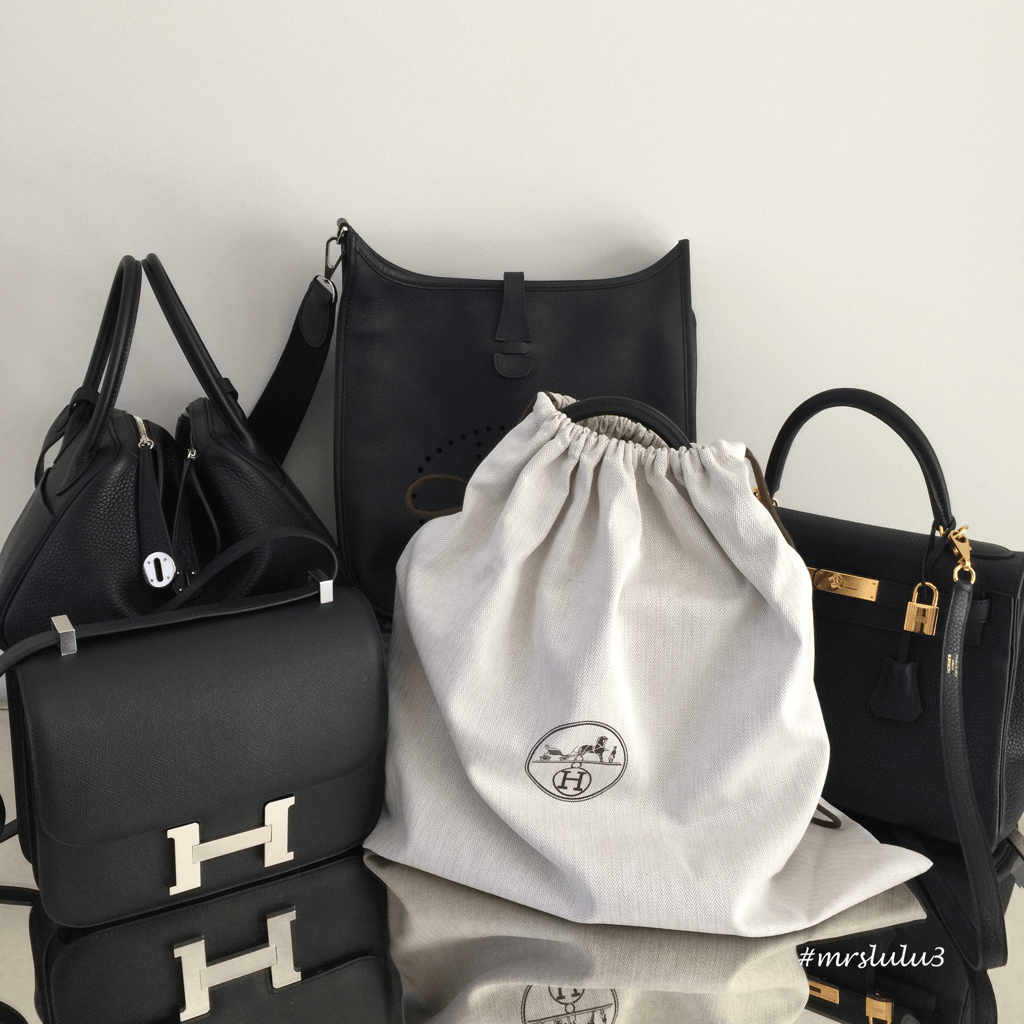 Although I added more black bags to my collection, there was always the longing for my "holy grail dream bag". One day while visiting Hermes, I spotted a black matte croc Birkin for the very first time in real life. It was game over. Ever since that day, I have dreamt of adding a black matte piece to my collection. I finally began suggesting the idea of a matte croc bag to my SA just to see if it was possible.
So, the quest began. And what a wild ride it has been! I do not want to bore you with specifics, but I was offered so many 'almost' bags. They started with some colored crocs with shiny finish, (not really my style and the size was never right), to a shiny black croc Birkin 30, (that was a close contender!). So many bags, but just not the right one. I longed for matte.
Then a matte was offered, but it was too big for my taste. Ideally, I was hoping for smaller than 30, like 25 or 28. So I waited… and waited…I never thought my bag would come.
Then, when I least expected it, I got the call!!!! It was almost too good to be true. So, I calmly said, sure, I will go in and take a look. Before I start with the reveal, let me just offer some words of wisdom: When you truly know that you want a specific bag, you must stick to what you really want. It takes a lot of patience, will power, and ultimately the cooperation of a great sales associate and store director, but the end result is so worth it!
As expected, when I got to the store, my wonderful SA brought out a perfectly sealed plastic covered box, and we opened it together. My heart was beating very fast and then the moment of truth…The bag was absolutely PERFECT!!! Oh, the scales, the leather, the hardware…I could go on and on, but you'll soon see why I immediately fell in love.
I gently lifted this new baby out of the dustbag and held her next to me. Wow. I know this may sound like a cliché, but we were made for each other.
So, shall we have a look?
The box!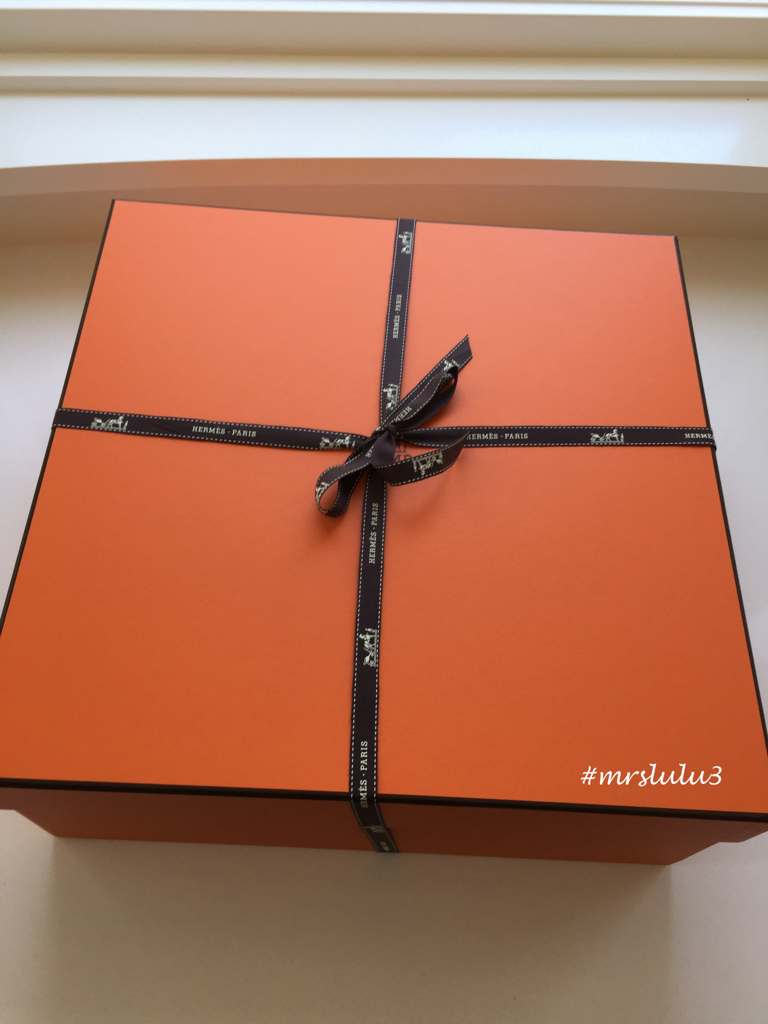 Let's get to the opening…You can see exotic skins information envelope and sheet inside the box as soon as you open it.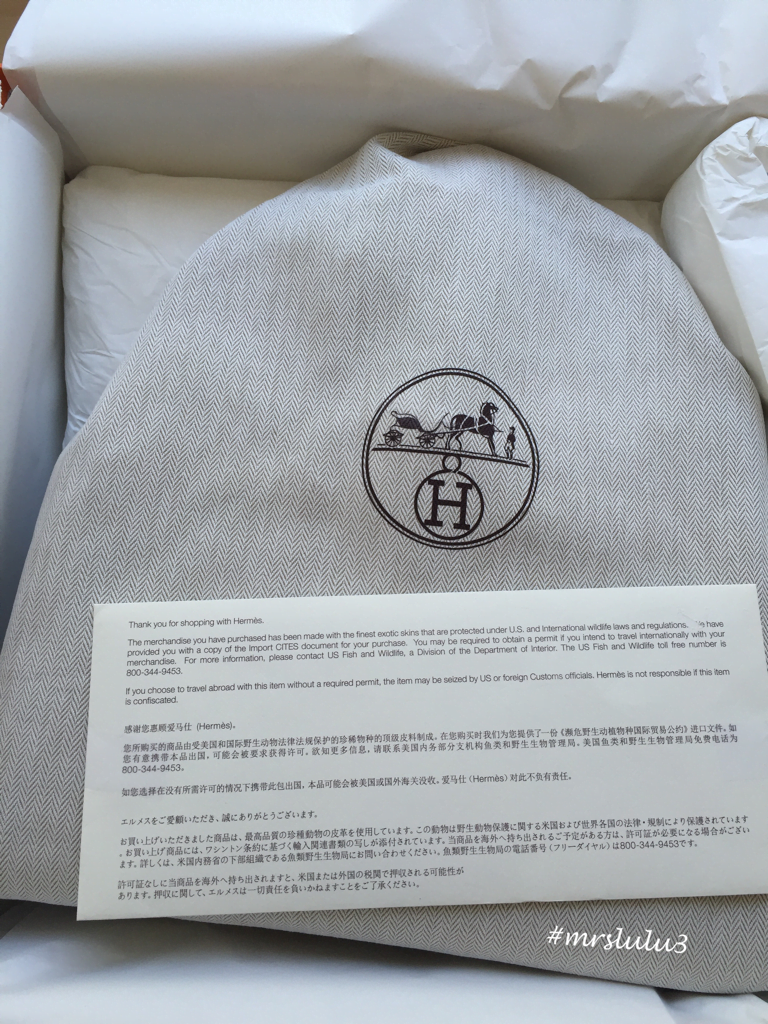 Sneak Peek of the Handle…are you excited yet?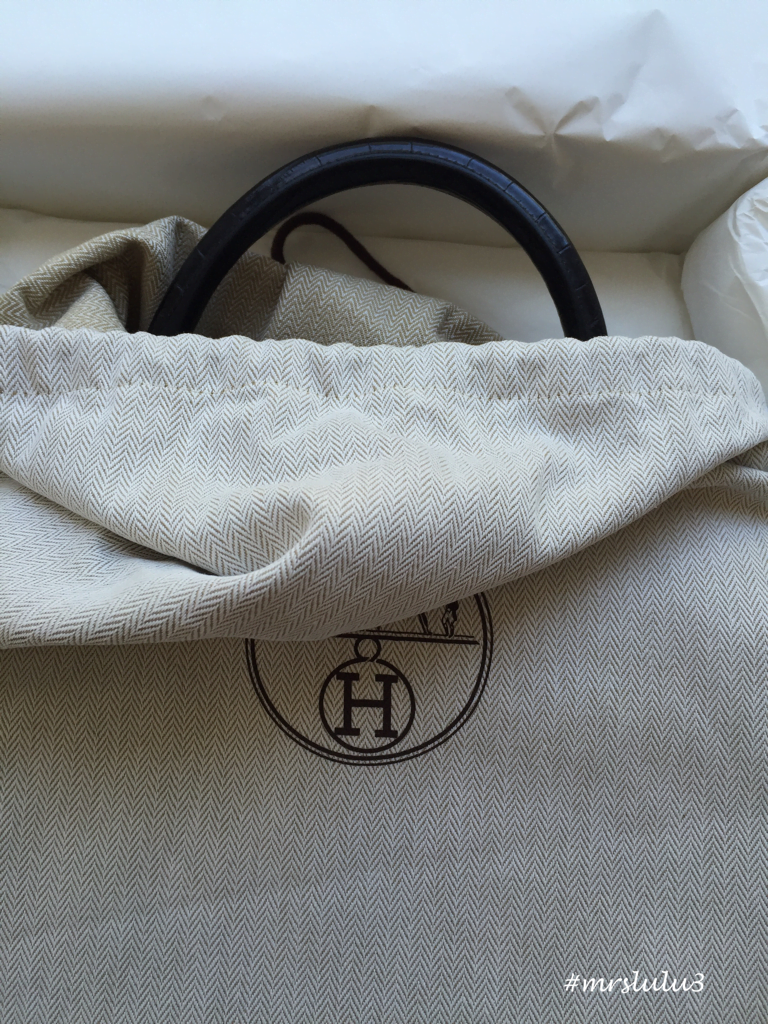 Here are a few details of the lock and opening to satiate your curiosity…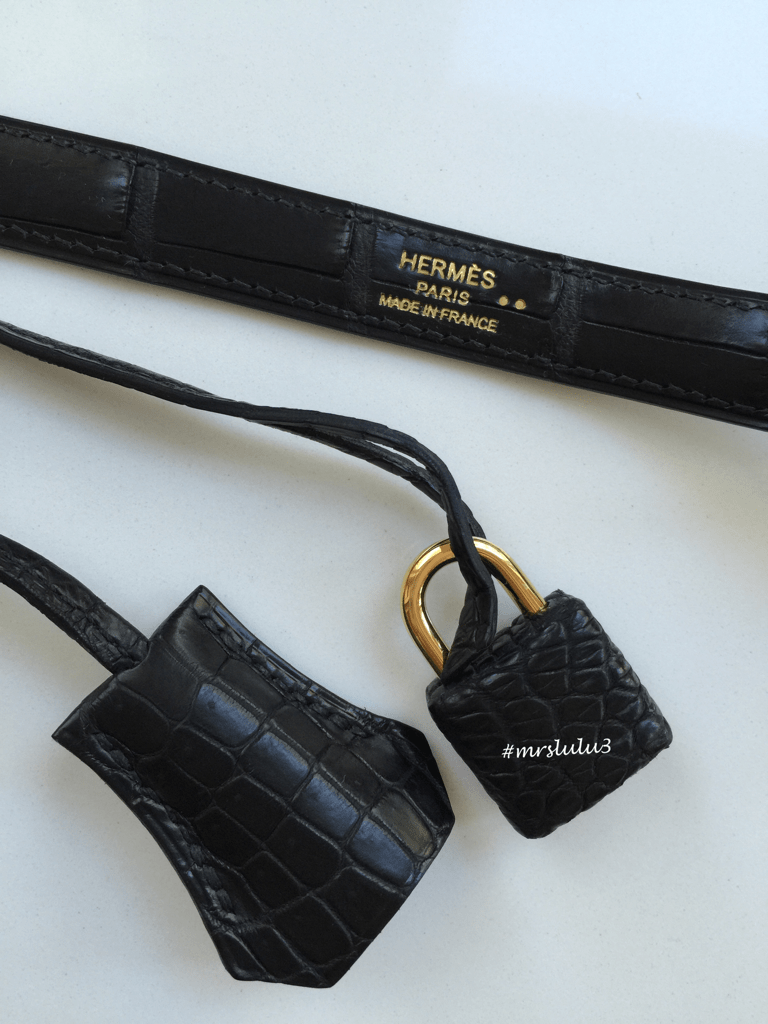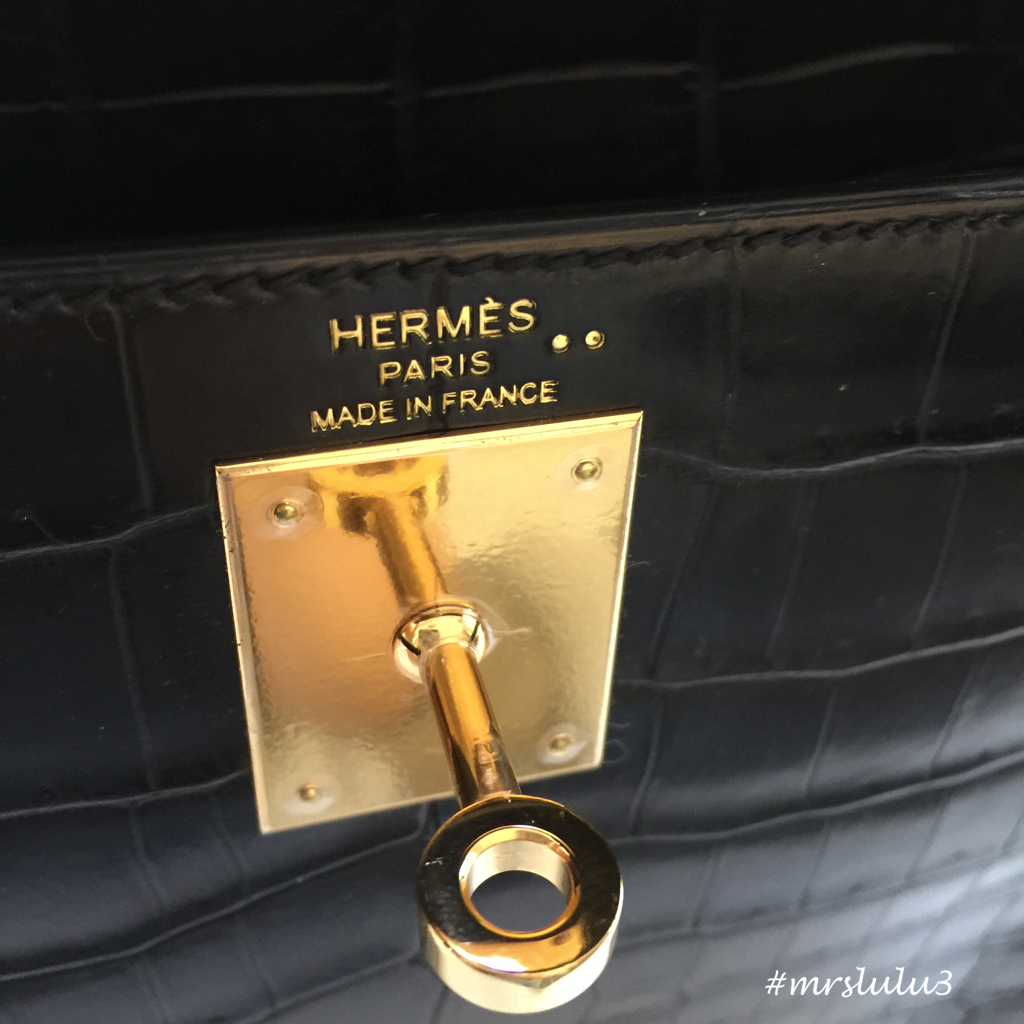 And voila…here she is!! I am pleased to introduce Ms. Black Matte Crocodile Kelly 28!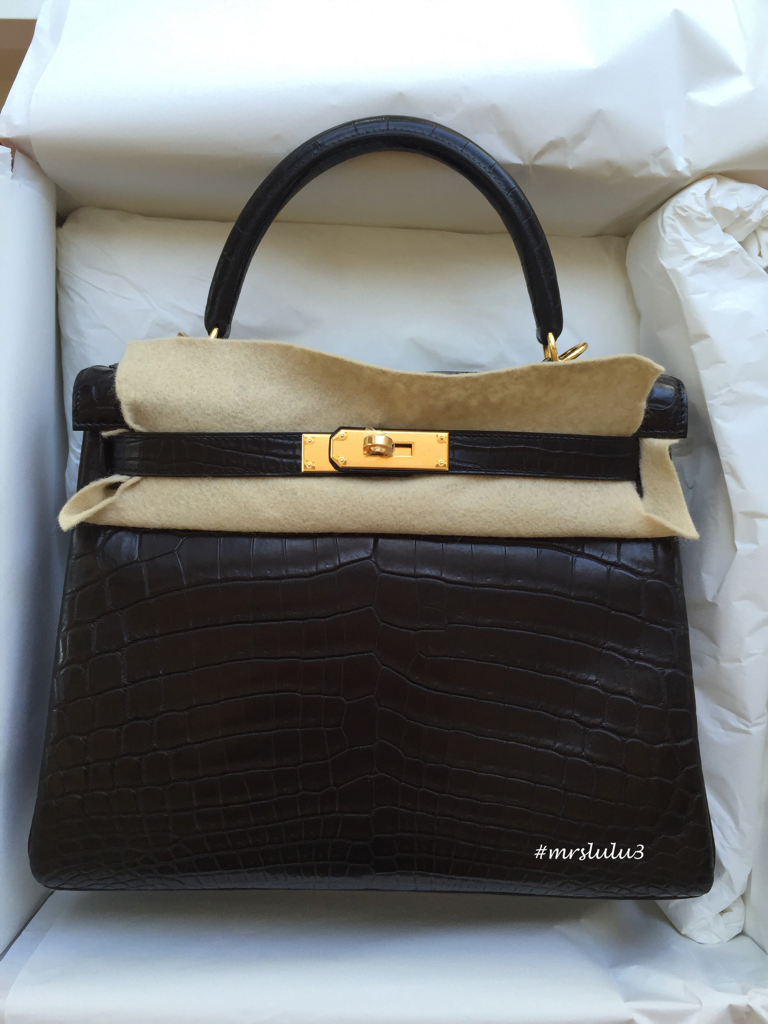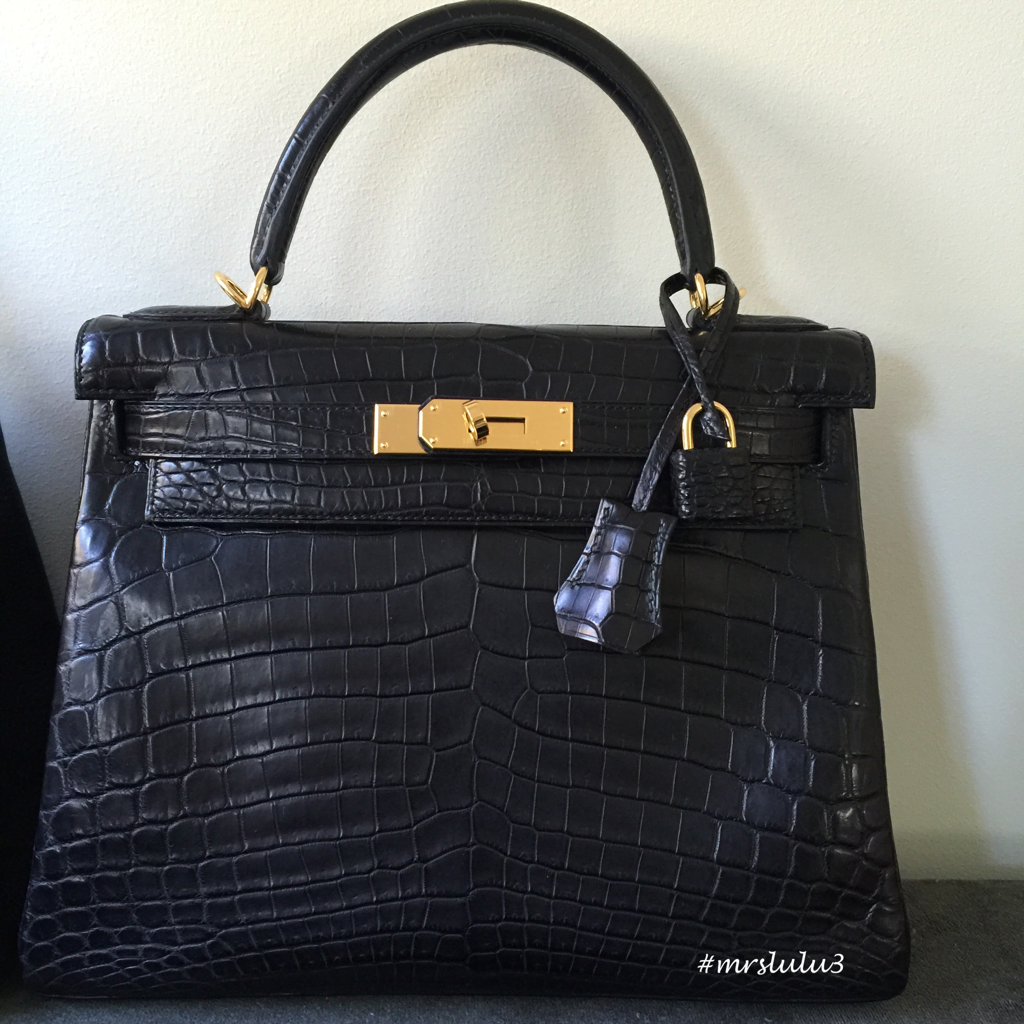 I feel so lucky and fortunate to finally have scored this beauty. As some of you know, I am a total Kelly girl at heart, so this was indeed perfect.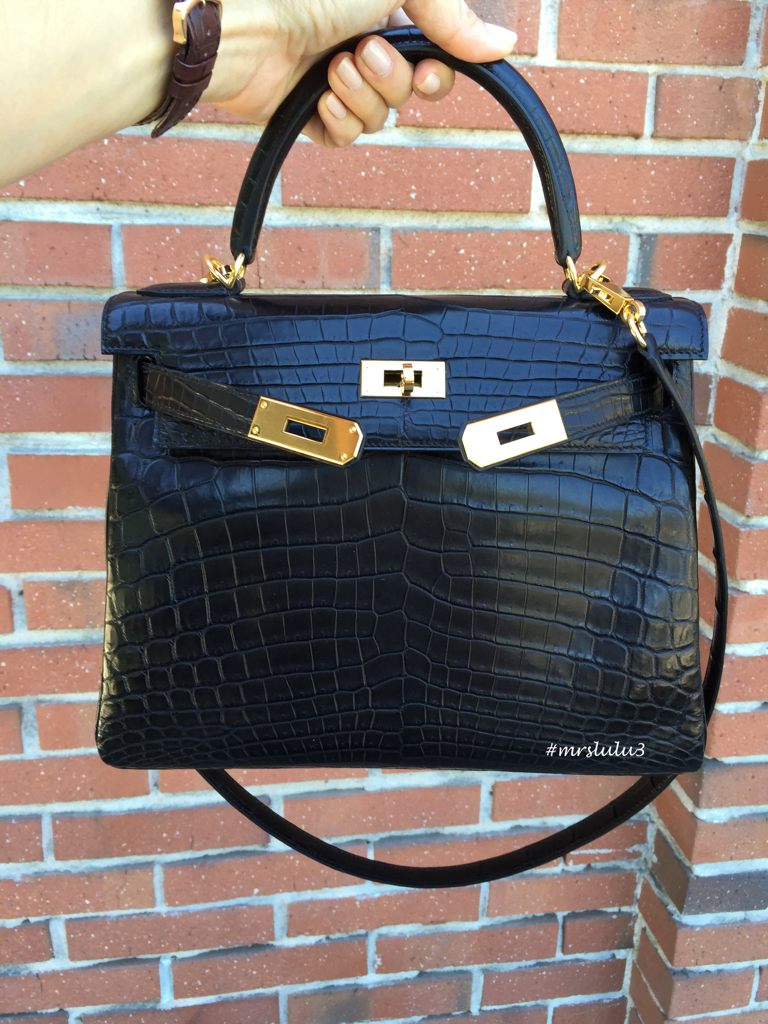 It was a long road and journey to my holy grail or "HG" but well worth it. Ms. Black Matte Crocodile Kelly 28 happily joins the rest of the crew!