We all know hoping for an orange box is a game of chance. Luckily, I have had my fair share of blessings from the Hermes' Gods. Each H bag from Birkin, Jyspiere, to Kelly is a cherished victory. However, my latest Hermes treasure has proven to me that fairytale moments really do exist.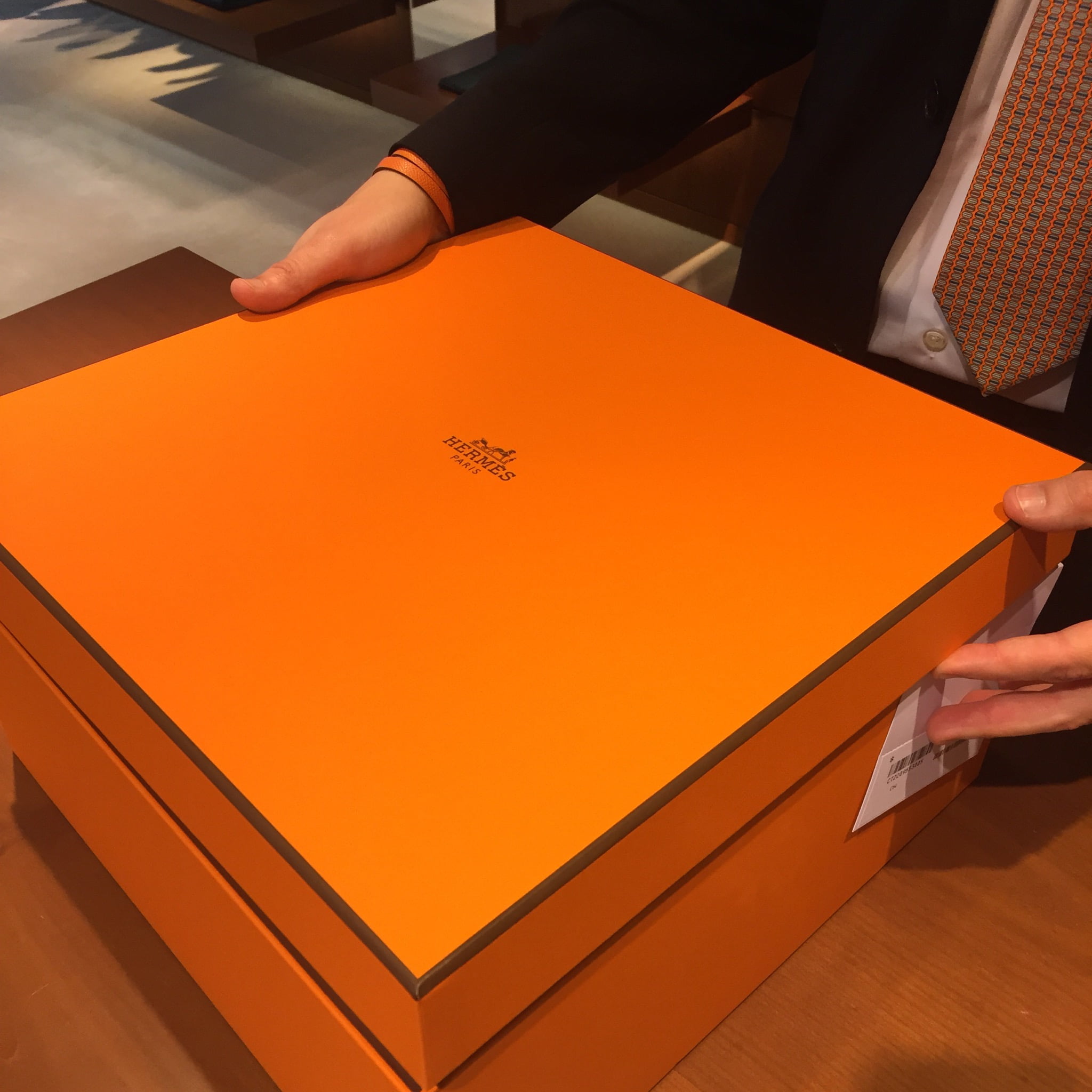 Earlier this week, we re-introduced the #PurseBopsGoneKellyCrazy movement with a Hermes Kelly Encyclopedia. We've broken the Kelly down to a science by investigating style, sizes, prices, and more. With every feature and possibility of the Kelly in mind, I full-heartedly believe I have found a K that earns the status of a "perfect fit." Allow me to share the moment of how I found her and each reason why I feel like she is the perfect Cinderella bag…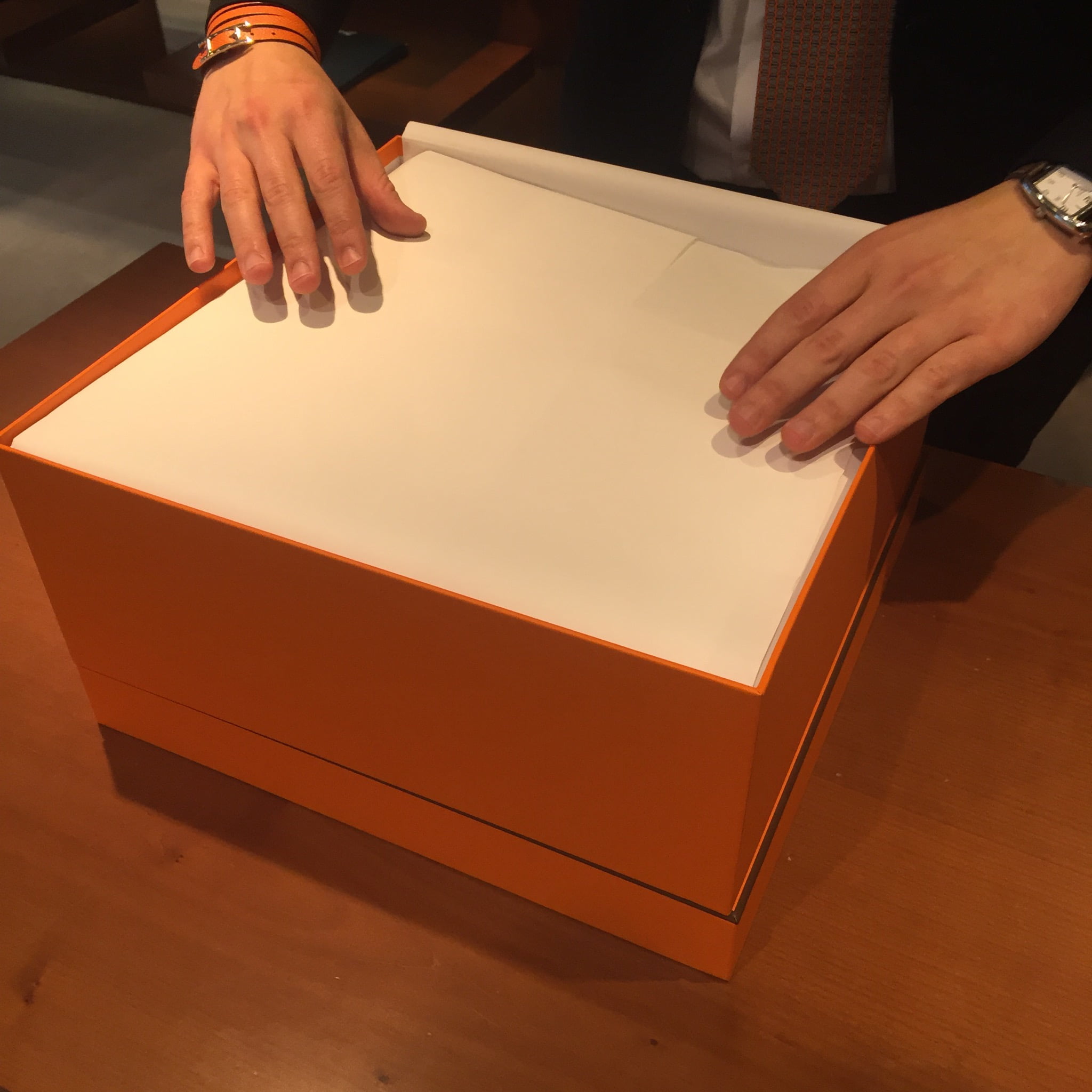 Before I show you the happily ever after part of this story, I thought I might include some of the magical twinkling anticipation happening immediately beforehand.  At the time, I had no idea what was inside the box. I myself almost felt like a suitor hoping to find the perfect princess! The search was indeed exhilerating. I have yearned for another Kelly for nearly one year since the the launch of BopTalk and the precious gift of my first sellier Kelly from Mr. PurseBop to mark that moment.  I cautiously asked my SA the right questions, trying to find out the specs of each beauty that came in front of me.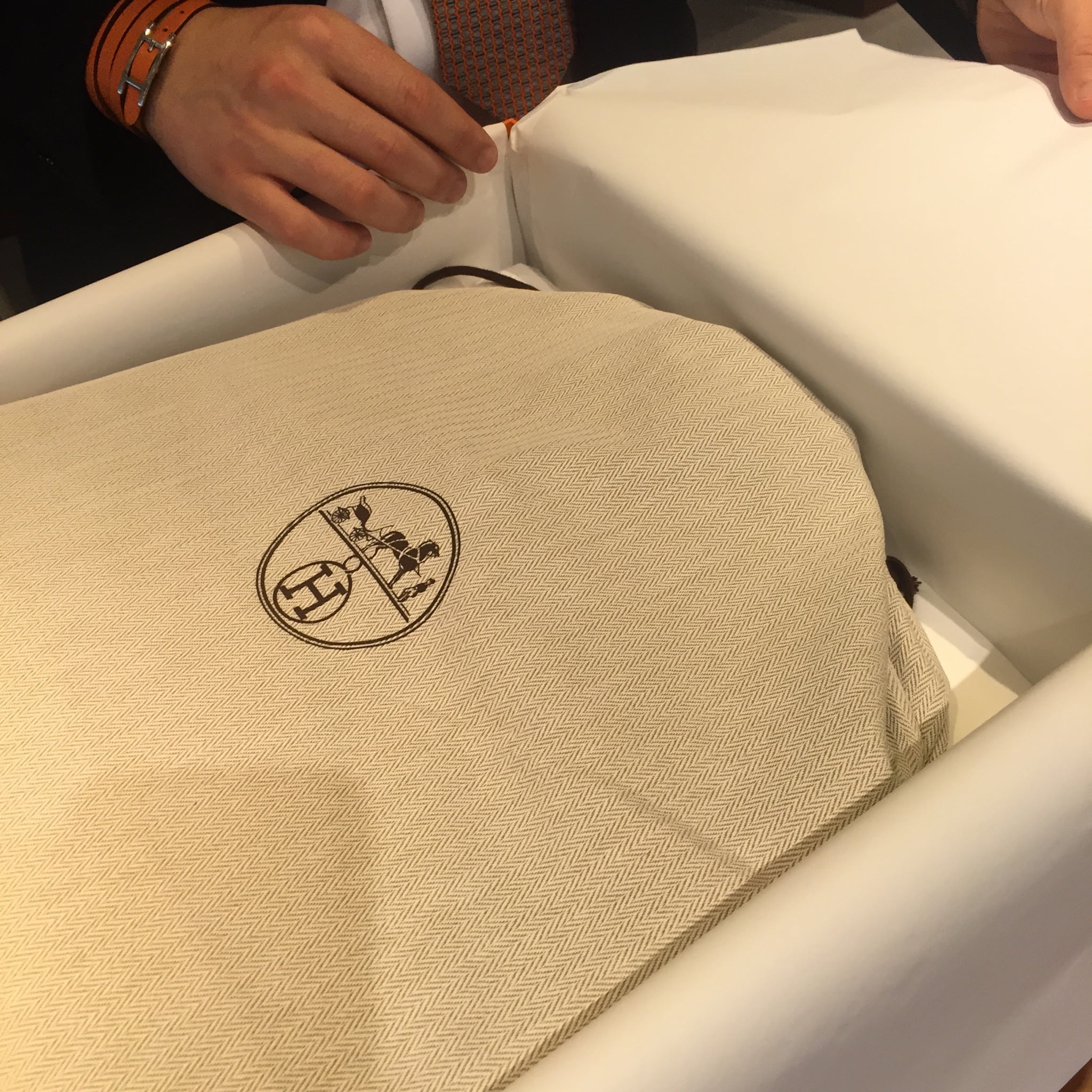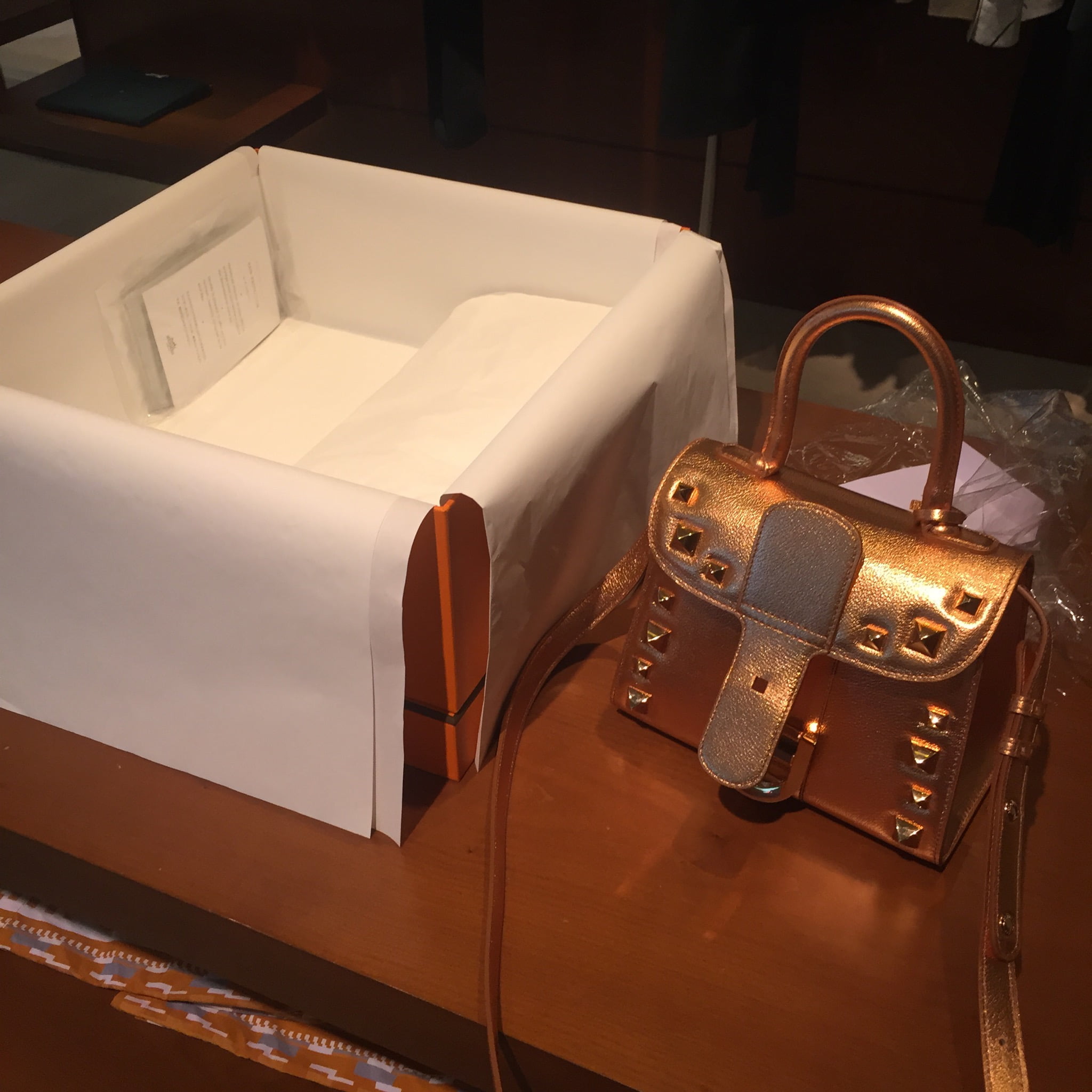 Miss Brillant, my rose gold Delvaux mini, accompanied me through the whole process. She was the first to welcome this new K to the family. In the spirit of our latest Encyclopedia (read: The Hermes Kelly Encyclopedia), it's only fair if I explain each of her features in-depth. Now let's reveal her slowly…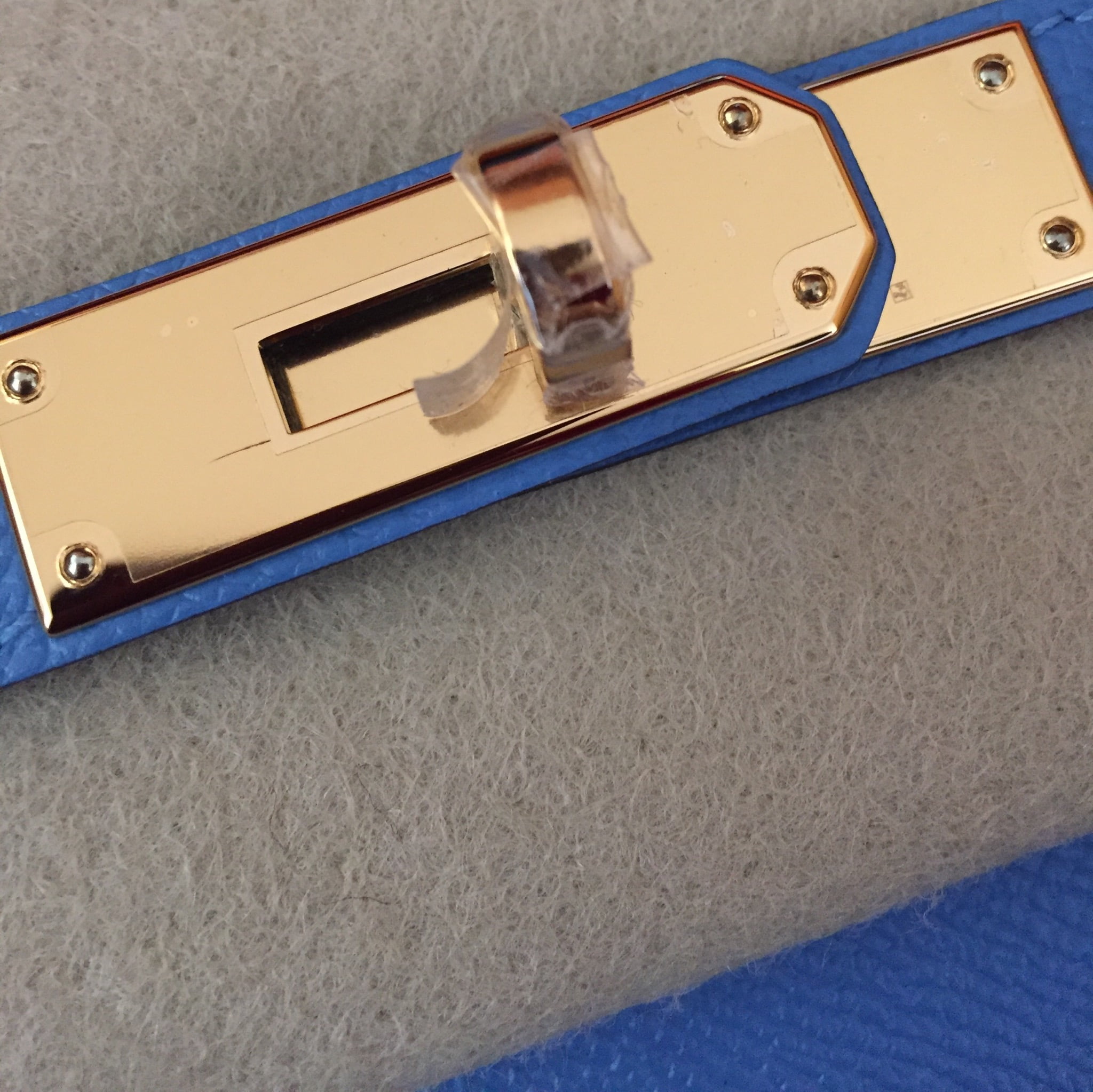 Hardware:  GHW
One of the first things that attracted me to this bag was its gleaming, gold hardware in contrast to the magical blue. I make it a point to incorporate both gold and silver hardware into my collection, so I can't say I have a preference for one over the other. Yet, the GHW on this bag had a lovely brilliance and perfectly fit with the color.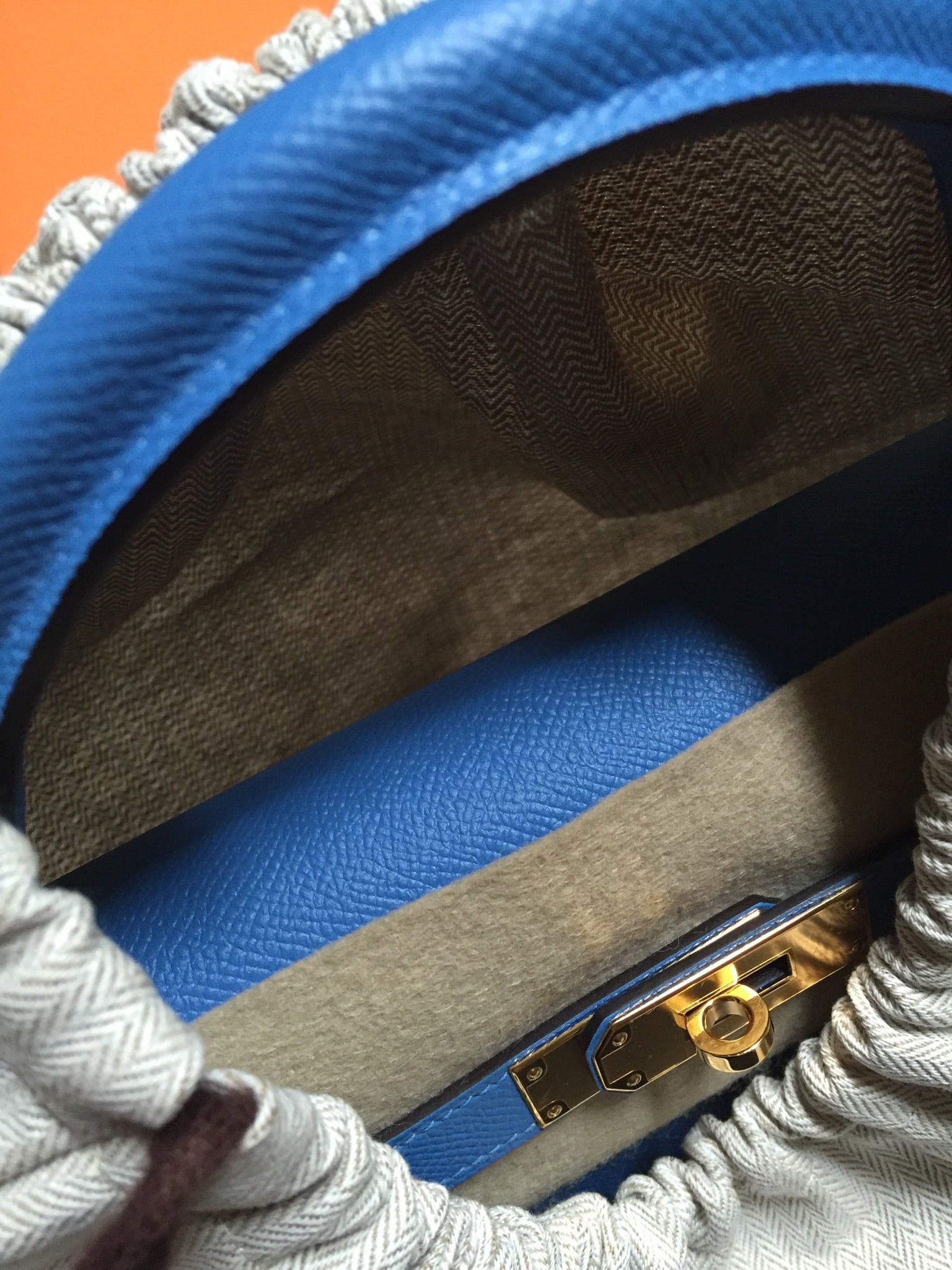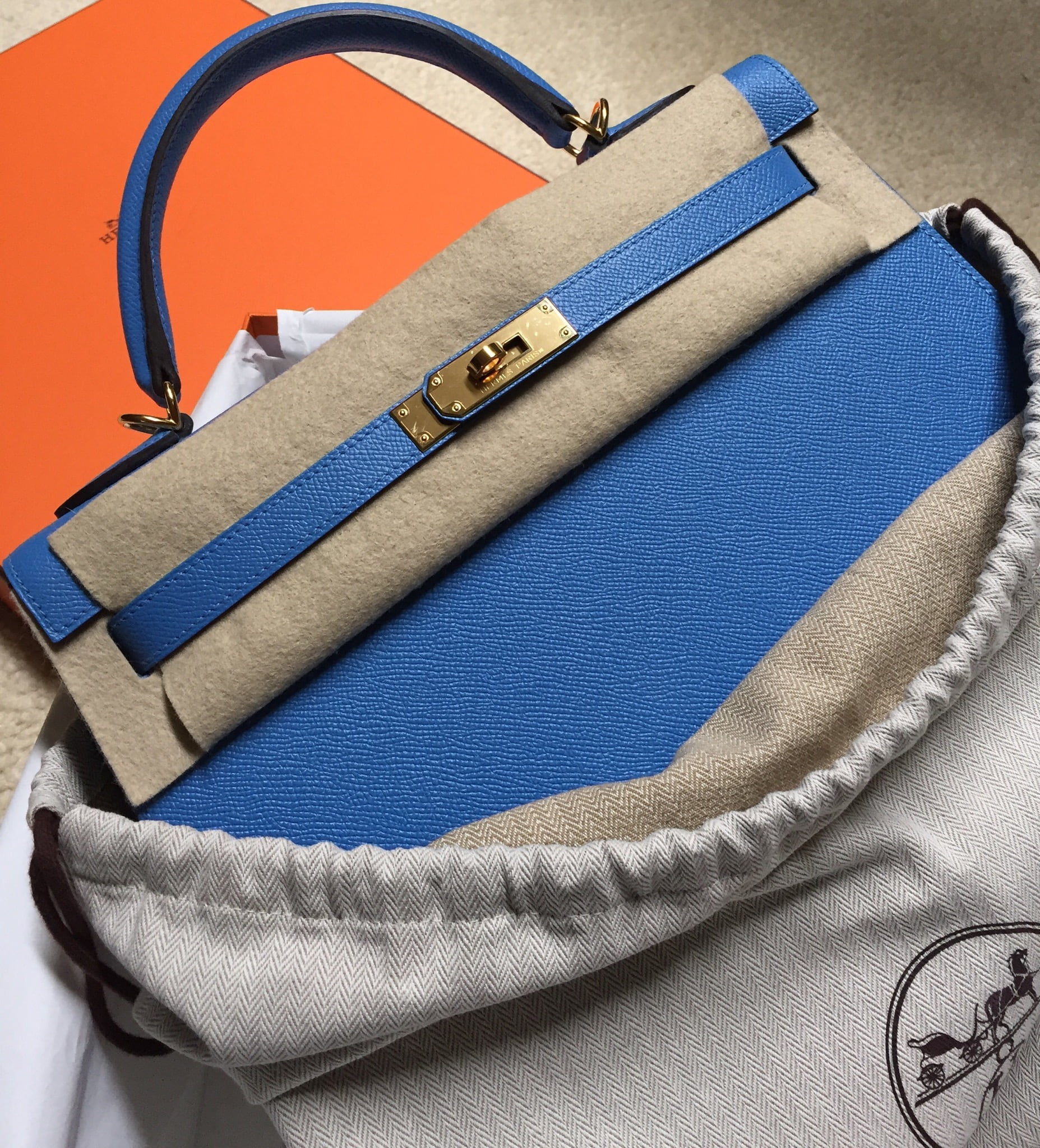 Color: Blue Paradis
I will admit that I am not a blue lover. Judging by the many shades of my collection, you can probably tell that I am most definitely a pink, red & oranges kinda girl. I only have one true blue bag in my collection, which is a jumbo Chanel Classic Flap. This is my first blue H bag, and the blue color just spoke to me like no other bag had before. I just felt like this shade was different…not dark blue or baby blue, but rather a magical periwinkle more akin to a crisp blue sky on a beautiful day. To me, Blue Paradis is so fresh and dreamy without completely bordering on pastel.
Style: Kelly Sellier
I love the Sellier style for its structured nature and ladylike appeal. As I've tested out with frequent traveling, the Sellier compared to the Retourne does not make the best travel bag. The Sellier can be a little more difficult to get in and out of and may be prone to subtle scratches from opening and closing (Read: Hermes Travel – Kelly Sellier vs. Retourne). However, for days when I don't need to quickly access items and don't want a bag that looks too casual, the Kelly Sellier is my go-choice. Despite some of the inconvenience of opening it, dare I say it is my favorite style out of the two?!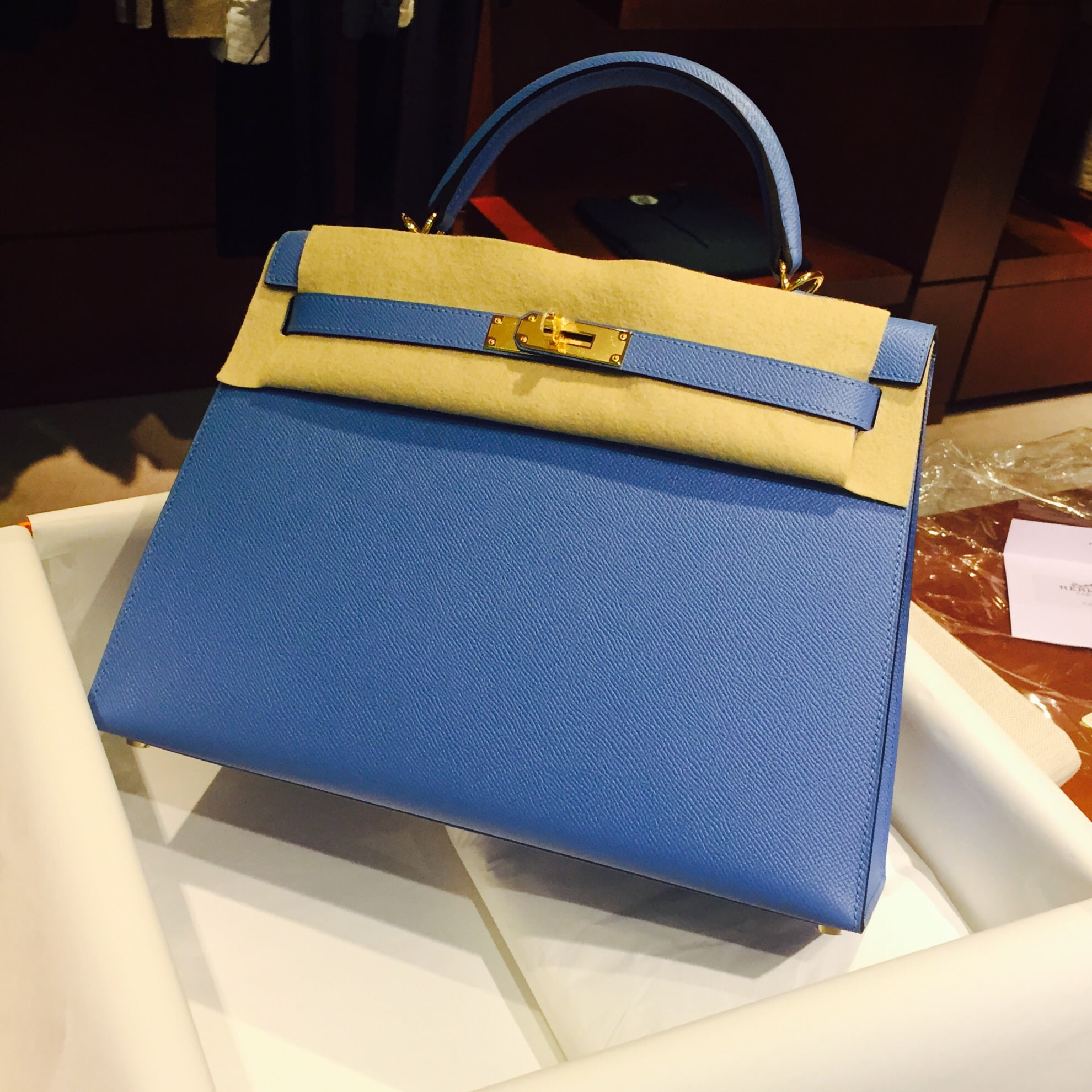 Size: Kelly 32 cm
The Kelly 32 is decidedly my "forever size." I'm still swept up in mini madness as you can see by my bubblegum pink Birkin 25. However, I do enjoy that this Kelly is a comfortable, practical size that will always be versatile. (For more on my mini vs. big predicament, read: Don't Get Rid of Your Larger Bags Just Yet!)  It is not a huge bag that might come off as casual or specifically designated for travel. Nor is it too small to the point where I would only see it as a mini novelty and quickly tire of the look. The 32 cm is great as an everyday bag and even for more dressed up occasions, especially since it is a Sellier bag.
Overall, many aspects of this Kelly balanced with exactly what I was looking for. She truly jumped out at me when I saw her for the first time. I call her Miss Cinderella because the moment she came out of her lovely orange carriage I saw her as the perfect fit. Welcome to the family!!
Explore Below to Visit Other PurseBop Hermes Reveals:
It's a BOY…every reveal has a special story and this one comes on the day my youngest sister welcomes a beautiful baby boy into this world. I was blessed to share that magical moment with them, an experience I will never forget. I will cherish this story forever…
Congratulations R & M and welcome to the family baby R! 
Love your PurseBop
XO