Welcome to the first part of a series that I will share on our adventures in London and Paris! I had the opportunity to spend seven days between the two cities exploring sights, restaurants, clubs, and of course our favorite designer boutiques — all in the company of my dear friends.
Some of you might remember a similar series we did exactly two years ago that covered shopping in France. With my trip this year as well, I'd like to walk you through various topics such as currency fluctuations, Brexit, the effect of the euro on shopping, and brand globalization of prices. After the price discussions, we will share a full haul of what we bought with more handbag math on duty and custom taxes.
Before we begin the series, I must dive straight in and share a moment in the trip that totally caught me off guard. I'm going to interrupt our series, or rather I'm going to premise our series, with a Chanel reveal from Paris! Join me as I narrate through Part 1 today and Part 2 (hopefully) tomorrow.
Dear diary,
I really don't know where to begin so I am going to jump right in. Right in to the middle of Paris, somewhere between Hermès and Chanel on Rue du Faubourg St. Honoré. It was Monday Sept 25th, day two of our quick jaunt to Paris from London. Sunday (day 1) was spent seeing the sights, taking in the Parisian flare   . . . leisurely lunch and dinner, long walks on the Champs-Élysées. My favorite time was when the clock struck eight as we (Mr. PB and I) stood beneath the massive twinkling Eiffel Tower. It never gets old to me; it's only I that can feel the passing of time with each visit. I look at le Tour Eiffel differently now than when I was a teen. Then it was cool and fast; today it is mesmerizing and romantic. I stood and watched as though to soak it all in… it has that magic that rekindles love and lightens the heart. We waited till the sky turned a deep blue before walking away into the night..
I should begin before I create a 10 page document, ugghhh.
I had some PurseBop-related business meetings set for early Monday in Paris. After coffee and croissants at Angelina's we parted ways and agreed to meet at Hermès St. Honoré at noon.
At noon sharp, we speed-shopped and set aside a few things on the H shopping list and bid farewell, until it was our time to return. Mr. PurseBop and I left Hermès at 12:30 pm together. I took a picture of the clock to mark the timestamp for future reference. It was our last few hours in Paris before the 19:40 Eurostar back to London. We stood beneath the clock on the street and decided the most efficient thing to do was to have Mr. PB head back to the hotel to pack and check out of the hotel. I would in the meantime visit Chanel across the street, Goyard around the corner, Rene Caovilla and Roger Vivier nearby. Yes, it's true – Mr. PurseBop agreed to pack our "old" stuff while I bought new. But this narrow window between 12:30 to 2 was my only shot. We had been asked to return to the Hermès small office between 2 and half past 2.
After our visit at Hermès (optimistically I budgeted 1.5 hours, LOL) we would stop somewhere for a light meal and head back together to the Hotel to pick up our luggage, rearrange any packing if necessary (hoping for big orange boxes) and proceed to the train station.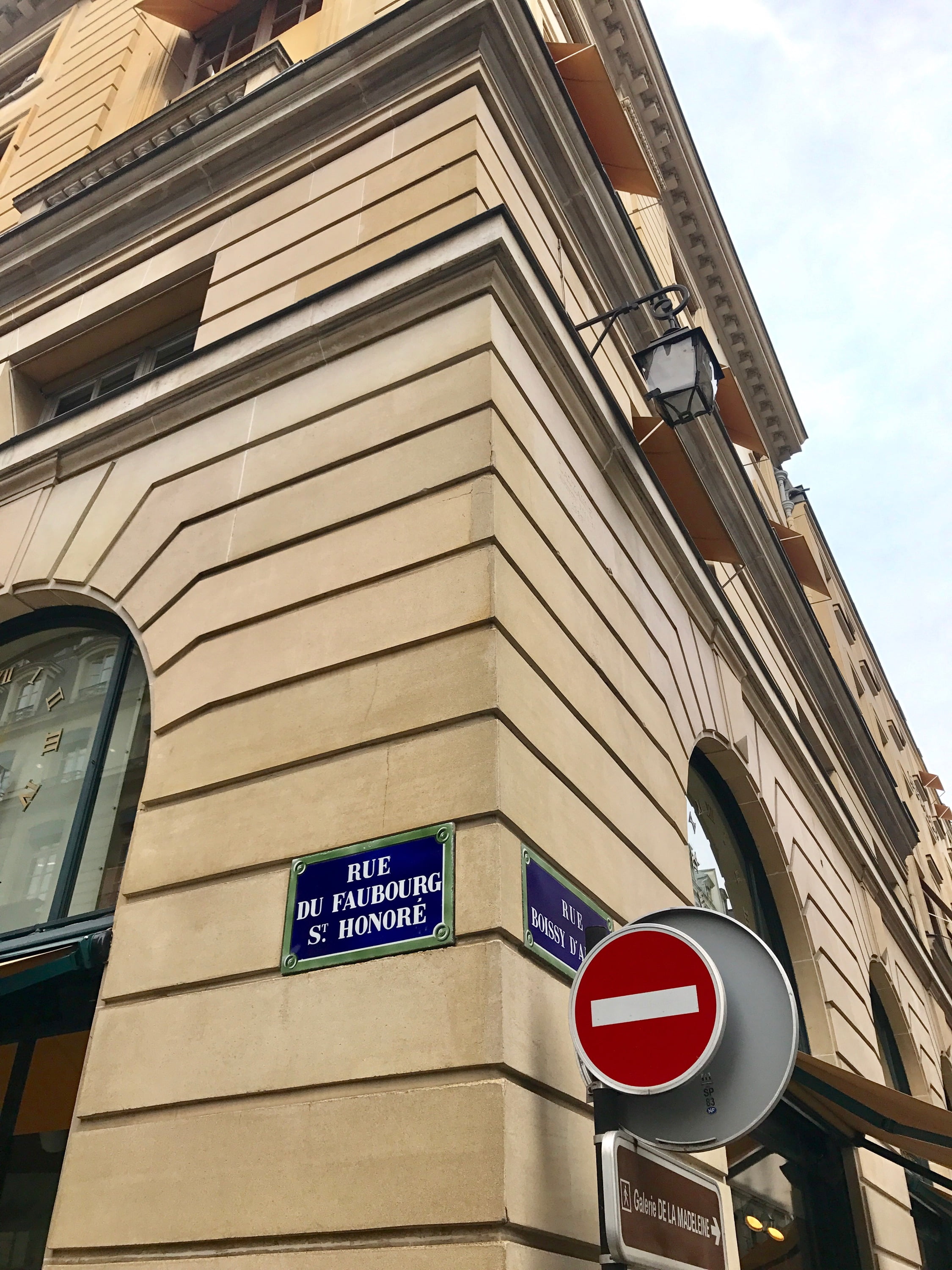 Off I went, making a bee-line to Chanel catty-corner from where I was standing. I had visited several Chanel boutiques in London so I expected this to be my usual quick walk through. I had already bought some gorgeous Chanel pieces the previous day at Galleries Lafayette (stay tuned) so I didn't expect this walk through would take longer than five minutes —I know I sound like I am visiting a Sunday real estate open house. I was greeted with a warm smile, glanced around the ground floor and from my previous all too many visits knew that handbags were on the lower level.
As I made my way down the stairs, my eyes were scanning the room, subconsciously taking note of inventory, styles. It's a laser-like focus. All seemed normal as my inner lens captured wall displays from top to bottom, secret vaults with their doors wide open. . . You know what I am talking about, right? The closets with rows and rows of colorful bags… yes, that slice of Chanel heaven! Ok, continuing on… all is fine, no need to stop —UNTIL….
What's this —OMG, wait, what is this? Why I have I never seen this before, where on earth has this piece come from… my mind was running a million miles a minute. I was star-struck, flustered and excited all at once . . .  I had visited the most prestigious Chanel boutiques in London, Heathrow, and even New Delhi within the last one week. I was completely up to date with my Instagram Chanel loving divas that would have surely sported this by now (you all know who you are).  Where had this treasure been hiding and how is it that I had never seen it before? I shifted my attention from the glass pillar display in the center of the room to see if an I could find an available sales associate that would could come to my rescue. There was no one immediately available. I turned to the lady standing at the landing in the staircase and without my having uttered a word my eyes must have said it all —I needed someone immediately to assist me. I must've had the most worried look on my face. After all how could I, miss PurseBop have been caught so off guard. This is simply not done… to me, moi???? My eyes left the piece only for a few split seconds to assess what was happening around me but there was like this magnetic connection between my eyes, my heart and the piece that was glowing in the glass display case. There was a tiny black plaque card inside the case that itemized the price so there was no mystery as to what I was dealing with, but that did not deter me at all. Somewhere in my mind the piece was already sold, to me. Minutes were ticking by, I had a schedule to adhere to—I wished so desperately someone would quickly help me.
There was a group of women standing in front of the counter swooning over – – as I later learned – – the Chanel iPad. Ok. Finally some clear open space to myself. This area was marked off with PurseBop invisible tape.This was serious. I started searching for this piece in the iPad myself. It was nowhere to be found. I then went to Collections, then Exceptional Pieces and then there it was, staring at me. How could I have missed such a treasure?? But wait, there's more… there's more than this color?  All this while my heart racing. And racing against the clock. I was still at Chanel. What was I going to do???
Finally a beautiful French woman approached me from behind the counter and said "Oui madame" — how can I help you? I would like to see the piece in the case please… and my million questions came spewing out of my mouth as I walked with her to the display…
PB: When exactly did this piece arrive?
Cecile: Just a couple days ago. Friday, I believe Madame. (Remember, it's Monday at this point in the story).
PB: I am just coming from London. I have visited so many boutiques including Bond Street —I have not seen this anywhere. Why would that be?
Cecile: Madame this is a very special piece— it is from the runway collection, and to my knowledge only very few were delivered even to us here in Paris. But, let's check for you.
She carried this treasure in her palms like it was a newborn baby over to the counter where we had been standing. She placed it on the black velvet tray like it was a fine piece of jewelry and slid it over to me.
Cecile: Do you like it Madame?
PB: Yes I do, I absolutely love this but please tell me do you have the other colors that I am seeing here in the iPad. I wish to see the other versions. Please tell me you have those as well.
Cecile: oh Madame, you have come just a little late I just packaged the other version that you are requesting about to a lovely lady visiting from Hong Kong. I just packaged up her treasure and it is waiting for her to come later to pick up today.
PB: But may I just see it please so that I know if this is the one I want or if it is the other. I am absolutely in love… please understand I have very limited time… may I just please see it, I will not even touch it, I promise.
Cecile: I do not have another piece in my store but let's check the system to see if it's even available at another store in Paris.
She scanned something with her phone, and looked up at me. And said "Madame in all of France there are a total of three pieces that were delivered. Of which mine is sold, Rue Montaigne is sold, but the inventory is showing that there is one available in Rue Cambon. But Madame I cannot guarantee that one is available either.  Madame the style that you are holding —is the only piece of its kind in France.
PB: Madame please show me a glimpse of the other version so that we know which I want. We are leaving Paris in just a few hours. I will request my husband to join me here. I think I will prefer the other color but cannot say exactly till I see.
Is this available anywhere in London as I can have a friend pick it up there?
Cecile: My dear, in Europe it is only here in France.
She left to find the piece she had packaged up for her customer. She returned almost immediately and unveiled the beauty. There was no question in my mind this was the one that I wanted. I did not touch it, I only smiled and with that smile she knew what she had to do. And from everything that I had understood this meant that she had to secure the piece at the Rue Cambon location.
Cecile: Ma'am I will call the other location— I will try to speak to a manager but there is no guarantee that I will get an answer for you. It may be best that you immediately rush over there to see for yourself, but I am trying my best Madame.
PB: Cecile is there any way that if it is available you could have it transferred here for me as I have an appointment across the street at Hermès between 2:00 and 2:30. I could come here immediately after my appointment and I would very much like to purchase it from you.
Cecile was scrolling through her contacts looking and trying multiple numbers of friends that worked at the other location. She must have made five calls but no replies. I was beginning to panic as it was well it was already after 2 o'clock. Where was Mr. PurseBop?  I had not told him yet of the change in plan and that I was still at Chanel. I was very flustered about what to do at this point. Do I go to Rue Cambon? Do I stay here and have Cecile try her luck? Do I proceed to Hermès?
I messaged Mr. PurseBop:
Updated: October 1st, 2020