There's a unique thrill that comes with the arrival of a special order. It's different than being offered a Birkin or Kelly in store or on the phone. The SO takes months, sometimes years, to arrive. And the anticipation usually goes off the charts. From the dreaming to the planning and then the waiting… it must be like winning the lottery! At least that's how I imagine a Powerball win (alas I've never won).
However, one thing went missing this time that is usually an integral part of the excitement. Thanks to the pandemic, there was no visit to the store, no sitting in the magic room, no detailed unveiling, no photos and of course no signature shot —the bright orange shopping bag and that infamous bag of the day outside the Hermès store that I declare as "timestamp".
As tradition would have it, the last several years with my birthday comes the reveal of a new Birkin. This year will be no different. And this time the Birkin will be adorned with that special horseshoe stamp.
Read about last year's Birkin that was revealed on CNBC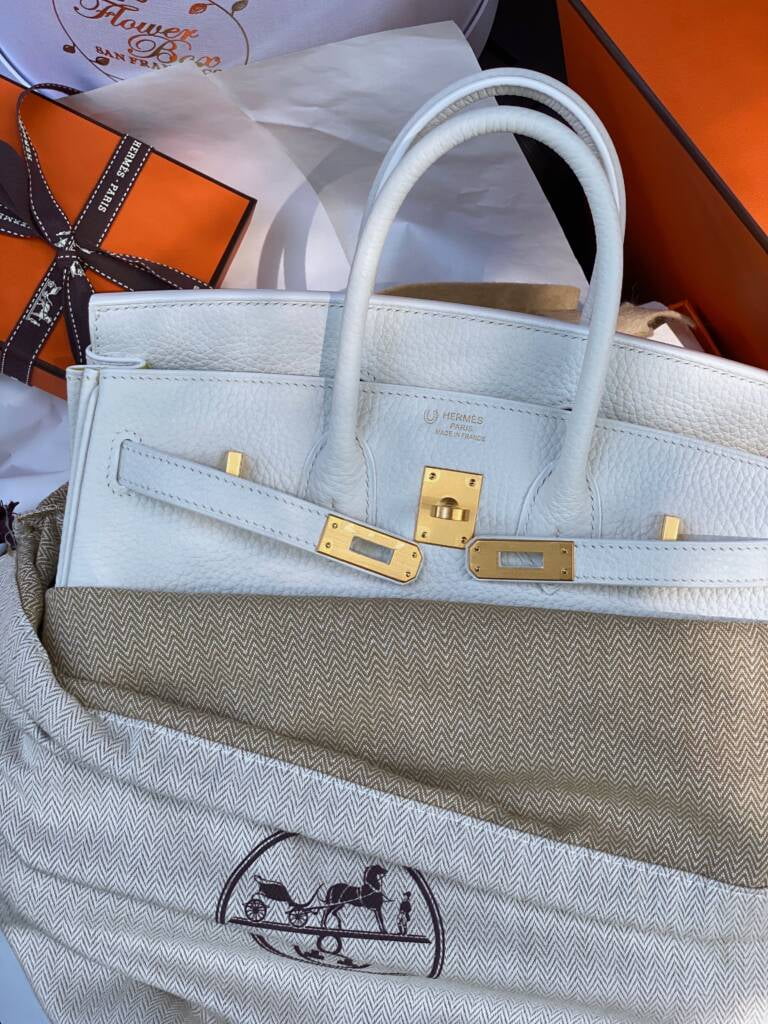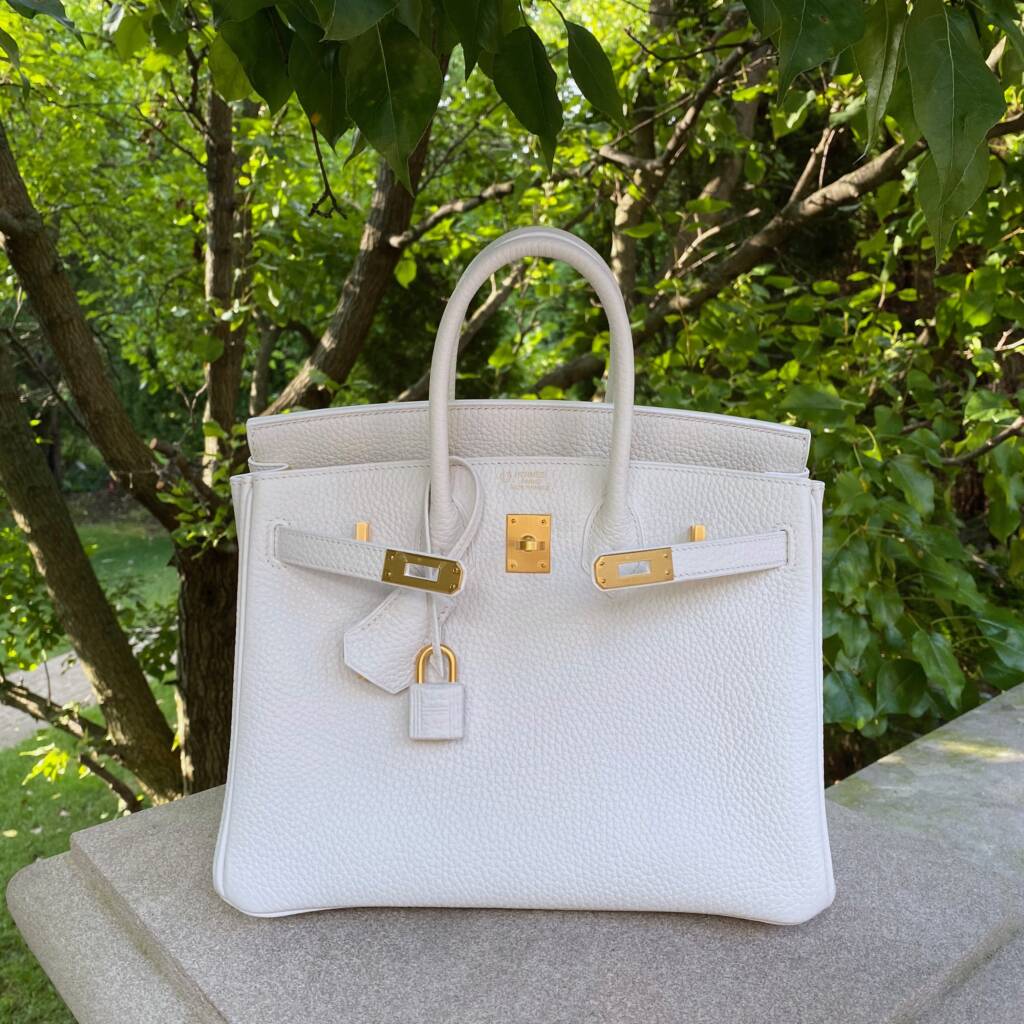 Color: Blanc
There's something mystical about a crisp white handbag. Maybe it signals a carefree and free spirited fashionista who dares to wear her bright white birkin on her sleeve. Let me digress for a moment as I pen my thoughts… my memory takes me back to the story I wrote a few years ago. Ironically, she also was a birthday Birkin and her name was Miss Barenia. I quote directly from that article here:
Barenia, to me, conjured up images of worldly women unbothered with the trivialities of pristine bags traveling the world with abandon. They laughed boldly and spoke up, proud of their fine lines, with their own unique let-loose style, confidently wearing denim better than a Levis ad—all while toting this saddle brown Birkin. The bag was an expression and extension of their life story.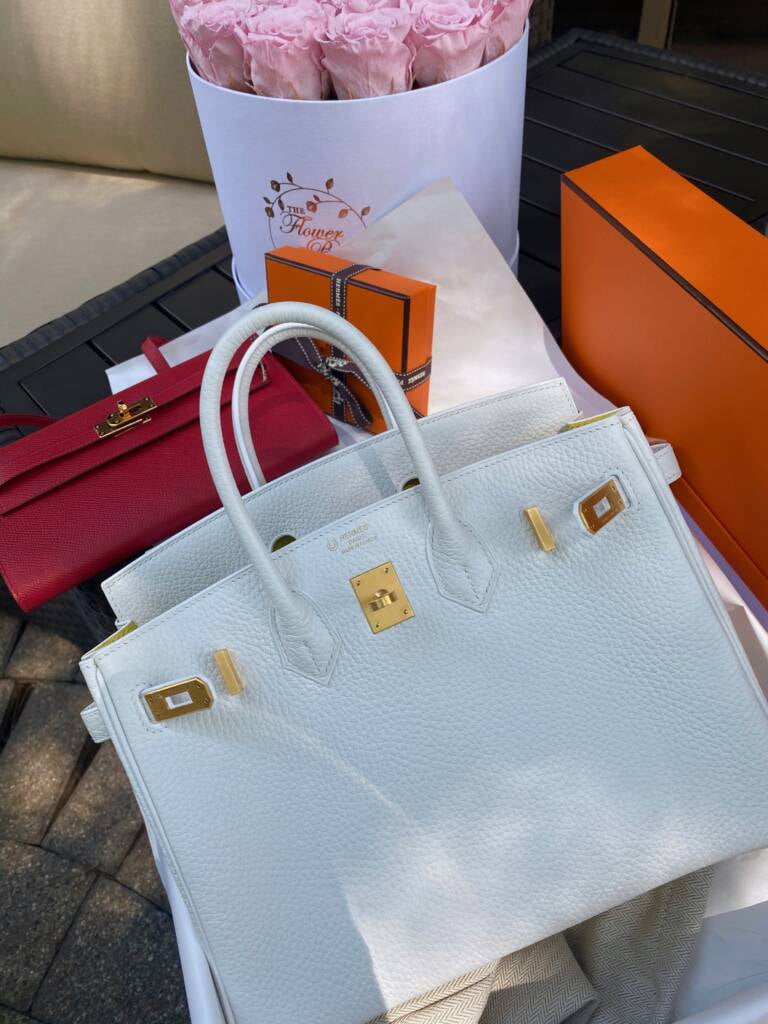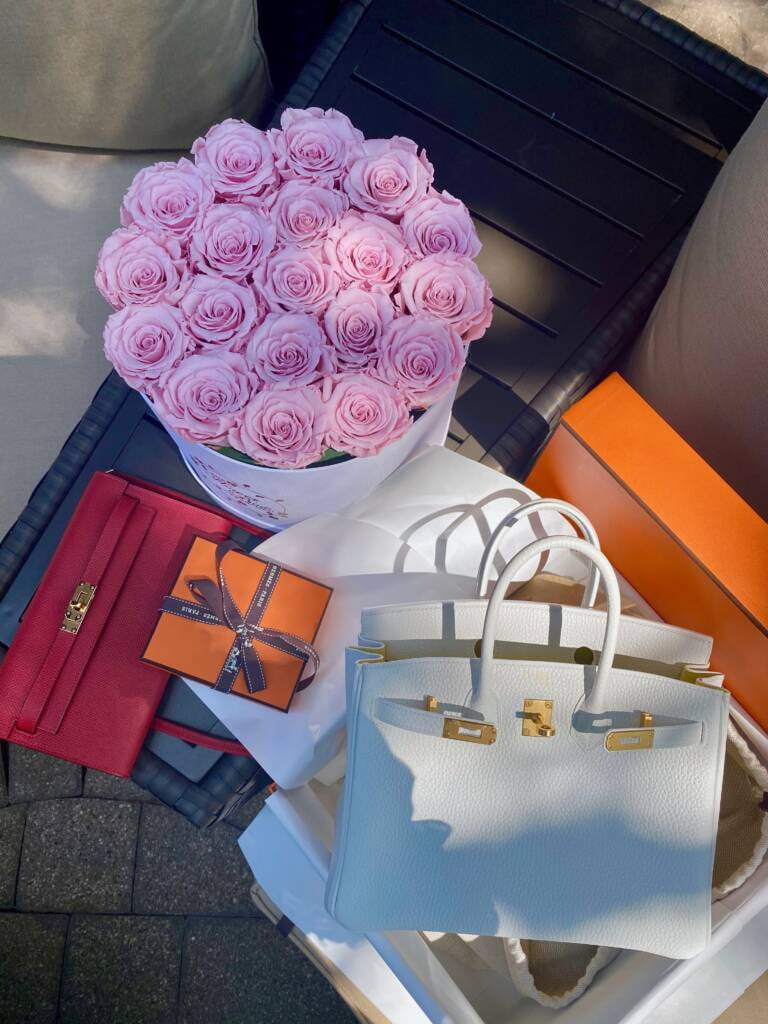 Now, although a Barenia and a crisp white Birkin theoretically have absolutely nothing in common, what they share is that "je ne sais quoi"  frame of mind. It's that same carefree attitude: she lives freely, maybe even wildly —without fear of consequence. After all, who else could wear a white Birkin on adventurous travels in exotic places?
Now I, Monika, at heart, am the most neurotic worry wart about keeping my treasures pristine. Over the years, I have improved somewhat. After all, I had to fully embrace my fears with my most beautiful Barenia Birkin.. a leather that cannot even stay pristine within its own box. Miss Barenia has reconditioned my over-compulsive nature and has traveled to many special destinations with me in recent years.
Read: Bringing Home a Slice of Hermès History: PurseBop's Special Birthday Birkin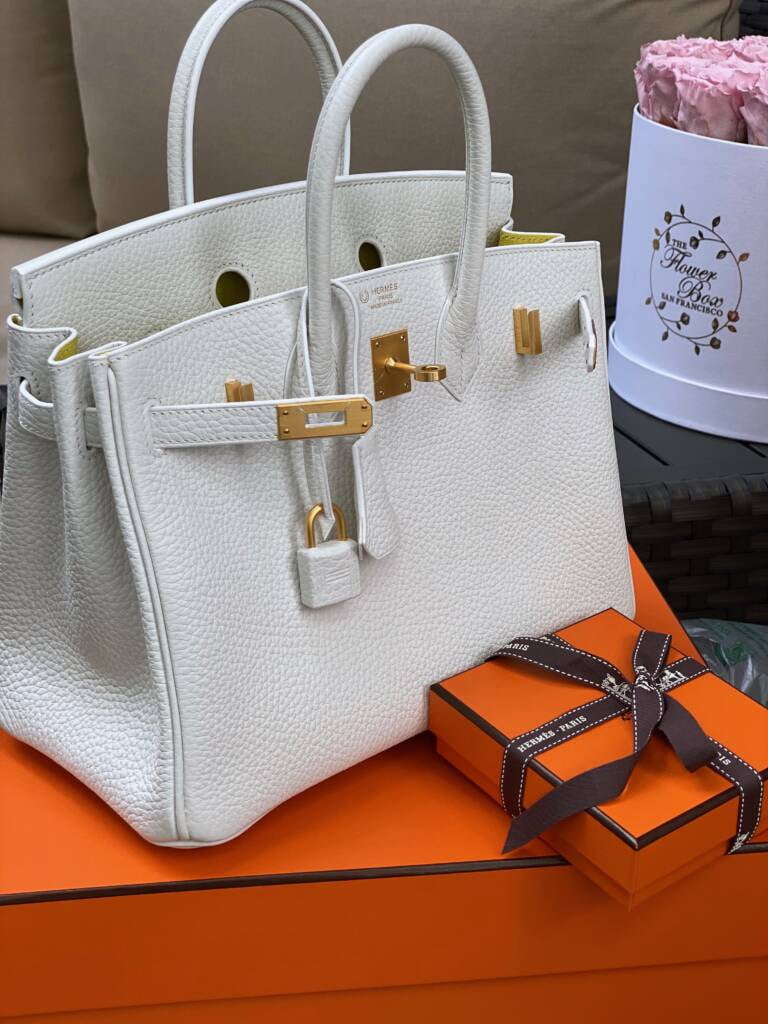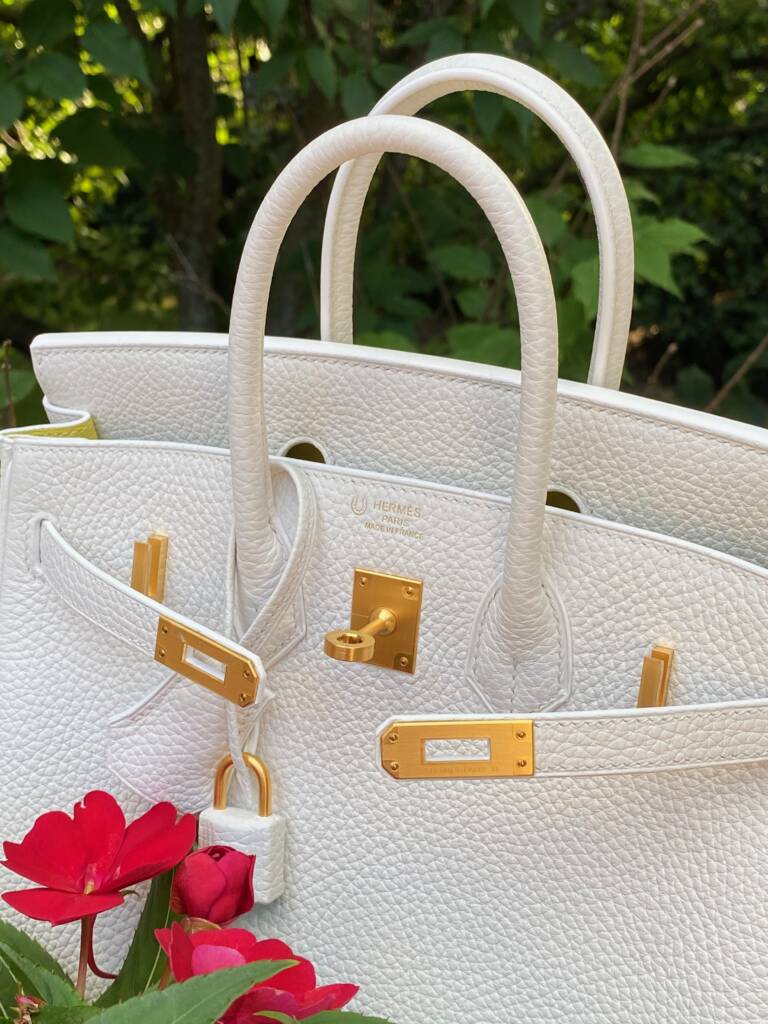 Back to Snow White. Subconsciously, I want to be that woman carrying the white Birkin without the fear of ruin… My thoughts take me to exotic summer destinations, long flowing maxi dresses and flat embellished sandals. My long wavy black hair blowing across my deep bright pink stained lips — all while swinging this white baby B by my side without a worry in the world.
I've always had a fascination with white… I remember my first: a Dooney and Burke doctor satchel-shaped bag. After that came a crinkled lambskin Miu Miu and, most recently, a Chanel classic jumbo in bright white caviar with shiny gold chains that I still admire with fondness with each use. There are some bags that forever make your heart skip a beat and she is one.
Naturally this love led me to the ultimate creation to mark my passion: this baby B with a twist of lime.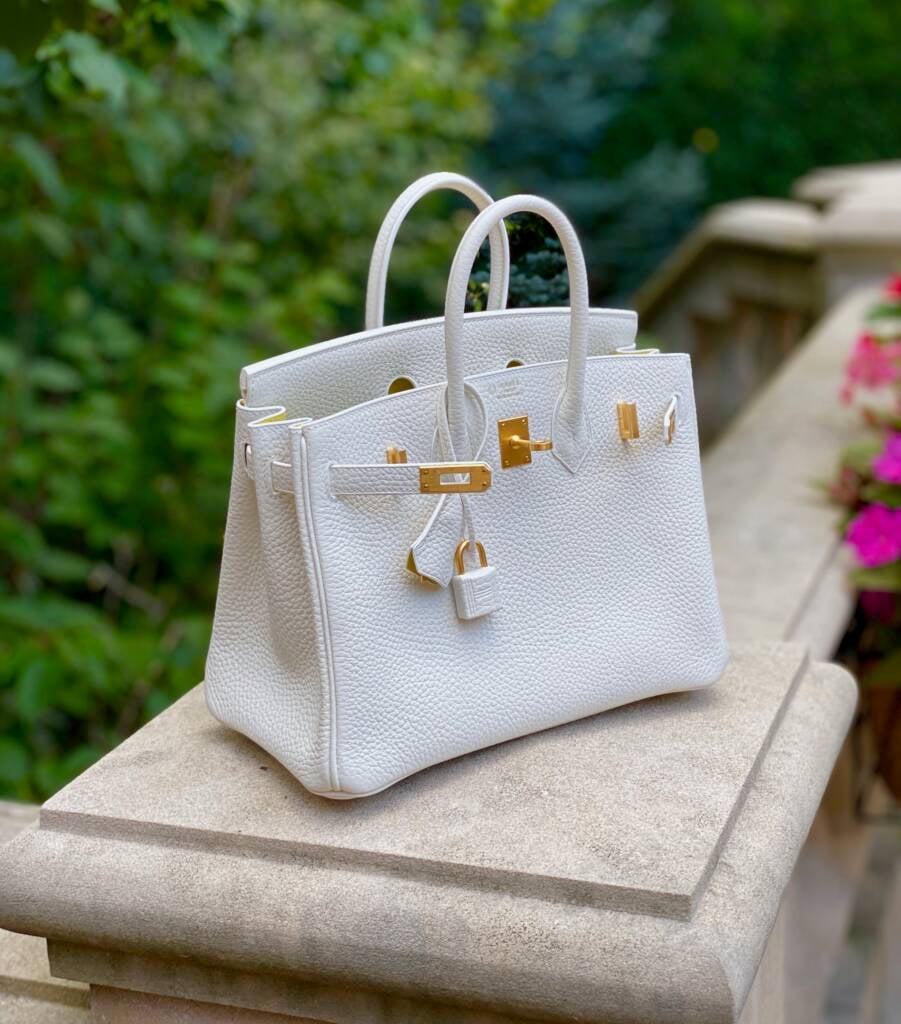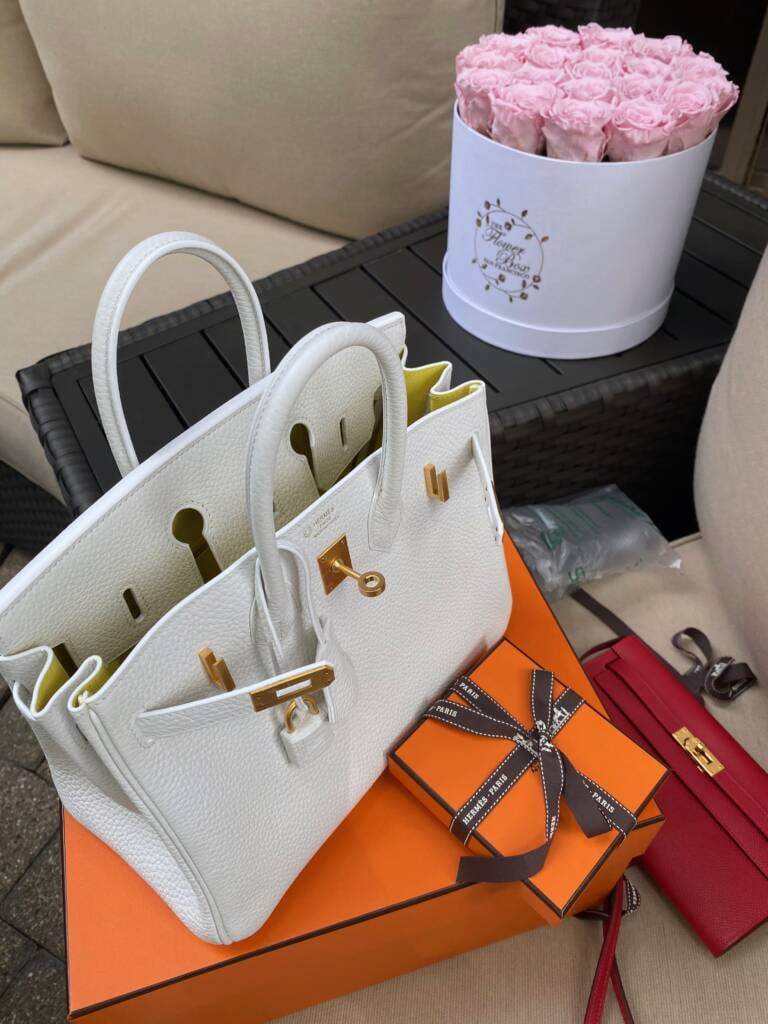 Why lime you ask?
Perhaps because nearly every special order I've ever done lands in a shade of pink: like Rose Jaipur, Rose Extreme and even Rose Pourpre. It was high time to shake it up with a splash of citrusy summer fun.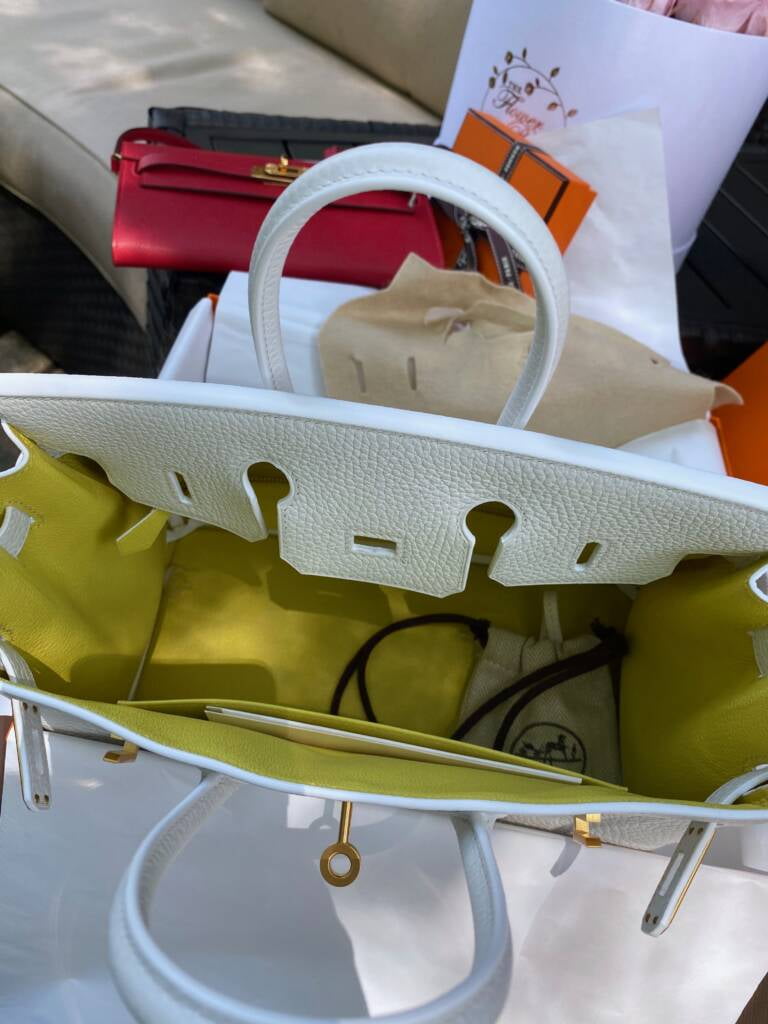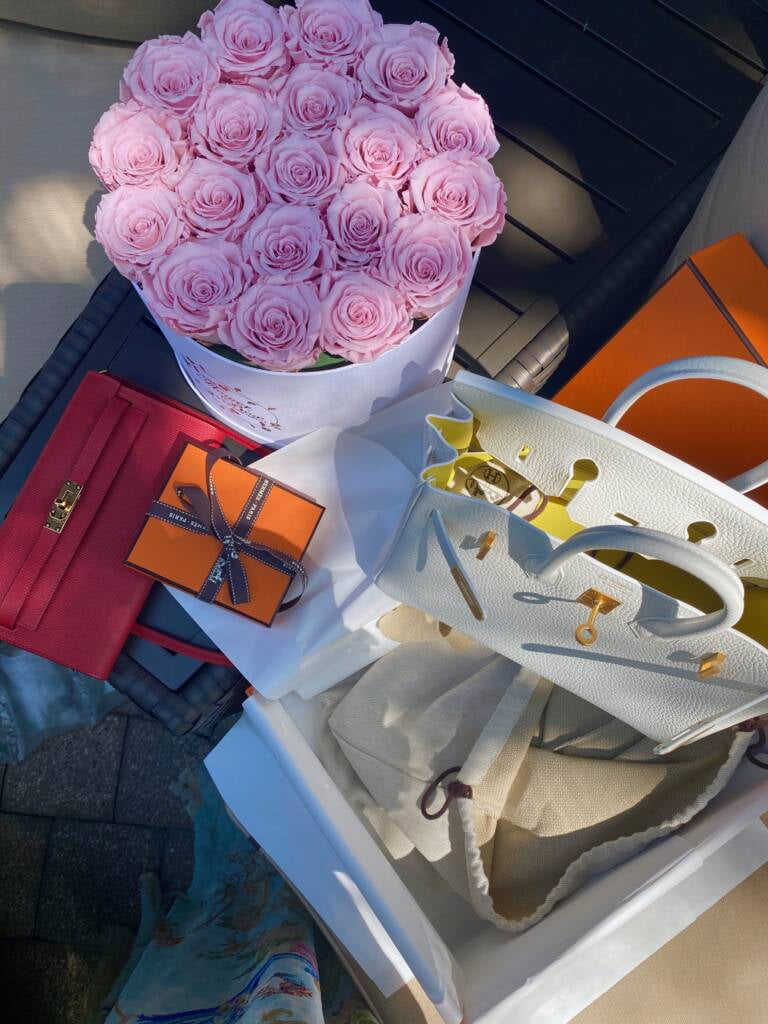 Leather: Clemence
When it came to the leather, there wasn't much choice. The only option for whites during this round of special orders was Clemence. I had my reservations as Clemence leather is notorious for being floppy – a quality I do not appreciate in my handbags. I am more the rigid and structured kind of Hermès girl (prim and proper I guess one could say, lol).
However my sales associate had just made delivery of another B 25 and couldn't stop sharing how beautifully it had turned out. She convinced me that in this size the Clemence leather would stand tall.  We discussed my view of the recent decline in quality of the very popular Togo leather. I would not have opted for Togo anyway. My top pick would have been Chèvre which just was not an option.
My sales associate was absolutely right! This leather is thick and luxurious compared to the other grained leather bags in my collection. I promise to share a comparison photo very soon. Clemence has a very creamy feel and look compared to Togo (at least modern day Togo leather).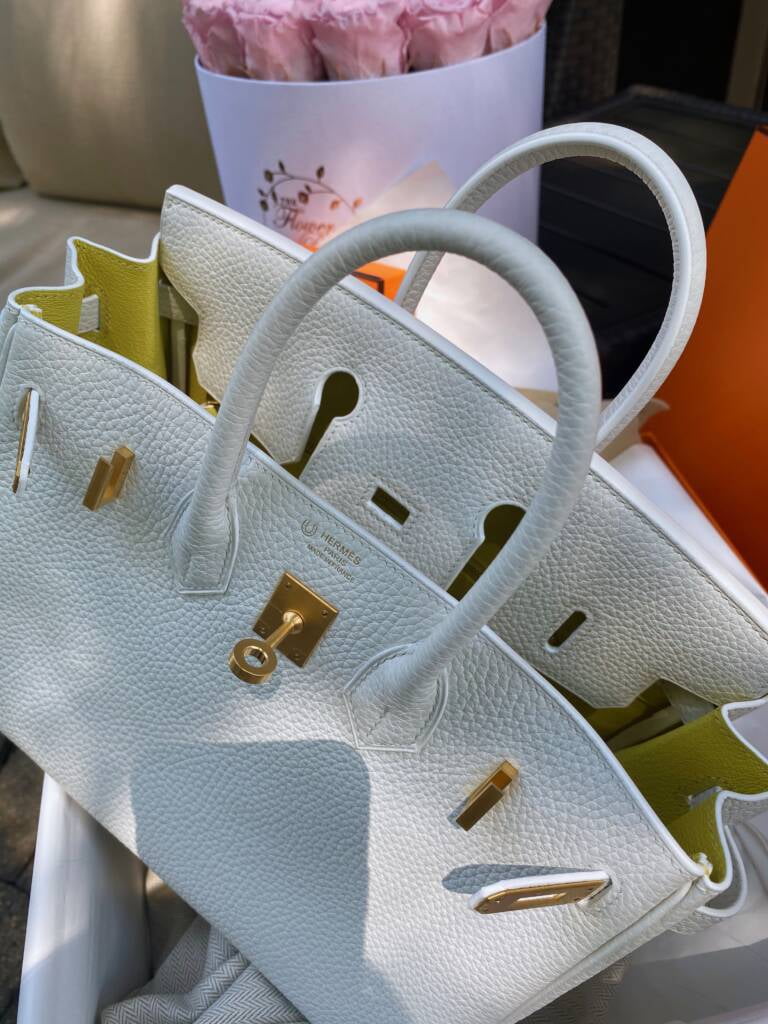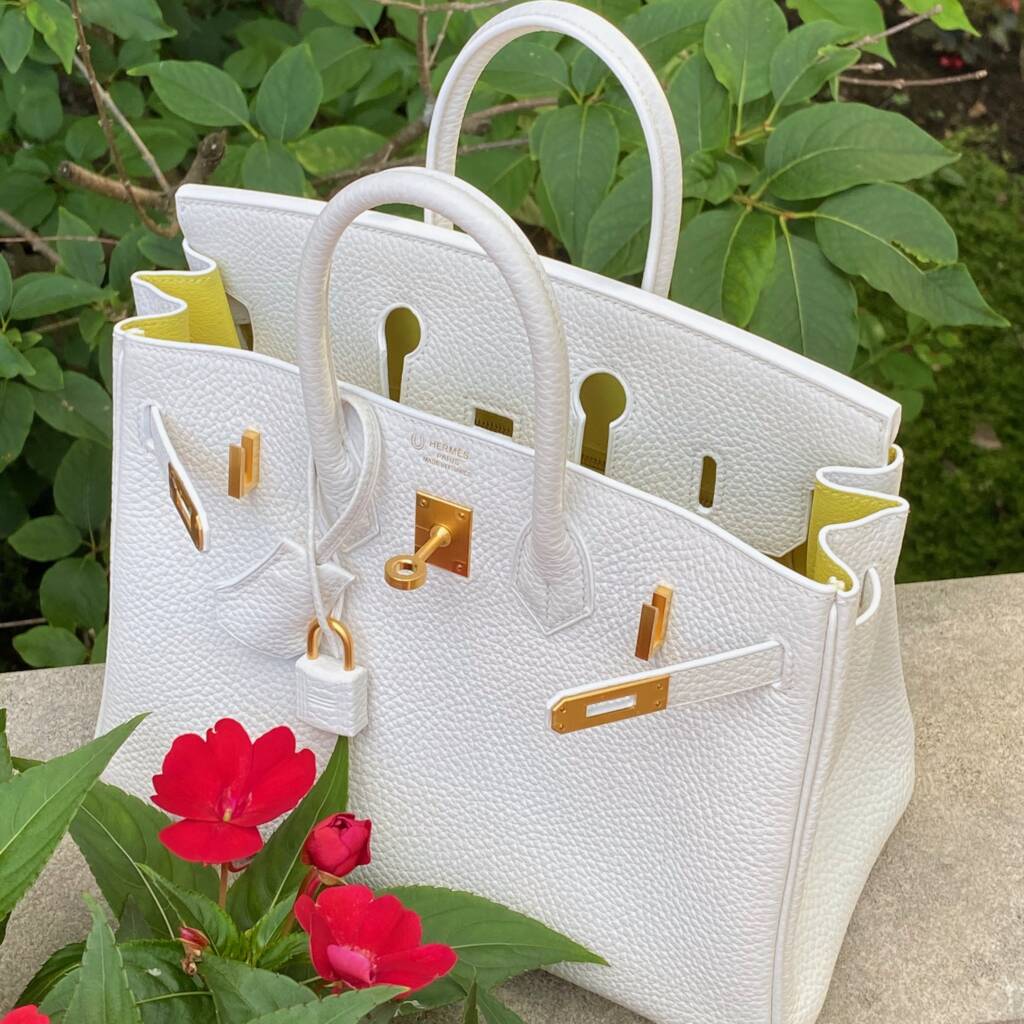 Sometimes it's the little things that cause the biggest surprises. In this case, it was the clochette and lock. I expected the white cover with the lime interior. What I didn't foresee was a leather-covered lock, instead of the traditional metal one. How cute is this?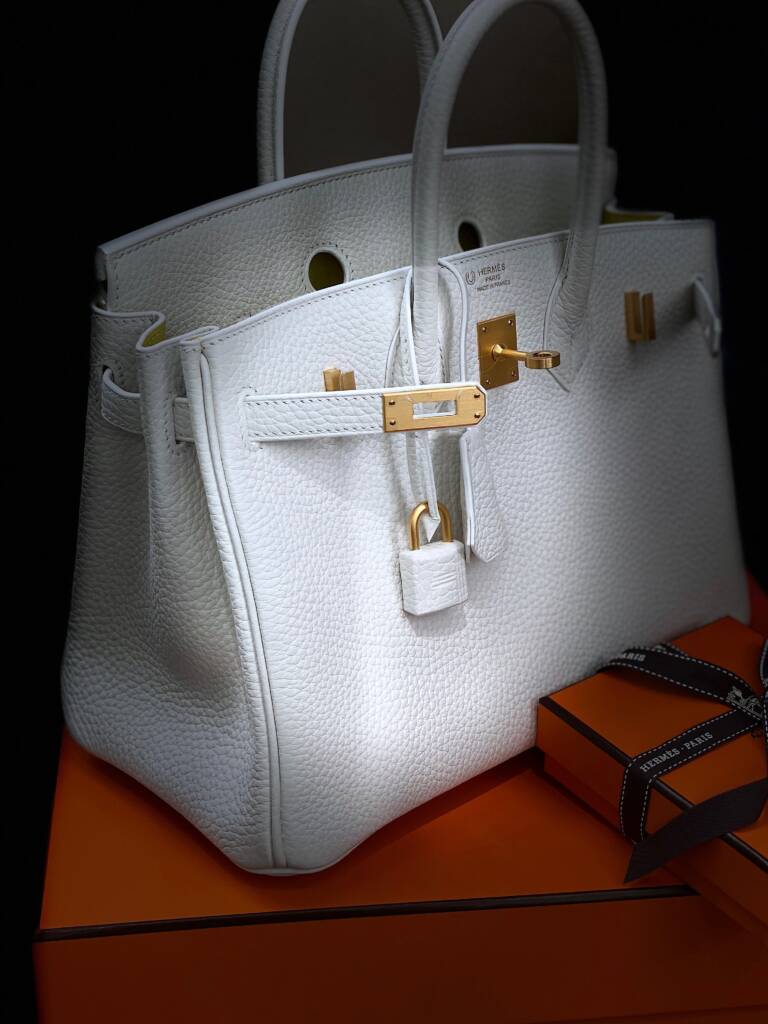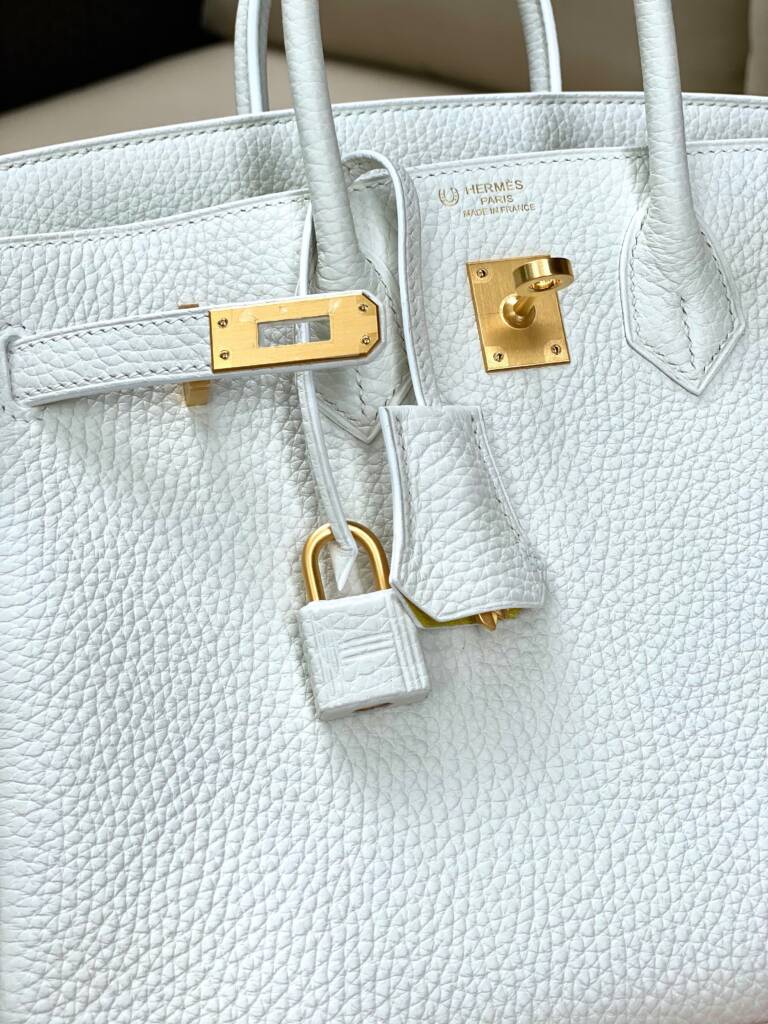 I've shared it before so many times and I'm going to write it here one more time:
The Birkin 25 is my absolute favorite size. For starters, it's the perfect match to my social lifestyle. Transitioning easily from day to night, it holds just the right amount. The bag itself isn't cumbersome, nor does it need a lot of its own space. It hangs comfortably table-side (on a purse hanger of course) or in my lap ( if no dedicated seat – and yes I like my bag to have its own spot!). Access to the inside is easy, allowing me to grab and stash necessaries. Although the handles are slightly wee and the bag cannot reach the crook of my arm, I've grown accustomed it dangling from my wrist.
Then there's the issue of travel. As I love to take my bags on various journeys — the ability to nest one inside the other is a top priority for me. Naturally I hope that someday once travel resumes, Miss Snow White will be a frequent tropical companion.
Read:
Important Tips for Traveling with Luxury Goods
Travel Reminder: Don't Put Your Birkin in Checked Luggage
Over the years, the Birkin 25 has proven to be the most user-friendly 'pour moi'. Don't get me wrong, I love my Kelly 25s but I have a longer history of love affairs with my little B's.
Plain and simple, I love gold. Since brushed gold is only available for special orders, clearly that's the choice.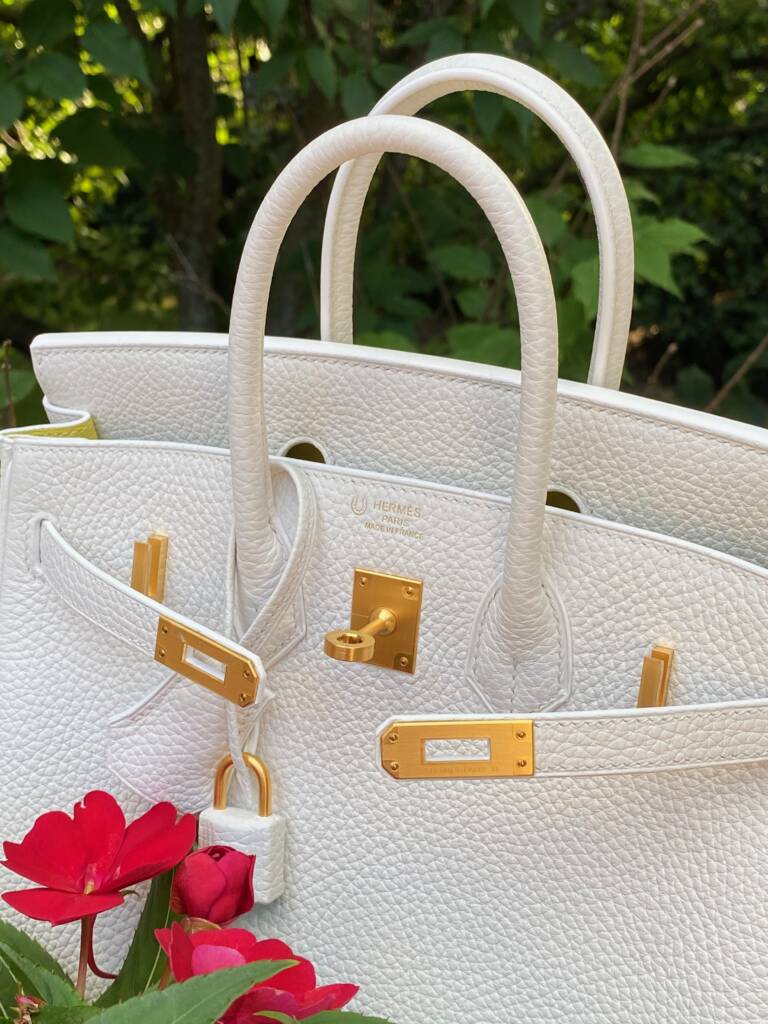 There's a few more birthday surprises, so stay close!
Updated: January 29th, 2021