As the height of summer is upon us, and travel plans are in full swing, choosing the right handbags and luggage to accompany us becomes a key element in vacation success. We absolutely love traveling with luxury items, but navigating bustling airports and crowded environments with our cherished bags can understandably leave us feeling a little anxious at times. Many luxe lovers raise the question, 'How can I travel confidently and securely with my designer handbags?' Fear not! PurseBop has you covered with a wealth of travel wisdom accumulated over the years – from handbag packing tips to ensuring the safe journey of your luxury goods. 
By now, we're sure you've all read about the unfortunate situation that unfolded during an airport check-in, in which a Hermès Birkin bag laden with an eye-watering $9.3 million worth of fine jewelry was stolen by thieves. As reported by Catalan News, the two travelers were targeted during check-in at Emirates in Barcelona airport.
Read: Two arrested after stealing €8.5M in jewelry and watches at Barcelona airport
At the time of the theft, the Birkin with pavé-set diamonds and gold hardware was perched on top of a Louis Vuitton carry-on. It was not until it was too late that the family realized the Birkin had disappeared… Thankfully, this story has a positive outcome. The thieves were quickly identified and caught, and the Birkin and its valuable contents were returned to its rightful owner.
As you embark on your own adventures, it's essential to learn from these recent events, and take proactive steps to ensure the safety and security of your luxury handbags. So read on, and let your wanderlust lead you to happy and worry-free travels! Bon voyage!
Savvy Customs Preparations
Now, the art of packing for your upcoming trip starts way before you start considering what luggage to take. Decide with plenty of time beforehand which bags and luxury accessories are making the cut to accompany you on your trip. Among the excitement of planning outfits, and selecting bags, there's one aspect that you might not want to overlook: navigating customs.
The challenge of packing isn't simply about curating the ultimate wardrobe for your trip, and safely packing your luxury items. It's also about your return home. That is, you need to be prepared to provide evidence to customs officials that the items you possess are not newly acquired during your stay. Why is this so important? Well, the last thing you want is to unintentionally raise suspicions of bringing back undeclared goods from abroad. Unfortunately, this can result in a hefty fine, and potentially the seizure of the bags in question. 
Having concrete evidence that you departed from home with your bags can save you from unnecessary scrutiny and questions at customs. So before you head to the airport, it's wise that you are armed with the necessary documentation prior to travel. One strategy is to have photographs, so document and take photos of all the luxury items you will be traveling with before departing. It's important that these photos have date and time stamps as this will prove the items were in your possession prior to your trip. Having photos at the ready on your smartphone is safe and convenient, and you won't find yourself scrambling around for paperwork at customs.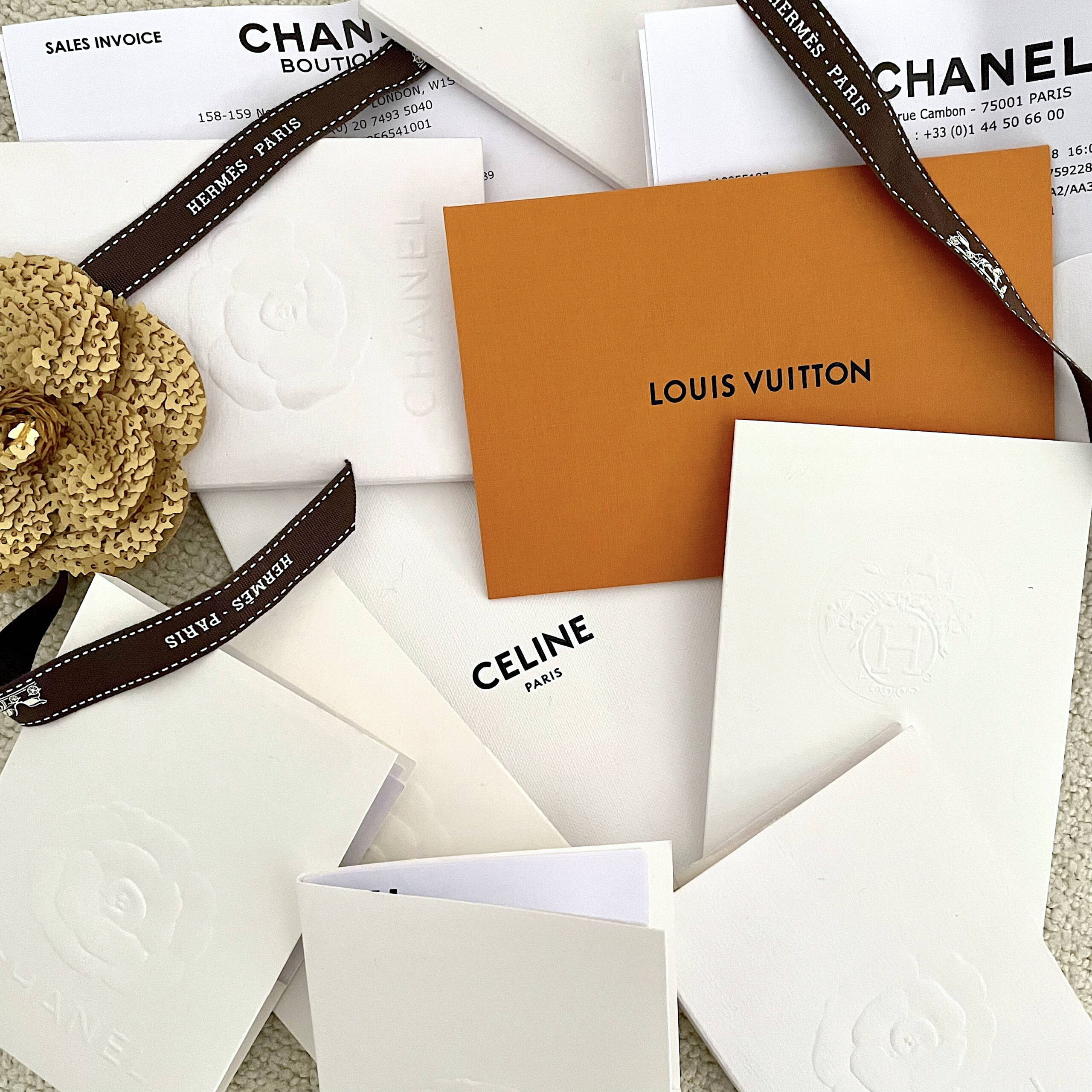 When it comes to higher-value bags such as Birkins and Kelly's, obviously, having proof of purchase is helpful, in addition to taking photographs. So as we've said before, whenever you travel, snap it before you pack it! 
Safeguard Your Treasures: The CBP Form 4457
Perhaps you're traveling with multiple high-value luxury bags or even exotic items to an international destination. If that is the case, we would advise completing a Certificate of Registration for Personal Effects Taken Abroad (CBP Form 4457). 
This form is available at any Customs and Border Patrol (CBP) office or international airport. With this form, you can officially declare your belongings prior to your trip. In order to complete the document, you need a detailed description of your item(s) and the exact corresponding serial number. Upon review, the CBP officers will sign and stamp your paperwork before sending you on your way. 
Read: Part 1: PurseBop Shares Tips for Traveling Internationally with Valuable Bags and Luggage
The Case Against Checking In Luxury Bags
As lovers of luxury fashion and accessories, we understand the desire to travel with prized possessions. Whether it's a luxury handbag you use daily, or a special miniature reserved for events – it's only natural to want to bring it along on your voyages. However, when it comes to traveling through airports, one cardinal rule stands tall: never check them in!
Read: Travel Reminder: Don't Put Your Birkin in Checked Luggage
Checking in luxury goods exposes them to a multitude of uncertainties – from mishandling and rough treatment to accidental loss or even theft. To avoid these potential risks, it's imperative to adopt a carry-on-only approach for your luxury handbags when traveling. Keeping your bags with you in the cabin allows you to maintain a watchful eye over them throughout your journey. You'll also be able to ensure your bags are handled with care, in order to minimize the risk of accidental damage or loss. 
Of course, that doesn't mean putting your luxe bags on display. Keep them near, but also neatly tucked away inside carry-on luggage. Out of sight, but certainly not out of mind! 
Securing Luxury: Tote Bags for Your Prized Possessions
When it comes to traveling with your luxury bags and other high-value accessories, safety and security are paramount. One strategy is to perhaps refrain from wearing them on travel day. Highly branded and recognizable luggage pieces can attract unwanted attention. Instead, opt for a versatile tote bag, a functional travel companion that offers a discreet layer of protection for your most valuable possessions. 
Real also: The Goyard Tote Price Guide 2023: USA vs Europe vs UK
Tote bags have long been favored by travelers for their practicality and adaptability. The roomy interiors can accommodate your essentials along with any luxury handbags in tow. However, to elevate your tote bag game, we strongly recommend your travel tote of choice is complete with a zipper. A zippered tote adds an extra level of protection and security – making care-free travel a breeze. For even more protection, consider adding a lock to your zippered tote. 
These secure tote bags are most useful for long-haul international journeys, as they offer an added sense of security. A zippered tote is much harder to gain unauthorized access to than a classic catch-all bag with no closure. Additionally, a reasonably sized tote can be stored under the seat of an aircraft, and therefore never has to be out of sight. As a result, you can be confident knowing that your bags are securely stored until they arrive at their destination.
The Art of Bag Nesting
So now we've covered the importance of ensuring your luxury bags are tucked safely within your carry-on luggage and the benefits of using a secure tote bag. But this raises the question, how can I travel with multiple luxury bags? The fine art of 'bag nesting' is a long time PurseBop specialty! 
At the heart of bag nesting lies the pursuit of fitting multiple handbags within each other, like the ultimate chic puzzle! This is a craft that's far from new here at PurseBop – we've been championing bag nesting as a travel essential for quite some now.
The idea here is to place your smaller bags within larger bags, and so on. For example, the Hermès Jypsiere 28 can fit perfectly inside a Birkin 30. And to complete the nest, a Chanel small Classic Flap can fit neatly inside the Jypsiere – 3 bags in 1. This is not only beneficial for space saving when you want to pack multiple handbags, but this bag nest can fit comfortably into a larger more secure tote for ultimate security. 
Understated Chic: Embrace 'Low-Key' Outfits
As fashion lovers, it's a challenge to find the perfect airport outfit – particularly when it comes to comfort and style. As much as we love Monogram luggage, statement Dior Book Totes, and generous Birkin 35s – sometimes it's best to not to display our expensive pieces in full view. Well the same is true of our ensembles. We're not suggesting you shouldn't pack these beautiful items in your carry-on, but we merely advise a more low-key approach to travel outfits.
Generally speaking, thinking 'low-key' for your travel outfit picks can turn out to be quite the smart move. Opting for outfits that lean towards subtle, rather than loud logos and Monogram prints can be a pretty savvy choice. 
By skipping the bold branding, you dial down the chances of attracting the wrong kind of attention. This 'less is more' approach to travel fashion ensures your luxurious belongings can stay safely tucked away until you reach your destination. 
Stay Alert: The Risks of Using a Purse Stool
As they repeatedly say at airports, don't leave your belongings unattended. Well, it's equally important you don't leave them unmonitored. Not even for a short time. While the convenience of using a purse stool, or perhaps hanging your bag off a chair may appeal, it certainly isn't the safest option. In bustling airports particularly, where distractions are aplenty, this is a no-go. And this holds true beyond the airport too.
Read: Birkins and Chanel Bags are Taking Over Restaurant Seating
Placing your bags in these situations, especially without your keen watchful eye, can inadvertently invite trouble. Opportunistic individuals can make a quick grab for your belongings – so always ensure you keep your bag within sight or opt for a more secure spot such as a zippered tote. 
A New Level of Assurance: Luggage Tracking
In an era where technology almost controls every aspect of our lives, it's not surprising that personal luggage tracking is now readily available. When it comes to ensuring the security of your valuable possessions, Apple AirTags have emerged as a game-changing solution that seamlessly combines technology with peace of mind.
Read: Keep Your Birkin Safe with the New Apple AirTag Hermès Tracking Device
Apple AirTags are compact, coin-sized devices that utilize Bluetooth technology to help you keep track of your belongings. Due to their small size, these AirTags can be discreetly slipped into the interior compartment of any bag – we'd recommend using one in your carry-on that contains your luxury pieces. With the use of Apple AirTags, you have the instant ability to track the whereabouts of your belongings in real time, even within a large and busy airport terminal. In addition, you also have the added benefit of naming each AirTag so you can easily identify your bags. In a worst-case scenario, an AirTag-equipped item that has been marked as lost can potentially be located even when out of Bluetooth range, therefore increasing the chances of recovering your goods.  
Safekeeping Your Luxuries During Your Stay
The security of your handbag extends beyond the journey itself. When you arrive at your destination, it's important to continue to take proactive steps to safeguard your valuable bags.
Once you settle into your hotel room, one of the first considerations should be storing and securing your luxury handbags. If your room features a generous safe – this could be the ideal location for smaller bags, SLGs, and jewelry. However, this begs the question of how to store larger bags… 
If a safe isn't available, you have larger bags, or you'd prefer an alternative option – consider locking your valuables within your carry-on luggage. Utilizing the nesting method is the best way to ensure all your bags remain safely tucked away in your locked luggage. 
When embarking on your travels, be sure to bring not only your beautiful bags but also your wisdom surrounding traveling with luxury. With this mindset, you can confidently explore new destinations and make a statement wherever your journey takes you, knowing that your luxury items are safe and secure.
What do you find the most difficult when traveling internationally with luxury? Is it the packing, or the concerns about safety? Let us know your thoughts. 
Updated: August 19th, 2023