Gucci is moving in a fresh, new direction and we can't help but be intrigued. After a lull in consumer interest, people are flocking to the latest styles At Gucci like the Gucci Dionysus Bag, which is gaining momentum as an "it" bag. Furthermore, logos are making a comeback, so Gucci definitely has room to thrive with their "GG" supreme monogram canvas. Gucci just might be the way to go. If you're still looking for an opportunity to join the Gucci game, consider the Gucci Marmont bag!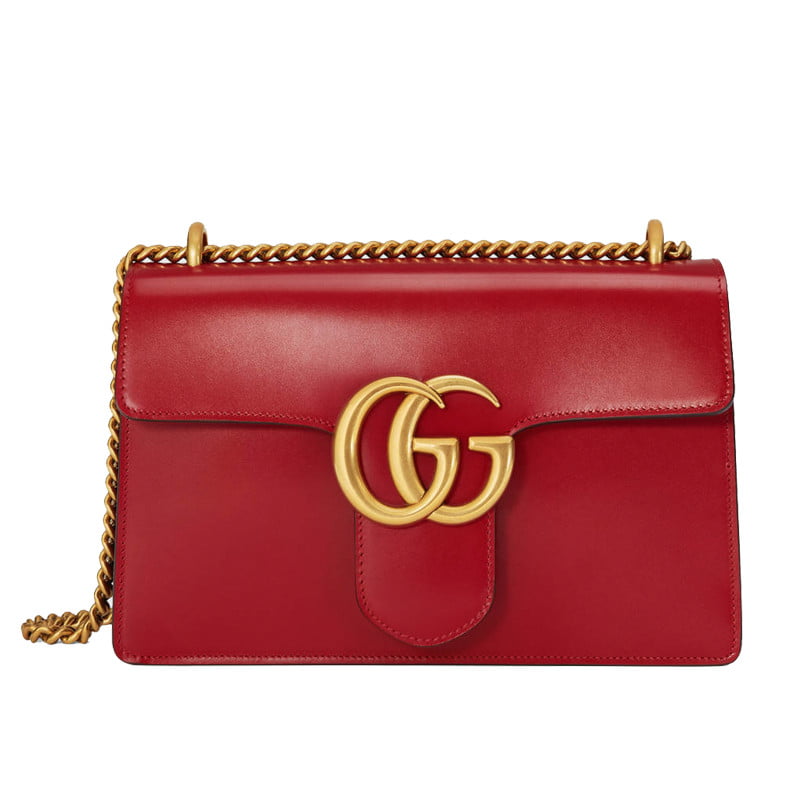 Features
The Gucci Marmont bag is a very structured, boxy bag with a trapezoidal silhouette. Its most distinctive feature is its flap closure with the bold 'GG' buckle. The flap secures by a magnetic snap closure. The chain strap is also another standout feature of the Marmont. It has a thick, sliding chain that can be worn different ways either on the shoulder or like a top handle. On smaller versions like the Wallet on Chain style, the chain is not sliding but long enough to accommodate crossbody wear. The top handle satchel style of the Gucci Marmont has a leather top handle and no hardware chain.
Interior wise, there is a partition with a zippered pocket that divides the bag into two compartments. The smaller versions just have a single compartment.
The Gucci Marmont is a a pretty simplistic bag, but it is meant to make a statement as you can tell by the giant 'GG's! Many of the Pre-Fall 2016 styles are adorned with cartoon style hearts and other playful graphics. Colors released include black, red, and pink. If you're looking for a classic, sophisticated bag with a modern twist, consider this for your collection! The Marmont also has quite a bit of feminine charm too, if that fits into your look.
The Gucci Marmont comes in several different sizes/styles:
Original (Medium) – $2,600
Small  – $1,750
Mini (Wallet on Chain) – $1,400
Top-Handle Satchel – $2,300