Few fashion brands hold a status as iconic as that of Louis Vuitton. The name speaks for itself. Now it's the most valuable luxury brand in the world, according to the recently released Brand Z report. Pursebop takes a look at how Louis Vuitton came to be the global fashion power house it is today.
As a division of the world's largest fashion conglomerate LVMH, the name Louis Vuitton holds a lot of respect and prestige within the fashion world. With 460 stores in 65 countries worldwide and a valuation well into the billions of dollars this French fashion house really is at the top of its game.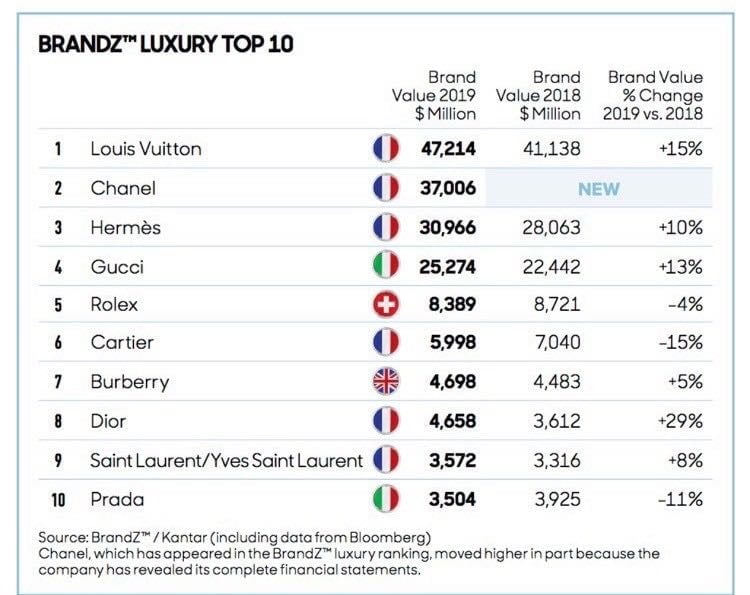 Born in Anchay, France in 1821, at the age of 16 Louis Vuitton Malletier travelled on foot to Paris to become a trunk maker's apprentice. Observing the popular trunk designs of the time, Vuitton noticed that due to their rounded tops they could not be stacked on top of one another. Vuitton was revolutionary in creating flat trunks that could be stacked for travel purposes and made them from water-resistant canvas so they would not be damaged in the rain.
Vuitton established his namesake brand in 1854 and became highly sought after for his trunk making services. He opened his first store on the Rue Neuve des Capucines in Paris. The designer caught the attention of the Empiress of France, Eugenie de Montijo, and landed his big break as her personal packer and trunk maker. With new friends in high places he began receiving personal orders from all over the world, even as far as Eygpt!
Despite having its roots in travel, the house evolved. You know how the story goes: LV expanded its product offerings and is known today for its handbags, clothes, jewelry and much more as well as, of course, its luggage.
Addressing Counterfeiters: The Invention of the Monogram Canvas
Vuitton was on the look out for ways to enhance his branding and protect his products from counterfeiters, a growing concern as the popularity of his products began to soar. In 1888 he introduced the Damier Ebene canvas. A year later in 1896 Louis Vuitton's son, Georges Vuitton, designed the brand's now iconic Monogram canvas, once again in an effort to ward off counterfeiters.
The interlocking L and V with floral pattern not only made the canvas hard to replicate but was unique and proved very popular.
The brand is known for, amongst other things, its ability to reinvent its classics whilst staying true to its heritage. The Monogram canvas is a big part of this. The classic design has been reinterpreted by countless top designers over the years. Memorable instances include:
Kim Jones, the then Style Director of Men's Ready-to-Wear at Louis Vuitton, collaborated with street-style Supreme in 2017. The red take on the monogram canvas became an instant (and expensive) hit. 
Louis Vuitton's former creative director, Marc Jacobs, launched a Monogram collaboration in 2003 with Japanese artist Takashi Murakami. Multicolore Monogram was introduced as well as cherry motifs over the classic canvas. Over the next few years, LV introduced baby pink and denim designs that became staples of early '00s fashion, even being featured in the cult classic Mean Girls in 2004.
These LV x Murakami bags are now considered collectors pieces and can even be found fetching high prices at auction.
Back in 2001 Jacobs made the controversial move of allowing Stephen Sprouse to create a graffiti version of the Monogram design. "Louis Vuitton" and "LV" were painted over the house's classic print and became pop culture sensations.
Recent Takes on the Classic Monogram
Earlier this year Louis Vuitton quite literally blew up their Monogram print when releasing their Giant Monogram collection. It featured enormous LV and flower motifs in central places on bags and proved popular with consumers.
Behind the House's Iconic Bags
Louis Vuitton is no stranger to an "It" bag. (Read: The Ultimate "It" Bag Analysis) Over the years the house has produced many. Despite their numerous collaborations and efforts to reinterpret their designs, it is their classic and most iconic bags that prove to be most popular.
The Speedy
Introduced in the 1930s as the perfect compact city bag, the design, best known in the Monogram canvas, was popularised by actress and fashion icon Audrey Hepburn. A smaller version of Vuitton's popular Keepall, the Speedy combines the brand's travel heritage with functionality and is viewed by many as the LV design most commonly associated with the brand.
The Neverfull
Despite only being launched in 2007, the Neverfull is seen as an LV classic. Linking to its name, this large tote was dubbed a bag that was really never full!
The Petite Malle
One of the brand's newer designs, the Petite Malle earned "It" bag status quickly owing to its gorgeous finish. The design was inspired by the trunks created for wealthy banker Albert Kahn in the early 20th century. The bag is the perfect example of Vuitton's ability to create new and exciting products whilst honoring their heritage.
If Louis Vuitton hadn't already consolidated its status as a one of the world's most iconic and respected fashion brands then the announcement of the fashion house topping the list of most valuable luxury brands earlier this year certainly did.
In addition, Bernard Arnault, the Chairman and Chief Executive of Louis Vuitton's parent company LVMH, joined tech moguls Jeff Bezos and Bill Gates as a centibillionaire (an individual worth in excess of $100 billion). As of July 2019 he is the wealthiest person in Europe and the second-wealthiest person in the world according to Forbes magazine, with a net worth of $108 billion.
Louis Vuitton is a brand with a rich history and strong sense of identity. It has proved time and time again that it is able to adapt and evolve to suit consumer needs and desires of today yet still honor its unique heritage. This is undoubtedly a big reason the fashion house remains on top.
Up and coming stars of the fashion world such as Virgil Abloh, currently the Artistic Director of Louis Vuitton Menswear, look set to continue the fashion house's legacy.
Is there anything that surprised you about Louis Vuitton's past (or present)? What do you think the future holds for this iconic fashion brand? Let us know below!