Every once in a while, you may see a bag for the first time and think: I simply have to have that. Sometimes, it's inevitable—a new style is so exciting, so perfectly you that it feels like it was meant to hang from the crook of your arm. And oftentimes, you're not the only one with this reaction. Some bags—let's call them "It" Bags—seem designed for coveting, and mindlessly lusting after them is something many fashionistas have endured. Some of us desperately gather together the funds and search store after store, site after site, to get our hands on the coveted bag. But what exactly is an It Bag, and how does it add to your collection long-term? Is an It Bag really worth it in the end? PurseBop investigates all of these It-Bag related questions, and more, below…
Defining an "It" Bag
From research, PurseBop would define an It Bag as a purse that is seriously trendy and desirable. For this reason, an It Bag can be hard to acquire. It Bags often have a high turnover rate, changing from year to year, and sometimes even from season to season! For the most part, they're instantly recognizable; celebs and other high-profile fashionistas tend to tote them around. An It Bag may be lauded for its aesthetic value, but it's also a serious status symbol that gives off an aura of exclusivity. Read on to see examples of It Bags!
"It" Bags in Recent History
The Chanel Classic Flap, created in 1955, is—it almost goes without saying—the quintessential It Bag. The Classic Flap has achieved legendary status; even people who know very little about fashion can recognize this iconic Chanel bag. It may seem strange that the Classic Flap is an It Bag because it hasn't ever gone out of style, but that just may be the reason it is the ultimate It Bag: it's so desirable that it's always trendy, and continues to be both exclusive and recognizable.
The Lady Dior, created in 1995 and named after Princess Diana, is still a major It Bag. With its boxy silhouette and canework stitching (based on the Napoleon III chairs in Dior's haute couture salon), the Lady Dior is a classic that's still trendy after 20 years.
The Balenciaga City, created in 2000, is instantly recognizable to most fashionistas. The cool It Bag became the tough-chic bag for celebs like Kate Moss and Sienna Miller, and even though it's been around for almost two decades, the bag is still seen frequently on the street today. The height of the City's popularity may have passed, but it's still a popular casual bag, and PurseBop even included a mini version on the list of 10 Vacation-Worthy Bags!
The Chloé Paddington, created in 2004, is an example of an It Bag that perhaps hasn't had the greatest staying power… The bag, which is apparently 3 pounds because of its extensive hardware, was so popular in spring 2005 that all 8,000 models were sold out before arriving in stores. Now, you'd be hard-pressed to find one out and about on the street! (That said, secondhand Paddingtons are flooding the online market right now, so you're in luck if the bag still speaks to you and your taste.)
The Mulberry Alexa, designed in 2009, was discontinued by the British brand a few years ago. But when the casual chic bag, designed for Brit fashion icon Alexa Chung, first came out, you would see it everywhere, and yet it was often sold out—the marking of a true It Bag!
The Céline Luggage Tote, created in 2009, is the French maison's iconic bag. Even though it was released the same year as the Mulberry Alexa, it's still doing incredibly well today. Perhaps this is because the It Bag, while certainly recognizable, is so classic and well-structured that it gives off an air of timelessness. Only time will tell whether the 8-year-old Céline bag will weather the storms of fashion and emerge, like the Chanel Flap, unharmed…
The Gucci Dionysus, created in 2015, is the major new It Bag of the moment. PurseBop included the Gucci shoulder bag on The 10 Hottest "It" Bags of 2015, and since then the Dionysus has only risen in popularity, being released in new styles, leathers, and prints. For now, the unique Dionysus is a coveted bag indeed, but will it last? We'll have to wait this one out and see…
As PurseBop has discussed before, there exists a certain luxury hierarchy, and this translates to a tiered system among It Bags. Price and quality influence the hierarchical rankings, but perceived exclusivity is the primary factor. Core luxury brands, like Céline and Gucci, aren't considered as exclusive as premium luxury like Chanel or—at the very top of the totem pole—Hermès. Different It Bags, then, fulfill different niches in this hierarchy, and each tier may have its own ultimate It Bag!
Are Birkins and Kellys "It" Bags?
But where does Hermès fit into this? Were you wondering where the Birkin and Kelly were in the list of examples? Well, we've saved a little section for them because they're a bit tricky. There's simply no denying that Birkins and Kellys are It Bags. Yet, as we mentioned above, they belong to a different luxury category—the ultimate category—and because of that, the nature of their "It Bag" status is a bit different. The Birkin in particular is often considered the epitome of luxury. With limited availability and high price tags, getting ahold of an elusive B can sometimes seem more like a fairy tale than reality. Hermès maintains the image that the Birkin is a distantly beautiful, unattainable marvel. Because the Birkin isn't as accessible as, say, a Chanel Classic Flap (and is seen far less often on the street), it's more of an aspirational, symbolic It Bag—an ideal for many rather than a reality.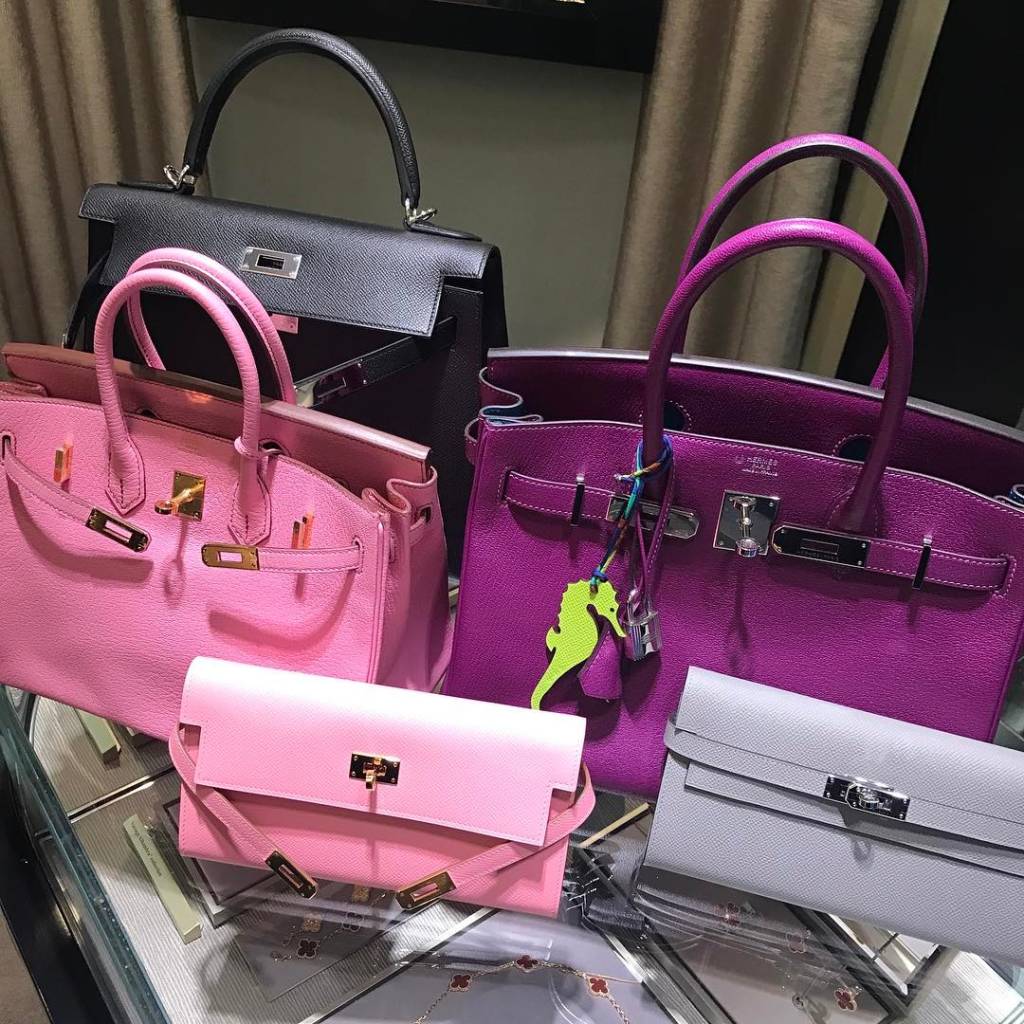 Anti-"It" Bags
If there are It Bags, then there must also be "Anti-It" Bags…and in this case, they're still luxury bags! According to The Wall Street Journal, recognizably trendy and designer logo–ridden It Bags are losing their novelty among both designers and collectors. Instead, the simple, undistinguishable Anti-It Bag is becoming a staple and even mantra to some, because understated bags arguably speak for themselves and express the consumer's personal tastes. It's meant, above all, to be a quality bag rather than a statement. (That said, our collective fashionista spirits still love It Bags for their fun trendiness and classic logos.)
A big debate we've had is whether the Kelly is actually an Anti-It Bag… The Kelly is certainly understated, and there are no discernible logos; outside the world of fashionistas, it may not have the same cultural cachet as the Birkin. Inside the fashion realm, however, the Kelly is unmistakable, rivaling the B for exclusivity. PurseBop's undecided on this question, but there is no denying that the Kelly is an It Bag of some sort.
PurseBop's Tips for Striving for Staples and Curating Your Collection
1. Choose Less Novelty Bags: This one is pretty self-explanatory. While novelty bags are fun "It" Bags, and many are beautiful, they can get old very quickly. It's definitely worthwhile to think about having a couple you can reach for every once in a while to spice up an outfit, but if you're unsure—and especially if you're just starting out curating your collection—PurseBop recommends going for more classic bags. (And, as we've already discussed, there are certainly classic "It" Bags to choose from!)
2. Think Long-Term vs. Short-Term: This one seems pretty easy, but in practice it's trickier than you think. When you're lusting after a new bag, there may be one thought alone that guides your decisions: I have to figure out how to add that to my collection! But it might be better to stop and ask yourself: how does this fit into my long-time picture for my collection? If you already have plenty of red bags and want more neutral colors, for example, but stumble upon another red bag you desire, it's important to rethink. Another question you want to ask yourself is: will I wear this in a couple years, and how will I continue to style it? If the answer's no, or you're unsure, that may be another reason to hesitate.
3. Make Your Collection Meaningful to You: Our fabulous contributor @kugzz, who's written about her "under 10 bags" rule, has the best advice here. (Of course, curating a meaningful collection doesn't mean it has to be only 10 bags—that's up to personal preference!) "Before making any harsh decisions, figure out what you have, need, and use most. Write a list and make mental notes of what you have in your collection already, and jot down your long term goals and wishes for your collection," she writes. Making your collection meaningful might mean cutting down or swapping out bags, or perhaps choosing wisely and only having more classic It Bags rather than novelty ones. Most of all, it's important to be in touch with your deeper desires as a handbag collector and not lose sight of them.
4. Shop Strategically: Once you know what you want out of your collection, you can apply that to how you shop. Unless you're a seasoned collector, it's best not to be swayed by spur-of-the-moment whims when you're meant to be "window shopping." If there's a particular bag you're coveting, stay informed about sales. (The Hermès Summer Sale is going on right now in Paris, for example!) And if you're planning to buy abroad, make sure to do the handbag math. (Read: Travel Guide 2017: The Do's and Don'ts.)