My recent Paris trips were chock full of shopping adventures. By now you've all heard about visits to Hermès, Chanel, Dior. But what about Goyard?  A long-time favorite PurseBop brand for travel, Goyard still lacks the caché of those other brands. I also don't always visit the boutique. However, during my last trip I did. Not one to resist temptation, something came home with me. It's time to shine a spotlight on Goyard.
On my last day in Paris my sister texted and requested that, should I find myself at the Goyard store, could I possibly pick up a particular cardholder wallet for my nephew. It wasn't in my plans, but surely I could do that for my sister and nephew. After wrapping work for the day, I took a short Uber ride to Rue Saint Honoré. Fortunately, the smaller boutique of the two had a very short line.
For those of you that have not been to Paris, Goyard has two locations right across the street from one another. The main boutique carries everything and the smaller holds only a more limited collection that revolves around the smaller leather goods.
I joined the line outside the smaller boutique, hoping I could ascertain whether the store had the desired cardholder wallet. Lucky for me, a lovely couple in front allowed me to inquire whether it was in stock. If so, I would wait. When the door opened for the next guest I leaned forward and made my inquiry. I was delighted to learn that they had it and I would be let in with this other couple to browse.
Exhausted from the day's activities and still battling jet lag, after a brief look around I sat waiting for my turn at a chair immediately behind the window. It turned out to be a rather costly respite. From where I was sitting I had a direct view to the window display. And perhaps not surprisingly, something caught my eye – a little tote. I had never seen it before, though I vaguely recalled including it in previous Goyard articles and price charts.
This is the Anjou tote, notably famous for being reversible. What excited me at this point, though, had nothing to do with functionality. I was drawn to how cute the tote looked hanging from a hook in the front window. Sadly, I neglected to take a photo, so you'll just have to trust me. The tote in the window was dark green, one of Goyard's special colors. If you have followed our coverage on Goyard totes over the years, you will learn that there are two categories of pricing. The regular colors and the special colors.
Although it may seem otherwise, I'm not typically an impulsive shopper. Usually, I plan, research, and obsess over purchases with fully articulated decisions. This was a completely different circumstance – pure PurseBop impulse.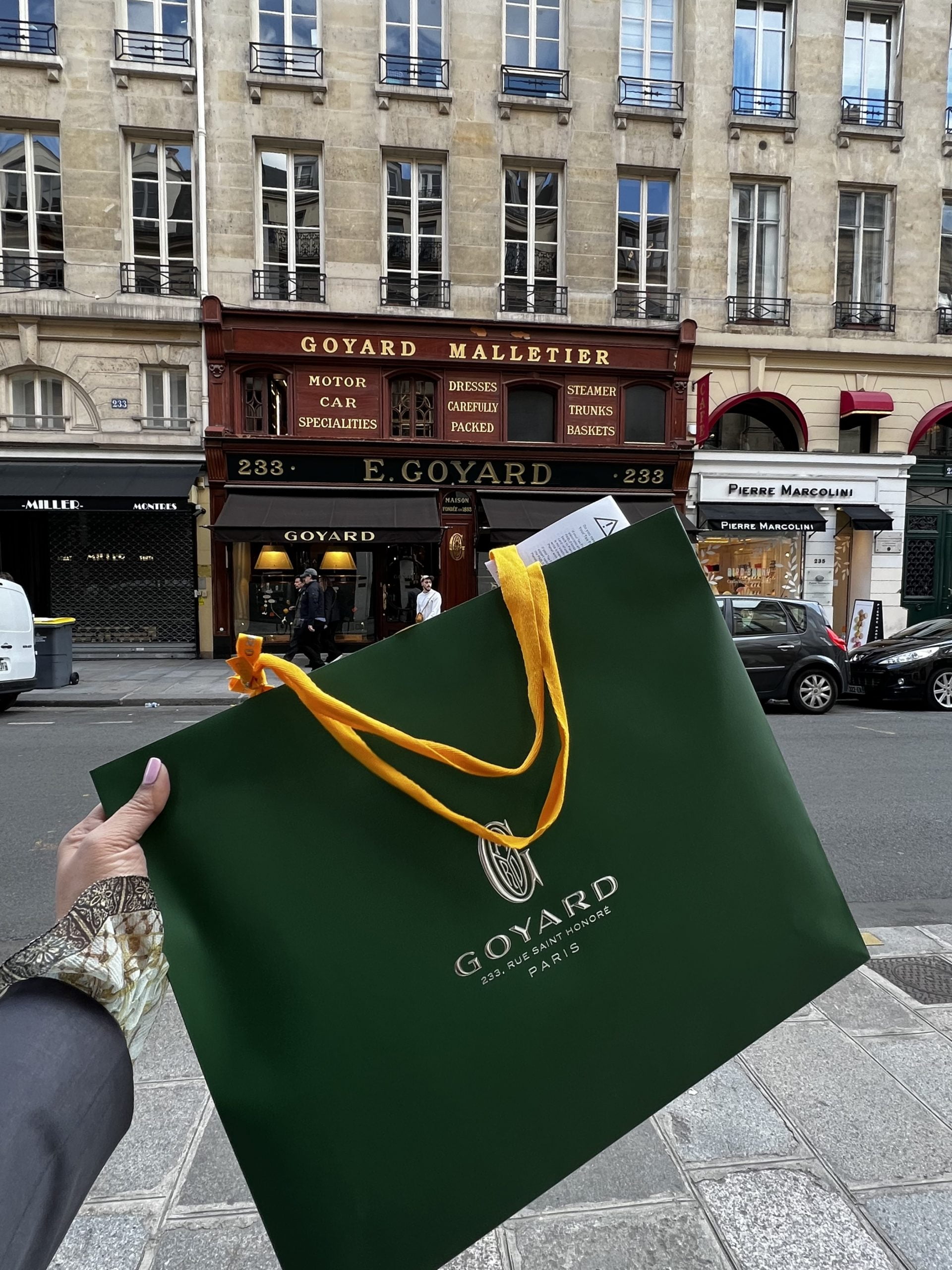 The Anjou mini tote was nowhere on my handbag horizon. In fact, had I been considering adding a Goyard tote (which I wasn't), it probably would have been the Artois in another color. My Artois accompanied and served me well on this second trip to Paris, bolstering and reinforcing my opinion that the Artois is indeed one of the best designed totes for travel of any brand.
For the curious, here's my prior deep dive investigation into the Artois versus the St. Louis totes. I highly suggest you read it if you're contemplating a new tote, especially if it's for travel.
This mini Anjou tote is small, yet big enough to throw in a whole lot of summer essentials. I'm talking wallet, sunglasses, lipstick, compact, and car key.  Be warned it does not have a top zipper so there's always the fear of things falling out. A fair comparison is the small Dior Book tote that I also purchased on this trip.
Clearly there's a common theme here: easy breezy summer lightweight open top totes. It's not a practical purchase by any means, but what caught me was the sheer cuteness of the size.
I see it as an easy errands bag- think Costco runs, doctor appointments, car washes (lol), weekend chores. More than that, it's the perfect easy-to-pack novelty travel tote for breakfast and brunches, romantic lunches, and sightseeing. You know I always imagine each bag in terms of its travel uses so this one will be an easy one to tuck into the carry-on and offer a bright alternative to a more expensive option you may not want to carry. It could even be a cute pool bag toting your novel, sunscreen, room keys  and shades. The attached Goyardine canvas pouch featuring a snap button closure is the perfect place to keep a credit card and room key and safe. What's great about the Anjou is also the fact that it's handles are slightly thicker which make it more comfortable to wear it over the shoulder, crossbody or in the case of my new mini – in the crook of my arm.
What Bags Fit in It for Nesting?
Yes, bags in bags for nesting, is always a factor. Even before doing a thorough evaluation, it was evident that the Anjou would accommodate a mini Kelly, possibly a Chanel mini, and certainly Chanel's small vanity case SLGs. To my pleasant surprise, the Anjou beautifully held my Chanel heart bag and the marbled silk Constance 18.
On the flip side and importantly, this mini tote can be easily folded up to nest inside any sized Birkin (preferably the B30 and 35) and fits inside any other tote for travel. So it's easy to carry along as an option for anything. To be specific, the Goyard Anjou Mini measures 8" x 8" x 4", the smallest of all Goyard's totes, including the PM versions of the Artois and Saint Louis. It might be small but it's in fact very spacious. The reinforced seams give it a base to stand tall on it's own.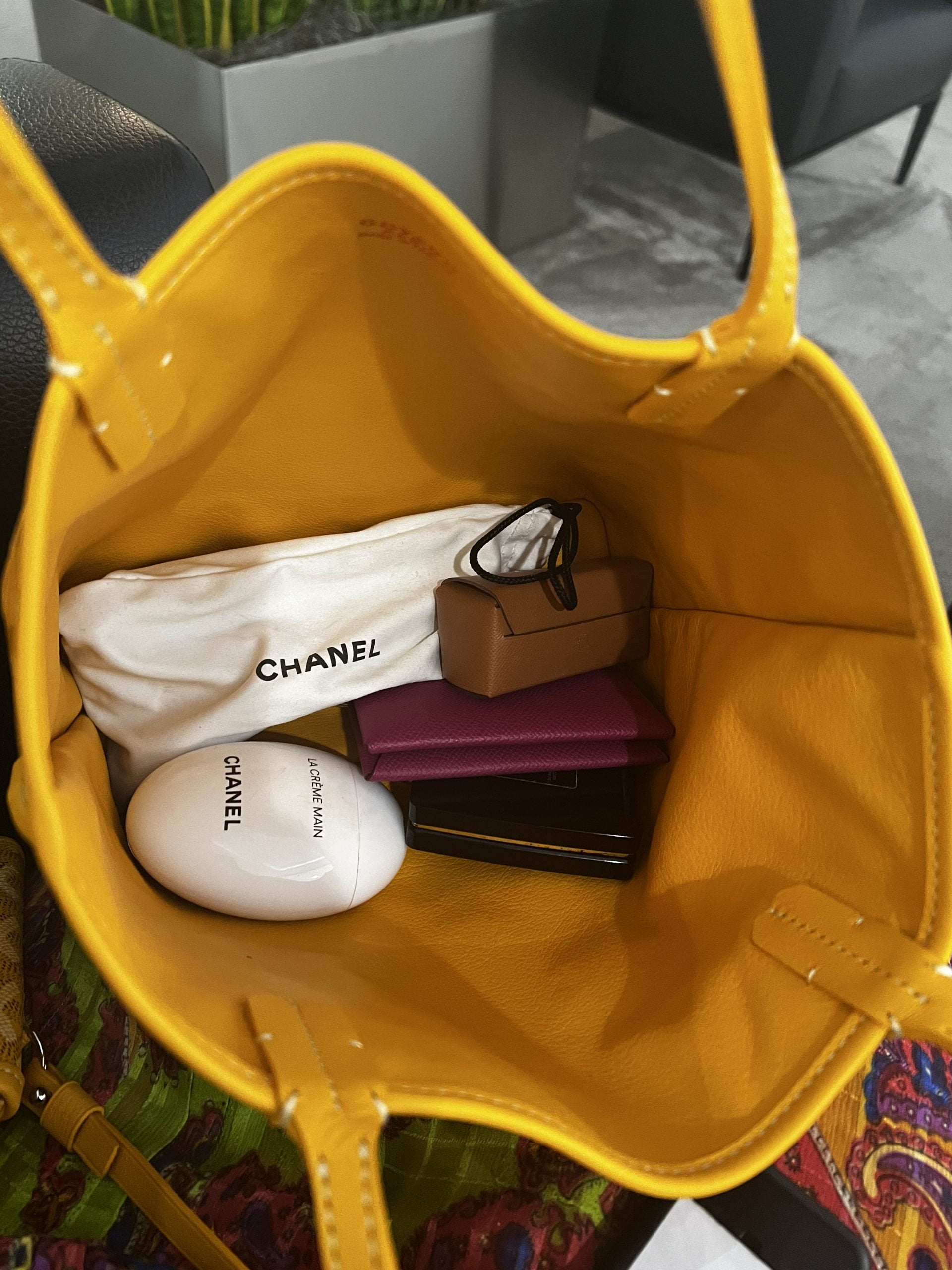 Just think about how many times we are told and sold something as reversible, but know we'll never wear it on the other side. This tote is actually completely reversible and is leather on both sides. This is one of the distinct differences between the Anjou and Saint Louis totes as most of the others are lined with coated canvas. I'm not sure that there is a need to reverse, but it is nice to know it's a good looking mini tote on the other side. It even has the hot stamp on the reverse side to give you that extra edge. The corners are not as structured when reversed, but it's not bad at all. See photo from above in car.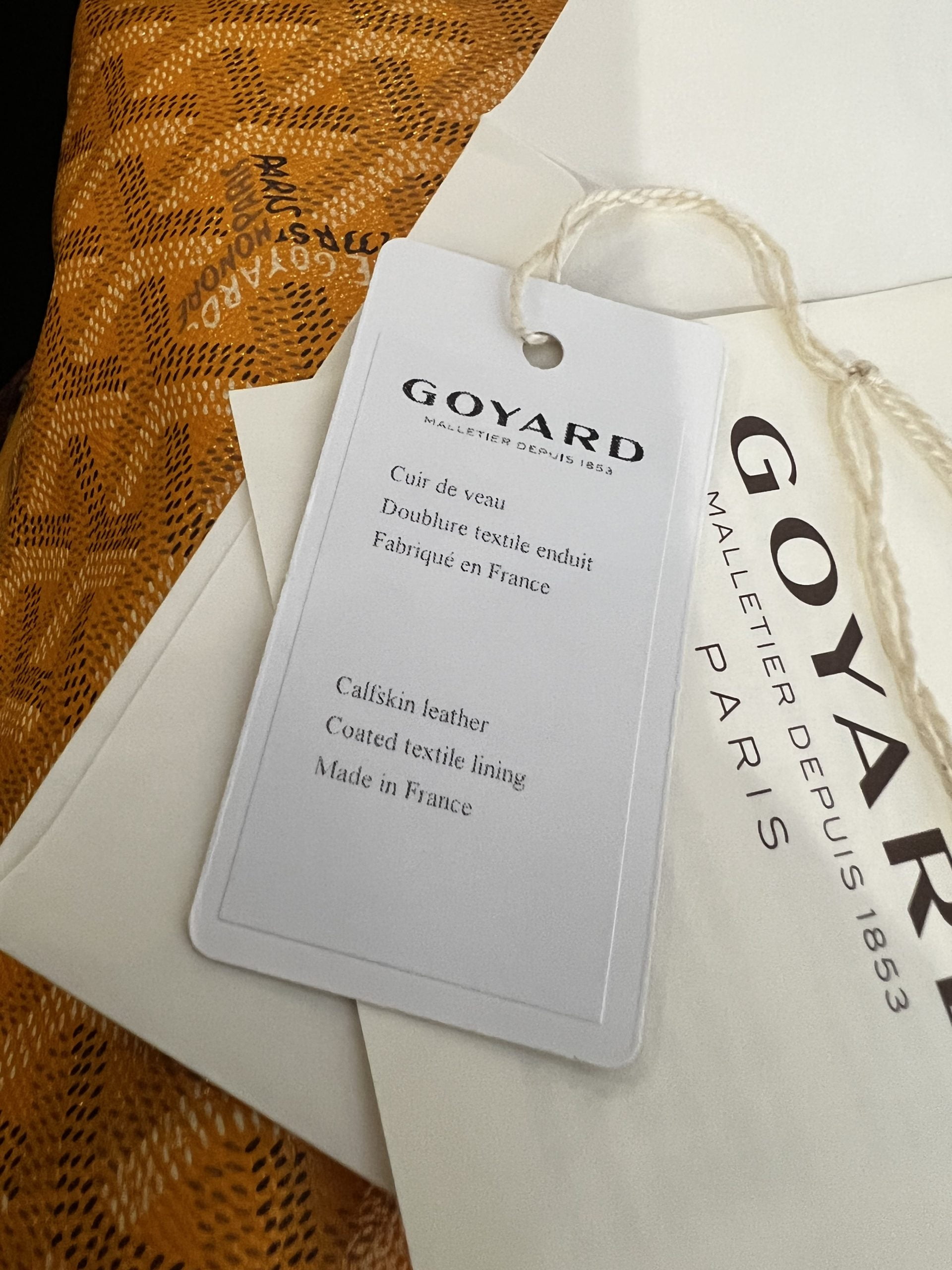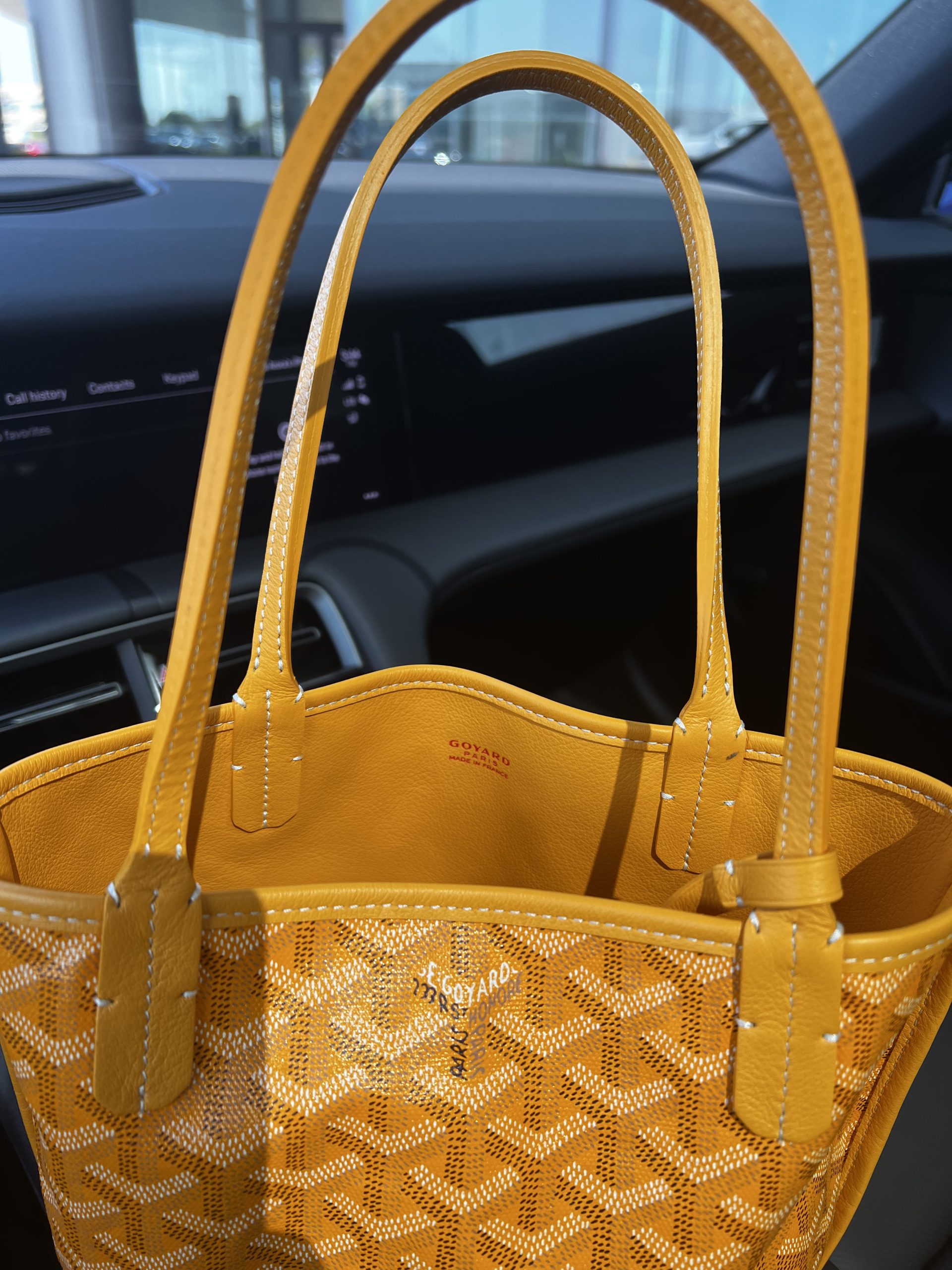 Honestly I decided in a split second. With a quick scan of the special color options, yellow felt fresh and bright. Yes, it also matches my sunny Rolex. I already own a blue Saint Louis, a black Artois and I had just purchased the small Dior book in red. That left green and orange… and yellow felt best :)
Read also: The Sunny Rolex Reveal: Time Was On My Side
Prices and Handbag Math for the Anjou Totes
Below are the current prices for the Anjou totes in the US. The tote comes in three sizes and two price points. The first price is for the basic black and tan models. The second price is for the special colors as seen above in the chart. To study a complete pricing guide on all the totes, visit here: The Goyard Tote Price Guide: USA vs Europe vs UK
Anjou Mini  2160/ 2590
Anjou PM 2460/2960
Anjou GM 2840/3400
In Paris the cost of the mini Anjou is €1840 = $1917.67 based on todays exchange rates. If we subtract VAT (14% for Goyard) – $274 our final cost is approx $1642.67. This does not include any duties imposed as will vary person to person and the customs officer. 
By comparison, here in Chicago the cost of the mini Anjou tote is $2160 + tax (10%) = $2367
If we take US price and subtract final price I paid in Paris $2367 – $1642.67 = $733.33 (savings) = 31% 
Goyard is a much less expensive in Europe, especially now with the US dollar being so strong against the Euro. Definately a great brand to pick up if your travels take you to Europe this summer.
In fact if you haven't seen our Goyard Handbag Math article featured in the Daily Mail, have a look here: PurseBop's Handbag Math Featured in the UK's Daily Mail
Stay tuned as we make our way through my Paris shopping stories from April 2022.