What is it about this pint-sized bag? We contort ourselves, beg SAs and go to nearly the ends of the earth (while social distancing, of course) to obtain a mini-Kelly. I sure did… happily… and yet still wonder why.
Truthfully the Kelly 20 (aka mini-Kelly) is not particularly functional, nor is it by any stretch of the imagination value for one's money. In fact it might be the most expensive Hermès bag if one were to calculate cost per square inch. I mean it can't be bigger than a box of movie theatre M&M's. Still, the one bag that I have requested more than any other over the last two years would be a mini Kelly 20. Or put another way… my repeated message to my sales associate would look something like this:
"any chance that a mini Kelly in (any) color is available for me?"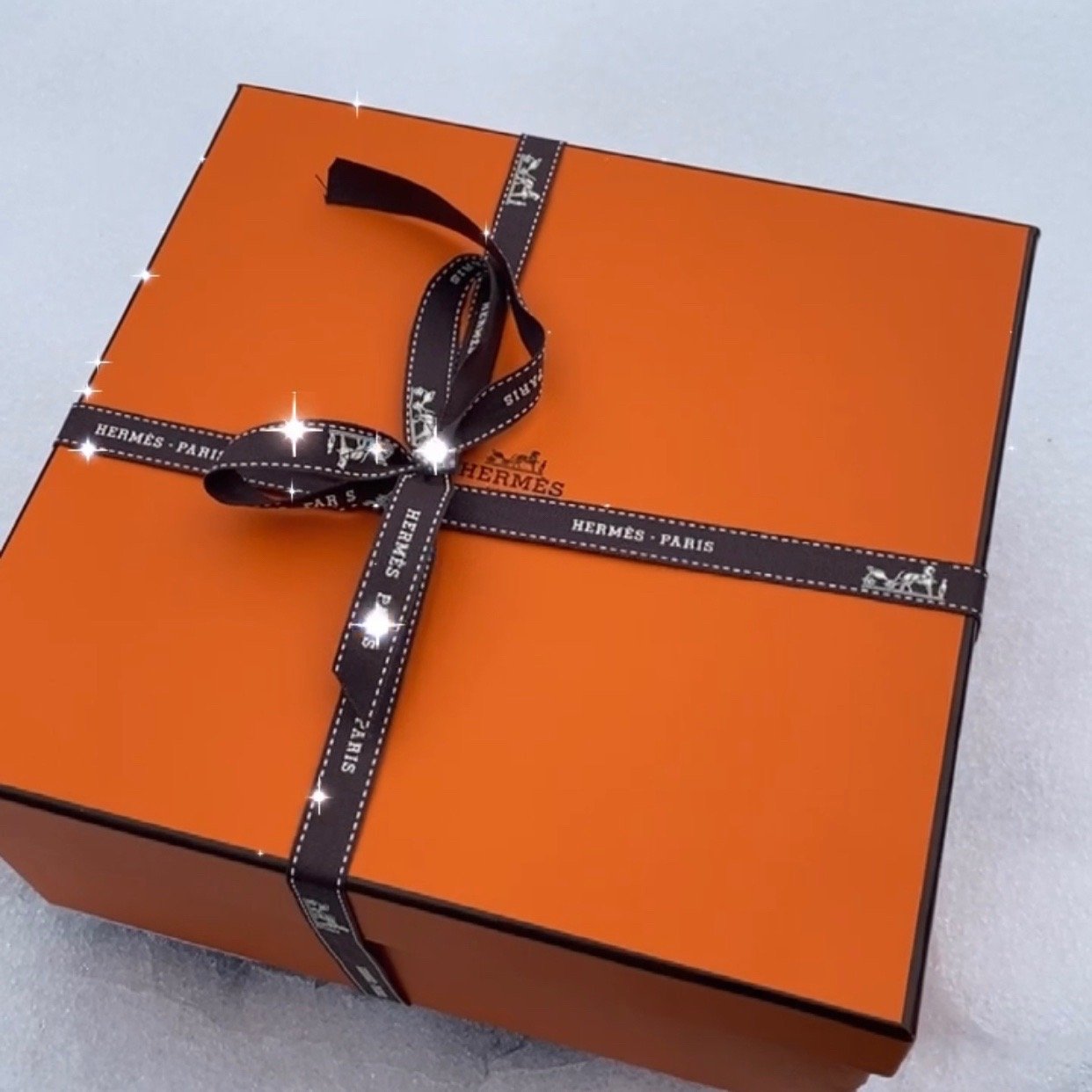 I'm going to take you back in time to my excitement when it was first announced in Aug 2016. My sales associate at the time actually discouraged me from purchasing it saying it was far too small to actually carry anything and he was absolutely right. Nevertheless, that didn't stop my craving. It's no secret that my love for mini bags runs deep… but this little mini has a place all of its own in my heart. I was fortunate enough to score my first on an adventure in Asia. Rather than satiating my whim, it left me longing for more.
When I was in Paris two years ago – March 2018 (I'm writing off 2020 – and counting it as two years ago rather than three lol) I vividly remember standing in the lobby of FSH anxiously awaiting for my SA to appear & begin my appointment. At the time, I noticed every woman in the boutique seemed to have a mini Kelly neatly slung across their body. To be fair, many were Asian and their petite frames complimented the size and stature and strap length almost to perfection. 
I am not petite in height or width, lol… but was still determined to make one of these minis mine. I just knew I would find my own way and my own use for this itsy-bitsy Kelly one day.
The longing continued for what seemed like an eternity.  Still no mini arrived. It wasn't until the spring of 2019 that Miss Rose Extreme joined the family. Ironically, she hailed from the same store as my bubblegum pink holy grail back in 2015 (read: PurseBop Joins the Birkin 25 Club). 
Miss Rose Extreme holds a very special place in my collection and likely always will. In some ways (especially during 2020) I reached for her more often than any other bag. You might be thinking why and where did I go? But for those of you that follow me on Instagram and witnessed my colorful stories you might recall that she was spotted more often than any other piece in my collection because truthfully I had nothing that I needed to carry. After all, at best, we were only going to a nearby beautifully manicured backyard. Not only was there no place for a bigger Birkin, I could barely justify a Kelly 25. Somehow the mini Kelly seemed appropriate and in some strange way the perfect accessory to sit near me, on my lap or on the table across. All summer I wished for more because, well, let's just say it's not like me to carry the same bag twice let alone multiple times within a week. And yet, as my close friends will attest, time after time, I showed up with the same bag.
For me, the mini Kelly serves somewhat as a wristlet, rather than a crossbody, In other words, I carry it by the handle with the strap wrapped around my wrist. So let's say it's more of a handheld or clutch style for me? Do you follow what I am trying to say? It's a handheld accessory.  And I absolutely love this. I do the same with my Chanel sparkle beauty bag in gold which is even smaller than the mini Kelly. Now imagine having cocktails… one hand has your drink and the other is occupied with your mini Kelly and your in fabulous conversation. It's an extension to your look, small enough that it's a part of you but not. Hope you get my drift.
Wearing the K20 crossbody is not an option for me. Just imagine it near my armpit, lol. Okay that's an exaggeration, but not by much. And although I do wear it over the shoulder from time to time… in my opinion the strap is just too thin and the bag never heavy enough to hold it's own.
Now I have seen many girls rock the woven Hermès straps adapting the mini Kelly for cross body… looks great on them – but that style of strap is just not my look.
Read: The Hermès Kelly 20 is Hot (Again)
That's not to say I haven't found an alternative strap. The new thick Kelly pocket strap caught my eye recently. It debuted for the S/S 2020 show (read: The Handbags From Hermès Spring Summer 2020 That Excite Us) and is just now trickling into stores (at least here in the US). It appears to be a very limited offering. This, I am dying to get my hands on. After all, this will elevate my Mini Kellys game to the very top of the handbag armoire. Call it the star on top.
So, to anyone reading, consider this my official announcement:
PurseBop wants the strap in 105 cm (that's the longest I think) in Blue Brume (or any co-ordinating color) and with gold hardware. In fact if theres one to match my Rose Extreme mini beauty, I'll take that too! If anyone comes across it —anywhere in the world, please contact me. 
I mean can you imagine how cute it would look strung across my chest with a summer floral dress, or so casual and chic with just a playful printed T-shirt (think Gucci), leggings and cute kicks…can we call it the perfect hands free travel accessory for just ID and a credit card. I can't even imagine how much more I would use my minis. Some may say that the strap is disproportionately thick/large or overwhelming for the K20, but I LOVE IT! 
Pint Sized Miss Blue Brume Joins the Family
Shall we move onto the actual reveal now… although I do have so much more I want to share. Please follow along on IG as I have passionately attempted some new 'reels' (it's like videos for those of you that don't follow IG). I will tell more of my story @pursebop.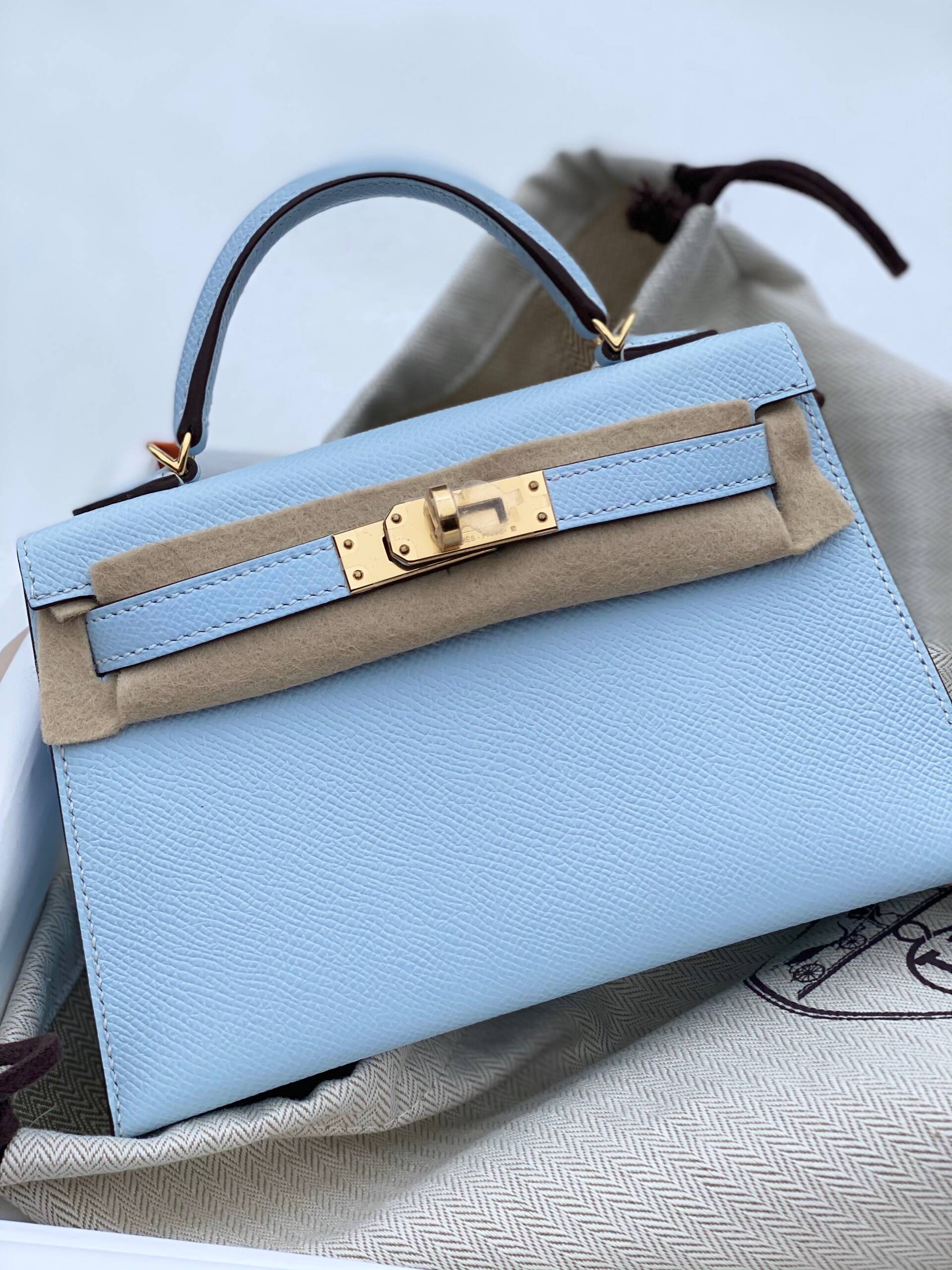 You're probably wondering why Blue Brume?  We were first to report to you the S/S Hermès colors (read: You're Going to Lick, We Mean Like, Hermès Spring 2020 Colors) in December of 2019 where we got acquainted with Blue Brume for the first time. I confess it seemed sort of blah to me at the time and therefore I didn't pay much attention to it. Then something happened that changed it all… my SA sent me the Oran sandal in BB this past summer and my heart went ga ga.
If the truth be told I am have been struggling to figure out what colors to add to my collection (it's a delightfully frivolous problem to have). It's not like I have everything, trust me, but I have reached the stage where it's becoming increasingly difficult to find new colors that I would actually use or that are not duplicate shades. And, yes, this does not apply to pinks!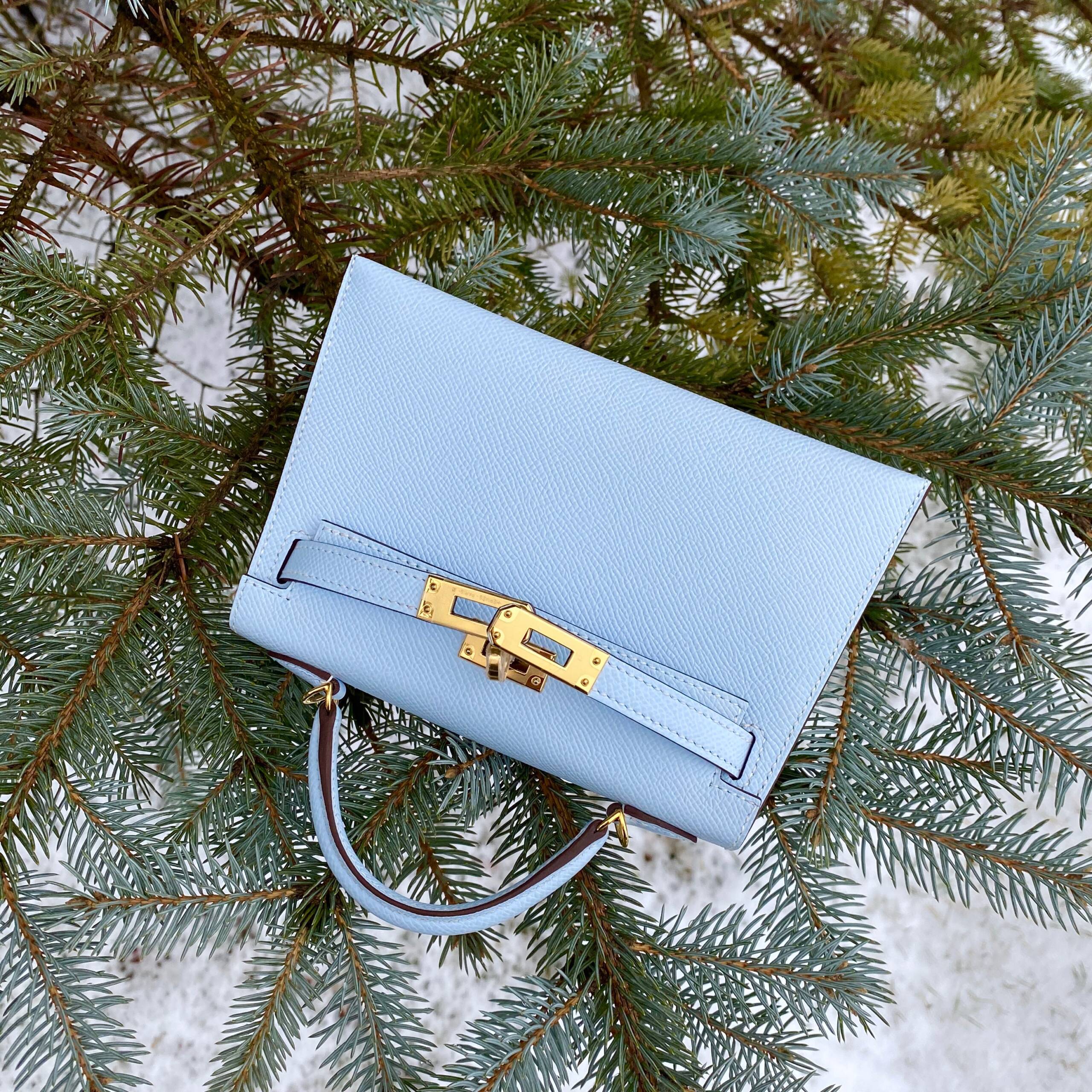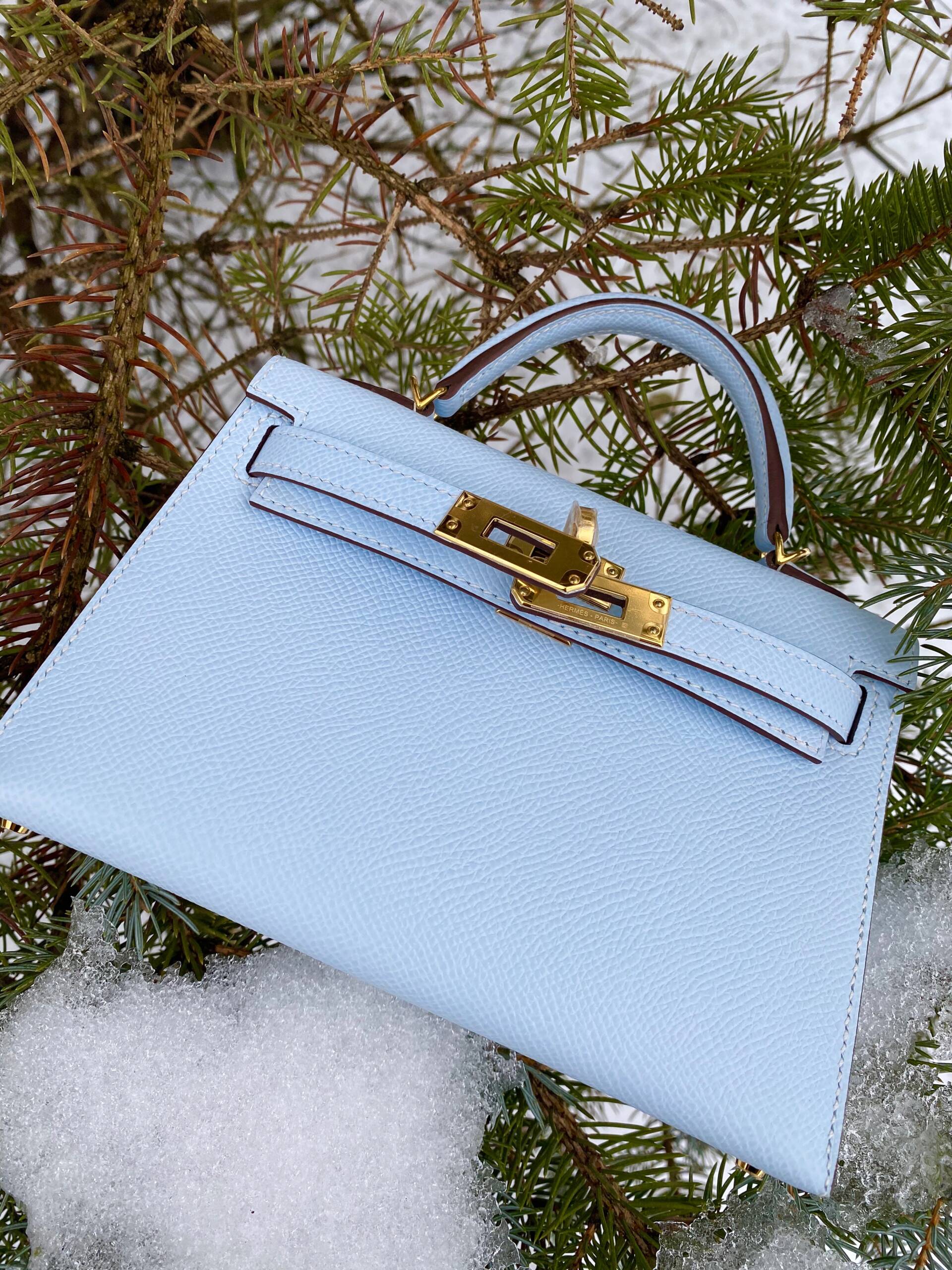 With the panoply of Hermès hues, there are so many favorites out there most folks would flip over. However, I know from my years of experience now that there are  many just not for me. Let me be more specific —I'm talking about neutrals. I drool over collections where girls have put together every shade of gray imaginable and then add taupe to that and then the multitude of beiges. It's stunning and covetable.  But I know I won't use them! My growing collection already includes several in this color family: Gris Tourterelle B25, Gris Mouette B30, Blanc B25 SO, Barenia B30, and Butler K25. My neutrals are pretty much covered, don't you think? So when I contemplated the hue for another mini Kelly, I was usually stumped. Let the record state that I would not have denied any color but I would have preferred a color not in my current collection and not a neutral. 
That doesn't leave very many options, especially when you eliminate pink. I narrowed it down to:  Black, Craie, Nata or some other pretty pastel or quite possibly a shade of orange or yellow… Well, I'm not really getting away from neutrals, but they are at least different than what I own, lol.
Finally after over a year of not-so-patiently waiting (my SA might call me a nudge) the call comes. Amid the pandemic, and feeling somewhat blue myself, I am offered a mini K 20 in Blue Brume with GHW. A pastel shade of blue so crisp it borders white. Think of the way light hits a pristinely cut diamond or the gleam of blue you see when the sun hits mounds of freshly fallen snow from the night before. That is this kind of blue… which is why I had to wait for the first real snowfall to capture these photos. 
Welcome to the family Miss Blue Brume. We've waited a very long time for you.