IT'S TIME FOR A PURSEBOP CHALLENGE!
From the very beginning, PurseBop has always been about appreciating the beauty of handbags in the most creative way possible. Our Instagram community has created a space for handbag aficionados to express their love for handbags through photography. A few years ago, we began showcasing these pictures on our Instagram feed with the hashtag #PurseBopPicks. PurseBopPicks eventually evolved into weekly challenges where we would select finalists with unique pictures, do a round of voting on the website, and one lucky winner would receive a prize and recognition for their creativity. Feel free to explore past challenges and winners in our PurseBopPicks category. These challenges are all in the spirit of fun and creativity, and they have really helped unite like-minded fashionistas into a big PurseBop family.
PurseBop continues to grow, and we want to celebrate all of YOU by kicking off a new challenge reminiscent of our PurseBopPicks days. The theme of this challenge will be "Bag with a View", and we want to see all your best shots! Our dear friend @lbrand_stylegirl, a bag photography expert, will help us run this challenge. For the next few weeks, we will feature pictures tagged #pursebopsbagwithaviewchallenge on our Instagram feed. At the end of the challenge, we will choose finalists and one lucky winner will receive a Hermès Bracelet that PurseBop snagged from the Hermès Paris Summer Sale.
See, this is a challenge you NEED to participate in…Read the rules below.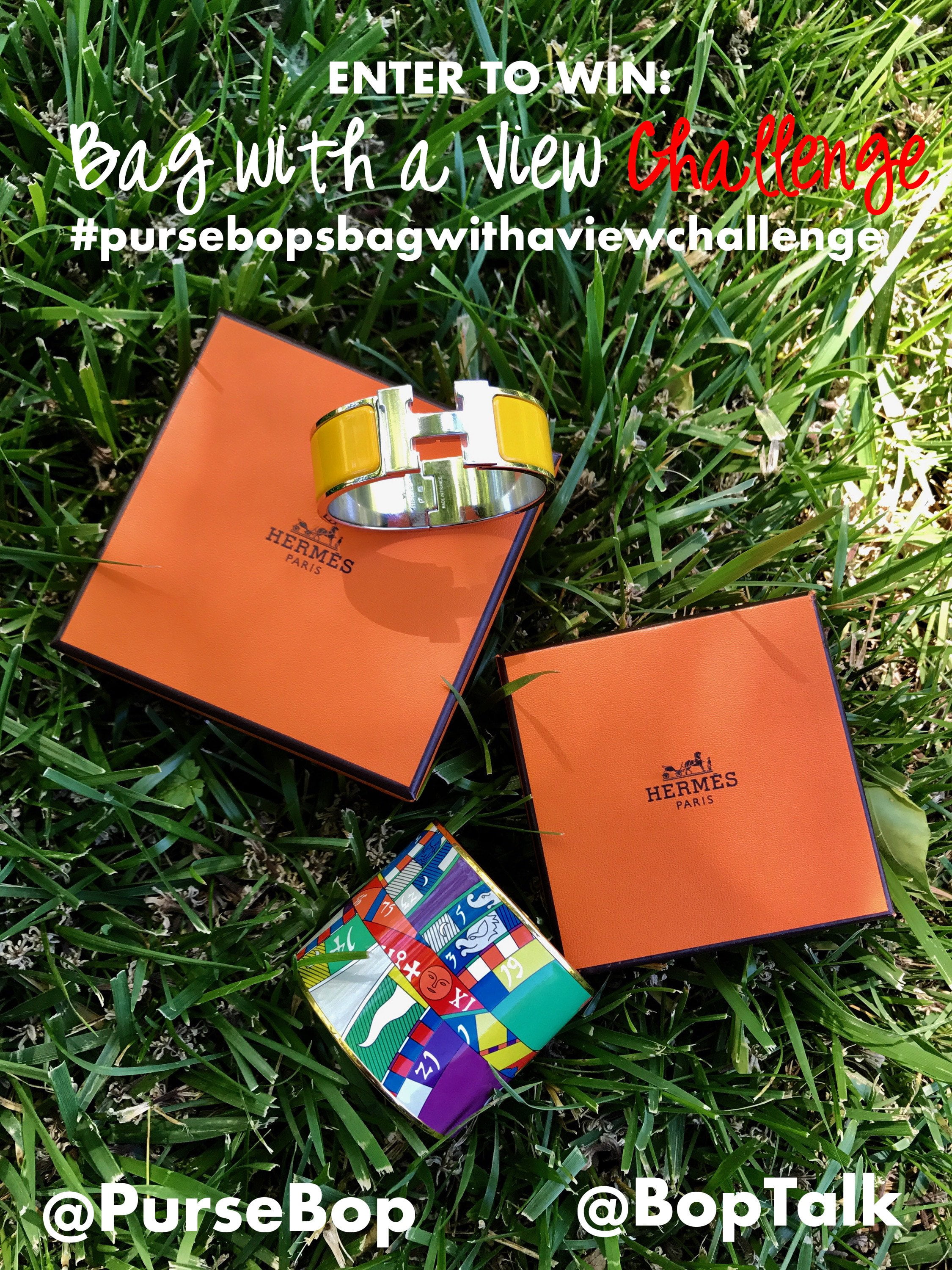 Rules
Challenge Dates: June 9th – June 30th
Post a picture of your bag and view shot with the hashtag #pursebopsbagwithaviewchallenge to be featured on Instagram.
Register your BopTalk account on PurseBop.com/BopTalk, and post your pictures to the "Bag with a View" Thread in the comments. To be eligible for the prize, you MUST post your pictures on the BopTalk thread.
At the end of the month, there will be a voting round with the challenge finalists. Vote for your favorite shot then.
After voting, the winner will have their choice between two prizes: a Hermès Clic Clac Bracelet in Jaune Soleil (Yellow) OR a Hermès Bracelet in a multicolor Astrological Pattern
Instagram Inspiration
We encourage you to use full artistic license and submit your most creative shots! These shots are supposed to be fun and expressive, so choose any background and details that appeal to you. We would love to see bags of all sizes, colors, and brands. Show us all the exotic places you take your handbag beauties. If you're looking for inspiration, check out the pictures below!
Updated: June 11th, 2017