Can we get anymore Kelly obsessed?  #PurseBopsGoneKellyCrazy again… 
In preparation for a new #PurseBopReveal, let's overview one of our favorite topics: The Hermes Kelly. We've compiled all the essential Kelly knowledge in one handy "Hermes Kelly Encyclopedia". Read the brief excerpt from each section and visit the full features in the links below for even more information.
I. Kelly Styles
The Kelly is a trapezoidal shaped bag with one top handle. It comes in two different styles: the Sellier and the Retourne. The difference comes down to construction, and each style gives off a very different look.
Sellier:
More complex construction since the seams are topstitched together, which is why Kelly Selliers are often more expensive.
Boxy and Structured, more rigid and has sharp corners
No Visible Piping
Considered more formal and lady-like
Retourne:
Turned inside out during manufacturing resulting in rounded, relaxed edges. These edges may be prone to more damages and may need refurbishing the future.
Softer look, more "slouchy"
Visible Piping
Considered more casual and better for travel
For more information on the differences and personal reviews of each style by instagram fashionistas, read our Hermes Kelly Sellier vs. Retourne Debate feature.
II. Anatomy of a Kelly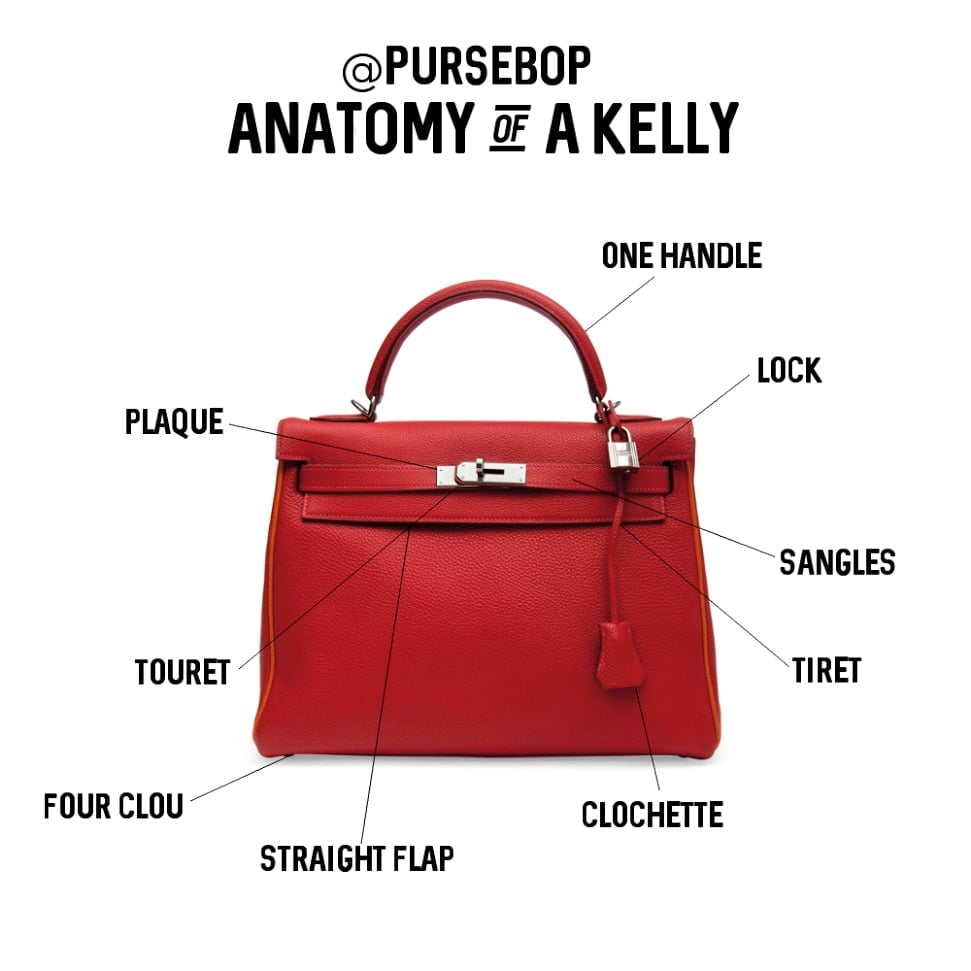 The Kelly is a beauty to look at, but do you really understand each and every one of its parts? We have fully dissected the Kelly for your educational purposes. Take a look at our diagram and get familiar with the formal names for each feature.
Important Parts
Lock
Touret
Clochette 
Tiret 
Sangles 
Pontet 
Plaque
Four clou
For more definitions and a Birkin Anatomy Diagram, visit Hermes Birkin versus Kelly 101.
III. Defining Features
The Birkin and Kelly are Hermes' two most popular bags, so naturally many people mix them up. The Kelly's most defining features are its single top handle and detachable shoulder strap. In comparison, the Birkin has two top handles, no shoulder strap, and a rectangular, tote bag silhouette.
The shoulder strap is a deal breaker for many when it comes down to the Birkin versus Kelly dilemma. The shoulder strap option allows for hands free use, which is more convenient for travel. Since you do have a place to attach a strap, you can change up the look of your bag by adding any accessory strap you want such as the Fendi Strap You.
For a closer look at the true differences between the Kelly and the Birkin, visit our Hermes Birkin versus Kelly 101 feature.
IV. Kelly Sizes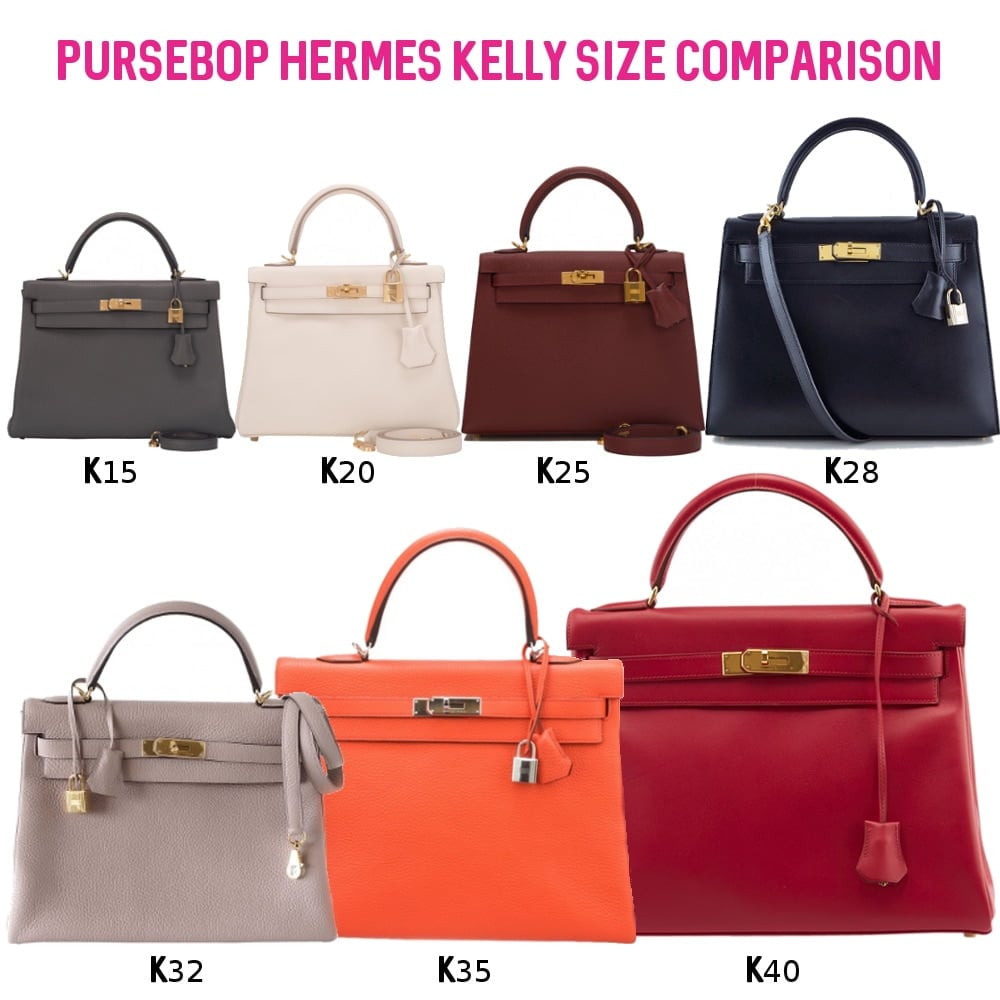 Kelly Sizes:
Kelly 15 (K15)
Kelly 20 (K20)
Kelly 25 (K25)
Kelly 28 (K28)
Kelly 32 (K32)
Kelly 35 (K35)
Kelly 40 (K40)
Kelly 50 (K50)
The Kelly comes in sizes from mini to more. As we've asserted in our bag size trend debate, you can rock any Kelly size of your preference! In general though, smaller size Kelly's or "minis" such as the K15, K20, and K25 are well suited for formal occasions. As far as everyday bags, people tend to pick their Kelly size based off their stature or storage needs. The K40 and K50 are more rarely selected sizes, but work well for travel.
For more details on dimensions, visit the Hermes Birkin versus Kelly 101 feature.
V. Kelly Prices
Hermes makes limited quantities of the Kelly bag and an incredible amount of craftsmanship goes into one single bag, which is why they are so expensive. Since, the Kelly is often hard to get a hold of unless you are offered one by a Hermes SA, many people look to the second-hand bag market to find the Kelly of their choice. The Birkin and Kelly are pretty much the only two bags in the handbag world that maintain their value and can resell for sometimes more than their original price. So, if you consider your handbags investments, the Kelly might be one of your best bets.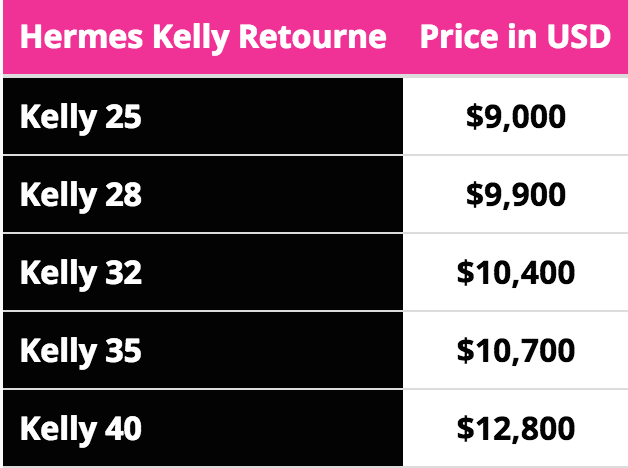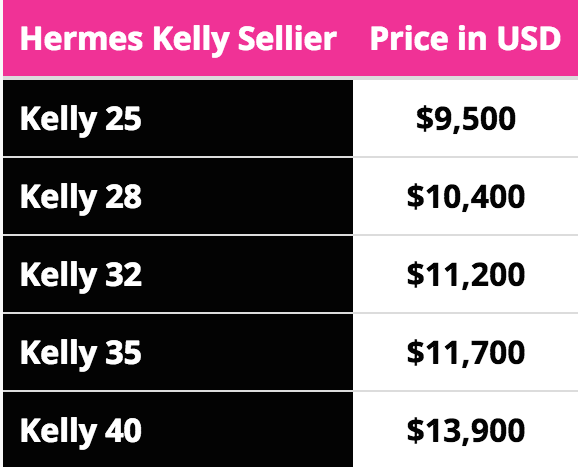 VI. The Cult of the Kelly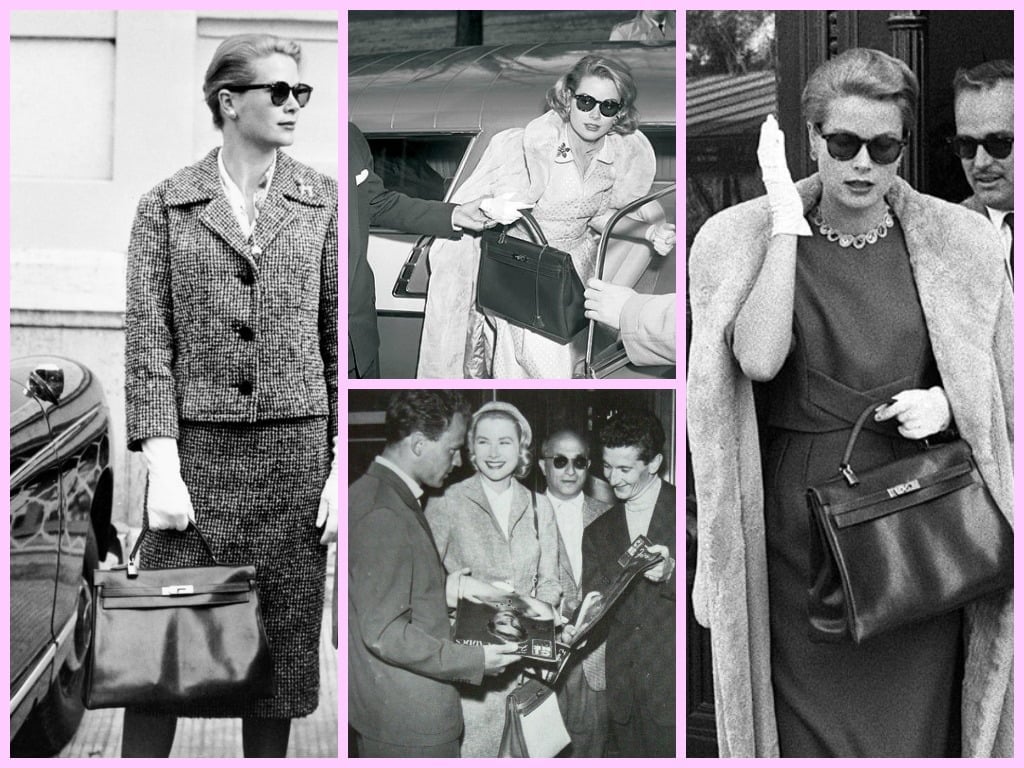 As you know, #PurseBopsGoneKellyCrazy and we simply cannot stop obsessing. Grace Kelly, the namesake of the Kelly bag, embodies elegance and femininity and we can only hope to carry our K's with the same confidence. Everything from the essence of the Kelly to its craftsmanship keeps many supporters on Team Kelly.
Find out exactly why we love the Kelly so much in our feature 8 Reasons Why We've Gone Hermes Kelly Crazy.
After this quick Kelly overview, are you ready for a reveal?
An unexpected treat from the Hermes Gods…