I've been fantasizing about mini Hermes bags for an eternity it seems, probably well before this article (read: Irresistible, Yet Unattainable Hermes Mini Bags). Visions of 25 Bs and Ks danced in my head.
I happily and luckily joined the Birkin 25 club back in July 2015 with my decadently 5P pink. She's aptly named Miss Kohinoor for the true rare gem that she is – a mini treasure in chèvre leather colored in what is known as Hermes "bubblegum pink.
In my recent Special Order series (read: PurseBop Gets The Call),  I confessed that I yearned for a Birkin in noir 25 with a pop interior: Something elegant enough for evenings with a twist of fun, a cutie to dangle on my wrist at cocktail hour, a baggie to accompany me on my travels. After much deliberation, I was convinced (by Mr. PurseBop and my SA) that my first Special Order should not be in black, but rather a vibrant statement piece to cherish forever. No regrets here – love my Blue Hydra beauty to bits.
My diligent Chicago sales associate promised he would "podium order" me a black Birkin 25 for my collection and he did. Podium order refers to a request that is made by your store to Paris that a specific special customer is looking for a particular item. There is no guarantee that it will arrive or when, but in my case, she arrived one cold January day just a few weeks after my Special Order.
Sharing a few special pictures of that magical moment – the unveiling.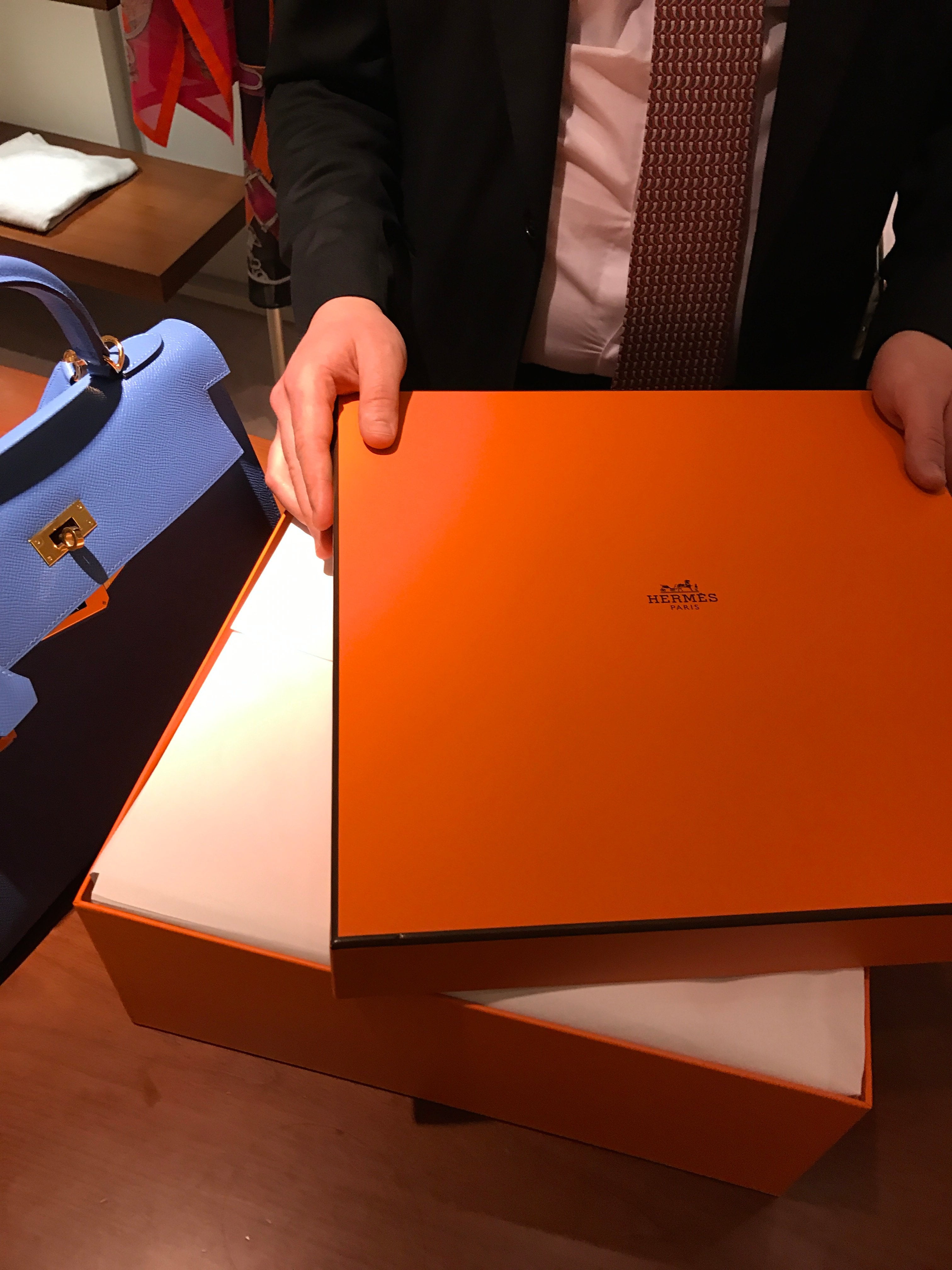 …and here she is!!
Having taken this cutie on two separate traveling expeditions already, once to Miami and once to NYC, I can say with confidence, it's an absolute delight. From day to night, I enjoyed my lightweight companion, literally an extension of my arm, whether carried like a top handle tote or in the crux of my wrist hands-free. She sits on my lap when there's no special place for her.  The best part is that she fits in a Birkin 30 or 35 during travel – the perfect nesting bag.
Now that you know a little bit about her story, I will share a few details about the style, color, size, leather, and price of this beauty.
Style
Vital Stats
Name:
Style: Birkin
Color: Noir
Hardware: Gold
Size: B25
Leather: Swift
Size
It's no secret I like mini sized bags, especially for evenings. Expanding my mini Hermès collection allows me the opportunity to carry H by night! I rarely carry my larger sized Birkins or Kellys after hours.
Explore our guides on Hermes sizes below: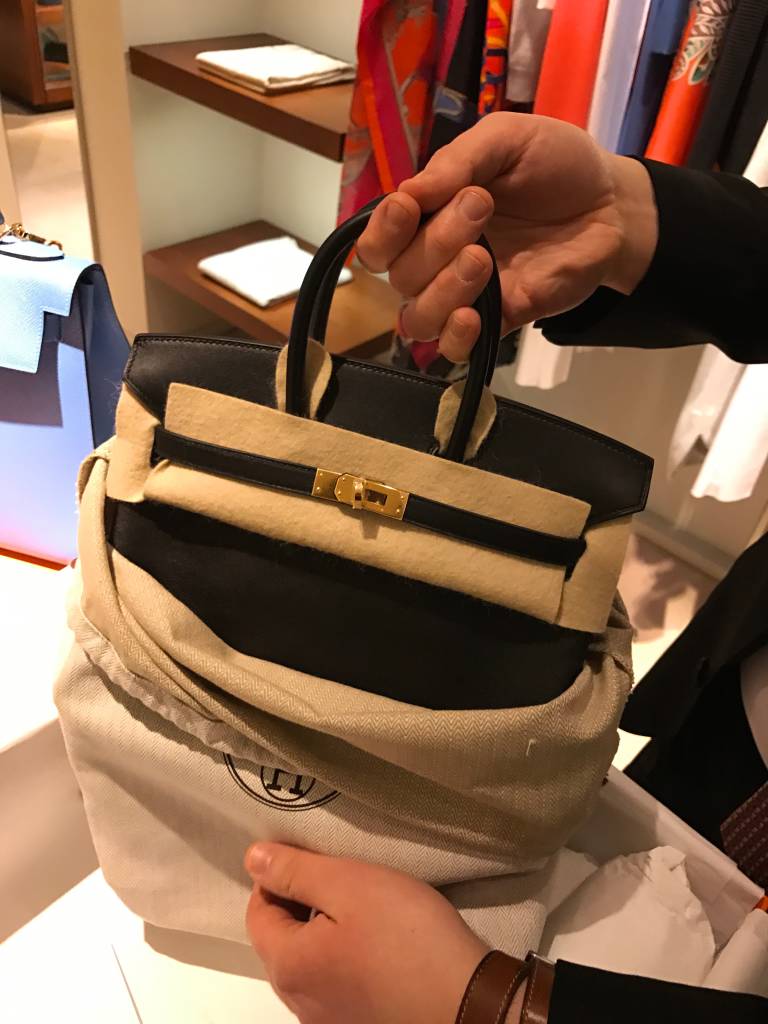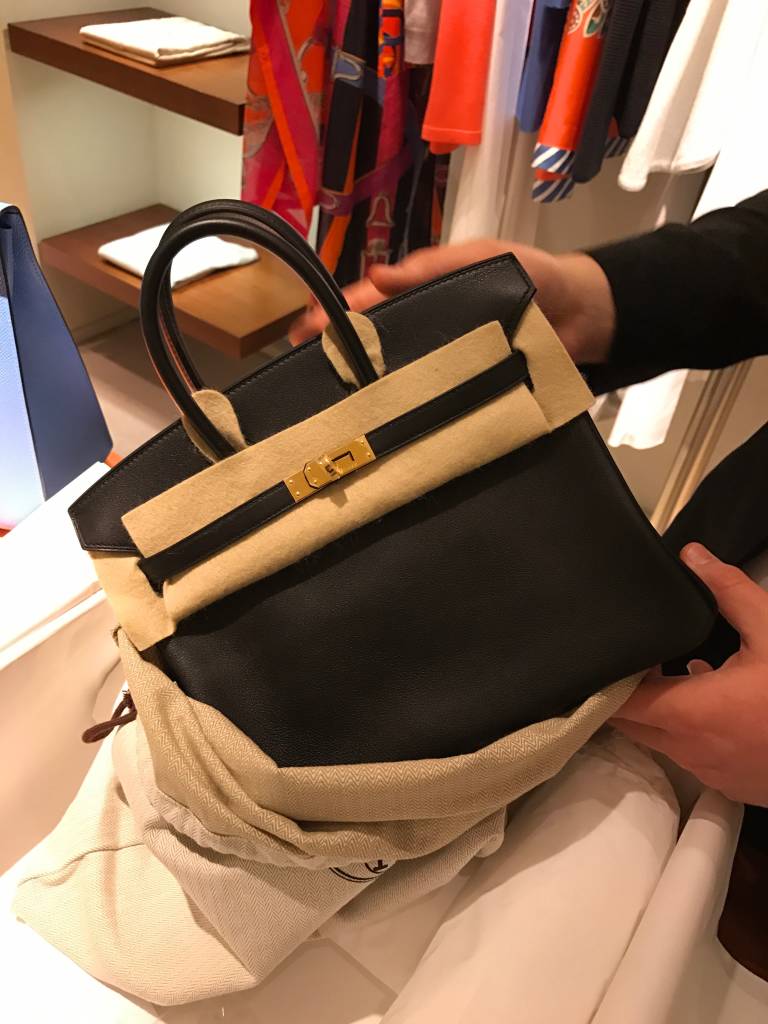 Leather
Swift is a very smooth fine grain calf leather. It feels and looks more luxurious than it's togo, epsom and clemence counterparts. For my Chanel lovers, the best analogy to help you visualize will be 'lambskin versus caviar'. It's very durable contrary to it's rumored reputation.
Find out more about Hermes leathers in our feature The Hermes Learning Process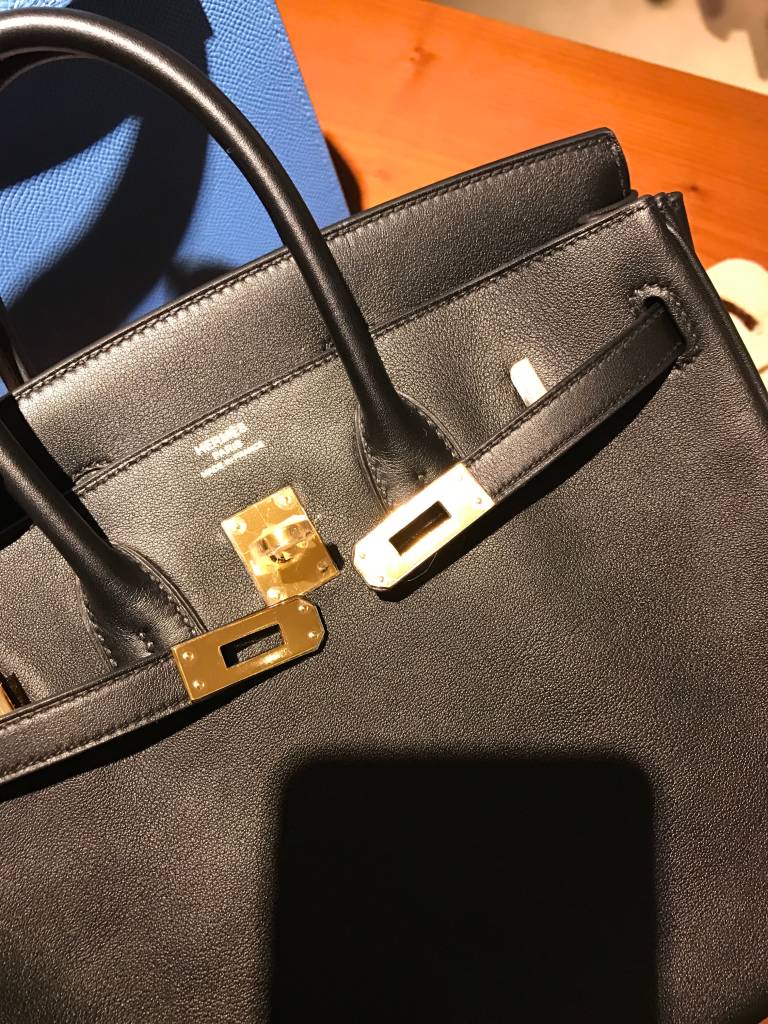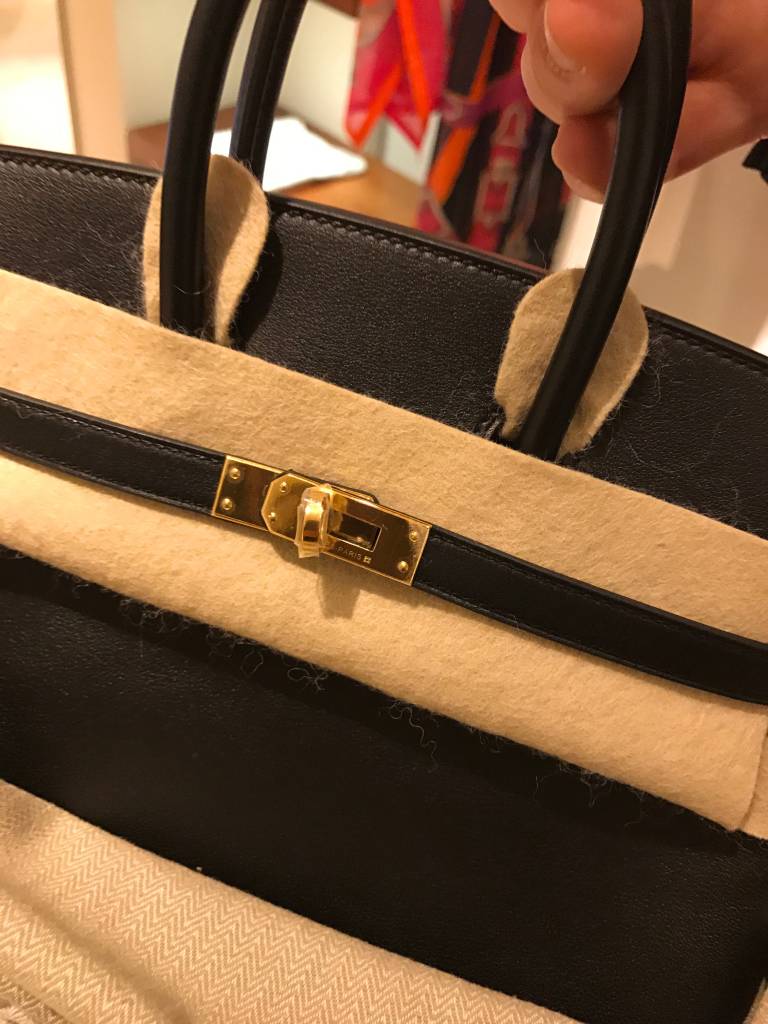 Price
These mini Birkins sadly don't come with a mini price tag.
| | |
| --- | --- |
| Bag | Price in USD |
| Birkin 25 (Swift) | 9500.00 |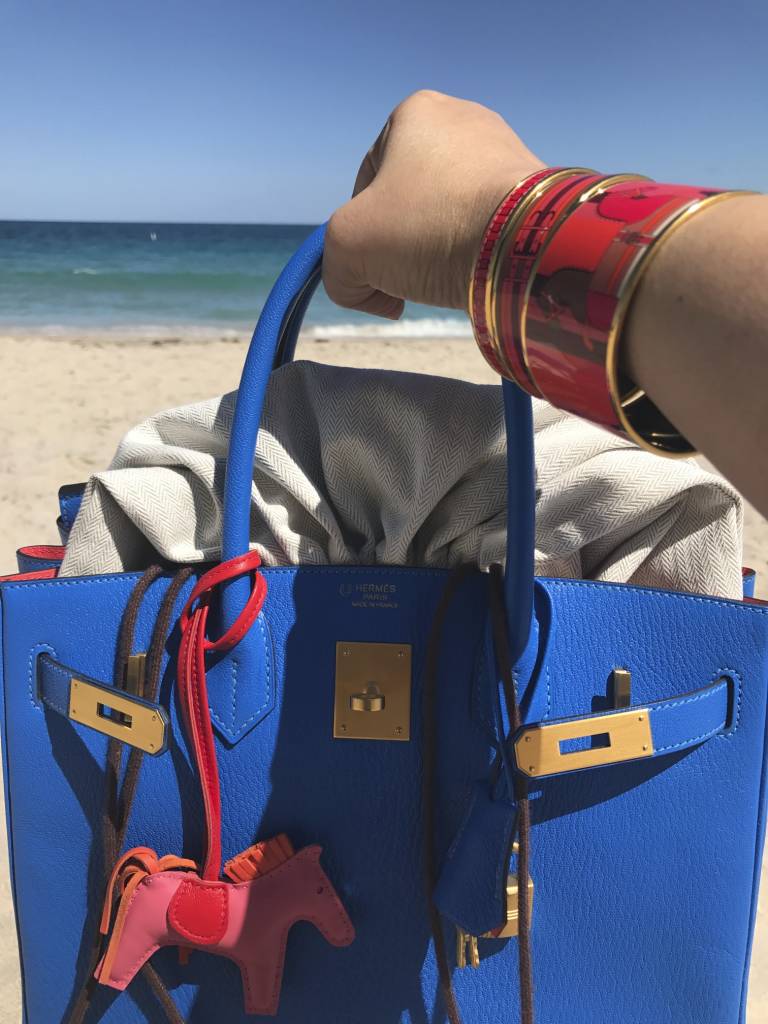 Please enjoy her maiden voyage picture story. These might be some of my very favorite reveal shots to date. My nephew was the photographer/videographer. Special thanks to artistic director Joerg Zuber  for the special effects. Look closely dear friends.
The title theme for the reveal video shared on Instagram is #whatsintheBIRKIN
Each day I look forward to @joergzuber  's ingenious artistic photo's  on IG and here he gives his special touch to each of the following images. Let's see if you can spy the differences?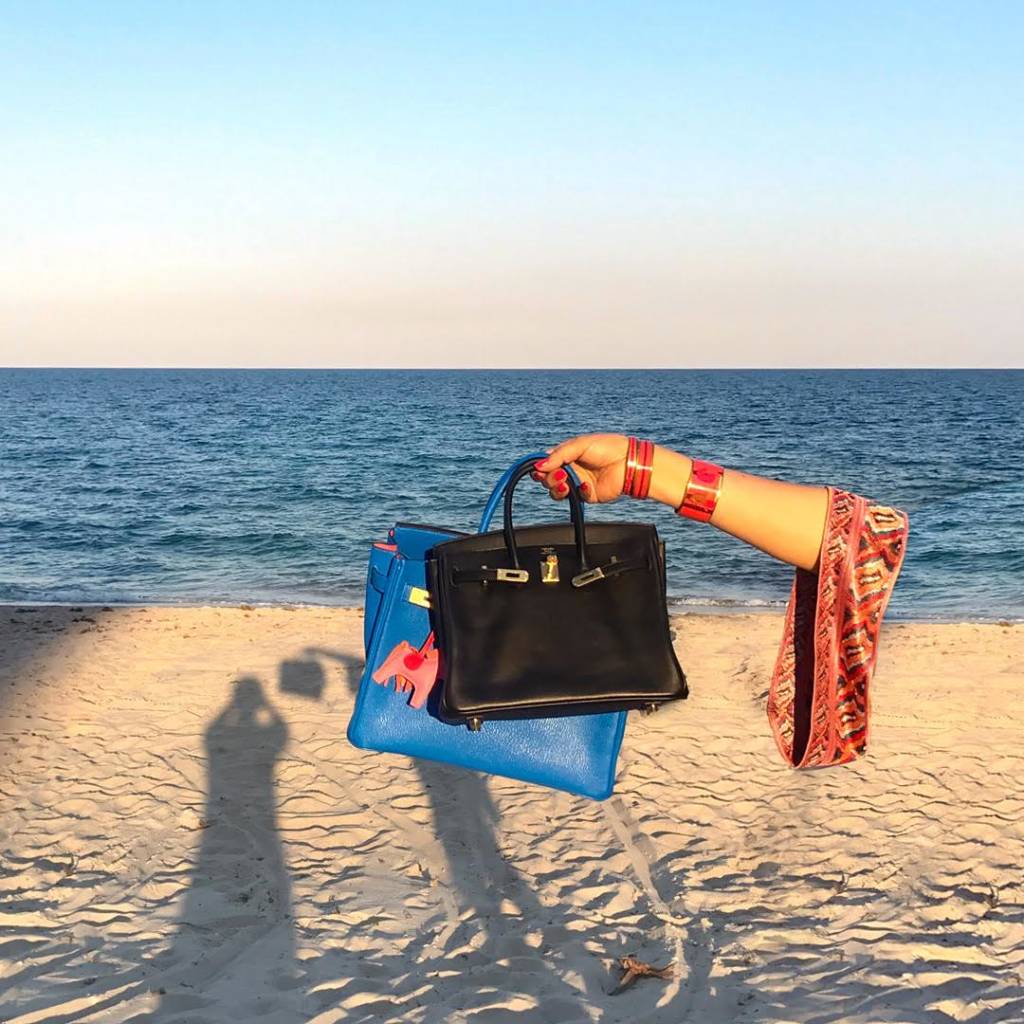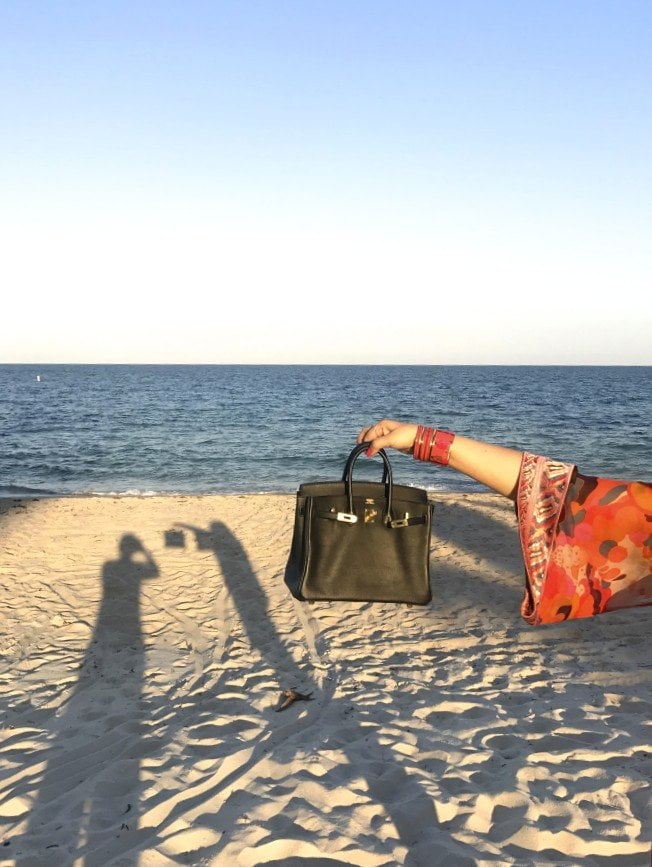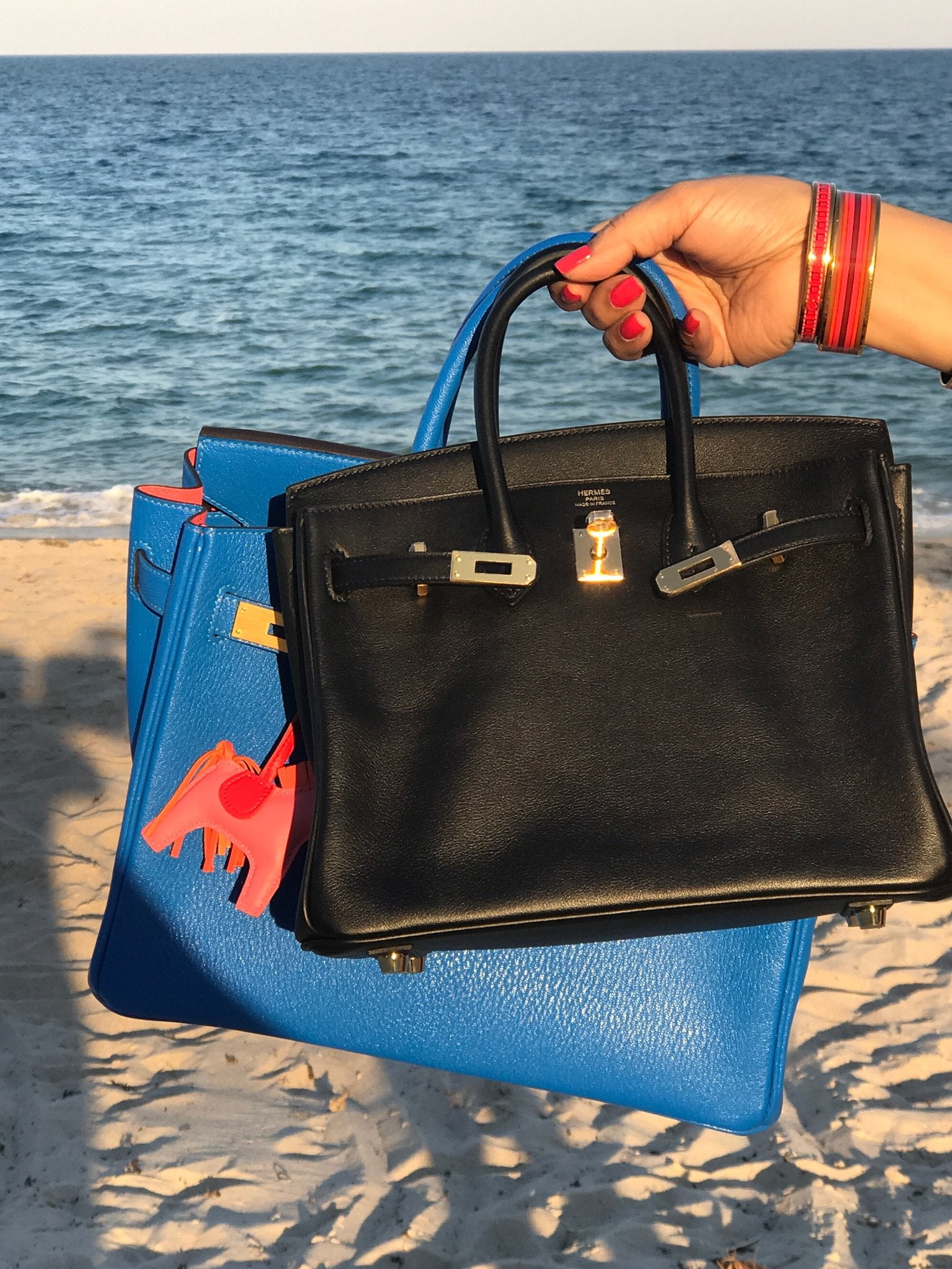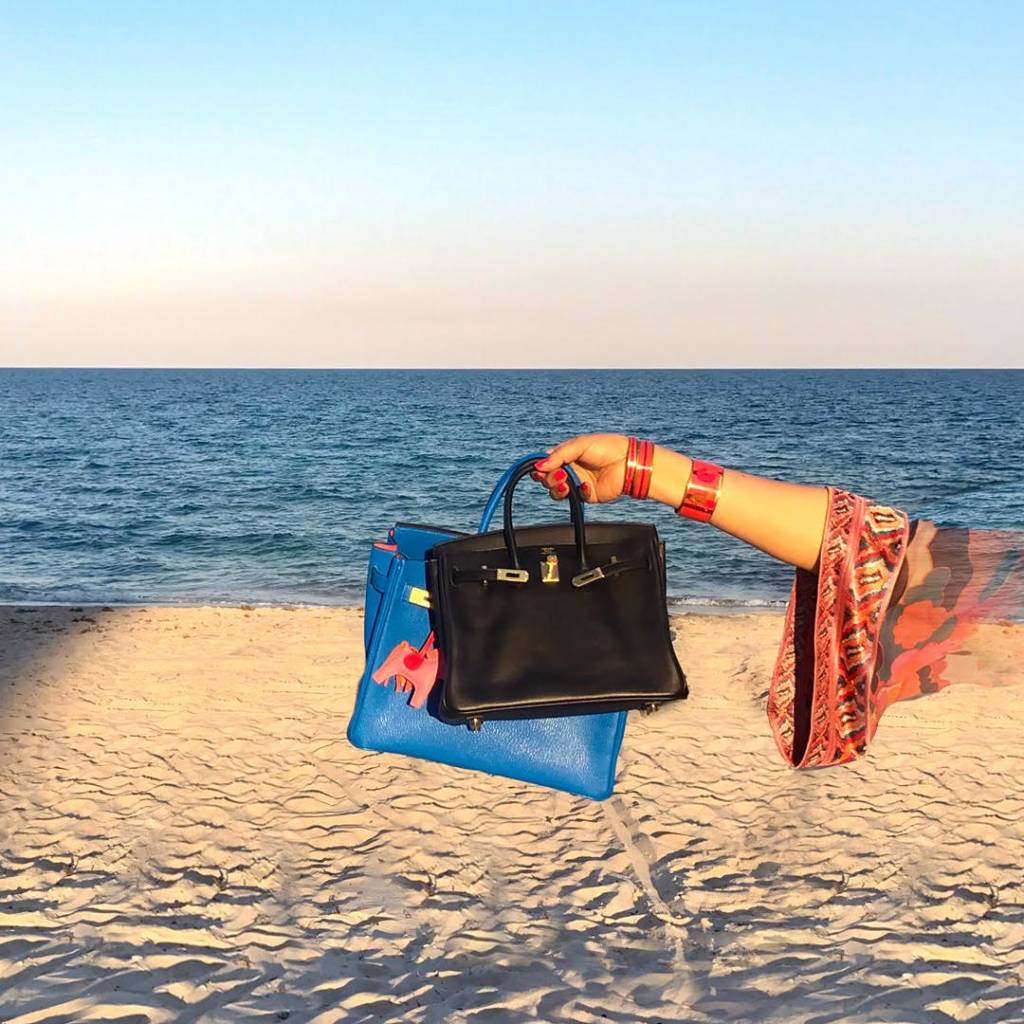 .
Sharing a few highlights from my recent NYC trip. I had the pleasure of sharing a lovely evening at The Baccarat Hotel with dear friends Marjorie Harvey, @johncolek and @alexstrickland. We aptly named the evening "Birkins at the Baccarat" – #birkinsatthebaccarat 
I requested John and Alex to share in detail the specifics of their rare treasures with us…
Constance 24 in Black Swift with Dark Ruthenium Hardware
"This beautiful bag is a treasure that we found on one of our trips to Paris. It is a special order bag that the craftswoman at H Madison Avenue was shocked to see; she said that she has never seen anything like it before."

Birkin 40 in Cocoan Crocodile with Palladium Hardware
features petit h "NYC" apple charm from the New York City petit h event
"This color-shifting bag is an amazing shade of deep brown; Cocoan has the amazing ability to look dark brown, almost black in some lights while looking a light chocolate brown, even Rouge H red in others. On the bag is one of our most treasured charms, a gift from Pascale Mussard when we met her at an event held in her honor at the Madison Avenue Store for petit h traveling to New York. It is an apple, reminiscent of New York City, that is inscribed with "NYC" for the special New York City event." 

Birkin 55 in Noir Clemence with Palladium Hardware
features "So-Black" Rodeo charm in size GM
"The Birkin 55 is truly a special bag— and YES, it is a BIRKIN and NOT a HAC! While the B50 is a rare sight to be seen, the B55 is even rarer. This bag is made of a special type of clemence that is extra-supple, and this bag will just fall to the floor in leathery goodness. To cut down on weight, the interior is actually partially lined in toile canvas instead of a full on leather interior. On this bag is a "So-Black" Rodeo Charm. This one is size GM, and beautifully matches with so many of our black bags.
I have a strong feeling this won't be the last you see of my mini B.
(read: The Hermes Mini Bag Craze)
Explore Other PurseBop Hermes Reveals:
Love PurseBop
XO
Updated: May 19th, 2017