If there's one thing (or two) we LOVE talking about – it's Hermès and Chanel. Everyone's favorite topic (at least most of the time) despite the mystery and uncertainty that surrounds them. Although entering one of these boutiques makes you feel like a kid in a candy store, so many questions abound. Where is my SA? What bag should I buy? Will the bag I want be available or even offered to me? What should my first bag be?
Amidst all this excitement and giddiness, who can you ask all those burning questions that swirl in your head? Well, have no fear – PurseBop is here! Presenting this week's top five questions and answers from Dear PurseBop .
Click here to submit a question. Click here to read all the questions and answers from the past month.
Question: How Soon Can I Get a Second Quota Bag After My First Offer at Hermès?
Dear Second Quota Bag,
Each Hermès boutique operates slightly differently. Some locations allow a client to receive two quota bags back to back, other stores only offer a client one quota bag per season (or every 6 months), other stores may impose a different time limit. It is best to ask your SA.
Some Hermès boutiques (including FSH in Paris) have implemented a 90 day rule. A second quota bag may not be offered in less than 90 days from the date the first quota bag was purchased.
In addition, in most (but not all) Hermès boutiques, a Constance is not considered a quota bag. Therefore, you could be offered a Constance at the same time as a quota bag, or anytime thereafter. In locations where a Constance is considered a quota bag this would not be possible.
Also, with low inventory and low stock, some locations are imposing quota bag status on certain "Kellys" that were not considered quota bags in the past. For example, the Kelly Pochette, Kelly Danse, Kelly to Go, etc. may be considered a "quota bag" due to their popularity and relative unavailability, but it varies per store and location. In addition, if those Kellys are in exotic skin they are most likely considered a quota bag even if they were not treated as such in regular leather.
Again, it is best to ask your SA at your local store.
Read:
How to Get Two or More Hermès Birkins (or Kellys) in a Year
Question: What is the Best First Bag to Buy at Hermès or Chanel?
Dear First Timer,
This is a very personal choice based on your lifestyle, the city you live in (large or small), your personal habits, how much you like to carry in your bag, whether you live in a commuter city or you travel in your own car, your individual taste, and your budget.
We recommend to start slowly and don't invest a large amount of money on your first bag until you get to know the brand better and know what works best for you. Your budget, lifestyle, and tastes will likely change and evolve over time and there is no way to predict which way they will go. So start slowly, enjoy the process and happy shopping.
At Hermès the non-quota bags are a great way to experience the luxurious workmanship, design, and look of their products without breaking the bank.
The mini Evelyne is very popular for its size, ease of wearing, and amazing low price. The medium and large Evelynes are also good choices. In addition, the Picotin 18 (mini) bag and the new daisy versions are extremely popular and loved by Hermès afficionados. Again, some versions of this bag start under $3,000 and go up depending on size. The Herbag is a popular choices and easy to use as a travel bag because it is partially in canvas. And don't overlook the mini Lindy and its larger sisters. This bag has exploded in popularity, and it will surprise you how much it holds and how easy it is to wear either crossbody or on the shoulder.
There is also the Constance Long To Go and Kelly Classique To Go to consider which are essentially large wallets on a leather shoulder strap that can easily be worn crossbody.
Those are a few suggestions to explore at Hermès but there are many more depending on your preferences. Your SA can give you all the options and let you know when they become available for you to purchase.
At Chanel, there are so many options now. Depending on the size bag you are looking for and your budget, it is a good idea to explore the small leather goods first. Many of these items could double as a wallet or mini bag, have good starting price points, and give you the Chanel design and feel we have all fallen in love with. Each new season Chanel introduces new small leather goods with unique designs, so check them all out before deciding.
Some other good choices are the Vanity bags which come in several sizes, and the Wallet on a Chain (WOC) is always a good first Chanel bag. In addition, you can never go wrong with the Mini Classic flap in square or rectangle or the Mini Classic Flap with a Top Handle. The mini classic flap bag is extremely popular and holds its value on the resale market year after year for a reason. It not only looks like a classic flap bag, it holds as much or more than the small classic flap, it can be worn on the shoulder or crossbody, it is easy to travel with, and it is still under $5,000 for both versions.
If you are looking for a larger sized bag to use for work, travel, or everyday, there are the Deauville Totes, the Chanel 22, and the Large Shopping Tote.
Don't skip the Chanel Coco Handle flap bag, the Boy bag, the Gabrielle bag, the Gabrielle backpack, the Chanel backpack, the Chanel 19, the Chanel Trendy CC, and the newer Bucket Drawstring bag. Any of these bags would be an excellent first Chanel bag.
A few of our articles on luxury bags under $6,000 will give you some great ideas to start your journey.
Read:
6 Hermès Bags Under 6K – 2022 Edition
Question: Does It Help To Be More or Less Specific When Asking for a Quota Bag from Hermès?
Dear Quota Bag Specifics:
Depending upon your wishes and desires, it usually best to give your SA choices with respect to colors, hardware, size, and type of quota bag you desire.
If you only want a Birkin 25 in a neutral color, give some examples of the colors you like, and let your SA know you only want that size and style. If you are open to either a Birkin or Kelly then let them know you are flexible. If you prefer gold or palladium hardware definitely let your SA know.
However, if your collection needs a pop of color and you do not want black, gray, or white, tell your SA. It is helpful to specify the  colors you prefer. Some people only like pastels, others prefer a bright, saturated color. The more specific you are the better chance you will be offered something you love.
On the other hand, if you believe your SA knows your style and what you like, and you enjoy being surprised, then let your SA know that you trust them to offer you a bag you will enjoy.
Read:
Question: While on Vacation, How Do I Securely Store My Luxury Handbags in the Hotel Room?
Dear Vacationer:
For peace of mind while on vacation it is best to store your luxury bags in their dust bag in your locked suitcase when you are out of your hotel room. All your small valuables should always be locked in the room safe as well.
If you are unable to lock them in your suitcase, merely store them in the closet or safely in a drawer so they are out of sight. Make sure to bring your dust bag when traveling to protect your bags when not in use.
Another tip when shopping in a large city, ask the boutique if they will deliver your purchases to your hotel so you do not have to carry the packages with you the remainder of the day.
Have a great vacation!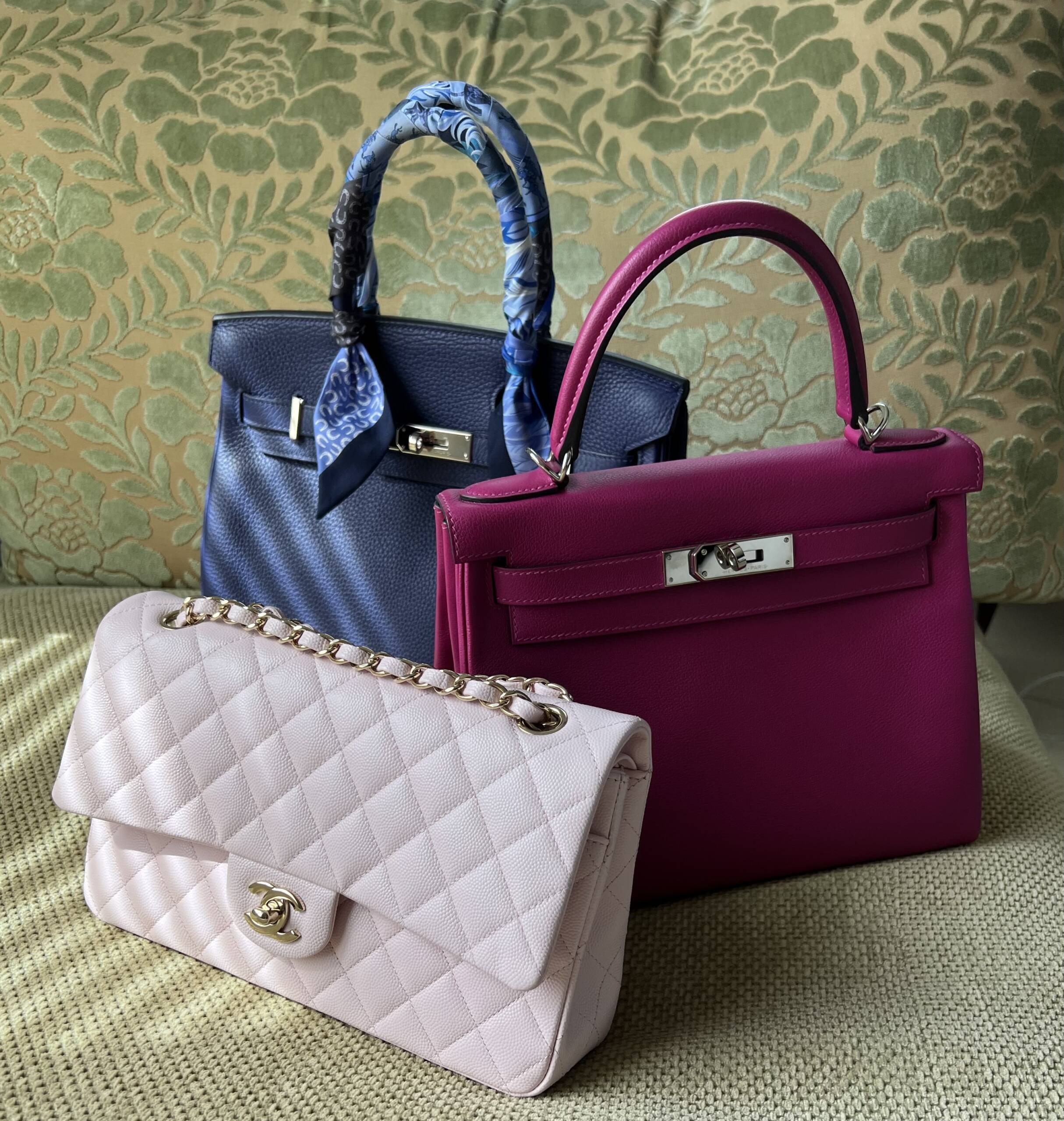 Question: What is a Good "Workhorse" bag for every day use?
Dear "Workhorse" Bag:
Although you do not specify what brands you favor, there are many luxury houses who offer options that would serve as a "workhorse" bag. I must assume you need something with ample space, that is sturdy and durable, and looks stylish as well. Most tote bags serve this purpose and are offered in two or more sizes, styles, and colors so there are many options from which to choose.
Louis Vuitton's Neverfull tote and On the Go Tote are two popular classic choices. Many similar bags from LV offer durability, roominess, a classic style, and a better price point than some others.
Goyard St. Louis and Artois totes are both good options with various colors to choose from. Prada's Large Symbole Jacquard Fabric bag has a geometric design in several contrasting colors and also is a good alternative. And the Dior Book Tote in 4 different sizes is always a good choice for work and travel. The Givenchy Monogram G Tote bag is another great choice to consider. And the Bottega Veneta Arco Tote is stylish and in a classic Bottega basket weave design. Finally, the YSL tote has become extremely popular this summer as well.
If you are interested in an Hermès tote, check out their newest Cabas H en Biais Tote in canvas which is an understated tote that could be used as your daily workhorse. It comes in several different beautiful blue, pink, and other colors and sizes. Finally, Chanel has many tote options such as the Deauville or the new Chanel 22 that could serve your purpose.
We suggest visiting the various boutiques. There are so many good choices depending on your budget, your work needs, your style, and your preferences. Bring your computer and other items to see how they fit, and make a well-informed decision.
Good luck
Read:
Goyard vs. LV: Battle of the Totes
The Tote Showdown: LV Neverfull vs. Dior Book Tote vs. Goyard Artois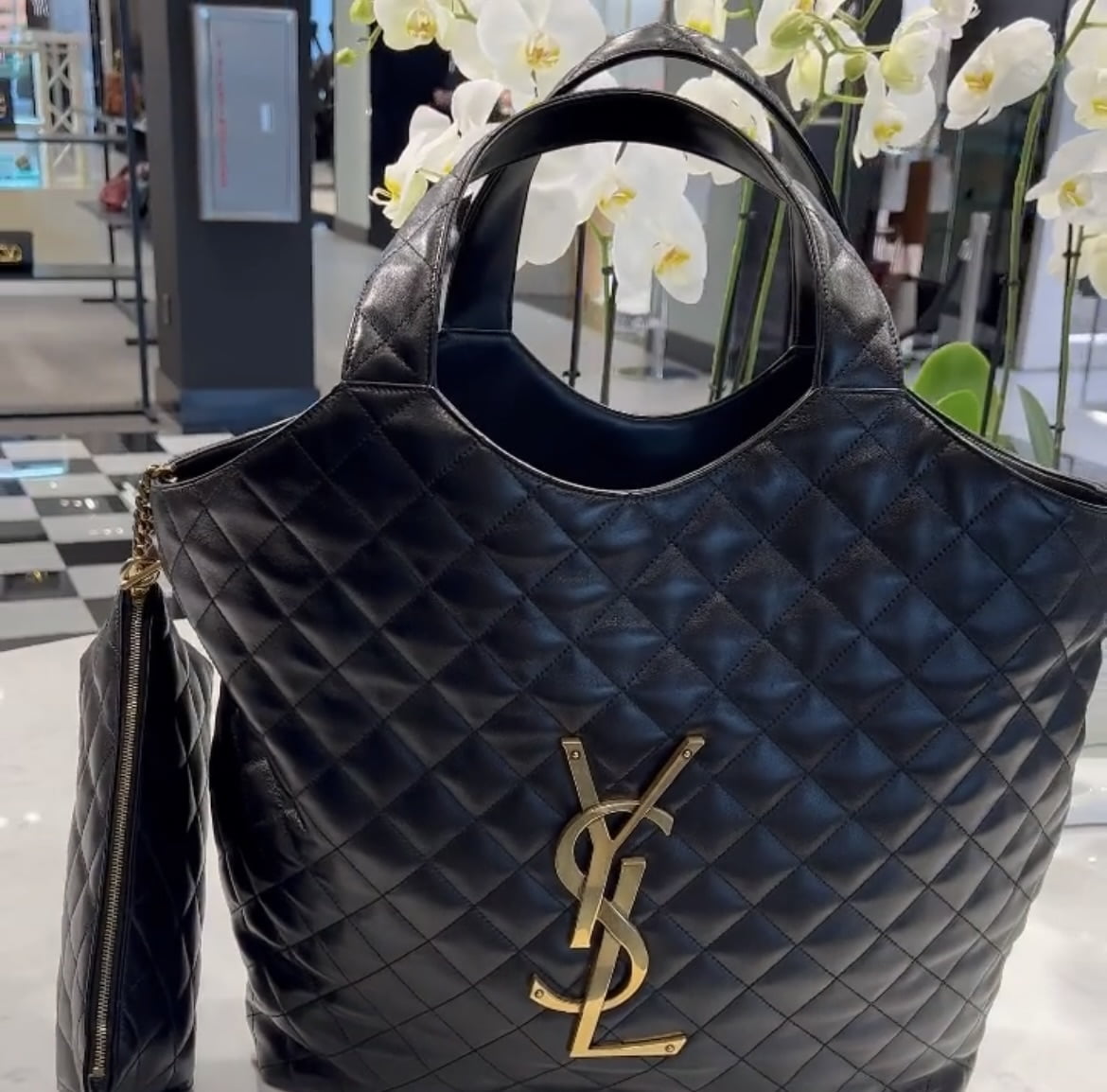 Submit your questions to Dear PurseBop. We can't wait to hear from you.
Love @pursespotter_karenzkloset for PurseBop
XO