Totes are arguably the wisest and most reliable bag in a handbag lover's collection. They travel with you on your holiday adventures, they might carry your laptop and notes for work, and sometimes they just help you out when you want to run errands. We have covered totes extensively because we know how popular they are with our globetrotting and active community.
Read:
15 Chic Totes That are Perfect for Travel
 A Travel Tote for Every Handbag,
Carry it ALL: The Best Designer Tote Bags
One tote we haven't covered is one of the most popular and accessible totes on the market: the Longchamp Le Pliage tote. From college students to seasoned fashion industry representatives, the Longchamp Le Pliage is an effortlessly chic and trustworthy companion for journeys long and short.
We know it's a favorite amongst Hermès affcianados to discreetly tote expensive Birkins and Kellys through airports and travel. In fact we address this particular topic in extensive detail (Read: How to Pack a Birkin).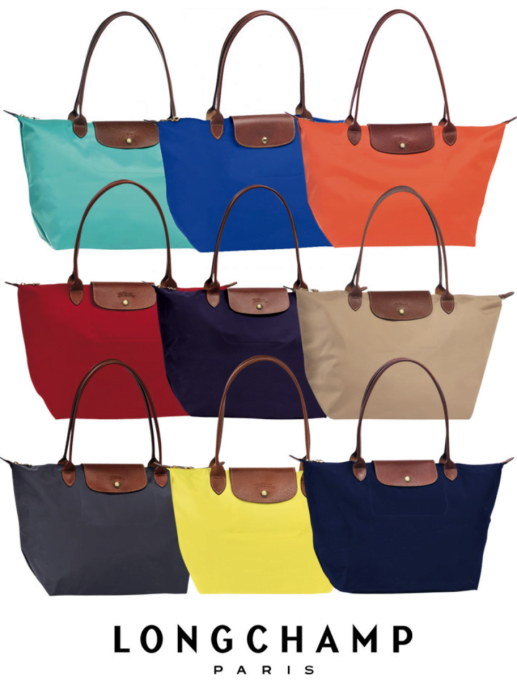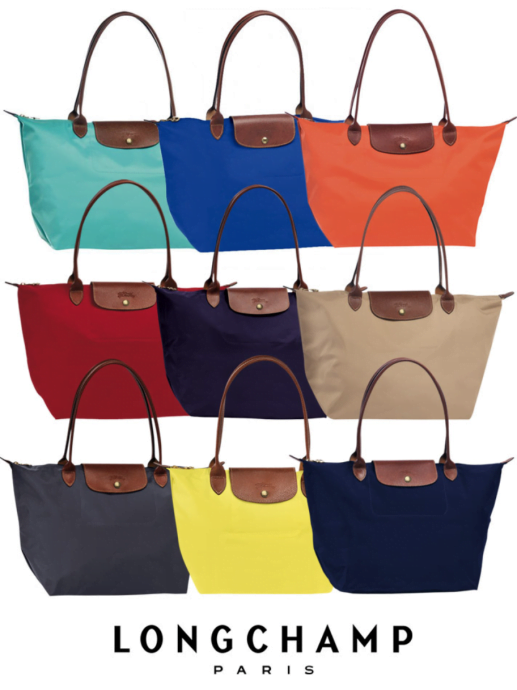 A Brief History of Longchamp & Le Pliage
Longchamp was founded in 1948 in Paris as a leather goods company that specialized in wallets, purses and passport holders. Named after a famous Parisian racecourse, the brand was also well known for creating luxury leather-covered pipes (Elvis Presley was reportedly a huge fan!). In the 1970s, the leather brand had a major breakthrough when it started using nylon in women's handbags.
In 1993, the CEO of Longchamp, Phillippe Cassegrain designed its most famous bag, Le Pliage. Meaning "folding" in French, Le Pliage instantly found popularity and has become a favorite with celebrities like Alexa Chung and Kate Middleton.
Another important part of the bag's appeal is its accessibility. For those just starting their designer purse collection, Le Pliage is an excellent beginning. Recognizable, from a well-known brand and not too expensive, this purse even makes a great gift to young fashionistas. We would definitely consider this to be a stellar entry level bag
Read:
Entry Level Bags 101
PurseBop's Guide to Entry Level Bags 
While clearly Le Pliage is a great grab for the consumer… something you might be wondering about is how the affordable bag with mainstream appeal affects the image of the brand? An article from Harvard Business School explores the ways that the bag could be holding Longchamp back, especially because the company tries  to align itself with more expensive luxury brands. 
With Le Pliage pulling the brand down to "accessible luxury" the heads of the company and grandchildren of the founder of Longchamp, Jean Cassegrain and Sophie Delafontaine, struggle with ways to expand the brand. One interesting strategy that the two have decided to implement is presenting more expensive versions of Le Pliage: Le Pliage Cuir and Le Pliage Heritage. Le Pliage Cuir is a nylon-free, leather version of the bag (still foldable) and Le Pliage Heritage is a top-of-the-line leather bag with the same silhouette as Le Pliage.
Longchamp has also taken a cue from other major brands and collaborated with big names to elevate their products. Currently, a Jeremy Scott stylized version of Le Pliage is available on the website.
| | |
| --- | --- |
| Size | Price |
| Le Pliage Small Handbag | $95 |
| | |
| Le Pliage Medium Handbag | $115 |
| | |
| Le Pliage Large Handbag | $135 |
| | |
| Le Pliage Small Shoulder Tote | $125 |
| | |
| Le Pliage Medium Shoulder Tote | $125 |
| | |
| Le Pliage Large Shoulder Tote | $145 |
| | |
| --- | --- |
| Size | Price |
| Le Pliage Small Handbag | $95 |
| | |
| Le Pliage Medium Handbag | $115 |
| | |
| Le Pliage Large Handbag | $135 |
| | |
| Le Pliage Small Shoulder Tote | $125 |
| | |
| Le Pliage Medium Shoulder Tote | $125 |
| | |
| Le Pliage Large Shoulder Tote | $145 |