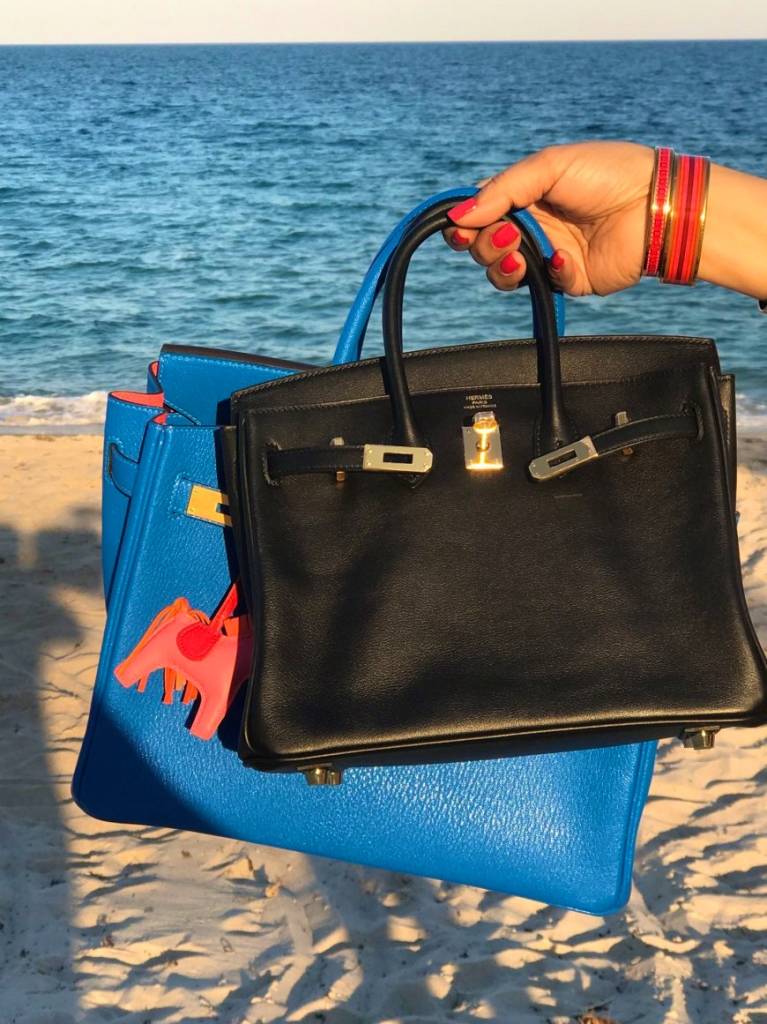 Think you know everything there is to know about the Birkin? Think again. Though the legendary bag was invented only 30 years ago, its unique history, exclusivity and high status in the fashion world lend it a vast and complex story. In short: there's a lot to know.
At PurseBop, we like to think of ourselves as Birkin experts—how could we not be, when Hermès bags play an important part in our lives, and we learn new things about them daily? But in doing research for this list, even we discovered things about the Birkin that surprised us (see #2, for instance)! We can't wait to share these with you, in what is the first part of a two-part series on Birkin facts. So let's play a game. We've come up with 8 things we think might not be common knowledge about the Birkin—now, all you have to do is read the list and let us know, in turn, how many are new to you, and how many you knew before. Let's take a look at the facts…
1. The Birkin was a result of Jane Birkin's bag being run over by her husband
By now, we all know the general origin story of the Birkin: in 1983, singer and actress Jane Birkin was sitting next to Hermès chief executive Jean-Louis Dumas on a plane when the contents of her bag fell onto the floor. They discussed the fact that she'd never found a leather bag that she liked, and he created the Birkin bag for her. But there's more to the story!
The bag, apparently, was not her legendary straw bag. "I'm not quite sure what type of bag I had with—my husband, Jacques Doillon, had reversed his car over my basket, crushed it on purpose not two days before," Birkin told The Telegraph in 2012. Birkin and Dumas got to talking about handbag designs, and she asked him, "Why don't you make a handbag that is bigger than the Kelly but smaller than Serge's suitcase?" He replied, "Well, what would it be like?" And, according to Birkin, "I think I drew it on the sickbag—or the not-be-sick bag. And he said, 'I'll make it for you'."
(The irony of the world's most exclusive bag being designed on a sickbag has not been lost on us!)
Read more on Jane Birkin:
2. The original Birkin bag had a nail clipper attached to it
Jane Birkin, apparently, was fastidious about her nails. So her Birkin was made with a specially attached nail clipper inside (pictured below), which was on display at public exhibition of the Birkin bag at Liberty London in 2014. It's hard to know whether other early Birkins also had the convenient tool, but it's certainly interesting to find it in this one!
Would you attach a nail clipper to your own Birkin…?
3. The most expensive Birkin ever sold for $383,522
In November of last year, an Hermès Himalaya Birkin broke records at the Christie's Hong Kong auction, fetching $383,522—more than any other handbag ever sold at auction—from a telephone buyer. (It exceeded the previous record of $380,000 at a similar auction in May! PurseBop stayed up all night to watch the historic event live.)
In addition to this impressive number, a non-Himalayan Birkin broke the record in December for a "regular" leather bag: a metallic bronze chevre leather Birkin with gold hardware sold for $117,394 at the Christie's Paris Auction. Considering the bag's non-exotic craftsmanship, the price is a considerable feat!
Read more on record-breaking Birkins:
4. The Birkin's design is based on a saddle bag
The Birkin's design is based on a very similar bag, the Haut à Courroies (HAC). Around 1900, the HAC began to be sold in the retail store attached to the Hermès atelier as a saddle bag and carrier for other riding gear.
The HAC later became popular as a weekender—and is still used today. Its primary differences from the Birkin are that it's much larger and proportionally taller, with a shorter handbag drop (it has to be carried in the hand).
Read more on Hermès equestrian origins:
5. It's much newer than the Kelly
Although the Birkin is generally seen the as the symbol of Hermès, it's actually much newer than the Kelly. The Kelly was created in 1935 as the Sac à Dépeches, later renamed in 1956 when Grace Kelly famously carried it to shield her baby bump. It wasn't until 1984 that the Birkin was created, 49 years later!
Read more on the Birkin vs. Kelly:
6. A Birkin takes 48 hours to craft from start to finish
So we all know Hermès is famed for its craftsmanship…but did you know it would take at least two full days to craft just one Birkin? That's more than a week on a full-time work schedule!
Each Hermès bag is made by a single artisan, who has their own personal set of tools. Given the individualized nature of the process, no two Birkins are identical.
7. It's the most televised bag ever
The Birkin receives more tv attention than any other handbag, bar none. If a television show is trying to highlight its characters' fashionista status, or to address high fashion and exclusivity more broadly, it's a general rule that the Birkin will make an appearance. Ever since the Birkin appeared in a scene on Sex and the City in 2001, it's been a pop culture sensation, giving us gems like Rory Gilmore telling her boyfriend in Gilmore Girls, "I double super-swear on my Birkin bag."
8. It's *the* Holy Grail Bag
Okay, we can admit that this one might not be an object "fact," or something you didn't already know. But in PurseBop's admittedly biased eyes, a list of "things to know" about the Birkin is simply incomplete without acknowledging the Birkin's status as the Platonic ideal of Holy Grail Bags (HGBs).
As you've probably read before, PurseBop has a special definition for the HGB:
The Holy Grail Bag is the most desired handbag on your wish list at any moment. Without it, your collection can hardly be considered complete.
While the Holy Grail Bag is subjective and varies from fashionista to fashionista, we believe that given the Birkin's exclusive status in the fashion world, and general desirability, it's the Ultimate HGB. Most collectors think of the Birkin as a legendary accomplishment, the crown jewel in their collection—for some, this may be their first Birkin; for others, it may be an extremely rare and hard-to-find exotic Birkin.
Still unconvinced of the Birkin's HGB status? Just look at it…!
Read more on Holy Grail Bags: