In my experience, you're either a tote lover or you're not. I definitely fall into the second category. And, despite what some say, for me, the Birkin is not a tote, notwithstanding the two handles! 
For the record, I do not "collect" tote bags. The few that I own are typically large and used for travel. Often they form the base of my handbag nesting. 
However, there is one I accidentally stumbled upon last spring and recently doubled up on the style. Yes, I purchased another. To be fair, I am quite familiar with the brand, as I do own some of its larger totes. However, the addition of this smaller pint sized one has come as a delightful surprise.
I am talking about the Goyard mini Anjou tote. My first is in a bright sunny yellow and returned home with me from Paris last April. It was a totally unexpected purchase – you might even say impulsive – stemming from seeing the bag hanging in the front window of the boutique. As it was simply too cute to pass up, my credit card was run before I had the chance to second guess. 
Read: Let's Make a Quick Stop at Goyard Paris for an Unexpected Reveal
By summer 2022, this mini Anjou in bright yellow was my go-to bag for errands and casual run-around. Shocking as it may be, sometimes I didn't feel like carrying a Birkin or Kelly. Nor did I elect to carry the Dior bag that also flew home from Paris – a small Dior Book Tote in red and white oblique print. I wrote about it nearly immediately after my April trip. 
Interestingly (to me, anyway), although both of these pint sized cuties came home from the same trip, the Dior was hardly, if ever, used. By contrast the yellow, soft, squishy, and uber light Anjou went everywhere. This bag proved to be a very good accidental and spontaneous purchase. 
So much so that, when I heard of a limited edition Sakura pink capsule collection being launched by Goyard, I began dreaming of another. My over imaginative mind started spinning the various occasions ensembles that this soft pink cutie would match. After all, as much as I love bold yellow, it doesn't always coordinate with the wardrobe, particularly soft pastels. I confess, however, that didn't necessarily stop me; the yellow Anjou came out anyway, mismatched or not.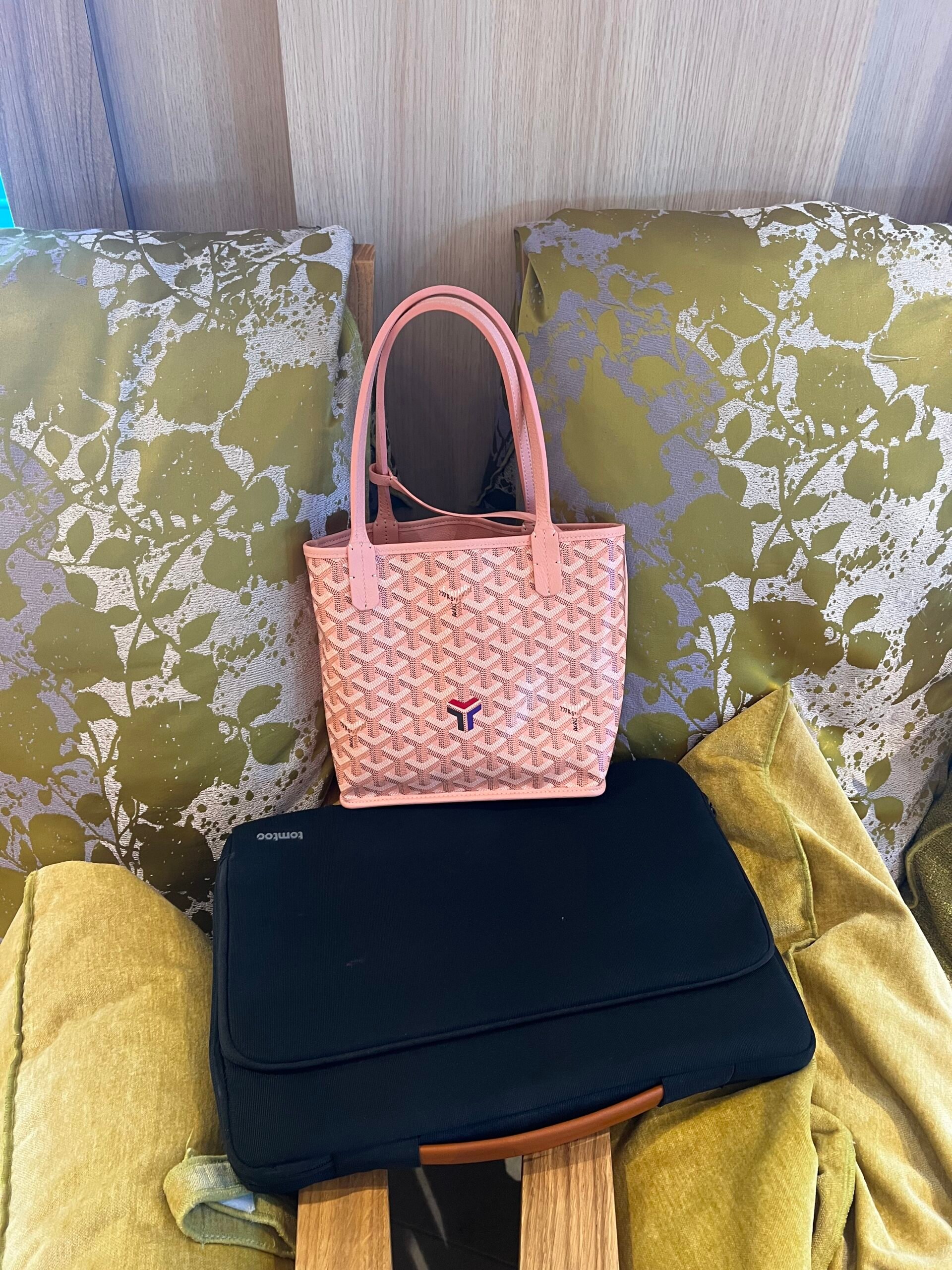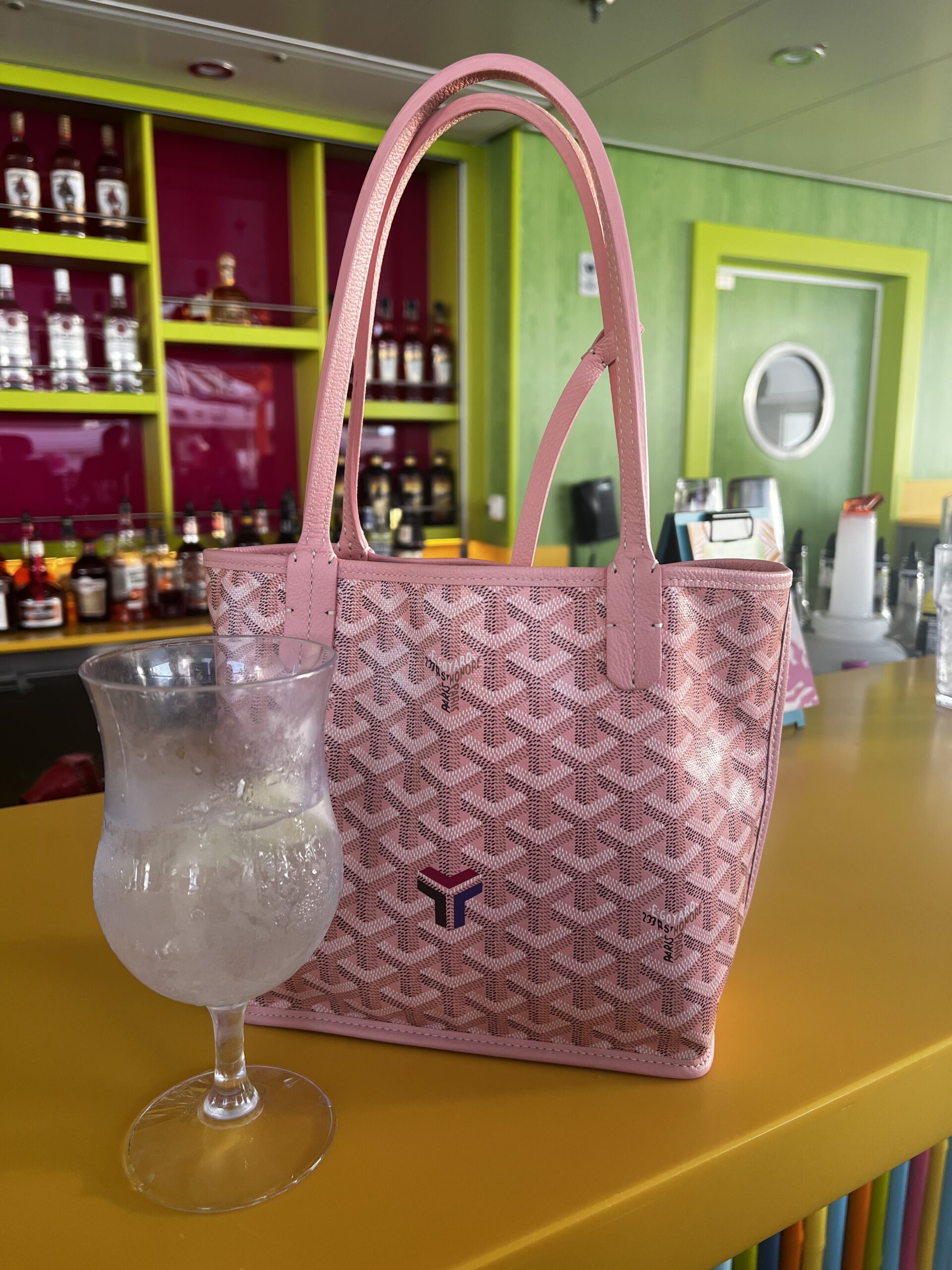 We've all become quite familiar with these limited edition capsule collections that are absolutely impossible to find. Nevertheless, I figured I'd give it a shot and make a few calls. The collection was released on a Friday and just two days later it seemed completely sold out, at least in New York City, San Francisco, and Miami. In the process, I learned that this collection would be available only at Goyard's own flagship boutiques. In other words, boutiques within department stores such as Bergdorf Goodman would not carry the Sakura pink capsule collection.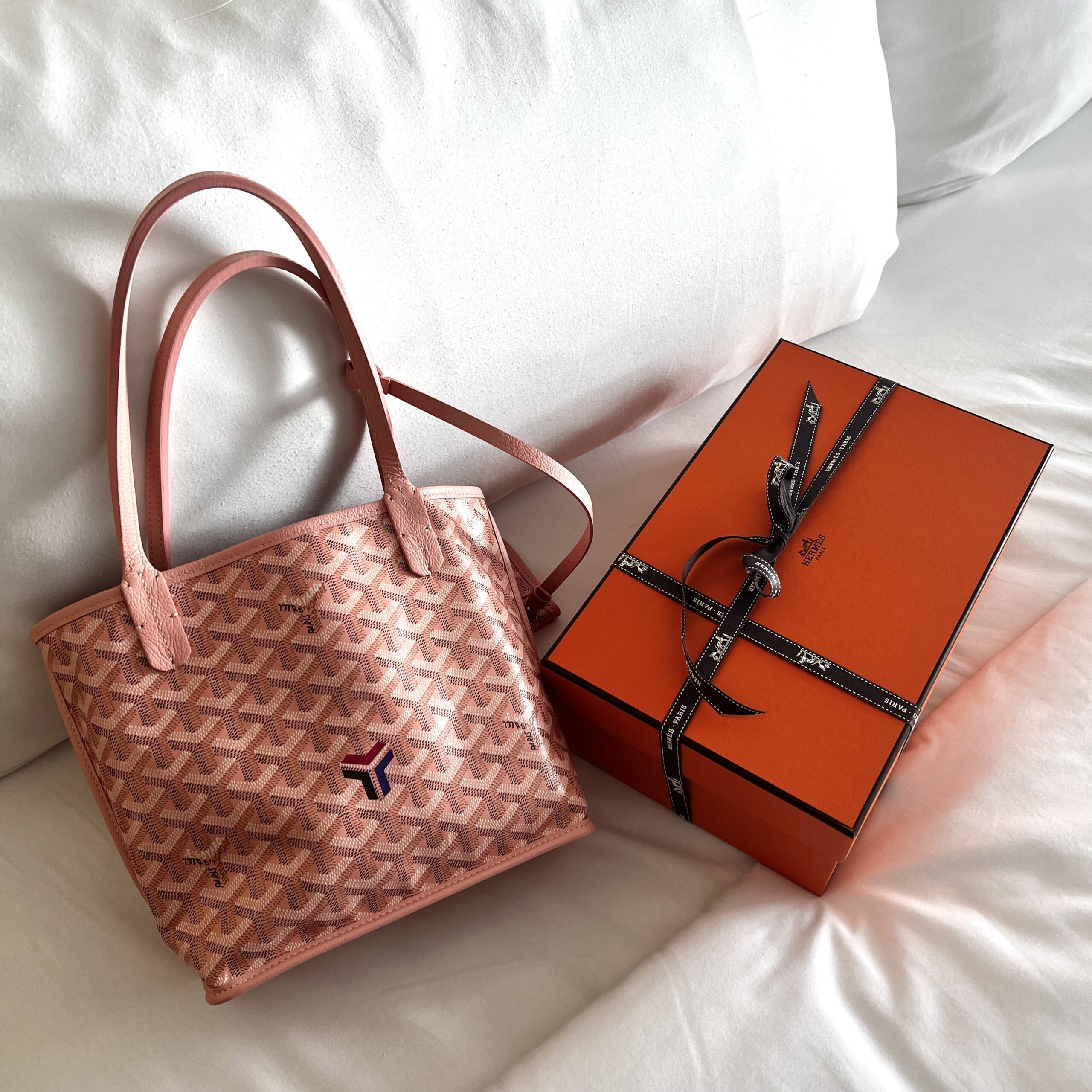 Although I'm not advocating that you need an Anjou tote for sailing the Caribbean, I will tell you it turned out to be absolutely perfect for toting a water bottle, sunscreen, lipstick, and book around the ship. Most importantly, though, the little dangling pocket was perfect for holding my ship ID card. The mini Anjou was the ideal daytime, cute yet functional, accompaniment. And although Goyard refers to it as Sakura pink, I would like to clarify that it is definitely more of a dusty rose pink. Fortunately, this hue coordinated flawlessly with my floral dresses and my infamous Bois De Santal pink Chypre sandals.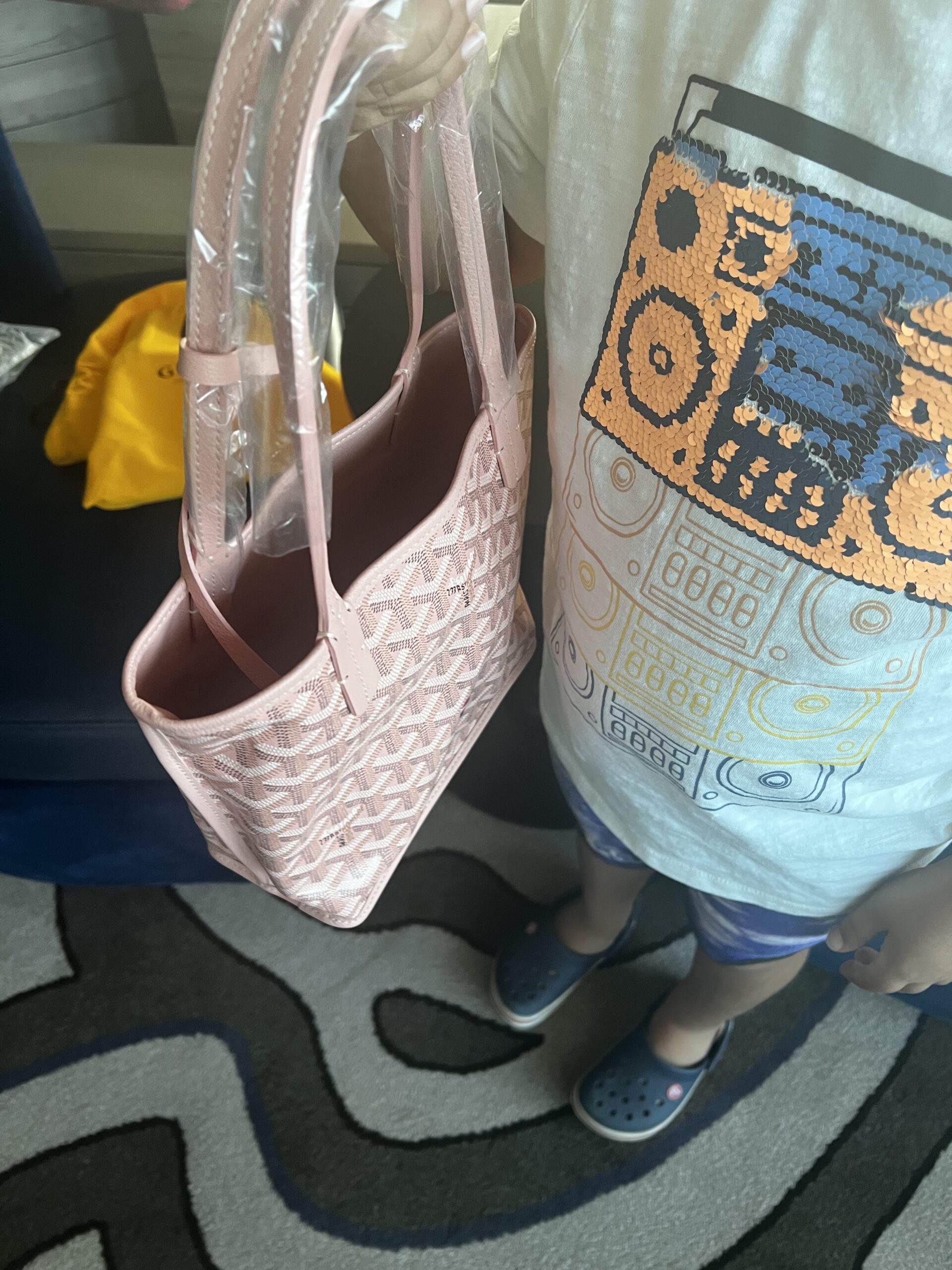 The photos tell the rest of the story. I couldn't be more delighted. However, I am afraid that the Anjous in my handbag armoire could multiply and create a rainbow of colors… says the non tote lover, LOL.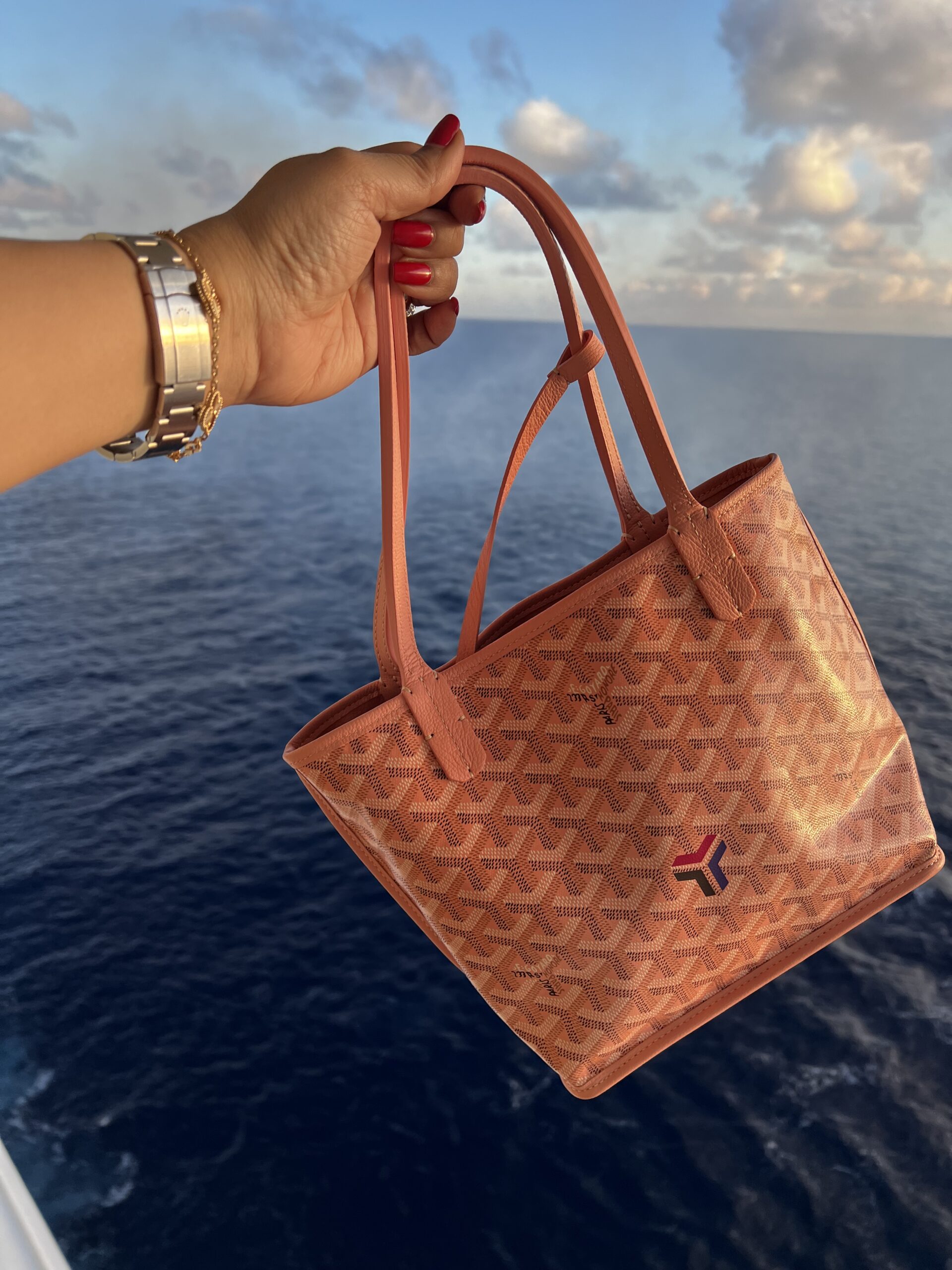 There's another Goyard pricing issue we must address as many readers have already inquired.  Goyard has harmonized the prices for all colors of the totes and accessories. Until recently, Goyard broke its options into standard (black and tan) and special colors, charging a premium for the latter. In the last few months, it has eliminated the distinction – charging the same for both. As you can imagine, the prices of special colors like yellow, green, blue, and red, did not decline LOL. The prices of the basic colors rose. Limited edition releases, like the pink, have a different premium, as the price was higher than for the typical Anjou.
No reveal can now be complete without the Carrie bag holder. The ultimate accessory to keep your bag smiling, clean and safe. Carrie keeps your purse off the floors, and away from all of the spillable items on the table. It can be suspended from any table surface to hang your treasured purse. For a limited time, you can order yours here – for 10% off your total order.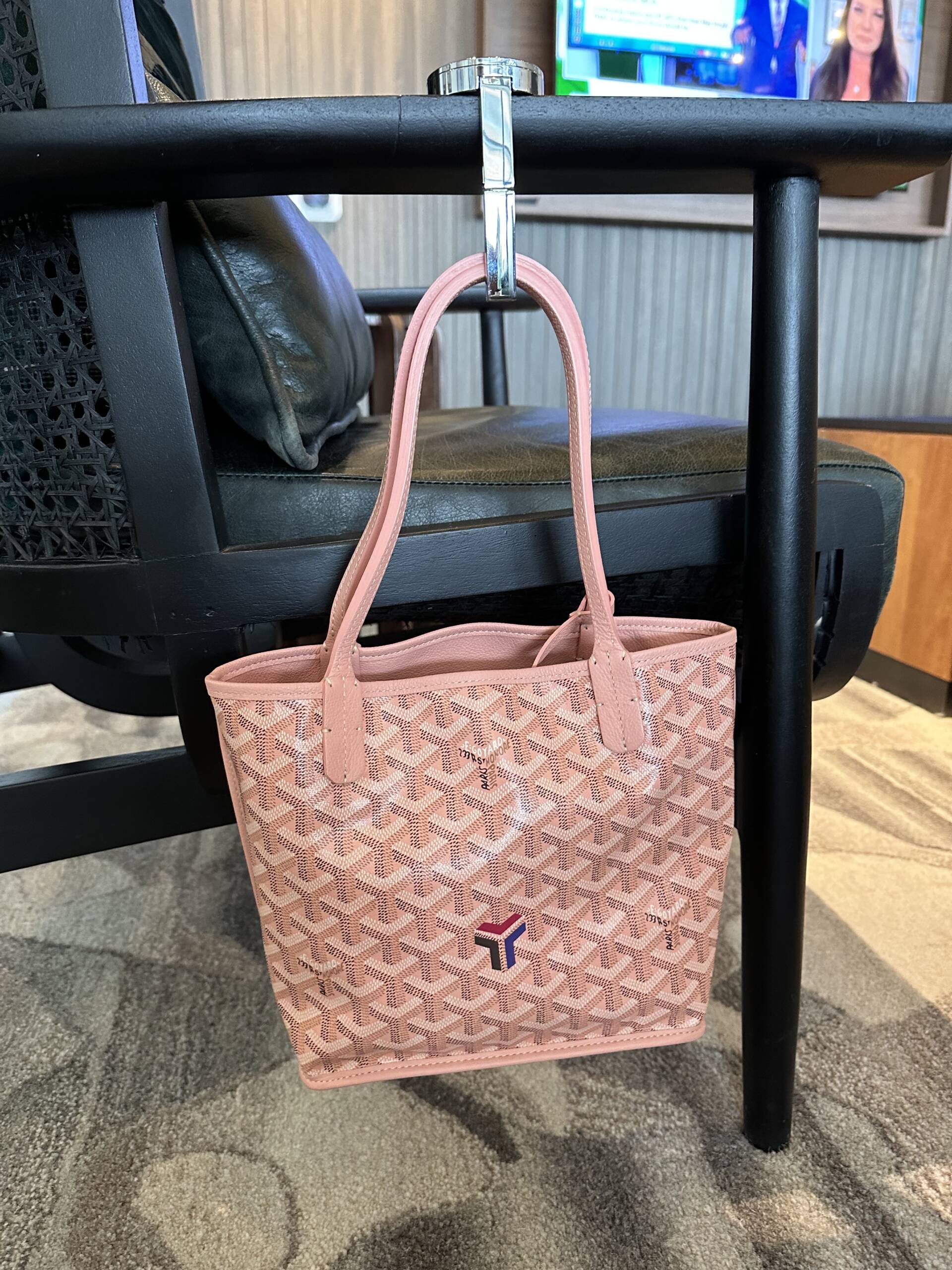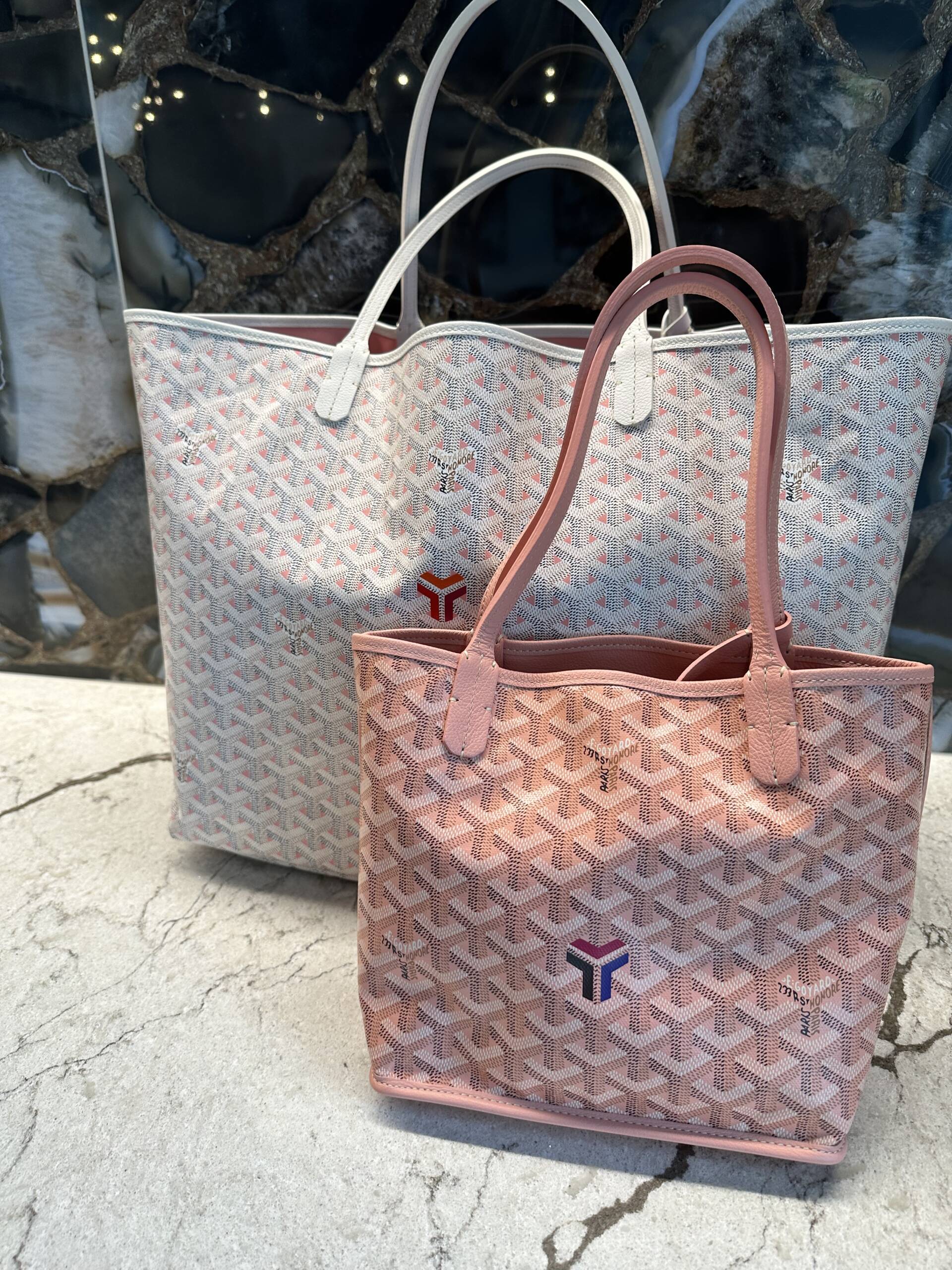 Another point I would like to reinforce again is the Goyard quota. Only 5 items in one year are allowed to be purchased so please plan your wishlists carefully.
Read more: Goyard Has a Quota?
Updated: August 19th, 2023