"It was the best of times, it was the worst of times…" Dickens' French Revolution tale aside , there's no two ways about it. As things shrink in size they get cuter to no one's surprise.
Now, if only this mom could manipulate time and stop my two babies from growing up? Freeze my 14 month old in this pre-toddler phase before he learns to talk back. Roll back the years to my 4 year old's newborn days where he couldn't stop mom from unleashing a torrent of kisses all over his face.
* deep sigh * Oh honey, I cannot stop time or shrink my children but I sure can miniaturize every single Birkin and Kelly in my humble Hermès collection.
Back to the French Revolution or shall we call it the 'Hermès Mini Invasion'. This craze continues to build momentum in full on rapid force, transforming nearly every purse I own into a meticulously crafted calfskin bag measuring a maximum of 25cm in length (read: Mama Bagged a New Birkin with 'Asset Restructuring').
If you think I have pretty much exhausted Hermès as far as its miniature bags are concerned, think again. There is a mythical doll-sized creature -the smallest in its respective range – that I yearn to obtain.
Did you guess right? This mom, turned  'handbag aficionado', has laid eyes on the miniature version of the iconic Kelly Sellier in the the ladylike size of 25.
Now simply pick a color, elect a leather, select the hardware and recite a prayer. Abracadabra! Grab it off the boutique's shelf, swipe your plastic and carry out your new prized possession by the tubular handle or swinging from your shoulder.
Now wake up.
You are guilty of daydreaming, Hermès doesn't work like that.
Factors such as painstaking attention to craftsmanship, scarcity and surging demand for this itty-bitty purse make it a rare occurrence in the universe. Each time I ask the H Fairy for this geometrical work of art, a Birkin 25 in an array of colors pops up. Case in point, 4 years of worshipping hard in the alter of Hermès and I am yet to see a Kelly Sellier 25 in the flesh.
'What's a woman to do', you ask? Hop on a big jet plane accompanied by her two little underaged men. To the global flagship in Paris we go in search of a mystical unicorn in the grand stable of Hermès.
Saddle up, I am up for the task. With less than a 48 hour stop in the City of Lights, this mom could not resist trying her luck.
Full disclosure, I attempted to secure an online appointment the day prior to our arrival but got rejected -TWICE – even from a second registered cellular device. A true lottery system, I must conclude, because even with a prior purchase history at Faubourg Saint-Honoré I was still doomed.
Don't despair, mom got one more trick up my pear-purée stained sleeve. I enlisted my hometown boutique manager to help, I will admit, I might have begged. Sadly, to no avail. Concierge at our hotel attempted to secure an opportunity on my behalf, yet in vain. That's a total of three epic fails.
This Hermès junkie already had gone to outlandish lengths with the hope of bagging a mini Kelly bag, so we must not turn back. Armed with a smile, I waltzed right on in to the Hermès mothership at 24 Faubourg Saint Honoré (aka FSH, aka heaven) ready to perform my signature self-taught H Fairy mating dance. I mentioned I was in town for a short period of time all while trying to manage spontaneous meltdowns and two jet-lagged kiddos, prone to whine. Luckily for mom, the lovely hostess behind the podium made my experience serene and calm.
She graciously jotted my passport and phone number down as she accompanied my mini human entourage to a quiet spot. Cold beverages, horse-themed coloring books ( would you expect any less from the famed house of Hermès?) and cookies followed shortly thereafter.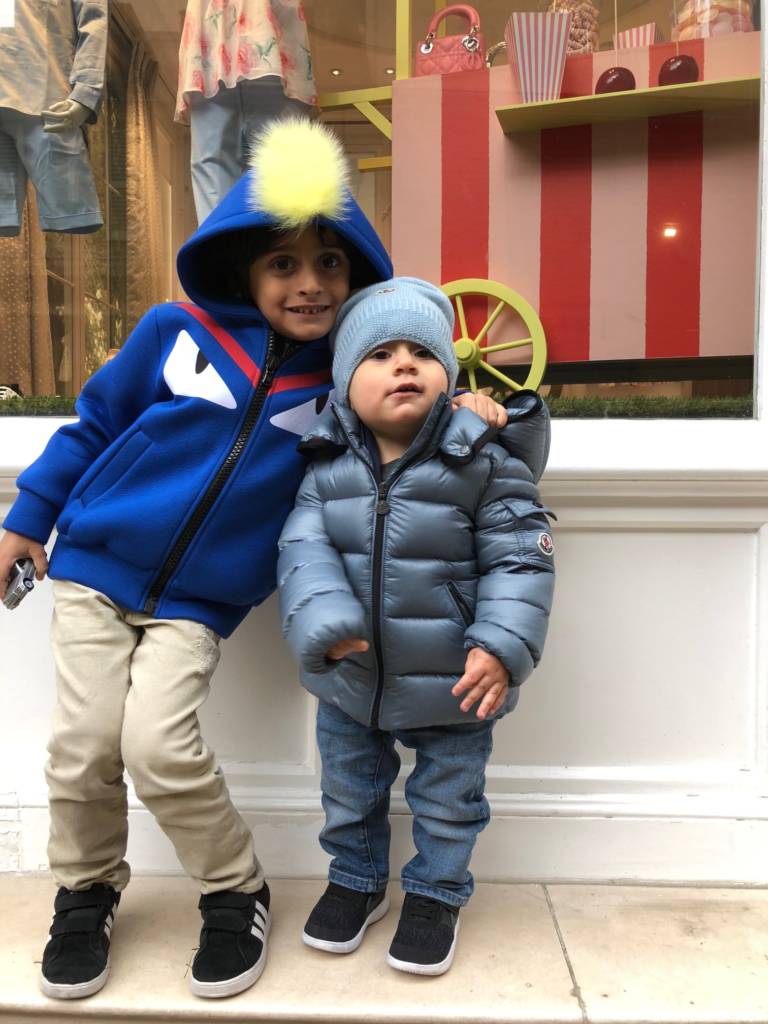 Day One: My First Kelly Sellier 25 in Blue Zanzibar
Divine intervention, a slow Monday afternoon or candid sympathy from one mother to another, my new Parisian sales associate introduced herself within half an hour. Pleasantries were exchanged, I pledged my love for Hermès and cut right to the chase before one of my kids awakened.
I have done my homework in advance and zeroed in on the dazzling, vast lineup of Hermès blues, what is the chance? Can you hear my heart palpitations? Can you imagine my sweaty palms tingling in anticipation?
Hermès miniature Kelly Sellier is the stuff of legends and believe it or not, this iconic bag is now in my possession. "I will take that one," I proclaimed, as I counted my lucky stars and marched out with a brand new baby all boxed up and ready to make her debut in the glorified color of Blue Zanzibar.
Spotted in Paris, ShiShi is beaming with excitement at Hermès' nearly vacant Men's shoe department. It was love at first sight, the vibrant blue hue made her twirl in delight. She got a 25cm rigid Epsom leather bag with a single wide handle in hand. Secured in gilded gold hardware with a suspended clochette and a lock. The thin strap is hanging from her shoulder and she is getting bolder.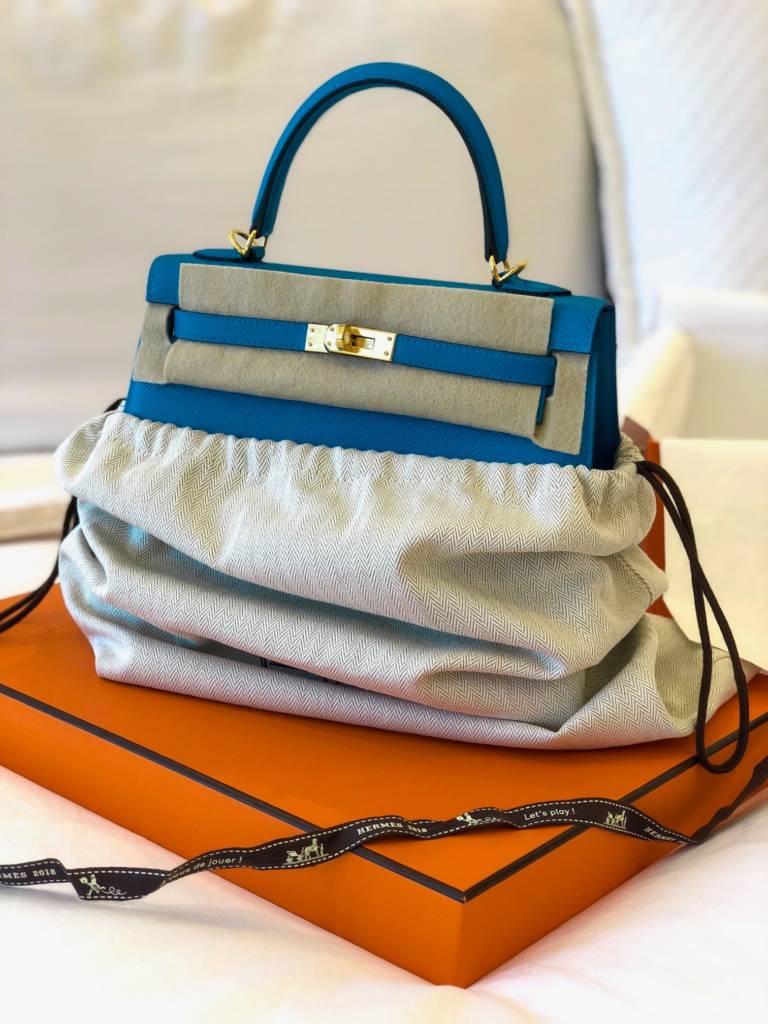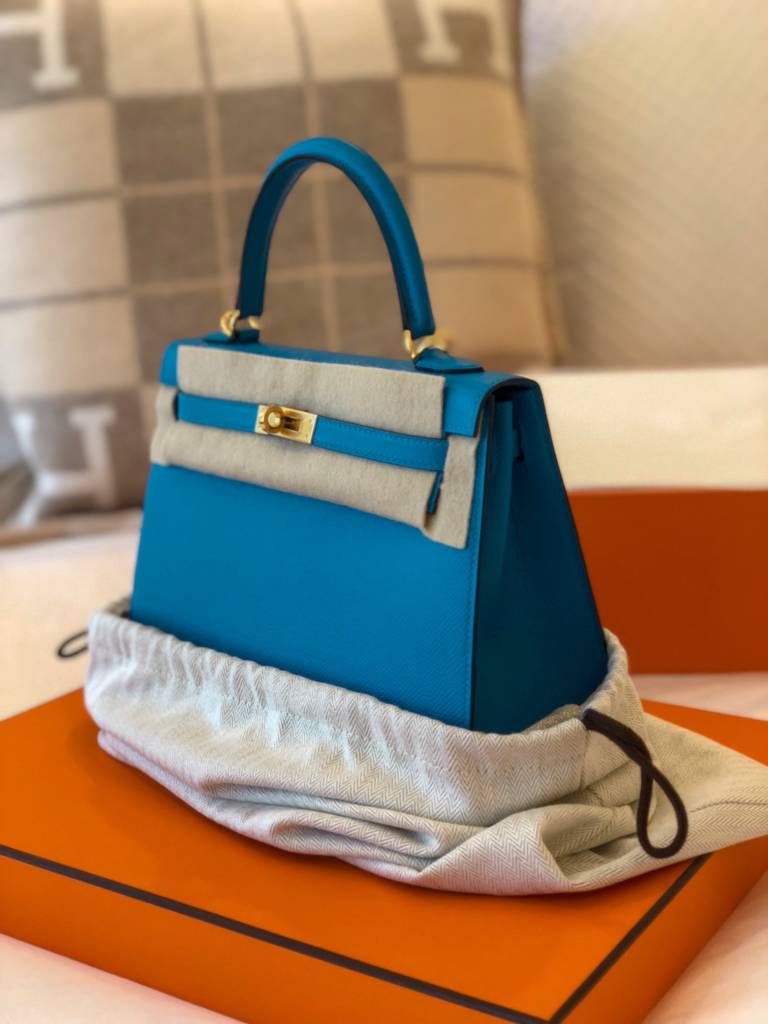 Day Two: My Second Kelly 25 Retourne in Gris Asphalt
At checkout, I confessed my love for the majestic Gris Asphalt and the hope of adding one to my bag arsenal. My initial attraction to pops of color is too strong to resist, but the urge for a timeless grey-toned, neutral started to burn beneath my rear end's seat.
Suddenly the man behind the baby bumps shows up after he was left to his own devices. Balancing a tower of Hermès shoe box in his arms, my Parisian H Fairy decided to give my second request a chance.
Come back tomorrow after 5 in the company of your husband, she advised. "A new shipment is due to arrive", you will need to use his profile as we must adhere to the one bag per six month rule. Don't be fooled, even heaven has got a set of rules.
Yes, you read right. I could not believe my luck. I schlepped all the way to Paris and a second treasured prize will be the icing on top.
And on the second day, ShiShi & Company appeared at my designated appointment time slot. You bet your a$$, wife did her song and dance so the the man who holds the reins will be present. H Fairy tapped her magic wand and sprinkled a dash of unicorn mystical dust. Wait and behold, is that another small orange box? – SOLD!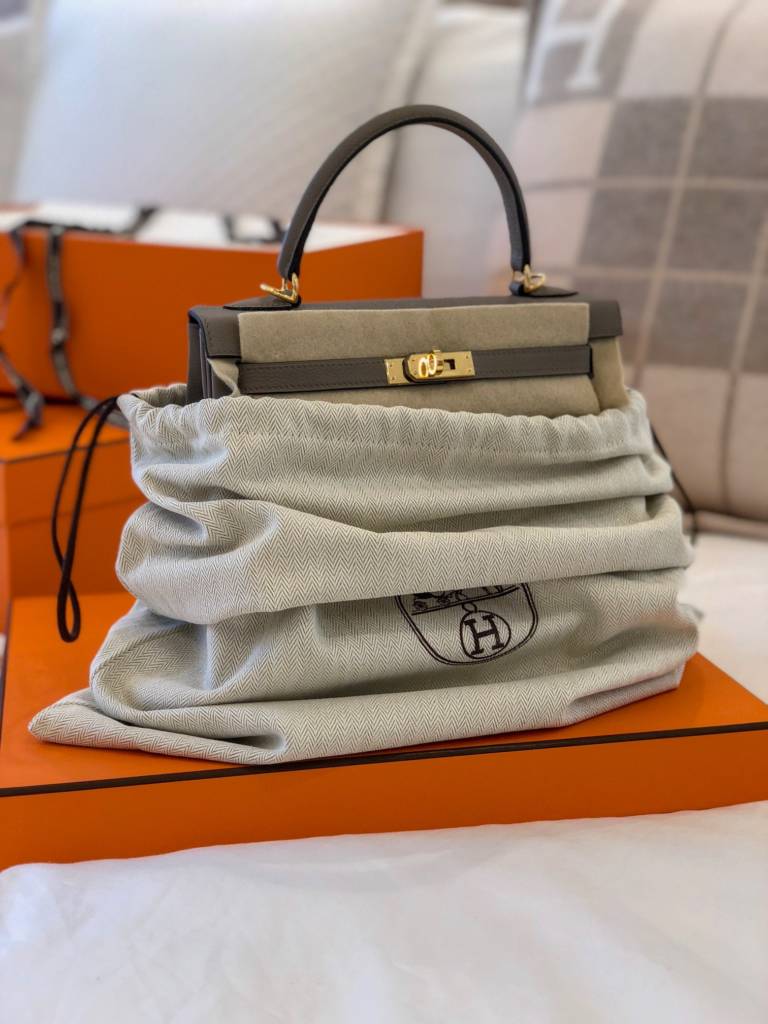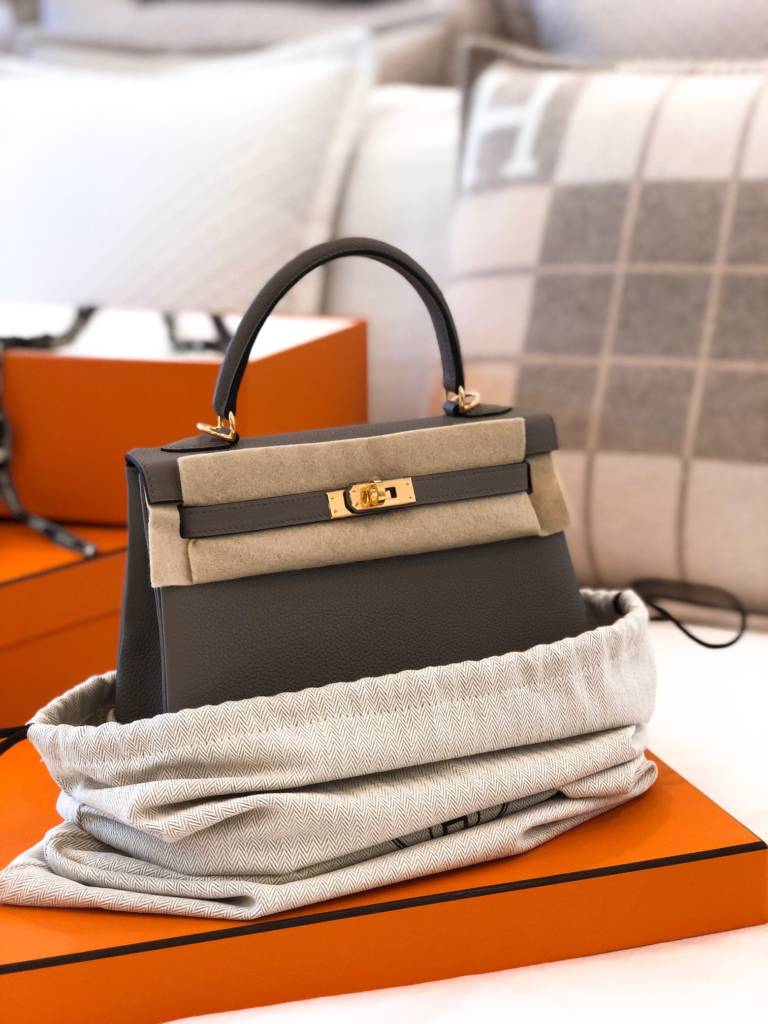 Finding this neutral doll-size bag within the Mothership's hallowed halls was nothing short of a wonder to behold. Grainy Togo leather with my knight in shining armor of GOLD. Tailored to exact specifications, it will surely be a great neutral addition to my handbag collection.
Such is the magic craft of Hermès – behind every bag acquisition is a tale and memories you will cherish forever in bagging your holy grail. 'My Hermès Chronicles: the Paris Edition' was filled with excitement and rejection, wonder and delight, and enough 'mom guilt' to bury a person alive. Out the boutique we march to enjoy a beautiful day in late March exploring the City of Lights with my self-made mini human tribe .
Spotted, ShiShi & Co. at L'Avenue feasting during a celebratory lunch, grateful for her streak of luck. We skipped the high tea but surely consumed our weight in French pastries. My tot stuffed a whole box of Pierre Hermé macaroons in his snack hole, grew a third chin while my 4 year old remains the same skinny bean. Bringing home the orange box sure was the icing on top.
Thank you for letting me share another honest episode of My Hermès Chronicles with you.
Don't you forget: magic tricks, hypnosis tactics, moon phases, children in a stroller, charming personality or simple old-fashion manners. We are all just pawns in the Hermès game of chess.
My personal disclaimer: this is not a step-by-step guide into bagging the bag of your dreams. It is my personal narrative written with charm and wit. Luck played a huge role in it. No two experiences are the same. Hence, to best increase your chances make sure to secure an online appointment.
Happy Hermès Games! And may the odds be ever in your favor.
Love @styledbyshishi